When it comes to versatility, there are few things in your RV or travel trailer that can measure up to an electric kettle. While they're great at boiling water for coffee or tea, they can also pull double duty in preparing water for cooking or drinking.
Because they're going to be operating in a mobile space with limited electricity, you're going to want a low wattage electric kettle that'll be sturdy enough for the road with minimal energy draw.
A quick search online will produce an ocean of results that can be hard to sort through. In order to help, our team of experts have leveraged their years of expertise to find the five best electric kettles currently on the market. We've chosen models that fit a variety of needs and categories.
There are a lot of factors to consider when choosing the best electric kettle. We've made our selection based on a criteria that includes:
Price and Value: It's important that a kettle is priced appropriately for your needs. While you get what you pay for, there are quality options at nearly every price point. We chose products that provided tremendous value in relation to their cost.
Time to Boil: When you're on the road, you need a kettle that can heat water quickly. You'll need to have a unit that can get the job done in the least amount of time.
Precision Pouring: The last place you should feel out of control is when you're trying to pour boiling water into a cup or bowl. We chose kettles with good handles and accurate pour spouts to ensure a safe and easy pour no matter how full the kettle may be.
Handling: Kettles need to be sturdy and provide adequate support when handling. While many will have portions of the exterior that will be hot to the touch, there needs to be enough, non-heated surface area for you to maneuver it. Ideally, this should be in addition to a very sturdy handle.
Taste: Even after repeated boiling, a kettle should not negatively affect the taste of your water. It's important to make sure that your kettle does not alter taste since it may indicate cheap materials leaching into the water while boiling.
Durability: We took the top performers on this list and ran them repeatedly to simulate daily kettle use. Especially with higher end models, kettles can be seen as an investment. Because of this, they should be durable enough to last several seasons of moderate to heavy use.
Capacity: There may be situations when you'll need more or less boiling water than the camper next door. We have chosen kettles that provide different capacities to fit a range of preferences.
Ease of Use: It's important to select a kettle that has paid special attention to its design. Small things can make a big difference with ease of use. For example, a kettle with a wider mouth opening can make it much easier to fill and clean.
Wattage: As mentioned previously, kettles for travel need to pull as little power as possible while still being fast and efficient at boiling.
Best Overall: CHACEEF Travel Electric Kettle (300W)

Key Features:
300 watts.
350ml/12 oz capacity.
Boils 1.5 cups of water in 8 minutes.
Detachable power cord.
Anti-scale inner coating.
Single button design.
LED light heat indicator.
Double walled construction for a cool exterior.
Weight: 1.5 pounds.
At first glance, we were unsure if the CHACEEF Travel Electric Kettle had a spot on our list. However, once we put it through the paces, we were quite impressed with the build quality and performance it offered.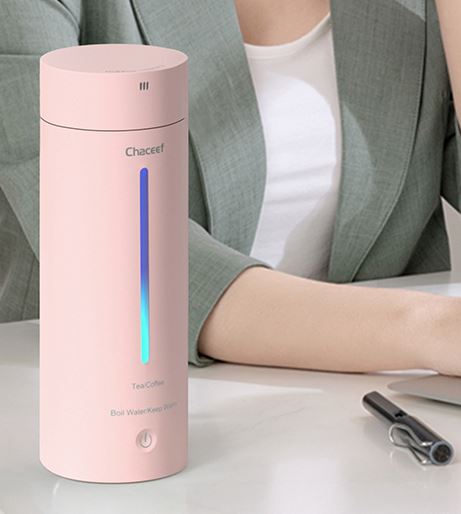 You'll likely first notice its compact design and small 12-ounce water capacity. Keep in mind, besides being portable, this kettle was designed as more of a personal unit. It's primarily built for making a couple of beverages like coffee or tea and sometimes, enough boiling water for cooking applications like a bowl of instant noodles.
Moving to the construction and design, the CHACEEF has a sleek modern form factor that can easily fit in tight spaces. It's built with double walled construction that's safe for heat as high as 200 degrees Celsius. To keep things simple, there's a detachable power cord that plugs directly into the back side. We felt the cord was robust enough while not being too stiff as to knock the kettle over when empty.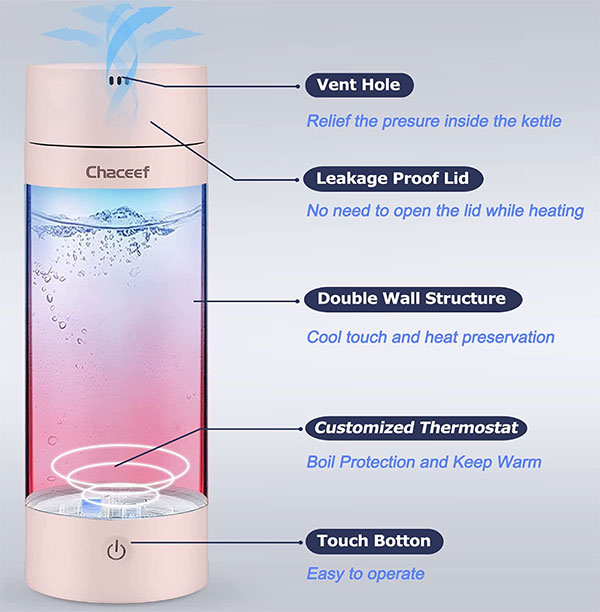 There's a single button that operates the kettle from turning it on to selecting the heat setting. With this, there are four modes including off, boil, keep warm or coffee/tea. Best of all, it's simple to remember the settings after just a few uses.
On the side is an LED light strip that changes colors to represent various temperature ranges. This allows you to visually see the temperature of the water, even from across the room. In addition, it's even bright enough to see during the day in direct sunlight.
Once your water reaches boiling, the kettle will automatically turn to the keep warm function. In our opinion, this is quite useful. However, you'll need to manually activate this function if you select the coffee setting. The time to reach boiling is between 8-10 minutes and 10-13 for coffee or tea. Although this isn't the fastest, it's still faster and more convenient than using a stovetop and a saucepan.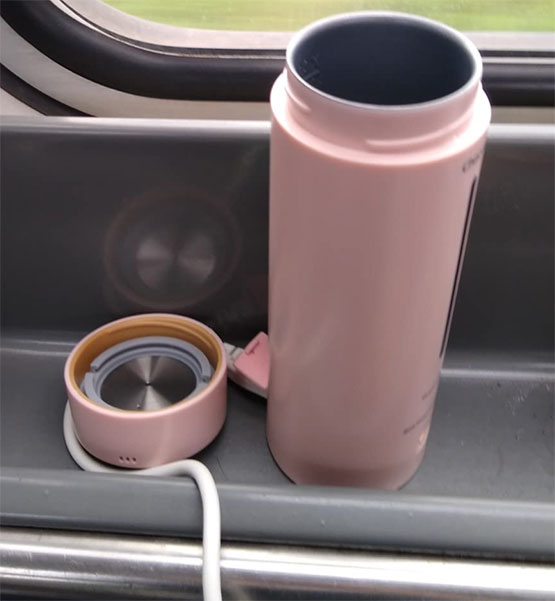 This kettle features a leak-proof seal around the lid to prevent any water from spilling when it's tipped on its side or actively being transported. This is a significant feature to have when trying to secure things before resuming your travels. However, one qualm is that there's no way to tell the current water level except by peering from the top. There's no side view indicator, ultimately making it more likely to overflow when trying to refill. Although this shortcoming pales in comparison to the many things it does well.
Overall, the CHACEEF Travel Electric Kettle is a solid option for anyone looking for a portable kettle that heats well, offers great convenience and can accommodate beverages for one or two people at a time.
What We Liked:
Heats quickly.
Multiple heat settings.
Simple button operation.
Visual LED heat indicator.
Double walled design keeps the outside cool.
Leak Proof lid.
What We Didn't Like:
Best Alternative: UpdateClassic Foldable Electric Kettle (300W)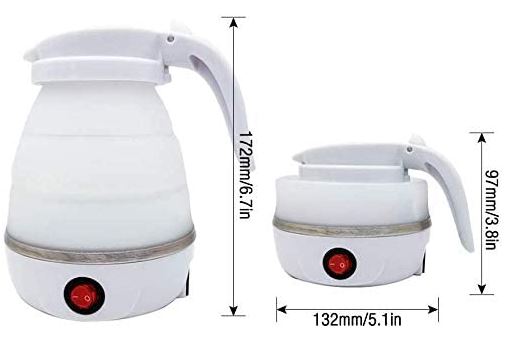 Key Features:
300 watts.
Foldable design.
Boils 2 cups of water in 5 minutes.
Single button switch.
60ml/20 oz capacity.
Weight: 1.12 pounds.
The UpdateClassic Foldable Electric Kettle is a great alternative for people looking for a kettle that can fit in tight spaces and free up countertop space. Its collapsible design allows it to become half as small while not in use. Like our best overall pick, this unit features a detachable power cord that's easy to insert. However, it doesn't have multiple heat settings like CHACEEF. But in fact, it reaches boiling at a faster pace. Many users appreciate its sturdy design and mention how durable it is even when being transported around for travel.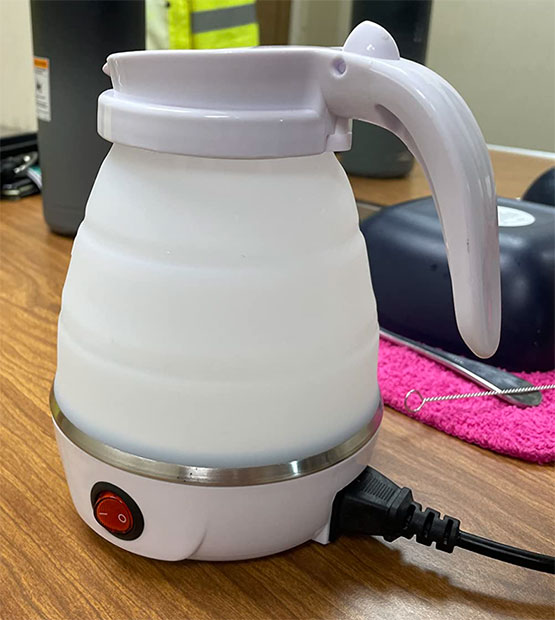 One thing we really like is that you can clearly see how much water is inside without looking in from the top. This prevents you from under-filling or wasting valuable time boiling extra water you don't need. The one thing to pay attention to is the design of the spout. It's shorter than most others, which can mean a more-difficult time getting an accurate pour. That said, most people don't have any issues using it to pour over coffee.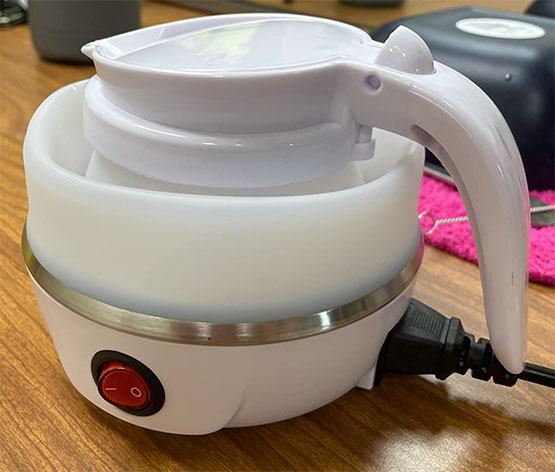 The UpdateClassic is an overall excellent option, especially if space is critical. With a 20 ounce capacity, it's ideal for RV travel and on the road use since it only draws 300 watts. All in all, it's easy to recommend as a great alternative to our best overall pick that offers even more capacity.
What We Liked:
Easy fold design.
Fast boil function.
Affordable.
Easily viewable water level.
Lightweight.
What We Didn't Like:
Foldable design is not quite as durable as others.
Best Runner-Up: Bodum Bistro Electric Water Kettle (700W)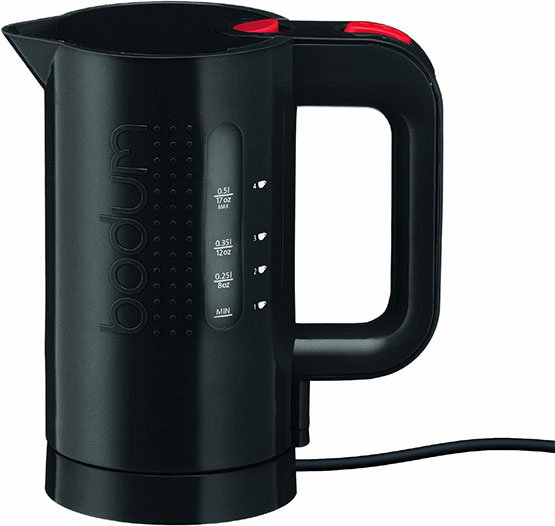 Key Features:
700 watts.
17oz capacity (larger options available).
Boils 2 cups of water in 5 minutes.
Side window to view water level.
Automatic shutoff feature.
Weight: 1.1 pounds.
Bodum has been a respected name in this space for many years. Their philosophy is to make the most appealing, functional products on the market. The Bodum Bistro Electric Water Kettle is one of the sleekest, aesthetically pleasing options we've come across. Rather than taking the shape of a traditional kettle, the form factor is more in line with a French press. While it may make storing it more challenging than others, it looks very nice on any counter.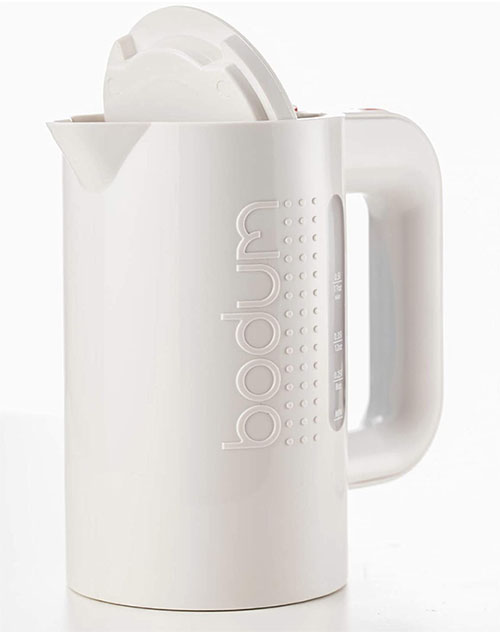 The on/off button is at the top of the handle, allowing for simple operation. When full, we found the boiling time to be between 5-8 minutes, which is much faster than most other options. There's a separate button on the top that slowly and carefully opens the lid. Ultimately, this prevents the risk of hot water being accidently splashed towards you.
The thoughtful design continues with a generous water level window on the side for quick measuring and preventing any overflow. Having measurement lines for ounces, liters and cups is a nice addition as well.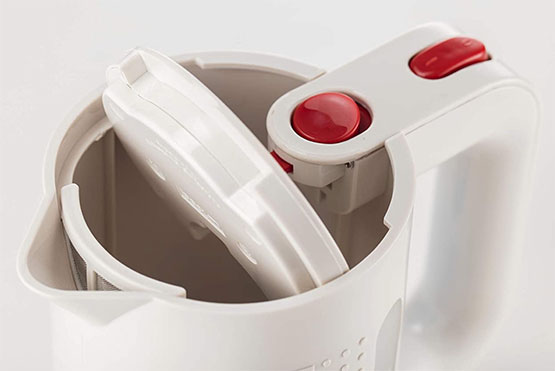 The steam-activated automatic shutoff function is very effective and performed consistently during our repeated testing. There's even a mesh filter on the spout that captures small impurities that may be in the water as you fill it.
Bodum's Bistro electric kettle is an ideal fit for people that appreciate a sleek, minimal design. It has a wealth of intuitive user-friendly features that make the water-warming process quite enjoyable.
What We Liked:
Great visual design.
Available in larger capacities if needed.
Comes in a few different colors.
Included filter is nice to have.
Boil button on the handle for easy operation.
Auto-shutoff for peace of mind.
What We Didn't Like
A bit bulkier than others.
Best Low-Profile: LOUTYTUO Ultrathin Collapsible Electric Kettle (700W)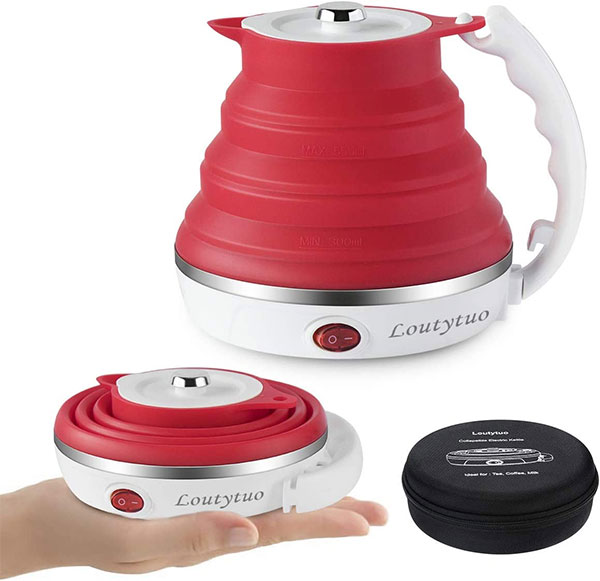 Key Features:
700 watts.
555ml capacity.
Boils 2 cups of water in 3 minutes.
Fully collapsible design.
Detachable power cord.
Fits in small carrying case.
Weight: 1.83 pounds.
The LOUTYTUO Ultrathin Collapsible Electric Kettle takes the foldable design of the UpdateClassic to another level, folding completely flat into a low profile disk that can be stored in an included small zipper pouch. The entire setup including the power cord is able to be stored this way in a drawer, backpack or pocket, without taking up much room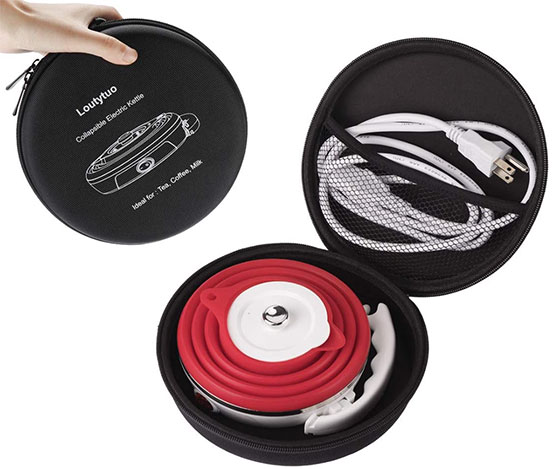 It has a single button, single boil mode that helps keep things streamlined and easy. From start to boil, water is boiling and ready to go in as few as 3-5 minutes. Although it's slightly smaller than most, we found that it still did a great job providing hot water in as little of time as possible.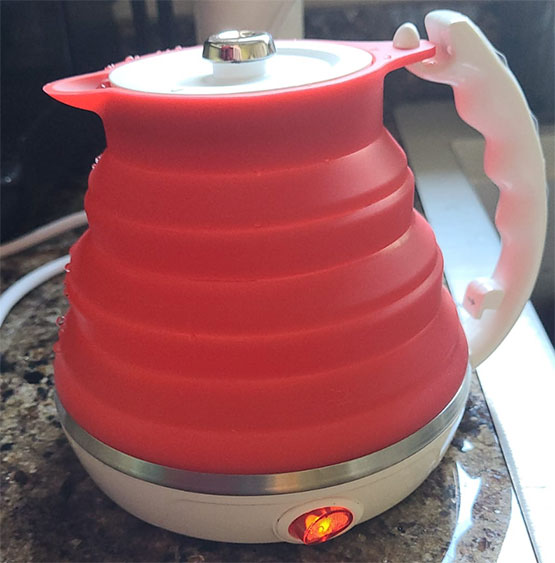 One thing that's missing is an easy way to gauge the water level while filling. The walls of the kettle are not see-through which can slow down the entire preparation process. However, its ability to fold into such a compact size is second to none and truly hard to beat in terms of portability. If you're looking for a kettle that can go virtually anywhere, with incredibly quick boil-times, look no further than the LOUTYTUO Ultrathin Collapsible Electric Kettle.
What We Liked:
Folds small for easy storage.
Comes with a zippered carrying case.
Fast boil times.
Comes in a variety of colors.
Easy single button boil setting.
What We Didn't Like:
No ability to see water level from the side.
Exterior is a bit flimsy.
Best with Detachable Base: Dezin Electric Kettle (800W)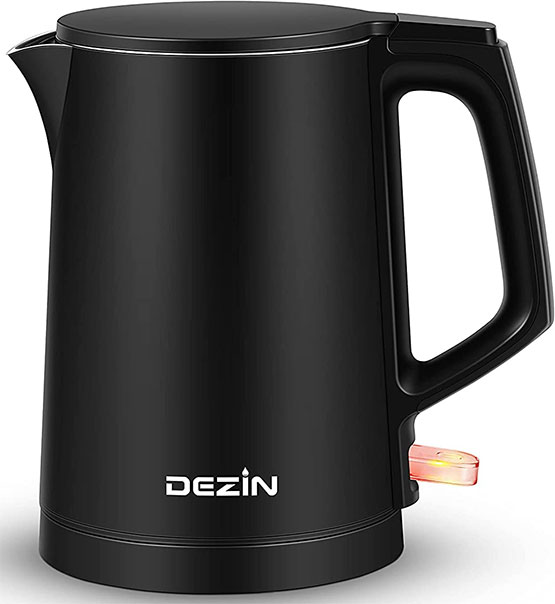 Key Features:
800 watts.
800ml capacity.
Boils 2 cups of water in 3 minutes.
Detachable base.
Auto shutoff feature.
Filter in the spout.
Weight: 2.2 pounds.
The Dezin Electric Kettle is a great option for people that prefer to set their kettle on a powered base. There are several reasons this may be a better option in terms of improved maneuverability and handling. If you're using it multiple times a day, this saves you from having to detach and reattach the cord every time you want to use it. Best of all, the base features a grippy, non-skid surface that can help keep the kettle stay in position.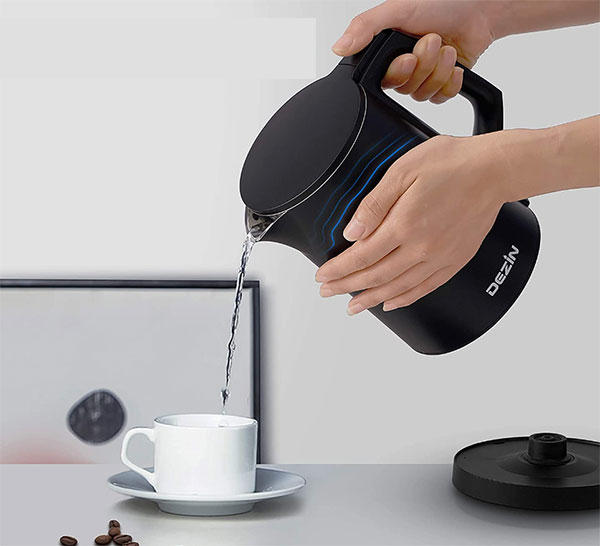 We were impressed by the overall build quality. The dual wall steel chamber works well with the heating element to transfer high amounts of heat. The result is a boil time of 3-5 minutes in most cases. Keep in mind, however, that it comes at the expense of higher energy consumption. Given the larger capacity and heating speed, it's ideally suited for families with more than two people.
Many users mention this kettle does the best job of keeping the integrity of the water in terms of taste. This may be in-part due to the filter that's installed on the spout and the high quality steel it's comprised of. Although you aren't able to see the water level from the side, the wide opening at the top makes it easy to gauge when peering from above.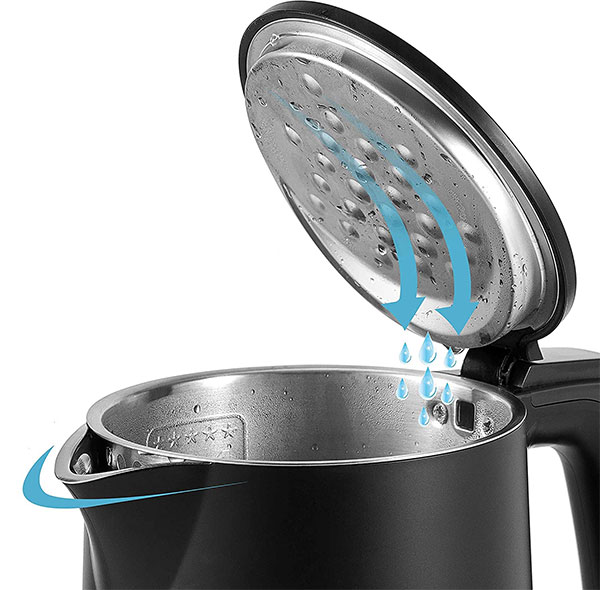 Overall, the Dezin Electric Kettle is suited for people that like a wider opening, an accurate pour spout and incredibly fast boiling times. While it does come at the expense of high power consumption, it's still only 800W, which most RV power systems should be able to handle just fine.
What We Liked:
Fast boil time.
Sleek design with a detachable base.
Cord recoils into the base when not in use.
Visual indicator when boiling is in progress.
Automatic shutoff.
What We Didn't Like:
No visual water level indicator