Maircle S3 Pro
Pros
70 minute battery life on lowest setting.
Extremely powerful suction with max mode.
LED control display is visually pleasing.
Green LED on floor brush illuminates very fine particles.
Relatively lightweight, well-balanced design.
Cons
Max mode is a bit loud.
Handle is a bit slick.
Vacuum technology has advanced by leaps and bounds in recent years. To begin with, small motors have gotten significantly more powerful. With today's cordless vacuums, you can tackle jobs that used to require a full-sized canister vacuum. Along with that power has come improved efficiency. Combine that with modern battery technology, and you can manage larger jobs without stopping to recharge.
Of course, some stick vacuums are better than others. If you don't take your time and shop around, there's a good chance that you'll end up disappointed.
Note: At no extra cost to you, we may earn a commission for purchases using our links. Learn more.
Today, we're going to review the Maircle S3 Pro. This battery-powered stick vacuum is incredibly powerful, with a well-balanced design that's easy to operate. It's also worth noting that it comes in two variants: the S3-Mate and the S3-Pro. The one we got hands-on with was the Pro version. Most of the features are the same between the two. But when there's a difference, we'll make sure to point it out. Let's take a closer look, and see how well it performs!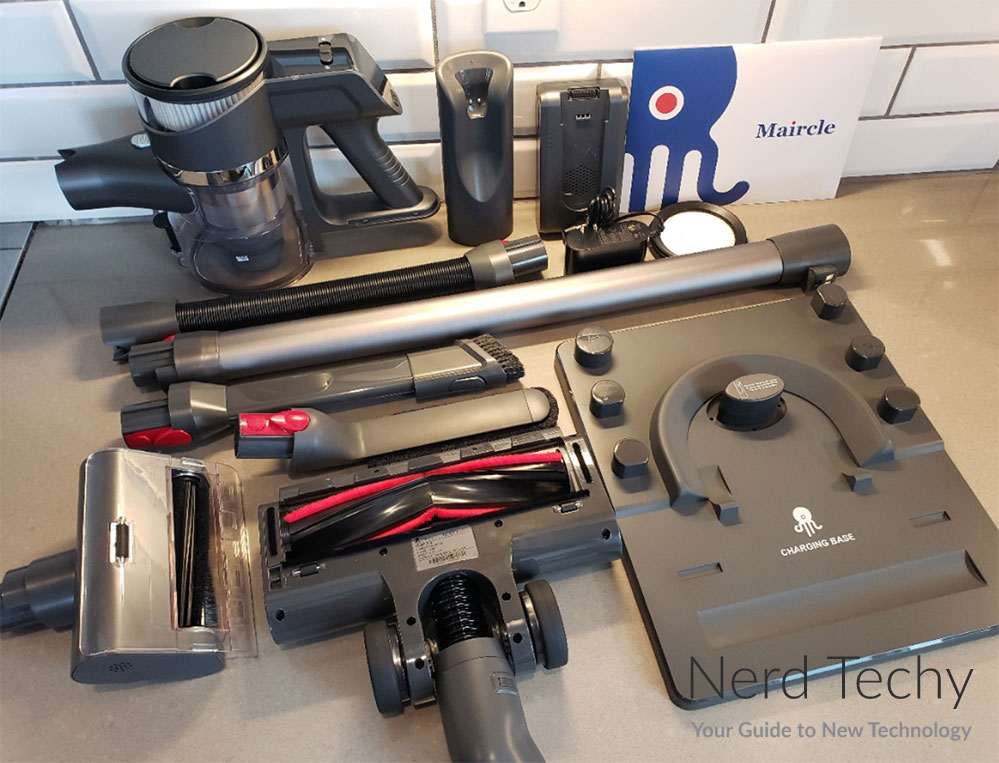 Overall Design
The housing of the Maircle S3 Pro Cordless Stick Vacuum is constructed mostly from matte black plastic. The main body has the motor at the front, housed in a vertical cylinder. The dust hopper is made of transparent plastic so you can see its contents, and hangs underneath. The battery is broad and rectangular, and you can find it at the bottom back.
The black pistol grip is located just above the battery, and is angled slightly forwards. It's actually one of the few things we didn't like, because the smooth finish is a bit slippery. That said, the design is very well-balanced and easy to handle. It's also relatively lightweight, which makes it easy to clean for longer periods without getting tired.
On the back end of the housing, you'll see a bright LED display. In the center, in large numbers, you'll see your estimated remaining operating time. Below this, there's a row of status lights that will illuminate depending on what mode you're using. If there's a jam or another error, a warning light will appear above the battery meter. There's also a black rubber power button near the bottom.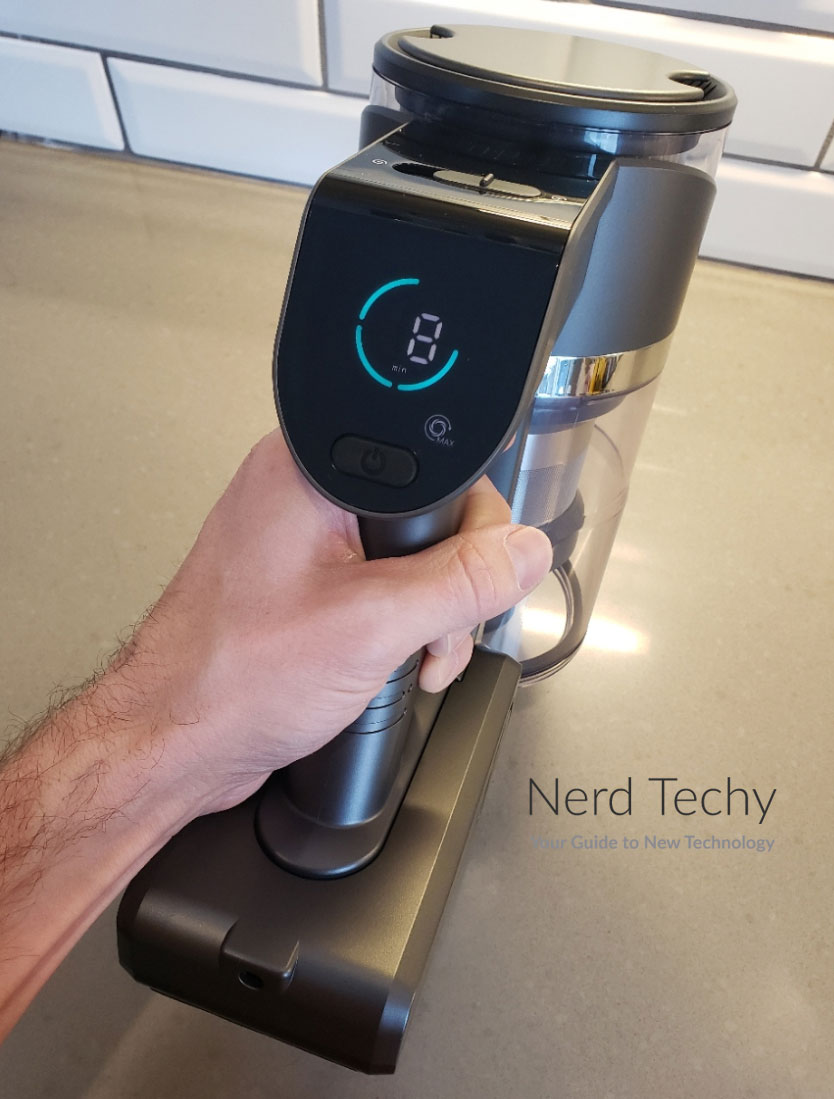 One thing we loved about this vacuum was the charging stand. A lot of vacuums don't even come with a stand, or the stand won't hold all of your accessories. The S3 Pro has a self-standing design. Just set it in the stand, plug the stand in, and the battery will charge. Meanwhile, all of your accessories will be organized and close at hand. You can charge the vacuum by resting it on the "dock" or simply plug the AC adapter directly into the back of the battery pack.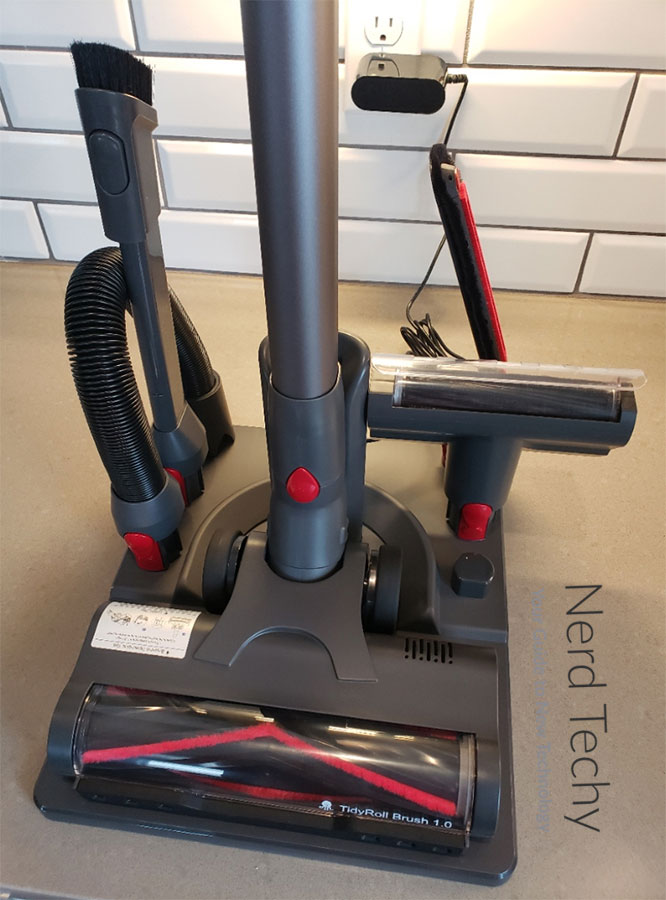 Best of all, Maircle provides a 2-year manufacturer's warranty for the S3 Pro. They also provide a 90-day return window. Within that period, you can send it back for any reason whatsoever.
If you want a vacuum with a different type of grip, check out the Dreametech P10 Pro. It's much easier to hold onto, and it has a built-in control trigger. That said, the battery performance isn't quite as impressive.
Main Brush
Your attachments can mount directly to the front of the housing for smaller jobs. However, you'll probably want to use the primary aluminum pole for running the main brush. It's grey in color, which provides a contrast with the black main housing. And the red locking buttons at either end make it simple to attach and remove.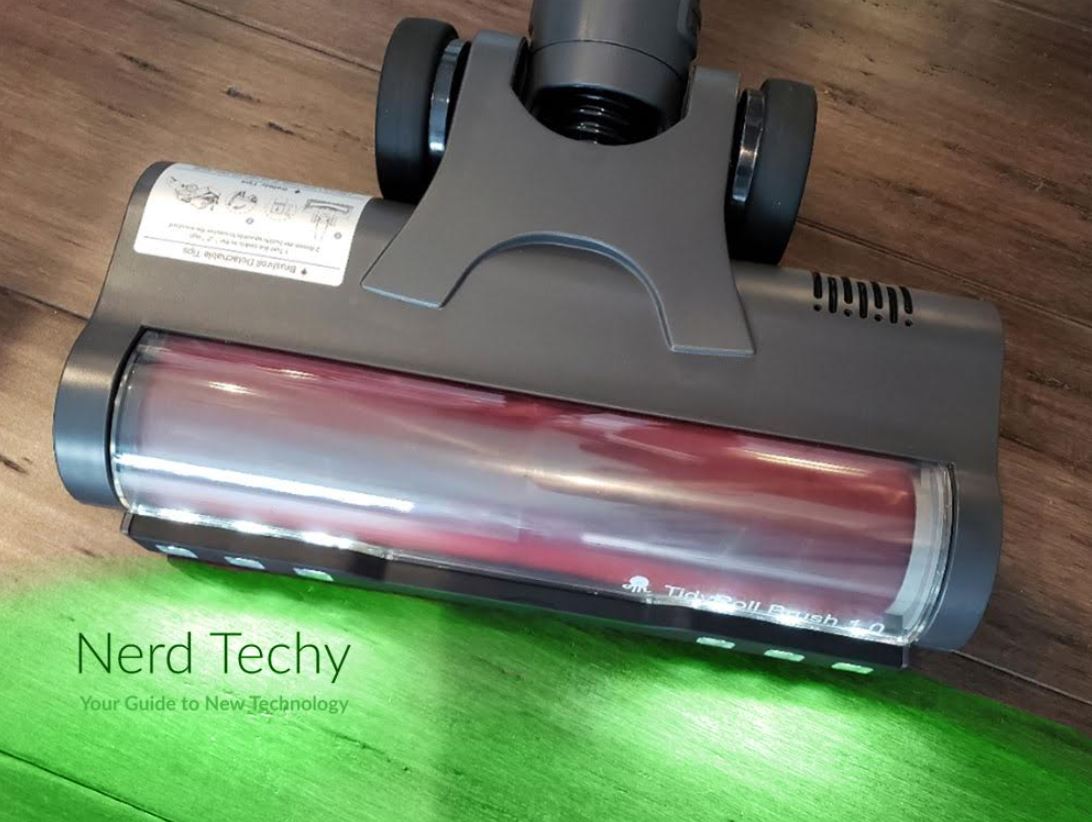 The floor brush itself is very well-engineered. The barrel has a V-shaped main brush with alternating fine and coarse bristles. They do an excellent job of cleaning out dust, dirt, and other debris. They're also fairly tangle-resistant. Any vacuum roller is going to get clogged eventually. But unless you're vacuuming up a barber shop, that should be a rare occurrence with the S3 Pro. Not only that, but the brush guard is completely transparent, so you can see if there are any tangles. Additionally, the roller brush is very easy to remove and manually un-stuck any clogged hair if need be.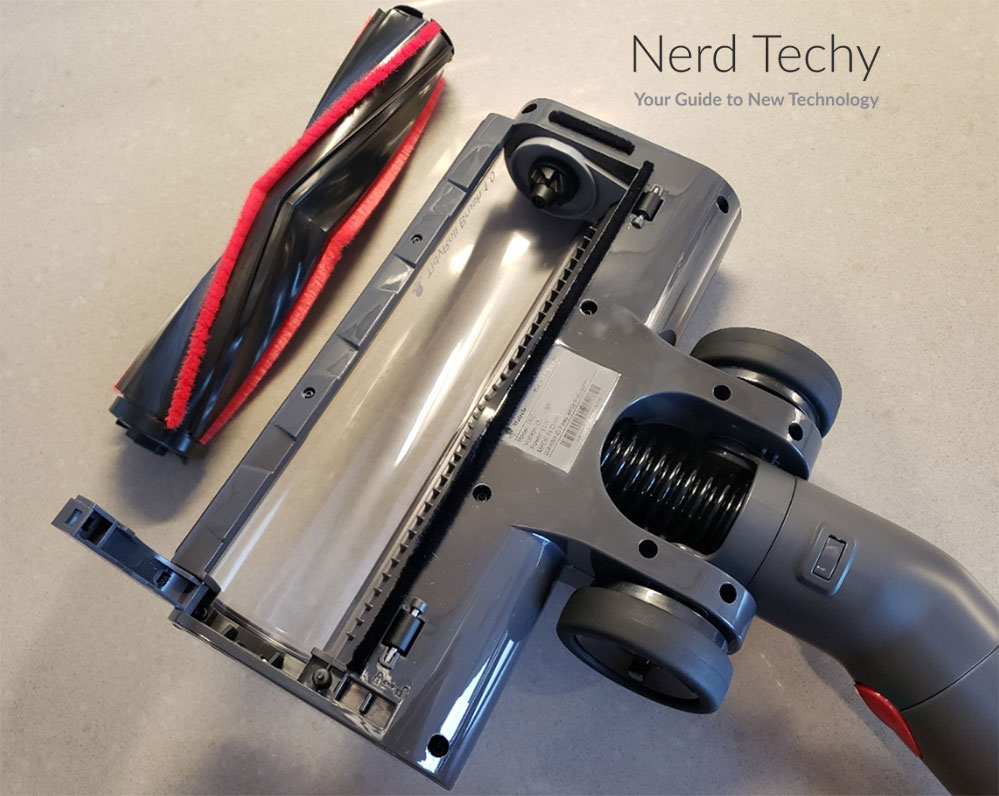 We also appreciated the lighting on the front of the brush. There's a set of six LED lights, with three split to the left and three to the right. These make it easy to see under sofas and other dark areas. It also tends to light-up tiny particles just before you pass over them, giving you a satisfying visually-pleasing experience that the vacuum is picking up everything in sight.
Other Attachments
Besides the main brush, there are quite a few other accessories included in the package. To begin with, you get an upholstery brush. This is basically a miniature version of the large roller, designed for sofas and car mats. It has its own built-in motor, much like the main brush, as well as a tangle-resistant design. It's also a good fit for working in tight spaces like closets where the main roller would be unwieldy.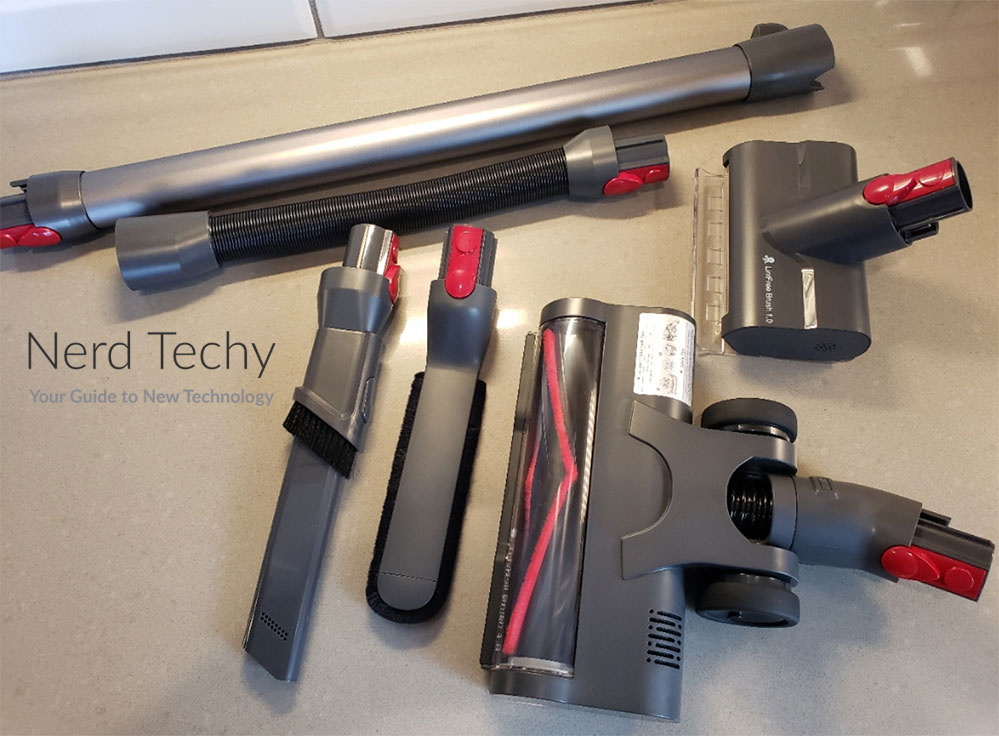 Second, you get a plastic crevice tool. It's a long, narrow piece of black plastic that can fit into tight spaces. You can use it between sofa cushions, in the gap next to your car door, or other awkward areas. At the tip, there's a little brush that you can slide forwards or backwards. In the forward position, it provides some protection for your surfaces. For example, you can use it to clean computer keyboards and other electronics.
The furniture brush is long and flat. It's meant for light dusting on desks, tables, and other surfaces. The bristles extend in all directions, so you don't have to worry about scratching anything delicate. The suction isn't as intense as when you use the crevice tool brush. But it's also more gentle and covers more area. As long as you're only doing light cleaning, it's the optimal tool for the job.
In addition to the aluminum extension rod, the kit includes a four-foot flexible hose. This makes the vacuum incredible versatile, since you can get into more places. For example, you can set it next to your car while you're cleaning out your floorboards. It's particularly convenient when using the crevice tool, since you don't have to maneuver the entire vacuum. As a result, you're looking at an incredibly versatile machine.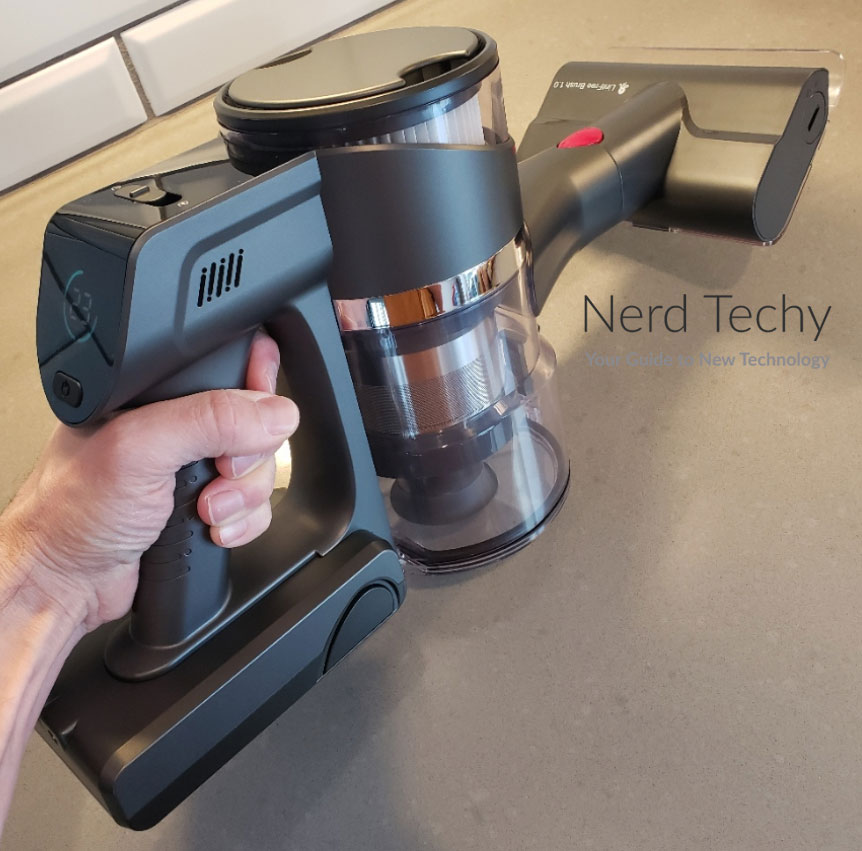 Cleaning Performance
The Maircle S3 features three different cleaning levels for different scenarios. The lowest, minimum-speed setting is MIN mode. It's powerful enough for light everyday tasks like sucking up hair and dust. The next level is STD mode. This mode is better for crumbs, bits of food, and similar debris. It's also a more suitable option for medium-pile carpets.
The highest setting is MAX mode. This mode will drain your battery the fastest, so you won't want to use it all the time. But when you're facing ground-in dirt, deep pile carpets, or a large spill, it can be the best choice for the job.
On MAX mode, the S3 Pro is capable of providing 23KPa of suction. A run-of-the-mill stick vac will provide more in the range of 14KPa to 16KPa. At 23 KPa, you're looking at some serious suction. You can clean up virtually any mess you're likely to find around the house. It's not quite as capable as a shop vac. But for anything short of that, you'll have more than enough suction for the job.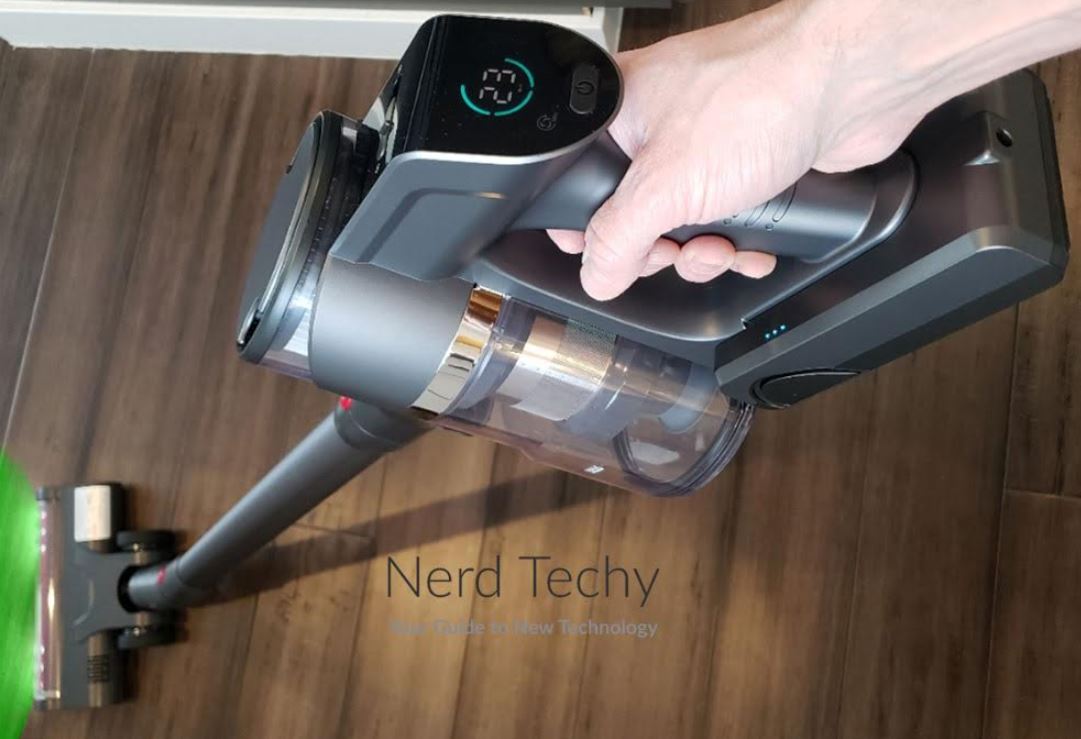 In reality, the S3 Pro has plenty of suction power for any mess. Whether you're using it on hard floors or plush rugs, it does a great job picking up debris. The only thing it moderately struggled on was high-pile rugs. However, a way to combat this is to use the lowest suction setting. It won't apply quite as much power, so the roller won't tend to get stuck. Regardless, this is the kind of vacuum that's capable of picking up both extremely fine dust and dander as well as larger loose objects.
Using it around the Christmas tree, it had no difficulty picking up hundreds of tiny pine needles and glitter from decorations. In our opinion, the suction and overall cleaning performance was never lacking.
Use code "S3PRO222" for an additional %5 off when you order the Maircle S3 Pro on Amazon.
Battery and Extras
The battery performance on the Maircle S3 is excellent. However, it's significantly better on the Pro version than it is on the Mate version. On the S3 Pro, you can get as much as 70 minutes of operation. That's enough to clean the first floor of your house with some left over. That said, you'll only get 70 minutes in MIN mode. In STD mode, where you'll probably do most of your work, that drops to 35 minutes. That's still very respectable, and you can clean a large area. In MAX mode, you get 15 minutes. Not bad considering how powerful it is. It should be mentioned that MAX mode is significantly louder than STD mode; not that big of deal but worth mentioning.
The S3-Mate's performance is still good, but it's not quite as awe-inspiring. In MIN mode, it will last for 40 minutes. In STD and MAX modes, it will last for 20 or 12 minutes respectively. That's still not half bad! While the MIN mode is energy-efficient, it still seems to do an adequate job for light messes. For any mess that's more significant, you'll want to utilize STD or MAX mode.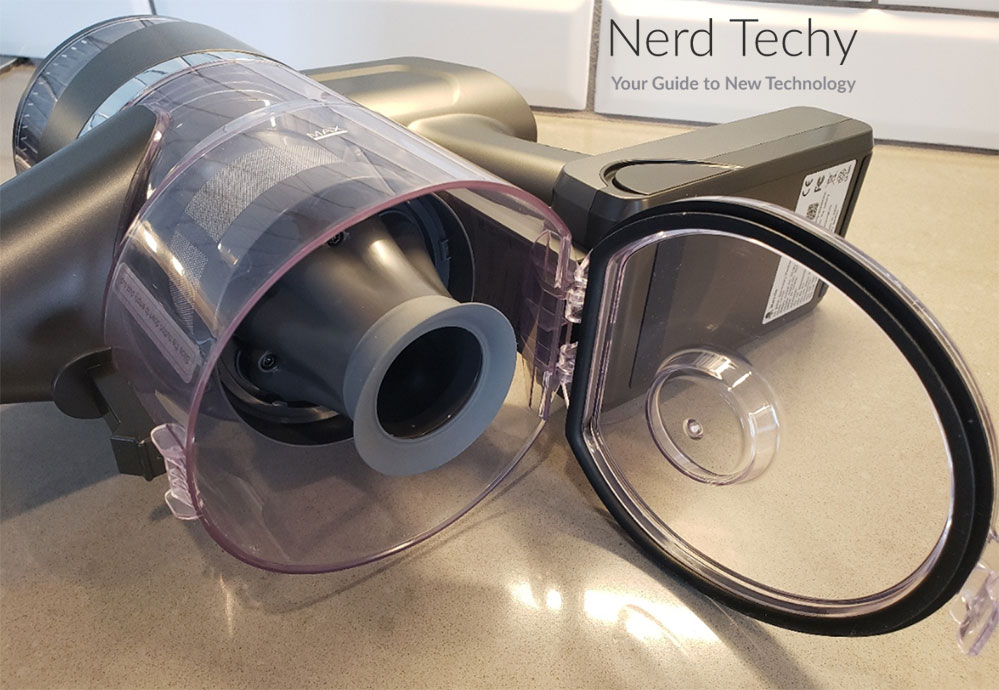 The dust hopper on the S3 is easy to empty. The bottom pops open easily with the slide of a latch. Just hold it over your trash can, pop it open, and let the dirt fall out. Press the lid closed and you'll be ready to vacuum again. Everything is easy to quickly disassemble and thoroughly clean.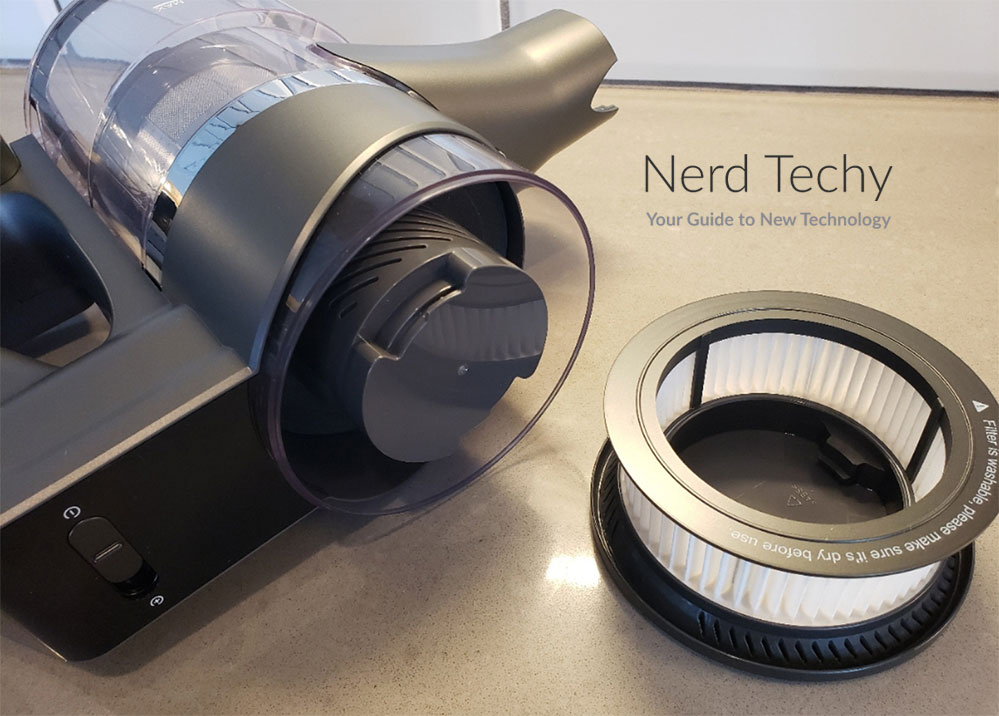 The air filtration system consists of multiple stages. To begin with, there's a set of metal cones that divide the air into streams. This creates a cyclone motion, so most debris simply spins to the side of the cylinder and drops. The air then passes through a metal mesh that traps any remaining dust or pet hair. Finally, it goes through a cylindrical HEPA filter. You'll have to change the HEPA filter and clean the mesh filter every 6 to 12 months. Exactly how often will depend on how often you vacuum and how dirty your house is.
The Orfeld Cordless Vacuum is another decent option. It has two power levels and an easy-to-use trigger control. The battery life is even similar to the S3, which is pretty impressive. Then again, it's not nearly as impressive in terms of suction and overall power.
Final Verdict
The Maircle S3 Pro is one of the most powerful stick vacuums on the market. With 23KPa of suction, it can handle messes most others won't. If that's not enough, the battery life is very impressive, at up to 70 minutes with the lowest suction setting. We also loved the overall design and the accessories. It's versatile enough for almost any job.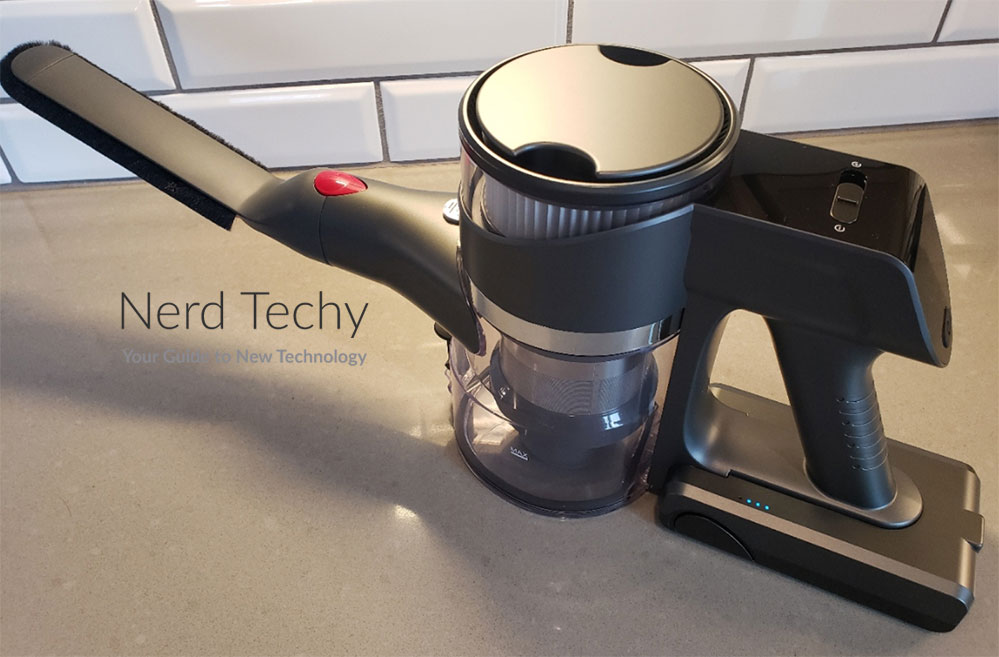 While the Max mode is a bit loud and the handle seems relatively slick, these aren't that big of complaints for most users. Overall, you're looking at a solid, albeit somewhat expensive cordless vacuum that's quick and easy to use when you need it most. Don't forget to use the coupon code "S3PRO222" for an additional 5% discount when you order.
Please consider sharing:
Note: At no extra cost to you, we may earn a commission for purchases using our links. Learn more.