In an era dominated by technology, even the humble mailbox has seen a remarkable transformation. Picture a mailbox that not only stores your mail but also keeps you informed in real-time. It's a concept that blurs the boundaries between the physical and digital, leaving us both puzzled and fascinated.
Enter the world of mailbox alert/alarm systems. These small gadgets are comprised of a 'base station' receiver that sits inside your home, and a wireless transmitter that's attached to your mailbox.
Today, we'll explore the leading options that can turn your mailbox into a hub of convenience and connectivity. No more wondering if your important mail has arrived. These systems are a great investment, whether you're just trying to stay aware of a delivery or wanting to thwart-off would-be thieves.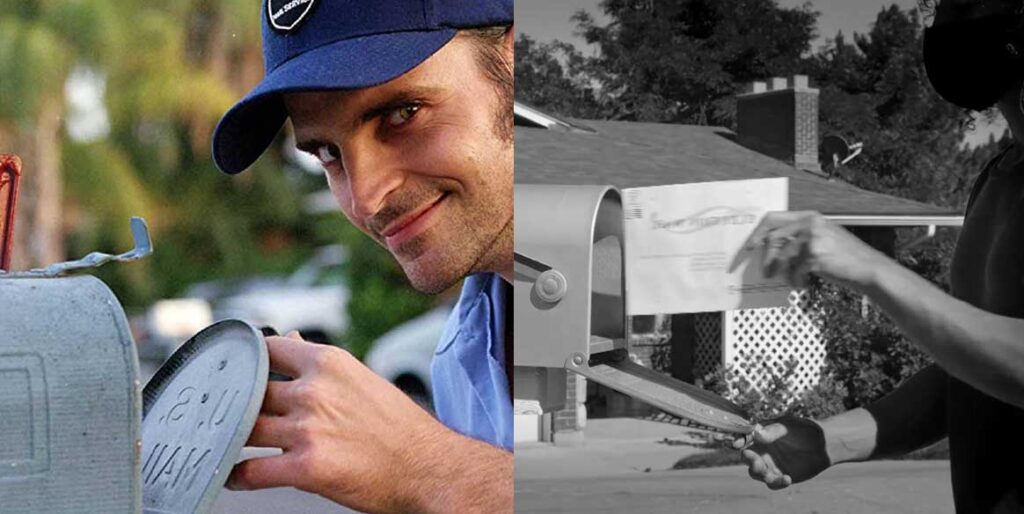 Top Reasons to Invest in a Mailbox Alert/Alarm System:
Enhanced Security: A mailbox alarm can deter potential mail theft by alerting you to any unauthorized access or tampering with your mailbox.
Mailbox Monitoring: They provide real-time monitoring of your mailbox, ensuring you receive important documents or packages promptly, right when the mailman delivers.
Protecting Sensitive Information: If you receive sensitive or confidential mail, a mailbox alarm can help ensure its security and privacy.
Peace of Mind: With a mailbox alarm, you won't need to constantly check your mailbox. You'll be instantly notified when mail arrives, providing ideal peace of mind.
Convenience: Offers convenience for those with busy schedules, as you won't have to make unnecessary trips to the mailbox to constantly check it.
Here are the Top 5:
Best Overall: Mail Chime MAIL-1200 Mailbox Notification System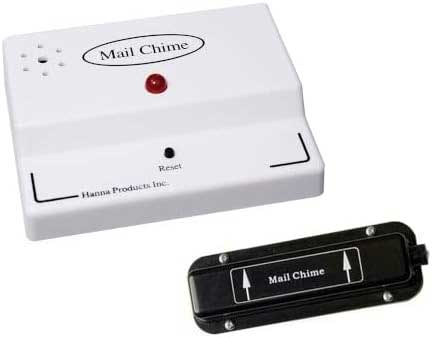 Key Features:
350 ft. wireless transmission distance.
Audible alarm with a visual LED indicator.
Beeps 4 times each time the mailbox is opened.
Simple installation.
Our best overall pick is the Mail Chime MAIL-1200 Mailbox Notification System. Finally, a mailbox alert that works, as advertised, just like it should. With its instant mailbox alert feature, you'll never have to worry about constantly checking for new mail. This little device beeps 4 times every time your mailbox door opens, saving you the hassle and time from constantly checking if mail was delivered. The base station receiver plugs-in, inside your home, while the small transceiver goes inside your mailbox.
The MAIL-1200 also doubles as a theft alarm. Equipped with a highly visible red LED light and audible beeps, this mailbox notification system will catch pesky robbers red-handed if they try to pry open your mailbox. Say goodbye to mail theft and hello to peace of mind.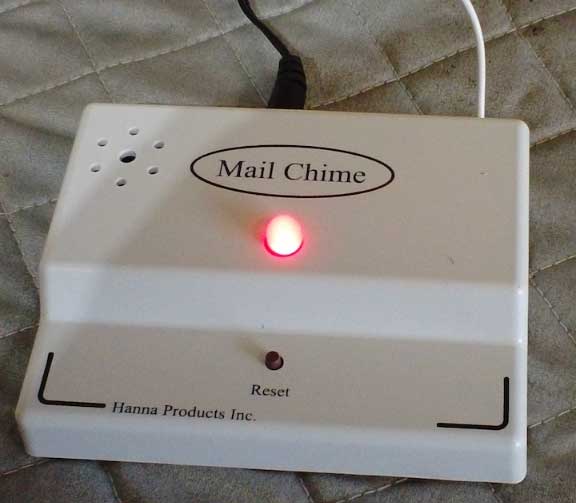 One of the things we love most about the MAIL-1200 is its range. With its advanced transmitter, it can send signals to the receiver placed up to 350 feet away from the mailbox. In most instances, this means you'll never miss a mailbox alert, no matter where you are in your home. It's kind of like having a personal assistant for your mail.
Regarding installation, it's very straightforward. The full package includes the transmitter, receiver, AC adapter, and even mounting tape. No wires, no complicated setup; everything can be setup in a matter of minutes. Just follow the well-written user manual for easy instructions and you're good to go. Plus, it's battery-operated and very efficient at that, so you don't have to worry about finding a power source near your mailbox.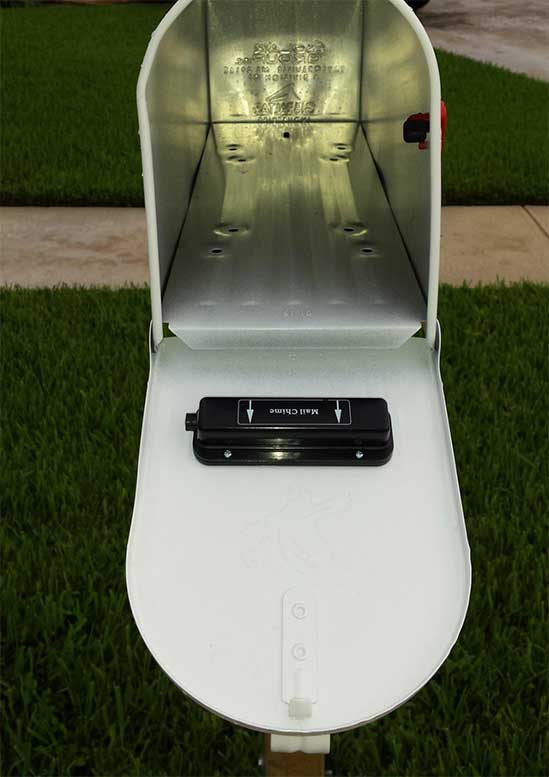 Moving on, let's talk about what we don't like. The alarm sound may be considered a bit harsh and ugly sounding. It would have been great if they had a more pleasant tone or a variety of tones to accompany the beeps, but it's not really that big of deal. In addition, it's said that the MAIL-1200 may have difficulty functioning in freezing temperatures. So if you live in a colder climate, this might not be the best option for you.
All in all, the Mail Chime MAIL-1200 is a game-changer for anyone tired of constantly checking their mailbox. Its instant alert, theft alarm, and easy setup make it a must-have for anyone looking for convenience and peace of mind.
Pros:
Reliable wireless transmission.
Incredibly easy setup and configuration.
Comes with a one year limited warranty.
Doubles as a theft alarm.
Cons:
A bit more expensive than most other options.
Not reliable in cold weather climates.
Alarm sound is a bit harsh.
Best Long Range: MySpool XR1 Mailbox Alert System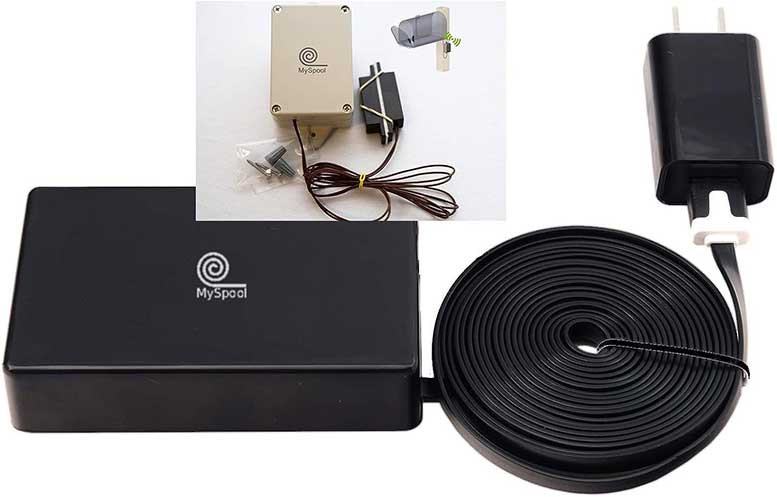 Key Features:
Up to 1600 ft. range (line of sight).
Notifies via email or text message.
Sensor powered by three AAA batteries (included).
Hub requires AC power and WiFi for notifications.
Introducing the MySpool XR1 Mailbox Alert System, a high-end, WiFi connected solution to never missing a mailbox delivery. With its extended range capability, this is clearly the best long-range option out there.
Imagine being able to receive an alert the moment your mailbox is opened, anywhere, even if you aren't home. Whether you prefer email, text, or push notifications, the choice is yours. And with the added bonus of being able to configure your settings through the secure user area on myspool.com, you have complete control over how and when you receive your alerts.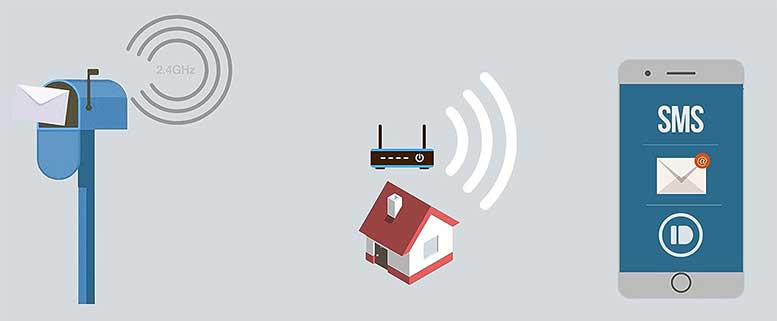 One of the standout features is its impressive range. Tests have shown that even at line of sight, this system can reliably send alerts at a staggering 1600 feet! That's three to four times the range of most other options available. Whether you live on a sprawling property or simply want peace of mind knowing you'll never miss a delivery, this system is a great top of the line choice.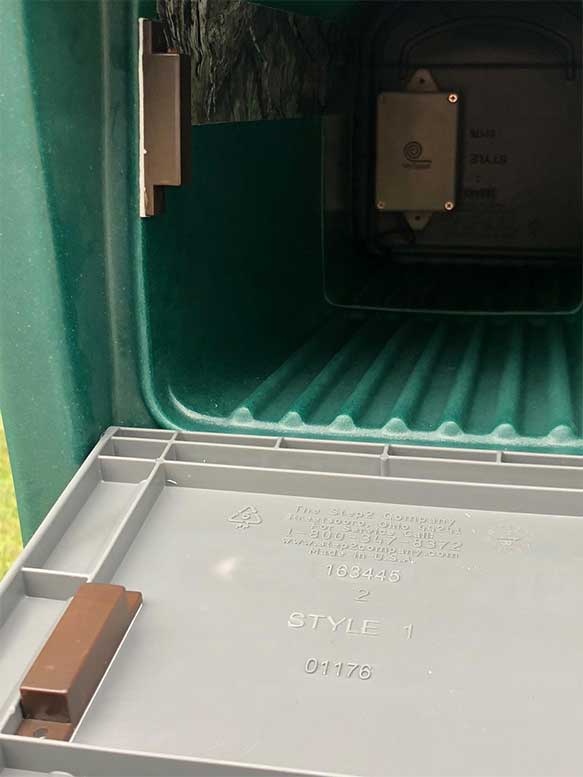 Setting up the MySpool XR1 Mailbox Alert System may take a bit more effort, but it's still relatively easy. Just plug in the black box Hub, connect it to your WiFi, and trigger an alert with the separate Node sensor parts. Once you've created an account on myspool.com and confirmed your email subscription, you're good to go. From then on, every time your mailbox is opened, you'll receive an email notification, and if you choose, a text message too.
One of the things we love most about the MySpool XR1 is the added peace of mind it provides. With the free MySpool Monitoring Service for the Hub, you'll be notified via email if your device misses a scheduled check-in. This ensures that you're always aware of any issues and can take action if needed. Plus, the follow-up notification when it comes back online is a thoughtful touch.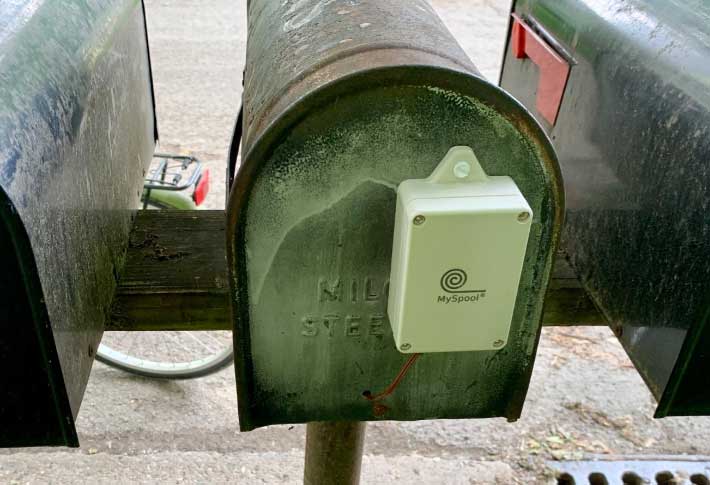 However, it's not all sunshine and rainbows with this product. One downside we found is that the installation process can be a bit more involved compared to other mailbox alert systems. While it's still fairly easy, it may not be as simple for those who aren't as tech-savvy. Moreover, the need for a separate Hub and WiFi connection may be a drawback for some users who prefer a more streamlined setup.
While it does come in at a steeper price point than others, the MySpool XR1 Mailbox Alert System is a game-changer for anyone who wants the longest possible range. Its extended wireless transmission, customizable alert options, and reliable WiFi-enabled monitoring service make it a top choice.
Pros:
Incredibly long wireless transmission range.
Can send notifications up to 5 different email addresses.
Comes with both the hub and sensor.
Very efficient in terms of battery life.
Myspool.com interface is simple and easy to configure.
Cons:
Hub must be plugged-in and connected to WiFi.
Does not audibly or visually alert.
Installation is a little more involved.
Most expensive option out there.
Best Alternative: Briidea Mailbox Alarm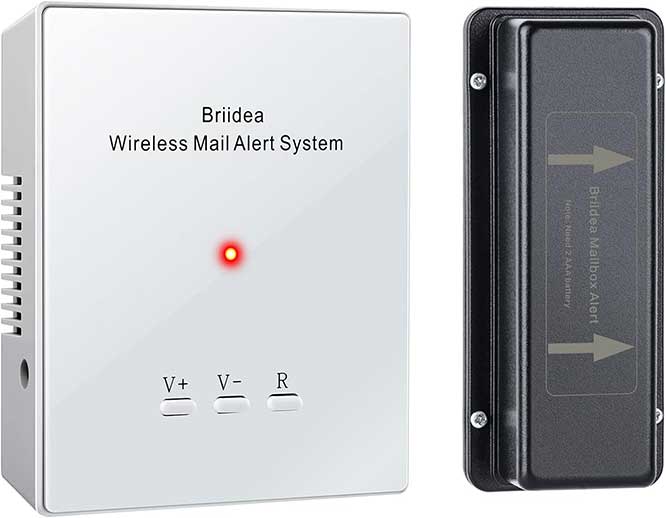 Key Features:
500 ft. line-of-sight range, 300 ft. with obstacles.
Works with all types of mailboxes; curb side, wall mounted or slot type
Powered by two AAA batteries.
Utilizes and LED and audible beep.
Introducing the Briidea Mailbox Alarm – the best runner-up solution to never missing another delivery! With its impressive 500ft wireless range in open areas, this mailbox alarm ensures that you'll always be alerted when your mail arrives. Even if you have 5 walls, doors, or other obstacles in the way, it can still reach a transmitting distance of up to 300ft.
When your mailbox door is opened, the receiver in your house will buzz not just once, but a satisfying 10 times! And as if that's not enough, a red LED light will flash to catch your attention. With volume control and the ability to reset the alarm, you have full control over your mailbox alerts.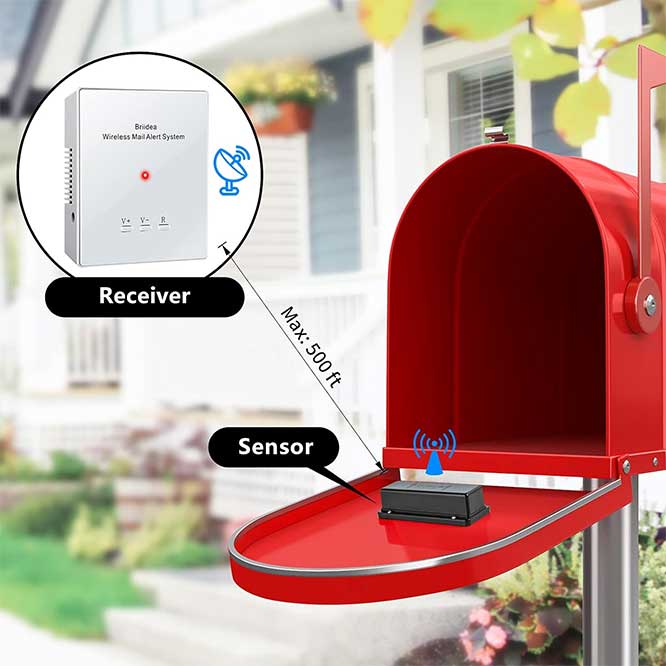 Thankfully, like the others, installation is a breeze. The receiver offers two different methods for install – you can either use the provided 3M adhesive tape or screws to secure it in place. As for the sensor, it can be easily installed on the mailbox door using the provided 3M adhesive. In just a matter of minutes, you'll have your mailbox alarm up and running. There's little to no guesswork involved.
But here's the best part – this versatile alarm works on all three basic types of mailboxes: curbside, wall-mounted, and slot type. Not only that, but you can also use it for your doors, windows, pet doors, or any other aspect of your home alarm system. It's a true all-in-one solution in many regards.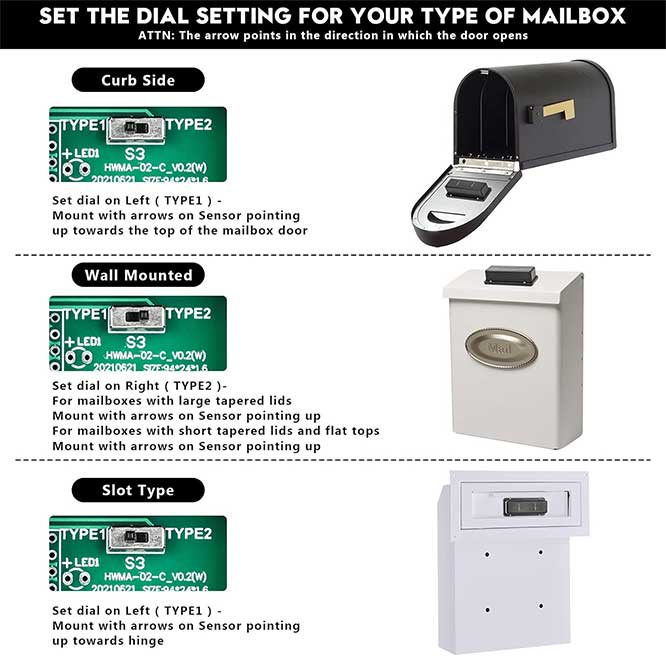 Now, let's get real for a moment. As much as we love the Briidea Mailbox Alarm, there is one thing that we wish could be improved. It's not recommended for extra-large heavy-walled mailboxes. So, if you have a mailbox that falls into that category, you might want to consider other options. However, for the majority of users, this won't be an issue.
In conclusion, the Briidea Mailbox Alarm is a game-changer for anyone who wants to stay on top of their mail deliveries. With its decent wireless range, durable construction, and ability to work with all mailbox types, it's a no-brainer for anyone looking for a great option.
Pros:
Excellent wireless transmission range.
Wonderful build quality.
Installation is a piece of cake.
Fairly affordable price point.
Cons:
May not work well with thick-walled mailboxes.
There's no way to turn off the beeping noise.
Best Budget: BCY Hohipi Mailbox Alarm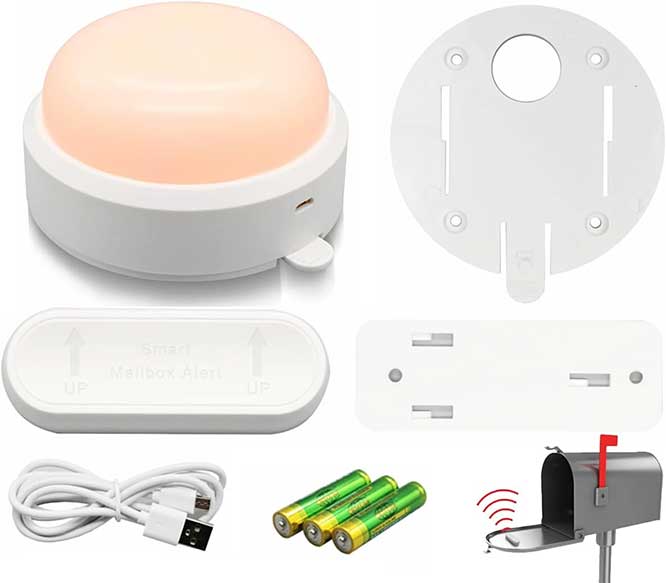 Key Features:
Up to 500 ft. wireless range (line of sight).
Receiver powered via 3 AAA batteries or micro USB.
Unique taplight-like base station receiver.
Audible and multi-color LED visual alarm notification.
Looking for a more-affordable option? The BCY Hohipi Mailbox Alarm is here to save the day. This nifty little device is a budget-friendly game-changer when it comes to mailbox security. With a mailbox sensor that activates when the mailbox door tilts more than 45 degrees, you'll receive a notification on the unique taplight-like receiver. Whenever the door opens far enough to grab mail out of it, it'll notify you inside of your home.
Now, let's talk about the 'base station' receiver itself. When a signal is received from the sensor, a warm yellow light and a prompt sound will grab your attention. The yellow light continues to flash until you retrieve your mail, but fear not, there's a button to stop the continuous flashing. And for those who like a bit of variety, the receiver offers three different ringtones to choose from with just a 5-second press of the top button. You can also adjust the volume with the '1' button on the back, ensuring you won't disturb anyone in the household.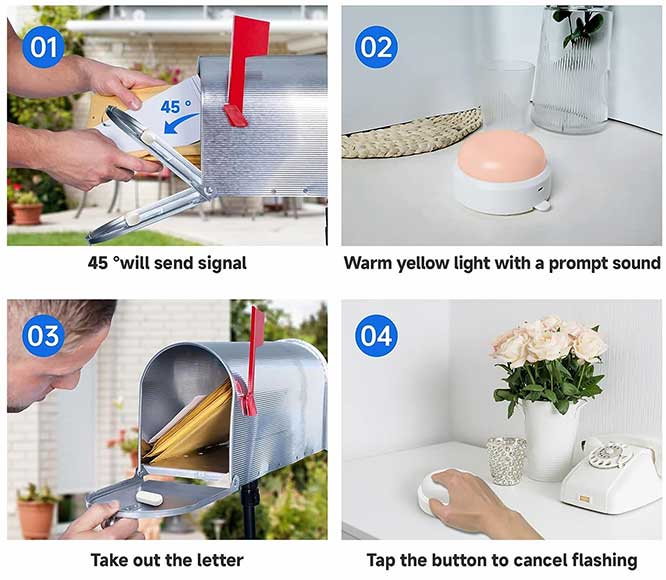 One of the standout features its impressive range, considering the price point. With a wireless range of up to 500 ft. in an unobstructed environment, you can rest assured that you'll receive notifications. Even when obstacles, walls and other subjects are in the way, you can expect around 300 ft. of range. And don't worry about the sensor getting damaged by the elements – the manufacturer made sure that it's very waterproof. Rain or shine, your mailbox alarm will keep on working without qualms.
We were pleasantly surprised by the battery life of the sensor. It can be triggered more than 5,000 times before needing a replacement, which means you can rely on it for many years to come. Thankfully, the receiver offers two power supply methods – three AAA batteries or micro-USB power. In fact, both a USB cable and batteries are included.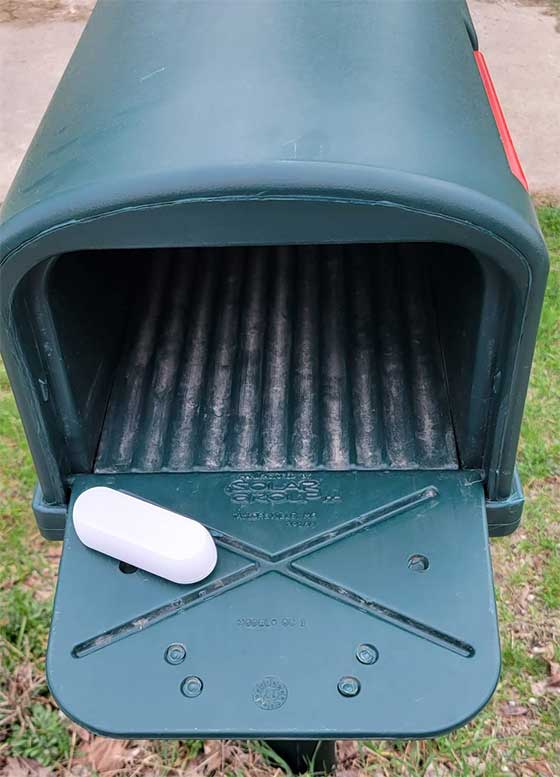 The versatility of the BCY Hohipi Mailbox Alarm is another feature worth mentioning. Although it's designed for mailboxes, it can also be used on walls or next to doors. This means you can use it to alert you when friends or customers visit your home or store, adding an extra layer of convenience to your life.
Installation is a breeze. The easy-to-install buckle design allows you to quickly set it up in your mailbox. Simply use the 3M double-sided stickers or screws (both included in the package) to install the buckle, and then snap the sensor into place. When you don't need it, removing the sensor is just as easy. No complicated instructions or tools required!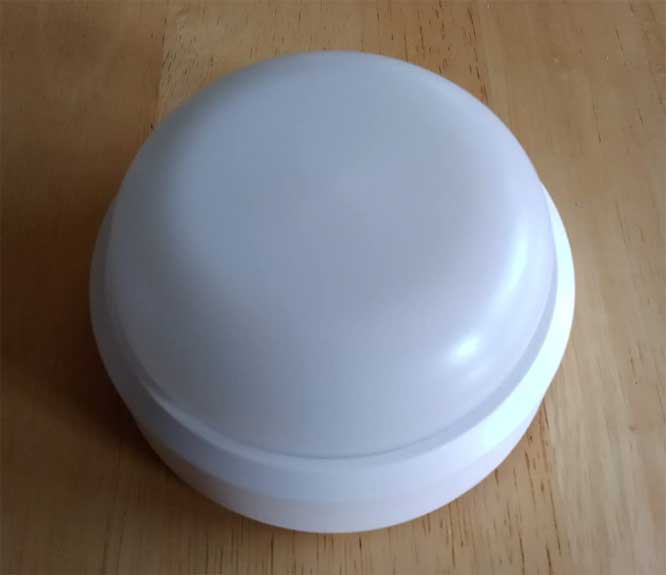 In conclusion, the BCY Hohipi Mailbox Alarm is a must-have for anyone who wants to protect their mail and/or never miss a delivery, without spending a fortune. Its unique lighted taplight function, impressive range, and waterproof design make it a reliable and efficient choice. The long battery life and customizable receiver add to its appeal.
Pros:
Sensor is fully waterproof for all-weather.
Unique button-activated receiver with multi-colored LED.
Battery lasts for up to 5,000 alerts.
Multiple different alarm tones to choose from.
Cons:
May not always activate if mail door is opened slightly.
Instructions are poorly written.
Best Budget Alternative: tolviviov Mailbox Notification System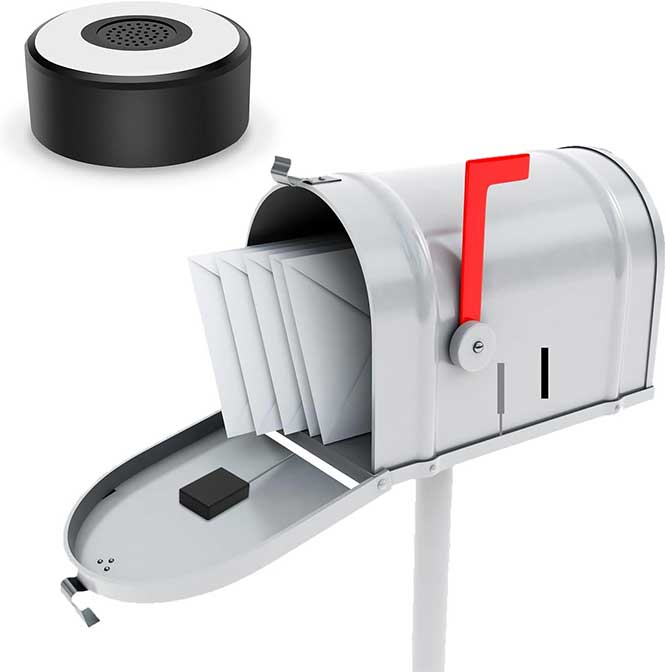 Key Features:
Up to 200 ft. wireless range (line of sight).
Receiver lights up red LED when mailbox opens.
Most affordable option.
Built-in battery backup.
If you're working with a budget and would like an alternative option, the tolviviov Mailbox Notification System might be a great choice for you. With its real-time, red LED notification, you'll be alerted every time your mailbox door opens-up. Whether it's a thief or just the mailman, you'll be informed. The alarm station flashes a bright red light and emits a beeping sound until you press the SET button, ensuring you're aware of any unwanted activity.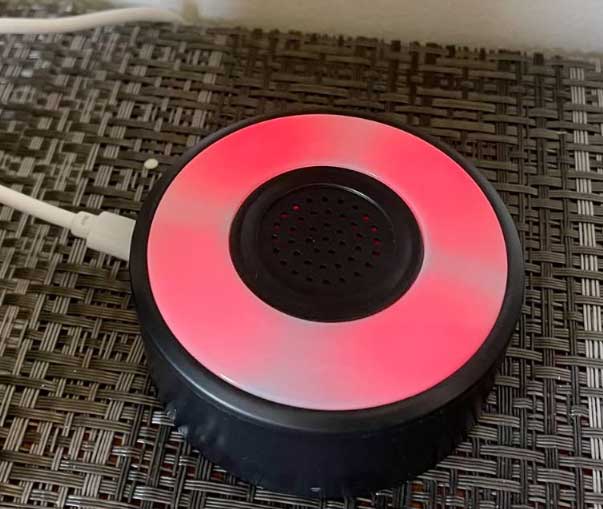 Like the others, installation is a breeze with the DIY instructions provided. In just a few minutes, you can set up the sensor inside your mailbox and attach the antenna outside. It's very simple, so even a tech newbie would have no trouble. Plus, the tolviviov system fits almost the majority of mailboxes, whether they're made of metal, aluminum, or even locked. The only exception? Cluster-type mailboxes with vertical hinges are not compatible with it.
With a transmission range of 200ft line of sight (100ft with obstacles), you're not getting a huge range like other brands, but it's adequate for those who are relatively near their mailbox. The alarm station must always be connected to the AC adapter for proper operation. But thankfully, there's a backup battery built right in that kicks in for up to 48 hours in case of a power outage.
Now, let's talk about the sound. Brace yourselves because this mailbox alert is seriously loud. And we mean, REALLY loud. And unfortunately, it won't stop until you reset it, which can be a bit of a hassle if you're not at home. So, keep that in mind before you opt for it. Also, it's worth mentioning that there's no volume adjustment feature. What you hear is what you get.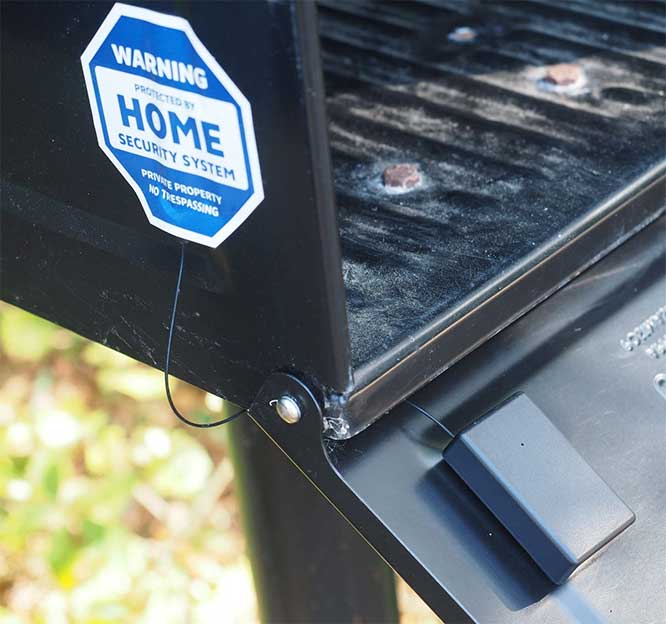 Inside the package, you'll find everything you need: one alarm station, one sensor with antenna, two hook and loop tapes, and two security decals. It's a complete set that ensures you're fully equipped to protect your mailbox. A minor downside we noticed is that the adhesive tape included in the package isn't very sticky. It's not exactly a deal-breaker, but you may want to provide your own.
All in all, the tolviviov Mailbox Notification System is an affordable and reliable choice for mailbox security. When configured correctly, it offers peace of mind, protecting your privacy and property from prying eyes. The installation is easy, and overall works decently well. While the range maxes out at 200 ft, you shouldn't expect an incredibly long range like more-expensive options. And since the set-volume is super loud and unadjustable, it may not be for everyone. However, those looking for the cheapest option will probably be satisfied with it.
Pros:
Less expensive than most options.
Utilizes a bright LED and loud audible alarm when mailbox opens.
Built-in battery backup that lasts 48 hours.
Easy installation.
Cons:
Range is limited to a maximum of 200 ft.
Volume is VERY loud (almost too loud) and cannot be adjusted.
Included hook and loop fasteners don't work well.