There's few limits to what USB-C can do. But the transition from a world without USB-C technology to a world full of USB-C devices isn't without its growing pains. Countless people suddenly need to adapt their devices to the new standard. And in many cases, the devices they're adapting are either new or only a few years old!
Luckily, once you've got a few high quality USB-C adapters or cables, you won't have to think about those problems again for years to come. While USB technology is growing and changing, USB-C is here to stay for some time. And it's already on-track to be as ubiquitous as the USB-A connections that most people are familiar with.
Choosing a Micro USB to USB-C Adapter
But how do you choose a USB to USB-C adapter? Fortunately, the USB format isn't that challenging to adapt. And moving from USB to USB makes things even simpler. Unfortunately, there are still a variety of possible complications along the way.
For example, in the USB to USB-C transition, you're going to lose support for OTG technology. If you don't know it by name, that's the flash drive technology that allows for particularly rapid transfer of data. While these more obscure features aren't going to survive an adapter, all essential features remain in place.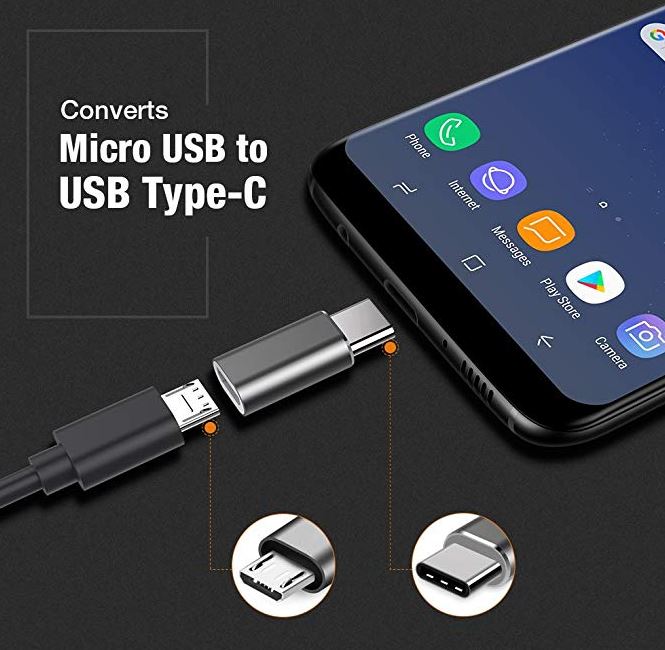 USB Adapter Charging Speed
Most people use Micro USB to USB-C adapters with the intent of charging their mobile devices. That's why you'll want to look at how quickly any given adapter is capable of charging. To be clear, whether or not your devices charge fast depends on your device, not the adapter which you select. But you can choose an adapter which can bottleneck your charging speeds.
For example, if your desktop computer has a 3A USB port, and you're using a 2A USB-C adapter, then you're going to end up with charge speed reflective of the 2A provided by the powering device. Conversely, if you're using a 2A device and a 3A adapter, you're not going to speed-up to 3A charge speeds.
Build Quality
The build quality of an adapter is always worthy of concern. Luckily, USB-C adapters tend to be one of the simpler types of common adapters in use today. They've got few parts, and few places to fail. Nevertheless, any device that is connected and disconnected from a USB port will gradually experience wear and tear. Some adapters hold up to that wear and tear better than others, and that's something best reflected in the quality of the build.
It might not seem like much at first, but the moment your adapter has been worn to the point it can no longer make a perfectly snug connection, even minor vibrations and movements can cause your adapter to disconnect. And the problem only gets worse from there, until finally you're forced to trash the adapter. In short, build quality isn't something you should overlook if you expect to use your adapter for more than a year.
Compatibility and Capacity
Adapters are usually as simple as plug-and-play. The way that USB ports communicate with devices and adapters is with the help of fairly universalized driver software. But it's not always as standard and universal as you'd expect.
If you're using mainstream devices like the iPhone or Samsung Galaxy S8, then you're not going to have to work hard to find compatibility with your devices. But if you're using something a little more obscure or particularly dated, you'll want to take an extra moment to ensure your devices are supported.
With respect to capacity, Micro USB to USB-C adapters will be brought down to the USB 2.0 standard for which Micro USB was constructed. That means you're not going to reach the incredible speeds typically available with USB-C connections. Fortunately, the available speeds are more than adequate for most people in most circumstances. You just may want to think twice before trying to stream 4K or 8K content across your USB-C adapter.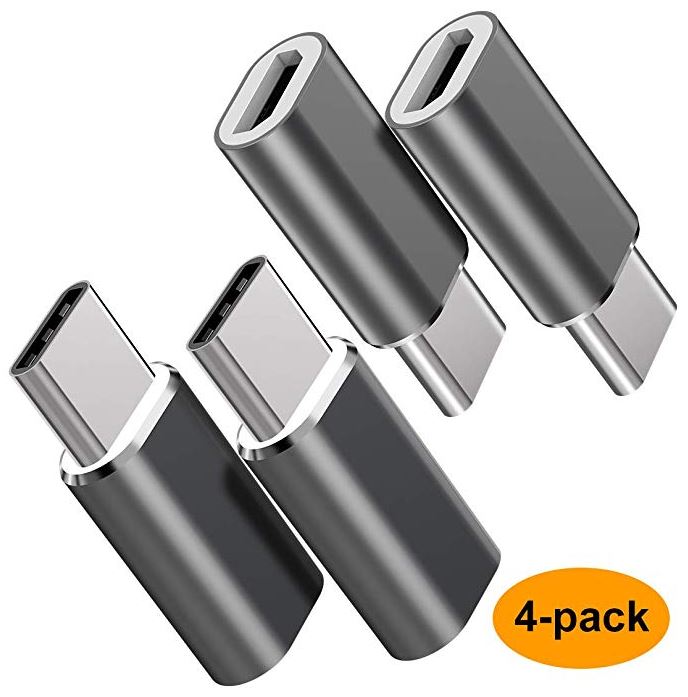 BrexLink Micro USB to USB-C Adapter
The BrexLink Micro USB to USB-C adapter is a mix of standard design and speed-oriented features. It's well suited for rapidly charging the bigger batteries of devices like the Samsung Galaxy S9, S8 Plus, MacBook, and so forth. Its sleek design is a mixture of lightweight and compact build, making it easy to take the BrexLink Micro USB to USB-C adapter anywhere you go.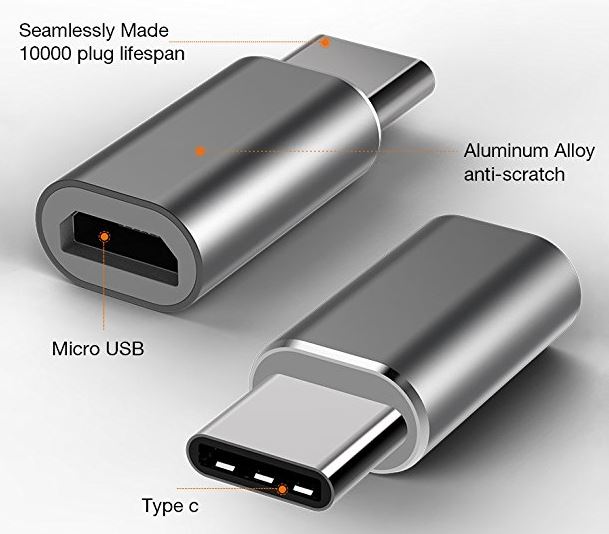 Build Quality & Specifications
Each adapter measures roughly 3.4 x 2.7 x 0.4-inches. You'll immediately notice these adapters don't provide any cabling, which means no extended distance between the adapter and the devices which you're trying to connect. But that short design also provides an incredible amount of portability and ease of storage. All in all, the BrexLink kit includes a total of four separate mini-adapters.
As you'd expect, the micro USB 2.0 end of the device provides a data cap of 480Mbps, so you're not unable to unleash the full strength of USB-C. But that's just a quality inherent to any Micro USB adapter, and not something that can be worked around. One thing that is worth noting is how each of these adapters supports 2.4A USB current, which is the necessary ingredient for some of the fastest charges you can get through USB.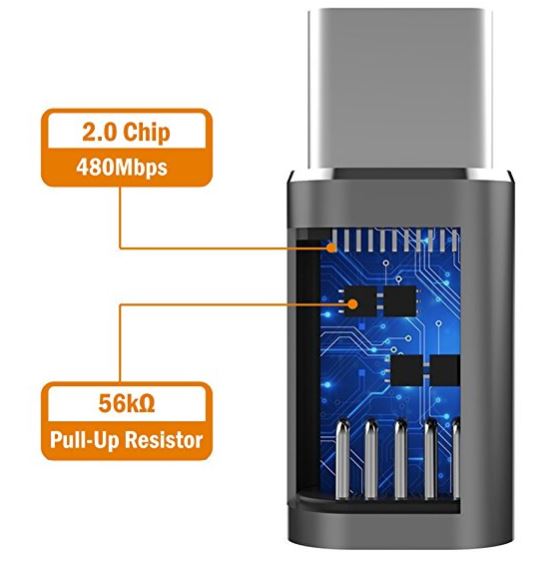 Other Considerations
BrexLink's adapters are tiny, which makes them highly portable. But they're not equipped with a chain to connect to your bag and carry with you, or a method to otherwise store the adapters. The entire kit consists of only the micro-sized USB dongles, with no frills or extras.
With respect to compatibility, the full list of supported devices is quite lengthy. It includes products from Apple, BlackBerry, Google, HP, Huawei, Lenovo, Microsoft, Samsung, Sony, ZTE, and many more. It's more likely than not that the BrexLink Micro USB to USB-C adapter supports the devices you're trying to adapt, but be certain to double-check because you're better safe than sorry.
Finally, BrexLink includes a 24-month warranty on all of their adapters. And the warranty can actually be upgraded to a lifetime warranty by following BrexLink through their social media accounts. That's not quite as convenient as having a lifetime warranty to begin with, like with Anker, but it is nevertheless worth taking advantage of.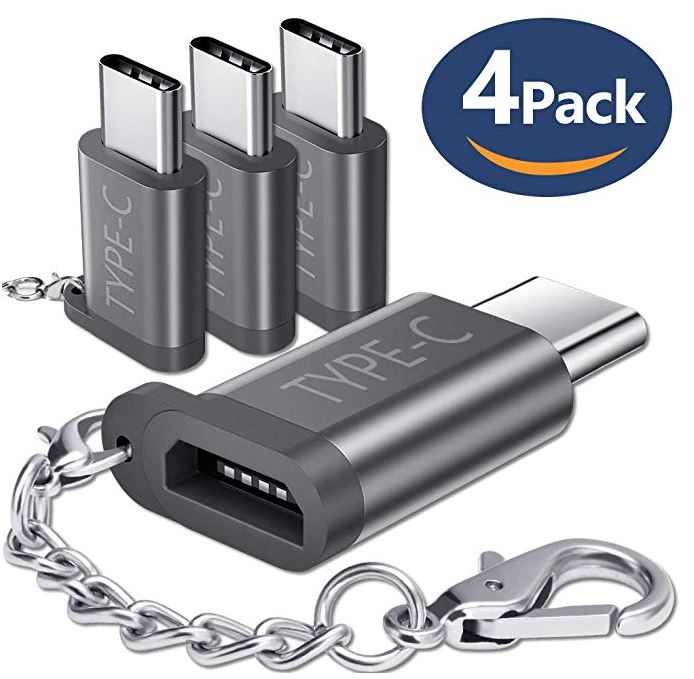 JSAUX USB Type C Adapter 4-Pack
Unsurprisingly, the JSAUX USB Type-C Adapter 4-pack contains four adapters. What you might not expect is the quality and versatility of those Micro USB to USB-C adapters. They're a special type of fairly well-rounded adapters allowing you to connect a USB-C device up to Micro-USB. Whether you're trying to sync, charge, or transfer data, JSAUX is all you need to be in control of the situation.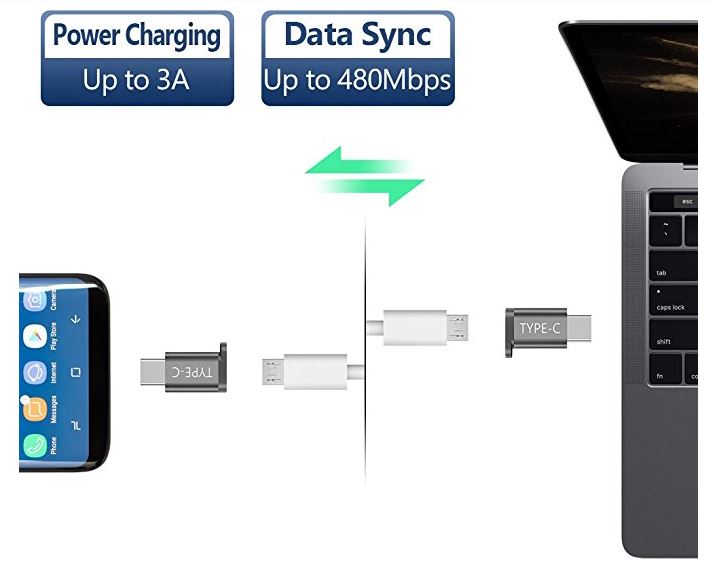 Build Quality & Specifications
Each JSAUX adapter measures 1" x 1" x 0.2-inches. But perhaps the most significant feature of these adapters is their solid-link metal keychain. The looped keychain design makes these adapters easy to keep with your bag or keys. With the keychain removed, the adapter is about the size of a thumbnail, with the keychain attached, the effective length of each dongle doubles.
Constructed in a minimalist design, each JSAUX adapters seem to have been made almost in-part as a fashion accessory. And aesthetically speaking, these adapters are available in gray, red, and silver. The body of each adapter is made from aluminum alloy, with an anti-scratch surface to keep them looking their best.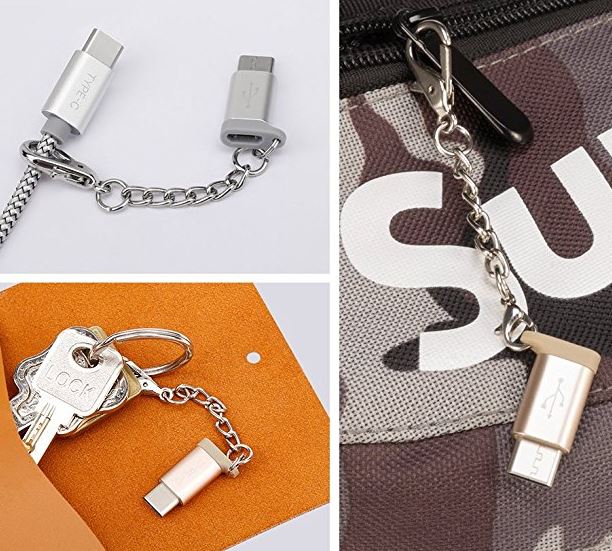 Other Considerations
The aluminum construction of each end is also effective at fighting off rust, and withstanding wear and tear. In fact, it's been rated to withstand north of 10,000 insertions and removals from devices. That's about three times as many insertions as comparable USB drives and adapters usually provide. Sooner or later, the JSAUX adapter will wear out. It might take years, but it will happen. But when it does, it helps that you'll have three more ready to go.
As is always the case, the data transfer and charge speeds depend on your charger and cabling, not tis adapter. Nevertheless, this adapter supports power charging up to 3A and data sync as fast as 480Mbps. That provides the opportunity for the fastest mobile device charges possible, ensuring your adapters aren't going to slow down the devices they're connected with.
JSAUX adapters are widely compatible with a wide variety of USB-C devices, including the Samsung S9, Google Nexus, and LG G5, Nintendo Switch, and so forth. But it does not support USB On-The-Go feature. These Type-C adapters include an 18-month warranty, as well as 24/7 customer support.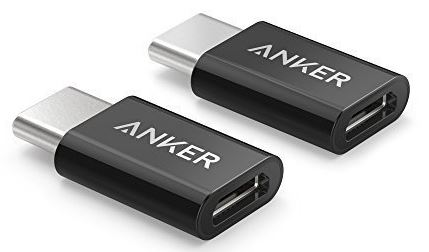 Anker Micro USB to USB-C Adapter
The Anker Micro USB to USB-C is actually a 2-pack of adapters, converting USB-A female to USB-C male. If you're looking for something simple and straightforward, these are most likely your best choice. It has a wide compatibility most mainstream devices, including the MacBook, Sony XZ, Samsung Galaxy S8, and so forth. And with a closer look at its construction, it's easy to say this adapter is in it for the long haul.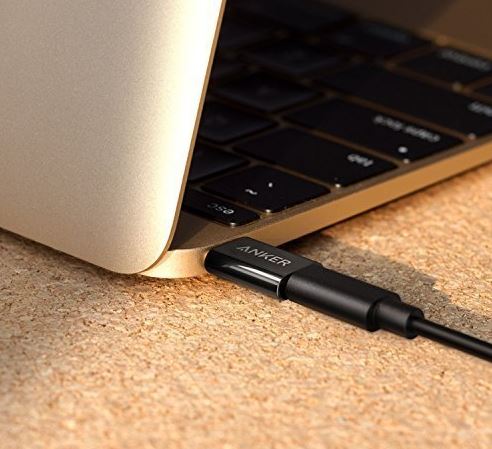 Build Quality & Specifications
The Anker Micro USB to USB-C Adapter measures 1 x 0.2 x 0.4-inches, weighing about 0.3 ounces. Anker's micro USB adapters are available in both black and white, to better match the aesthetic of your portable devices.
The construction is built to endure 10,000 insertions and removals. And the connector user a reversible design, allowing you to insert regardless of the orientation of the plug. That makes plugging in easy on your first try every single time.
From a technical perspective, Anker's adapter provides the standard 480Mbps of data throughput that you can pull through a USB-A adapter. The plug and play nature of the device requires little explanation, just stick it in and you're done.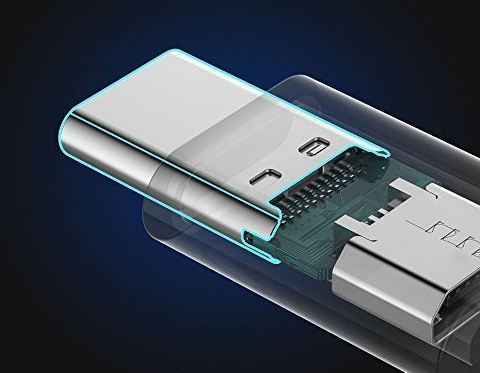 Other Considerations
It may not bear repeating, but this adapter does not support USB On-The-Go. If you're looking to attach thumb drives with the express purpose of using the OTG feature, you're not going to be able to achieve that with these types of adapters.
On a more positive note, Anker includes an 18-month warranty along with lifetime customer service. It's generally unlikely your adapter will break, so there's no need to place a heavy value on this warranty. However, they're always a good sign that a manufacturer has confidence in their products. And between the construction materials and the relatively simple nature of the adapter, it's easy to see why.
Choosing Between 3 Great Micro USB to USB-C Adapters
JSAUX Micro USB to USB-C adapters are your best choice for portability. While all the adapters on this list are relatively small and portable, JSAUX adapters use a keychain design to make their equipment that much easier to store, carry, and manage. They're also the clearest choice for style, as far as that concerns you.
BrexLink adapters are a great choice are value-oriented adapters. While they're not precisely as portable as the JSAUX USB-C adapters, if you're not interested in keychains, they're an equally sensible choice. Each end of the adapter is made to last as long as possible, and nowhere is that clearer than in the lifetime warranty.
Finally, the Anker USB-A to USB-C adapter is a good choice someone who needs a USB-A connection instead of Micro USB connection. Each adapter is small enough to make thumb-drives look bulky by comparison. It's worth noting Anker includes only two adapters rather than four, but the Anker Micro USB to USB-C adapter is a great choice for someone only trying to adapt one or two devices.