Cables can ruin everything. You want to make the most of your PC monitor or TV, but that can be tough with so many conflicting and outdated formats. People who aren't intimately familiar with the various types of common cables are now entering a world where only having to deal with color-composite cables may seem simple by comparison. It's a world of HDMI, DP, DP++, DVI, VGA, and so on.
Choosing a DisplayPort to DVI Cable
Even when you have your selection narrowed down to the right formats, things aren't much simpler. Choosing the wrong cable means potential signal problems, now or in the future. It means some features you're looking for may not be supported. And if you really go far astray, it can even mean the cable won't work at all.
Fortunately, the DisplayPort and DVI formats have many things in common. And those similarities allow converting between each format to be smoother than is possible with many other types of cables. You won't have to burden yourself with extra adapters or have to worry about the specific size of each end of the cable, and that takes half of the burden of the task away at once.
Overall Video Quality
When you're choosing a video cable, it's reasonable to ask how well it can perform its job. We all wish it was as simple as plugging in the cable and having it work, but in reality, things are far more complicated. Inadequate video signals are usually the result of things like build quality, but knockoff adapters can be prone to all variety of odd visual errors.
Even quality adapters can become impaired or degrade depending on environmental conditions, build quality, and a variety of format limitations. That's because there are a variety of ways to mess-up your signal. Loose connectors, degraded materials, strained wires, the list is rather extensive.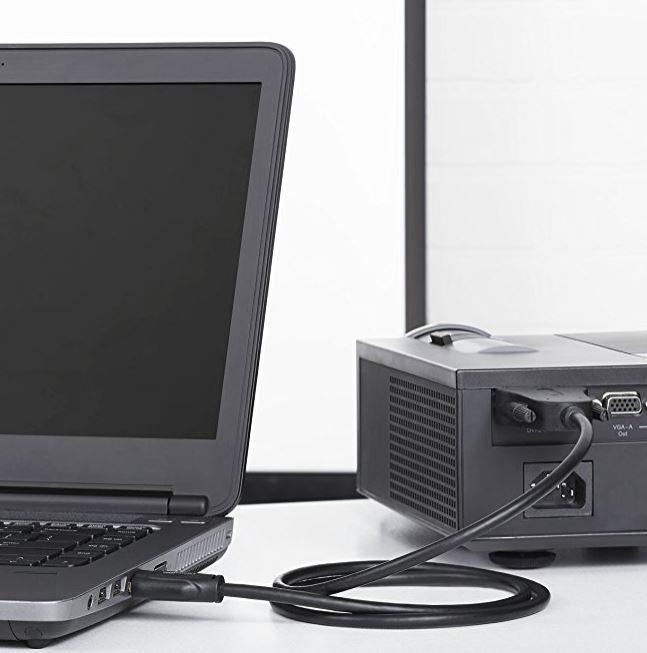 Length Limitations
Many display cables have fairly dire connection limits, especially if you want to maintain the integrity of your signal. That's because the further you run a signal, the tougher it is to keep that signal intact. Fortunately, DisplayPort and DVI are both formats that provide fairly liberal length limits on cabling,
The max length you want to run a DVI cable is about 50 feet, which isn't going to feel constraining to most people. While DisplayPort should stay within 10 feet for UHD content, one end of a DisplayPort to DVI cable uses the DVI format. And that means UHD isn't something you've got to worry about, so you can extend out towards 50-feet with confidence.
Passive vs. Active
If you do have to stretch exceptional distances, or you're trying to make use of higher resolution content, then you're going to have to pay attention to the difference between active and passive cables. To put it simply, active cables are constructed with extra electronics that help long cables maintain signal integrity.
The extra chip increases the price of the DisplayPort to DVI cable, and it often requires a source of independent power. You'll want to look for cabling which doesn't have additional power requirements, unless unavoidable. But with the right preparation, active cabling will be necessary for circumstances where you need to push signals further than passive cables will permit.
Input Issues
Do you plan on running the cable from a PC to a monitor? What about a UHD TV? Depending on the extra features supported by your screens, you may want to look for cabling that specifically supports those features. Higher resolution content is not something you can take for granted, nor is support for higher resolution content. When in doubt, read the fine print for the cabling in question.
Build Quality
The build quality of a cable is more of a concern for people who are interested in portability. For example, gamers headed to a LAN party, technicians who setup and deconstruct computer, and people on the road. Mobile-use cables end up getting bent more, and they end up making more physical connections with devices as they're plugged and removed.
For people who are interested in more stationary use, build quality is mostly about corrosion resistance on each end of the DisplayPort to DVI cable connector. That's because stationary cables aren't going to end up being plugged in dozens of times a day, they may only be connected a half-dozen times during their entire lifespan.
Yet corrosion can be of particular concern when it comes to audio video cables because it can quickly cause visible disturbances or even connection refusals. There's a variety of long-term protection options for cabling, one of the best and most reliable options is gold plating. Having gold plated connectors helps protect the integrity of your signal on multiple fronts.
Compatibility and Capacity
The DisplayPort and DVI formats work by communicating to computers with the help of very generalized driver software. Virtually any device with a DisplayPort or DVI connection will make use of the same set of driver software, which makes it fairly easy to choose a cable that's compatible with your existing devices. But it's nevertheless worth noting that the DVI format is composed of DVI-D, DVI-I, and a variety of different configurations. Each of them have their own unique physical connection.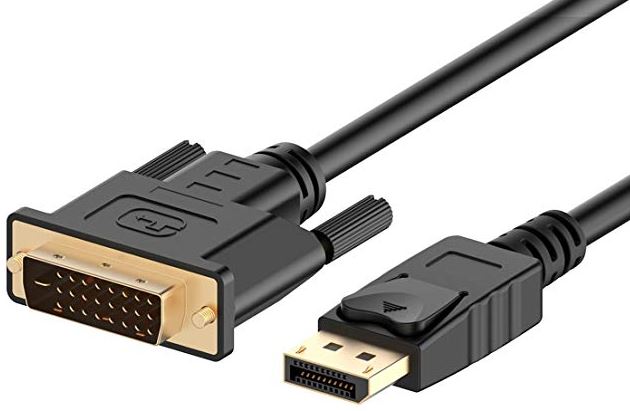 Rankie DisplayPort to DVI Cable
The Rankie DisplayPort to DVI cable is a passive DP to DVI cable available in 3, 6, 10, and 15-feet. It's made to help connect a DisplayPort, or DP++ laptop or monitor along with an DVI input, and is ideal for mirroring or extending desktop displays. While there's little remarkable about the underlying technology, the build quality is worth notice on its own.
Build Quality & Specifications
Rankie's DP to DVI cable is constructed with a fairly thick 0.6-inch diameter, so you don't have to worry about wear on the cable. Provided that someone doesn't try to slice it with a knife, this cable borders on being indestructible. Within its plastic exterior, the copper cabling is protected by braided foil to reduce interference, covering bare conductors for maximum signal performance.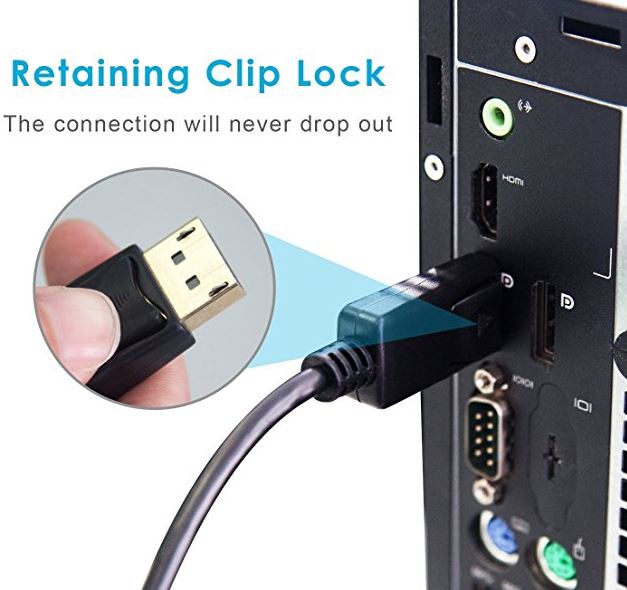 But its build quality isn't all wrapped up in the cord. The gold plated connector ends fight off corrosion for long term use, and they boost signal transmission in the short term. Turning to the DVI end of the cable, each end of the DP cable secures closed with twisting the port. On the DisplayPort end, the connector uses a somewhat standard DP connection button which needs to be pressed-in to remove the cable.
Other Considerations
The Rankie DisplayPort to DVI cable is a unidirectional cable, which means it moves signals from DP to DVI. That provides support for content up to 1080p, which is then secured further with both ends of the cables having their own independent locking mechanisms. It's also worth mentioning that Rankie includes a lifetime warranty for their DisplayPort to DVI cable.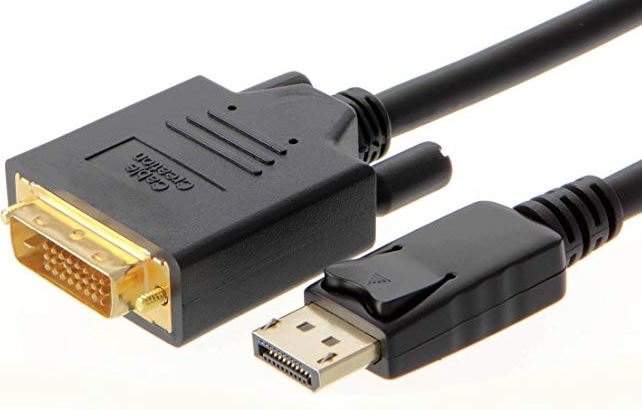 CableCreation DP to DVI Cable
Everyone offers passive cabling; active cables are somewhat tougher to find. Fortunately, CableCreation offers both. Their DP to DVI cable is available in black and white, as well as passive and active. Each are ideal for setting up extended desktop displays, or mirroring a display. And their extra-thick build helps protect the underling challenging of support for DVI 36-bit color, and as much as 6.7Gbps of data bandwidth.
Build Quality & Specifications
As with any high quality consumer cabling, each end of the CableCreation DP to DVI Cable is protected from corrosion with gold plating. The plating is particularly rigorous on the recessed portion of the DVI end of the cable. As is common with the best DisplayPort to DVI cables, this CableCreation cable has been triple-shielded for redundant protections.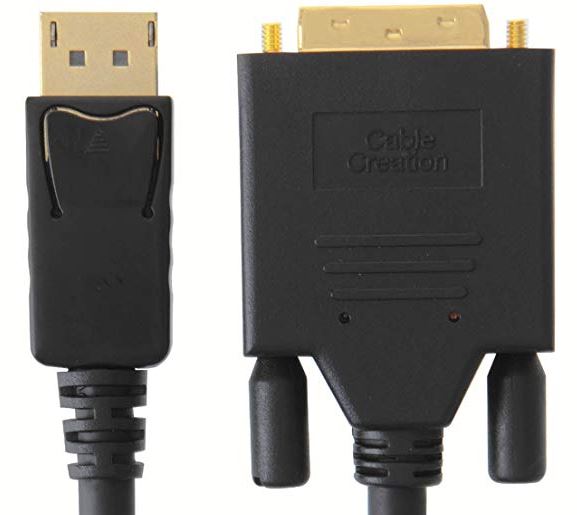 Although it has a grossly high capacity for bandwidth, it doesn't actually use the full extent of its capabilities. This cable supports DisplayPort 1.1 for 1080p content. It's also worth noting that this is a DVI-D cable, not a DVI-I cable. It's a subtle difference in the number of pins and content support provided by the cable. The DVI-D format is for digital content as opposed to analogue or integrated.
Other Considerations
As with most DVI cables, the CableCreation DP to DVI cable includes two thumb-screws on its DVI end. Those are turned to connect the DVI end of this cable and tighten that connection. However, these screws are not crafted with texturized with bumps. This makes them slightly tougher to remove if you tighten them substantially while making a connection, especially from a cramped space.
The DP end of the cable, however, has an excellent connector. The DP button you've got to press to remove the cable stands roughly two or three times as tall as ordinary DP switches. That helps avoid the problem many DP cables have, which makes it extra difficult to know when you're applying the right amount of force for removal. And naturally, CableCreation includes a two-year warranty.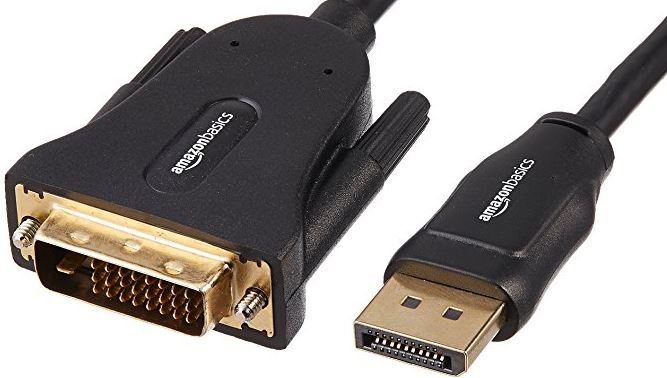 AmazonBasics DisplayPort to DVI Cable
The AmazonBasics DisplayPort to DVI Cable is less basic than you might expect. But like any of the best DisplayPort to DVI cables, many of its best features are its basic features. And like any of the best DisplayPort to DVI cables, this cable is ideal for connecting virtually any DP and DVI supported devices. It supports DisplayPort, DP++, and up to 1080p HD resolution.
Build Quality & Specifications
The AmazonBasics DP to DVI cable is available in 3, 6, and 10-feet. These cables are also available in 10-pack variety for larger scale application. Each AmazonBasics DP cable is constructed with a reasonably thick 0.6" diameter. And like nearly all of the AmazonBasics cabling, their DisplayPort to DVI cable is constructed with gold-plated connectors for resistance to corrosion and lasting reliable connectivity.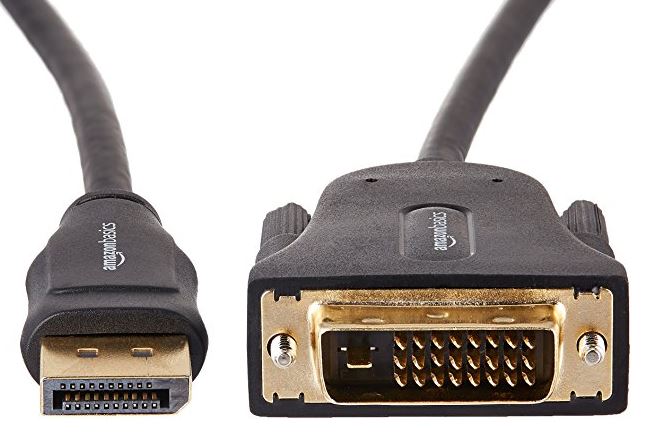 Other Considerations
One thing to keep in mind is that resolutions higher than 75Hz aren't possible because of the DVI end of the cable. People who are trying to move higher resolution content will have to look elsewhere. And though it may need not be said, this is a unidirectional cable. Signals are converted one way; they end up in DVI. Finally, AmazonBasics includes a one-year warranty.
Choosing Between 3 Great DisplayPort to DVI Cables
The CableCreation DP to DVI cable is the right choice for someone who needs an active conversion cable. If you're trying to run signals across great distances, or you're trying to maintain signal integrity in poor conditions, then you're going to want an active cable. Their passive conversion cable is equally well-built, but it's the active conversion chip that makes CableCreation stand out.
The Rankie DisplayPort to DVI Cable is a fairly standard option. It's most notable feature is probably the lifetime warranty, which is possible because this cable is built to last through an apocalypse. It's the right choice for people who are looking for a long-term solution that's going to hold strong against wear-and-tear. That extra durability also makes Rankie's DP to DVI cable an optimal choice for portability, where connections may be made and removed many times.
Last but not least, the AmazonBasics cable is an excellent choice for someone on the hunt for value. The cable itself holds up well under scrutiny, using all the right construction cables and a sensible physical design. These shorter cables are well suited for anyone who's looking for a passive DisplayPort to DVI cable, especially if you don't plan on making multiple connections and reconnections. That should describe most people, especially when it comes to connecting monitors and televisions.