Routers can be a bit inscrutable. But it doesn't have to be difficult to pick one, and these days, you certainly don't need to be a network technician to setup a router. But if you want to choose the right router, it does help to have some basic knowledge about the kind of things you expect your router to do, and about your current Internet speeds.
The stakes aren't trivial. If you choose an inadequate router, even things you hadn't thought about can devastate network performance. For example, there's as big difference in how routers perform as more and more devices connect to your network. Equipment that holds up well with 4 devices may not do as well with 12.
It's these kind of oversights that can cause you to make a mistake in choosing a router. Luckily, a closer look is all you need to determine if routers can provide match or exceed the Internet services you expect to receive.
TP-Link Archer A7 AC1750 Smart Wi-Fi Router
As its name suggests, the Archer A7 AC1750 uses a dual-band Gigabit network that's well suited for basic web surfing, response-intensive online gaming, or bandwidth-intensive 4K content streaming. Its black casing is a no-nonsense design that anyone can quickly identify as a router. That's in part due to the device being paired with three tall-standing, high-gain antennas. Together, those antennas provide Wi-Fi signal for spaces as broad as 2,500 square feet.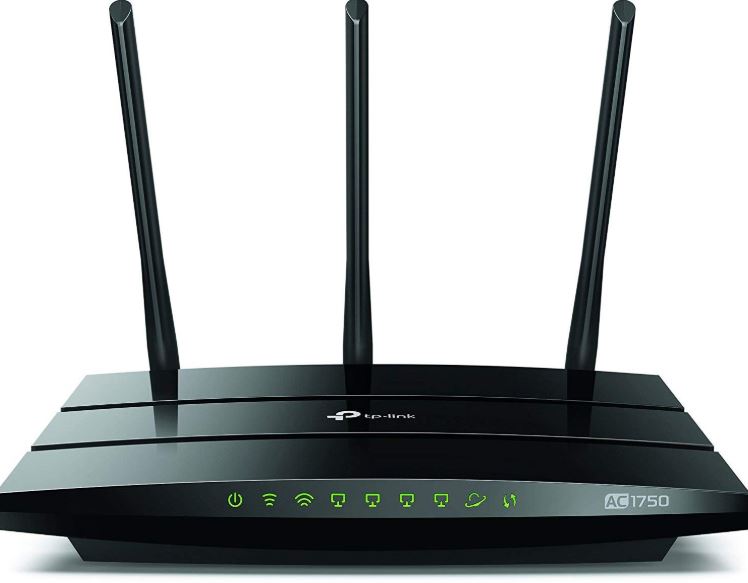 Build & Design
The TP-Link AC1750 measures 9.6 x 6.3 x 1.3-inches, which is marginally larger than typical home routers. Along its face, a collection of ten individual LEDs provide insight into the status of the network. While they're only labeled with symbols, these lights are nevertheless a fairly simple way of diagnosing problems with the network, should they occur.
Within the glossy black exterior, there's more than a few elements of special note. There's a Qualcomm processor, which is there to help keep network traffic from becoming congested. But most of its significant discernable features are only revealed when you turn to its backside.
Backside Connections
On the backside of the TP-Link Archer A7, you'll find well labeled and color-coordinated ports. The first section is a DC power port, followed by an on/off switch, and a reset switch which is recessed into the backside of the structure. The USB port, followed by an Ethernet input port, and four Gigabit output ports. Each can achieve speeds roughly ten times greater than regular Ethernet connections. At the very end, there's a WPS-Wi-Fi on/off button.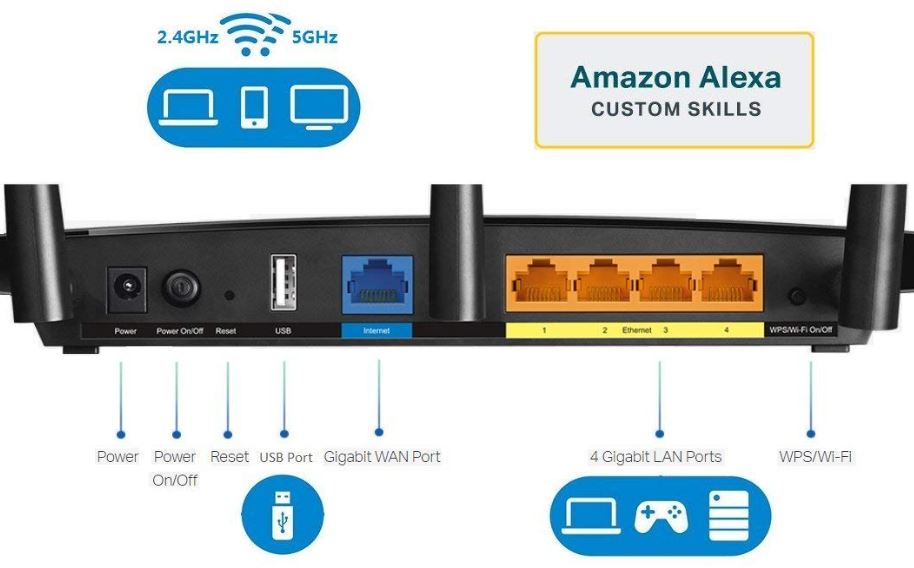 Signal Strength and Speed
The TP-Link Archer A7 AC1750 provides Wi-Fi speeds up to a maximum of 1750Mbps. That comes from a 1300Mbps 802.11ac antenna, and an additional 450Mbps 802.11n antenna. The 1300Mbps portion of that total figure comes from the 5 GHz band, while the 450Mbps portion uses the standard 2.4 GHz wireless streaming band. And the difference between those two will be important depending on the position of devices within your network.
As much as possible, 4K streaming content should be done over the 5 GHz band. That means you want your screens to have as much line-of-sight as possible with the router. With reasonable positioning, the TP-Link AC1750 is excellent at providing those high-bandwidth connections, so you can avoid annoying stream buffering.
But if you're in an environment where there are thick concrete walls, or you're trying to transmit signals through half a dozen different barriers, then a single router isn't going to be able to solve those kinds of problems and you'll have to think about adding a mesh router to the network. The 2,500 square feet provided by the TP-Link A7 is nothing to sneeze at, but the 3-antenna design does focus more on bandwidth provision than total square footage.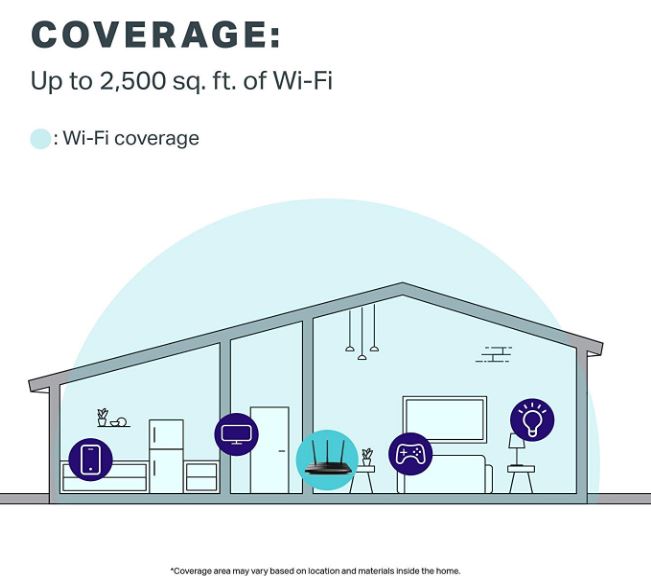 Network Control
Setting up and maintaining your network is fairly simple, once you've got the ball rolling. Within the web console, you'll find an updated graphical version of the interface formerly used on the TP-Link Archer A7. The updated version is easier to use and navigate, but there's still noticeable lag between the moment you issue a change to the network, and the time at which that change is implemented. For example, you may have to wait nearly 30 seconds to make a variety of changes.
With the settings open, there's an almost overwhelming number of things that you can adjust. You can view traffic statistics, make individual adjustments to LAN, Wireless, or WAN portion of your network. You can also easily integrate WPS Security for WPA/WPA2. And there's and a QoS bandwidth option you can use to prioritize different forms of content.
For example, you might prioritize certain games to receive signal before streaming content, or to make sure that your downloads don't slow down your web browsing by giving a priority to web traffic. For gamers who are interested in making sure their play isn't interrupted, or video streamers who want to avoid buffering when their roommates get home, that kind of adjustability can be incredibly convenient.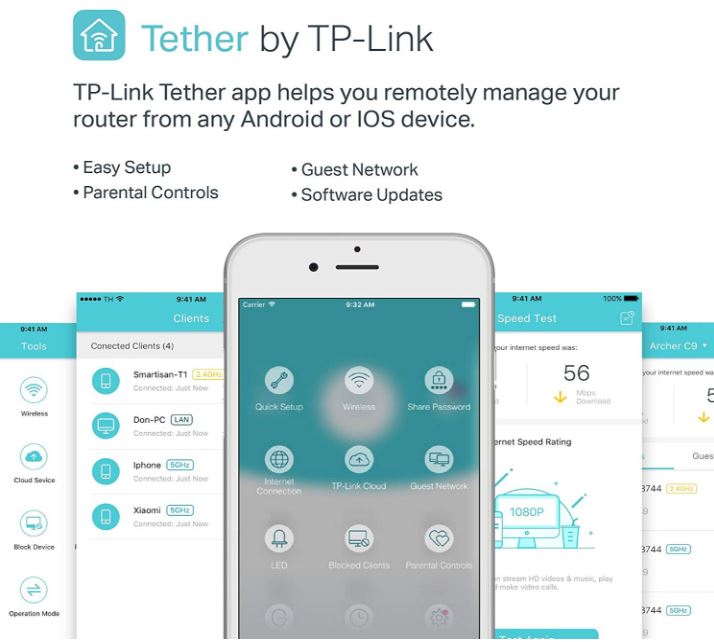 Security and Customization
Within the Guest Network settings, you're able to create separate networks that guests can use, and then accommodate those networks with specific bandwidth limits and schedules. More common settings include bandwidth control, port forwarding and triggering, VPN pass-through, firewall configuration, Dual-Band selection to enable or disable one of the bands. There's also a System Tools section to adjust time settings, run a diagnostic of your network, get updated firmware from Archer, or otherwise review use of your network.
With respect to security from other varieties of external threat, the TP-Link Archer A7 provides basic support for WPA and WPA2 networks. There's also the standard range of parental control options that have come with nearly all routers made in recent years. Those parental control options are further made accessible through their web interface and smartphone app.
Network Speeds
The 1750Mbps capacity of the TP-Link Archer A7 is more than virtually anyone needs. But what really provides limits to router performance are things like multiple devices making connections. That's because what a router does isn't as simple as moving data from one device to another. The countless connection requests on a router have to be ordered, managed, or otherwise sorted. And when that sorting isn't don't well, connection speeds suffer.
The A7 offers connectivity for up to 50 devices using simultaneous connections. If you actually reach out towards the upper limits of that figure, network performance does slouch. And with what's on the market currently, avoiding those kind of issues is really only possible by pushing on towards the $200 price point for routers.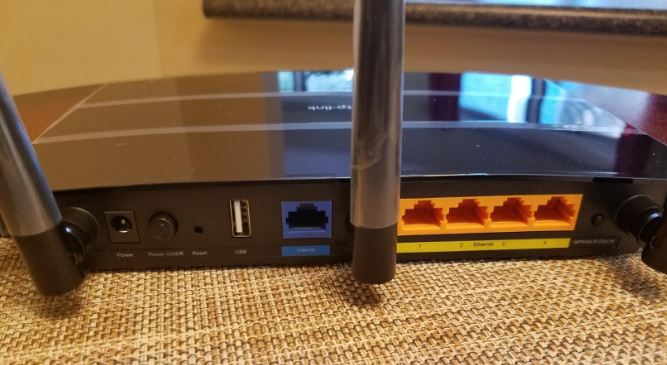 Setting Up a Network
Router setup for even basic home networks used to be something that literally required experienced technicians. The process was so obtuse that many ordinary people stood no chance of success. Luckily, those days are largely gone, and routers have become virtually plug-and-play. Features that used to be prominent and even important to advertise, like automatic network detection, have become trivial and expected.
With that in mind, the TP-Link Archer A7 is about average with respect to the difficulty of setting up a network. It's something just about anyone can do within a few minutes, and it really doesn't get harder from there unless you expect to exercise some of the more advanced network control options. That's not to say that changing advanced options is difficult, simply that it does take several minutes to get anything done.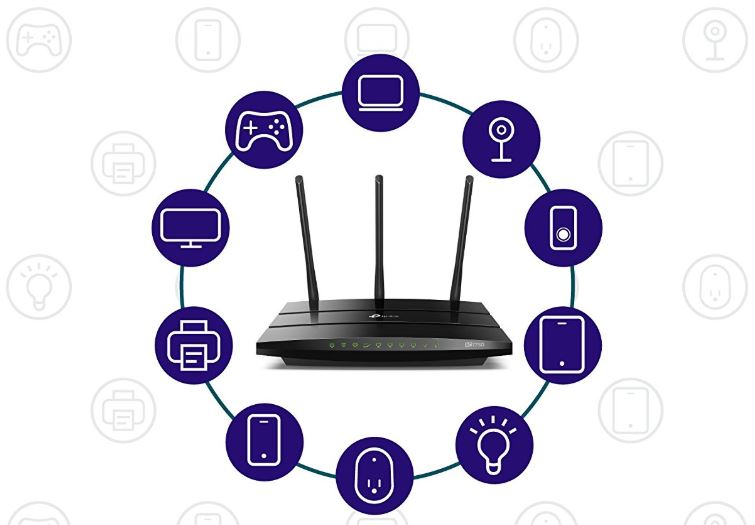 Other Considerations
The Archer A7 includes a single USB 2.0 port, which can be used to distribute content across the wireless network. Just plug in a thumb drive to the back of the A7 and you can move data through every device on the network. While this kind of feature has typically been slow in the past, moving files through a USB drive across the router provides an excellent write speed of about 21.5Mbps.
It may also be worth noting that the Archer A7 supports IPv6 Internet protocol, the latest and greatest standard. It's backwards compatible with older technologies, and whether or not you need it presently, having it does prepare your router for years of service beyond the foreseeable future.
The TP-Link AC1750 is further compatible with Alexa and IFTTT. Depending on which option you choose, you'll be able to use or customize voice controls in response to devices connecting or disconnecting from your network. It supports virtually every platform. That includes Mac, Windows, Linux, iOS, Android, UNIX, and NetWare. And it includes a two-year warranty from IP-Link, along with 24/7 tech support.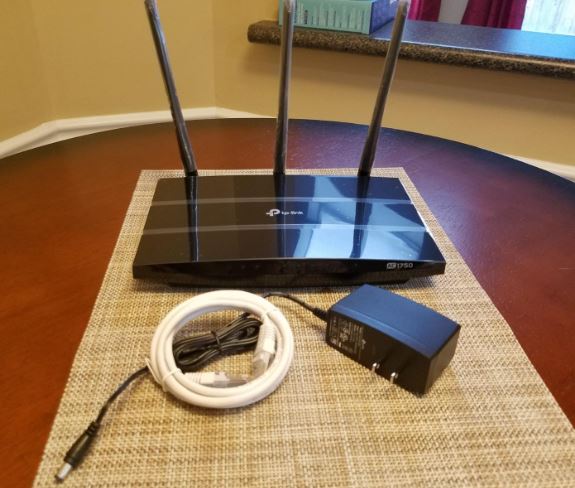 Who Should Choose the TP-Link Archer A7 AC1750 Smart Wi-Fi Router?
Based on its features and performance, it's hard to tell that the TP-Link Archer A7 costs what it does. The pairing of 2.4 GHz and 5 GHz bands give excellent performance in a variety of circumstances. Its close proximity performance is much better than other budget-oriented routers. The 5 GHz band in particular has amazing performance within this price range.
The user interface could use more improvements. It's not inscrutable or particularly difficult to make changes, it's just comparably not as streamlined as some of its competitors. But unless you're a professional network administrator, you probably don't spend much time interacting with those settings. Once you've got them in place, you may only make one or two adjustments per year, if that.
The 2,500 square foot range of the connection is adequate for most homes and small businesses, but it doesn't provide much of a leash if you expect to use the router while out in your yard. But with that in mind, for a router that costs under $100 you can scarcely do better. The TP-Link Archer A7 is as good choice for someone looking for a modern router that performs to modern standards, without a bunch of unnecessary costs and frills attached to the price.