Whether it's at home or in the office, there are a growing number of people that are spending more time at their desks. One of the most important aspects of any proper setup is power. Making sure your computer and all of your devices have enough outlets and robust surge protection is crucial.
Some people struggle with traditional, on-the-floor or wall mounted surge protectors because they're hard to reach. This is where under desk mounted power strips come into the picture.
Similar to traditional power strips, they supply several electrical outlets but with built-in surge protection. The major difference is that they can be mounted under a desk with ease.
Under desk power strips are designed to give you easy access to outlets and charging ports for devices like laptops, smartphones and tablets. At the same time, they protect your expensive equipment by preventing power surges from reaching them.
They're often a combination of conventional outlets and USB ports. Additionally, they can often be mounted using screws or with an adhesive backing. Best of all, many have a cord that can be routed through a desk's wire management system to keep things clutter-free.
There are a wide range of options when it comes to this category. Simply put, it can be overwhelming to sift through the countless number of options.
To help, our team of experts have tested dozens of under desk power strip surge protectors and gathered a list of the top choices in this article. To put it bluntly, people have different needs and priorities. In addition to our best overall pick, we've made sure to include other options that may work better for certain people.
Features to Look For:
Surge protection: Electrical surges can happen at any time and without warning. It's important to make sure the power strip surge protector you choose has a high joule rating.
Outlets: A major factor to consider is how many outlets you need on your power strip. One way to conserve space is to opt for an option that has additional USB outlets to cut down the number of charging blocks you need to use.
Mounting: These units come with multiple mounting methods. A good idea is to find a product that includes what you need for your preferred method. Many users prefer an adhesive mounting method over one that you have to manually screw into your desk.
Cord length: Check the length of the cord on the power strip to make sure it'll reach the outlet you plan on connecting it to. Nothing's worse than finding out it won't work with your desk placement because the built-in cord is simply too short.
Size: Make sure the power strip will fit in the space you have available under your desk. Measure the area to ensure it'll fit. We've included different sizes and form factors to accommodate many unique setups.
Plug type: Consider whether you need a standard three-pronged plug or a flat plug that can be used in tight spaces. An important factor for safety is to avoid "pinching" your power cable and not try to force-fit your power strip.
Best Overall: Cable Matters Desk Mount Surge Protector Power Strip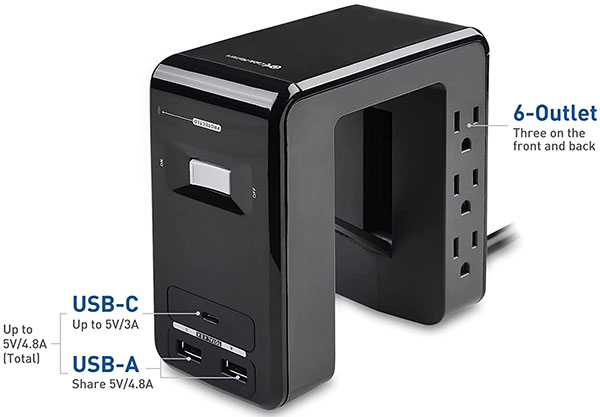 Key Features:
6 AC outlets and 3 USB charging ports.
USB ports include (1) USB-C and (2) USB-A.
Clamping design for easy installation on a desk or office partition.
Protects electronics from up to 1,080 Joules.
Heavy duty 90 degree cable pivot.
Expands/contracts to fit a mounting gap of up to 2.6 inches.
Rated for 15A/120V for 1,800W power.
As our best overall pick, the Cable Matters Desk Mount Power Strip doesn't require any tools to install onto your desk. Instead of adhesive or screws, it has a unique clamping design that allows it to be easily installed on a desk or office partition. The clamping design also frees up space on your desktop and makes it easy to access the outlets and USB ports. The "C" shape form factor places the bigger AC outlets on the arm underneath the desk out of sight. This allows for easy cable routing while avoiding the need to feed cables through the top of the desk. In addition, the USB ports are on the arm that rests on top of the table.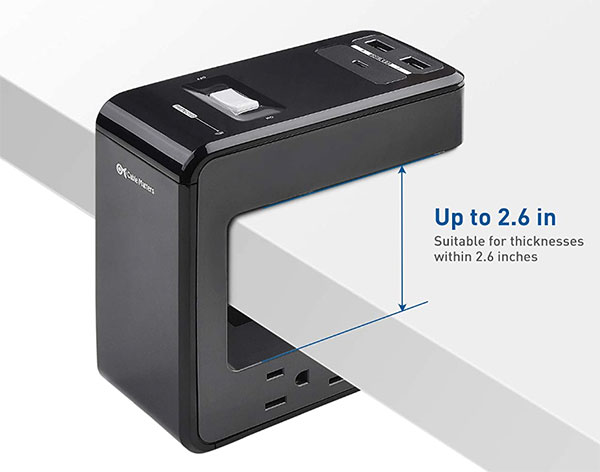 While it's not purely "under the desk", we determined that it offered an ideal balance due to having the USB ports on the top. Most users like to take their smartphone or tablet charging cables with them whether it's to another room or out of the house. This design allows you to easily plug and unplug them without having to strain underneath the desk to do so.
There are a total of six AC outlets and three USB charging ports, including one USB-C port and two USB-A ports. Most users state that this is an ideal number for average to prosumer users and gamers. The surge protector feature also keeps your electronics safe from unexpected power surges, offering protection from up to 1,080 Joules of energy.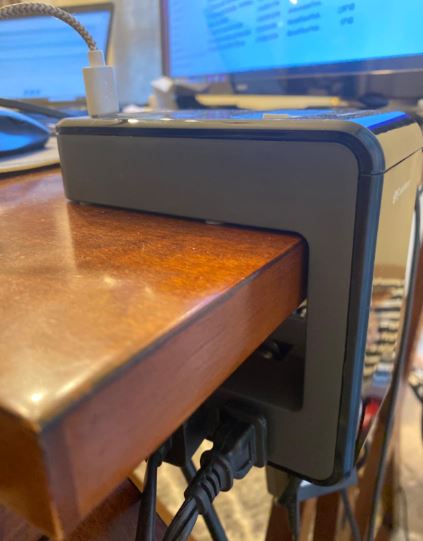 Located on the top is an energy-efficient On/Off switch that cuts off power to all connected devices to save energy or perform a circuit breaker reset. The USB charging ports are also protected from surges. An intelligent charging feature automatically detects the connected device and sends the maximum safe current to fast charge all connected devices. What's more, it also has integrated over-current, over-voltage, and over temperature protection. This is a valuable feature that's one of the true benefits of using an option like this.
It comes with a heavy-duty 14AWG cable connecting the surge protector to a grounded AC outlet. Additionally, the 90-degree cable pivot prevents fraying or damage in tight spaces. The tension mounting mechanism expands and contracts to fit a gap of up to 2.6 inches, while non-slip rubber feet protect the table surface.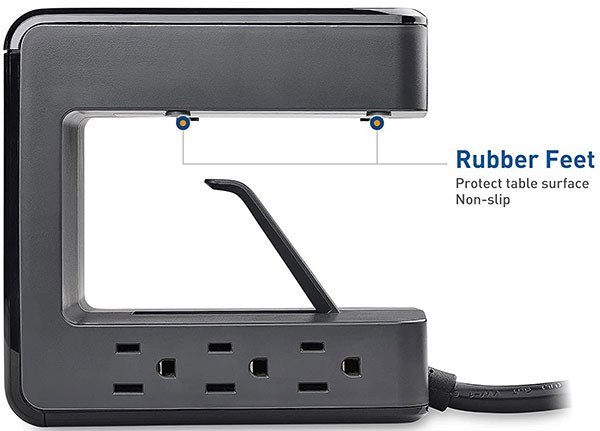 Overall, the Cable Matters Desk Mount Power Strip is a great choice for those looking for an easy and convenient way to add surge protected outlets to their workspace. Its clamping design, energy-efficient features, and intelligent charging make it a top pick for tidy people that have a large number of devices and want a neat, highly-functional option.
What We Liked:
Large number of outlets.
90-degree cable plug ideal for tight space or full outlets.
Tension mount eliminates the need for tools.
USB ports located on top arm for quick access.
What We Didn't Like:
Power switch placement could be improved.
Best Runner-Up: JUNNUJ Under Desk Mount Power Strip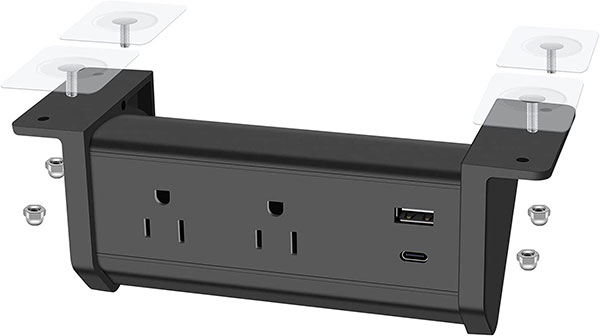 Key Features:
Two widely spaced AC outlets.
2 USB ports include (1) USB-C (1) USB-A charging ports.
PD USB-C port provides fast charging speeds of 5V/3A, 9V/2.2A, 12V/1.66A.
QC USB-A port provides fast charging speeds of 5V/3A, 9V/2A, 12V/1.5A.
6ft power cord.
Output rating of 10 Amp / 125 Volt / 1250W.
Overload protection with 500J surge protector.
Mounted with screws or 3M adhesive (included).
The JUNNUJ Under Desk Mount Power Strip is a versatile and convenient option that ranked very well in all of our tests. With its edge mount design, this power strip saves space and can be easily mounted underneath or on top of virtually any desktop.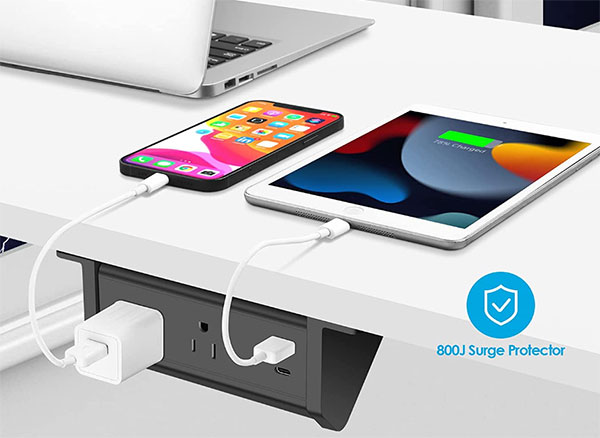 When used under the desk, it's designed to run flush with the edge of the desk, allowing for easy access and a clear view of all available outlets. Most users found that the superior placement very favorable in providing a flush position and to the left or right of any edge. This provides the best balance of easy access without it hitting against your legs while working.
The wide spaced outlets are suitable for larger plugs, making it a useful tool for routing power to various components while organizing a large amount of cables. Extra space solves a common problem with other power strips. In addition, the strip features 2 USB charging ports, including a PD USB-C port that provides very fast charging speeds.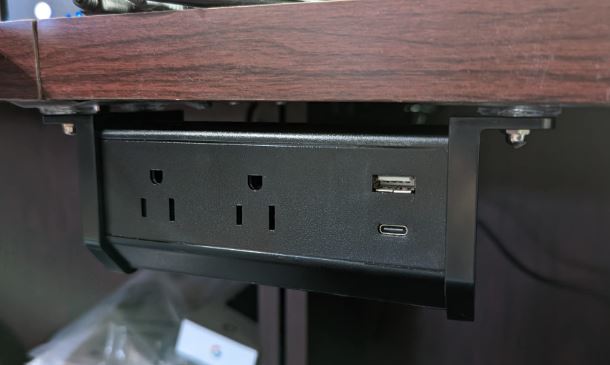 When it comes to safety and device protection, the JUNNUJ includes 500J surge protection to guard your electronics from damage caused by power issues. The extension cord is UL listed and features a 3-prong grounded plug for added safety. We found installation was very easy with two mounting options available using screws or the included 3M adhesive. It's not just for your office desk either, it can be a useful addition to a nightstand, conference desk, dorm room, bedroom or workshop.
Overall, the JUNNUJ is a reliable and convenient choice for adding power and charging capabilities to your workspace in the neatest way possible. With its wide spaced outlets, fast charging USB ports and surge protection, it's a solid runner up.
What We Liked:
Flush mount design provides great visibility.
Fast charging USB ports.
Multiple mounting options.
Wide spaced outlets.
What We Didn't Like:
Plug could have been better optimized for tight spaces.
Best Alternative: HHSOET Under Desk Power Strip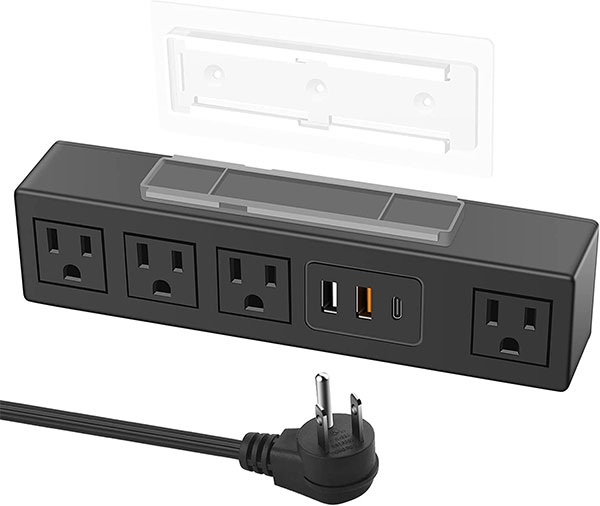 Key Features:
4 AC outlets with output rating of 12 Amps / 125 Volts / 1500W.
Fast charging USB ports including (1) QC 3.0 18W Max USB-A port, (1) PD 3.0 20W Max USB-C port and (1) standard USB-A port.
Under desk mount design with 3M adhesive for installation.
Available with either 6 or 10-foot power cords.
Wide-spaced receptacle to accommodate larger plugs.
1200 Joules surge protection.
45 degree plugs adjustment.
ETL certified.
The HHSOET Under Desk Power Strip is a great alternative to traditional options. Its unique installation design allows you to easily mount it under a desk or table with the added option of removing it with little fuss. The adhesive-based bracket mounting system lets you slide the power strip off of the desk when not in use. It's an ideal solution if your desk fills multiple functions in your space or if you tend to move it around a lot.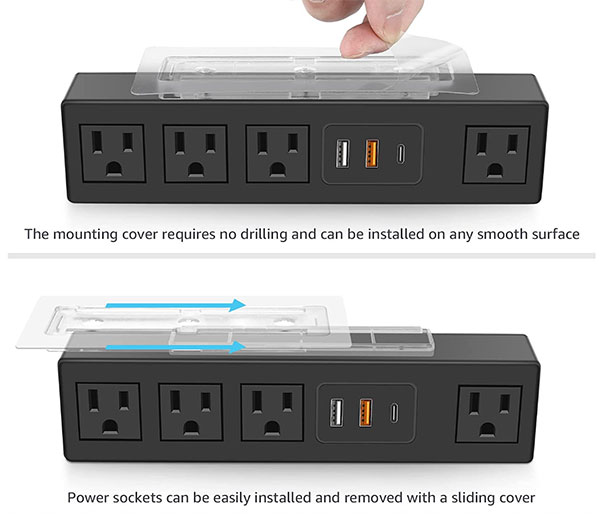 With 4 AC outlets, a QC 3.0 18W Max USB-A port, a PD 3.0 20W Max USB-C port, and a standard USB-A port, it offers a solid set of high powered ports to handle virtually all devices. Best of all, the wide-pitch receptacle is able to accommodate larger plugs. Additionally, the 45 degree flat plug design creates space for other plugs to share sockets.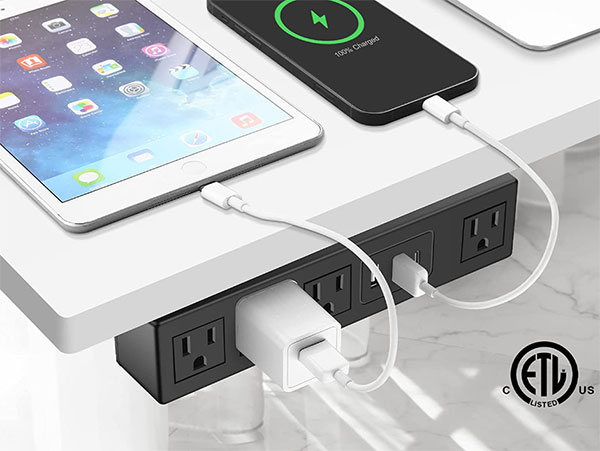 The USB ports did a fantastic job charging all of the devices that we plugged into it. While it doesn't have robust intelligent charging like the Cable Matters, it charges nearly as fast. This power strip offers surge protection with its 1200 Joules rating. Although this is slightly less than our previous two selections, we feel it's still enough to warrant it as a top choice.
What We Liked:
45 degree flat plug.
Wide spaced outlets.
Intelligent charging.
Robust surge protection.
What We Didn't Like:
Limited number of AC outlets.
Best 2nd Alternative: CCCEI Desk Mount Power Strip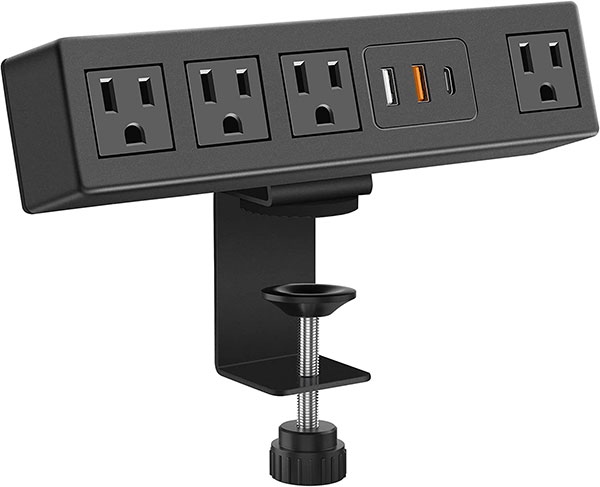 Key Features:
4 AC outlets and 3 USB outlets.
USB outlets include (1) QC 3.0 18W Max USB-A port, (1) PD 3.0 20W Max USB-C port and (1) additional USB-A port.
Multiple power cord lengths.
Widely-spaced outlets.
Angled design for easy plugging and unplugging.
Max desk edge: 1.9 inches.
Plastic pad to protect desktop.
Surge protection of 1200J.
While it's not technically an under the desk option, the CCCEI Desk Mount Power Strip offers the same minimal, out of the way convenience. It's basically the same as the aforementioned HHSOET option, but clamps to the surface edge of your desk. One major reason we included it is because of its multiple power cord length options. It's one of the few units on the market that allow you to choose between a 3, 6, 10, and 15 foot option. Simply put, desk placement is no longer limited by where your wall outlets are.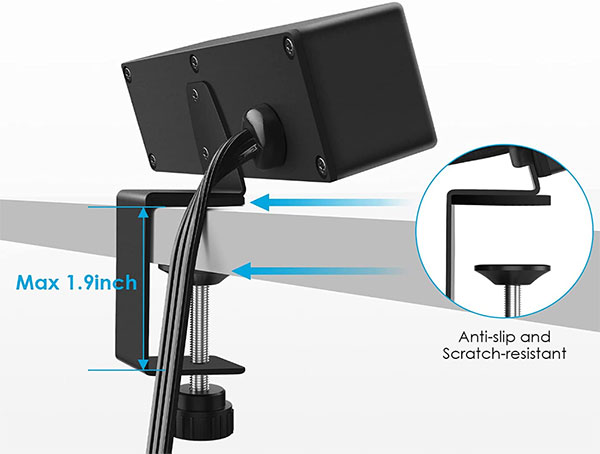 With fast charging USB-A and 20W Max USB-C ports, as well as 4 standard US outlets, it has plenty to offer in terms of power output. However, keep in mind that it has fewer AC plugs than the other versions we featured. The flat power cord plug makes it a good option for tight spaces where it needs to be nearly flush with the wall. In addition, the widely spaced outlets allows you to put each one to use without the whole thing feeling crammed.
It's easy to install on the edge of your desk without the need to screw holes or attach adhesive. The power strip tilts slightly upward, providing an easier angle to plug and unplug your cables. The clamp has a soft, anti-slip material that keeps things in place and your desk protected from scuffs.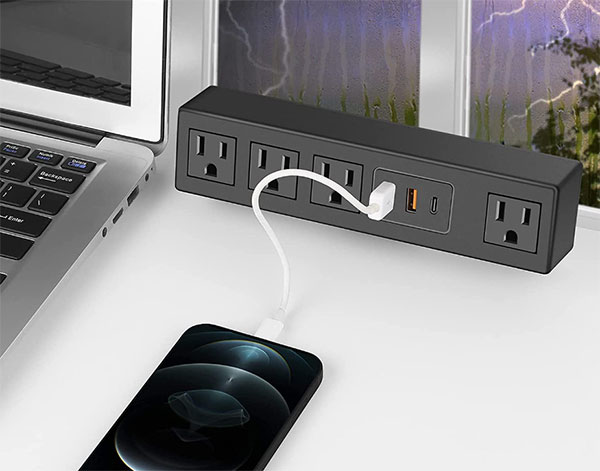 The CCCEI features surge protection up to 1200J and is ETL listed, with a robust set of safety features. These include short-circuit, grounded, overload and over-voltage protection. Best of all, it's made of ABS and fireproof material, ensuring that additional safety precautions were taken in the manufacturing of it.
Overall, we feel it's a reliable choice for adding outlets without permanent implications. Its fast charging capabilities, compact design, and safety features make it a top choice among other options.
What We Liked:
Fast charging USB ports.
Clamp-on, non-permanent design.
Strong surge protection.
Multiple power cord lengths to choose from.
What We Didn't Like:
A bit more expensive than others.