The world of architecture demands precision, detail, and often large-scale representations. To meet these requirements, a reliable, high-quality large format plotter printer is essential. These robust printers are capable of producing large-scale designs, blueprints, and plans with exceptional clarity and detail. We've examined and tested some of the best on the market to help you make an informed decision. Here are the printers we will be reviewing:
With these key features in mind, let's jump right into our in-depth reviews of each printer to help you understand how they can cater to your specific needs as an architect.
1. Canon imagePROGRAF TC-20 24" Large Format Plotter Printer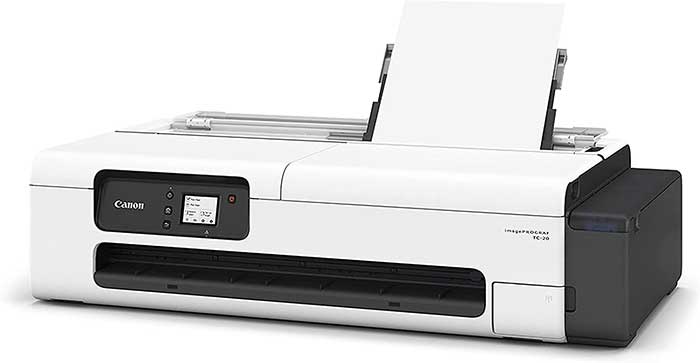 Key features:
Large format printing up to 24 inches wide
Roll-fed and cut-sheet paper feeds
4-color ink bottle system with 1200 dpi
Built-in WiFi for wireless printing
Canon's imagePROGRAF TC-20 24" is a workhorse for those who need large format printing right from their home or office. This capable unit is designed to handle a variety of document sizes – from flyers to office/retail signage, even up to 24 inches wide posters and blueprints. The media handling is impressively versatile, thanks to both roll-fed and cut-sheet paper feeds. This device offers flexibility for various print requirements and can automatically feed up to 100 sheets of letter or 50 sheets of 11" x 17" paper.
Measuring 44 x 16 x 29 inches and weighing 93 pounds, it is heavy but not overly imposing. This printer is not just about size and convenience; it is also about delivering quality. With a 4-color ink bottle system, the prints are crisp with vibrant images at 1200 dpi and exhibit resistance to highlighter and water. The high-capacity ink bottles offer the benefit of reducing refill frequency, supporting the continuous printing of extensive color documents.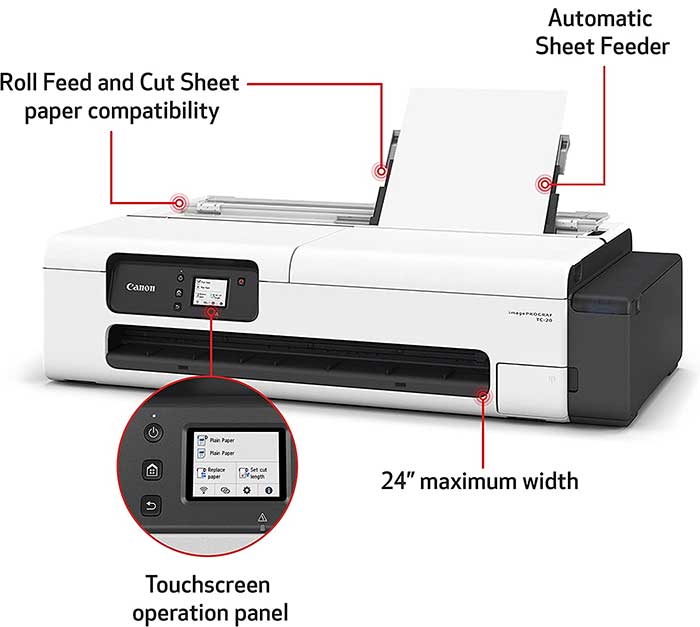 The setup is user-friendly, with an intuitive touchscreen control panel and animated installation guides, making it a breeze to start printing in minutes. Maintenance is thoughtfully designed, with top and front interior access to the printer for effortless ink refill, paper roll replacement, and routine care. Connectivity options consist of wired or wireless. High-speed USB and Ethernet connectivity ensure fast, reliable printing, and the built-in WiFi lets you print wirelessly from your devices, enhancing productivity.
However, despite its capabilities, we did encounter issues with paper feeding from the end of the roll. So Canon might need to make some potential improvements in this area. There is also a slight learning curve when adapting to the printer, particularly for newcomers to large format printing. While all the printers in this list can handle large format printing up to 24 inches, this Canon model stands out due to its roll-fed and cut-sheet paper feeds, accommodating different print requirements.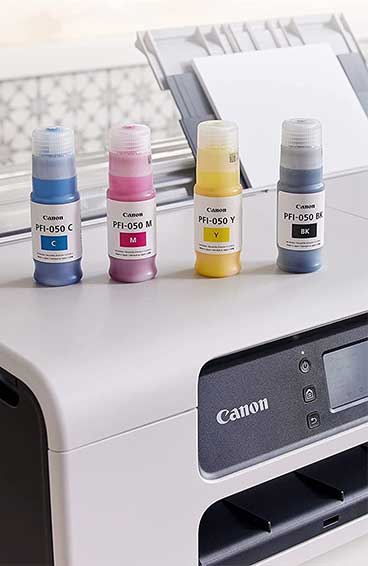 Its 4-color ink system at 1200 dpi outperforms the HP models that use thermal inkjet technology, especially in terms of print vibrancy and resistance to highlighter and water. Although its setup can be complex for beginners, it makes up for this with its user-friendly maintenance design.
What we liked:
Excellent print quality
High-capacity, spill-free ink refills
User-friendly setup and maintenance
Versatile connectivity options
What we didn't like:
2. HP DesignJet T210 Large Format 24-inch Plotter Printer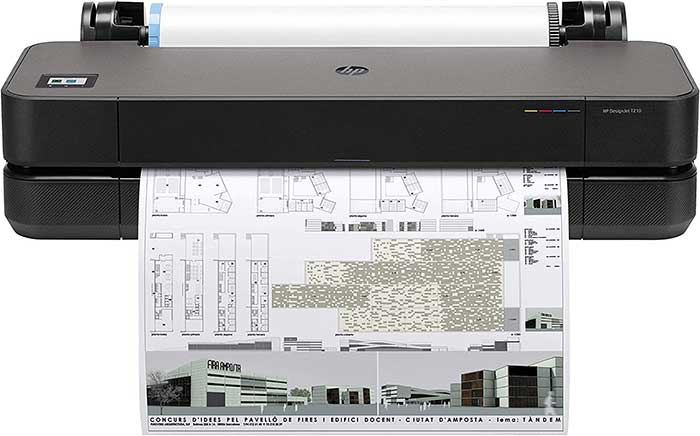 Key features:
Up to 24-inch format printing
Gigabit Ethernet, Hi-Speed USB, WiFi connectivity
Automatic horizontal cutter
45 seconds per page on A1/D size print speed
When it comes to large format plotter printers for architects, the HP DesignJet T210 stands out with its impressive feature set and superb performance. This sleek, black device takes up minimal space, measuring 11 x 40 x 17 inches and weighing in at 47 pounds. The T210 excels in versatility, providing options to print on large format media rolls up to 24 inches wide. It can also print on wide format 13 x 19-inch sheets when you use the included automatic sheet feeder.

This flexibility extends to its media handling capabilities, which encompass a roll feed, sheet feed, and an automatic horizontal cutter. This is a feature we appreciate for providing reliable and clean cuts after each print. Connectivity is another forte of this unit. With Gigabit Ethernet, Hi-Speed USB 2.0, and WiFi 802.11 b/g/n at your disposal, printing from anywhere becomes an effortless endeavor.
Coupled with the HP Smart app, you can manage your printing tasks virtually anytime and anywhere. One unique aspect that we tested extensively was the device's print speed and memory. It churns out an A1/D size print in just 45 seconds and can produce up to 59 A1/D size prints an hour. This impressive speed is backed by a 500MB memory. As for the print quality, it performed exceptionally well.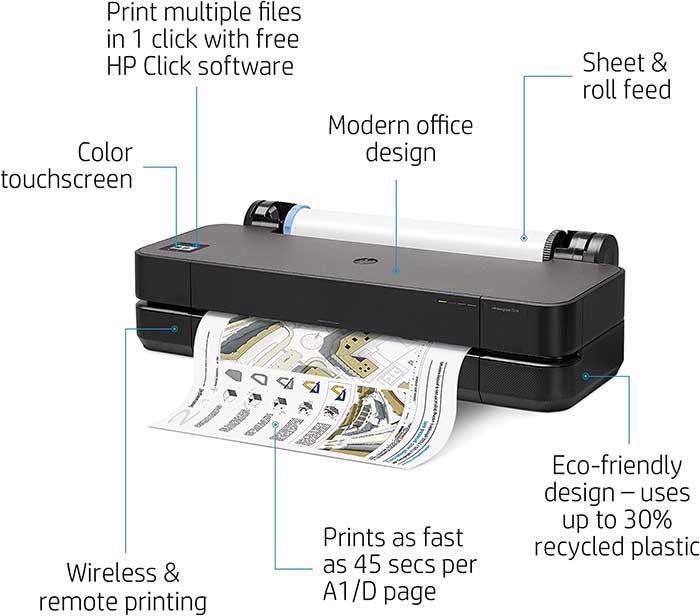 You can expect high-quality line drawings, blueprints, maps, and renders with remarkable clarity and precision. However, it is also adept at poster printing, using HP Click software to create stunning artwork. The printer uses dynamic security, indicating a commitment to safe and secure operation. A potential challenge we faced was the loading of paper. While we did experience some issues with alignment, we found it to be a manageable process with a bit of patience and practice.
HP's DesignJet T210 shares the same 24-inch large format printing capability as the Canon TC-20. However, this model is more compact and lightweight, making it less imposing for small offices. Its impressive print speed of 45 seconds per page on A1/D size print stands out, especially when compared to the slower 2 pages per minute (or 30 seconds per page) speed of the HP T630 and T650 models.
What we liked:
High-quality print output
Versatile media handling
Robust connectivity options
Impressive print speeds
What we didn't like:
Paper loading can be tricky
Substantial weight suggests permanent installation
3. HP DesignJet T630 Large Format Wireless Plotter Printer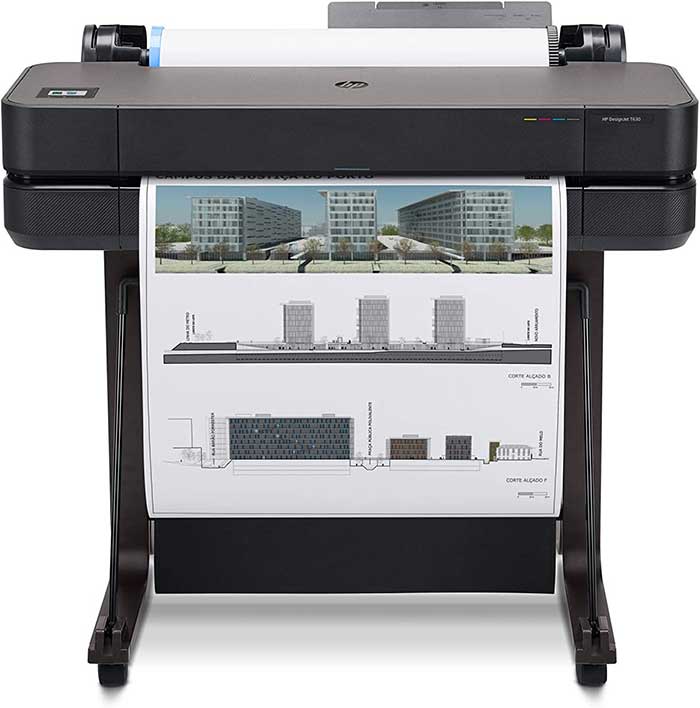 Key features:
Supports both sheet and roll feed
WiFi, USB, Ethernet connectivity
HP Click and Smart app-enabled
Uses thermal inkjet printing technology
HP DesignJet T630 large format printers, available in both 24-inch and 36-inch models, offer an optimal solution for professionals in architecture, engineering, and construction. This device weighs in at 64 pounds for the 24-inch model and 77 pounds for the 36-inch model, with respective dimensions of 24 x 40 x 37 inches and 52 x 24 x 37 inches. HP prioritizes sustainability, reducing CO2 emissions by using up to 30% recycled plastic in the construction of these units.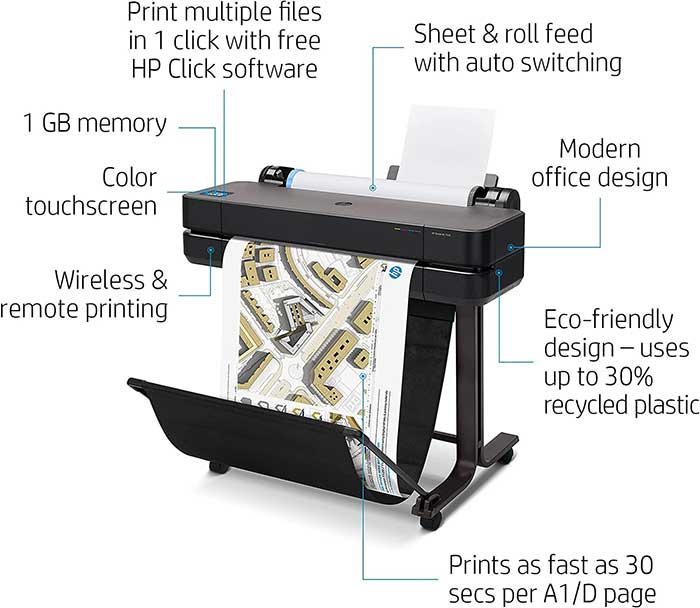 A standout feature of the T630 series is its ability to handle different media sizes, from 13 x 19-inch sheets to wide rolls up to 24 inches for the smaller model and 36 inches for the larger. To simplify this versatility, both models incorporate an automatic sheet feeder and roll switch paired with an automatic horizontal cutter and media bin for easy handling. The T630 excels in connectivity options. It supports Gigabit Ethernet, Hi-Speed USB 2.0, and WiFi 802.11 b/g/n, allowing for flexible and efficient data transfer.
However, it's not just about hardware connectivity. The T630 features HP's user-friendly software, including the HP Click for 1-click printing and the HP Smart app for remote printer management. Print quality is sharp and consistent, thanks to thermal inkjet technology and the use of HP 712 ink cartridges. Both the 24-inch and 36-inch models deliver prints at a speed of up to 2 pages per minute, with 1 GB memory to handle larger print jobs.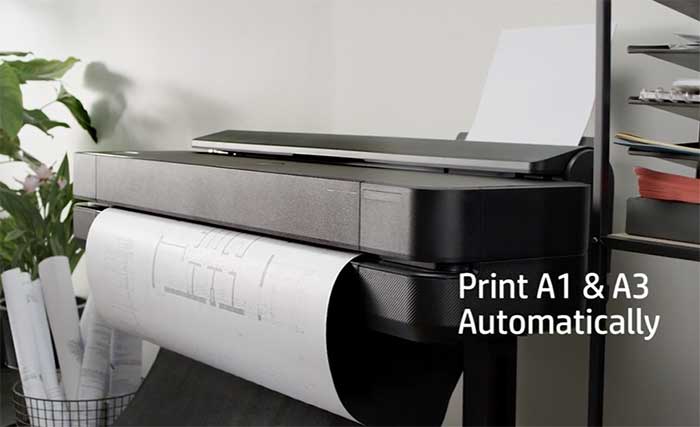 Though not neglecting performance, HP has ensured that the T630 is cost-effective, boasting savings such as 95% less ink used for routine maintenance compared to other plotter printers. Both models provide impressive simplicity and a modern office design, making them easy to use and a welcome addition to any professional workspace.
This model, like the T210, handles different media sizes, but it goes a step further with the automatic sheet feeder and roll switch, which simplify media handling. This printer's print speed matches that of the HP T650 but is slower compared to the T210. The T630's software, like the T210, allows for easy remote printer management, making it a user-friendly option.
What we liked:
Sustainable design with recycled plastic
Handles multiple media sizes automatically
Quick and efficient printing
One-year limited hardware warranty
What we didn't like:
Requires internet connection
Bothersome setup process
4. HP DesignJet T650 Large Format 36-inch Plotter Printer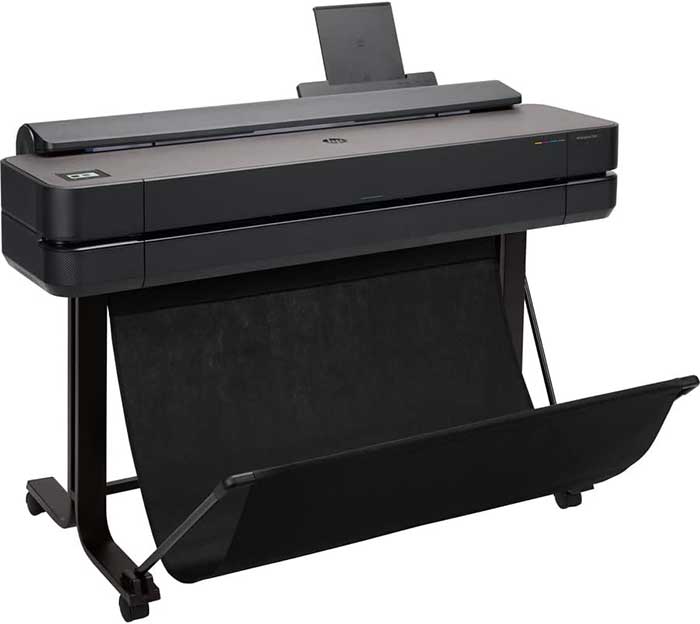 Key features:
WiFi, USB, Ethernet connectivity
Automatic sheet/roll switch
Includes 2-year Warranty Care Pack
Utilizes Thermal Inkjet technology
The HP DesignJet T650 is a large format plotter color printer that aims to cater to professionals in various fields. Architects, engineers, and construction professionals, in particular, find this device a reliable tool, especially for technical line drawings, maps, and renders demanding precision line and text quality. With a width accommodating up to 36-inch media rolls and 13 x 19-inch sheets, it ensures to cover a large-scale printing spectrum.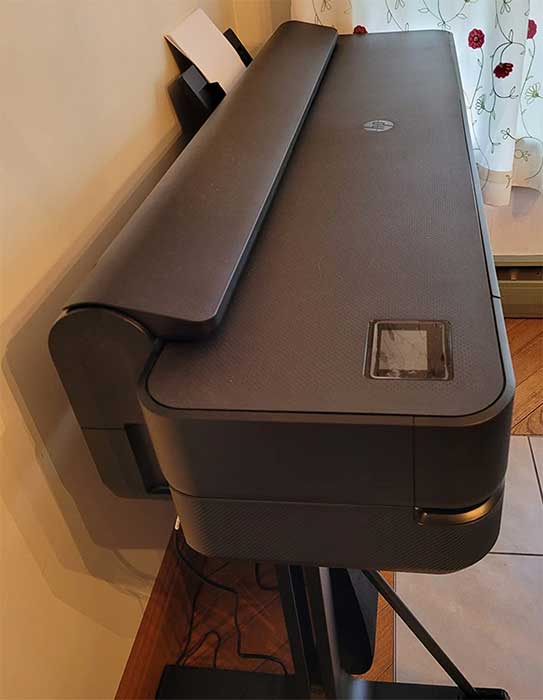 Coming in at 23.8 x 51.9 x 36.7 inches and weighing 76 pounds, the unit is substantial yet practical, ideally suited for a busy design studio or architectural practice. Its printing technology is Thermal Inkjet, known for its efficiency and consistency, coupled with a maximum print speed of 2.4 ppm for both color and monochrome prints. A distinctive feature of the unit is its media handling capability. It offers a seamless transition between sheet feed and roll feed, thanks to an automatic switch mechanism. It also includes a media bin and automatic cutter for a comprehensive printing experience.
Testing of the HP DesignJet T650 highlighted its robust connectivity options, which include WiFi, USB, and Ethernet. This was particularly helpful when we tried the 1-Click printing feature. We were able to print multiple files from different devices, demonstrating the unit's versatility. The T650 also places importance on sustainability with a design that reduces CO2 emissions by using up to 30% recycled plastic. Moreover, it boasts cost-saving efficiencies. For example, routine maintenance tasks use 95% less printer ink compared to other plotter printers.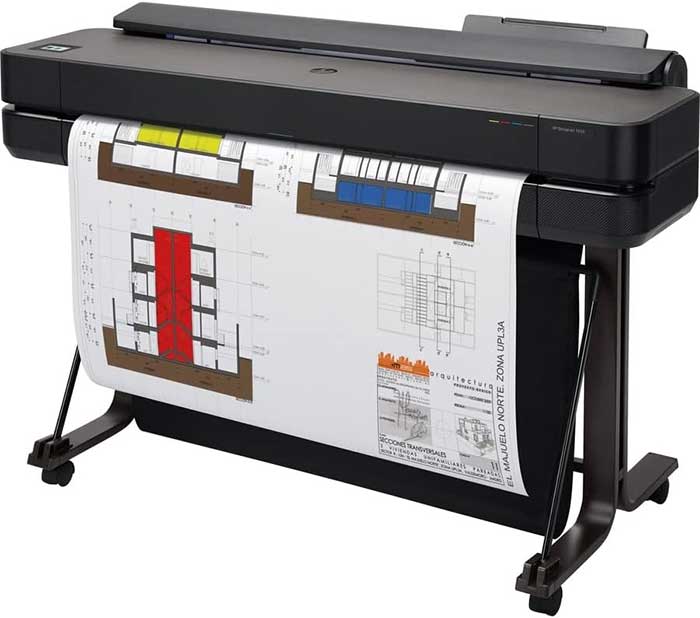 Complemented with its two-year Warranty Care Pack, users can be assured of quality support. Whether it be onsite and remote assistance or swift device service, HP makes sure that you have an optimal printing experience. Comparatively, its speed of 2.4 ppm is lower than the T210 yet on par with the T630. This model shares the sustainable design feature with the T630, using up to 30% recycled plastic. And as with others in the HP line, it requires an internet connection for full functionality, which could be a drawback for some users.
What we liked:
1-Click printing from various devices
Sustainable design with recycled plastic
Efficient ink usage for maintenance
Wide range of supported media sizes
What we didn't like:
Quite heavy at 76 pounds
Limited print speed at 2.4 ppm
Large Format Plotter Printer For Architects FAQs
What is a large format plotter printer?
This is a type of printer used to produce large printouts such as architectural blueprints, design plans, and technical drawings. These printers can handle large-sized paper, often up to 24 inches or 36 inches wide.
Why do architects need a large format plotter printer?
Architects often work with large design plans and blueprints that require detail and precision on a large scale. Large format plotter printers enable the printing of these designs in their actual sizes, maintaining the clarity and accuracy of the information.
What should I consider when buying a large format plotter printer for architecture?
Consider factors like the maximum paper size the printer can handle, print quality, print speed, ease of use, and connectivity options. Depending on your specific needs, you may also want to look at features like automatic paper cutting and roll-to-sheet switching.
Final Verdict
Our first pick of the best large format plotter printer for architects is the Canon imagePROGRAF TC-20 24" Large Format Plotter Printer. Its unique feature of roll-fed and cut-sheet paper feeds make it ideal for a variety of print requirements.
HP's DesignJet T210 stands out for its speedy and high-quality print output, while the HP DesignJet T630 boasts impressive handling of different media sizes.
Lastly, HP's DesignJet T650 is a strong contender that offers the benefit of wide-ranging media support and automatic switching between sheet and roll feeds.
These printers are excellent in their own right, and the choice ultimately depends on your specific requirements as an architect.