If you're someone who spends time on a computer gaming or working, you know how much your keyboard gets used. At this point, most people have grown up using them in some way or another. However, did you know that there are actually different layouts for keyboards that change the way you use them? One of those ways is in ortholinear format. To do this, you'll need the right kind of keyboard and a set of high-quality ortholinear keycaps to get you started.
What Does Ortholinear Mean?
Ortholinear for a keyboard is a specific way of laying out the keys. On a traditional keyboard, you'll notice that the different keys are all set up in a staggered way. This is the main standard way that keyboards are used for most applications. Ortholinear, on the other hand, does things differently. In this layout, you'll see the keys are all the same size for the most part and all lined up in perfect rows and columns.
Why Should I Use An Ortholinear Layout?
Ortholinear layouts have a few different benefits. The first is ergonomics. With all the keys aligned perfectly, you'll find that your hands fit better on the board. You'll reduce the overall amount that your hands move as well. Another reason is improved consistency of typing. In this layout, you have a lesser chance of missing keys or hitting the wrong ones because everything is lined up and there is no staggering. The ortholinear layout is also just a different way of doing things, which looks cool and is appealing to many keyboard enthusiasts out there.
What Are Ortholinear Keycaps?
Ortholinear keycaps are specifically designed for ortholinear layouts. They are made to be lined up perfectly in rows and columns rather than traditional staggering. Some come with lettering on them, while others are blank to support those who want to completely customize the look of their board.
Is It Hard To Learn Typing On An Ortholinear Layout?
It's definitely different, but it isn't that hard. The actual layout of each letter stays relatively the same compared to the traditional layout. The biggest learning curve will be from the actual layout of the keys. However, with some practice, you'll get the hang of it.
Best Overall: DROP + Matt3o MT3 Susuwatari Custom Orthiolinear Keycap Set

Key Features:
84 Keycaps
Black and Red Color
ABS Plastic
The best overall ortholinear keycaps are the DROP + Matt30 MT3 Susuwatari keycaps. This set is made completely from a doubleshot abs plastic to ensure maximum durability. The legends on the keycaps are molded from within, so they are less likely to ever fade away.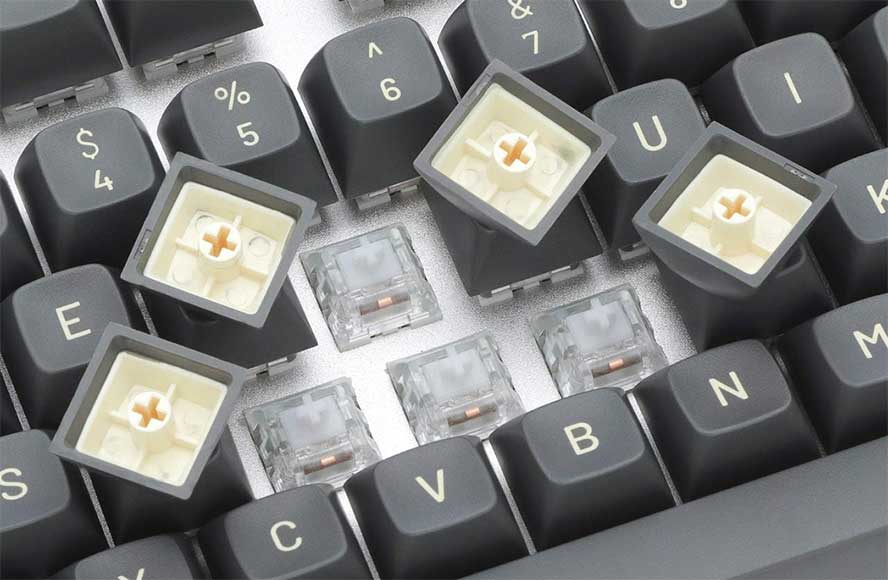 These keycaps are a great-looking set. There is only one colorway available, with a mix of both black and red keycaps to use throughout your keyboard. The legends are also great, as they are clearly visible. The letters and symbols are a mix of white, blue, red, and green.
The base kit of this keycap set comes with 84 different keys. This makes it usable on most sizes of ortholinear keyboards on the market. One of the cooler additions of keys is your choice for the space bar. You can have a singular small space bar or a split keycap set.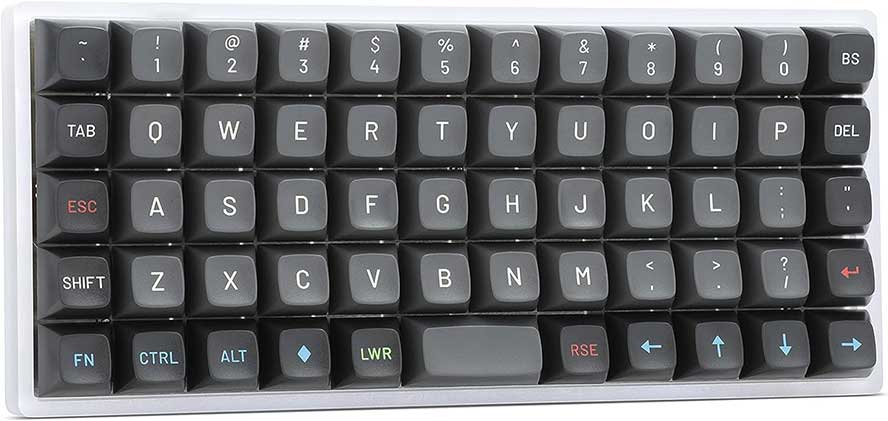 The Matt30 MTE keycaps are designed to be used along with Cherry MX-compatible keys. With durable construction and a great look, we really love everything about them. The range of colors is also a nice touch so that you can make them work in your setup's aesthetic.
Pros:
Plenty of keys included
Doubleshot ABS
Compatible with MX Cherry
Great aesthetic
Cons:
Some people don't like the hollow sound they create with keys
Best Runner-Up: DROP MT3 Dasher Ortholinear Keycap Set

Key Features:
84 keycaps included
Blue and teal look
ABS construction
Another solid runner-up option is the DROP MT3 Dasher Ortholinear keycap set. These keycaps are extremely similar to our best overall choice but have some key differences. They are made from durable ABS plastic, so you won't have to worry about them breaking down from long gaming or work sessions. Similar to the Matt30's, these keycaps have a double shot legend to improve the lettering and symbols' lifetime.
As for looks, these are really unique looking and perfect for standing out. They are a blue colorway that would look great, either matching in your setup or on their own as a statement piece. As for the legend, the typography looks really great and clean. Each letter and symbol is white in color.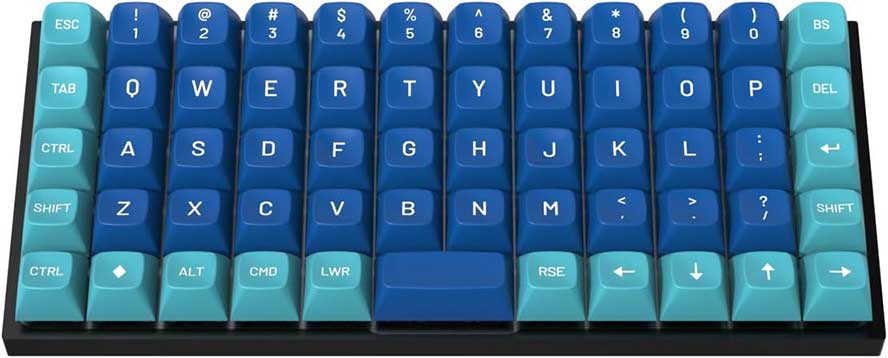 This kit comes with 84 different keys. This makes it great for most keyboard sizes, especially compact builds. The space bar is either one piece or two split pieces. Additionally, these keycaps are designed to be used with Cherry MX switches.
One cool thing about these keycaps is what they're modeled after. DROP made them with a design inspired by the IBM beamsrping terminals from the 1970s. This gives them a further cool retro feel. Overall this is a great keycap set that will be sure to last a long time.
Pros:
Unique colorway
Based on IBM beamspring terminals
ABS Doubleshot construction
Plenty of keycaps included
Cons:
The ABS may feel slippery to some people
Best Compact: DROP Planck Acute Ortholinear Keycaps

Key Features:
64 keycaps included
White, Green, Grey, and Purple colorway
Dye-subbed PBT construction
If compact keyboards are more your style, then the DROP Planck Acute ortholinear keycaps might be your best bet. They are made from an extremely durable dye-sublimated PBT material to give them a long lifetime. This is a different material than what is used by DROP on their other models, but it's still a solid choice.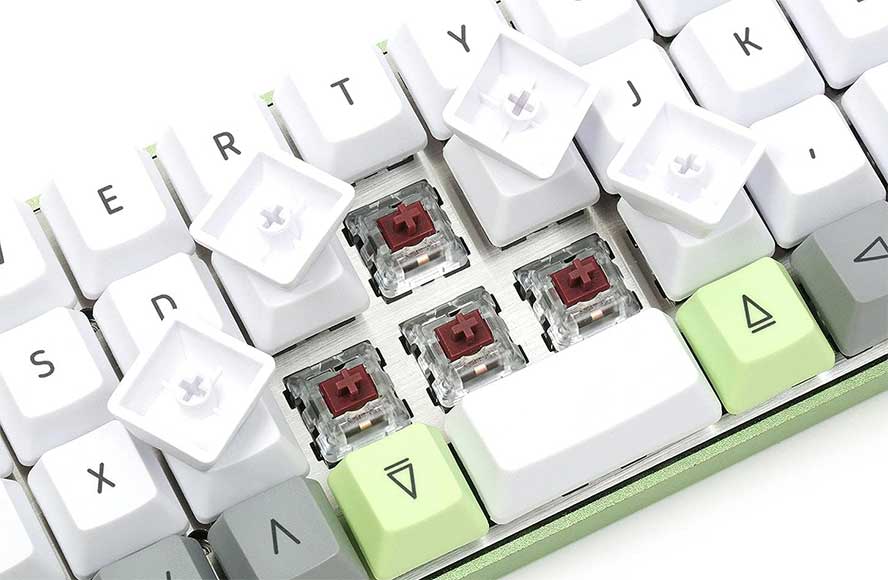 Aesthetically, these are great. You get to have a variety of colors, including green, white, grey, and purple. At first, it sounds like a strange combo, but when put all together, they look fantastic. It will work especially well if your setup has any of those colors in the theme. As for the legends, they're big and easy to read, along with some cool designs on some of the more common symbols, like the arrows.
This set is designed to be used with a compact board, so included in the box are 64 keys. If you build a compact 40% Planck board, you likely won't use every keycap. However, that's fine since you'll then have some variety to further customize the overall look and feel of the keyboard to your preferences.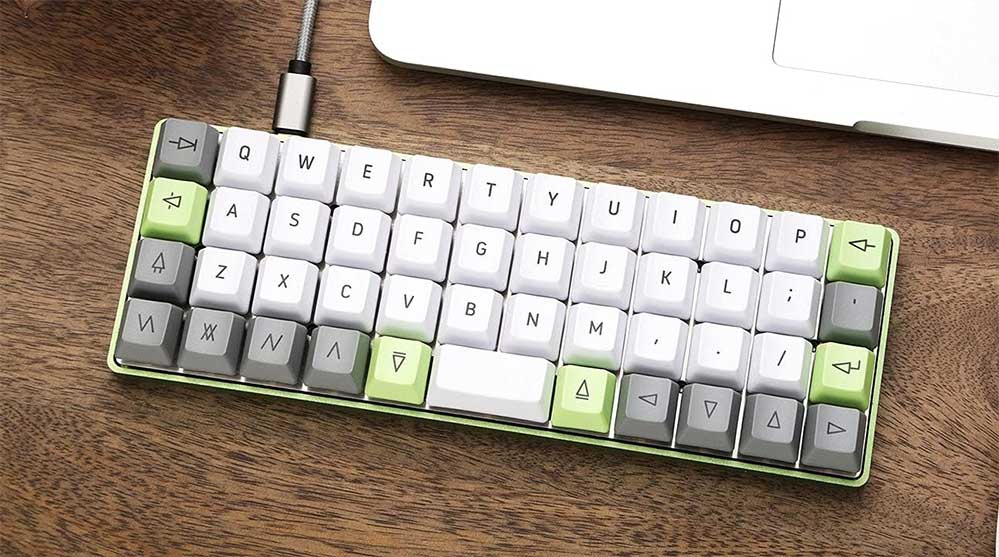 If you're already using the OLKB Planck mechanical keyboard in your setup, this is a great choice for keycaps. If you're not, then it's still great for those looking to use a compact keyboard. They'll make the perfect addition to anyone who wants the bare minimum in their setup for extended periods of computer use.
Pros:
Best for compact or 40% boards
Four colors included
Durable PBT material
Legend has an interesting design for the symbols
Cons:
Won't work well with anything larger than compact
Best ID75 Layout: YMDK 75 Keys DSA Dye Sub PBT Ortholinear Keycaps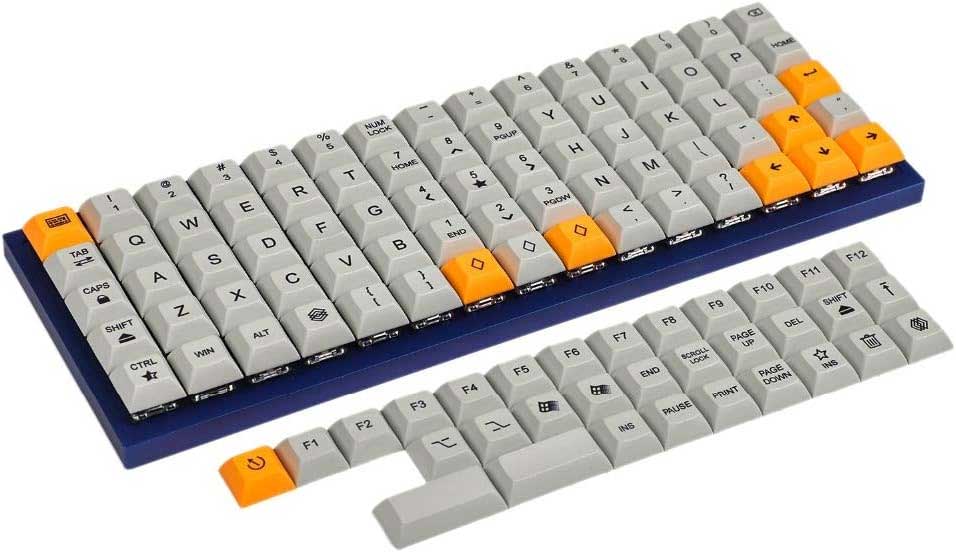 Key Features:
197 keycaps included
Grey and yellow colorway
Designed for ortholinear ID75 layout
One of the more unique ways to lay out your ortholinear keycaps is in ID75. This takes the placement of your keys and moves many of the navigation and common number choices to the middle, with the letters on the sides. For people looking for that style, the YMDK 75 keys are a great choice. They're made from Dye Sub PBT to increase durability.
Aesthetically, they have a cool retro look. The colors included are grey and yellow. The legends are dye sub, so they won't fade easily over time. Additionally, there are multiple symbols used in the typography that are from old versions of Windows, so if you're going for a retro look, they're a great choice.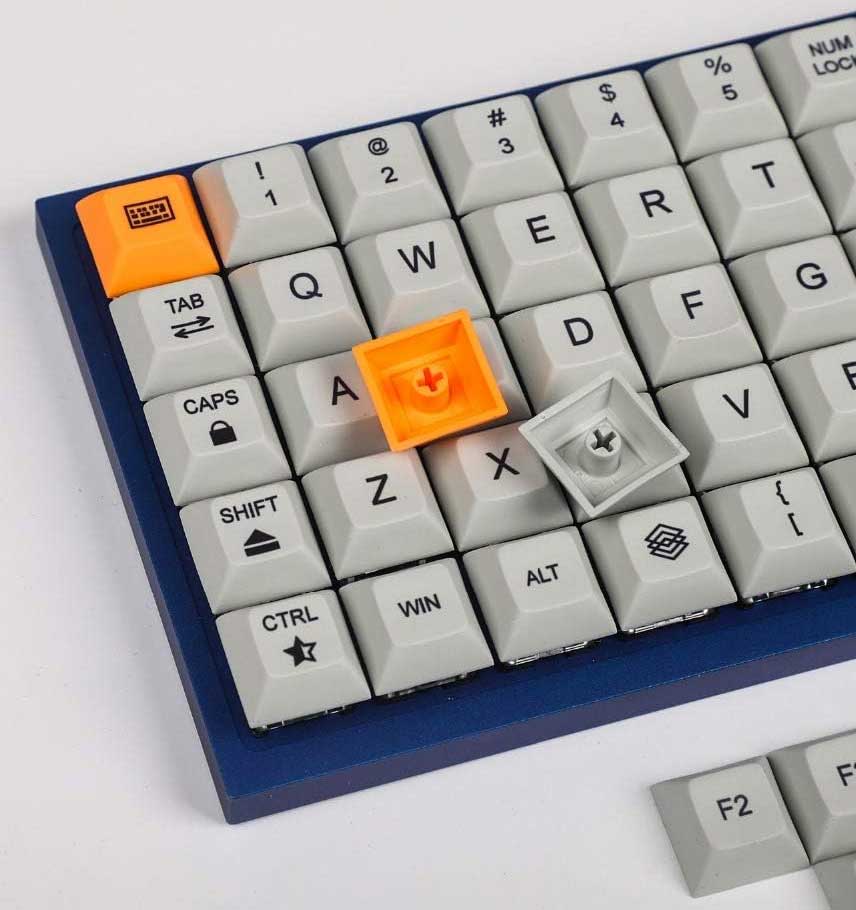 There are actually 107 keycaps included in this set. However, it's made to be used with only 75 at a time. The unique layout of ID75 only requires 75 of the keys. In theory, you could add the rest to a larger keyboard if desired, as long as it has Cherry MX switches.
Each keycap is 1.4mm thick, giving a great type feel while in use. If you're using your ortholinear keyboard for productivity and work, then the ID75 subcategory may be the way to go. In that case, we love the YMDK 75 keys set.
Pros:
Designed for the unique ID75 layout
Cool retro look
Durable PBT construction
Legends won't easily fade
Cons:
Some reviewers note it's hard to get the spacebars to fit on some keyboards
Best Blank: YMDK XDA DSA Blank PBT Keycaps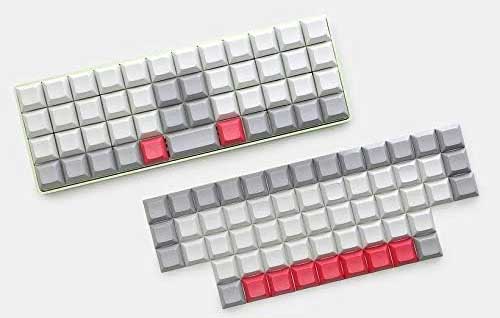 Key Features:
104 keycaps
Blank aesthetic
PBT material construction
For some users of ortholinear keyboards, customization is key. Individually programming each key can take the experience to a new level. To compliment those styles, the best option is the YMDK XDA DSA Blank PBT keycaps. They are made from 1.1mm thick PBT material.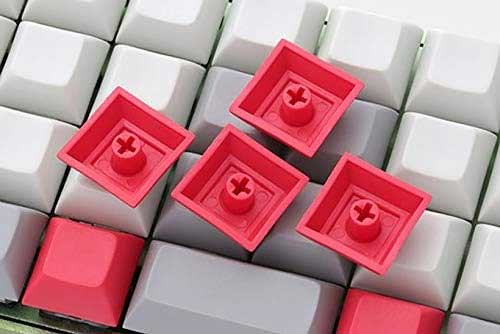 Aesthetically, they are a mix of blue, dark grey, light grey, and white. However, where they really differ from everything else is the lack of a legend. Each keycap is completely blank. This is great for using whichever key you want to use anywhere on the keyboard without worrying about what it says it is. However, if this is your first ortholinear keyboard keycap set, you may not like the lack of letters and symbols.
There are a total of 104 keycaps included in this set. This makes them great for virtually any sized keyboard on the market that you would want to set up with an ortholinear layout.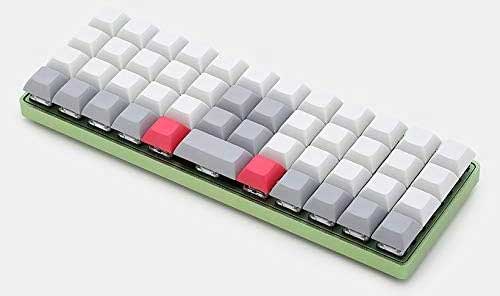 One of the other unique parts of these keycaps is their XDA profile. This raises them slightly higher than the DSA alternative. This is nice to further improve ergonomics and makes it easier to type for some users. If you're someone who really wants to go all in on ortholinear and fully customize it to your needs, then these are for you.
Pros:
PBT material for durability
104 total keys included
Great for complete keyboard customization
Cons:
Not suited for those who need a legend
Best Minimalist Look: DROP MT3 Black-on-White Ortholinear Keycap Set

Key Features:
84 keycaps included
Black and white colorway
ABS material construction
The best minimalist-looking option is the DROP MT3 Black-on-White keycap set. They are made from durable ABS, like some of the other options from DROP. This ensures they're going to be high quality and last a long time.
Aesthetically these are very clean and minimalist. They're available in a mix of mostly white key caps with a few black ones as well. The legend is large and clear to read, with either black or white depending on the keycap color.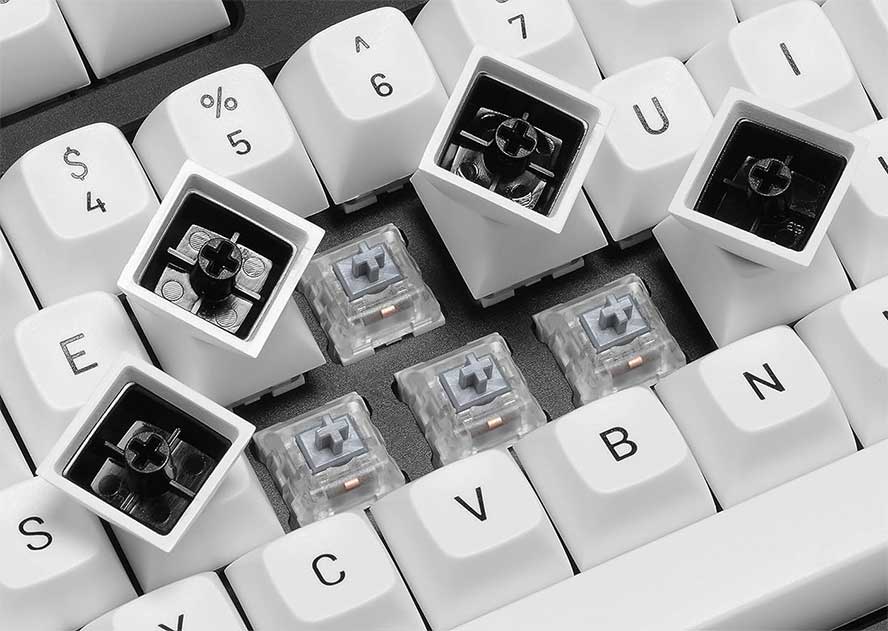 There are 84 total keycaps included in this set. This will make them suitable for most ortholinear keyboard builds. However, if you're making a full-size board, you may need to look elsewhere. As long as your board is the right size and uses Cherry MX-style keys, you should be good to go.
Similar to the MT3 Dasher keycaps, these are based on the IBM beamspring terminals. That, combined with their clean aesthetic, gives them an awesome retro feel that is sure to enhance your setup. Overall, these are great for minimalist designs.
Pros:
Great for minimalist setups
Durable ABS construction
A mix of black and white
Cons:
They develop an ABS shine after awhile