It's that time of year again. As summer fades away and fall starts to set in, Apple is releasing another round of brand-new iPhones to the market. This time, there are some awesome upgrades available in the form of the iPhone 15 and 15 Pro models.
Each is unique in its own way and offers some of the best technology available in a smartphone to date. As expected, a new iPhone (especially a pro model) is going to cost quite a bit of money. If you get one, the last thing you want to do is break it, which is where TORRAS comes in.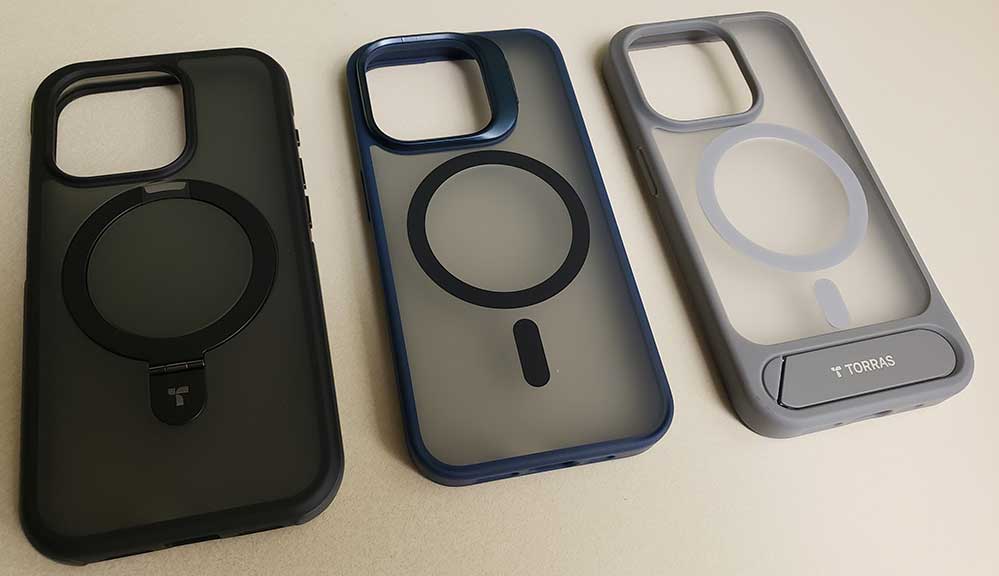 TORRAS makes amazing iPhone cases, and with the new phones being released soon, they have released three great options for the iPhone 15 Pro. These three cases all look great with the various colors available for the 15 Pro and are sure to keep your new phone safe from drops and other potential problems.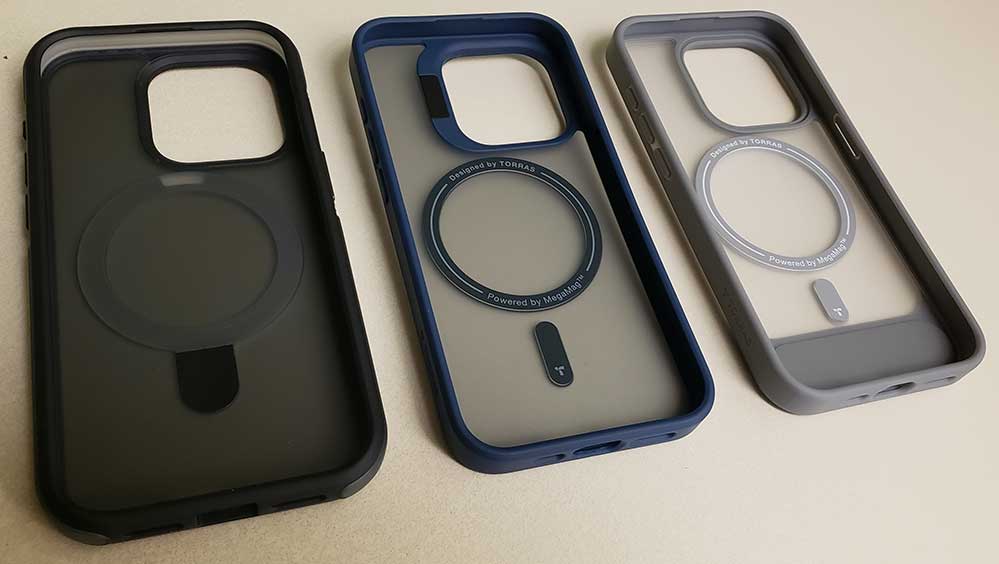 One unique feature that they all do in a different way is the included kickstand to add some extra functionality. Additionally, they all have magnetic compatibility of some sort, so your MagSafe accessories and chargers should have no issues working while any of these cases are on your phone.
If you have already ordered your new iPhone 15 Pro or are planning on doing it soon, you'll definitely want to learn more about these cases so you can get the right one for your needs.
UPRO Pstand iPhone 15 Pro Case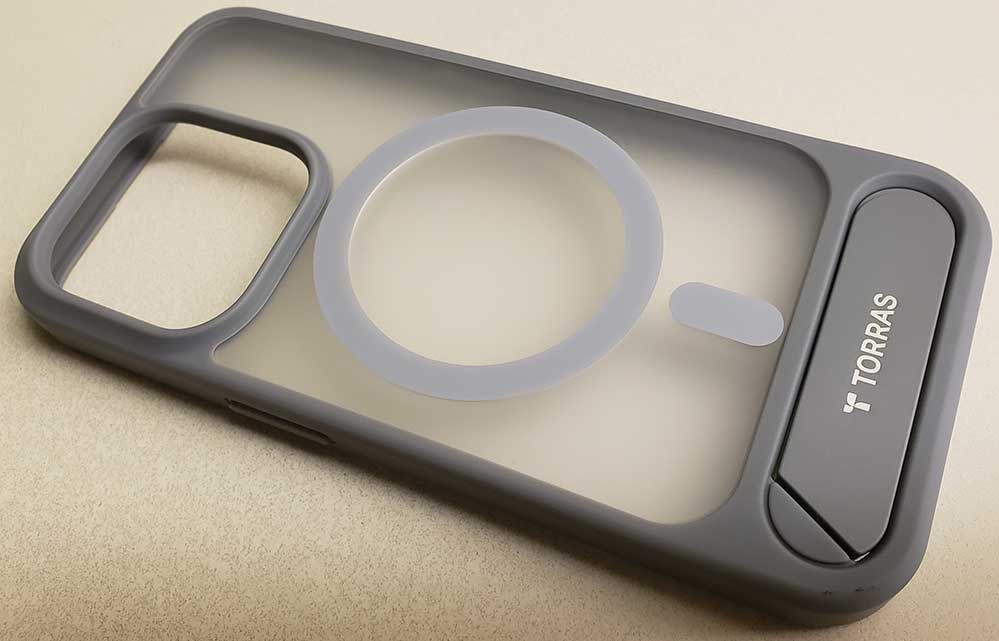 Key Features:
Four colors
Military-grade durability
Bottom fold-out kickstand
Extremely powerful magnet
The first of the three new phone cases from TORRAS for the iPhone 15 Pro is the UPRO Pstand. This case is designed to be slim yet strong. There are four different colors for this case, including black, blue, grey, and pink.
Each case is also translucent with a matte finish so you can see through it to the glass and titanium design on the phone while also having a strong grip strength. The edges and bottom of the back of each case are made from a non-translucent material, which gives the case some contrasting looks.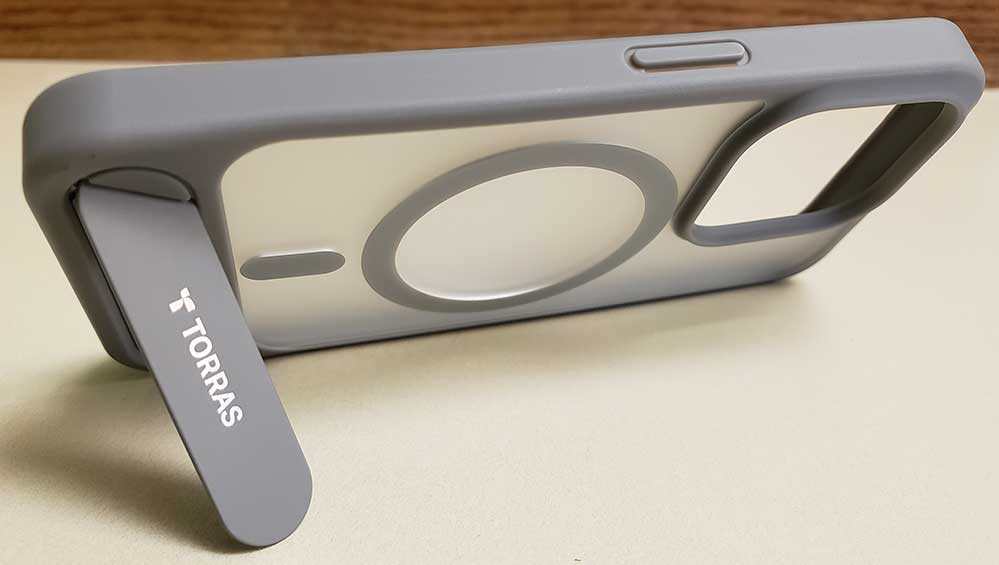 Durability is one of the most important factors in any phone case. The UPRO Pstand is extremely durable, keeping your new iPhone safe easily. It has 1.2mm raised screen lips and 1.5mm lifted camera bezels to help keep the glass parts of the phone off the ground in case of drops.
Within the case, there are four protective cushions in each of the corners, along with a 360-degree air cushion surrounding the entire outer edge of the camera area. These cushions reduce the overall effects of any drops or impacts on your phone. To put that durability to the test, the Pstand has been tested and approved for military-grade impact resistance. It's capable of withstanding over 4,000 drops from at least 12 feet up without any damage occurring on your phone.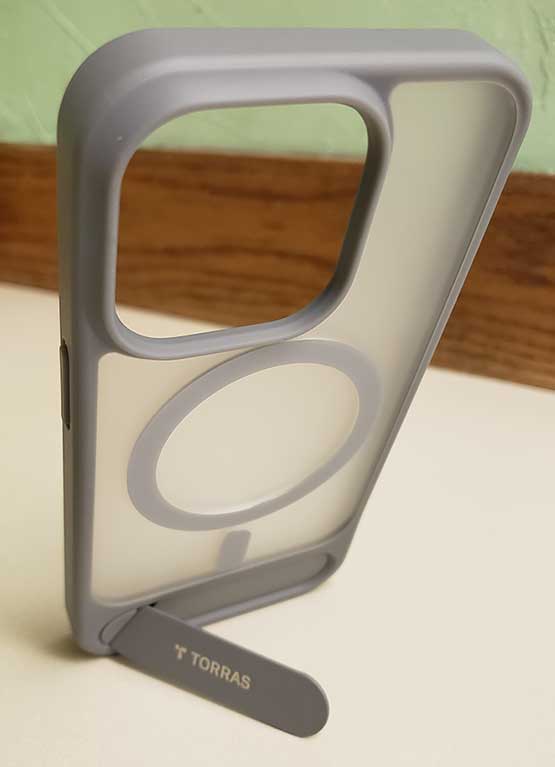 The kickstand for the Pstand is located on the very bottom short edge of the case. It's completely flush with the rest of the case, so you won't have any issues with it getting caught in your pocket or on anything else while not in use. It has varying degrees that it can be set to while in use, including 55 degrees when used vertically and 65 degrees when used horizontally.
This gives you plenty of strength and stability to utilize it for watching movies, FaceTime calls, or anything else it's useful for. You won't have to worry about it breaking either, as it has been tested for over 30,000 folds and didn't break after that.
Within the case, you'll find the ability to work with your magnetic accessories utilizing MagSafe. These magnets are perfectly aligned with the magnets inside your new phone, so there won't be any problems with it charging or connecting. There are 38 individual N52 magnets arranged in an exact replica of the shape that the magnets in the phone itself are in.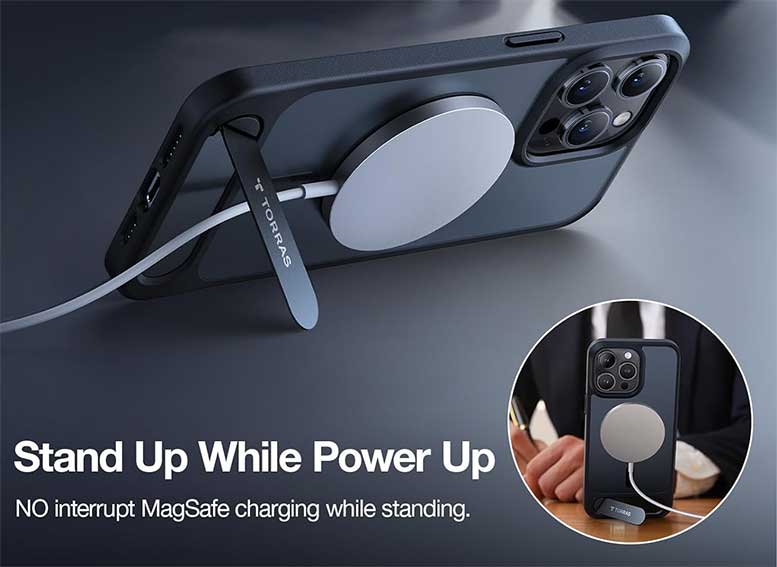 In fact, these magnets enable the phone to efficiently charge up to 30% faster than standard. These magnets are also safe from causing any damage to your phone, so you get peace of mind with that as well.
Overall, the PStand is a great case for any new iPhone 15 Pro. It's thin enough that you won't easily notice it, but it has a great matte finish that feels great in the hand. It won't let your phone break after common drops, and the kickstand increases its functionality in a great way without impacting the performance of the case. All of that, combined with super powerful magnets that let your phone charge and use MagSafe accessories, make it a great option to think about.
Pros:
Four colors to choose from
It has a great feel while holding
The kickstand is flush with the case and functions great vertically and horizontally
38 powerful magnets combine to keep the phone secure and functioning well
Tested for 4,000+ drops from 12 feet, and the phone inside was never damaged
Raised bezels to protect the glass on the front and around the camera lenses
Wireless charging isn't impacted by the stand
Cons:
Aesthetically, the stand doesn't fit the overall style of the case and sticks out
UPRO Lstand iPhone 15 Pro Case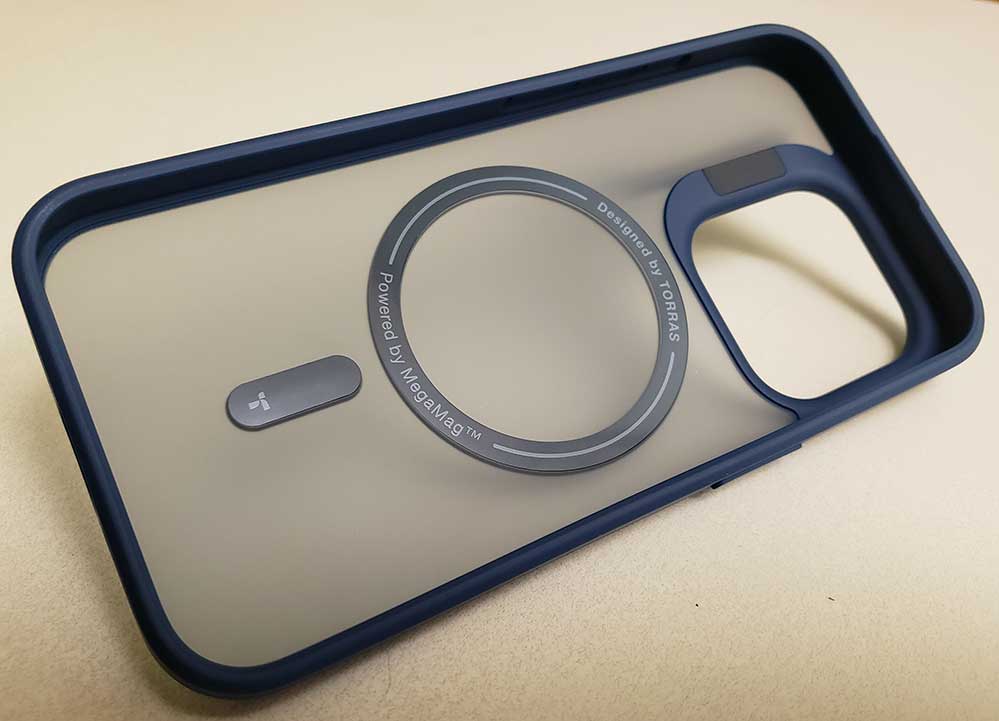 Key Features:
Five color options
Absorbs 98% of impact force
Unique kickstand design
38 magnets on the back
Another great case from TORRAS is the UPRO Lstand Magnetic Case. This case has a bit more of a minimal look when compared to the Pstand. It's available in five different colors, including black, clear, blue, grey, and grey clear.
These all work well with the four different colors available in the new iPhone 15 Pro, so you can easily find one that suits your style. Each case style has a matte finish, with some being completely clear and others only being semi-clear. This makes it have a great feel in your hand while still looking great.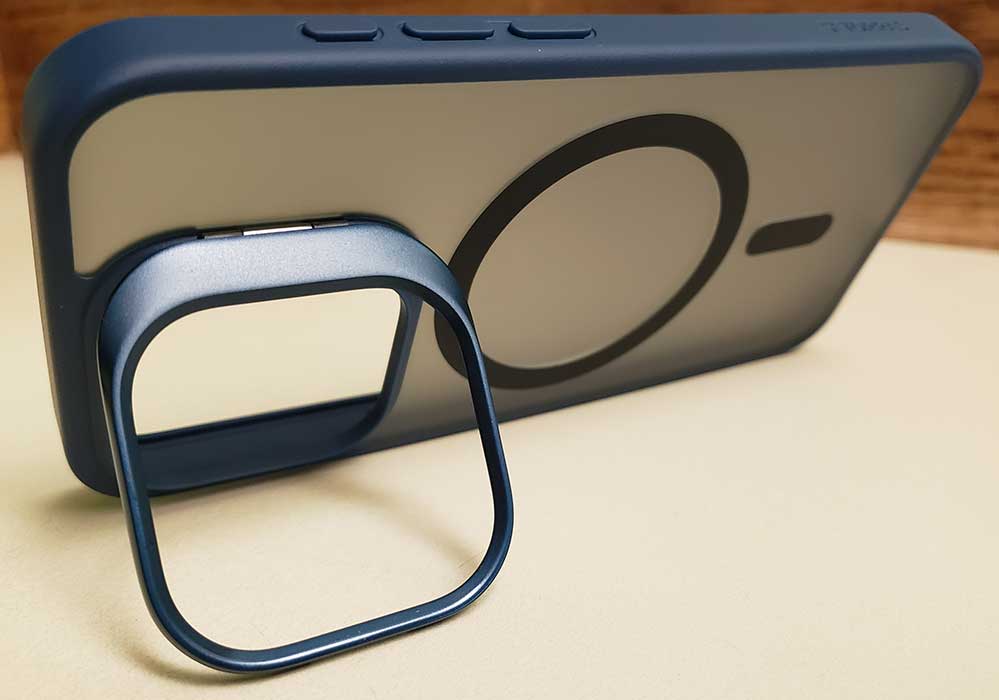 As for durability, this is a great case as well. It's built with raised bezels surrounding the front of the phone as well as surrounding the camera lens area. The front bezels are 2mm thick, while the camera bezel is .5mm thick. The case also has TORRAS's X-SHOCK 3.0 technology as well as a shatter-proof back to protect your phone completely from drops up to 12 feet high.
The kickstand used on this phone is one of the more unique options of any case we've seen. It isn't designed like the Pstand is. Instead, it's built right in as the camera lens protective bezel. The bezel has a hidden hinge within it that allows it to swivel out and act as a phone stand. This makes it ideal for standing your phone horizontally.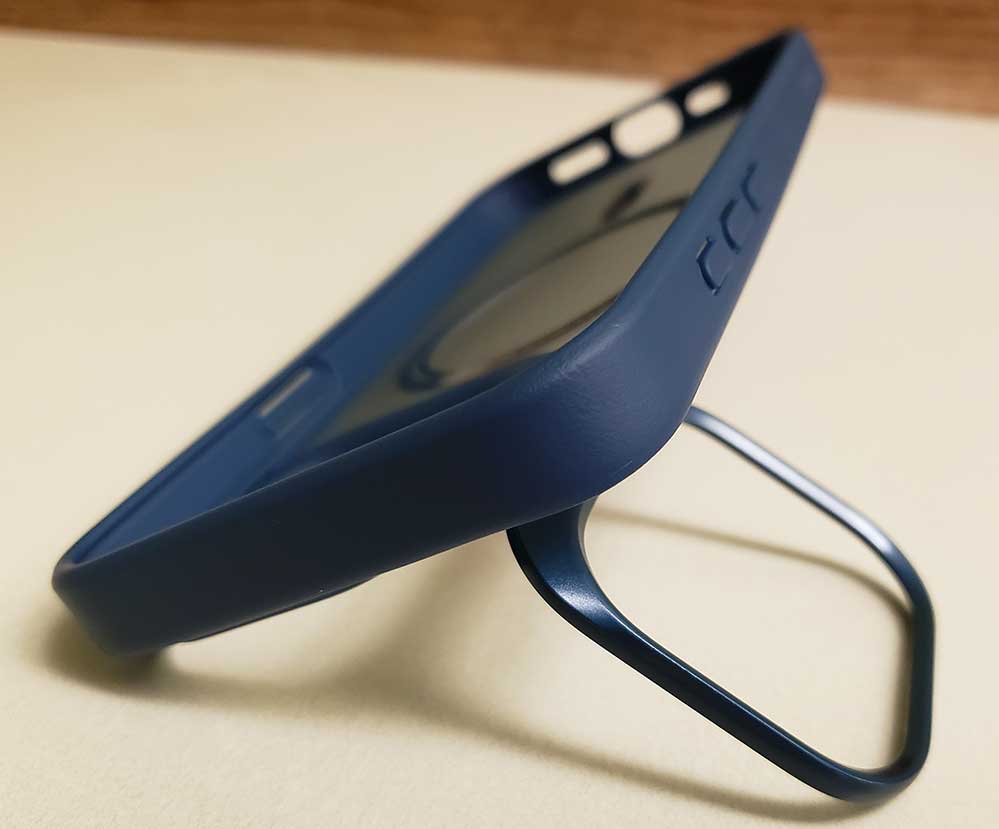 However, this design doesn't accommodate vertical stand use very well (unless you want your phone upside down). While not in use, it still serves its purpose of protecting your camera lens, so it will easily keep from getting caught on anything. This design also keeps the stand out of the way while charging and can even be used as a way to hold your phone from the back with more grip if desired.
The magnetic ability of the Lstand is very similar to the Pstand. It has 38 N52 magnets that give it a powerful 20N vertical strength, keeping your phone case and accessories from accidentally coming apart from each other. These magnets are also aligned perfectly with the magnets in the phone itself, so functionality isn't sacrificed when using this case.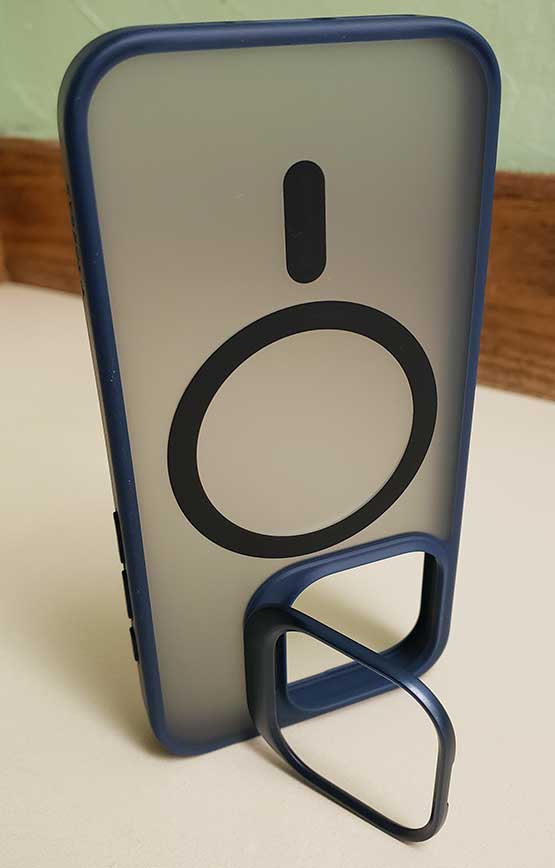 If you want one of the more unique designs out there while also protecting your phone, this is the way to go. It looks simple at first glance, especially with its minimalist design that blends in with whatever color phone you go with.
However, the unique kickstand design helps it stand out. It's going to protect your phone from pretty much any drop you put it through, and it won't have any issues working with any MagSafe charger or accessory.
Pros:
X-SHOCK 3.0 technology to protect the phone from 98% of impact force
38 super strong magnets that hold up to 20N of vertical force
Five different colors to choose between that all look great with the new phone colors
Unique dual-purpose kickstand
Kickstand doesn't impact phone charging ability
Cons:
It won't work great as a vertical stand
UPRO Ostand ShieldMate iPhone 15 Pro Case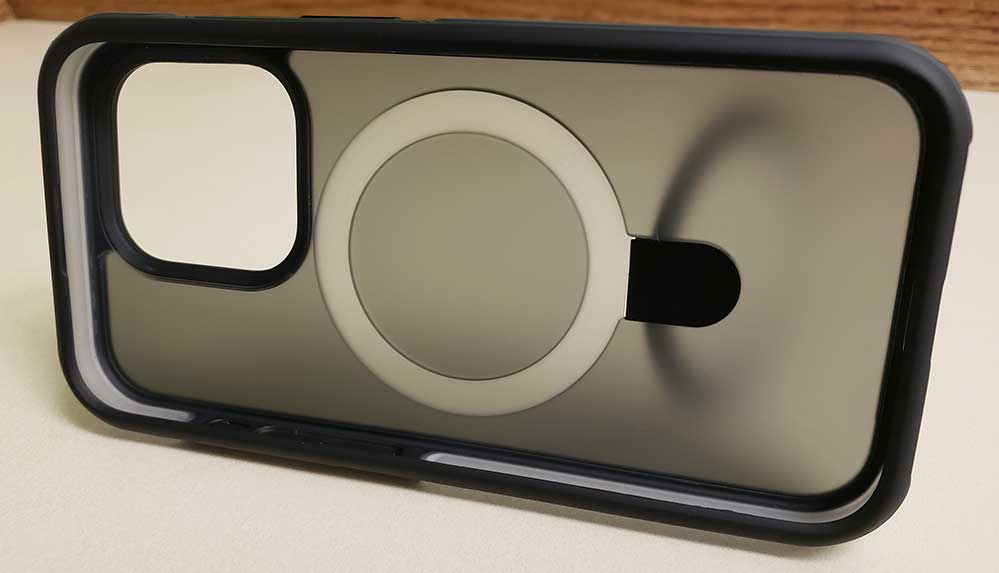 Key Features:
Three colors to choose from
Air-filled bumpers for impact absorption
Ring style kickstand
18N strong magnetic capabilities
The most durable of all the TORRAS cases is the UPRO Ostand ShieldMate. This case is built to look minimalistic but functions really well. There are three colors to choose from, including black, blue, and grey. They aren't as translucent as some of the other TORRAS cases, but they still look great and complement all the different iPhone 15 Pro colors. They also feel great in your hand, with materials that make it extremely easy to hold onto.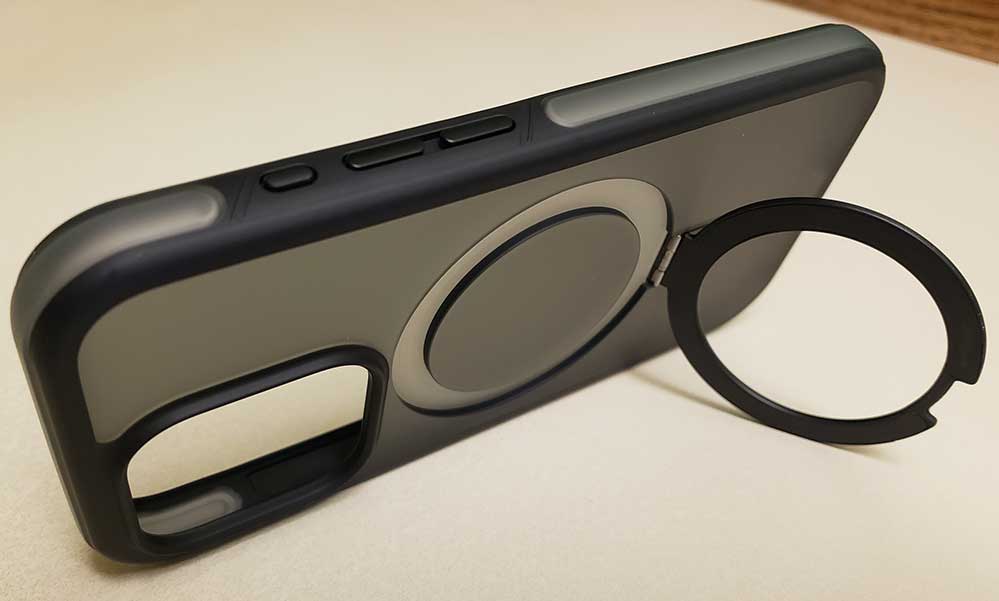 Durability is the name of the game in this case. It's built with adventure in mind and gives you the most durable experience of any case made by TORRAS for the iPhone 15 Pro. One of the main features it uses to accomplish this is visible outer edge air-filled bumpers. These bumpers surround the outer edge of the case to completely protect your phone. This enables the case to absorb up to 98% of the force created by dropping the phone.
Additionally, it has been drop tested for up to 18 feet without any damage occurring on the phone, which is 6 feet higher than the other two case options. The edge of the screen and the camera lens area are also raised in order to protect the glass in those areas.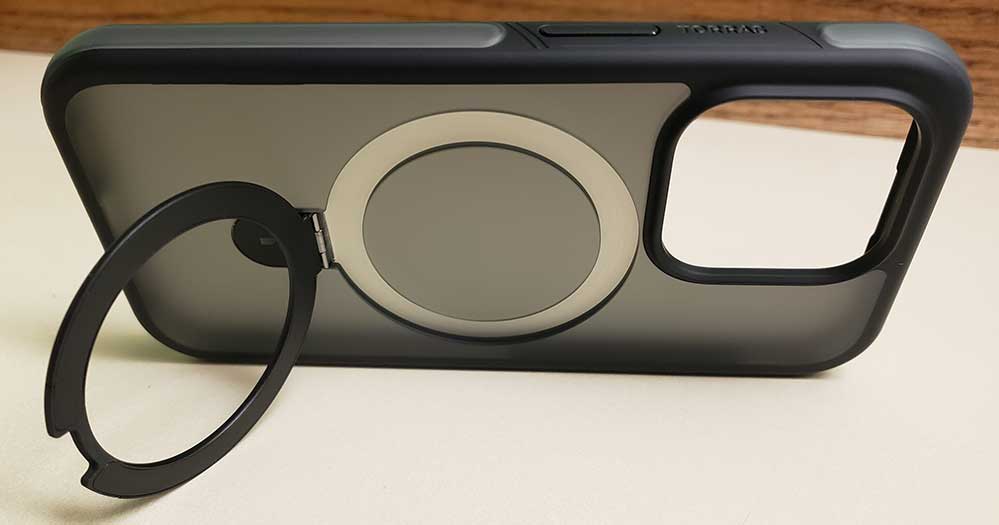 The kickstand on the Ostand also has a few different functionality use cases. It's built into the back of the case and is a circular design. It's shaped just like the magnets on the back of the other cases and pops out to hold your phone either vertically or horizontally. It can also be used as a circular holder in order to help you more easily hold onto the phone while using it as you normally would throughout your day.
One area where this case differs from the rest is its magnetic design. As mentioned above, the kickstand is shaped just like the magnets on the other cases and is also located where they are. This is because the kickstand is also the magnetic area on the case. It can hold up to 18N of vertical force and allow you to use all your MagSafe accessories.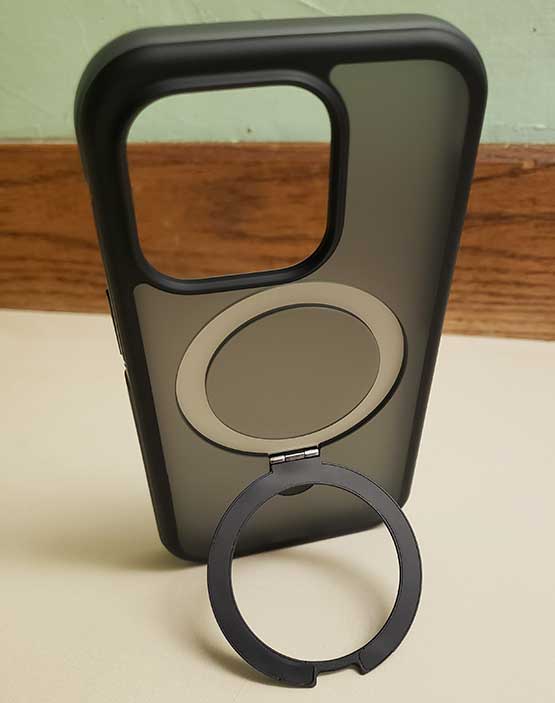 However, the downside of this design is that you won't be able to use the kickstand and charge the case at the same time since the magnets will be popped outward away from the phone.
If you're someone who lives an active lifestyle of adventure, then the Ostand is the way to go. It's by far the most durable, especially with the patented air bumpers surrounding the outside. The colors look great, and the case itself has a few great features that make it easy to hold. The kickstand can also be used for multiple functions, making this a solid choice.
Pros:
Patented air-bumpers surrounding the outer edge to protect the phone from up to 18-foot drops
The kickstand works in both horizontal and vertical phone orientation
The kickstand also works as a ring holder
Powerful magnetic ability up to 18N of force
Three great-looking colors
Cons:
Magnetic design doesn't allow for the kickstand to be used while charging the phone magnetically
Meet Derek, "TechGuru," a 34-year-old technology enthusiast with a deep passion for tech innovations. With extensive experience, he specializes in gaming hardware and software, and has expertise in gadgets, custom PCs, and audio.
Besides writing about tech and reviewing new products, Derek enjoys traveling, hiking, and photography. Committed to keeping up with the latest industry trends, he aims to guide readers in making informed tech decisions.