If you're running a small business, or even making crafts at home, you might want some vinyl stickers. And unless you want generic, off-the-rack stickers, you're going to want to make your own. These stickers can be used for anything. They can be used to create custom labels for your store. They can be placed on crafts like mugs and candles, to make something truly unique. They can even be used outdoor for decoration, or on the back of your car. Basically, anywhere you want to put a sticker, you can do it. But in order to create quality custom stickers, you'll need to have the right tools.
Obviously, you're going to need a printer, but you'll also need sticker paper. For some jobs, you could just use pre-cut labels, which are easy to find in different sizes. But those labels aren't ideal for every task. For one thing, they're not usually water-resistant, which can be problematic for some applications. For another thing, you only have a limited selection of shapes and sizes. If you want to create a truly customized sticker, that's where vinyl sticker paper comes in. This material is water-resistant, so it can be used for more applications. And because you're working with a full, letter-sized sheet, you can cut any shape or size sticker you want.
We're about to review three of the best vinyl sticker papers for inkjet and laser printers. We'll start with the Paper Plan Clear Sticker Paper. This is a clear vinyl sticker paper that comes in both inkjet and laser versions. Next, we'll look at the J&J Packaging Printable Vinyl Sticker Paper. This is a clear or white vinyl sticker paper with a universal inkjet/laser construction. Finally, we'll examine the AIVA Printable Vinyl Sticker Paper. This is an ultra-thin white label paper that's available for both types of printer. So, which one is the right choice for you? To find out, we'll have to take a closer look at each of our options. Then, we'll have a better idea of what we're dealing with. Let's begin!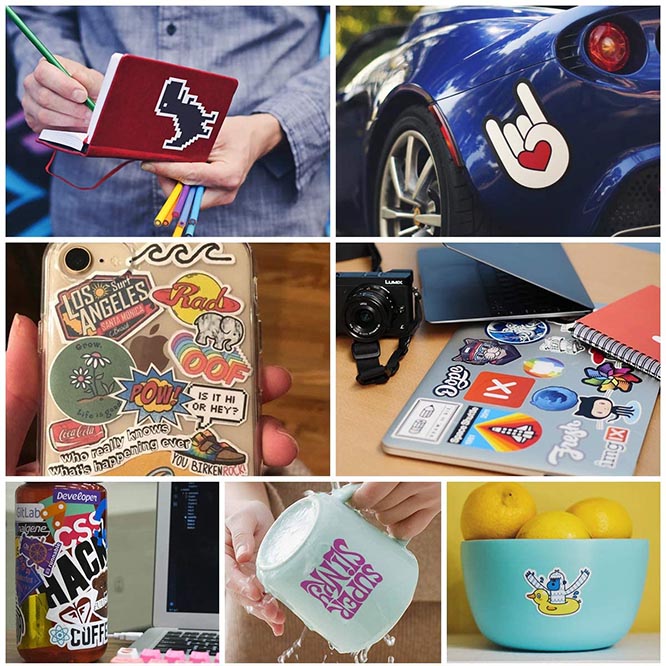 Vinyl Sticker Paper Basics
Before we talk about any individual vinyl papers, let's talk about some of the specifics. What makes one vinyl sticker paper better than the others? Furthermore, what kind of features should you be looking out for? And how do you get the best possible performance? Here are some of the basics you have to consider before choosing a particular vinyl paper type.
What's the Difference Between Vinyl Sticker Paper and Regular Sticker Paper?
The main difference between vinyl sticker paper and regular sticker paper is the material. Simply put, vinyl sticker paper is made of vinyl plastic, whereas ordinary sticker paper is just paper. This makes a big difference when you're putting your stickers to work. For one thing, printable vinyl is water-resistant, and can also resist fading from UV light. Paper, on the other hand, doesn't stand up to water, and fades easily over time.
Another major difference is how the stickers handle. When you're removing a paper sticker from the backing, it's easy to tear. This is particularly true if the sticker has an irregular shape, like a star. Vinyl stickers are highly resistant to tearing, so they're easy to remove and handle. Vinyl can also be made transparent, to allow for a clear background. This isn't the case with paper, which is either white or colored.
However, vinyl paper costs more than ordinary sticker paper, because of the cost of materials. If you don't need vinyl's special properties, you can save money by using paper stickers. Furthermore, not all vinyl sticker paper is UV- or water-resistant. If you're not careful, it's easy to end up with something that bleeds or fades during ordinary use. When you're shopping, make sure to carefully read the product description, so you know exactly what you're getting.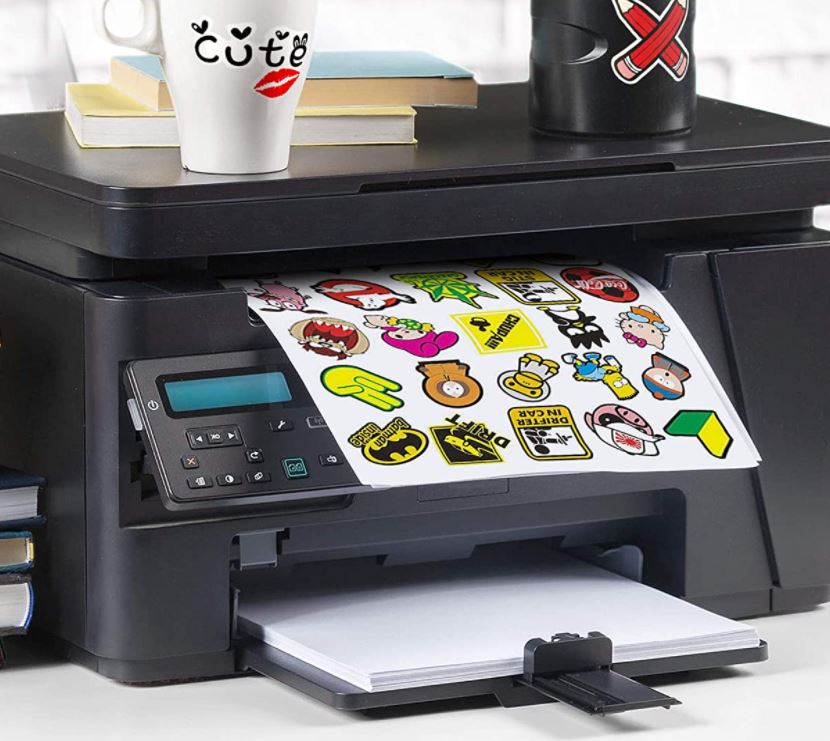 Laser Printers vs. Inkjet Printers
When you're choosing a vinyl sticker paper, few things are more important than your printer type. With ordinary paper, it doesn't usually matter what type of technology your printer uses. But with vinyl, you need to match the right type of sticker material to the right type of printer. Here's why it makes a difference.
Laser printers work by applying a dry, powdered toner to the surface of the paper or other material. The printer then uses a laser to heat the toner, and it bonds to the surface. For this reason, the vinyl needs to be able to withstand the heat from the laser. If it's not, it can end up bubbling, shrinking, or warping during the printer process. The surface also needs to be nice and smooth, so the toner will bond with it easily. In addition, a vinyl that's too stiff or dry can crack or split when it gets heated up.
Inkjet printers use an entirely different technology for producing text and images. Instead of a dry toner and a laser, it uses a liquid ink. The print heads apply this ink to the paper, where it's absorbed and dries out. For this reason, vinyl stickers for inkjet printers need to be made porous. Otherwise, the ink will just pool up on top, and it won't ever dry properly. As soon as you touch the image, it will smudge, ruining your brand new sticker.
As you can see, it's essential to use the right paper type for your printer. It needs a smooth finish for a laser printer, and a more porous construction for an inkjet. If you use the wrong kind of label, the best you can expect is a sub-quality print that smudges or wears faster. Worse yet, you could waste entire sheets of label material, or even damage your printer. So take a minute to check your printer type before you settle on a particular type of paper.
That said, there's a lot of misinformation out there about which types of printer is best for vinyl stickers. In the past, inkjet printers were inevitably the best choice, since laser printers produced lower quality. But nowadays, laser printers are producing nearly the same image quality. It's true that inkjet printers remain the superior choice if you're trying to get extreme levels of detail. But laser printers are equally capable of most tasks. Not only that, but inkjet ink is water-based, so it's prone to running when it gets wet. For this reason, laser printers are a better choice for creating waterproof stickers.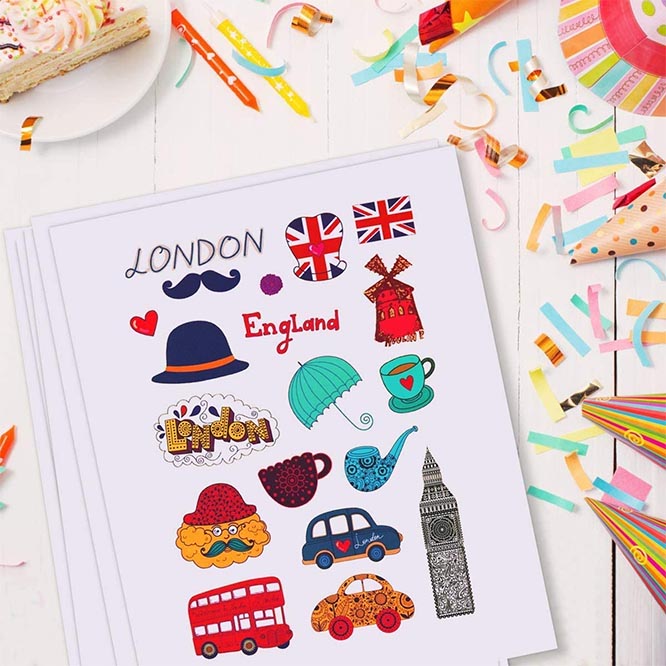 How to Make Waterproof Stickers
Now, you might be wondering why you'd need to waterproof your vinyl stickers. Aren't they already waterproof? The answer is yes… and no. For one thing, it's only the vinyl that's waterproof. If you're using a water-based ink, the ink itself can still run. For another thing, vinyl stickers will eventually lose their hold on even non-water-based ink, given enough water exposure. Under most conditions, you can expect a "waterproof" sticker with laser-printed ink to last for about a year. After that, you'll need to have additional protection to keep your image from running or fading.
If you want your stickers to last even longer, you can treat them with a spray sealant. These sealants are made of a synthetic, shellac-like material that's extremely resistant to the elements. There are many popular brands available, including Mod Podge, Minwax, and Krylon. You can also choose between glossy and matte finishes, depending on the look you want. However, if you're going to use a spray sealant, make sure the ink has fully dried beforehand. It's best to wait a full 24 hours after printing, just to be sure. You'll also want to carefully follow the manufacturer's safety instructions. Remember, these are aerosol sprays, and need to be treated with respect.
Another attractive outdoor option is waterproof laser printer paper. It's not sticky, and it's not as durable as vinyl. But for short-term flyers and other similar applications, it's a more affordable alternative.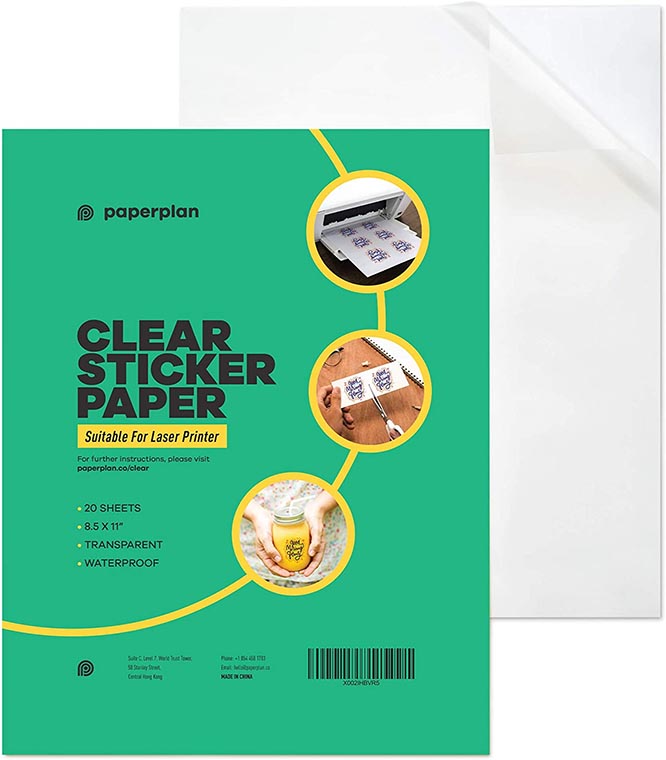 Paper Plan Clear Sticker Paper
The Paper Plan Clear Sticker Paper is available in three varieties. To begin with, there are clear matte versions for both inkjet and laser printer. The third option is a glossy white, and it's suitable for inkjet printers only. All three types come in a 20-pack, although they're all differently priced.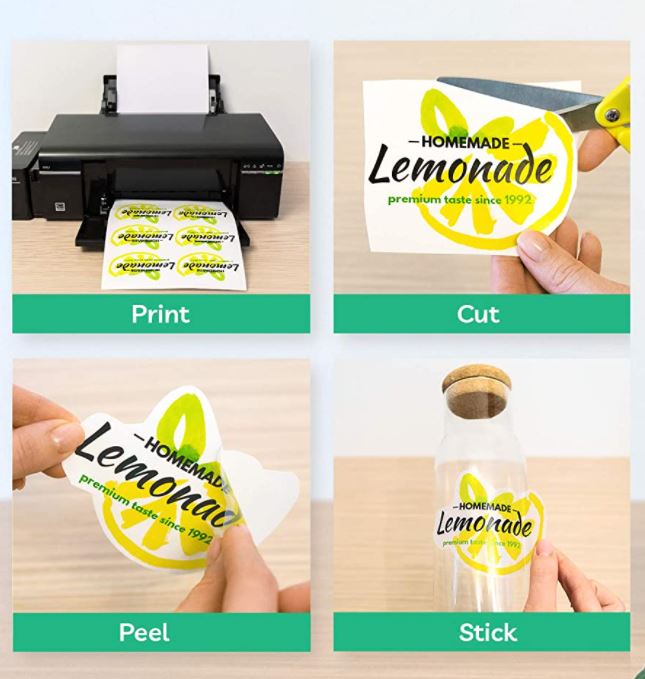 One thing we appreciated about the Paper Plan stickers is the quality of the clear versions. A lot of "clear" vinyl stickers are actually blue, or have a frosted finish. These, on the other hand, are almost entirely transparent. If you put them on clear glass, you'll barely notice the clear parts of the sticker. On the downside, the backing paper has a branded watermark all over the back. This makes no difference if you're applying your stickers to something before you give them out. But if you're just selling or giving away stickers for your business, you'll probably want something that's not watermarked.
All three types of Paper Plan label are resistant to water and ultraviolet, and seem to hold up quite well. However, keep in mind that the inkjet version will need to be sealed. Otherwise, the color can run, particularly if you're washing the sticker with water. The full sheets are easy to cut, whether with scissors or a machine. But they're a little thick, so you'll have to make some adjustments on most machine types.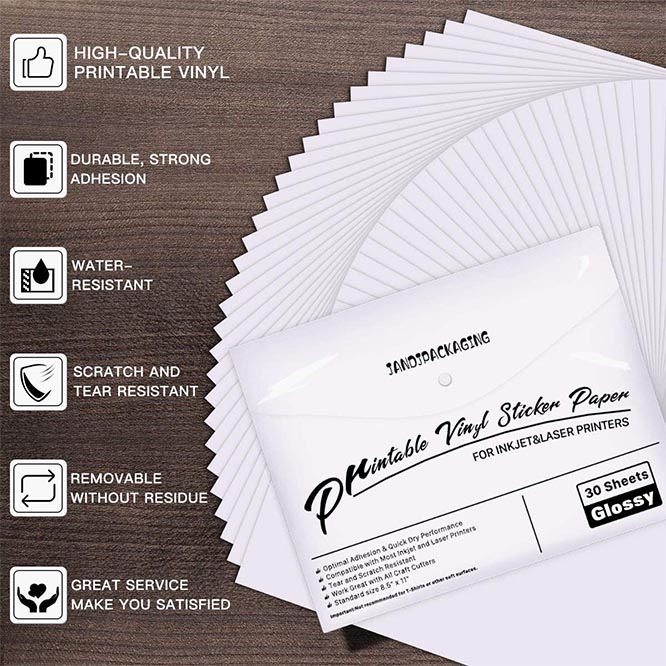 J&J Packaging Printable Vinyl Sticker Paper
The J&J Packaging Printable Vinyl Sticker Paper comes in either glossy or matte white, depending on your preference. It can also be ordered in three quantities: a 15-pack, a 30-pack, or a 55-pack. This sticker paper is designed to work with both laser and inkjet printers. In theory, that sounds great, but we have some concerns about how long the images will last. We didn't have any issues, but we haven't had months or years to track its performance. On the upside, it's rated for a full year of outdoor exposure, even without a sealant. But if you're using an inkjet printer, we'd still apply a sealant.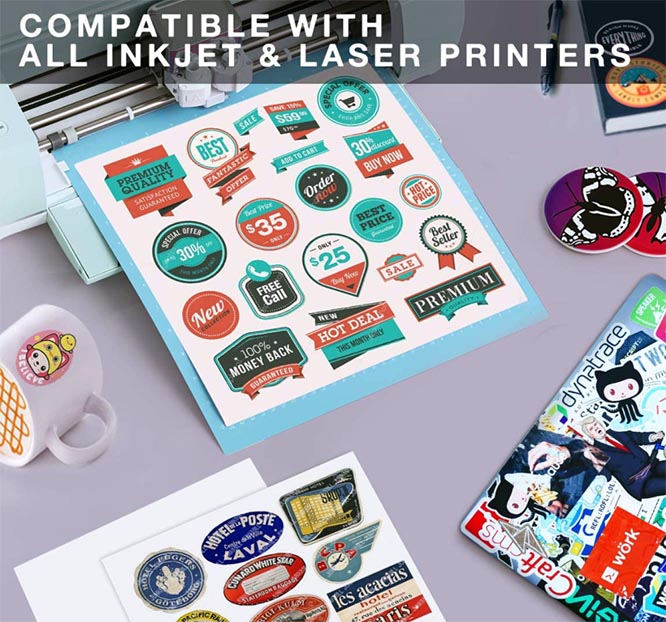 We liked the backing paper for this paper, since it's plain white, not watermarked. This makes it suitable for producing stickers you're actually going to sell. In addition, the stickers retain their adhesive well. They're sticky enough to reapply when needed, and they don't leave any kind of residue.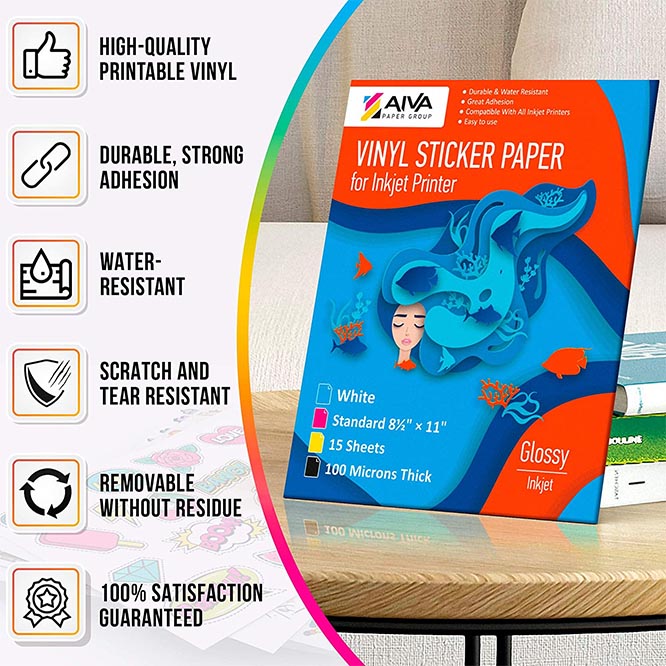 AIVA Printable Vinyl Sticker Paper
The AIVA Printable Vinyl Sticker Paper is all glossy white, with no matte or clear options. The inkjet version of the material is available in a 15-, 50-, or 100-pack. The laser printer version comes in a 15-pack only. Other than the type of printer they're meant for, there's no real difference between the two varieties.
This vinyl sticker material is ultra-thin. When it's placed on glass or another surface, it seems to be flush with that surface. In addition, the thin design fits easily through pretty much any cutter. Yet despite this thin profile, it does not tear easily. We did have some concerns about UV and water-resistance, which is less than the other two. But as long as you seal your stickers, this shouldn't be a huge issue. And there's no watermark on the backing paper, so you can easily print stickers for sale.
Final Verdict
So, which one of these vinyl sticker papers is the best choice for you? Let's go over what we've learned. The Paper Plan Clear Sticker Paper is a great choice if you want a high-quality clear label without any off colors. It's also easy to cut, although you may have to change your cutter settings. On the downside, there's a watermark on the backing paper.
The J&J Packaging Printable Vinyl Sticker Paper, on the other hand, has no watermark. The glossy and matte white options both look great, and the material is easier to cut. On the other hand, we're concerned about the fact that it works with any printer. This could easily affect the durability of printed images.
The AIVA Printable Vinyl Sticker Paper comes in different versions for inkjet and laser printers. The labels also look great, and are easy to apply. The only drawback is that the water-resistance isn't as good as our other options.