In today's digital age, where remote work and virtual meetings have become the norm, having the right equipment to enhance your productivity is crucial. One such essential tool is an overhead camera mount for your desk. Whether you're a content creator, a teacher, or simply want a convenient way to document your work, an overhead camera mount can provide you with a versatile and ergonomic solution.
Today, we'll explore the top overhead camera mounts available in the market, considering various factors. If you're looking to upgrade your setup and take your desk productivity to new heights, read on to discover the best overhead camera mounts to enhance your workflow.
Important Factors to Consider:
Compatibility and Weight Capacity: Ensuring that the mount is compatible with your camera and devices, and that it can safely support their weight, is the foremost consideration. The mount should handle the camera and any additional equipment without compromising stability.
Adjustability and Flexibility: The ability to adjust the mount's height, angle, and rotation is crucial for achieving the desired camera perspective. Look for a mount that offers a wide range of adjustability to suit various recording situations.
Stability and Build Quality: A stable mount is essential to prevent camera shake or wobbling during recording. Opt for a mount made from sturdy materials and built with high-quality construction to ensure long-lasting stability.
Installation and Setup: The mount should be relatively easy to install and set up. Clear instructions and user-friendly installation mechanisms can save you time and frustration during setup.
Desk Space and Layout: Consider the available space on your desk and the positioning of the mount. The mount should fit well within your workspace and not obstruct your view or interfere with your work.
1. jusmo LS15 Desk Overhead Camera Mount Rig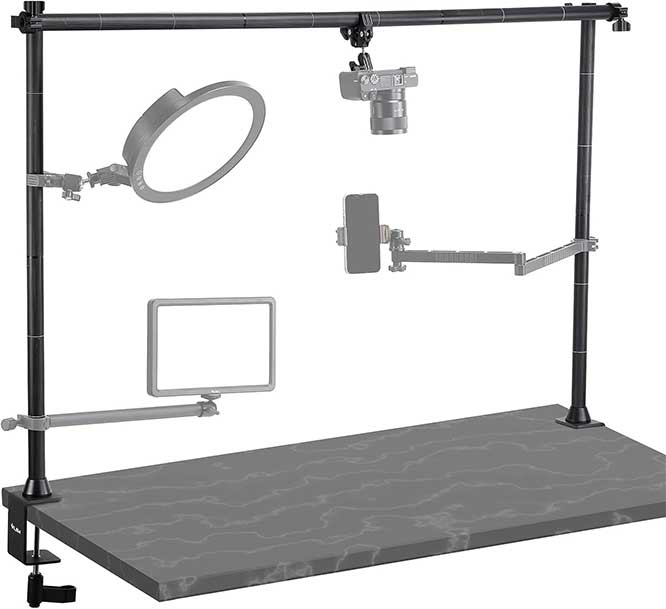 We've personally had the pleasure of using the jusmo LS15 Desk Overhead Camera Mount Rig, and let us tell you, it's truly a game-changer. This mount rig offers unparalleled versatility and innovation, making it a must-have for anyone in need of overhead shots.
One of the standout features of this rig is its sturdy aluminum alloy construction. Not only does it provide a reliable and durable support for your camera and equipment, but it also has an impressive maximum load-bearing capacity of 10kg/22.05lb. This means you can confidently use it for a wide range of applications, from photography and videography to stop motion animation and crafting.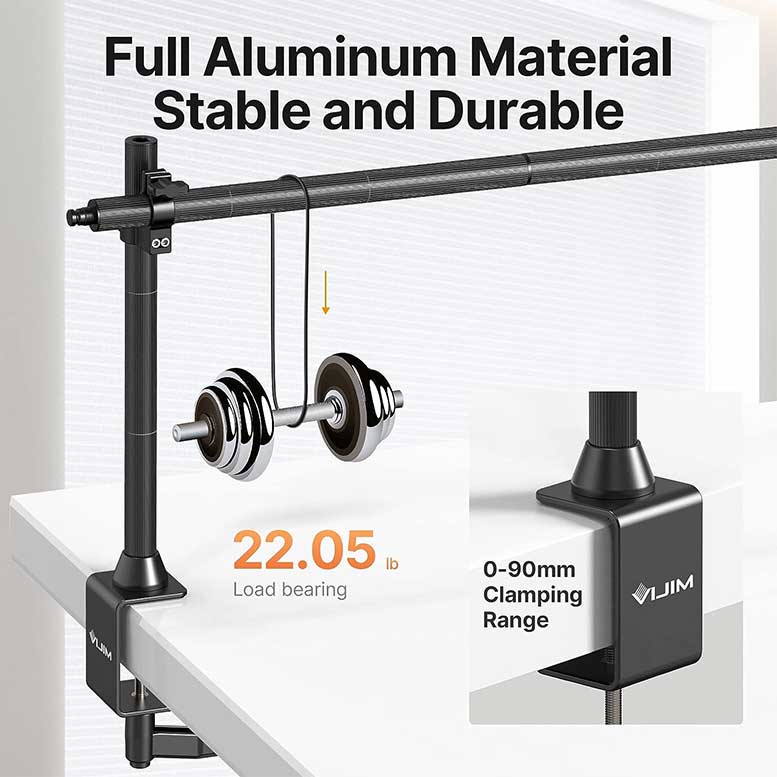 What sets the jusmo LS15 apart is its flexible assembly. The segmented design allows you to easily adjust the length and height according to your specific requirements. This level of customization ensures that you can achieve the perfect angle and positioning for your shots, regardless of the setup you're working with.
Another great feature is the super clamp that comes with the rig. This clamp is incredibly versatile and can securely attach your camera, lights, microphone, and other devices. It's a convenient tool that enhances the functionality of the rig, making it an essential part of your creative endeavors.
We must also mention the corrugated anti-slip poles with secondary anti-deflection locking screws and laser engraved tick design. These features ensure a secure setup for your equipment, giving you peace of mind during your shoots. In addition, the enlarged and thickened C-clamp not only provides stability but also saves valuable desktop space, allowing you to work comfortably.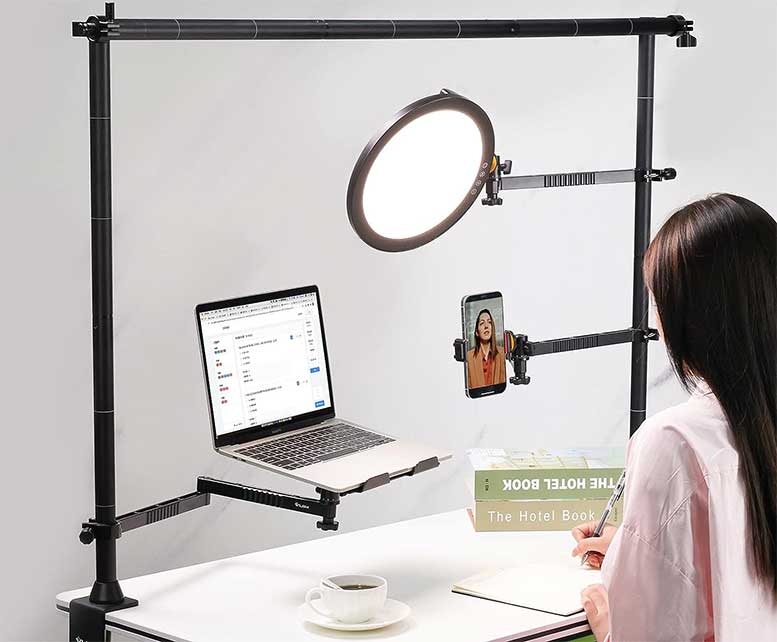 In terms of the product's build quality, it's made of high-quality aluminum alloy material, which contributes to its lightweight yet sturdy nature. This makes it easy to assemble in just about 10 minutes, so you can quickly get to work. The rig is also compatible with various gear attachments, including GoPro, microphone, and DSLR, making it suitable for a wide range of setups. The strong C-clamps with convenient tightening handles further enhance the usability of this rig.
While there are a few minor drawbacks to consider, such as the screw handles potentially interfering with mounting on certain tables and the possibility of feeling a bit claustrophobic when multiple arms are attached to the desk, these are minor inconveniences that can easily be overcome with a bit of adjustment.
Overall, the jusmo LS15 Desk Overhead Camera Mount Rig is an exceptional product that delivers on its promises. Its versatility, sturdiness, and ease of use make it a top choice for anyone in need of overhead shots. We highly recommend giving it a try for your photography or videography needs.
2. DImotliyor Overhead Camera Mount Desk Stand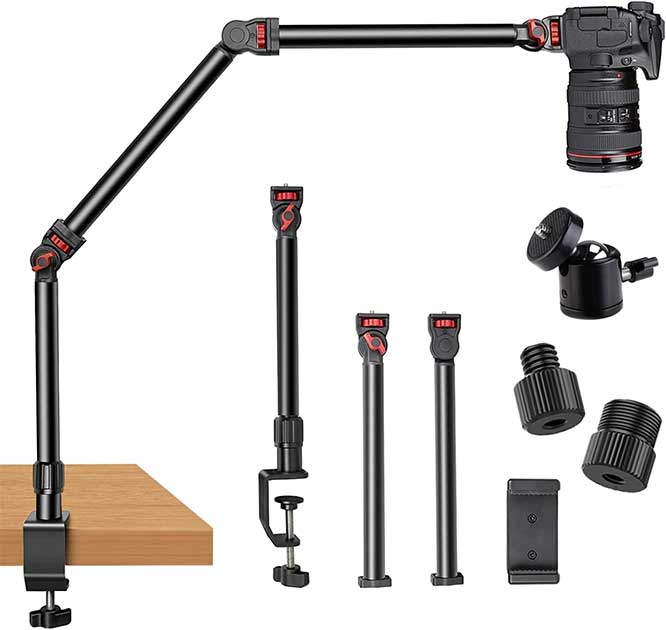 As people who are always on the lookout for innovative solutions, we can confidently say that the DImotliyor Overhead Camera Mount Desk Stand is a game-changer for content creators. Its easy setup and tighten controls make it a breeze to use, allowing you to focus more on capturing the perfect shots.
One of the standout features of this camera mount is its interlocking gears in each joint, which ensure that your camera stays securely in place at any angle. This means you can confidently shoot overhead shots or position your mic, lighting, or other equipment exactly where you want them.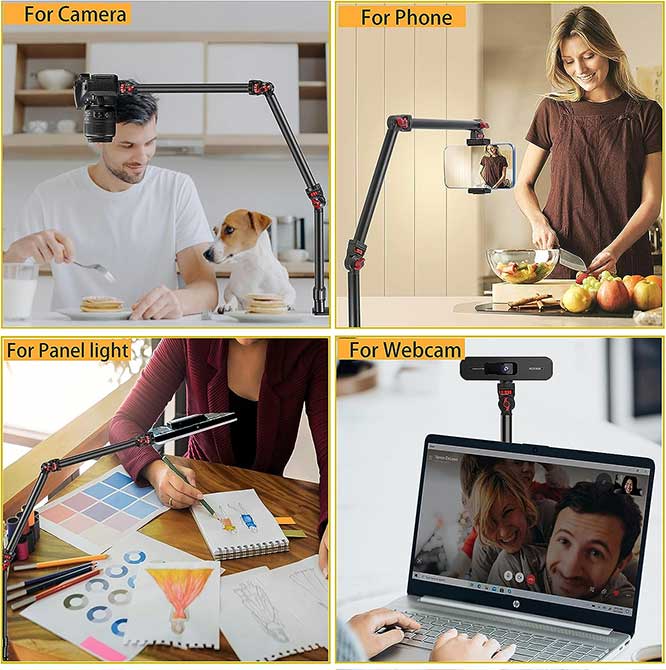 We particularly appreciate the included cell phone holder, which adds an extra layer of convenience. There are times when using your phone as a camera is necessary, and having it securely held by the mount makes it so much easier.
In terms of construction, the DImotliyor Overhead Camera Mount Desk Stand is built to last. Its sturdy construction and durable materials give me confidence that it will withstand the test of time. The rubberized surface on the clamp and screw not only ensures stability but also protects your desk from any potential damage.
Portability is another key feature of this camera mount. It's lightweight and compact, making it easy to take with you on-location shoots. You won't have to worry about lugging around heavy equipment anymore.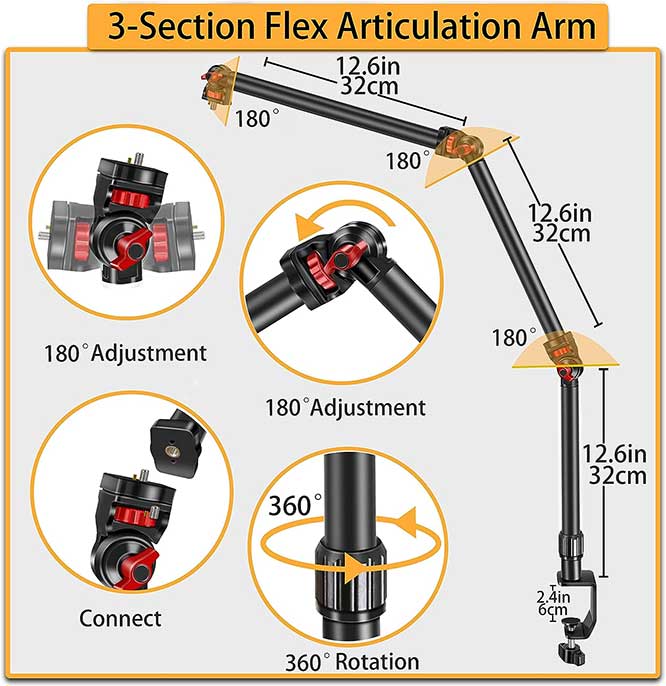 Of course, like any product, there are a few downsides to consider. The DImotliyor is not suitable for larger cameras or lenses, so keep that in mind if you have more professional-grade equipment. Additionally, it may sway or wiggle slightly when bumped or adjusted, but we found that it settles quickly and doesn't affect the overall stability.
One minor drawback is the lack of a quick release adapter, which would have been a nice addition for faster camera swaps. However, with a little practice, attaching and detaching your camera becomes second nature.
Overall, we would highly recommend the DImotliyor Overhead Camera Mount Desk Stand to any content creator in need of a versatile and reliable camera mount. Its easy setup, sturdy construction, and convenient features make it a standout choice for capturing the perfect shots in any setting.
3. LenTok Overhead Tripod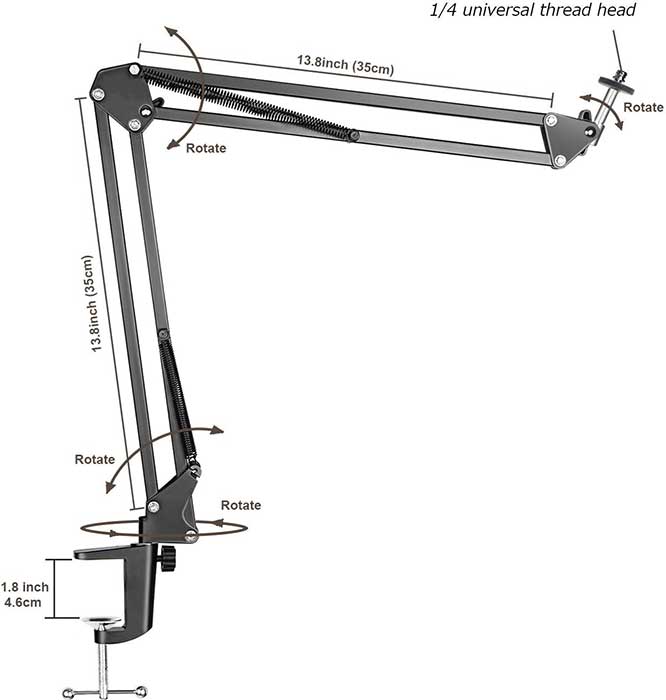 We can't stress enough how amazing the LenTok overhead tripod is for all your camera mounting needs. This tripod is truly innovative and has exceeded all our expectations. Its sturdy construction and adjustable arm make it perfect for holding a wide range of lightweight cameras.
One of the standout features of this tripod is its fine-tuning capabilities. You can easily adjust the tensile strength to ensure a secure hold, giving you peace of mind when setting up your shots. Also, the option for a front shot with another camera adds a whole new level of versatility to your photography or videography.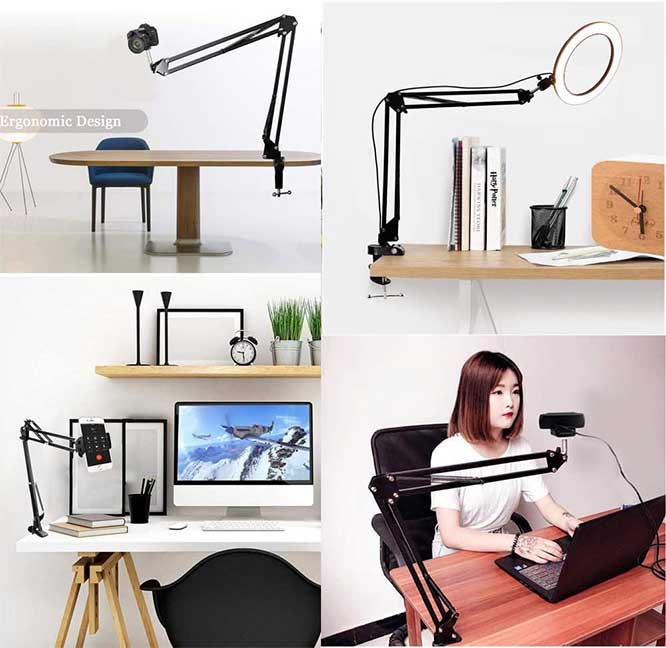 Using a remote shutter release with the LenTok overhead tripod is an absolute dream. The tripod performs exceptionally well, minimizing any shake or movement for a smooth shooting experience. It truly feels like a professional setup.
Now let's talk about the build quality. The construction of this tripod is top-notch, providing the stability and durability you need for long-lasting use. The adjustable arm is a game-changer, allowing you to easily accommodate different camera weights. And the fine-tuning capabilities give you that extra level of control for optimal performance.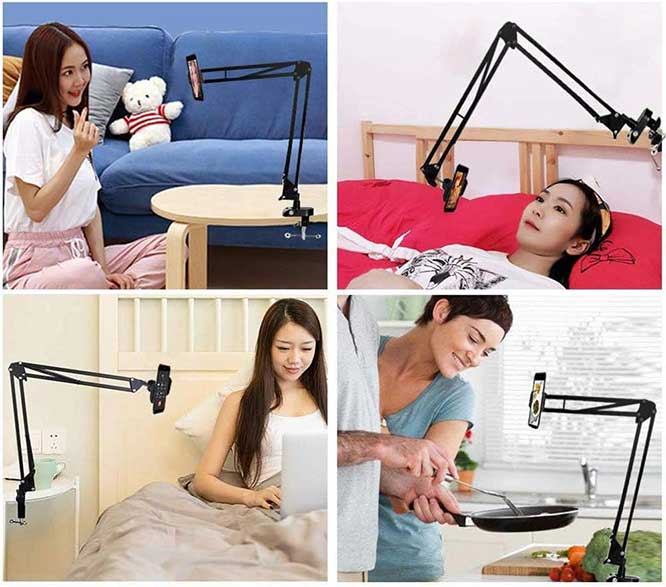 Of course, like any product, there are a few minor drawbacks to consider. In terms of compatibility, the LenTok overhead tripod works seamlessly with a wide range of cameras. However, it's only rated for 3 lbs. capacity, meaning it may not be the right choice for heavy DSLR cameras or professional setups. The tight springs may not make it suitable for regular webcams, but for professional cameras, it's perfect. Also, the knobs may not stop natural movement without a camera attached, but this is a minor inconvenience that can easily be managed.
4. Pozliv Overhead Camera Mount with Ring Light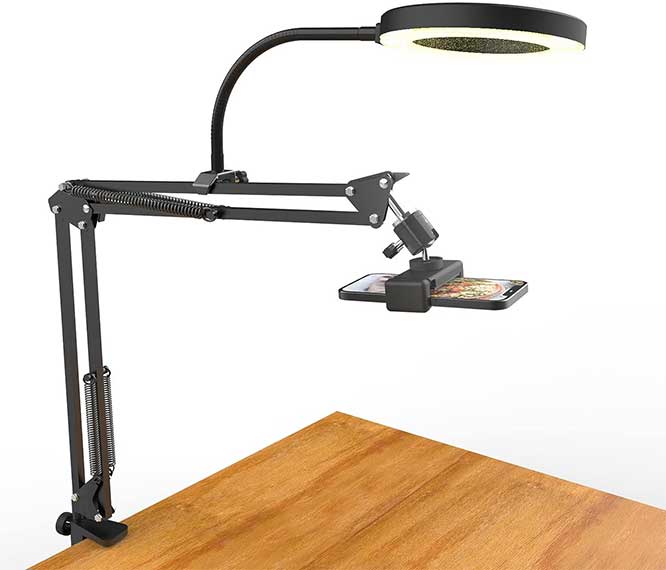 We absolutely love the convenience and versatility of the Pozliv overhead camera mount with its built-in ring light. As someone who often creates instructional videos and DIY projects, this innovative product has become an essential tool for us.
Whether you're a teacher, artist, chef, or content creator, this mount is designed to meet most of your overhead filming needs. One of the standout features of this camera mount is its dimmable ring light. With three lighting modes and ten brightness levels, we can easily achieve consistent and flattering lighting for our videos. Whether we're shooting a close-up product video or a DIY project, the lighting is always on point.
The 360-degree rotation and adjustable swing arm are also fantastic features that allow for precise positioning. We can easily adjust the angle and height of the camera to capture the perfect shot. The lightweight and sturdy tripod ensure stability, so we never have to worry about our camera falling or shaking during filming.
What we really appreciate about this mount is its compatibility with various devices. We can use it with a cell phone, camera, webcam, or even a projector. This versatility is a game-changer for us, as we can easily switch between devices depending on our filming needs.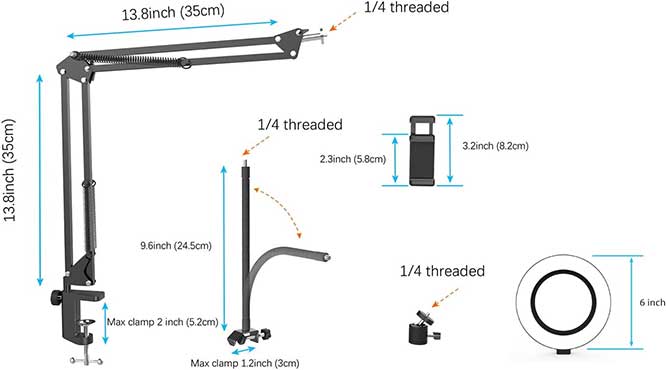 In terms of assembly, this camera mount is a breeze to set up. We were able to put it together without any instructions, which speaks to its user-friendly design. The solid steel construction and tight joints give us confidence that this mount will last for a long time.
There are a couple of minor drawbacks worth mentioning. The phone holder, while convenient, may obstruct the screen at times. Moreover, the mounting bracket may not fit all surfaces, so it's important to double-check before purchasing. However, these are small inconveniences compared to the overall functionality and performance of the product.
5. VIJIM LS08 Flexible Overhead Camera Mount Desk Stand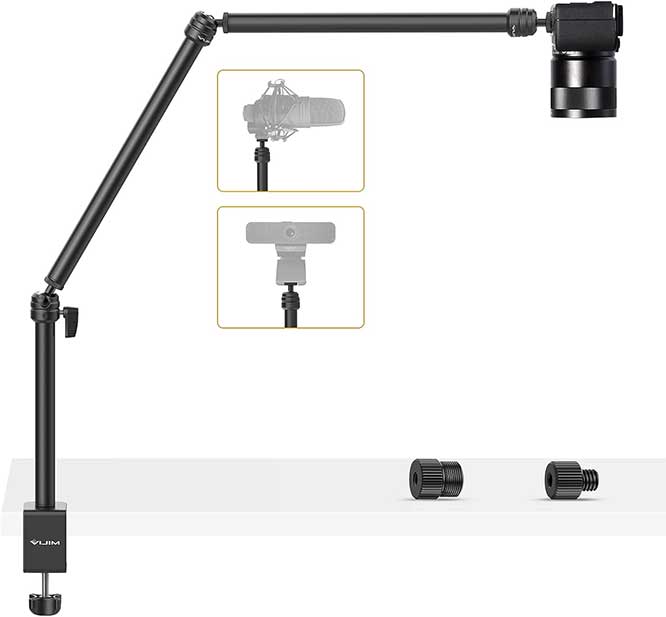 We recently had the opportunity to test out the VIJIM LS08 stand, and let me tell you, it's a game-changer for capturing overhead shots with your camera. The sturdy aluminum construction gives me peace of mind knowing that the camera is secure, and the easy assembly was a breeze.
One of the standout features of this stand is the rotatable head, which allows for a multitude of applications. Whether we're using it for lighting, streaming, or simply holding our camera on a flat table, the versatility is unmatched.
What impressed us most about the LS08 stand is the build quality. Considering its affordable price point, we had our reservations, but it exceeded any expectations. The stand feels solid and reliable, which is crucial when it comes to supporting our camera.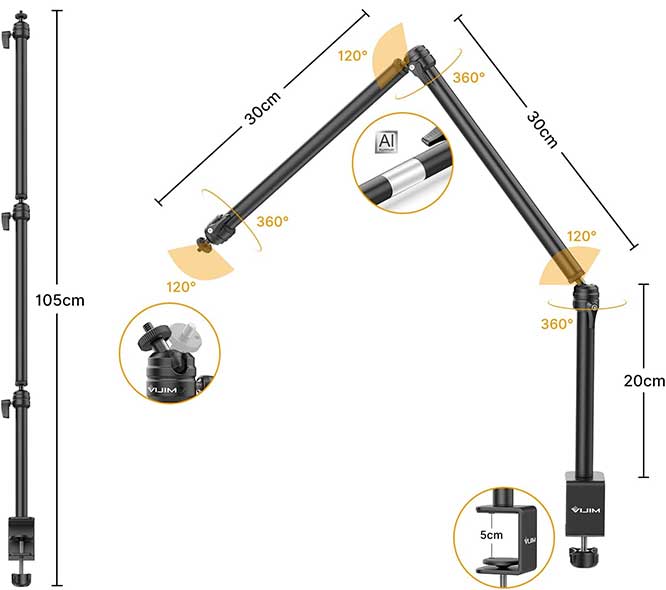 Now, there are a few things to be aware of. Some users have reported scratching on their cameras due to sharp pieces on the mount extensions. While we didn't personally experience this issue, it's something to keep in mind and handle with care.
In addition, it's important to note that the LS08 stand may not be suitable for heavier cameras. If you have a bulkier setup, you might want to consider a different option. Some users have also mentioned experiencing wobbling, which can result in camera shake during use. This can be a bit frustrating, especially when you're trying to capture steady shots.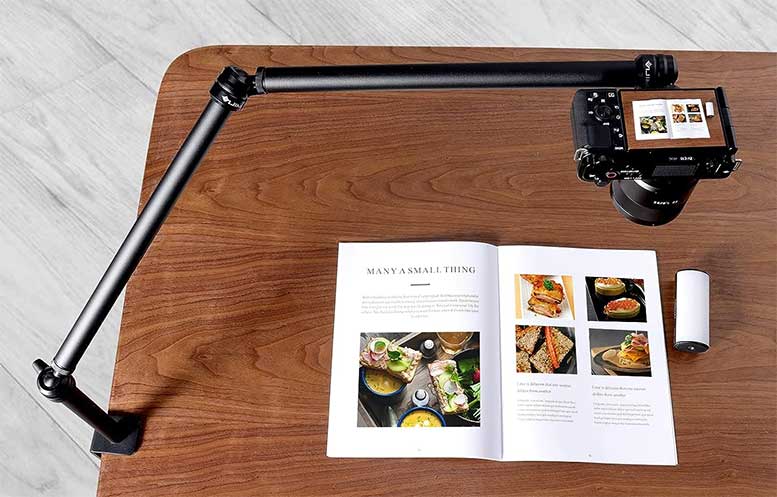 Overall, the VIJIM LS08 stand is a fantastic alternative to more expensive camera mounts. Its sturdy construction, easy assembly, and versatile rotatable head make it a great addition to any photography setup. Just be mindful of the risk of scratching cameras and the potential for wobbling with heavier setups.
Frequently Asked Questions About Overhead Camera Desk Mounts
What type of cameras are compatible with overhead camera mounts?
Most overhead camera mounts are designed to be compatible with a wide range of cameras, including DSLRs, mirrorless cameras, webcams, and camcorders. Make sure to check the weight capacity and mounting options of the mount to ensure it can support your specific camera model.
Can I attach additional equipment, like lights or microphones, to the overhead camera mount?
Yes, many overhead camera mounts come with additional mounting points or attachments for accessories like lights, microphones, or monitors. Check the specifications of the mount to confirm its capability to accommodate extra equipment.
How do I install an overhead camera mount on my desk?
Installation steps can vary between mounts, but generally, you'll need to secure the mount to your desk using clamps, grommets, or a freestanding base. Follow the manufacturer's instructions carefully, and if needed, consider seeking assistance for installation to ensure proper setup.
Can I easily adjust the camera angle and height with an overhead camera mount?
Yes, adjustability is a key feature of most overhead camera mounts. Look for mounts that offer height adjustment, as well as tilt and rotation options. This allows you to customize the camera's perspective to suit your recording or streaming needs.
Are there any considerations for cable management with overhead camera mounts?
Cable management is an important aspect of maintaining a clean and organized workspace. Look for mounts that have provisions for cable routing to prevent tangled cables and to maintain a neat appearance. Some mounts come with cable clips or channels to help manage cables effectively.