Let's not mince words; it's more important than ever to make sure you're safe from would-be intruders. And one way to do just that is by utilizing a portable door stop and handle alarm.
Whether for your home or travel, these devices are gaining steam as reliable, effective solutions for prevention and protection. So why not give yourself that extra peace of mind? If you're considering doing exactly that, you'll want to explore our top picks. Here's a quick rundown of what we chose:
When you invest in one of these devices, you're opening the door to a bunch of appealing features designed with your protection in mind. And you've got plenty of reliable choices, depending on your preference and budget. So let's jump right in so that you can see which one is right for you.
#1 – SABRE Wedge Door Stop Security Alarm

Key features:
Extremely loud 120-decibel alarm siren
Compact design with non-skid pad
Low battery indication
Easy slide under-the-door installation
You don't need to be James Bond to appreciate a gadget that ensures your safety, but it wouldn't hurt, either. The SABRE Wedge Door Stop Security Alarm is like having a watchful friend with keen ears – always ready to alert you if someone tries to invade your space. What makes it unique? Let's take a look. Equipped with an impressive 120-decibel siren, this device sounds an alarm that can be heard up to 1,500 feet away when the door comes in contact with its metal plate.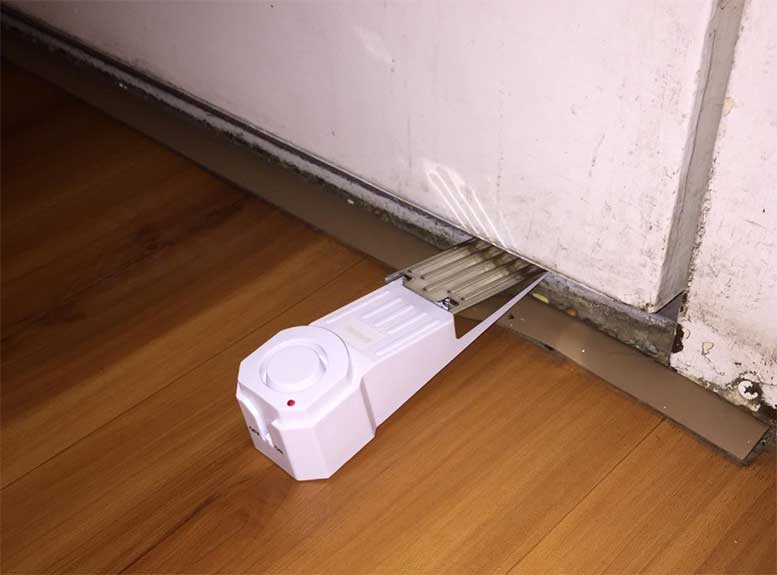 Whether you're in a hotel room or a rented apartment, the SABRE unit will make sure that if someone tries to break in, the world will know about it. With dimensions of 1.75 x 6.5 x 1.75 inches and designed to work with doors having a ¾-inch gap between the floor and bottom, it's highly compatible and convenient to use. Sliding it under the crack of an inward-swinging door is a cinch. And its sleek white design and non-skid pad make it an attractive yet effective gadget.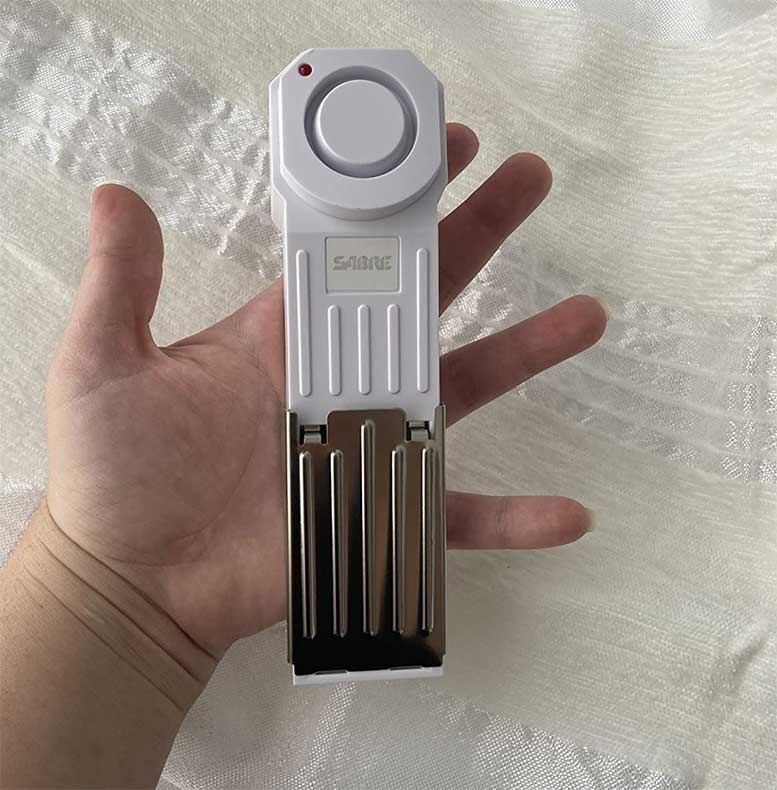 A small Philips Head #1 size screwdriver is all you need to get it up and running, powered by a single 9-volt battery (not included). The device's low battery indicator keeps you informed of its readiness. And worry not; power outages don't matter here. The alarm will work even when the lights go out. Backed by over 45 years in the security industry and developed by SABRE, a trusted brand worldwide, this alarm is more than a gadget; it's a dependable partner in your journey. Ideal for main doors, bedrooms, apartments, dorm rooms, or hotels, this compact alarm brings peace of mind to your doorstep.
What we liked:
Travel-friendly size
High sound range (up to 1,500 feet)
Suitable for various door types
Trustworthy brand
What we didn't like:
Batteries not included
Limited to indoor use
#2 – SABRE Door Handle Alarm
Key features:
Extremely loud 110-decibel alarm
Vibration-triggered sensor
Easy DIY installation
Compatible with Home Security System
In an increasingly unpredictable world, the demand for simple yet effective home security solutions has never been higher. The SABRE Door Handle Alarm proves to be a significant step towards a secure home without all the fuss of intricate installation. Measuring at 0.5 x 5.5 x 2.75 inches and weighing just 2.88 ounces, this unit is designed with portability in mind. With an alarm as loud as 110-decibel, it can be heard up to 680 feet away, ensuring that an intrusion does not go unnoticed.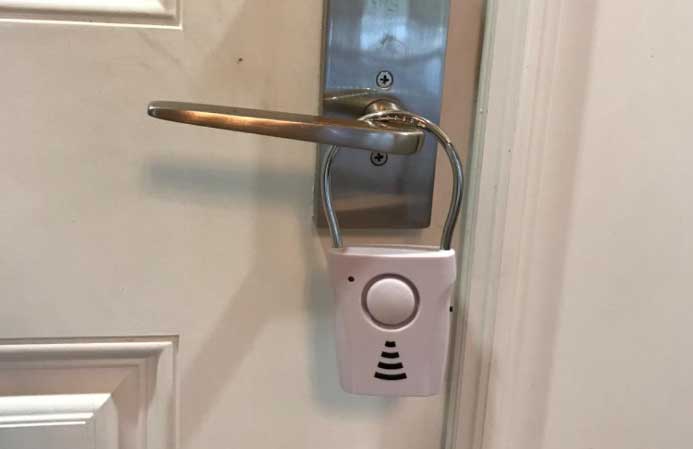 Let's take a look at how it works. The alarm hangs off the doorknob and gets triggered by vibration when someone tries to touch the handle. The three adjustable settings – off, chime, alarm – offer flexibility in use. The alarm mode includes a 30-second delay to minimize false triggering, and it sounds instantly if the doorknob is touched after this delay.
But in the fast-paced lives we lead, who has the time or patience for complicated installation procedures? SABRE's Door Handle Alarm offers easy DIY installation, requiring mere seconds to set up. It's an ideal solution for various locations, including homes, apartments, hotel rooms, and even dorms. And for your peace of mind, it's backed by SABRE, a brand known for quality and reliability in the security industry for over 45 years. Based on our testing, it seems to serve its purpose well, with excellent loudness to deter potential intruders.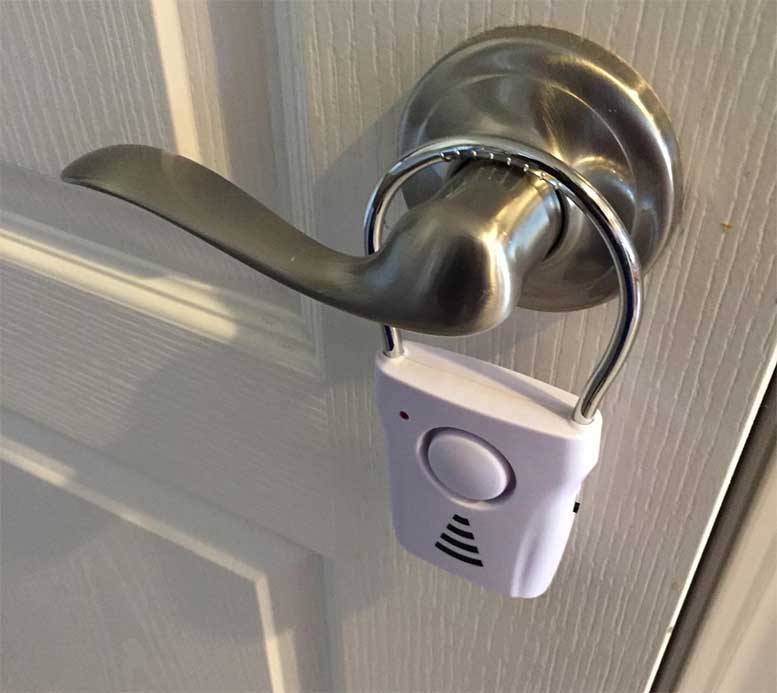 However, we found the sensitivity and battery life to be inconsistent. But considering its main objective, it manages to deliver an additional layer of protection where needed most. So what's the final word on the SABRE Door Handle Alarm? Well, it's compact, it's loud, and it's portable. It offers a straightforward and cost-effective solution to enhance security without a significant investment. But is it foolproof? Probably not. Does it do the job? Most certainly, yes.
What we liked:
Highly portable
Effective loud alarm
Trusted brand
Versatile use
What we didn't like:
Sensitivity inconsistencies
Quick battery depletion
#3 – HNHMT Upgraded Portable Door Lock & Door Stop Alarm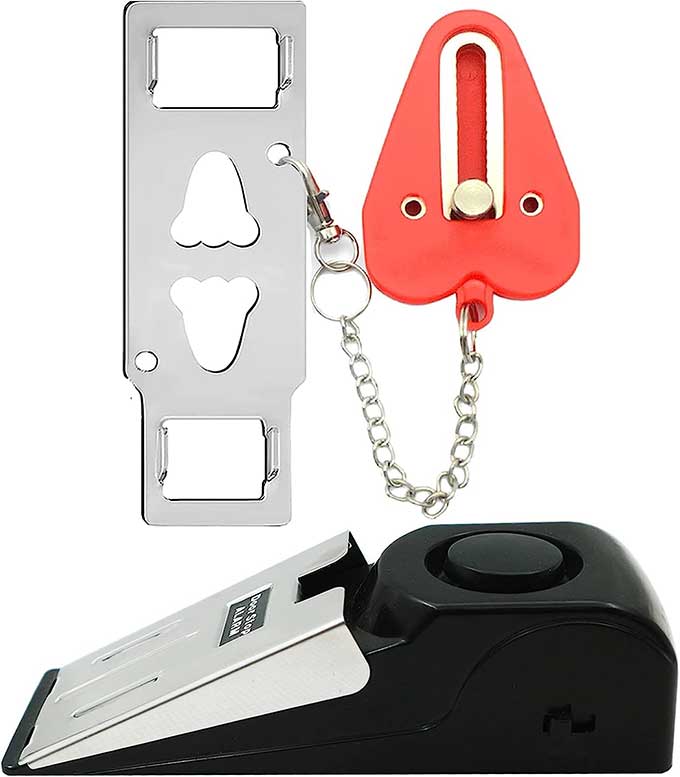 Key features:
Modern design
Stainless steel material
Dual protection
Easy installation
Whether you're a seasoned traveler or a concerned homeowner, HNHMT's Upgraded Portable Door Lock & Door Stop Alarm offers dual protection. Its sleek, modern design is fashioned out of stainless steel, and the stainless steel finish adds a touch of elegance. With dimensions of 7.01 x 3.74 x 2.91 inches and a weight of just 8 ounces, this security device easily fits into your luggage or a drawer at home. There's something reassuring about carrying personal safety in your pocket.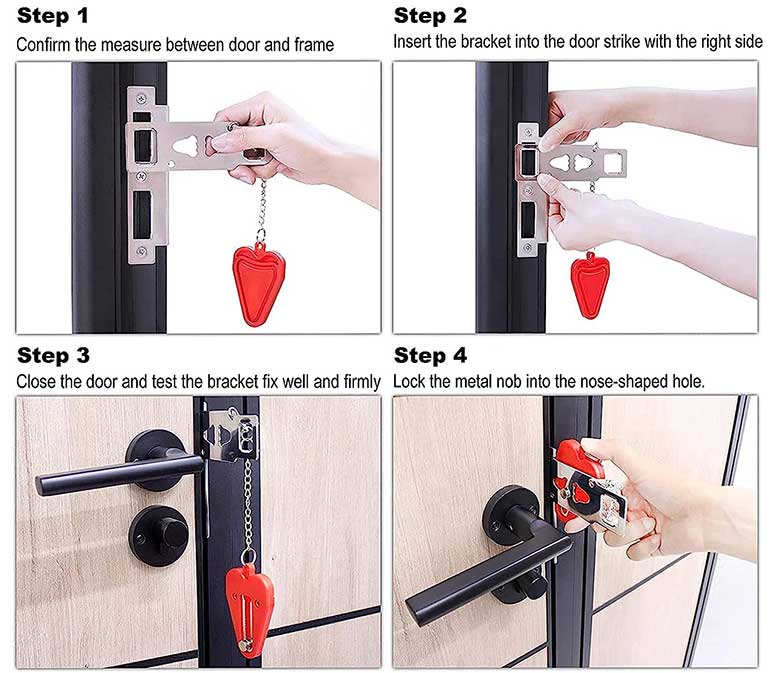 The installation process is divided into three simple steps. Step 1 involves opening the door and inserting the metal claws into the door strike. No screws or nails are needed, making it a tool-free process. Step 2 requires inserting a moving rod into the butterfly hole and jamming it down. In step 3, the portable lock is set in place, all set to fend off any unwanted visitors. We tested this device on several doors, both interior and exterior, and found it to be quite effective.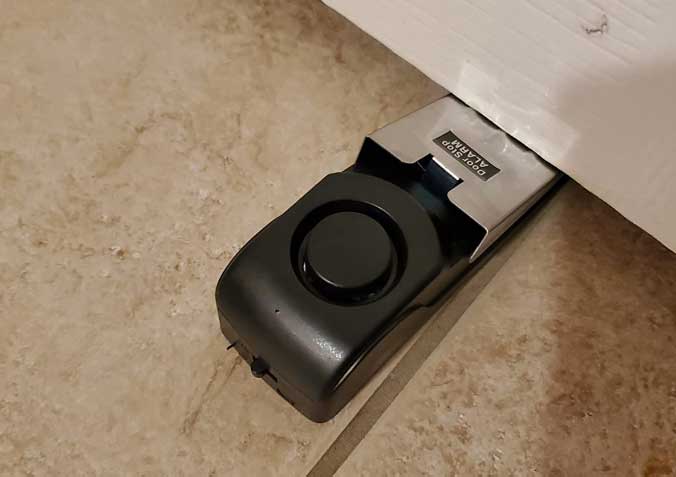 The door lock attachment provides solid security, and it fits most doors seamlessly. The door stopper alarm is sensitive and loud, even at lower settings, which can be a double-edged sword. It ensures that an intruder will be noticed but also means you might wake everyone up if you bump it accidentally! However, it's worth mentioning that the alarm wedge door stopper might not always work as expected. There were instances where the alarm didn't function, even after battery replacements.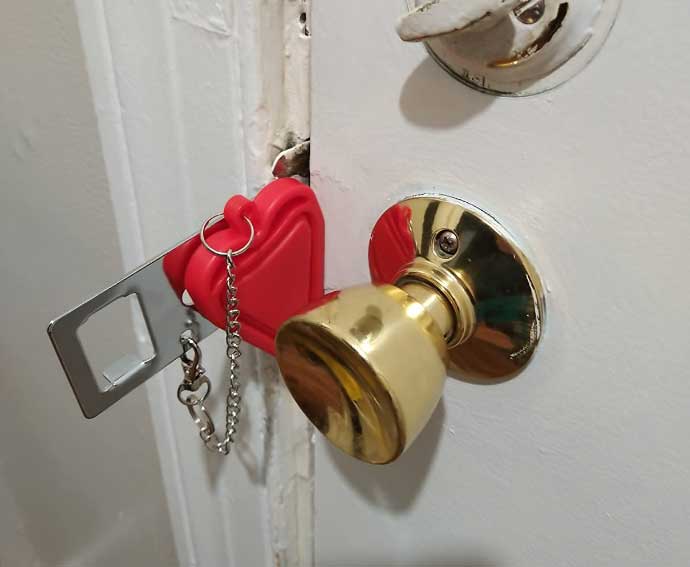 Though there have been some hiccups with missing parts in the package and difficulty in reaching customer service, the company offers a 1-year warranty. This may provide some peace of mind. The HNHMT portable door lock & door stop alarm serves as an unobtrusive yet potent safety tool. It's easy to install, lightweight, and can be quite effective. But a watchful eye might be needed on the alarm system to ensure it's in working order.
What we liked:
Highly portable
Effective door lock
Loud alarm
Easy to install
What we didn't like:
Inconsistent alarm
Limited customer support
#4 – GE Personal Security Window and Door Alarm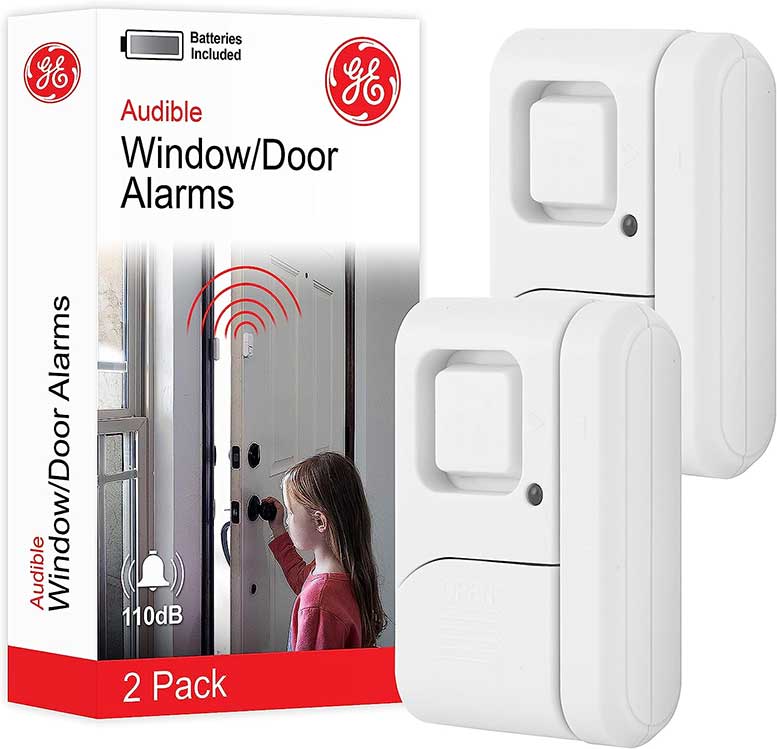 Key features:
Loud up to 120-decibel alarm
No wiring needed
Tap installation
Battery powered
When safeguarding your home or personal spaces, you want something that's effective and simple to use. GE's Personal Security Window and Door Alarm is a top contender to do just that. Our testing revealed a viable solution to keeping you safe. For starters, it boasts a loud alarm that should make any intruder think twice. With a sound level of 120 decibels, it performs like a vigilant guardian. The alarm's dual nature, offering both a deafening alert and a more pleasing chime, ensures that it suits various situations.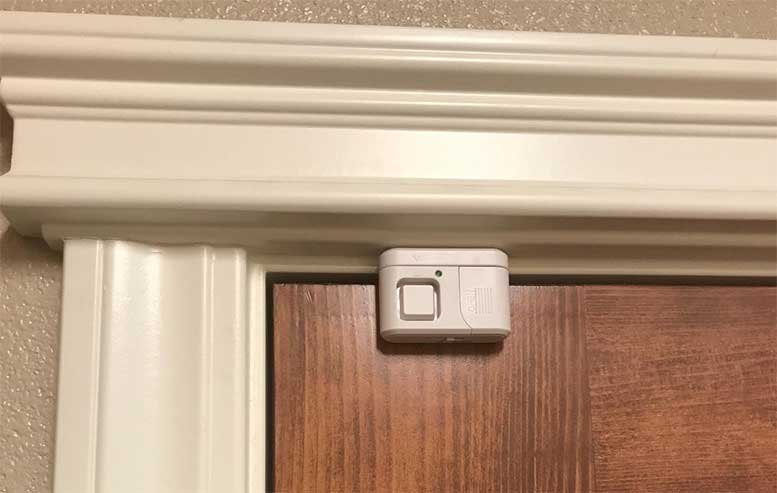 Whether you want to scare off a sneaky roommate or alert yourself to a curious toddler's activities, this alarm won't miss a beat. Measuring in at 5 x 4.5 x 1.25 inches and weighing a mere 3.2 ounces, this device is compact yet powerful. We like the sleek, contemporary design. It features buttons that are a breeze to access, each offering intuitive operation. As such, it's a welcome addition to homes, apartments, dorm rooms, or offices. During our testing, we found that the body and magnet are easily mounted on windows or doorframes, thanks to the included double-sided tape.
Plus, the wire-free design makes it ideal for temporary dwellings or even RVs. The alarm is powered by 4 LR44 batteries, which come included, so there's no fussing around with complex wiring. We also like that you're afforded lots of flexibility here. You can switch it off if you are frequently going in and out of a door. And you can switch between a loud alarm and a chime based on your preferences. This alarm is ideal for things like keeping little ones out of closets and other personal areas.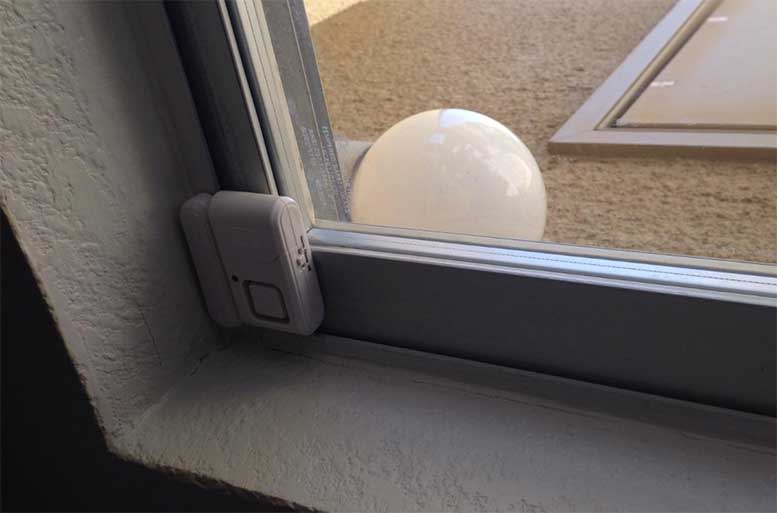 The loudness might be startling for some, but the adaptability of the device and the peace of mind it provides outweigh this minor drawback. GE's Personal Security Window and Door Alarm offers a straightforward and affordable solution for a whole host of security needs. It's a cinch to install and it is adaptable. This one should be a solid choice for many.
What we liked:
Easy to install
Loud and attention-grabbing
Versatile design
Battery included
What we didn't like:
Startling loudness for some
No volume control option
#5 – Securityman Door Handle Alarm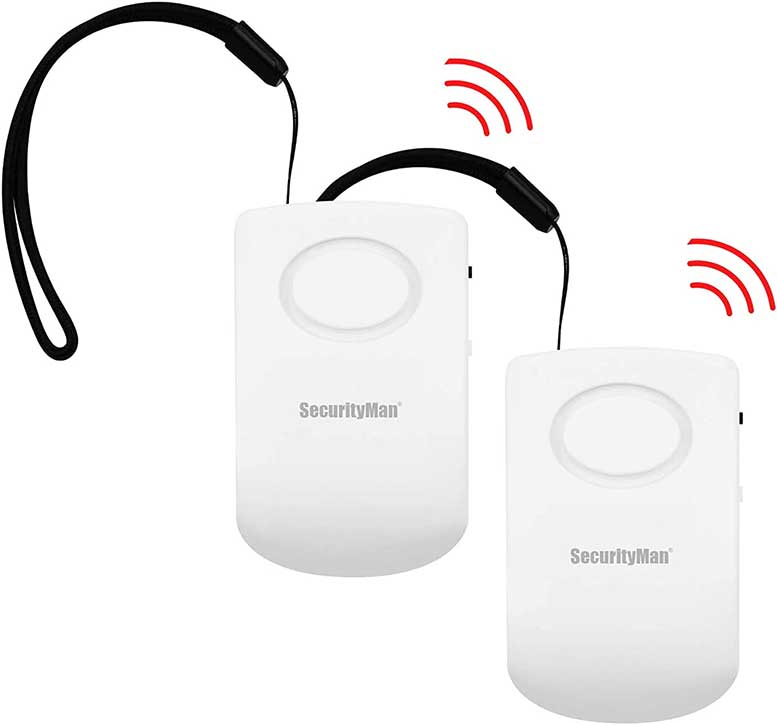 Key features:
130-decibel vibration triggered alarm
Compact and portable design
Easy installation
Powered by 2 9V batteries
Securityman's Door Handle Alarm is a smart solution for home security, catering to different people like children, the elderly, travelers, and apartment dwellers. Boasting a compact design and weighing only 3.84 ounces, this device is as practical as it is portable. It is equipped with a vibration-triggered 130-decibel alarm, providing a strong defense against potential intruders. And during our testing, it became crystal clear that the alarm is more than loud enough to alert residents without disturbing the whole neighborhood.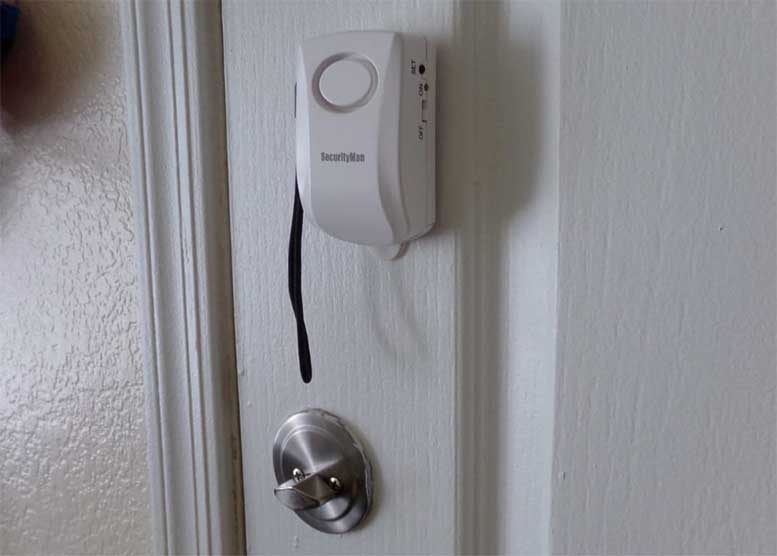 It's even sensitive enough to detect the slightest wiggle of the doorknob. Talk about a solid layer of protection for your home. Requiring just two 9-volt batteries, the installation process of this alarm is refreshingly simple. It takes away the hassle of complicated setups and ensures you can have peace of mind in mere minutes. The batteries are included, which, though a bit challenging to install for some, is a thoughtful addition to the overall package.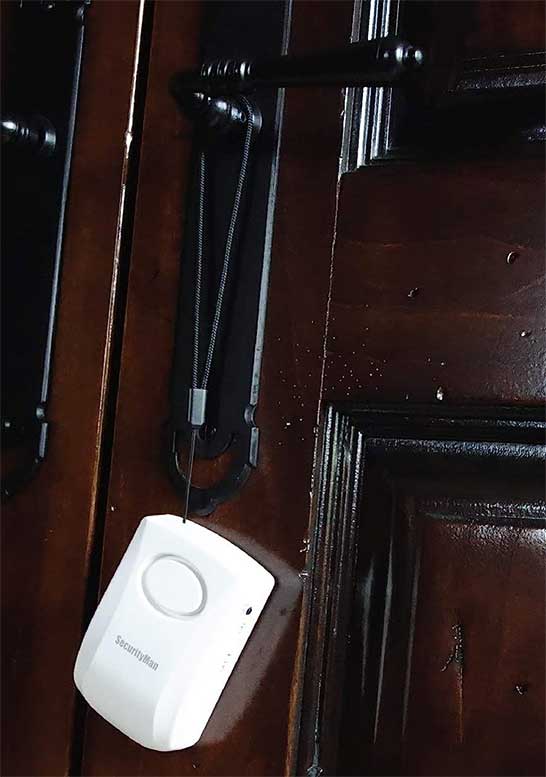 Given its dimensions (7.87 x 3.39 x 2.8 inches), the device is suitable for a variety of scenarios, such as securing hotel rooms during vacations or keeping special needs individuals safe. The Securityman Door Handle Alarm is an awesome security solution that you can take with you wherever you go. It's compact, portable and easy to use – everything want in a portable alarm. This versatile tool can also adapt to all your security needs. Just keep in mind that it's pretty sensitive, so it might accidentally go off sometimes. But its overall effectiveness and thoughtful design make it worth it for keeping your home safe and secure.
What we liked:
Loud but neighborhood-friendly
Versatile for home and travel
Quick setup
Batteries included
What we didn't like:
Overly sensitive
Battery installation can be tricky
Portable Door Stop & Handle Alarms for Travel FAQs
What are portable door stop and handle alarms, and why are they essential for travel?
Portable door stop and handle alarms are compact devices designed to alert you if someone attempts to open your door. They're a must-have for travel because they provide an extra level of security in unfamiliar places, like hotels or rentals.
Can these portable alarms be used at home as well?
Absolutely! These portable alarms are super versatile and can be used not only when you're on the go, but also right at home. They're perfect for different types of doors and spaces. So you get that extra layer of protection for anything from main entrances to dorm rooms.
How difficult is it to install these portable door alarms?
Most portable door alarms are designed for easy installation, requiring minimal tools or no tools at all. They usually come with clear instructions, making them user-friendly even for those not accustomed to handling gadgets. Whether you're a tech-savvy individual or a complete novice, these devices are generally straightforward to set up and use.
Final Verdict
The SABRE Wedge Door Stop Security Alarm and SABRE Door Handle Alarm stand out for its loud alarm and the trustworthiness of the brand. The HNHMT Upgraded Portable Door Lock & Door Stop Alarm offers an elegant design and dual protection, though it may have some inconsistencies in the alarm function.
The GE Personal Security Window and Door Alarm appeals for its adaptability and startling loudness, whereas the Securityman Door Handle Alarm earns its place with neighborhood-friendly loudness and versatile use. All of our top picks bring something to the table, delivering portable security and peace of mind.