Whether you're watching movies or gaming out, having a high-quality sound experience is essential. Consumers often spend hundreds of dollars on amplifiers to take their audio experience to the next level. But when it comes to sound cards, we often find ourselves relying on the ones that are built into our laptops
But what many of us don't realize is that headphones and speakers can only take you so far. Just ask any DJ, the sound cards built into our PCs are often sub-par. Once you get to a certain point, the sound you're hearing can only be as good as the sound that's being sent to the speakers.
In essence, a sound card performs the same duty as a DAC, or Digital Audio Converter. These devices take the bits and bytes of digital audio and convert them into a smooth waveform that can be understood by analog equipment.
Unfortunately, some of the USB sound cards on the market are nothing more than hype. They're just the same components you've already got inside your computer, repackaged into a fancy looking case. But if you're willing to do the research, there are several sound cards on the market that can bring an unmistakable improvement to your home audio experience. We'll be taking a look at the three best USB sound cards on the market. We'll help you understand how they can benefit you, and determine whether one of these sound cards would provide a welcome benefit to your audio system.
Creative Sound Blaster Omni
The Creative Sound Blaster series of sound cards are some of the most well-known on the market. In fact, the Sound Blaster series was the very first sound cards to ever be released. They came at a time when most computers used PC speaker audio. PC speakers were nothing more than a bunch of bleeps and bloops, so the rudimentary 16-bit synthesized audio of the sound blaster was well received by consumers. Today, Sound Blaster cards are made with high quality components, bringing audiophile grade sound to consumer electronics everywhere.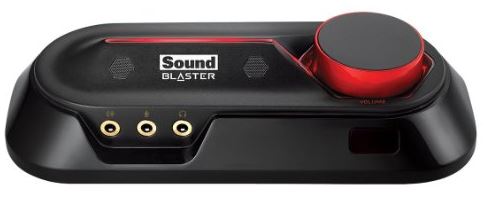 Design & Layout
The Creative Sound Blaster Omni is a sleek and attractive device that is sure to be the center point of your desktop. Despite packing a lot of powerful hardware, the sound card is extremely compact. It can fit easily in your hand, or you can throw it in a laptop bag to bring along with any portable devices whether they're a laptop or tablet.
The most prominent design element of this USB sound card is the volume knob. Even though this is far from a revolutionary piece of technology, we can't help but say how much we appreciate having it there. We're used to using the keyboard mounted buttons or on-screen volume knob to control the volume. With an easy to use knob, we were able to get the precise sound level we wanted with just a simple hand movement.

On the front facing side of the device, you'll find three 3.5mm audio ports. These are used for Line in, which can be fed from an iPod or phone. You've also got a microphone port. The difference between the microphone in an the line in is that the microphone input is sent though a high end audio filter to remove noise and unwanted sound. Finally, you've got a headphone port on the far side. But this isn't just any headphone port, which we'll get into shortly.
The rear of the device has all of the audio outputs you'll use for your more permanent devices. For stereo equipment, you'll likely be using the RCA jacks. But you can also use the 3.5mm jacks which provide both left and right channels, or the center and sub channels.
Looking to get in on some 5.1 audio? Most surround sound receivers require digital optical audio out as it provides the best sound quality. This is provided, making this sound card compatible with almost all the gear on the market.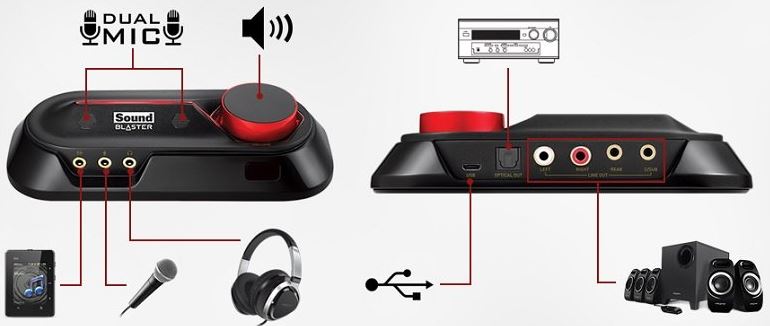 Sound Quality
If external sound cards didn't sound better than internal ones, nobody would buy them. But despite our inherent expectations, the Sound Blaster Omni still surprised us. Audio was definitely fuller and more pronounced than it was with our built-in sound card. But it goes without saying that you need a decent set of speakers to appreciate it.
The main thing we noticed was that the audio source matters a lot. Listening to YouTube audio pales in comparison to the sound coming from a Blu-Ray movie.
But where this sound card really came to life was with headphones. Our Sennheiser 650 headphones are particularly difficult cans to drive. They require an external amplifier in almost all situations, but the SoundBlaster Omni drove them with ease. We can safely say that we were very impressed with the Omni.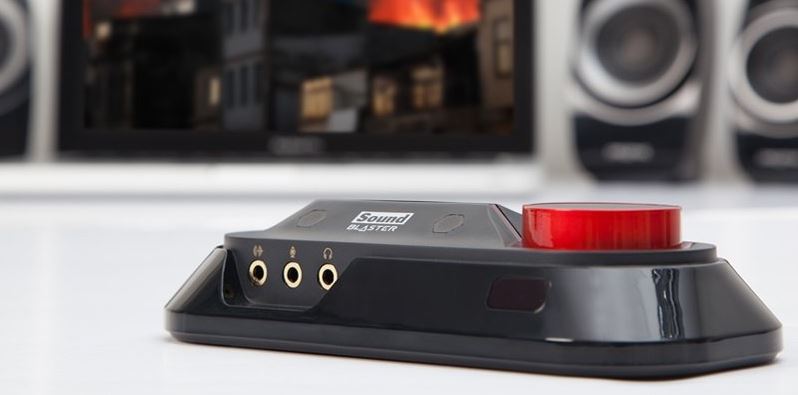 Features
When you buy the Omni, you're getting much more than just a sound card. There is a built-in microphone, which we found to be incredibly adept at filtering out the background noise and sharing only the sound which is important. We used it with Skype, and we have to say that we're unlikely to go back to a standard microphone.
Another nice feature is the addition of audio filters. Depending on how you use them, they can drastically improve the audio experience. Settings like "Cinematic," "Voice," and "Music" all drastically changed the sound in a way that we found quite pleasing. If you're using high quality audio files, we'd probably stay away from them. But if you're using YouTube or streaming we noticed that the filters compensate for flaws in the audio quality.
Creative Sound BlasterX G5
While the general Sound Blaster line is great for general multimedia use, gamers often expect a little more from their hardware. The Sound BlasterX series cards are designed to the same high standard as the rest of the Sound Blaster line, with several additions that gamers will appreciate.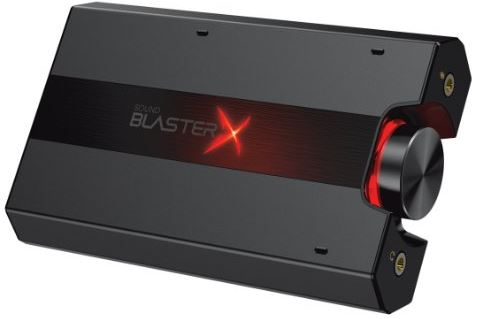 Design & Layout
The Creative Sound BlasterX G5 is one serious looking piece of hardware. Completely enclosed in a sharply angled metal alloy, the aggressive lines of the shape bring out an attitude that any gamer can appreciate. This design is highlighted by the bright red LEDs that ring the volume knob and illuminate the stylized X in the logo.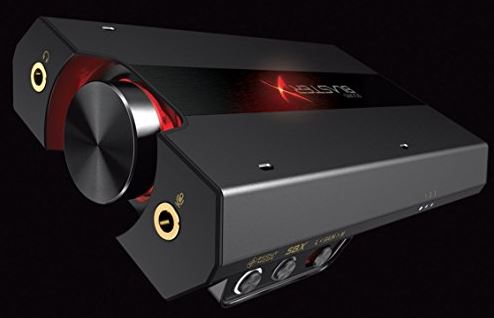 One of the things we like about the squared off design is the fact that this sound card sits nicely on your desk. If you're using smaller computer speakers, you can stack them directly on top of the sound card to free up some desk space.
The volume knob is slightly receded into the face of the sound card. This means that it's still easy to turn (just run your hand along the top of the sound blaster) but you're unlikely to change the volume accidentally.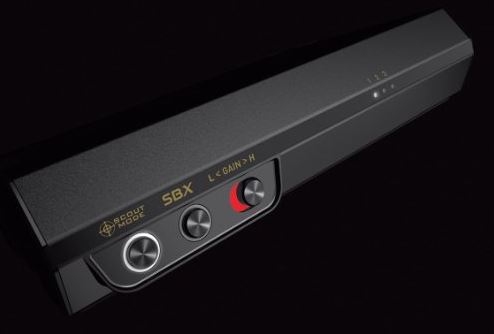 Sound Quality
Gamers are sure to appreciate the unique sound of the Sound BlasterX. It's heavily colored, giving the lows a little extra punch and the highs a razor sharp feel to them. It's certainly not fatiguing to listen to the output of the Sound BlasterX, but it's extremely engaging.
We might not recommend this sound card to somebody who wants to get lost in the smooth nuances of an orchestral performance, but whether you're watching an action movie or getting into an intense game, the involving sound quality adds a much more intense dimension to the experience.

Features
The most prominent feature of the Sound Blaster X is its native support for 7.1 channel surround sound. 7.1 channel is the latest and most advanced form of surround sound to date, and there are already a wide range of headphones and speaker configurations that support it. Being able to use this straight out of the box is a huge advantage, one that's appreciated by many.
If you're planning to use the sound card as a headphone amplifier, it's dual mode option is a welcome upgrade. Once you get into the higher end of headphones, it's not always easy to find the right amp. Some headphones require a very high impedance amplifier, while some use lower impedance. This sound card lets you change between the two on the fly, making it compatible with much more challenging cans on the market.
Sewell Direct Soundbox Pro
We've looked at a sound card for media buffs, and we've seen one for gamers. But there is one group of people who are completely unwilling to compromise on sound quality – audiophiles. The Soundbox Pro is designed with you in mind, using only the highest quality components for the ultimate audio experience.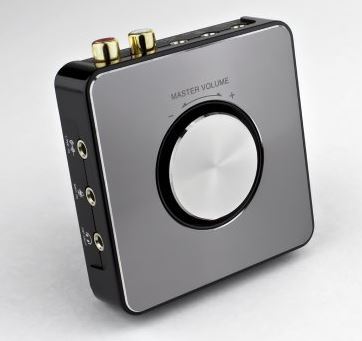 Design
The appearance of the Sewell Direct Soundbox Pro is both professional and luxurious. All of the components are built to a standard much higher than you're used to with consumer electronics. The smooth motion of the volume knob and the firm motion of the plated connectors is something that is reserved generally for much more expensive equipment.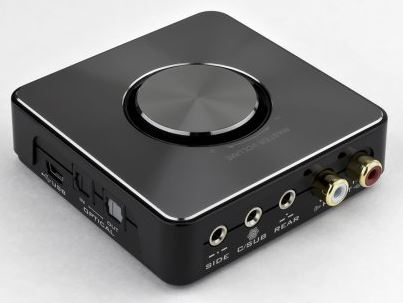 But what we appreciate most about the Soundbox Pro is the fact that looks weren't prioritized over functionality. All of your cables stay neat since the permanent ones are installed in the rear. You've got connections for up to 7.1 channels of surround sound, divided up between three 3.5mm ports and two RCA jacks.
The ports you'll want access to regularly are on the side. Easy to reach, but easy to tuck away. You have one output and three inputs for headphones, line-level devices, and a microphone.
The most prominent feature of the whole device is the stainless-steel volume knob. It's large and very easy to turn, but it has a firm precise motion to it. But at a bare minimum, it certainly looks great on your desk.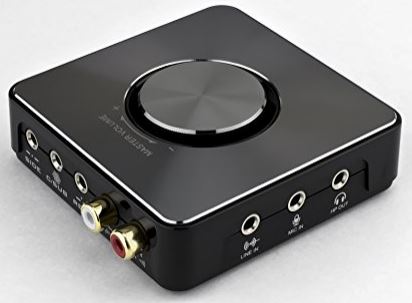 Audio Quality
From a technical perspective, the Soundbox Pro is more than capable of producing audiophile grade sound. Digital audio is essentially made up of a series of frames. The bitrate determines how much detail can be put into each frame. The sample rate determines how many frames are in a second of audio. The Soundbox Pro can play and record up to 24 bit audio at a maximum sample rate of 192 kilohertz. From a technical standpoint, this is some of the best on the market.
Listening to the output of the Soundbox pro, what we liked was the fact that the sound is completely unaltered. You hear everything exactly the way the musician intended it to, without any hint of degradation or loss.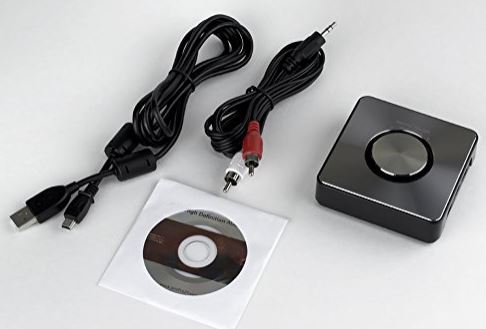 Features
Some users may have ultra-premium digital audio equipment in their home. If you've spent a lot of money on a high-end DAC for your home stereo, you might not necessarily want to buy a whole separate system for your computer. You can attach the Soundbox pro via USB and use the SPDIF audio out to feed your stereo with high quality audio that isn't possible with a typical PC.
Which Portable External Sound Card is Right for Me?
Which card you choose depends on how you intend to use it, and what you're listening to. If you're looking for an upgrade to an existing system and want to improve the sound of compressed audio from Netflix, YouTube, or MP3 files, the Creative Sound Blaster Omni is a great choice. It's built in effects can compensate for loss, and bring your sound up to a level that is enjoyable on a high-end stereo.
If you're a Gamer, Creative has a sound card designed especially for you. The Sound BlasterX G5 supports 7.1 channel audio and a variety of driver related optimization that allows your sound to perform as well as the rest of your computer.
If you're listening to lossless, audiophile grade sound, the Sewell Direct Soundbox Pro is a surprisingly good option. It handles the digital side of your audio needs, letting your speakers work their magic.