Hands and feet play an integral role in how our bodies maintain their internal temperature. When you head into a cold environment, your hands and feet get cold as your body constricts your blood vessels. That forces more blood to the core of your body, but it also leads to frozen fingers that feel stiff and are hard to use. Unfortunately, cold hands just are a part of being human.
Warming up your hands isn't always easy. One of the earliest attempts at products to help people keep their hands warm were chemical-based disposable heat packs, which could be activated by snapping or shaking parts together. But the one-time use nature of those packs, combined with the very tepid heat they produce, make them a subpar option for most people.
In recent years, a number of battery powered hand warmers have become a popular alternative to disposable heat packs. With the advancements in lithium ion battery technologies, you're able to get more powerful heat than anything you'd find from a disposable pack, and you're getting hundreds more uses than could be possible from even the largest box of heat packs.
Whether you're an outdoorsy type who's looking to keep their hands warm on an adventure, or you're just dealing with cold hands in an overly-cooled office environment, hand warmers can help. But there's a huge range of possible options to weave through, and you don't want to end up with hand warmers that are scarcely better or last no longer than disposable warmers so widely used in the past.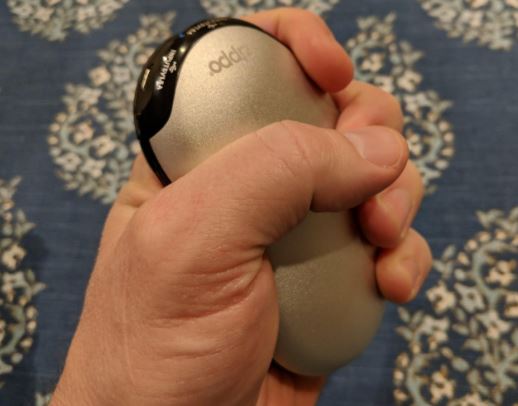 Things to Consider
For selecting a rechargeable hand warmer, the first thing to consider is battery capacity, which is measured in mAh. You'll find a huge range of capacities out there, from 3000 to 8000 mAh. Better capacity translates into longer life, better performance in very cold environments, and warmer temperatures. Because you're carrying around a giant battery anyway, many hand warmers also conveniently double as a USB charger for your devices.
Double Sided Heat
Another thing to watch for us double-sided heat. Some hand warmers only provide heat on one side of their design. One-sided warmers can be useful in niche circumstances, but won't allow you to evenly heat your hands, and aren't as ergonomically friendly. As a result, you may end up spending more time trying to hold the device to warm up when you could be getting the job done more efficiently. Unless you have a specific purpose to use a one-sided warmer, you'll want to ensure your choice is double-sided.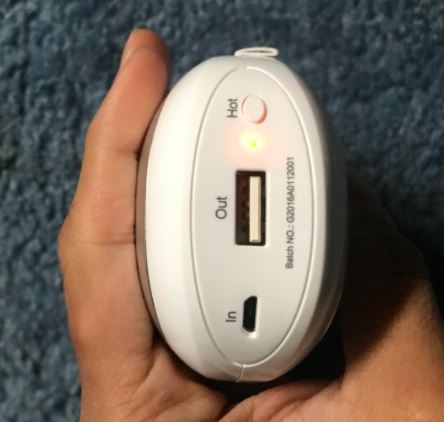 Shape and Design
As with any device you hold in your hands, the grip itself is worth considering. Does it have sharp edges? Is it particularly heavy? More powerful batteries mean a heavier device, which detracts slightly from portability. Apart from weight, you may also want to consider durability. Very few hand warmers are designed to take a beating, but for something that's being held in a cold hand, it's not unreasonable to ask whether or not it will survive a fall.
Cost vs. Performance
And finally there's cost. For the most part, you get what you pay for. When it comes to hand warmers, you're mostly buying a battery, and the quality of batteries can vary widely. You can select cheap hand warmers that are lukewarm and die quickly, and you can find hand warmers with extra features you don't care about.
The trick to finding a great hand warmer is uncovering the right mix of features you want, while avoiding the ones you don't care about. That way you're only paying for the features that matter to you, you'll end up with a stronger product. For example, if you don't actually need a hand warmer to last through six hours of continuous use, then you don't need to pay more just for a product that's going to be a bit heavier in your hand.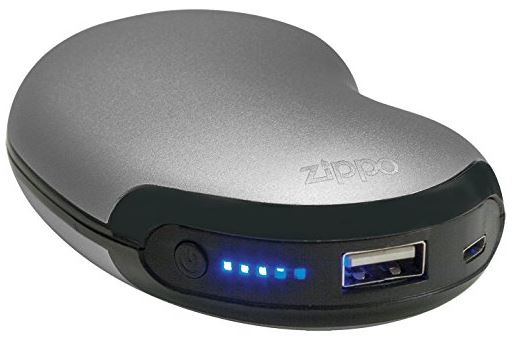 Zippo Rechargeable Hand Warmer
Most people know the name Zippo from their lighters, but Zippo isn't just a brand that burns fuel. In recent years, Zippo has made a name for themselves working on battery-powered products, including some very well-received rechargeable hand warmers.
Zippo's warmer makes use of a moderately powerful 5200 mAh lithium ion battery. That's about as strong as your average laptop battery, and rated to last for up to six hours of continuous use. The simple flat design of the device offers dual sided heat, with an output of up to 120-degrees Fahrenheit, which is more than enough to get your hands warm quickly.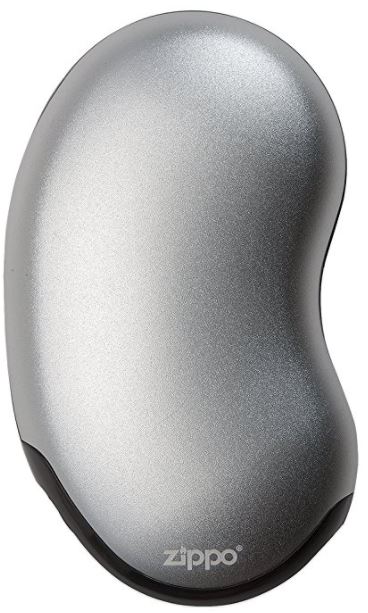 Build & Design
Zippo's warmer has five heat settings you can use to gradually increase the heat from slightly warm to a toasty 120 degrees. At 120 degrees, you may not want to hold the device without wearing gloves! The front side of the device includes a battery and head indicator light, to help you check at a glance how much heat you've got left, and how warm the device is currently running. The front side includes a USB charger you can use for your phones, MP3 players, cameras, tablets, and so forth.
Ease of use is where you want it, this warmer uses a simple one-button design. You've got to hold the power button for five seconds to turn it on or off. That's a safety feature that's supposed to protect you from the hand warmer turning on by accident while riding in your luggage, in your coat pocket, or any other time you nudge it unknowingly.
If you tap the power button once you'll get blue LEDs on the front to indicate power status. Five lights indicate a full charge, with one light indicating you need to recharge soon. Each tap of the power button will increase the temperature setting. But the lower heat settings will be sufficient most of the time because Zippo's warmer is pretty warm!
Further Details
Zippo includes a one-year warranty as protection against manufacturers defects. This six-hour model includes the necessary recharging cord, which is a standard USB cable. The device uses an ergonomically smooth bean shape that's approximately 4.7" x 1.1" x 2.5", and weighs just over 5 ounces. And from the time you turn it in, reaching full temperature takes about five minutes of heating up.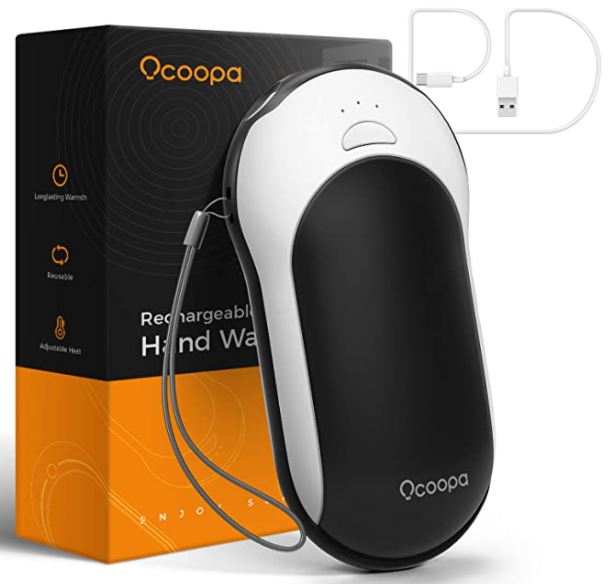 OCOOPA Quick Charge Hand Warmer
The OCOOPA Hand Warmer uses a modern white-and-black design that loosely contours the palm of your hand. Inside that modern aesthetic, you'll find a formidable 10,000 mAh battery. In spite of the considerable strength of the battery, it uses a somewhat compact 2-inch thick, 4-inch wide and 6-inch tall build, which makes it about the size of a smartphone (although obviously thicker). That compact design provides dual-sided heat for efficient hand warming, but that small size also means it's better suited to warming one hand at a time.
One thing people should know about batteries is that every battery has a finite lifespan. After a year of recharging, any battery's total capacity will shrink to a fraction of what it was when brand new. But some batteries hold up better than others, and OCOOPA makes use of batteries designed to service well over 1,000 recharges. In other words, you can use it for every day of every winter for five and a half years before you'll need to replace the internal battery.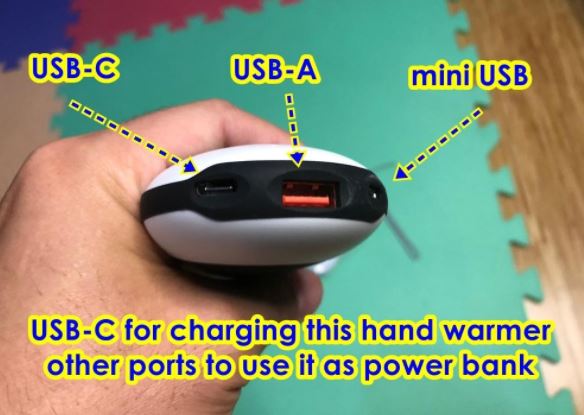 Build & Design
Like with Zippo, this warmer uses a simple one-button design. Hold the power button for a moment for the device to turn on. After it's on, another quick press toggles between high, medium and low heat settings. The setting you've selected will be indicated with an LED, so you know how much heat is coming your way. Additionally, the LED will flash to indicate that it's warming in case you forgot if you turned it on or not.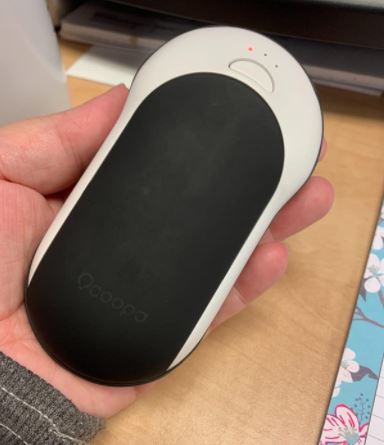 Unlike Zippo, this warmer has only three heat settings: low, medium and high. The low setting is 95 degrees Fahrenheit, and the hot setting is a toasty 131 degrees, with the medium setting being around 115 degrees. You'll be able to squeeze a whopping 15 hours of life out of the low setting, but you lose several of that time when you switch to a higher setting.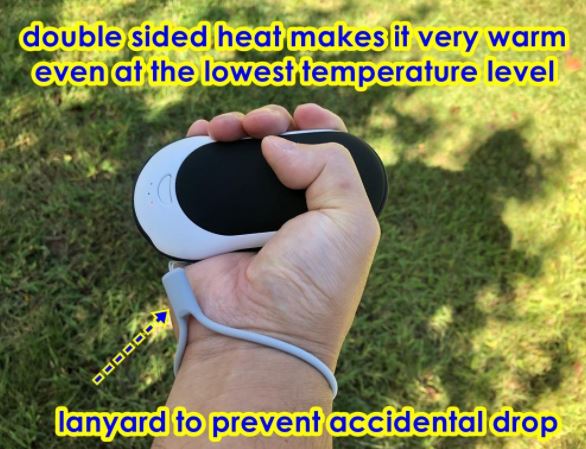 However, keep in mind that those battery ratings are for room-temperature rooms. When you're using the device out in a very cold place, it's not going to be able to easily hit an optimal temperature and coast from there. In very cold environments, it's going to be under a more constant workload, and you should expect the battery times to lower as a result.
Further Details
The shape of the OCOOPA doesn't force you to hold it in some particular way, which is something that can be appreciated by people with either large or small hands. And the integrated QC 3.0 USB-A and USB-C ports are ready to charge smartphones, cameras, media players, and whatever else you want to connect. Best of all, everything is included: a USB-C to USB-A cable, travel pouch, user manual. Additionally, the brand offers after-sales support if you should have any concerns, comments or questions once you begin to use it.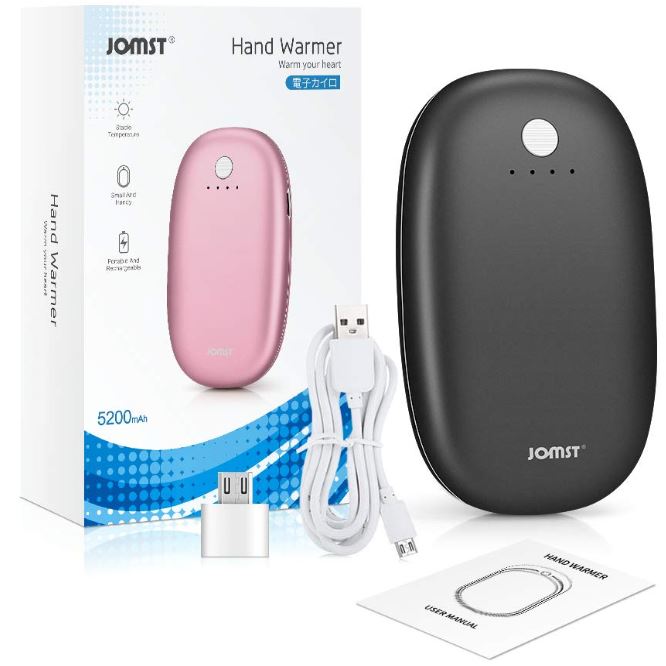 Jomst Rechargeable Hand Warmer
Some people need hand warmers that are up to providing warmth in more rugged terrain. When you're hiking, hunting, fishing, camping, or otherwise doing something in the outdoors, you've got to have a hand warmer that's going to stay warmer for longer. Jomst makes a higher-powered hand warmer precisely for that purpose.
The Jomst hand warmer uses a large 5200 mAh battery that's good for 4-6 hours of operation, depending on where you use it. However, that larger battery adds some heft to the device, causing it to weighing just over 8 ounces, or nearly twice the weight of the other chargers on this list. When used as a phone charger, that considerable battery is capable of charging even the most powerful smartphones two times over.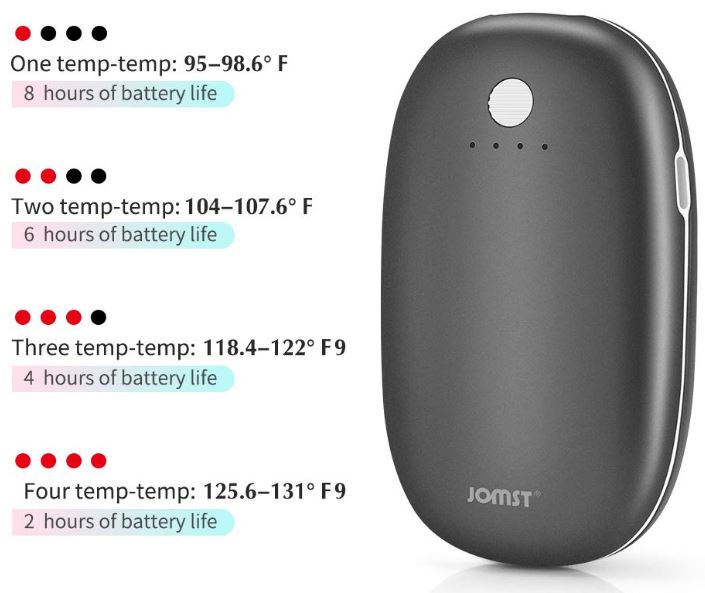 Build & Design
Jomst uses a compact 60mm x 25mm x 103mm design, optimal to heat one hand while you keep the other free. The top of the device uses 4 indicator LEDs to let you know how much charge you've got left, as well as let you know about how the heat is coming along. If you tap the "HOT" button, you'll see how much juice is left in the battery, and a longer press of the button will show you its heating status. If you keep holding the button, the Jomst turns off.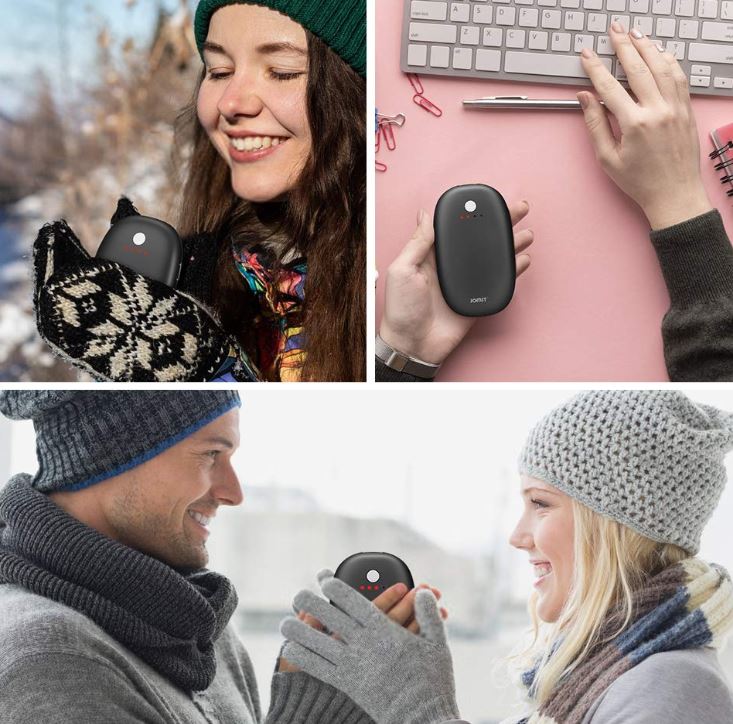 Further Details
There's also an auto-turn off feature that kicks in after an hour, for the sake of safety. That way even if the device gets accidentally turned on through the initial hold-button safety feature, the second layer of protection ensures it will turn off automatically. In a room, this warmer heats to ~130 degrees, though that could be 10 degrees warmer or cooler depending on where it ends up being used.
Choosing Between 3 Hot Hand Chargers
All three hand warmers on this list offer a comparable range of heat. But the OCOOPA Quick Charge Hand Warmer is a good option for someone who thinks they're going to be using the hand warmer constantly. Their battery has been specifically built to hold up to persistent use, and this is one of the only hand warmers that can take on chronic use for years before needing replacement. Also, it's USB-C Quick Charge capability makes it an ideal choice for those who would also like to use it as a power bank.
If you're looking for a more refined array of heat settings, you'll want to go with Zippo. They've got 5 distinct settings that will provide more comfort for people who need middle ground between warm and hot. As for the ergonomic bean shape, with average-sized hands you'll love it, and with larger or smaller hands you'll probably not be a fan.
Finally, if you're looking for a big battery, Jomst is your pick. It's almost 40% heavier than the other hand chargers on this list because it's packing a massive battery that's ready to endure chilly environments longer than other warmers can dare to dream. Although every model on this list claims to offer somewhere near 4-6 hours of battery life, Jomst's claim is less reflective of the warmer being used in a laboratory somewhere, and more reflective of being used outside in real world conditions.
Was this helpful? Please consider sharing: