When you start to get cold, the first things that feel cold are your extremities. Your fingers, toes, ears, and nose will start to go numb before the rest of your body. This is partially because they're more exposed than anything else.
But your body also reduces blood flow to these areas to help reduce heat loss. Unfortunately, this means less warm blood flowing into your extremities, so they get colder still. Unless you're outside long enough to get frost bitten, this is mostly a minor annoyance. But for your hands in particular, it can become a real headache. With numb fingers, it's tough to perform everyday tasks, or even fish your keys out of your pocket.
Note: At no extra cost to you, we may earn a commission for purchases using our links. Learn more.
People have been using hand warmers for their hands for a long time. But traditional hand warmers are made with chemicals. When you squeeze the packet, the chemicals mix, and react in a heat-producing reaction.
This works great, until the chemicals run out and you have to throw away the hand warmers. Needless to say, this is wasteful. And if you're using hand warmers every day, it can get costly over the long run. Instead, it makes the most sense to use an electric, rechargeable hand warmer. These can be reused hundreds or even thousands of times, saving money and reducing trash.
Today, we'll be reviewing three of the best rechargeable hand warmers on today's market. We'll start out by looking at the Tomus-UNI Rechargeable Hand Warmers. This is a 2-pack of single sided hand warmers that can magnetically join to form one double-sided warmer. Second up is the OCOOPA Rechargeable Hand Warmer. This is a double-sided palm-sized oval hand warmer, and is available in many colors. Finally, we'll discuss the Zippo Heatbank 9s Rechargeable Hand Warmer. This is an ergonomic S-shaped charger with single- and double-sided heating modes. Once we've looked at all three options, we'll wrap up, and make a final comparison.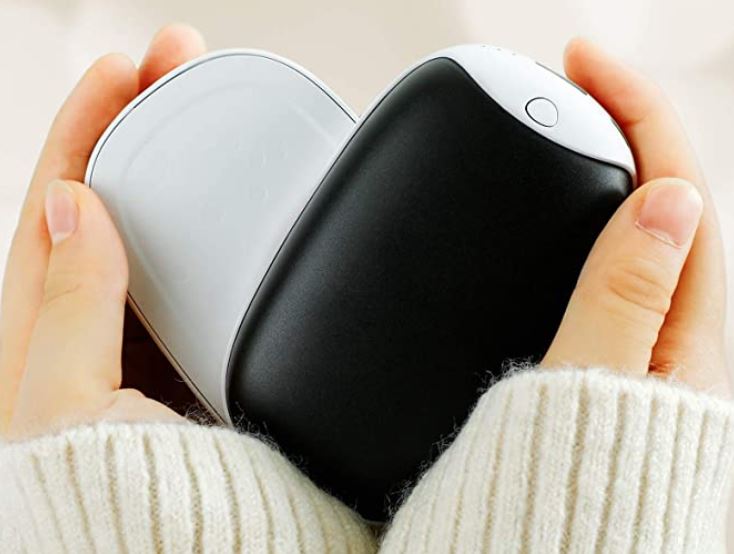 Tomus-UNI Rechargeable Hand Warmers
The Tomus-UNI Rechargeable Hand Warmers have a broad, oblong shape. With white sides and black or pink faceplates, they're small enough to cup in the palms of your hands. They're constructed from a durable polymer, which gets nice and toasty when they're powered on. Not only that, but they come in a two-pack, so you don't have to pay extra to warm both hands.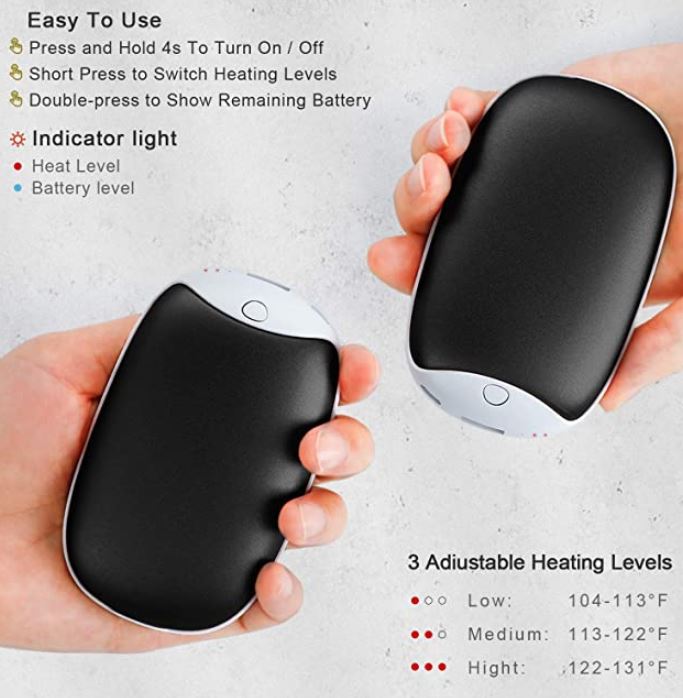 Here's where the design gets quirky in a good way. By default, the Tomus-UNI is a two-pack of one-sided warmers. But the white plastic backs are flat, smooth, and magnetized. If you want a double-sided warmer, you can just stick both halves together and create one. This makes the Tomus-UNI warmers considerably more versatile than most other options.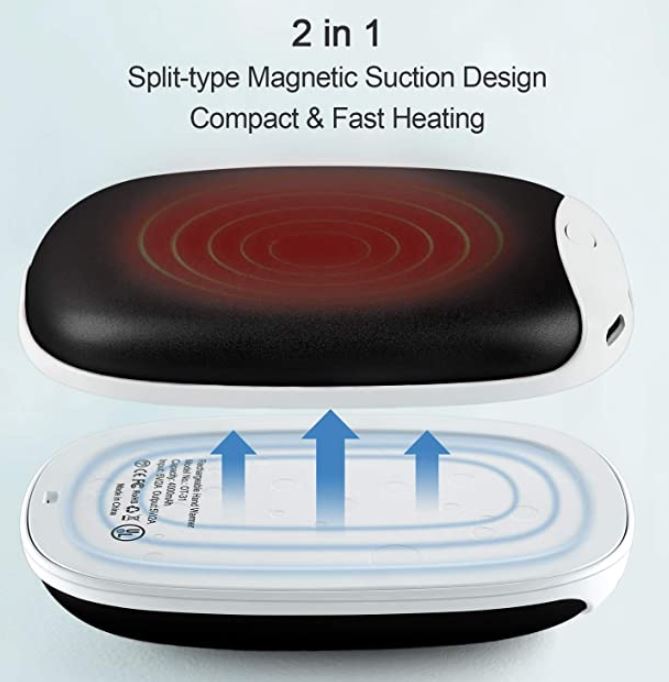 At one end of each of the units, you'll notice a single white button. Press and hold this button for four seconds, and the heating function will be activated. Press and hold for four seconds again to shut the heater off.
To change the power level, you can simply tap the button. In all, there are three power levels, delivering three levels of heat. At the lowest setting, the temperature will be between 104 and 113 degrees. On medium, it will be between 113 and 122 degrees. At the maximum power level, the warmer will be between 122 and 131 degrees. The reason there's a wide range is that a lot depends on conditions. The warmers will lose heat faster in colder temperatures, which limits the maximum temperature.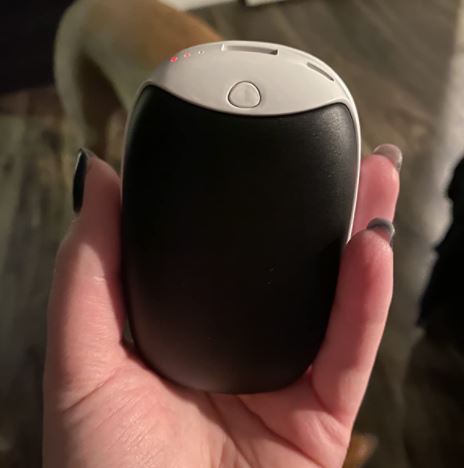 Below and to the right of the power button, there's a row of three LED lights. These will illuminate one by one as you turn up the heat. Next to these lights, there's a USB Type-A port in the middle, and a Micro USB port to the left. Along with the heaters themselves, you get a few extras to help you get started. To begin with, you get a pair of short USB to Micro USB connecting cables. You also get a set of lanyards, which can attach through slots in the backs of the housings. Finally, there's a nifty velvet drawstring storage pouch.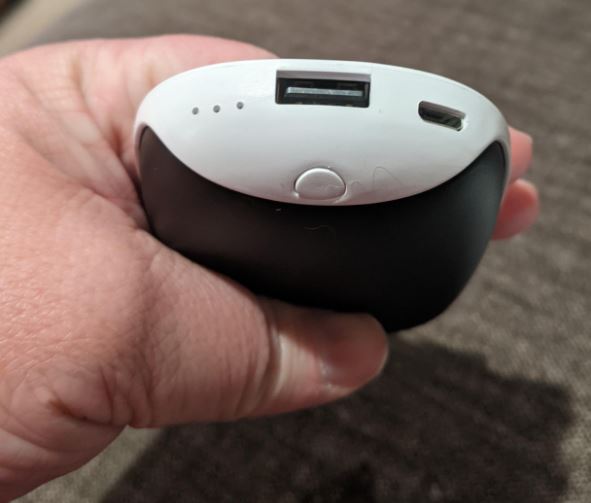 Battery, Charging, & Extra Features
Each individual Tomus-UNI hand warmer has a battery capacity of 4,000mAh. This is enough for between four and eight hours of continuous operation, depending on the heat level. They charge in about two hours via the Micro USB charging cable.
However, you can also use the USB Type-A ports to connect other devices. In this way, the hand warmers can be used as portable power banks. Just keep in mind that 4,000mAh isn't that much power. It's only a little bit more than the battery on the iPhone 13. So if you use a hand warmer to charge your phone, you'll lose a significant amount of life.
That said, the power bank function also has an additional use. If you only have one USB port to charge, you can daisy-chain one warmer into the other. This allows you to charge both hand warmers from a single USB charger. Keep in mind, though, that they'll take longer to charge this way. You won't be able to use them for at least four hours.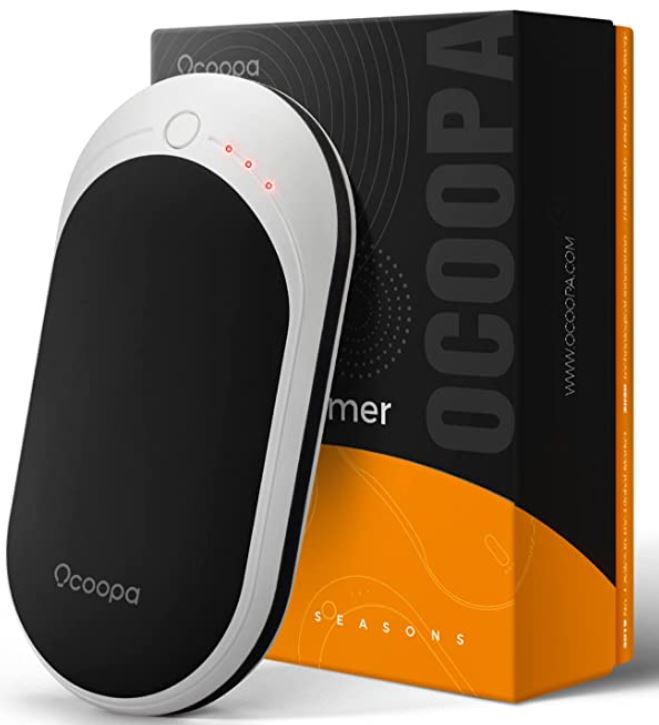 OCOOPA Rechargeable Hand Warmer
The OCOOPA Rechargeable Hand Warmer has a more durable construction. Inside the ABS plastic outer shell, there's an aircraft-grade aluminum inner frame.
This provides significantly more rigidity, and makes the OCOOPA hand warmer more shock resistant. It has an oval shape, measuring four inches long and 2 ½ inches wide. The bulk of the housing is a plain matte white in color. However, the front and back faceplates are available in several colors. In addition to black, you can order the warmer in orange, pink, and tiffany blue, plus space and abstract patterns. You can also order a two-pack of hand warmers, but only in the black color.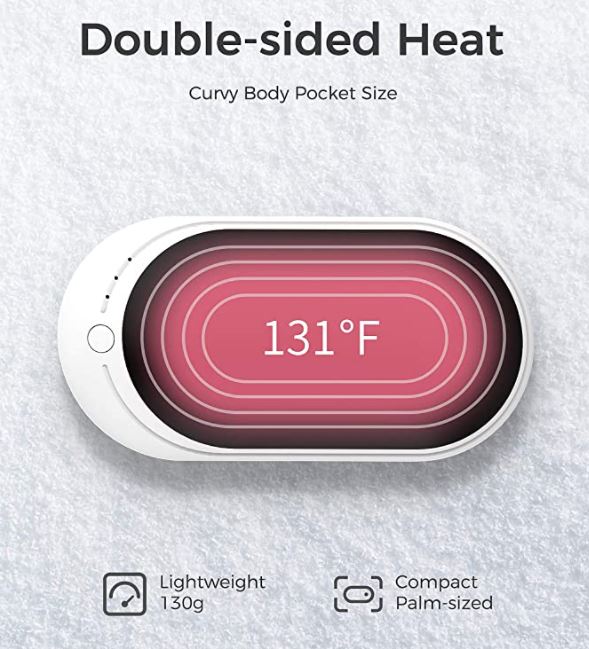 At one end of the front face, there's a single white button which is used to control the device. It works a lot like the Tomus-UNI button. When you press and hold it for five seconds, the warmer will turn on the lowest setting. Tapping the button will cycle you through the medium and high power settings, then back to low. To shut the OCOOPA warmer off, you simply press and hold the power button for five seconds again.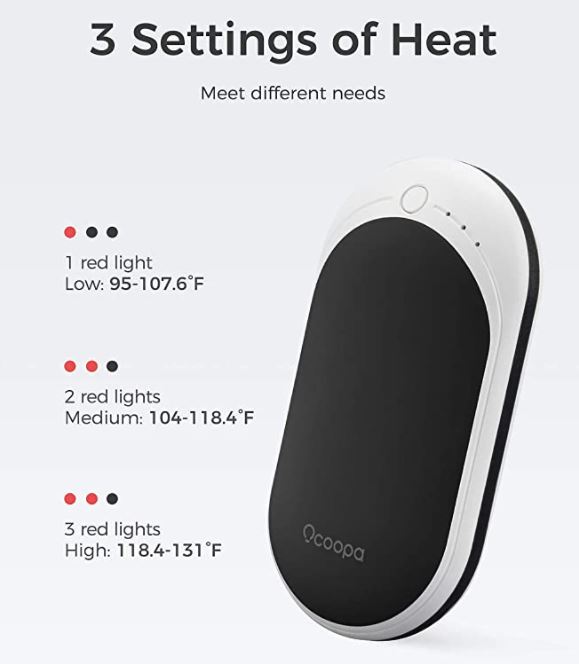 The exact power level is indicated by a row of three LED lights. A single light indicates that you're on low, two lights that you're on medium, and three for high. These correspond to three different temperature ranges.
On low, you'll be between 95 and 107 degrees Fahrenheit. This goes up to 104 to 118 degrees on medium, and 118 to 131 degrees on the highest power. We particularly appreciated the relatively low minimum, since it's great for milder days. The highest setting, meanwhile, is still strong enough for the most miserable weather.
The kit also includes a few extras to help you get the most from your hand warmers. First off, there's a USB Type-A to Type-C charging cable. Second, there's a USB Type-C to Type-A adapter. Finally, there's a little drawstring pouch, for keeping everything together while you're traveling.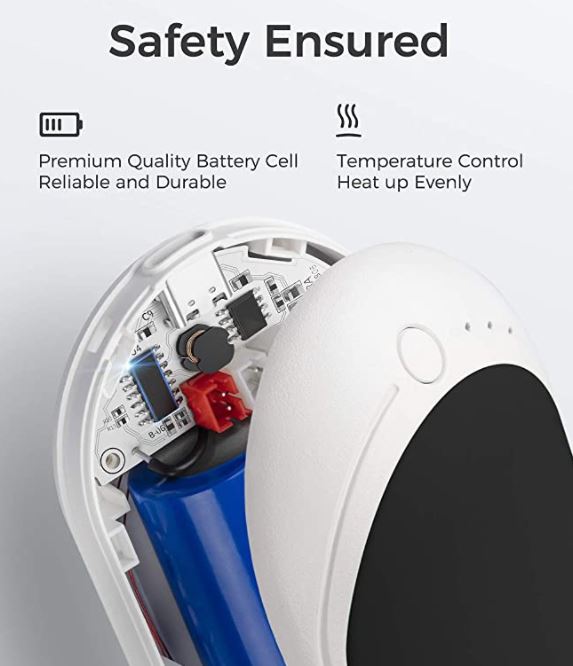 Battery, Charging, & Extra Features
The OCOOPA hand warmer has an internal lithium rechargeable battery with a capacity of 5,200mAh. This battery will last for around eight hours on the lowest heat setting, or four hours on the highest.
There's some variation depending on the surrounding temperature, but these numbers are more or less accurate. Regardless, you're looking at reasonably long life, as well as easy charging. The USB Type-C charging port is much faster than Micro USB, charging the battery in around 90 minutes. Not only that, but the battery indicator lights will start flashing when the power level drops below 10 percent.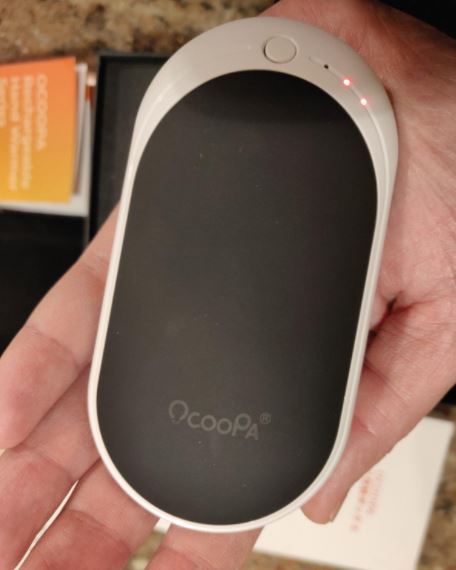 Like the Tomus-UNI hand warmers, the OCOOPA warmer can also be used as a power bank. Using the USB Type-C to Type-A adapter, you can plug any USB charging device into the port. As before, keep in mind that this will reduce your hand warmer's maximum operating time.
Ultimately, hand warmers are only one piece of your winter kit. If you also need something to keep your ears warm, check out some Bluetooth headphone earmuffs! They're comfy, they're cozy, and you can listen to your music without earbuds getting in the way of your muffs.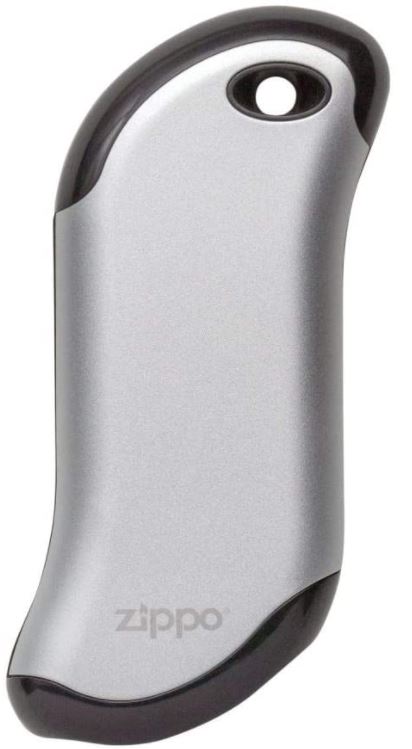 Zippo Heatbank 9s Rechargeable Hand Warmer
The Zippo Heatbank 9s Rechargeable Hand Warmer has a unique shape. It's slightly curvy, and flared to opposite sides at the ends, so it's almost shaped like the letter S. This makes it surprisingly comfortable to grip, which is what it's designed for. The overall size is 4.88 inches long, 2.38 inches wide, and 0.95 inches thick. It's the perfect size for most people's hands, as well as to fit in your pocket.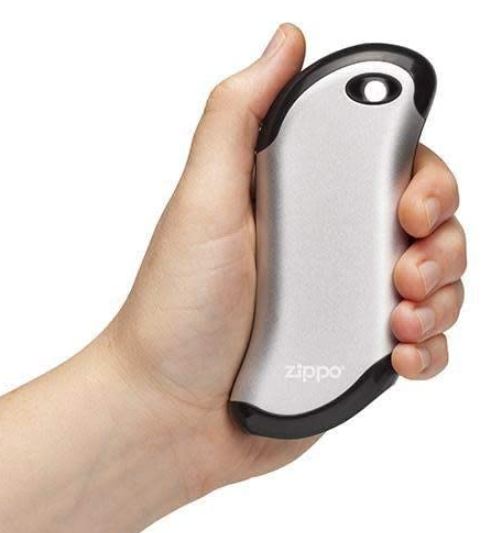 The housing is constructed mostly from silver-grey aluminum, which is durable and good for heat dispersal. The ends, however, are made from glossy ABS plastic. On one end, there's a lanyard hole, and a sturdy lanyard is included in the kit. On the other end, there's a Micro USB port, a USB type-A port, and the power button.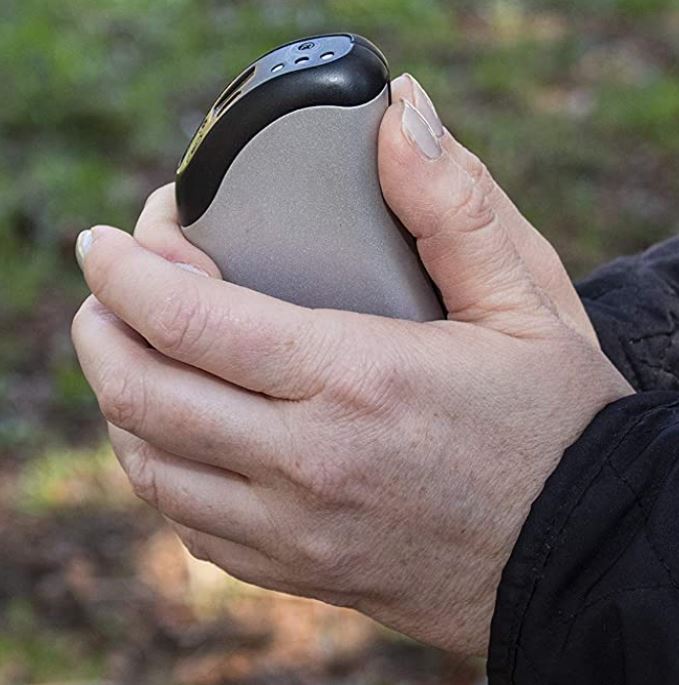 Above the power button, you'll notice three indicator lights. These lights illuminate as you turn up the heater from the first through the third setting. The Zippo warmer has a maximum temperature of 120 degrees, but that's not what makes it special.
What makes this hand warmer unique is that it works in both double- and single-sided modes. When it first powers on, the lights will be green, and it will be single-sided. But if you keep tapping the button, the lights will turn blue, and you'll get double-sided heat. So you have six settings in all: three temperature levels in both heating modes.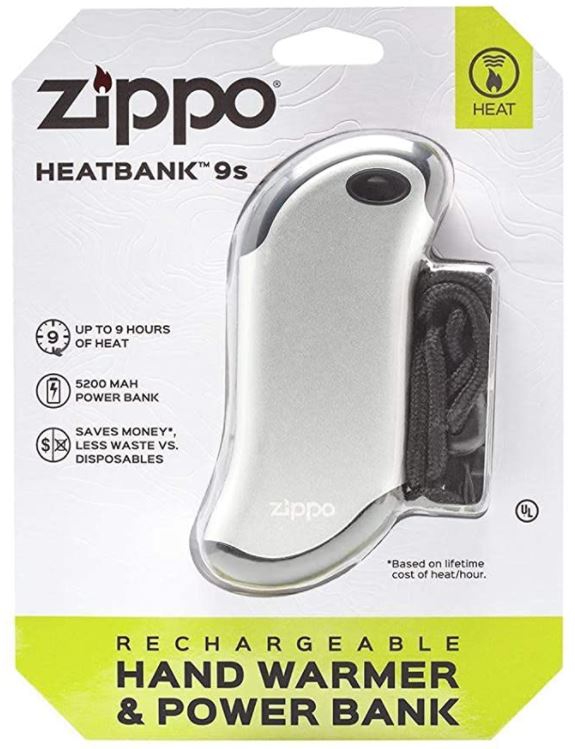 Battery, Charging, & Extra Features
The Zippo Heatbank's battery has a capacity of 5,200mAh. This is a good amount of charge for a single hand warmer. In all, it lasts from 6 to 10 hours depending on your settings. When it's time to charge, the included USB Type-A to Micro USB cord will fill you up in about three hours. That's slower than USB Type-C charging, but it's still reasonably speedy. You can also plug a phone into the USB Type-A port, and use the battery like a power bank.
Final Verdict
So, which one of these hand warmers is the best choice for you? As is so often the case, a lot depends on what you're looking for to begin with. The Tomus-UNI Rechargeable Hand Warmers are the most versatile of the three.
You can use them individually or as a pair, single-sided or double-sided. This makes it easy to keep both hands warm – or keep one hand super warm. The battery capacity is reasonably good, if not spectacular. And thanks to the ability to charge one heater from the other, you can charge both from one USB port. The only real downside is the plastic design, which doesn't feel as durable as some other warmers.
The OCOOPA Rechargeable Hand Warmer has more basic heating options, but is also better-engineered.
The aluminum frame gives it better rigidity, and the 5,200mAh battery is more powerful than the Tomus-UNI. It's also faster-charging, with a USB Type-C connection instead of the older Micro USB standard. That said, because it's double-sided, it draws more power than a single-sided warmer. So while the battery is very powerful, it doesn't last any longer than the Tomus-UNI.
The Zippo Heatbank 9s Rechargeable Hand Warmer is by far the most durable of the bunch.
Not only that, but the aluminum housing is highly effective at transferring heat, making it exceptionally efficient. I also has an unusual design, since it can be set to single-sided or double-sided mode. And if that's not enough, you also get a 5,200mAh battery with nine hours of battery life. This hand warmer is a bit pricier than the other two options, but it's still an excellent design.
Please consider sharing:
Note: At no extra cost to you, we may earn a commission for purchases using our links. Learn more.