When you find yourself during the winter months or in cold climates, it can be difficult to stay warm. Besides comfort, cold temperatures can prevent us from performing important tasks that require extremities like our hands and feet.
For people that perform their jobs in low to freezing temperatures, being able to warm your hands is important for safety.
Thankfully, there are an array of tools to help raise the temperature. Things like jackets, scarves, headwear, thermal clothing and boots provide an adequate amount of heat. However, when things reach extreme temperatures, many people reach for hand warmers.
What Are Hand Warmers and What Kinds Are There?
Hand warmers are small heating units that produce heat on demand. They're commonly used in outdoor activities and provide an extra source of warmth that's not dependent on your body temperature.
While the main purpose of all of them is to provide continuous heat, there are different variations that use different fuel sources. These include:
Air activated: One of the most common types. They are made of materials like cellulose, iron, activated carbon, vermiculite and salt. These hand warmers produce heat when they are exposed to air. Depending on what kind you get, they can produce heat for up to 24 hours. The problem is that they are often single use and can take upwards of 20 to 30 minutes to reach optimum heat. There is also no way to adjust the temperature.
Supersaturated solution: The solution inside can be reheated by immersing it in hot water. Heat can be initiated by flexing a thin piece of metal inside of it. It is a solid solution but the process of reheating requires a hot water source.
Lighter fuel: Powered by lighter fluid this type of hand warmer is housed in a catalyst combustion unit that manages the temperature and keeps the user protected from risk of burns. High-quality versions are extremely safe and easy to refuel for continual use.
Charcoal: Fueled by charcoal, these hand warmers are protective casings that are made of materials that evenly spread heat generated from a heated piece of charcoal inside.
Battery Powered: Heat is powered by a battery unit. Often rechargeable, these hand warmers have a host of benefits that the other types do not. They can be temperature controlled, refueled using electricity and in some cases power other devices.
Of all these types, hand warmers that you can reuse are an ideal solution for people that deal with cold temperatures often. While all types aside from air activated hand warmers are technically reusable, battery powered hand warmers have the added benefit of being rechargeable.
Rechargeable hand warmers provide a host of benefits for people that need to stay warm. These units can last for several hours and can be temperature controlled.
While they can be held in your hands, many people use them to heat a region of their jacket or outerwear like a chest pocket, letting them stick their hands in as needed. They can pull double duty by warming your hands and different regions of your body at the same time.
Because of the versatility of battery-powered hand warmers, they can come with a lot of additional features that make it more effective for different uses. To help, this article will go over five of the best rechargeable hand warmers currently on the market.
Best All-Around: OCOOPA Quick Charge Rechargeable Hand Warmer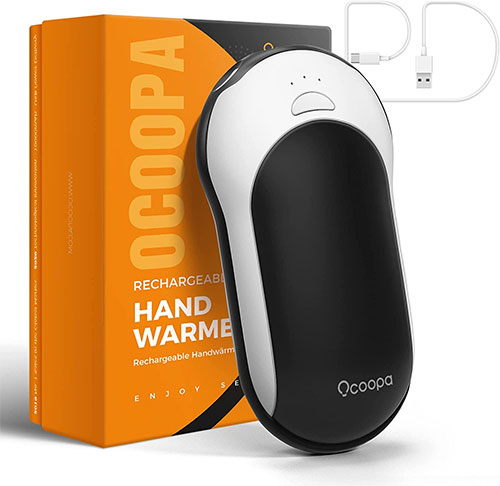 Key Features:
10,000 mAh battery.
3.5 to 4 hour charging time from empty.
USB-C PD charging capabilities.
3 heat settings with temperatures from 95°F to 131°F.
Single button control.
Battery life indicator.
Provides up to 15 hours of heat.
There are a lot of features that make the OCOOPA hand warmer the best overall choice. It boasts a sleek design that has a smooth exterior. It's pleasant to hold in your hands while providing a decent amount of grip. A small strap is attached which can let you dangle it from your wrists when not in use. The strap is on the smaller side so large handed people may have more difficulty.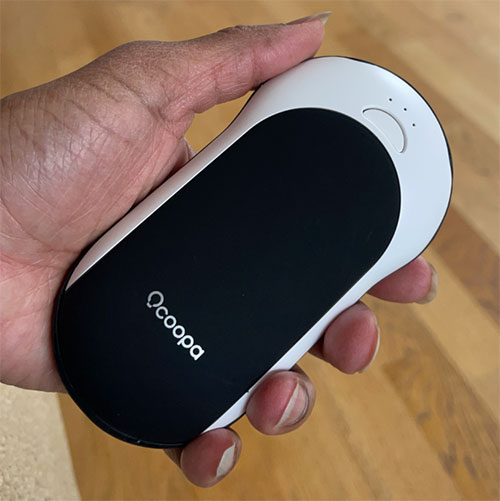 When it comes to functionality, this unit is superior to dozens of other battery powered options we tested. First is the heating time. Users found that it takes an average of five seconds to begin heating up and only 30 seconds for it to reach the target heat setting. This is much faster than air activated warmers which can take several minutes. It features three heat settings ranging from 95°F to 131°F. All three settings do a great job distributing the heat evenly. Keep in mind that the highest setting gets very hot. You might not be able to hold it with your bare hands for very long in normal temperatures.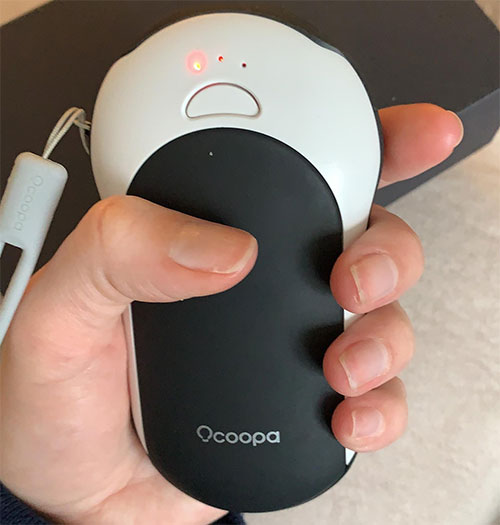 Battery life is one of the best we've tested. Users report an average of 14 hours at the lowest setting and between 12-13 hours on the highest setting. It has a large battery (10,000mAh) which can double as a charging pack for other devices like your smartphone. It's got three USB ports (Type-C PD, Type-A QC 3.0 and Micro-USB) on one end which lets you charge the warmers quickly or charge two devices simultaneously. The battery life indicator is another great feature, making sure you're never left in the cold with a dead hand warmer.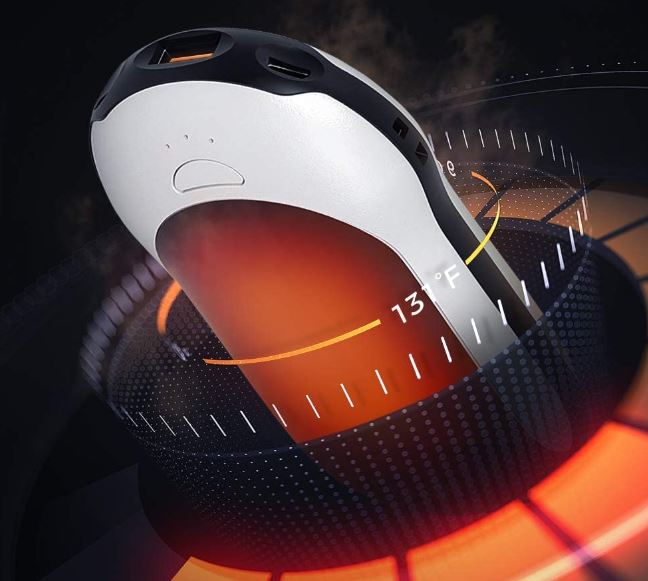 The OCOOPA operates with a single button. Different taps and holds will let you pick the heat setting, see how much battery is left and power it down. It takes a few tries to get a hold of the different controls but getting up to speed is not hard.
Charging the device is very straightforward and can be ready to go in under 4 hours from empty. The chipset and internal components are high quality and many users report their hand warmers are still working after years of continual use.
What We Liked:
Fast USB-C charging.
Doubles as a battery pack for other devices.
Single button design for easy use even when wearing gloves.
Easy to hold form factor.
Fast heating times.
Long battery life provides up to 15 hours of heat.
Battery life indicator.
Cushioning on corners provides some drop protection.
Lots of color options.
What We Didn't Like:
Higher upfront costs than other battery options and one time use hand warmers.
Customer support can be slow to respond.
Best Runner-Up: MKG Rechargeable Hand Warmer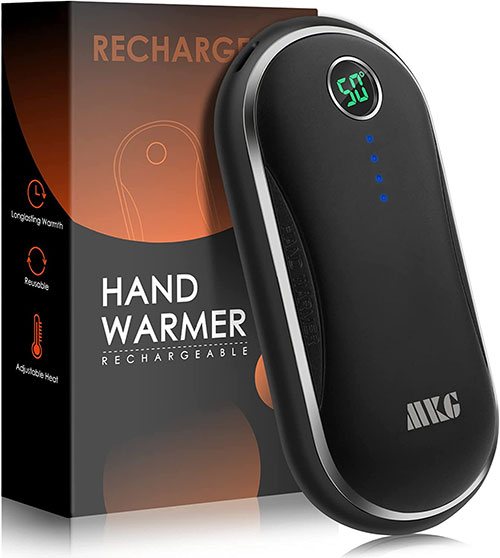 Key Features:
10,000mAh battery.
Up to 15 hours of heat.
3.5 – 4 Hours for a full charge.
One USB-A, one USB-C and one micro USB port.
LED temperature display.
LED battery life indicators.
3 heat settings.
2 second initial heat time.
The MKG Rechargeable Hand Warmer is a solid runner up option that has nearly every feature that the OCOOPA does. However, there are a few differences that may make it less ideal for different users. Specifically, the form factor and exterior surface may make it harder to grip for people with smaller hands or when wearing certain kinds of gloves. However, if you're planning to use it in a side or chest pocket, it's a non-factor.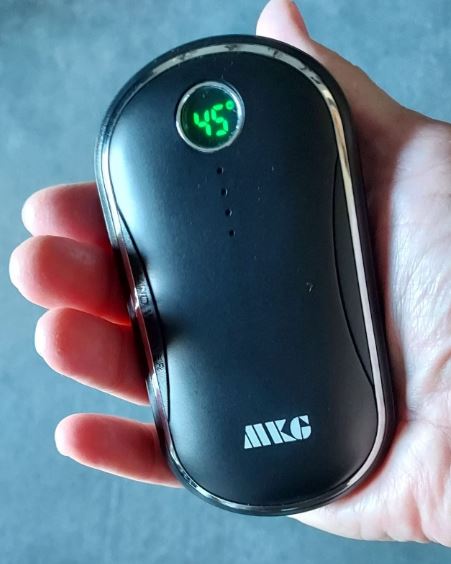 With that said, this model is a great choice. It has three USB ports (USB-A, USB-C and Micro USB) a battery life indicator and a manual power button just like the OCOOPA. It's got great features when it comes to battery function and heating. You'll start to feel heat in 2 seconds and full heat in 35. There are three heat settings; 113℉(45℃), 122℉(50℃), 131℉(55℃) and depending on which you choose, the battery can last up to 15 hours.
Like the best overall, the MKG can double as a battery charging pack and power up to two devices at the same time. We found it did a great job charging one at a time. Although some report that charging two devices at once was significantly slower.
On the exterior, it has an LED display that shows the current temperature. While it's neat, it isn't an essential feature. You can only choose from three heat settings and so all it does is show you its path to reaching the set temperature in numerical form. Another consideration is the temperatures of the heat settings. The lowest setting on this model is on the high side which may make it less useful in warmer climates than the OCOOPA who's lowest setting is nearly 20 degrees lower.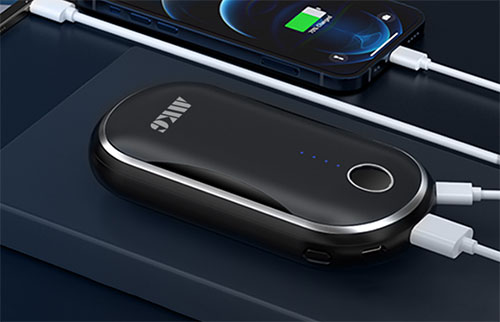 One thing that we feel the MKG does better than the OCOOPA is in regards to recharging. Some users mention that their units can reach full charge in as little as three hours. This is significantly faster than the charging times of other similar options.
What We Liked:
Doubles as a battery charging pack.
Long heating time of up to 15 hours.
Quick recharge.
Durable exterior with corner cushioning.
Great price.
What We Didn't Like:
Does not allow pass-through charging.
Lowest setting runs hotter than most.
Most Unique: INNOPAW Rechargeable Hand Warmers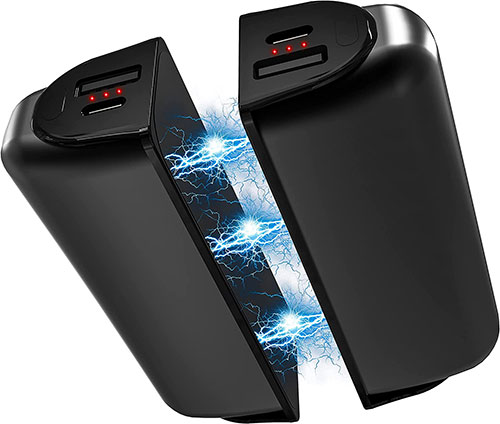 Key Features:
10,000mAh Battery.
Splits into two separate hand warmers.
Can also be used as a single hand warmer.
3 heat settings.
4 USB ports.
Doubles as a battery pack charger for other devices.
Up to 15 hours of heat.
2-3 Hours for a full charge.
One thing many people mention is wishing they had two hand warmers, one for each hand. The INNOPAW Rechargeable Hand Warmer solves this problem with its 2-in-1 design. When you're wanting to hold a warmer in each hand, the single warmer can split into two standalone hand warmers. They accomplish this through a magnetic connection.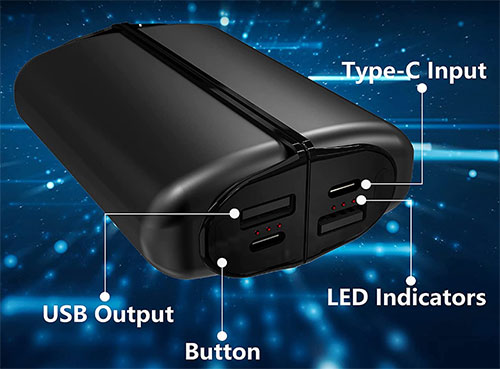 It provides the best of both worlds, giving you two warmers for the price of one. Or, a single warmer if you're needing to warm up a large pocket to stick your hands in. Each hand warmer has two USB ports so they can be charged independently.
Something we really appreciate is the extremely fast recharging times. In most situations when the hand warmer is nearly empty, a full charge can be reached in under three hours. One thing to keep in mind is that while it can charge other devices, we found it took longer than the OCOOPA which was able to charge an iPhone to 50% in less than 30 minutes. We were not able to replicate that result with this model.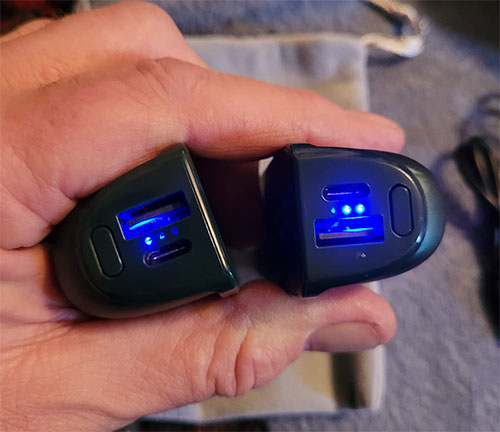 This is one of the most expensive options but we feel the value is there to justify the higher price tag.
What We Liked:
2 in 1 design lets you choose between a single or double configuration.
Double configuration still provides 15 hours of heat.
Fast recharge.
4 USB ports.
What We Didn't Like:
Form factor is not as sleek.
Best Budget: Unigear Rechargeable Hand Warmer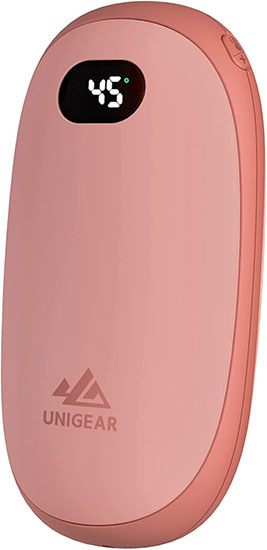 Key Features:
5,000mAh battery.
21 different heating levels from 95-131℉.
Digital screen.
Heats for up to 8 hours.
3 second heat startup.
Rechargeable hand warmers don't have to be expensive to produce quality heat and performance. We went with the Unigeer Rechargeable Hand Warmer as the best budget option since it's made well and produces heat at the same quality as more expensive models. Best of all, the smooth design creates an incredible in-hand feel.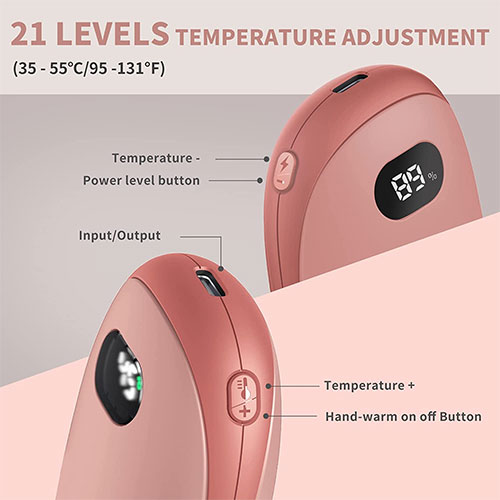 The savings comes from a smaller 5,000mAh battery which is half the capacity as the other options we've already discussed. However, the smaller battery doesn't compromise any of its functions. It provides even, dual-sided heat and can also charge other devices. The only difference is that it can only do these things for a shorter period of time. Rather than up to 15 hours of heat, the Unigear will give you a maximum of 7-8.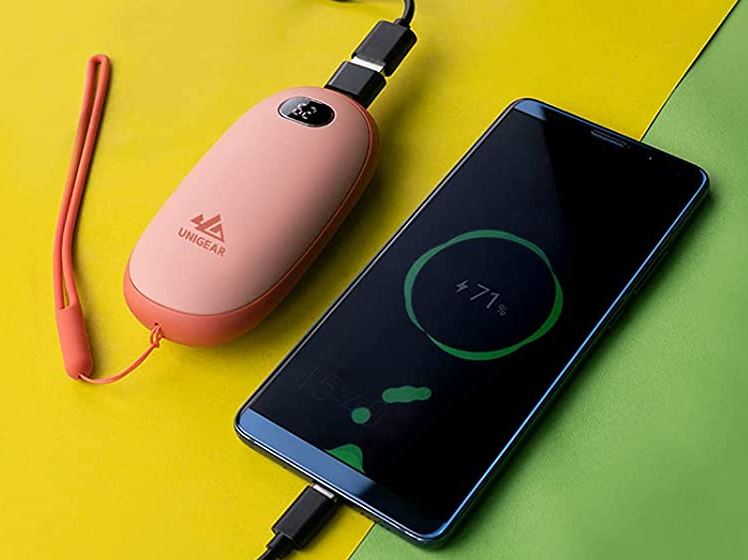 Most users mention this isn't a big issue as long as you remember to charge it more often. However, if you live in an extremely cold climate and spend hours at a time outdoors, you may want to consider investing in a hand warmer with a bit bigger battery. Overall though, the Unigear has a nice shape and good design. A great option for those who don't want to spend a lot.
What We Liked:
Fast heat up time.
One of the best form factors of any hand warmer.
Three high efficiency settings.
Comes in multiple colors.
Fast recharging.
What We Didn't Like:
Smaller battery is not ideal for everyone.
Best Alternative: Zippo 12 Hour Refillable Hand Warmer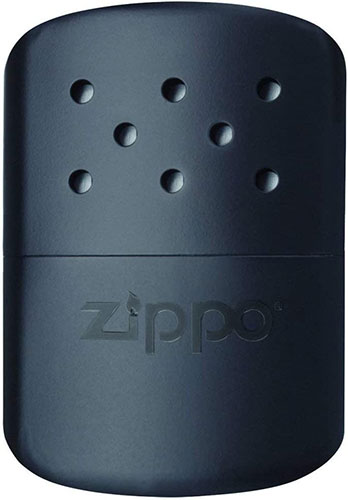 Key Features:
Powered by lighter fluid.
Easy-fill technology.
Flameless.
Heats for up to 12 hours.
Does not require electricity to re-charge.
While the Zippo Refillable Hand Warmer is not technically an electric, rechargeable hand warmer. However, it's a great alternative that provides lasting heat but without the need for electricity. It uses lighter fluid rather than relying on a built-in, rechargeable battery.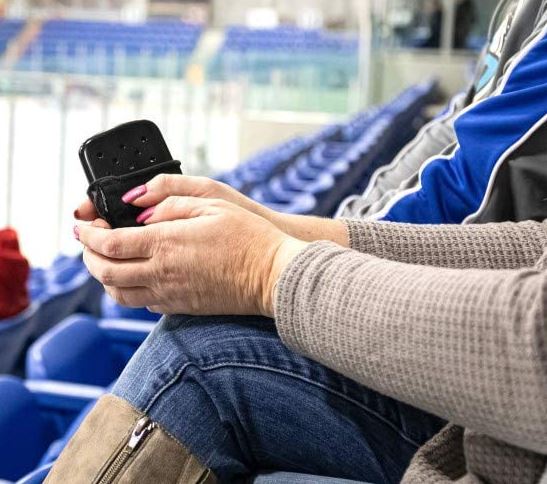 It's a great option for people that may not always have access to electricity. People like hunters, campers and hikers may go days without electricity but still require something that can keep them warm. The Zippo is very easy to refill. The revamped fill cup prevents spillage that can happen with other models.
While it is a flameless unit, you will need to have a lighter on hand to get it going. Once it's triggered, you can expect up to 8-12 hours of continual warmth. Even though you can't choose a temperature setting, we feel that it provides a solid amount of heat that will work for a lot of situations.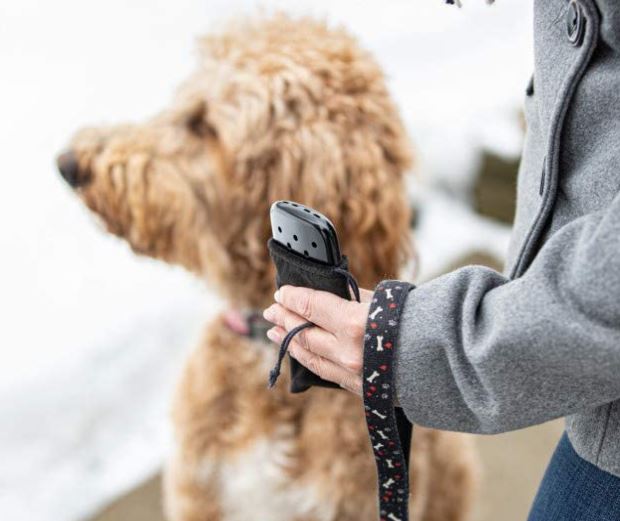 It's a great option for people that don't want to mess with a battery to constantly re-charge. Best of all, it's fairly affordable, too!
What We Liked:
Long lasting heat.
No need to re-charge any battery.
Flameless technology provides safety and peace of mind.
Requires little fuel for each use.
What We Didn't Like:
Requires a lighter to start.