You could have many reasons for wanting a spy pen camera. Whether you're performing an undercover investigation, corporate espionage, pretending you're James Bond, or simply love cool technology, it's not our place to judge.
If you do find yourself in need of a spy pen, we're here to help you find the best one. With modern technological advancements, it's possible to fit a full HD video and audio recorder into an incredibly small size at affordable prices. The type of gear once limited to top secret government operations is now easily within anyone's reach.
This could certainly present some legal and privacy issues. Most states in the US consider video and audio recording legal as long as one party involved is aware of the recording. If neither knows, it falls under illegal wiretapping. This means that as long as you know you are recording someone, you can legally continue.
12 states, California, Connecticut, Florida, Illinois, Maryland, Massachusetts, Michigan, Montana, Nevada, New Hampshire, Pennsylvania, and Washington, are considered "two party consent" states in which both parties must be aware a recording is happening. While some exceptions exist state by state, if you do live in one of these states please carefully consider the legality of any recordings.
Today we're going to take a look at 3 different pen-style spy cameras. While all have the same general functionality, read on to find out which one has the right features for you.
WISEUP 16GB HD Spy Pen Hidden Camera
First on the list is an odd offering from WISEUP. We say odd, because although they call it a "Pen Camcorder," it doesn't function or even look remotely like a pen.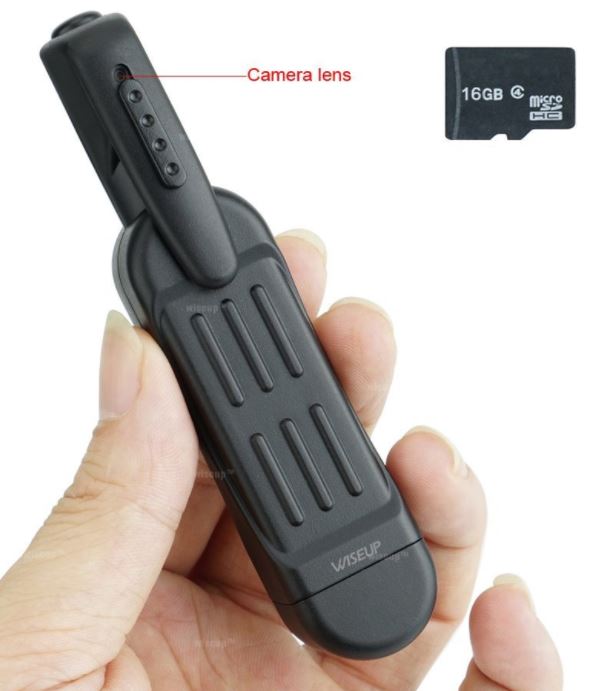 Essentially, the WISEUP Spy Camera is a black plastic object with a bulbous base. On top, they do include a clip that is intended to attach onto a shirt pocket like a pen. The problem arises because it just doesn't look like a pen. First, the large base would likely create an obvious bulge in the average shirt pocket, and even if you managed to conceal that, the wide plastic clip doesn't look like any pen we've ever seen.
The specifications on the camera aren't bad. You can select 720p or 1080p video at 30 frames per second. It has a built-in microphone and 16 gigabytes of memory onboard. Additionally, the camera houses a Micro SD Card slot that can take up to a 32 gigabyte Micro SD Card. Micro SDHC Class 10 cards are recommended to ensure adequate recording speed for HD video.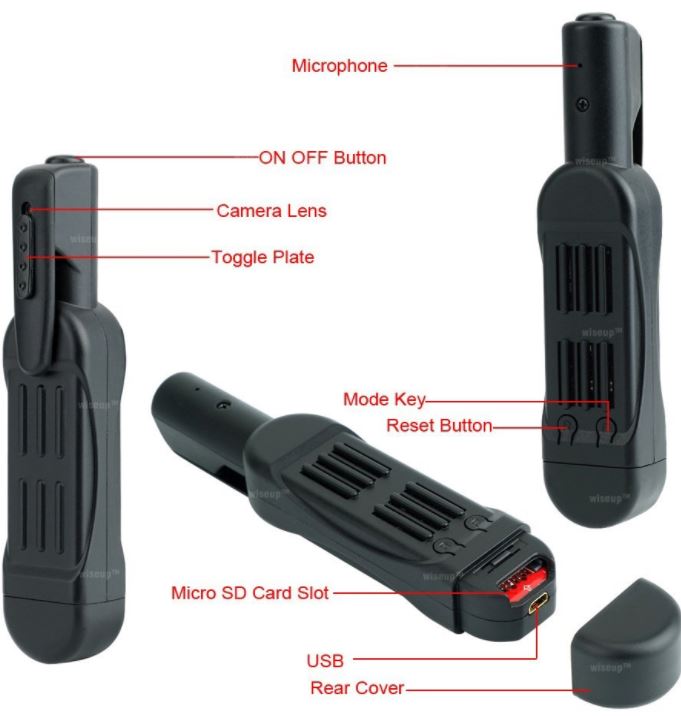 The onboard 850 mAh battery takes 3 hours to charge with an operating life of 5.5 hours per charge. Fortunately, if the situation requires, this camera supports recording and charging at the same time.
There is an On / Off button on the very top of the camera and Mode and Reset buttons on the back side. These buttons allow you to set video format, take still photos, and set the Time and Date stamp.
Usage and Performance
Although we greatly dislike the design of the WISEUP pen camera, we wanted to fairly test the performance and functionality.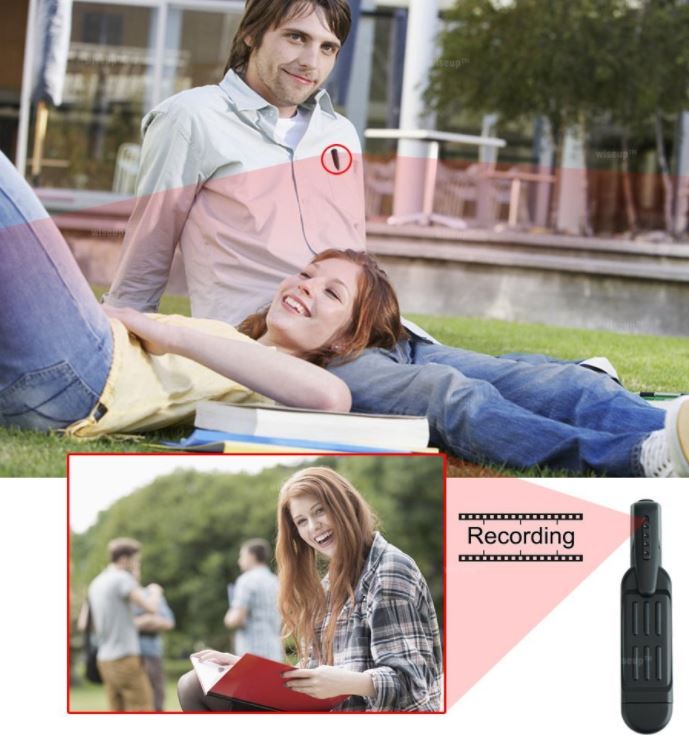 We started by removing the bottom cover to expose the USB data and charging port and add a 32GB micro SDHC card. This was a simple operation, but we encountered some difficulty starting the recording. Pressing the On / Off button on top didn't seem to do anything, and the instruction manual was extremely unclear and unhelpful.
Only after going online were we able to discover that you must hold the top button until the indicator light turns solid blue, which indicates standby mode. Then, one additional click will cause the light to flash three times indicating active recording.
Once we managed to record, the videos and audio were decent quality as long as we managed to avoid excessive movement and low light. Given a camera and lens this small, that isn't particularly surprising. We did appreciate the longer battery life. As much as the larger base of the camera makes it hard to keep inconspicuous, it is likely the reason for the over 5 hours of battery life which is much longer than some competitors.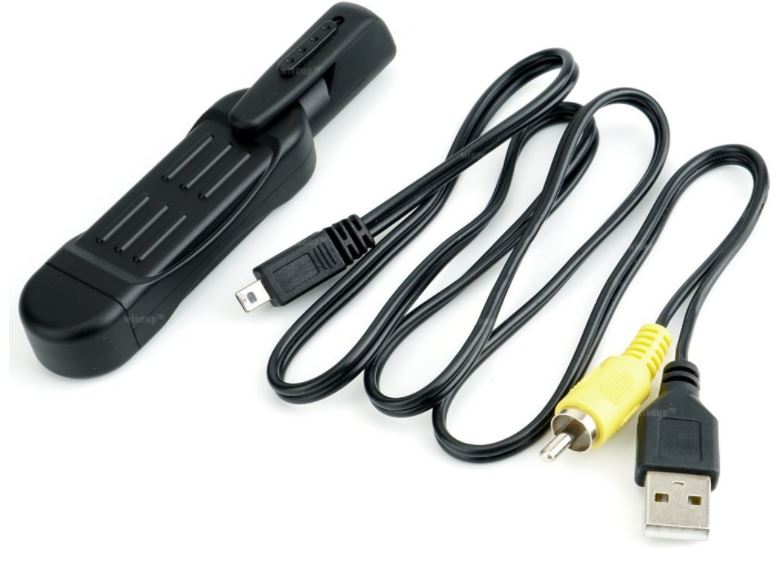 Overall, as a camera, the WISEUP works well, and it was also the least expensive of the batch. While sifting through an unhelpful manual can be frustrating, once we had our questions answered, operation was straightforward enough. Video and audio were definitely usable, although a bit choppy with fast movement and dim lighting. Our biggest complaint and probable deal breaker remains the fact that it just doesn't look like a pen. They call it both a "Meeting Recorder" and a "Spy Pen Camera." If your goal is to record a long meeting with everyone's knowledge, then it'll do just fine. If you need something discrete, it's probably wise to look elsewhere.
PenRecorderPro HD500 Extreme Spy Pen Camera
The HD500 by PenRecorderPro immediately has one advantage. It actually functions and looks like a real pen. With a black body, silver tip and silver ring accents, no one will think twice if you have this in your pocket. Structurally, we liked the fact that the pen twists off to expose a full-sized USB port. This makes it far easier to connect and charge in the event that you don't have a cable handy. There is also a slider on the clasp to cover the camera lens for privacy.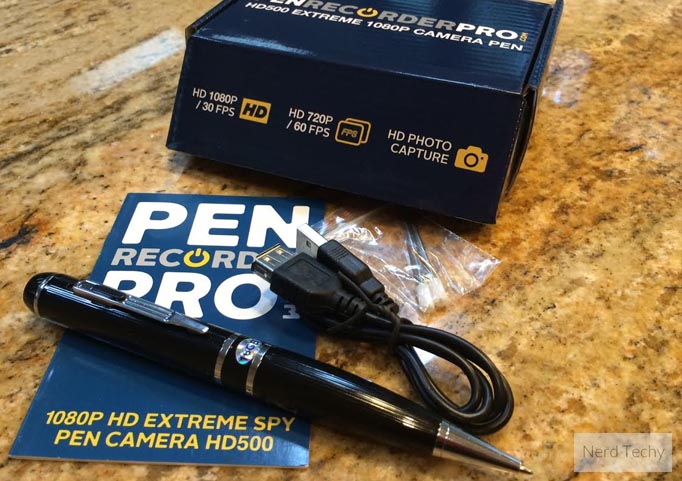 The video specifications are good with support for 1080p at 30 frames per second or 720p at a smooth 60 frames per second. This allows you to choose whether you'd benefit more from higher resolution or more clarity during movement. It also takes still photos with a higher 2048 x 1536 resolution.
Unfortunately, the HD500 has 16 gigabytes of memory onboard but does not accept SD cards for additional recording space. While this is disappointing, it likely doesn't matter a great amount due to the low battery life. The built-in Lithium Ion battery only allows approximately 70 to 80 minutes of recording time.

Understandably, some sacrifices must be made in order for the technology to fit into a realistic looking pen. There just isn't a lot of room for batteries and memory card slots when you have to fit an actual pen mechanism inside the body.
Aside from the less than stellar recording time, the pen itself doesn't feel particularly well made. Although we didn't have any problems in our testing, we would have some concerns with the longevity of this device.
Usage and Performance
The PenRecorderPro HD500 only has a single button, so operation was very straightforward. After pressing the button, an indicator light illuminates briefly to signal that the recording has started, but quickly shuts off in order to remain discrete.

One feature we didn't find elsewhere, the HD500 allows you to adjust camera settings after plugging in to a compatible PC. We were able to alter exposure, white balance, contrast, saturation, sharpness, and image quality. While this obviously can't be done on the fly, if you have a reasonable understanding of the environment you'll be recording in, you can pre-set the camera to maximize video quality.
Video quality was quite impressive for a camera of this size. Boasting superior low light performance, PenRecorderPro claims the HD500 can record at just 1 Lux, equivalent to a "full moon on a clear night." While we're not quite sure that claim holds up, it did seem to have better low light performance than some competitors.
Our biggest complaint, aside from the short battery life and recording capacity, was that the camera seems to be angled far too highly. On an average sized adult, placing the pen in a shirt pocket resulted in missing almost all the action in front of us. We had to try to place it in our pants pocket in order to achieve a better angle.
While the battery life may be unavoidable due to the compact size, the frustrating oversight of the camera angle severely impacts the usability of an otherwise decent spy camera.
GSmade Full HD 2K Spy Pen Camera
The Spy Pen Camera from GSmade has the best video capabilities of the group. Featuring a function pen clad in textured black material with gold accents, this metal bodied pen felt very sturdy and durable in the hand. It looks very much like an actual pen and only a very keen observer would note that it was anything but.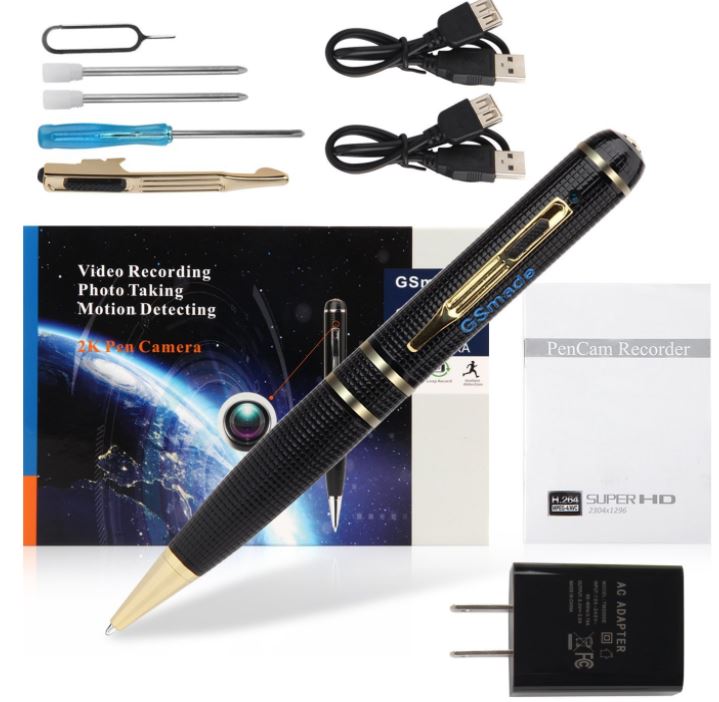 The pen body screws apart to reveal a full USB port for charging and data transfer, although GSmade does include USB extension cables. The pen clasp has a matching black slider to cover up the camera lens for privacy. Also included, a screwdriver can remove the clasp in case you need to discretely place the pen somewhere where the clasp would draw undue attention.
Performance-wise, this is the only camera in the batch to feature more than 1080p resolution. Although 2304 x 1296 may be a very odd size, having extra resolution never hurt. You can also select 1920 x 1080 for standard full HD resolution. Dropping to 1280 x 720 enables smooth 60 frames per second recording as well.
GSmade includes a 32GB SD card in the box, which is a nice gesture. Although this is a larger card, the 380 mAH battery still only enables about an hour of recording time. As one unique feature to this camera, pressing the button 4 times quickly will trigger motion detection mode. This can prove very handy for security or discrete operations where you'd need to leave the pen unattended instead of carrying it with you.
Usage and Performance
While initially excited about the higher resolution camera, we quickly realized it isn't significantly higher. Saying "2K" resolution sounds great, but when you look at the pixel count it's about 20 percent more pixels in each dimension or 40 percent more pixels overall. Most people would be hard pressed to determine the difference by looking at this video side by side with standard 1920 x 1080. Given that most TVs and PC monitors are still not 4K, the higher resolution may not be completely necessary.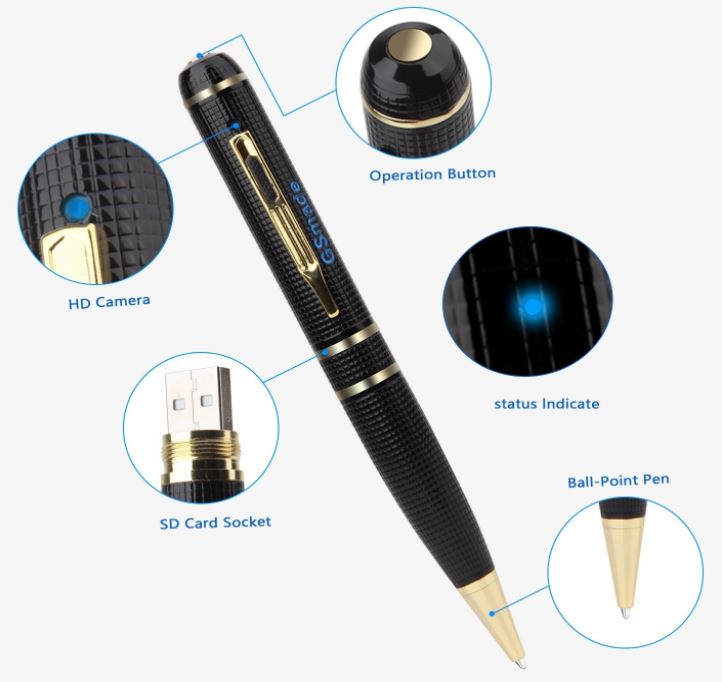 That said, we did find the videos we took to be clear and detailed with quality audio. The camera struggled a bit with fast motion and lower light, but that seems to be a general theme with most spy cameras.
To test the motion detection, we placed the pen on a desk and activated the motion mode. Walking through the office triggered a short recording clip and seemed to work well past the 1 hour battery life considering it didn't need to record constantly.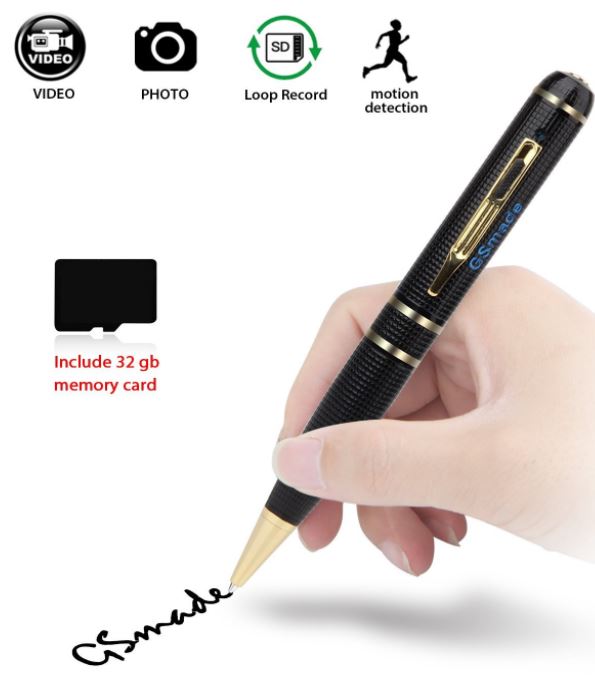 With high resolution, motion detection mode, included accessories, and sturdy metal construction, the GSmade Spy Camera Pen seems tough to beat.
Conclusion
It can be challenging to sort through these and the many other spy pens on the market. As with all comparisons, it's vital to consider the way you plan to use the device before making any decisions.
While the WISEUP device pushes the boundaries of what can be called a "Spy Pen," the wide-bodied design allows for a significantly longer battery life than either option. We seriously question that you wouldn't arouse suspicion with it in your pocket, but if you need longer recording time this may be the right choice.
The PenRecorderPro HD500 definitely looks like a real pen, and although the build quality seems questionable, it did have the best low light performance. The lack of expandable or swappable memory cards isn't ideal, but with such a short recording time it's unlikely to present a problem.
Finally, the GSmade Spy Pen had the highest video resolution as well as the added bonus of the motion sensing mode. Between the two traditional pen-style cameras, this one seemed to have the best features and flexibility even though it shared similar struggles to the HD500's short battery life.
Ultimately, you'll need to choose the best match for your intended use. For our purposes, the GSmade pen struck the best balance of quality and features even if it left us wishing for longer battery life.