Ever since James Bond graced the silver screen, many of us have wondered when technology would get to a point where we'd have a few of Q's special devices for ourselves. If your ultimate goal is a discreet way to record audio and video, you're in luck. There are plenty of great options available.
Spy Pens, visually speaking, are nearly identical to a real pen. But underneath the simple exterior is a collection of hardware that can take surprisingly clear video. Unfortunately, not all spy pens are created equally. Browsing through the options, it can be hard to find out which option is right for you. You can spend a couple bucks on eBay, or you can spend thousands on a high end model. At this point, there is certainly a sweet spot. We've tested dozens of different pens from a variety of sources, and determined which ones offer the best bang for your buck. If you're looking for a discreet way to record video, these four options are the best place to start.
Pen Recorder Pro HD2
With a number of high quality spy pens on the market, it was hard for us to choose which model we liked best. The HD2 is one of the higher end models, with design focused on video quality above all. Once we tried out the HD2, we knew that it offered the modern hardware that isn't always easy to find.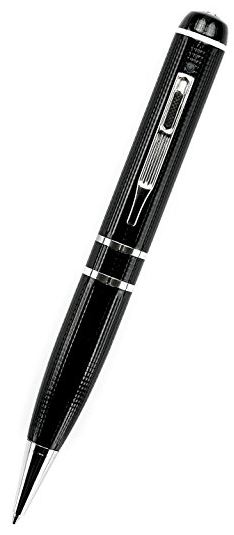 Appearance
The first thing you'll notice about the Pen Recorder Pro HD2 is it's size. It's definitely a little thicker than a standard pen, but the size isn't in any way unusual. A lot of care and attention was put into designing the enclosure. It's got a textured plastic finish, making it feel like more of a premium pen for business uses. The metal clip on the side is particularly appealing, with a combination of ribbed texture and a smooth tip. Many people will be using the pen while clipped onto the pocket, so it's important that the clip looks so stylish.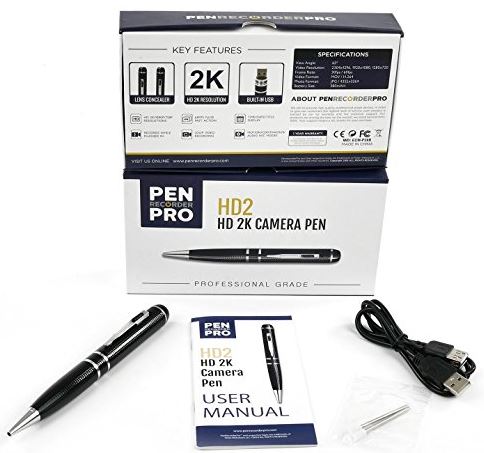 On top, there is a plastic button. It looks like the button you'd use to retract the ink tip, but this button actually starts and stops the recording. The camera lens itself is located right above the clip, and is virtually invisible unless you know what you're looking for. If you are concerned about somebody discovering the purpose of the pen, you can simply flip the switch on the clip to cover it up. Where discretion is concerned, this is one of the best options on the market.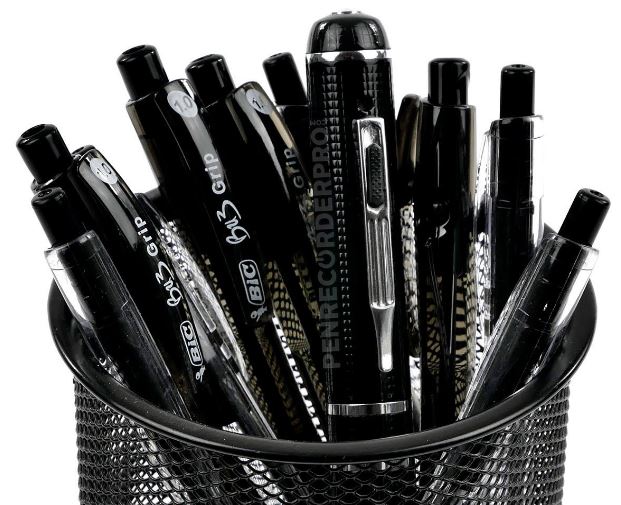 Video and Audio Quality
One of the main reasons we liked this pen was the quality of the video it produced. Despite having such a small image sensor, video is very clear and detailed. It looks like the kind of video produced by a modern smartphone. It's very smooth, and does a great job of articulating small details. The color was a little more conservative. From an artistic perspective, this is less than ideal. But for documenting purposes, the flat color balance is ideal.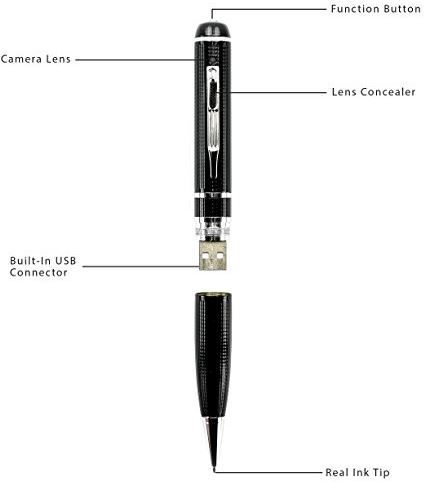 From a technical standpoint, the 2K resolution isn't necessarily a selling feature. Historically, images were graded by the vertical resolution. Full HD video has a resolution of 1920 x 1080. They call it 1080p because there is 1080 vertical pixels. The 2K resolution only means that there are 2000 vertical pixels. Upgrading from 1920 to 2000 is really a very small difference, so the resolution here isn't inherently better than a 1080p. That being said, it's the clarity and smoothness of the video that puts this pen a cut above the rest. Unlike many other pens where you have to manually adjust the video, this one is fully automatic – capturing perfect video with no user input.
The microphone on this pen is surprisingly loud. Even quiet conversations off in the distance can be heard loud and clear. The downside to this is that if you're talking directly to the pen, your voice can be so loud that it distorts. This isn't the ideal choice for those who want to dictate to their spy pens, but if you want to capture sounds from around you it's a great option.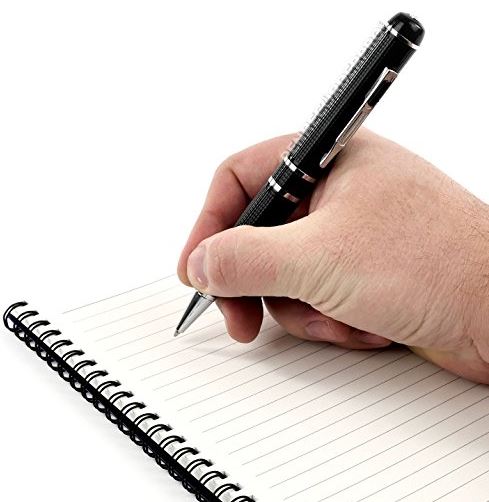 Functionality
The tip of the pen is real, so you can actually write with it. This makes it look very realistic, and can remove any suspicion if somebody were to suspect that you had a fake pen. Pulling on the tip reveals a USB port, which can be used to download your recorded video to your computer.
The included 32GB of storage is enough to hold about 16 hours of high quality video. If you swap to "fast motion" mode, the pen will start recording at 60 FPS. This plays back everything in slow motion, which is a great option if you're trying to record a fast-moving task. What happens if you run out of space? The pen will simply start recording over the oldest video. As long as you download the important pieces once per day (or start / stop the recording) you'll never miss a thing. The battery lasts about two hours at a time, so you'll have lots of opportunities to check out your data while charging it up.
One of the features we liked is the fact that the date and time is encoded right onto the video. This is great for reference purposes, showing you exactly what went on from day to day.
Pen Recorder Pro HD500
Although this spy pen shares many similar features with it's more expensive sibling, there are some differences that make it ideal for those who want more control. The Pen Recorder Pro HD500 lets you tweak tons of internal settings, allowing you to get your video looking exactly the way that you want.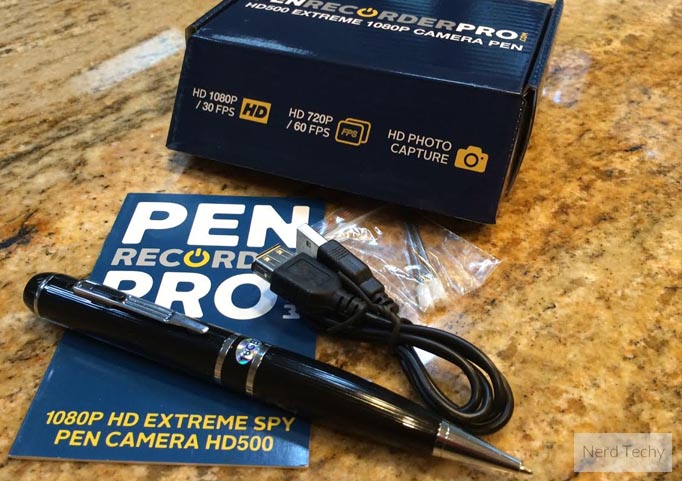 Appearance
Although this pen looks nearly identical to the 2K, there are a few small differences. The enclosure is smoother, and a little lighter. It uses a larger lens, which is visible if you look closely. But the same shutter is included, so you can cover it up when not in use.

Video and Audio Quality
Despite being a lower end model, we were still very impressed with the video quality. While the video certainly isn't worse than the 2K version, the image sensor is designed for a very different purpose. This is a special low-light option. When you're indoors, or even in a darker room with minimal lighting, you still get great looking shots. Video is well illuminated, and there is very little grain. In our tests, we found that the video requires, at minimum, atmospheric light. A single lamp or light through a window will be fine. If you do need to capture shots in near darkness, you can tap the button on top of the pen to take a photo. Still images turn out better in very dark rooms, so that is always an option.
The audio is a little softer, which is great for recording conversations that you're involved in. The general rule of thumb is that if the sound is directed at you, you'll hear it. This means that neighboring conversations won't be audible, but anyone who speaks directly to you will be loud and clear. This is a handy feature to have from a noise cancelling perspective. With sensitive microphones, an environment like a coffee shop can be hard to hear, so this is a great alternative.
When you plug the pen into your computer, you're given a number of settings that you can use to change the sensitivity, color balance, and exposure of your images. This is a great feature to have when you're shooting in really tough environments, and isn't something you'll find in many other spy pens.
Functionality
We got about 70 minutes of battery life out of this spy pen. With 16GB of internal storage, you can fit a little over 8 hours of video. When you stop the video, the pen actually turns itself off. So you're not going to be wasting battery life in standby mode, allowing you to make the most of it.
Beyond that, the other features of this spy pen are the same as the 2K. You get the time stamping, functioning pen tip, and the ability to record in slow motion.
Fuvision 64GB FHD Video Spy Pen
Known primarily for their home security cameras, Fuvision's spy pen was designed using their experience creating high quality, discreet cameras. Although this is one of the most expensive models they sell, it's still very affordable compared to other options.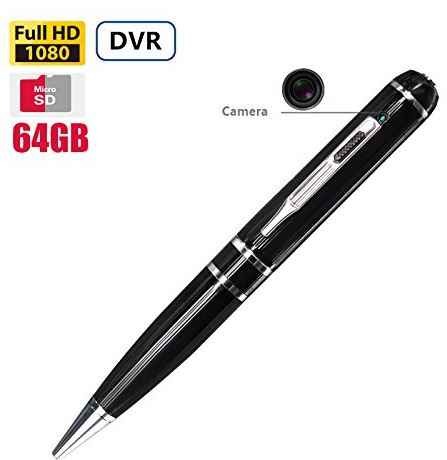 Appearance
When we first pulled the Fuvision 64GB FHD Video Spy Pen out of the box, we were surprised to see that it used the exact same case as the Pen Recorder Pro HD500. But looks can be deceiving. They may share a case, but the internals are very different.
The main difference we noticed was the button on top. With this pen, it's a little more clicky and easy to actuate. The pen tip itself can also be retracted, which is done by rotating the base. It's certainly discreet, but nothing unique. The impressive features are all under the hood.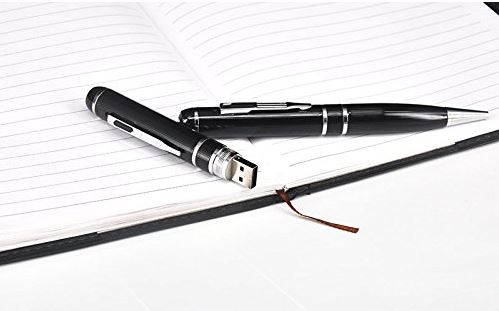 Video and Audio Quality
With a 1080p image sensor, this pen competently captures high definition video. The main advantage to this model is the wide angle lens. You can see quite a bit to both the left and right of the pen, which is a great way to capture the room as a whole. This pen performs best under reasonable indoor lighting, making it ideal for an office or your lecture hall.
The microphone itself is also quite sensitive. We'd compare it to using speakerphone on your cell. Voice is very clear, and it does a good job of "tuning in" to the closest sound around it.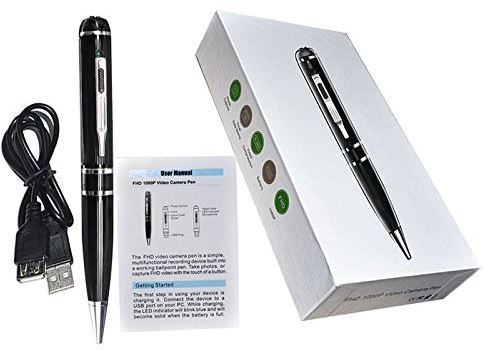 Functionality
The included 64GB of storage seems like best in class, but the video files this pen produces are huge. After about 10 hours of recording, you'll fill up the storage. Fortunately, it's simple to transfer them to your computer. The pen works as a flash drive, so you don't need any special drivers or software to download the data. One handy bonus is the fact that there is a female USB to mini-USB adapter included. This lets you download the data directly to an external hard drive, with no computer necessary.
Ctronics Spy Pen Camera
If you're looking for a bargain, this is the model to get. In this price brack, we unfortunately came across a lot of pens with disappointing performance. But the Ctronics Spy Pen was different. There are a few compromises, but that value you get here is unparalleled.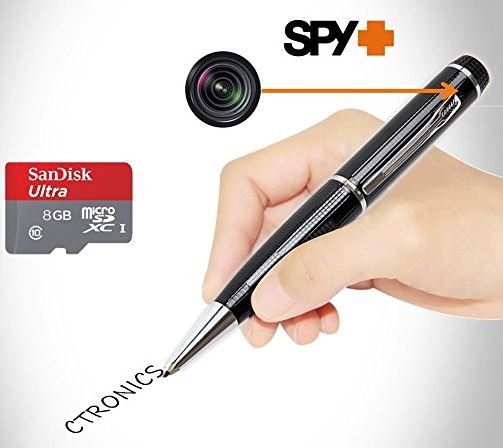 Appearance
Ctronics went for a design that was a little simpler than the competition. The enclosure is smooth, easy to hold, and doesn't stand out. It's very sturdy, and we don't have any concerns about it falling apart. Although you lose the ability to cover the lens or retract the pen, the simplicity could help prevent any unwanted attention from being drawn to it.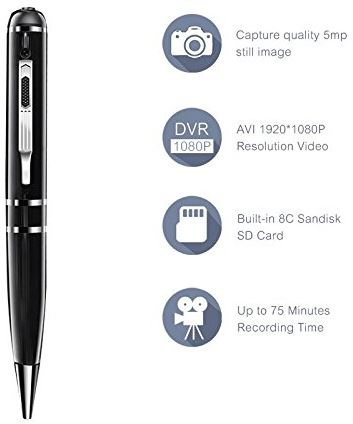 Video and Audio Quality
In a bright, well lit area, you'll have no complaints about the video quality. There are some mild compression artifacts, and really busy scenes lose a little detail. But when compared to the cellphone cameras released on entry level phones, there is definitely an improvement. Audio is mono, but remains quite clear and easy to hear. It's not the best video quality on our list, but considering that this option is nearly half the price we're impressed with how good the video turned out.
Features
With 8GB of storage and an hour of battery life, you've got everything you need to get started right from the moment you take it out of the box. But if you find that you need more storage space, there is a build in Micro-SD card slot that lets you expand it up to 32GB.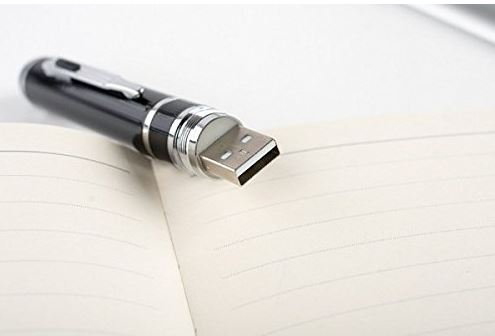 The pen can record in both 1080p at full speed, or 720p in slow motion. You choose the video speed by pressing the button in a certain way. First, you turn it on by holding down the button for 2 seconds. A blue light on top will come on. From here, you can give it a quick tap to record in 720p. The light will go off, and the recording will start. If you were to hold the button for 3 seconds, you'd then start recording in 1080p. It's nice to have this feature available without changing any settings from your computer, making this an ideal choice for anyone who will be away from the computer.
Which Spy Pen is Right for Me?
For most users, any of these four options will serve their purpose well. But there are a few small differences between them that could make a bit of difference.
For basic use in a well-lit room, the Ctronics Spy Pen is a good place to start. The video quality is acceptable, and the microphone is sensitive enough to record conversations. It comes with 8GB of storage, but you can expand this if necessary.
If video quality is important to you, then you'll want to get something with a better image sensor. There are two options, each of which is designed for a different environment. In bright lighting, the Pen Recorder Pro HD2 is a fantastic choice. It's got the most modern sensor of any pen on the market, and the clarity of video is unparalleled. The microphone is extremely sensitive, making it a good option for those who want to record their environment without engaging with it.
If you're in a dark room, the Pen Recorder Pro HD500 is a better choice. It's got an image sensor that is designed to work best in low light. This option will produce great looking video in environments where other models wouldn't capture anything.
For anyone who's going to be away from their computer for a long time, the Fuvision 64GB FHD Video Pen Spy Camera is a worthwhile purchase. It's got more storage than any other model available, and still produces great looking video.