Whether you're building your own PC for the first time or you're an experienced veteran, you likely know how important thermal paste is. Thermal paste is the goo that goes between your CPU and it's cooler. It doesn't matter if you have the most advanced phase-change or liquid CPU cooler on the market; if your thermal paste is poor quality of applied incorrectly then it will not work.
Of course, thermal paste isn't just used for desktop CPU's. Many enthusiasts use it to re-grease their laptop graphics cards, or install a little extra cooling on their Raspberry Pi. No matter what your experience level or intended use, we've gathered up the 5 best thermal pastes for every purpose.
How We Test Thermal Compounds
Your thermal paste has one simple job – transfer heat between your chip and the cooler. But how well it does this depends on a few factors. First, you need to spread a thin, even layer. So we had to test each compound to make sure it was easy to spread effectively, so you don't end up wasting your paste or applying it ineffectively. Next, we'll test temperature stability. Some compounds transfer heat better at specific temperatures than others. This means that you can get stuck in a heating/cooling loop where your temperatures tend to bounce around. Finally, we'll take a look at the average CPU temperature after application. We've already measured ambient air temperature, so we'll show you the change in both processor and graphics card temperatures with each paste. Measurements will take place while running a benchmark, so you get an idea of the performance under load.
Arctic Silver 5
This paste has been on the market for a long time, helping enthusiasts overclock their CPU's since the 90s. Arctic Silver 5 is actually one of the few thermal pastes on the market that still contains silver. While this is excellent for heat conduction, it's not necessarily the easiest to spread in the world.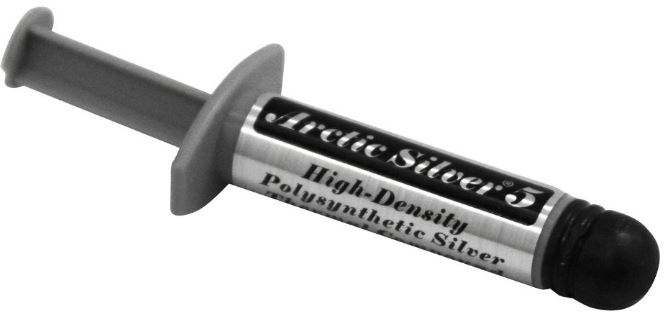 Application
According to the directions, you need to seal it in a watertight pouch (we used a zip-lock bag) and heat it up to around 120 degrees Fahrenheit. This can be done pretty easily on the stove, but make absolutely sure that it is completely dry when you remove it. The last thing you want is to drop water no your expensive new motherboard.
Once heated, it was reasonably viscous. Not too thick, not too thin, right in the middle. It takes a few tries to get the thickness exactly right, as the paste has a tendency to streak and become uneven. It might take a couple tries, but you'll be able to get it right without too much hassle.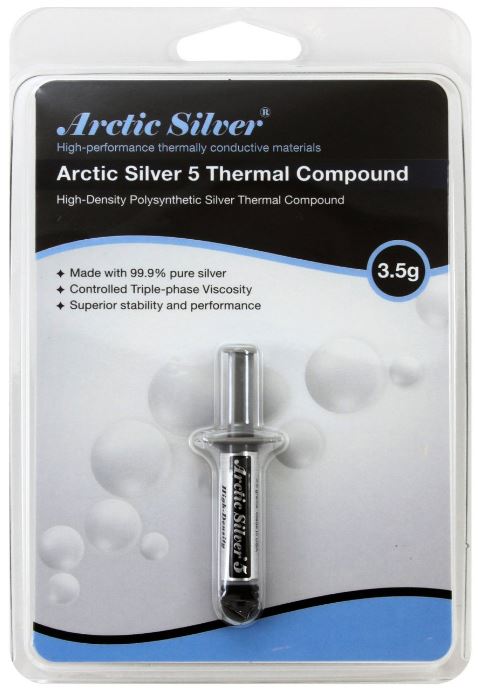 Performance & Stability
Coming in as one of the most expensive pastes on the market, we certainly expected a lot from this one. With our CPU benchmark, we saw an increase of 37.7 degrees Celsius. For the graphics card, the temperature rose 69.5 degrees. Temperatures were stable in all measurements. Nothing overheated, so that's a good sign. Let's see how the rest compare.
Arctic MX-4
It's worth noting that "Arctic Silver" and "Arctic" are two completely separate brands. Although Arctic doesn't have quite the history of other brands, they've quickly positioned themselves as one of the leading manufacturers of high end thermal paste. Arctic MX-4 their current top-end offering.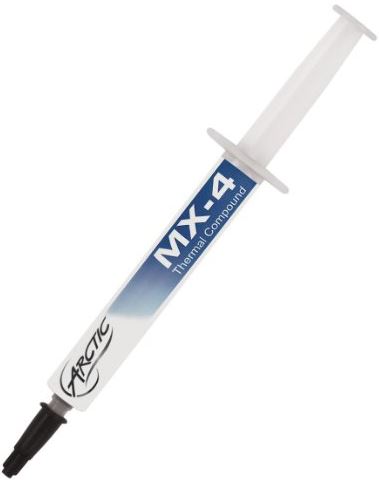 Application
There was no special preparation required to get this paste on, although it is quite thick and viscous. This is not something that you'll be able to spread, and the manufacturer recommends doing the "Lentil Ball" method. Basically, you just plop a bit of paste on the center of the CPU, then push down your cooler, and give it a couple twists. It's extremely important that you use enough to cover the center where the CPU cores are, so be generous.
Performance & Stability
Aside from the application challenges, this paste cooled very well! The CPU temp rose 36.9 degrees, with the GPU rising 67.5. What's more impressive was that temperatures were completely stable, making this an excellent performer.
Noctua NT-H1
This company normal specializes in high end CPU coolers, so it would only make sense that they tried their hand at making a paste.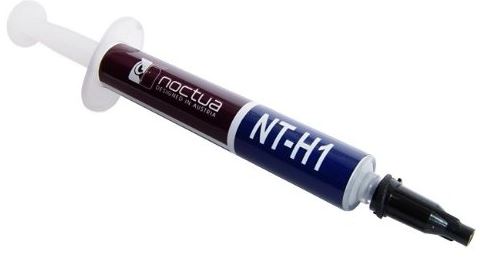 Application
Noctua NT-H1 is a very thick, dry gray color. You're certainly not going to be able to spread this anywhere, so you'll want to try the lentil method we described above. Since it's such a dry paste, we figured it would be challenging to get this to spread evenly, but the lentil ball method was simple. We'd even recommend this paste for beginners. After checking carefully to verify that we had adequately covered the entire CPU core, we fired up our benchmarks to see how the temperatures looked.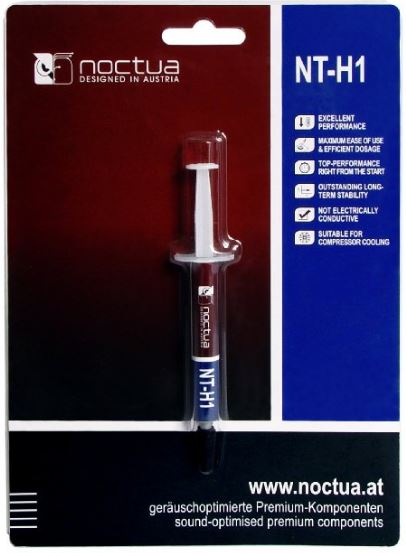 Performance & Stability
At first glance, it seemed that this paste was going to surpass the Arctic MX-4. By the end of the benchmarks, we'd reached 37.1 degrees with the CPU and 68 degrees for the GPU. At many points, the temperatures were actually lower than we'd seen before. But temperature fluctuations averaged 15%, so the peak temperature was a little higher.
Cooler Master High Performance Thermal Paste
After manufacturing a variety of coolers and cases, Cooler Master decided to get in on the thermal paste trend and see they could get a foothold. Despite the market being incredibly crowded, Cooler Master High Performance Thermal Paste was surprisingly popular. The affordable price likely helped with this, but can it stand up to the higher end pastes?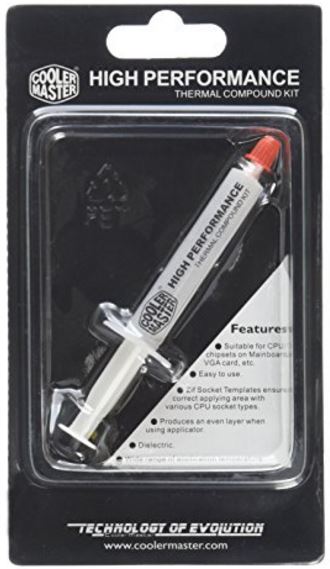 Application
This is one of the easiest pastes to apply that we've tried yet. It's as fluid as you can get without leaking everywhere. The paste comes out looking like glue, and easily spreads evenly over the surface area you want. It doesn't have a tendency to streak or glob up, it just settles into a nice smooth layer the perfect thickness for cooling.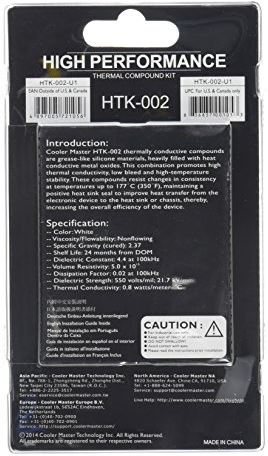 Performance & Stability
After running our benchmarks for a while, we noticed that the temperatures were a little higher than we'd been used to seeing. The GPU topped out at around 76.5 degrees, and the processor saw an increase of 39.1 degrees. For our applications, these temperatures were acceptable. However, this will probably not be an acceptable level of performance for enthusiasts. We can't blame the peak temperatures on instability either, as this paste was just consistently not as efficient at cooling.
Cooler Master Icefusion
We've already introduced Cooler Master, but their Icefusion paste is in an entirely different class. This is certainly a "quantity over quality" bargain, as this paste is less than half the price of other brands. What kind of performance can you expect when you buy the cheapest stuff on the market? Let's take a look.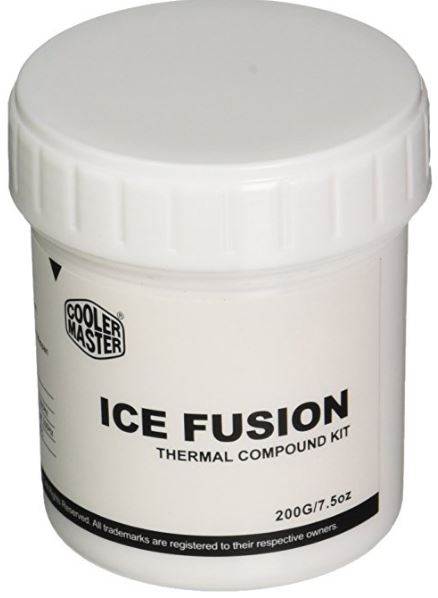 Application
This paste doesn't come in a tube. Instead, it's in a comparatively large jar that you have to scoop out manually. We used a spreader that came with another brand, but you could get away with a plastic knife or similar. As long as you're scraping metal against your delicate chips, anything will work. Despite the lack of a tube, we found this paste incredibly easy to apply. Lentil ball method worked perfectly as usual, giving us a nice smooth circle that covered the entire cooling area. Once again, we would happily recommend this paste to beginners.
Performance & Stability
Given the price, performance was as you'd expect. Our CPU temperature rose 39.7 degrees, and the GPU 79.5. Most of these spikes were due to instability, indicating that this paste actually keeps things a little cooler most of the time. Normally, we try to avoid any kind of spikes. However, in this circumstance it's not as big of a concern. Temperature instability is bad news if you're going to be overclocking or pushing your computer to the limit, as you'll often be pushing as much heat as possible without overheating. But since this paste isn't designed for that, we just want to make sure that the average temperature stays reasonably cool, which this paste allows for.
So, Which is the Best Thermal Paste for You?
With so many possible applications and conditions, selecting the best thermal paste is not a simple procedure. Depending on your needs, any of these pastes could either be a great buy or a waste of money. First, let's look at the factors that could influence your decision. Then, we'll break down all of your usage scenarios into categories to help you find the best one.
The first thing to factor in is your level of experience and comfort installing paste. If you haven't spent much time inside a computer, you're not likely going to want a complicated installation procedure. Even the best thermal paste in this list will perform worse than the cheapest one if applied incorrectly, so your level of comfort is an important factor.
Next is the quality of your cooling system. If you have a very high end cooler, such as a liquid or high performance air cooler, you'll be able to pull more heat away from the CPU. This way, you'll naturally get more performance out of every thermal paste on this list.
How you use your PC is also something to consider. If you're going to be overclocking or using demanding programs such as games, you'll be pushing the boundaries of your hardware and temperatures become extremely important. If you're overclocking, the temperature will be the deciding factor of how far you can go. Once temps get too high, your computer will start crashing. So in these situations, the cooler the better. Even if you're not overclocking, your CPU will throttle down to reduce temperatures, so your thermal paste has a direct impact on the performance of your computer.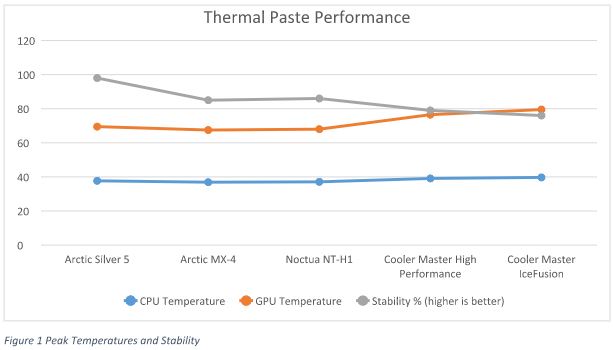 If you're experienced and plan to overclock, then Arctic MX-4 or Arctic Silver 5 would be great choices. Arctic Silver 5 didn't perform quite as well in terms of peak temperature, but the stability was the best around. This means that you will be able to smooth out those temperature spikes, and push your computer to the limit. This makes it ideal for applications with water cooling or some other high performance cooling system. If you're on air, then every degree helps, and Arctic MX-4 would be a better choice.
If you're inexperienced and want a high performance paste, you'd be happy with the Noctua NT-H1 thermal paste. The performance was still on par with more expensive options, but it's ease of installation and excellent cooling properties make it a natural choice. To really get the most out of this paste, you'll probably want a higher end air cooler or water cooler. There is no reason you can't use it with the stock cooler, but you're not going to be able to make the most of what this paste can offer.
If you're inexperienced and don't necessarily need high performance, then the Cooler Master High Performance paste is an excellent and affordable choice. This is ideal for somebody who just needs to replace the paste on their GPU or CPU, and doesn't expect any additional performance boosts. It's just as good as stock paste, and so easy to apply that you simply can't mess it up.
For bulk use or non-PC applications, Cooler Master's Icefusion paste is an incredible bargain. Whether you're taking apart customers PC's or just trying to cool off your raspberry pi, this paste performs acceptably as long as you don't expect anything out of it that you wouldn't get with stock paste.