Having a powerful PC is a great experience. This is true for gamers and professionals alike. Gamers want a big PC that can hold all the highest quality components and run new games well. Professionals need something that can run all their programs flawlessly to maximize workflow. One issue that both experience is a lack of desk space to hold their computers as they increase in size. To fix this, a unique option is the under-desk computer case mount.
What is an under desk computer case mount?
An under-desk computer case mount is a mount that holds your entire computer case under your desk. They have a design that holds it vertically and out of the way.
How do they attach?
These devices are attached to the bottom of your desk via screws, typically. Most have a bracket you attach to the desk with four screws, and then a strong bolt secures the bracket to the mount surrounding your computer.
Will an under desk case mount hold a heavy computer?
Yes, it really will. These mounts are designed to hold up even the most modern and bulky computers out there. That said, it's always important to check the weight capacity of any bracket before actually buying one. Compare that with your computer weight and make absolutely sure that it will work.
Will it cause cooling issues?
They could, but they probably won't. These brackets are designed to hold the computer upright, just as if it were standing on top of your desk. The only way it could have any issues is if you have a ton of air intake through the top of your case. Even still, very little of it will ever be completely covered, so you probably won't have any noticeable issues.
Are there any features to look out for?
Yes, there are some features you should pay attention to. The first is the actual design and aesthetics. A good mount needs to either blend in or complement your PC build. Otherwise, it will stick out like a sore thumb. Next is PC compatibility and strength. Knowing how big your PC is (dimensions and weight) is crucial to make sure that it will actually work to hold up your computer. Next, check out how hard it will be to set it up and attach it to your desk. Finally, see if there are any specific differentiating bonuses that you can find that may make you want one over another when making a buying decision.
Best Overall: VIVO Adjustable Under Desk PC Mount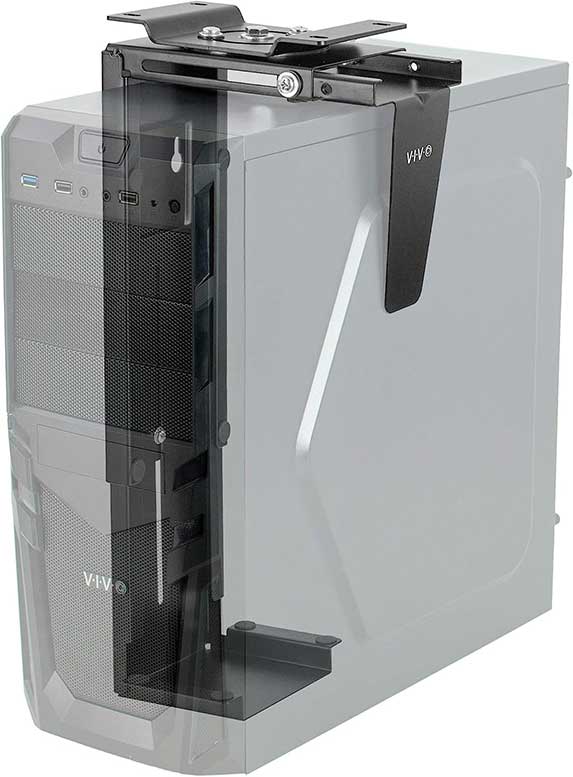 Key Features:
Two Color Options
22 Pound Weight Capacity
Steel Frame
The best overall is the VIVO Adjustable Under Desk PC Mount. This mount has a great design that holds your computer in place on all four sides. Aesthetically, it's nice because it has two options for colors. You can either get black or white. This allows it to more easily blend into your setup and your case depending on colors.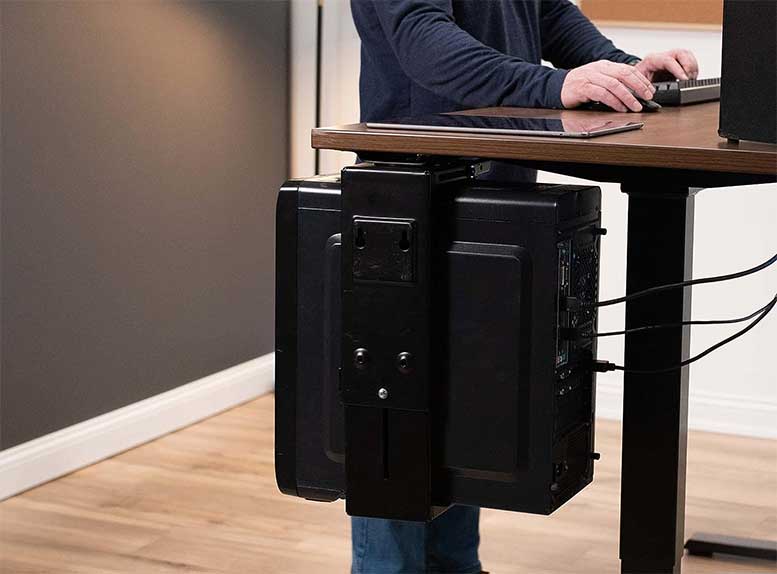 As for computer compatibility, your case and components must weigh 22 pounds or less in order to be safe in this mount. The height can be adjusted on the mount between 11.5 and 20.5 inches. Additionally, the width can be adjusted between 3.5 and 7.8 inches. This is a super strong mound as it's made entirely from steel.
To mount this to your desk, all you need to do is screw the top bracket into the bottom of your desk. There are a few parts to put together, but overall it isn't too bad. There is also compatibility to mound this to the side of your desk if you prefer that method instead.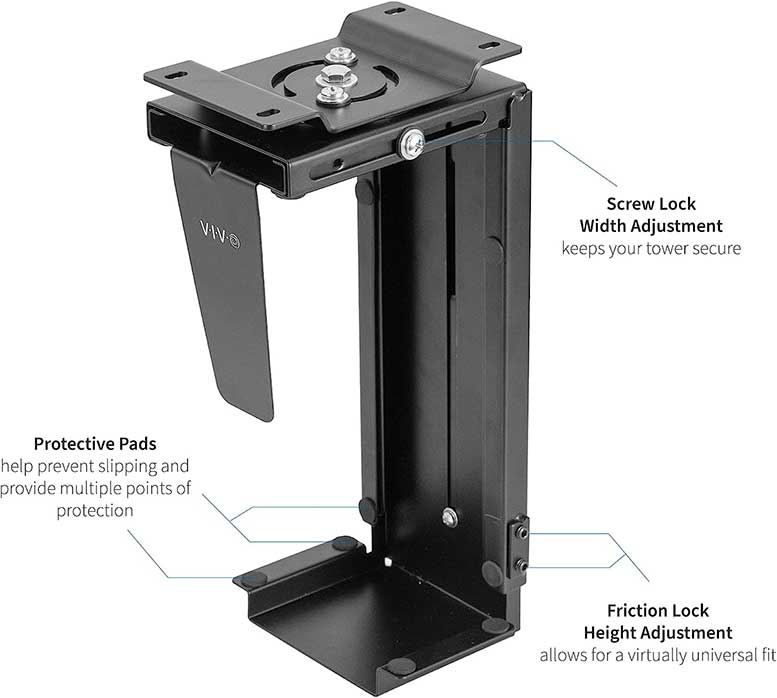 One nice additional feature of the VIVO is the internal padding on the mount. This protects both your case and the mount itself from becoming scratched while in use. This is great since you always want your setup to look as good as it possibly can.
Pros:
Internal padding
Holds up to 22 pounds
Adjustable height and width
Cons:
You may want to replace the screws it comes with to ensure maximum strength
Best Runner-Up: HumanCentric Adjustable Under Desk PC Mount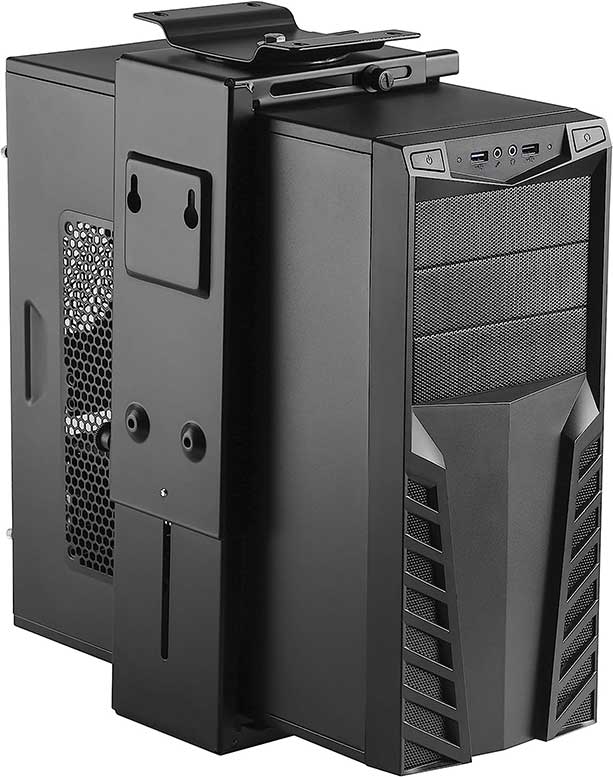 Key Features:
Four Points Of Contact On Your Case
Holds Up To 22 Pounds
Steel construction
A great runner-up choice is the HumanCentric Adjustable Under Desk PC Mount. Honestly, it shares a lot of the same design and features as the VIVO. It's only available in black, which isn't a big negative. As for the actual design, it holds your case through four points of contact.
This mount can handle PC cases up to 22 pounds. It's also adjustable for both height and width. The height can be between 12 and 21 inches, while the width can be set to 3.5 to 7.75 inches. This allows it to easily fit most computer cases out there.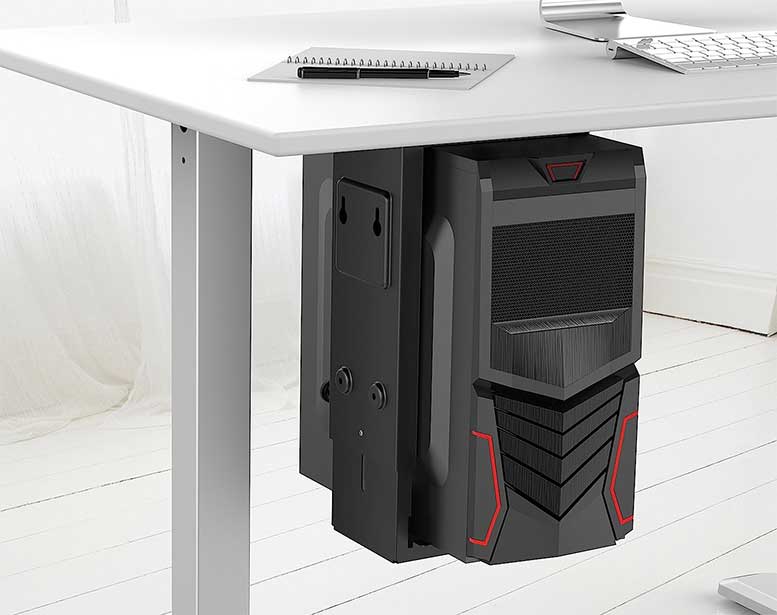 Setting up is also pretty easy. You simply attach the top bracket to the bottom of your desk with four screws and then hang your mount onto that. Additionally, you can hold it on the side via two screw holes, so you have some options. The mount itself only requires a bit of setup before you can use it.
Similar to the VIVO, the HumanCentric comes with internal padding to protect it and your PC. That, paired with its strength, adjustability, and ease of setting up, make it a great mount to consider for your under desk case mounting needs.
Pros:
Can support 22 pounds
Versatile height and width adjustments
Solid steel frame
Cons:
It may have issues holding the biggest cases on the market
Best Budget: 1home Under Desk PC Mount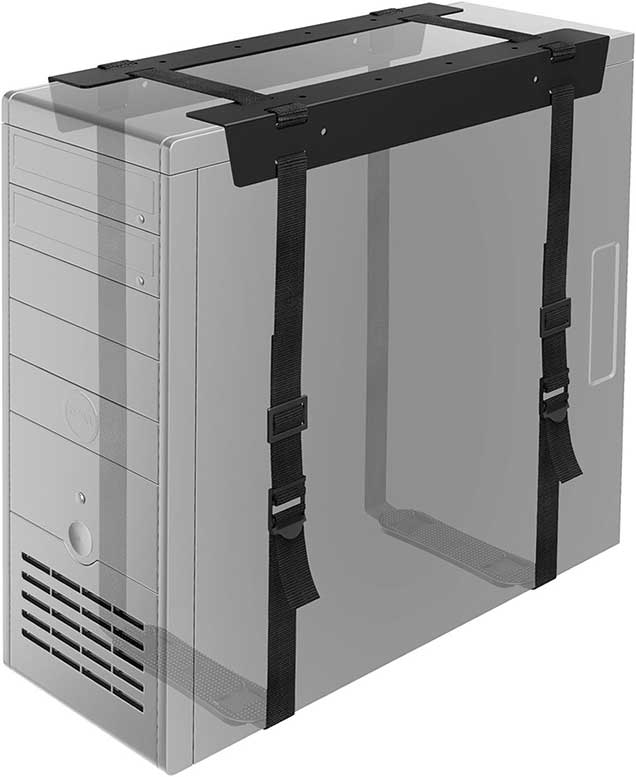 Key Features:
Unique Platform And Strap Design
Holds Up To 44 Pounds
Alloy Steel And Polycarbonate Construction
If you're looking to mount your PC under the desk on a budget, then you should go with the 1home Under Desk PC Mount. This mount has a unique design that works really well. It has two top brackets that attach to your desk. These brackets are then connected via two straps that keep everything in place on the sides and the bottom via built-in padding.
You may think that this design could be weak. However, it isn't. This mount can hold up to 44 pounds (more than twice as much as other alternatives). The straps also make this a very customizable mount for sizing. The height can be set between 2 and 31.5 inches, while the width can be between 3 and 30.3 inches. All of this makes it a very versatile mount.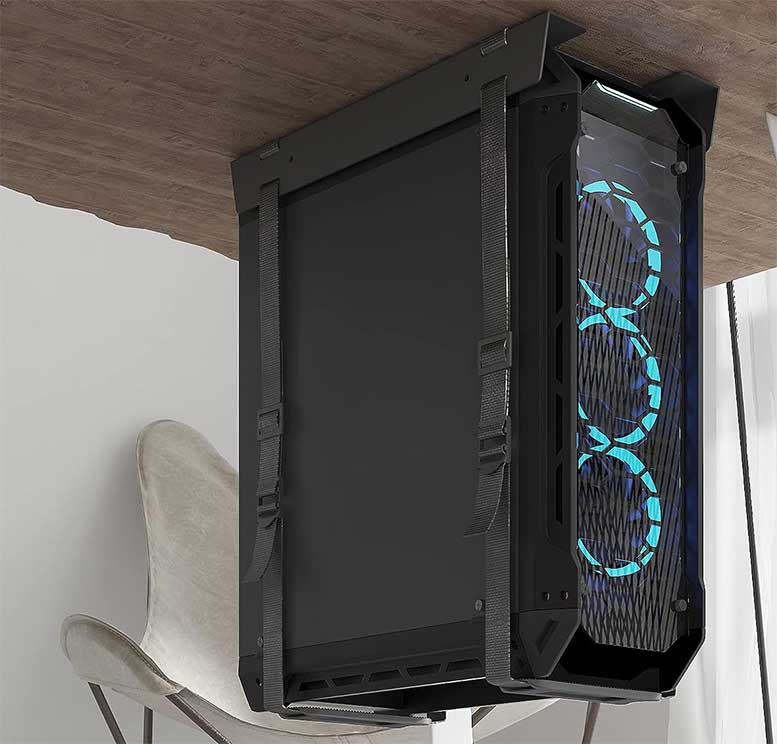 It's also extremely easy to set up. All you really need to do is attach the top brackets to your desk and loop the straps around the entire bracket system. Then all that's left is to put your PC inside.
Overall, even though this is a budget option, its functionality isn't lacking. The 1home Under Desk PC Mount is easy to set up and super strong for virtually any PC you could want to put inside of it.
Pros:
Strong design to hold up to 44 pounds
Simple to set up
Flat mounting to the bottom of your desk
Cons:
The strap design can allow for the PC to sway if you move your desk a lot
Best for Standing Desks: Stand Up Desk Store Adjustable Computer Tower Holder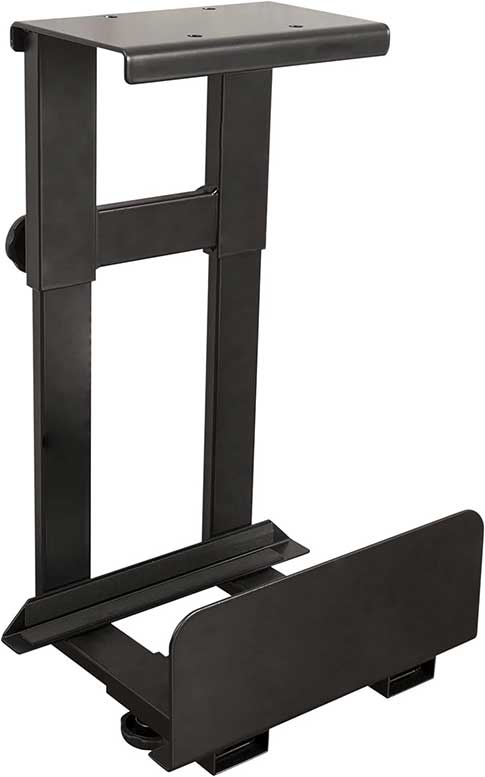 Key Features:
Large Tray Design
Holds Up To 30 Pounds
Made From Powder Coated Steel
If you're someone who works at a standing desk, then the Stand Up Desk Store Adjustable Computer Tower Holder is for you. This mounting system features a large tray that holds your computer case well and keeps it from shifting around. It's available in a black color to help it blend in with most workstation computers.
This mount can hold a maximum of 30 pounds, which is pretty middle-of-the-road for computer mounts. Its width is adjustable to 5.25 to 9.25 inches. Its height is adjustable between 15.5 and 19.5 inches. These are a bit limited, so you won't likely be able to fit higher-end gaming PC cases in this mount.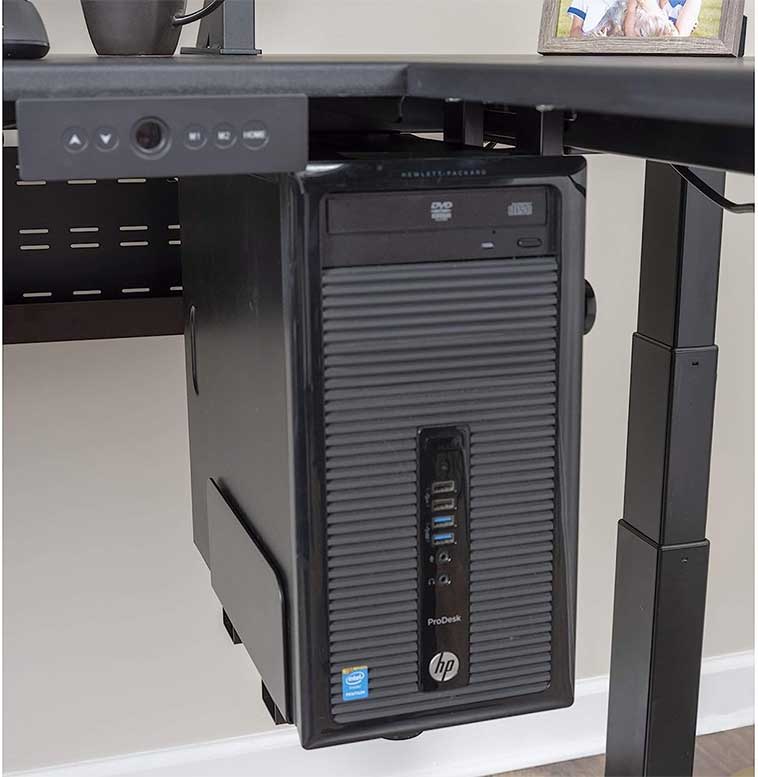 Setting the mount up is easy. It's designed to screw a top mount into the bottom of your desk. This mount also has a lip on it, so you can hook it around different beams or brackets on the desk itself for added strength and security.
Similar to other choices on the list, this mount has internal padding to protect everything while in use. This is especially nice when used with standing desks since they're constantly moving. Overall, this is a great pick for standing desk users.
Pros:
Ideal for standing desk setups
Plenty of padding to keep your computer safe
Holds up to 30 pounds
Cons:
Width and height adjustability leaves a bit to be desired
Best Heavy-Duty: VIVO Heavy Duty Adjustable Under-Desk PC Mount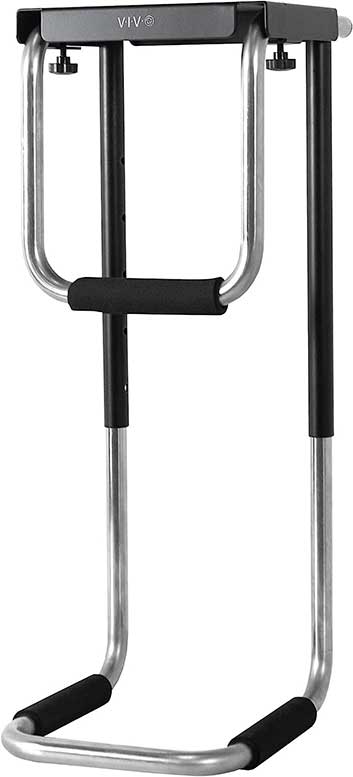 Key Features:
Bracket And Pipe Design
Holds Up To 66 Pounds
Sturdy Steel Construction
If you need the most heavy-duty option on the market, then go with the VIVO Heavy Duty Adjustable Under-Desk PC Mount. This mount has a different design from the rest. The main frame that holds the computer is all steel pipe. There is plenty of it on all sides, so your computer is able to sit nicely inside.
A heavy-duty mount needs to be strong and able to hold a lot of weight. This one doesn't disappoint, as it can hold up to 66 pounds. This is by far the strongest option on our list. Its frame is also adjustable, with heights ranging from 14 to 22 inches and widths ranging from 5 to 10 inches. This, along with the weight capacity, makes it ideal for even the biggest gaming rigs.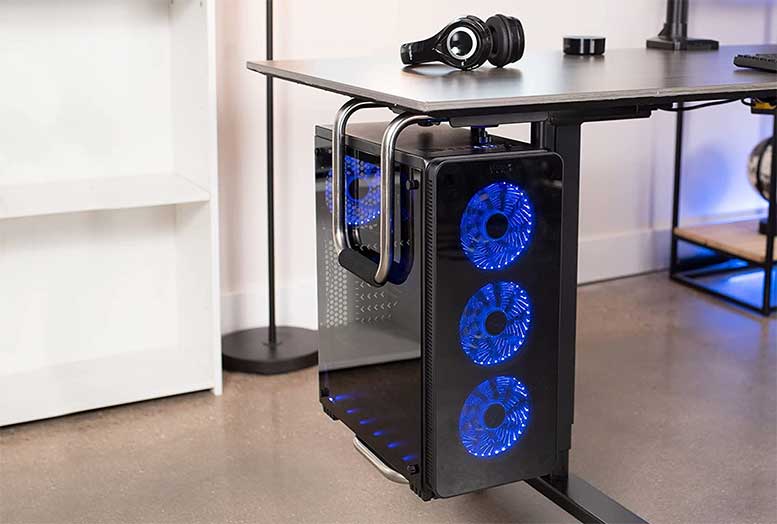 Setting this mounting system up is a breeze. All you really have to do is screw the top bracket into your desk and then attach the metal pipe frame to it. With its design, it also makes it optimal to still receive plenty of airflow.
Since this mount has round piping to hold everything in place, there needs to be something extra to keep things secure and safe. To do so, VIVO has included plenty of padding around multiple points of the frame. This keeps even the biggest rigs from moving around and getting damaged.
Pros:
Holds up to 66 pounds
Lots of padding
Easy to set up
Cons:
Some reviewers note that the height and width adjustment taps seem a bit flimsy
Best Alternative: EUREKA ERGONOMIC Under Desk Mount Computer Holder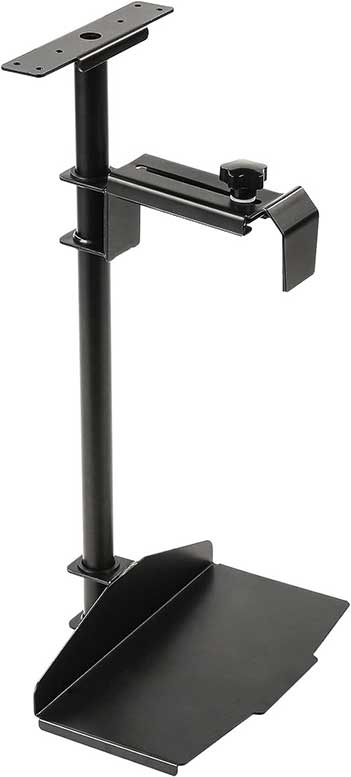 Key Features:
Pipe And Tray Design
Holds Up To 44 Pounds
Carbon Steel Construction
A solid alternative option is the EUREKA ERGONOMIC Under Desk Mount Computer Holder. This mount is a bit different than the rest. It features a single pipe that gets attached to your desk. Then, a top and bottom bracket secure to it and hold your computer case in place.
At first look, this does look like it will only work with smaller PCs. However, it has a weight capacity of 44 pounds, which is one of the strongest on the list. It's also adjustable, with widths ranging from 6.25 to 10.25 inches and heights ranging from 5.125 to 20.875 inches. Both the top and bottom brackets are also able to swivel 360 degrees, so you can put your case wherever you want it.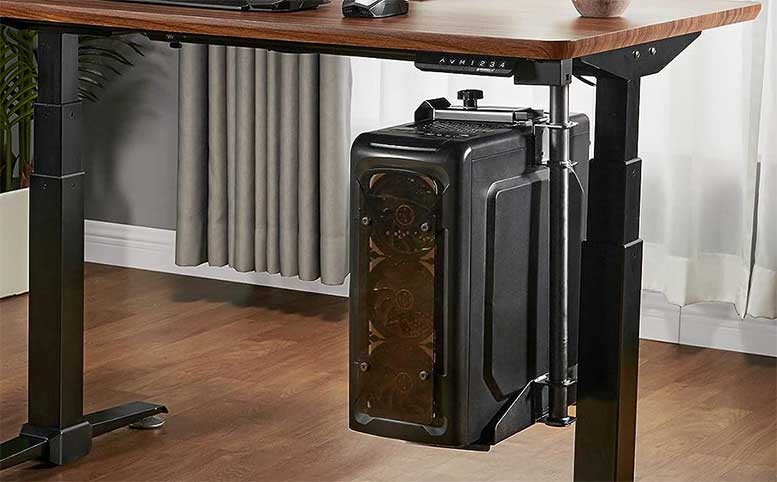 Setting this mount up isn't a difficult task. There is a small metal top that gets screwed directly into your desk, which then holds the pipe and other brackets. The top and bottom brackets both slip onto the pipe easily. Then, just set the height and width and get your PC case inserted.
Overall, as an alternative option, we really like this mount. It's capable of holding a lot of weight and is pretty decent at adjusting to whatever size your case is. Also, the 360-degree swiveling capability is a nice touch.
Pros:
Swivels 360 degrees
Second highest weight capacity on the list
Carbon steel makes it extremely sturdy
Cons:
A lip on the bottom bracket would be nice to make sure the case doesn't accidentally slip off