What's the difference between one USB cable and another? More often than not, quite a bit. Adapters, extenders, and similar cable equipment can wreak havoc on your signal. We all wish these things were as simple as "does it work", but in practice, things are usually a bit more complicated.
Luckily, they're getting simpler. USB-C is becoming a new dominant standard. It can move video, audio, raw data, Internet signals, power, and more. That means people adapting their older stuff from older standards, like VGA, can do almost all of that adaptation through USB!
Choosing a USB-C to VGA Adapter Cable
But choosing the wrong adapter can have consequences in performance, either immediately or in the long term. The second category is something people may not be familiar with. A poorly built adapter ends up wearing-down far quicker than it should. Humidity, corrosion, heavy use, these sorts of things can make your adapter worthless before you realize.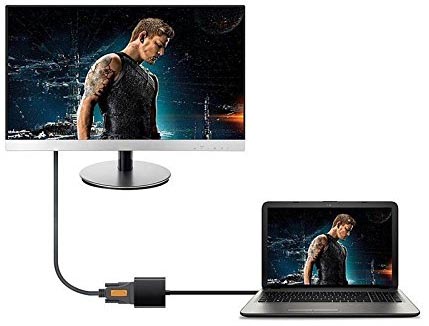 A Basic Background
USB-C is phenomenal. It'll send data at high speeds, communicate audio information, video information, and everything else necessary for a truly universal standard. Moreover, the most recent version of USB, USB 3.1, provides connections with 10 Gbps of bandwidth. And because of how its constructed, USB-C has in problem communicating to several different video signals simultaneously, including HDMI, DisplayPort, and VGA.
But when you're adapting VGA to USB-C, or vice versa, those properties are going to be washed down to the level of the lowest common standard between the two technologies. In other words, you don't need to worry too much about USB-C features because your video signal is ultimately going to be moving through VGA. One noteworthy exception is USB-C with support for Thunderbolt 3. That provides 40Gbps bandwidth and reductions in power consumption, which is ideal for MacBook Pro and similar devices.
VGA ports are relatively simply 15-pin connectors, used on a variety of monitors, video cards, and HDTVs. The format was first introduced in 1987. Though it continues to see use, it was superseded by the DVI format in 1999, which was later replaced by HDMI. Needless to say, the format has its limitations. Most noteworthy perhaps are how its compresses RGB information, and its inability to separate audio and video signals.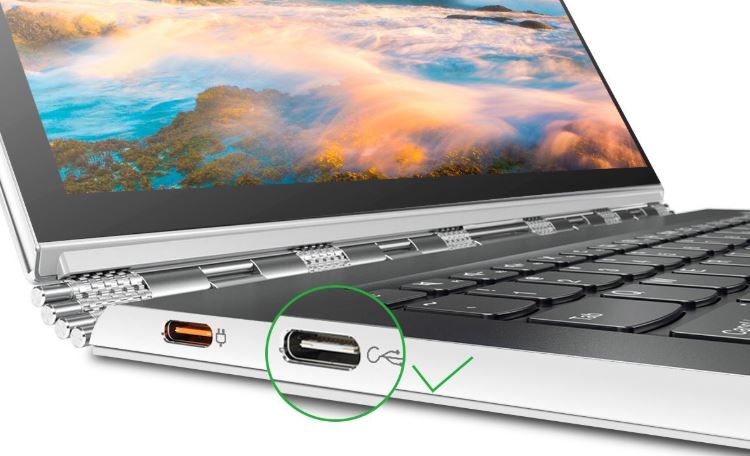 Overall Video Quality
Anytime you're moving data across an adapter, there's a risk of your video quality becoming damaged, scarred, or otherwise diminished. It's an inevitable aspect of copying the signal from one format to another. Imagine you took a black and white photo, and then ran it through a fax machine. Little distortions may work their way into the transmission. And what happens when you fax the same image, over and over?
Essentially the same thing is occurring within adapters. If you're using a common 1080p panel, then you're not going to have to worry too much about these kind of issues. You can't totally ignore them and choose an adapter blindly, but it's worth keeping in perspective that your 1080p content isn't going to be easily demolished in the way other high-bandwidth adapters might. VGA simply can't carry that much data to begin with.
Build Quality
The quality of a USB-C to VGA adapter matters, to the extent that any variety of things can cause harm to the quality of your signal. Loose connections can be as bad as cables which are outright broken. The thickness of the cord used in an adapter is generally a pretty good guide for its overall durability.
One more thing to look out for is a reversible design. It allows the adapter to be flipped or revolved for easier operation, which is great for setting up your equipment quickly. It seems like a small convenience, but for anyone who's using the USC-B to VGA adapter in a portable capacity, that small convenience can be a huge timesaver.
The depth of each connection head is another thing to keep in mind. When you're trying to attach cables together, a USB-C to VGA adapter has the potential to block-out other ports on your devices. Low-profile connection heads can help you get around that problem.
Compatibility and Capacity
VGA adapters tend to be fairly universalized. The way these types of adapters work is by communicating with driver software within a device. Most cable developers design their adapters around drivers which are widely used on several platforms. However, not every platform is the same, and sometimes adapter cable developers build around non-generic drivers.
In other words, your stuff may or may not work, and there may or may not be an extra installation step. It all depends on the adapter you choose. For the most part, compatibility isn't difficult to find. But it's not something you can assume on the basis of the adapter being able to attach to your devices. And if there's going to be some added steps, it's better than you know about it ahead of time.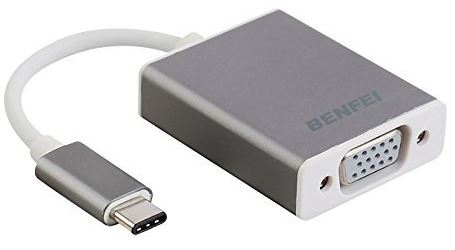 Benfei USB 3.1 Type-C to VGA Adapter
The Benfei USB-C 3.1 to VGA connector is about as basic as these types of adapters can get. It's available in black and white, to better match the aesthetic of your current devices. And it supports the 1080p 60Hz content that can be pulled through a VGA connection, which of course does not include audio. For transmitting content from tablets or laptops to larger panels, it's a widely equipped.
Build Quality & Specifications
The end of the adapter measures 2.4 x 1.1 x 0.50-inches. That's relatively slim compared to the bulky VGA adapter ends many of these types of cables use. The cabling of the adapter runs 7.7 x 1.1 x 0.5-inches. The VGA end of the adapter is composed of ABS plastic, while the shielding around the wire is more standard for these types of cables.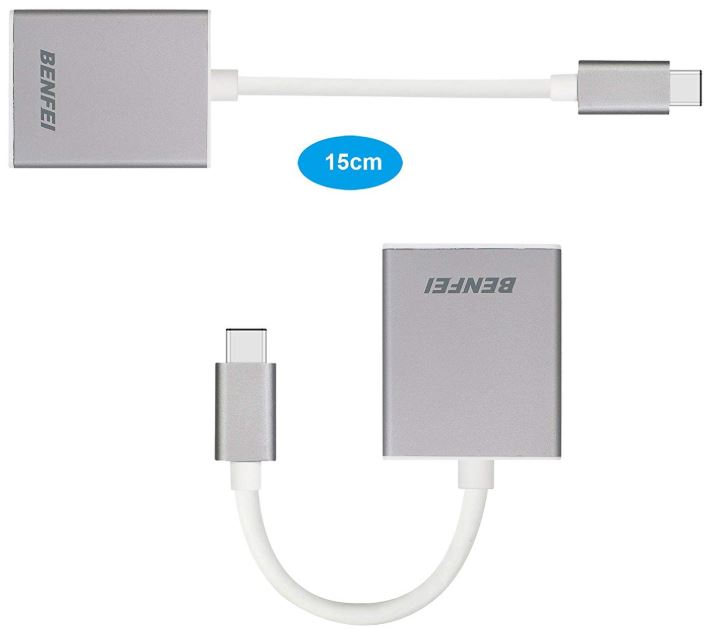 Perhaps most importantly, the gold plated connections ensure this adapter will be operational for at least as long as the USB-C standard is in use. And the fully reversible design allows you to easily insert the Type-C connector into any Type-C device. Even in dark rooms, it's pretty simple to find the right orientation of the cable and get everything in position.
Other Considerations
If you were unaware, the USB 3.1 standard is backwards compatible to USB 3.0 and 2.0 ports as well. That makes it quite easy to adapt a monitor for use on any number of portable devices. This adapter is compatible with Windows and Mac alike. And Benfei includes an 18-month limited warranty.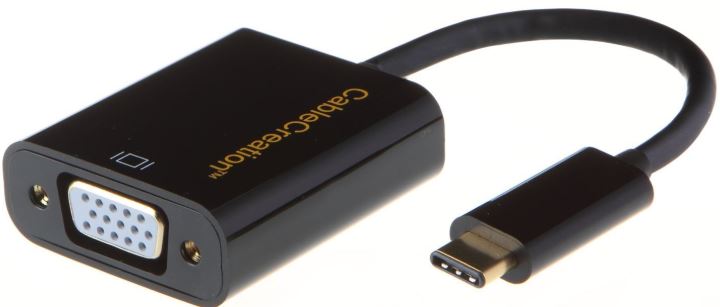 CableCreation Type C to VGA Adapter
The CableCreations USB-C to VGA adapter doesn't look like much. But within its humble exterior you'll find a stunningly fast and wholly adequate adapter. It prominently includes Thunderbolt 3 compatibility, has been made for MacBook, MacBook Pro, Surface Book 2, Chrome Pixel, Samsung S9, and similar portable devices.
Build Quality & Specifications
The VGA end of the cable measures 1.45 x 1.6 x 0.57-inches. From the end of that adapter, the length of cable runs 3.9-inches, terminating in a standard USB-C connector. CableCreation offers their Type-C to VGA adapter in both white and black. The white version matches closely with Apple's aesthetic, while the black version has more of a bland professional look.
The exterior of the adapter is only marked by the CableCreation name, printed across the face of its topside. Though this cable is not truly reversible, the printing does help make it easy to quickly orient the adapter for a smooth connection. Can't see the CableCreation name across the adapter? You've got it flipped upside down. It couldn't be simpler.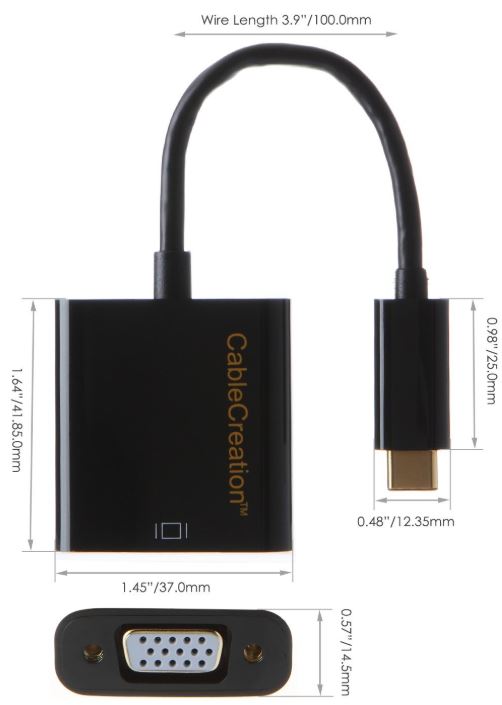 Other Considerations
No additional drivers are necessary for operation, you can plug and play. If you're not certain that your electronics are supported, look to see if they support DP ALT Mode. Support for that mode is required for the adapter to work. It does not support the HP Spectre Pavilion, or the Nintendo Switch. But it's great for mirroring or extending your MacBook to a monitor.
Also note, this cable only does one-way conversion. It moves signals from USB-C to VGA, it will not provide conversion in the opposite direction. As with Benfei, supported resolutions range from standard 800 x 600 to 1080p HD. However, they don't offer a warranty on their adapter.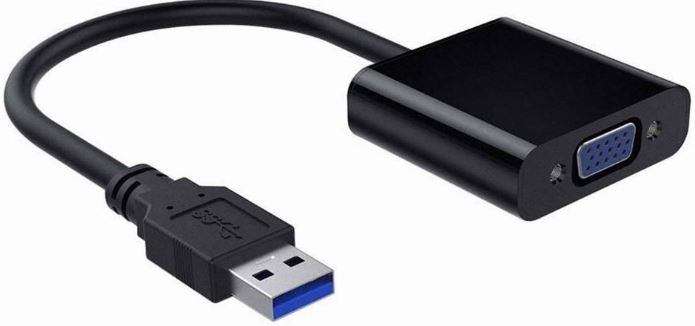 Jackiey High Speed USB to VGA Adapter
The Jackiey High Speed USB to VGA adapter is a female VGA to male USB adapter. As with most USB to VGA adapters, it's been made to help effectively sync your display, or extend your presentation in split-screen. Within the adapter, a built-in DisplayLink chip accurately converts your data across standard USB 3.0 or 2.0 ports. Jackiey requires you take an extra step to finish your installation, but it may be worth it.
Build Quality & Specifications
This adapter is on the thicker side of things. The adapter cabling runs 9.65 inches long, with the bulky VGA end of the adapter using a 5" width. The cable itself is a mixed composition of ABS plastic and PVC. The PVC components are highly secure and protective for each end of the adapter, while the ABS is almost equally sturdy.
As any decent USB-C to VGA adapter ought to, the Jackiey High Speed USB to VGA Adapter supports full 1080p HD a 60Hz refresh rate, and is backwards compatible for lower resolutions, including standard definition content. And the high speed USB 3.0 connection provides bandwidth of 5Gbps, far exceeding the needs of a VGA connection. This adapter is also super-speed enabled for USB 3.0 ports.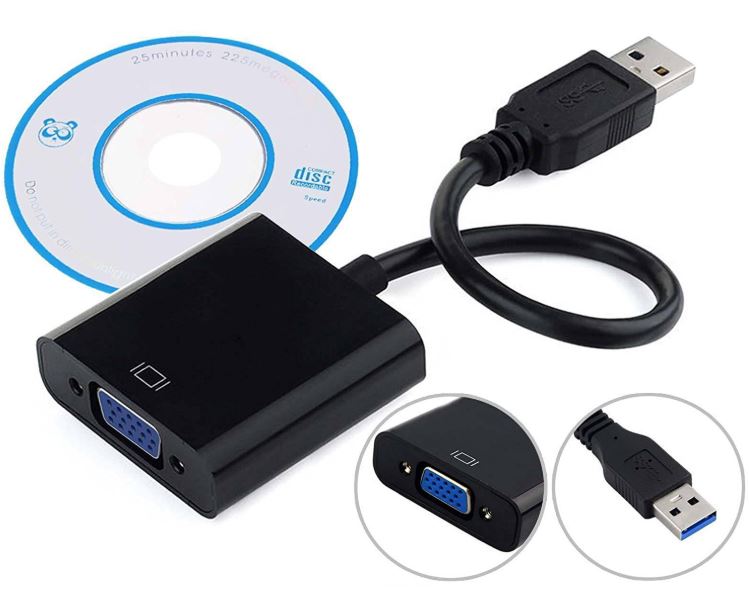 Other Considerations
This cable provides wide compatibility, supporting all modern versions of Windows with USB ports. It does not support Surface Pro or Mac products. While the adapter does include a CD containing some software drivers, there's no need to install the CD driver that comes with the adapter. You can pull those drivers off their website.
However, you will need to download and install those drivers. That provides an added step that some people aren't going to like. But using uncommon, non-native drivers allows Jackiey to provide wider support for the platforms it's built around. Once you've got everything setup, you shouldn't encounter any issues with compatibility. Jackiey includes a 12-month warranty, for which they allow either a replacement or refund.
Choosing Between 3 Quality USB-C to VGA Adapter
The Jackiey adapter is a great female VGA to male USB-C adapter. The adapter itself is somewhat bulky, but it's constructed to be as solid as concrete. It provides the full range of 1080p content which you might want to drag across a VGA adapter. And it's also the adapter with the longest cable on this list, providing about seven inches of extra connectivity for those who need it the most.
The CableCreations Type-C to VGA adapter is a plug-and-play option, made most distinct by its broad support for Thunderbolt 3. This adapter has some favoritism towards Apple platforms, but doesn't leave others totally in the dust. If you're concerned about using ultra-fast Thunderbolt 3 connections, then the CableCreations Type-C to VGA adapter is going to be the right choice for you.
The Benfei USB-C to VGA adapter has wide support among both Windows and Mac platforms. It's also got a fairly sturdy design that you don't have to worry about falling apart. The cabling is a tad short, but that simply makes this the most portable adapter of the bunch. Whether you're looking for an inexpensive solution or something small enough to toss in a laptop bag, the Benfei USB 3.1 Type-C to VGA Adapter is worth a look.