Portable devices are great. But they become far less portable when you've got to start carrying a bunch of cables in-tow. Sometimes, manufacturers will take the time to build-in necessary cables so you can draw them out of your devices. But sometimes that's just not a practical solution.
Until the day all of our devices can all be powered wirelessly, we're going to need USB cables. And odds are, you already have more than a few. You've got one for your smartphone, and one from your last smartphone. You've got one for your tablet or e-reader. You've got one for your headphones, and there's another pair in the junk drawer.
But bringing them with you is like taking along your junk-drawer. No matter how short it might be, what you're doing is literally carrying a loose cable! It's the opposite of elegant, the antithesis of real portability. Essentially, it's a wire for your supposedly wireless devices.
NILS Revolutionary Wearable Charging Cable
The word revolutionary might be too strong for the NILS Revolutionary Wearable Charging Cable. But it's certainly a totally new way of thinking about cable design. In short, the NILS wearable charging cable is a USB cable that's been cleverly hidden away within a leather bracelet.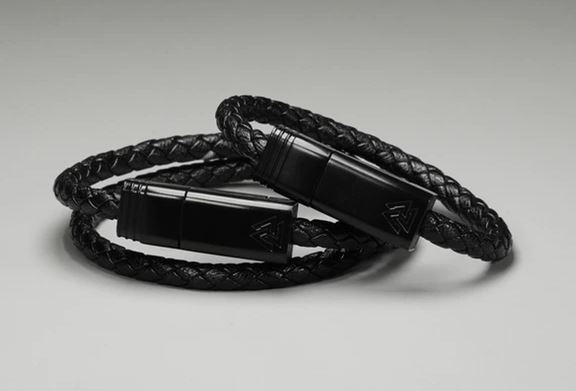 If you're using portable electronics, you probably want the power of having your charging cable with you. But you don't want to have to carry around the cable everywhere you go. The NILS cable allows you to solve the problem with a highly functional fashion accessory. And most importantly, it liberates you from the burdensome life of dealing with tangling cables.
The general idea is to allow you to always have a charging cable anytime you need, or anytime you might predict you may need it. Whether you're pre-planning in anticipation of needing to charge, or one of your friends suddenly needs a charge but isn't equipped, having the NILS Revolutionary Wearable Charging Cable keeps you prepared for what comes next.
Physical Exterior
The outside of the NILS cable certainly looks nothing like an ordinary USB cable. Its surface is crafted from leather, using vegan, cruelty-free sources. Although this cable holds up on its own in terms of utility, the aesthetic o the NILS Revolutionary Wearable Charging Cable is at least half its appeal. Consequently, each type of NILS chargeable cable is then stained with a variety of attractive colors, including dark black, olive green, chocolate brown, midnight blue, teal, dusty rose, ash gray, and deep red.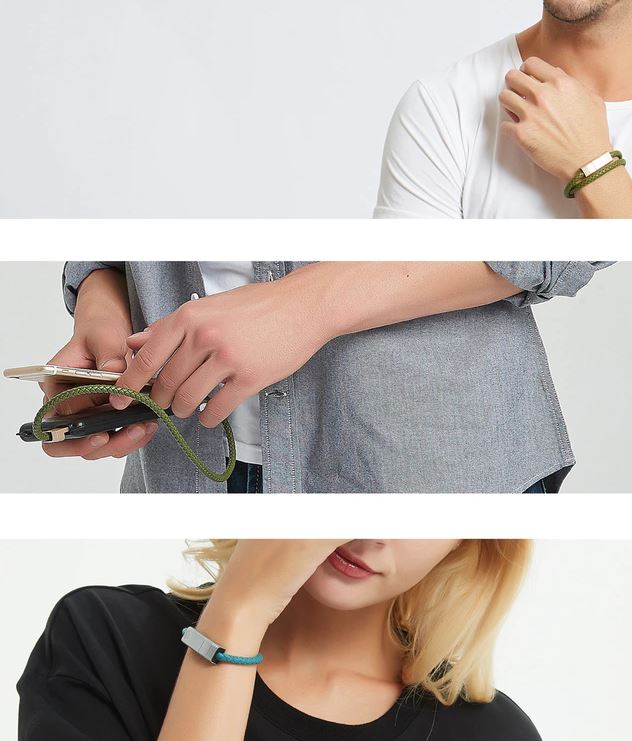 Beneath its smooth leather exterior, the body of the bracelet has been composed of protective DuPont Kevlar. The resulting cord is quite thick and sturdy. If you decided to take an ordinary USB cable and wrap it around your wrist, it wouldn't be long before that cable had perished from wear. Constant bending can do-in just about any cable, which is why the sturdy Kevlar construction is so important to the design.
The NILS wearable charging cable is also water resistant, so you can wash your hands with the bracelet on. But it's not totally waterproof, so you wouldn't want to throw it in your aquarium for the weekend, and you probably want to take it off before taking a dip in the pool. It would most likely survive a run through the washing machine, but you'd be testing fate. You're better off hand-washing the NILS wearable charging bracelet.
Cable Connectivity
Each end of the cable terminates in a charging connector for your device. And the physical hub surrounding each end of the cable is composed of hardened polymer with a matte finish. Each hub is painted with a color to carefully compliment the color of the cable in a pleasing way. And each end of the USB connections connects into the base of the other connection, so you can collapse the cable into a loop around your wrist.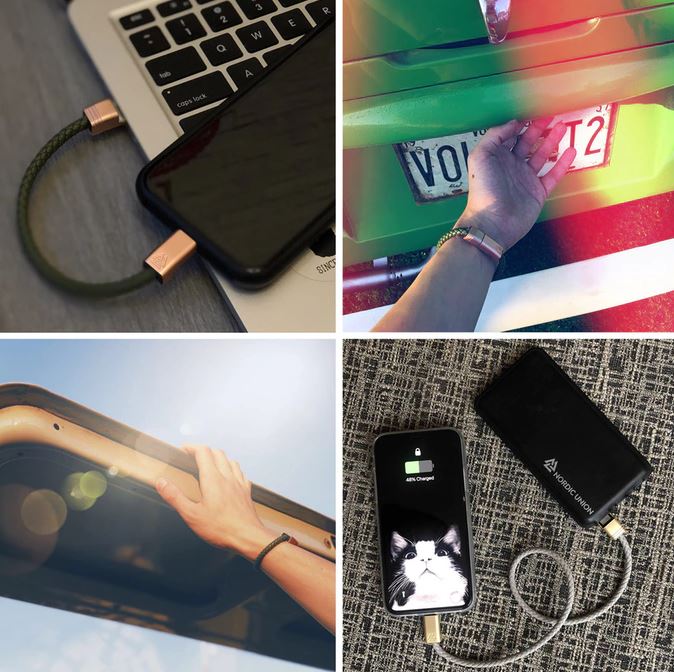 When you clasp either end of the NILS wearable cable together, the connection is firmly held in place by two elements. Rather than clasping the bracelet together like a seatbelt, the first element holding the bracelet in place is a pair of rare earth magnets. These magnets are strong enough to keep the bracelet attached to you through daily use without worry, or without need of regular adjustment.
But NILS has continued to update the design of their bracelet, improving based on feedback from thousands of fans. In its latest iteration, the magnets have been further supported with a second holding element. The USB-A end of the cable has a small cubby, where a tongue-extension on the other end of the bracelet can be placed to rest. This works by allowing the magnet to provide more even and steady clasping force, keeping it on your wrist with little need for adjustment or concern.
Ease of Use
Most of what makes this cable easy to use goes without saying, but there are some details that should be observed. The edges of one side of each connector cable has been made with what they called NILSYGRIP. It's basically three textured bumps which make it easier to separate the two halves of the USB to transform your bracelet back into a cable.
That grip is actually pretty important; given that you've only got one hand to remove the bracelet with. And it works quite well. Even someone as young as 12 can comfortably pull off the bracelet with one hand, but placement of the magnet allows the force for removal have to be somewhat deliberate. The bumps aren't particularly necessary under most circumstances, but they certainly come in handy when you've got wet hands.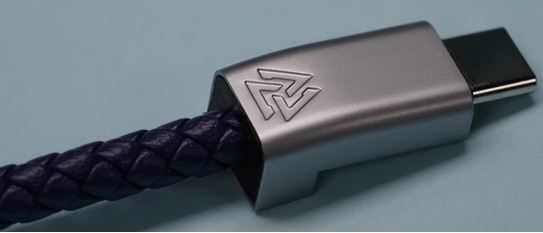 Technical Specifications
The NILS cable is available in a variety of common formats, including Lighting, Micro USB, and USB-C. That allows you to determine the bracelet most appropriate to the devices you use, or jump between multiple cables as needed. In each case, you'll find the ends of the connectors have been made with narrow bodies, intended on being compatible with nearly all variety of cases and ports.
Sizing for Success
Beyond formatting options, this cable actually is available in two basic variants. The first variant is the NILS Solo wearable charging cable, while the second is the NILS Duo. The Solo has slightly smaller sizes options, ranging from 7.1-inches to 8.5-inches. The NILS Duo has slightly larger sizing options, ranging from 14.2 to 17-inches.

The Solo bracelets are a simpler, shorter design that's intended to loop around the wrist once. The Duo designs provide not only more length, but more options for aesthetics and placement. Otherwise, both Solo and Duo cables use the same sturdy design and essential characteristics. That includes the same wide range of color options and connection terminals.
Beyond aesthetics, take a moment to think about the physical requirements necessary for your cable, and given the way you use your devices, if any of them require particularly long connections. Sometimes you need longer cables. If you're trying to run a connection from your smartphone to your television, then an 8" cable might not cut if for you. With the wide sizing options, it's not hard to find a balance between pragmatism and aesthetics. But it's something you should think about.
Price Point and Other Considerations
With respect to the quality of the craftsmanship, it's hardtop find any real comparison to these cables. Most connection cables are made almost intentionally disposable. They're made with the expectation that they'll be carelessly lost or discarded, so they're not built to last.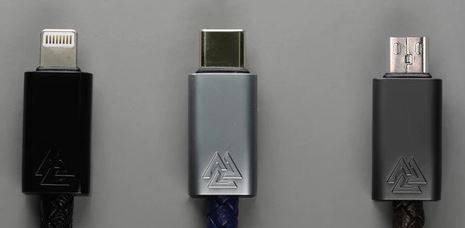 The NILS wearable charging cable has been made to take types of bending and regular use which ordinary USB cables aren't. The underlying Kevlar construction holds up well to daily contact, and the leather exterior is equal parts comfortable and stylish.
The quality of the construction seems only slightly reflected in the price of NILS cables. Compared to existing cables, virtually any mainstream manufacturer would've doubled or tripled this price-point, and not included the handy bracelet design at all. So even if you don't end up wearing it as a bracelet on a regular basis, the cable itself manages to be an excellent value. Provided you can throw it on when you know that you're going to end up needing a cable, it's a great accessory to have around.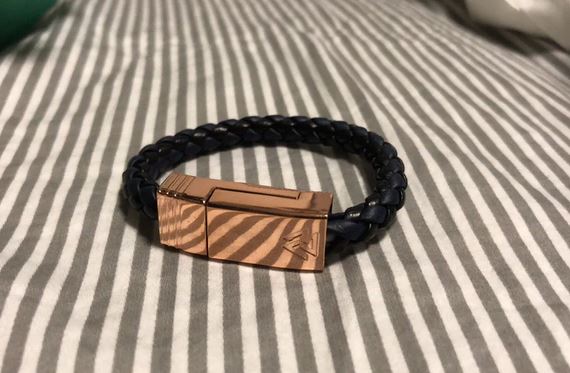 Who Should Choose the NILS Revolutionary Wearable Charging Cable?
The NILS Revolutionary Wearable Charging Cable is for people who have mobile devices they need to charge. If the only device in your life is your smartphone, you might come to love the NILS wearable cable as a necessary companion for going out into the world. But you'll be far more likely to fall in love with this cable if you've got wireless headphones, wireless mice, tablets, and countless other portable devices. The more portable your stuff, the easier it is to get amazing utility out of this cable.
Aesthetically speaking, the NILS cable looks like a fashion accessory worthy of wearing even if it couldn't transform into something functional. It's a great choice for someone who finds themselves swarmed with cables. It's allows you to have a single cable solution without requiring you to have pockets, or to fill them with wires.
As far as cabling goes, the quality construction is made to outlast the other cabling in your life. It's good that the NILS wearable charging cable is washable because you'll want to wash it after extensive use. And the rare earth magnets are excellent at keeping the clasp together with just the right amount of force, which makes the NILS cable as comfortable as it is stylish. All in all, it's worth a close look for anyone who hates to not have a charging cable when they need one.
Meet Derek, "TechGuru," a 34-year-old technology enthusiast with a deep passion for tech innovations. With extensive experience, he specializes in gaming hardware and software, and has expertise in gadgets, custom PCs, and audio.
Besides writing about tech and reviewing new products, Derek enjoys traveling, hiking, and photography. Committed to keeping up with the latest industry trends, he aims to guide readers in making informed tech decisions.