In today's tech-driven world, expanding your computer's connectivity options is crucial. Have you ever felt limited by the number of USB ports on your PC?
Internal PCIe USB 3.2 Expansion Cards are the solution. These cards plug into your computer's PCIe slot, providing additional USB 3.2 ports. This means faster data transfer speeds, more devices connected simultaneously, and an overall boost in efficiency.
This article brings you the best of these expansion cards, each rigorously tried and tested by our team at NerdTechy, to ensure you make an informed decision for your needs.
Here's a quick look at our top picks:
| Features | StarTech | FANBLACK | Inateck |
| --- | --- | --- | --- |
| Price | Expensive | Budget-friendly | Moderately priced |
| Total Bandwidth | 20 Gbps | 20 Gbps | 16 Gbps |
| Number of Ports | 4 | 7 | 8 |
| USB Port Types | USB 3.2 Type-A | 4 Type-A, 3 Type-C | 6 Type-A, 2 Type-C |
| Charging Power per USB-C Port | N/A | Up to 7.5W | Up to 30W |
| Charging Power per USB-A Port | Up to 7.5W | Up to 7.5W | Up to 7.5W |
| Max Speed per Port | 10 Gbps | 10 Gbps | 10 Gbps |
| Compatibility | Windows, Linux, macOS | Windows, Linux, macOS | Windows, Linux, macOS |
| Physical Size | 4.7″ x 5.9″ x 0.7″ | 3.43″ x 3.15″ x 0.71″ | 5.8″ x 4.3″ x 0.8″ |
| Special Features | UASP support | Budget Pick | Power Delivery Protocol |
| Color Options | N/A | N/A | Black or Red |
1. StarTech.com 4-Port USB Gen 3.2 PCIe Card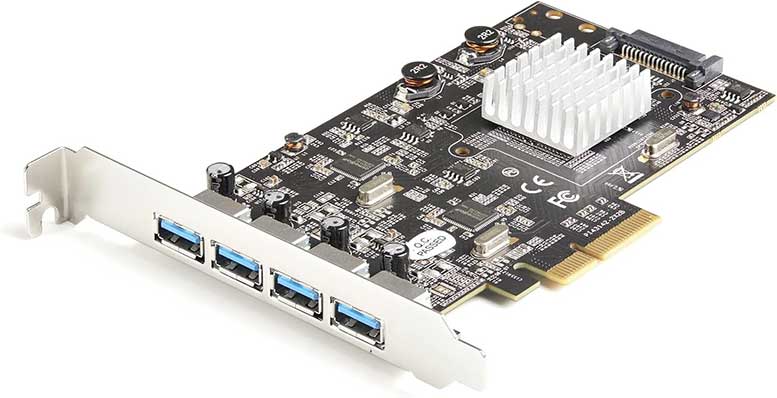 Key Takeaways:
Dual ASM3142 controllers for 20Gbps total bandwidth.
Supports SuperSpeed 10Gbps per USB port.
Provies 4 USB-A ports but no USB-C ports.
Seamless compatibility with Windows, Linux, macOS.
Automatic driver installation on Windows 8+.
Expensive, but a reputable, top-tier performance choice.
Dimensions: 4.7″ x 5.9″ x 0.7″
The StarTech.com 4-Port USB PCIe Card impresses right out of the box. Simply put, this card proved to be a powerhouse for USB connectivity.
We connected multiple high-speed devices simultaneously, from external SSDs to the latest USB gadgets. Each device operated flawlessly, thanks to the card's dual ASM3142 controllers. This feature ensures an impressive 20Gbps total bandwidth across its four ports.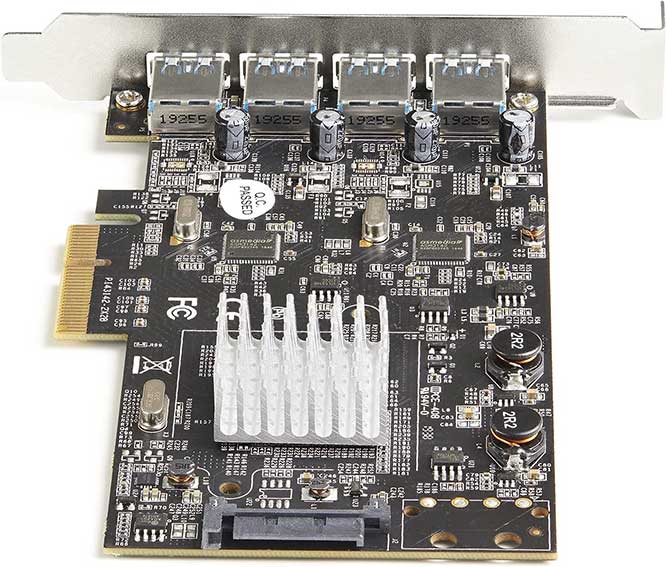 The StarTech card stands out with its USB 3.2 Gen 2 support. Each port offers a SuperSpeed 10Gbps connection, making file transfers lightning-fast. During our tests, transferring large video files was a breeze, showcasing the card's capability to handle demanding tasks effortlessly.
One aspect we particularly appreciated was the card's compatibility. It worked seamlessly with our Windows, Linux, and macOS systems. The automatic driver installation on Windows 8 and newer versions made the setup process a walk in the park. We also tested the card with various older USB devices. To our delight, it provided backward compatibility without any hiccups.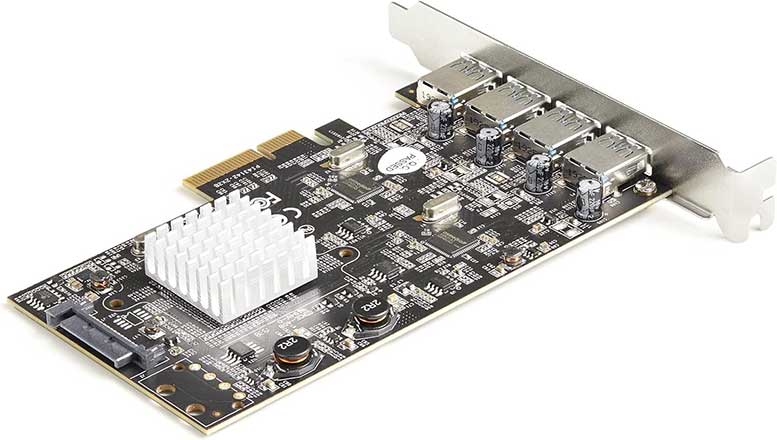 A notable feature is the SATA power header, which ensures that each USB port receives adequate power. This was especially useful when we connected power-hungry devices.
But something important to consider is that there are no USB-C ports available. This card only offers 4 USB-A ports and nothing in regards to Type-C connectivity.

Furthermore, the card's support for USB Attached SCSI Protocol (UASP) significantly improved the performance of our storage devices. This was evident when we compared file transfer speeds with and without UASP support.
However, it's important to note the price point. The StarTech.com 4-Port USB PCIe Card is quite expensive. But considering its top-tier performance and features, it justifies its position as our best overall pick. While it may not be the cheapest option, for those who need the extra USB ports and speed, it's a worthwhile investment.
2. FANBLACK PCIe to USB 3.2 Gen 2 Card
Key Takeaways:
Over 50% cheaper than StarTech card.
Seven USB ports (four Type-A, three Type-A) with up to 10Gbps speed each.
Compatible with Windows, Mac OS, and Linux.
Easy installation, driver required for older Windows versions.
No PD charging or Thunderbolt protocol support.
Dimensions: 3.43″ x 3.15″ x 0.71″
The FANBLACK PCIe to USB 3.2 Gen 2 Card is a real game-changer, especially for those on a budget. It's over 50% cheaper than the StarTech card we previously discussed, yet it doesn't skimp on functionality.
Imagine needing to connect multiple high-speed USB devices simultaneously. This card makes it happen without a hitch, offering seven ports (four USB Type-A and three USB Type-C) for diverse connectivity.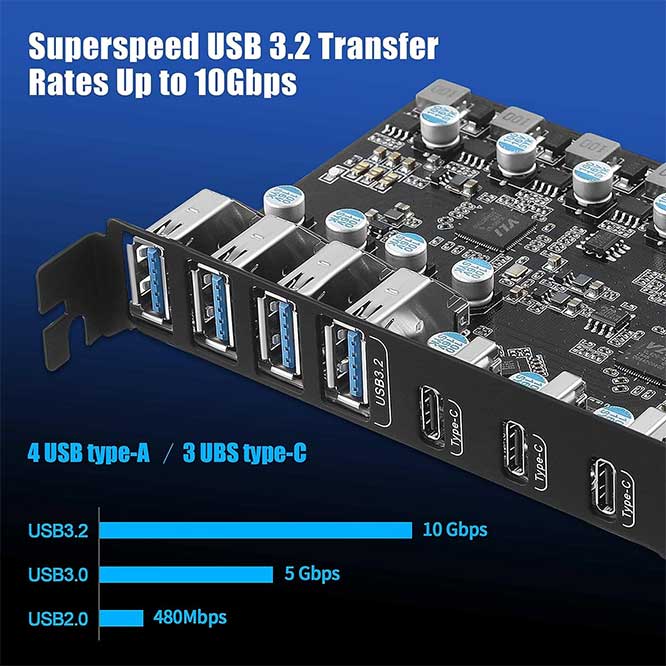 During our testing, each port's high-speed transmission rate of up to 10Gbps stood out. We connected everything from external hard drives to the latest USB-C devices. The performance was smooth and consistent, demonstrating the card's ability to handle data-intensive tasks efficiently.
Compatibility is another strong suit of the FANBLACK card. It worked seamlessly with various versions of Windows and Mac OS, although we noted that it requires driver installation for older Windows systems like XP and Vista. The installation process was straightforward and quick, making it accessible even for those who are not tech-savvy.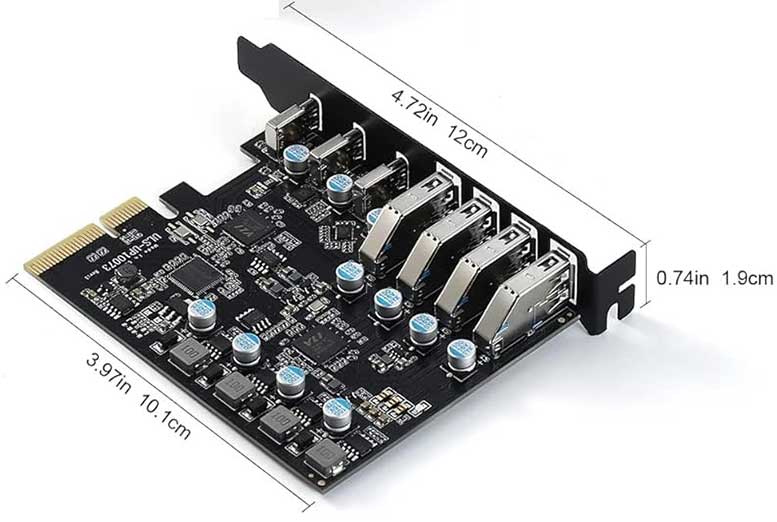 One unique aspect of this card is its division of bandwidth. Each port doesn't have its own dedicated 10Gbps, but rather they share it in groups. This was hardly a limitation in our use, as the card managed to maintain high-speed transfers even when multiple ports were in use.
However, it's important to note some limitations. The card doesn't support PD fast charging or video signal transfer, which might be a deal breaker for some users. Also, it's not compatible with the USB-C Thunderbolt protocol, so those with Thunderbolt devices will need to look elsewhere.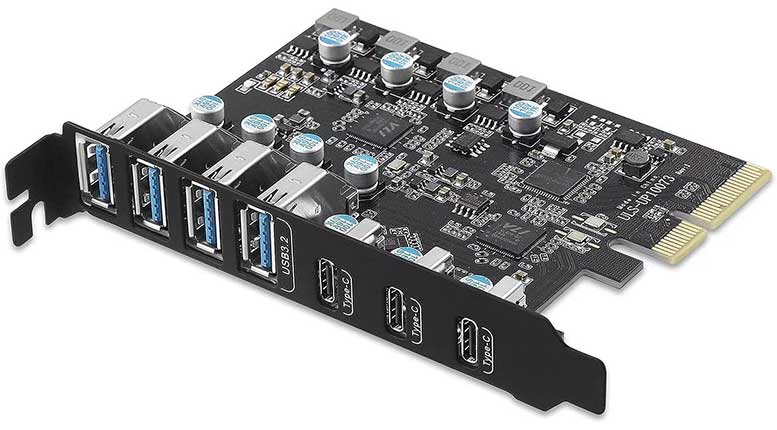 In comparison to the StarTech card, the FANBLACK PCIe USB card stands as an excellent, budget-friendly pick. It offers a generous number of ports and respectable speeds, making it a solid choice for those who need expanded USB connectivity without breaking the bank.
Its easy installation, broad compatibility, and stable performance make it a practical addition to any standard desktop setup. Plus, the lifetime warranty is a nice bonus.
3. Inateck USB 3.2 PCIe Card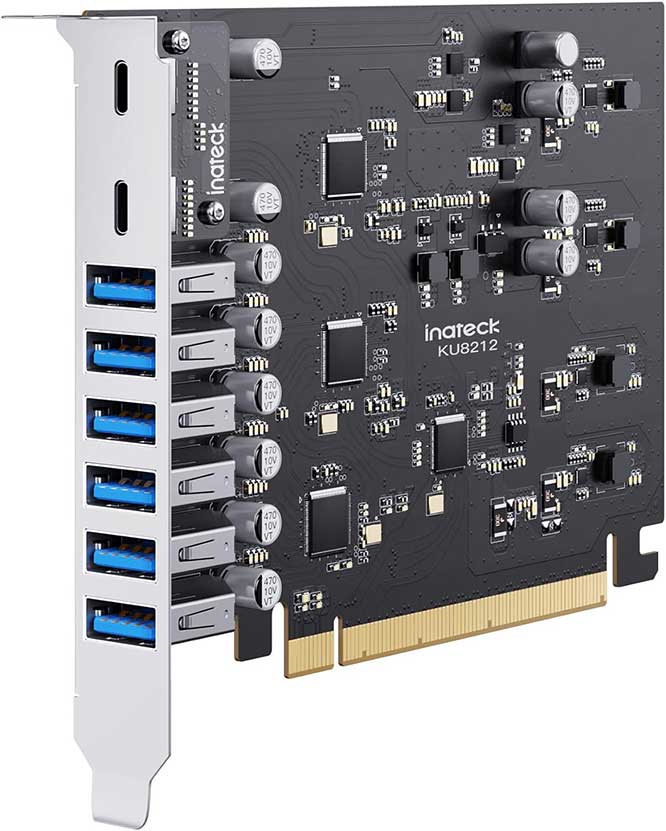 Key Takeaways:
Moderately priced, balancing cost and features.
Eight USB ports with 16 Gbps total bandwidth.
Two USB-C ports with 30W charging power.
Six USB-A ports with 7.5W charging.
Compatible with Window 7/8/10/11, Linux and Mac OS 10.8.2 and later.
Dimensions: 5.8″ x 4.3″ x 0.8″
The Inateck USB 3.2 PCIe Card is another great option, priced between the StarTech and FANBLACK cards. It's available in both black and red, fitting various PC setups. This card offers a total of 16 Gbps bandwidth across its eight ports, which include two USB-C and six USB-A connectors.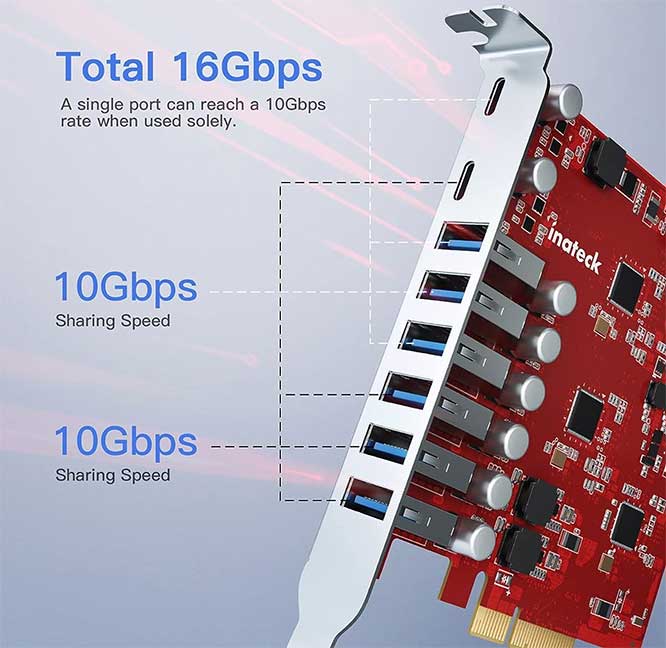 In our testing, the power delivery capabilities of the USB-C ports were particularly impressive. Each can deliver up to 30W of charging power, making it a breeze to quickly charge devices like smartphones and tablets. The USB-A ports, with up to 7.5W charging power each, were also efficient, though not as fast as the USB-C ports.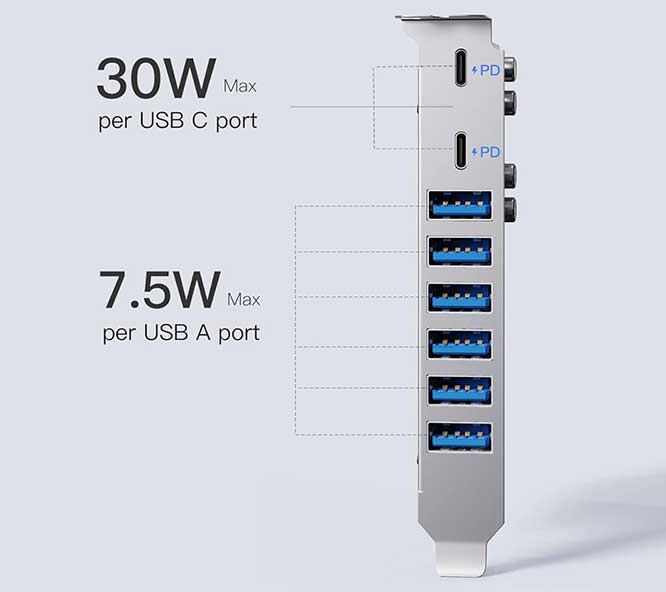 A significant advantage of the Inateck card is its compatibility. It worked flawlessly with Windows 11, as well as older Windows versions, Linux, and Mac OS 10.8.2 and later. The plug-and-play functionality on Windows 11 was especially convenient, as it required no additional driver installations. We also found the vertical USB-A ports to be a neat feature for Mac Pro users, aiding in better cable management.
However, there are a couple of drawbacks. The PCIe case bracket wasn't pre-installed, requiring some assembly. This might be a minor inconvenience for those not used to handling computer hardware. Also, the vertical orientation of the USB-A ports might not fit all cases, as we found them to be blocked in some setups.
When compared to the StarTech and FANBLACK cards, the Inateck card holds its ground with its unique features. The power delivery protocol on the USB-C ports and the higher charging power they offer set it apart. While it may not have as many high-speed ports as the StarTech card or be as budget-friendly as the FANBLACK, it strikes a balance with its moderate pricing and robust power capabilities.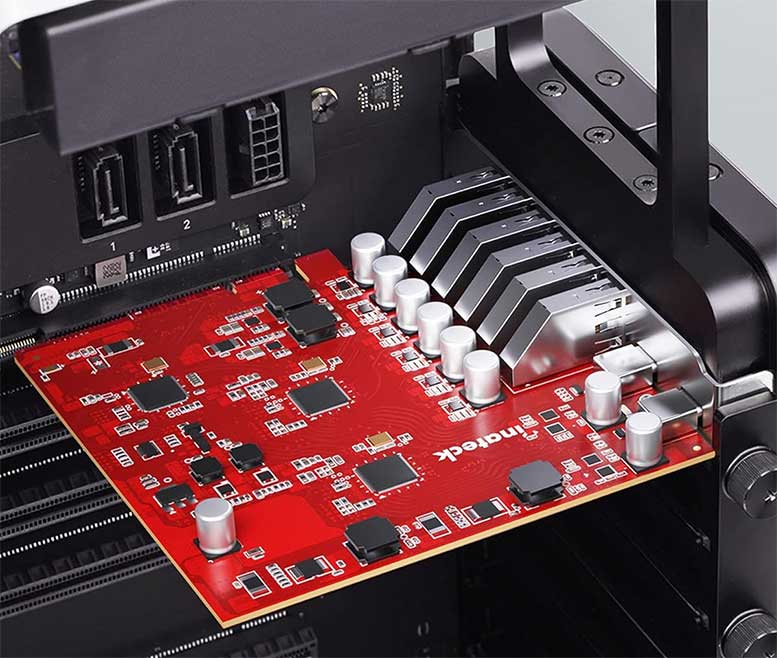 Overall, the Inateck USB 3.2 PCIe Card is a solid choice for those who need multiple USB ports with decent charging capabilities. Its compatibility with various operating systems and the ease of installation make it a practical choice for a wide range of users. Its safety features, like the overcurrent-protection chip and ESD test certification, provide added assurance for the security of connected devices.
USB PCIe Cards FAQs
What is a PCIe USB card?
A PCIe USB card is an expansion card that fits into a PCIe slot on your computer's motherboard. It adds additional USB ports, increasing the number of devices you can connect. These cards typically offer higher data transfer speeds and can include different types of USB ports, like USB 3.2, to support various devices.
Why would I need one?
You might need a PCIe USB card if your computer lacks sufficient USB ports for your devices, or if you require faster data transfer speeds. They are particularly useful for connecting multiple high-speed devices simultaneously, like external hard drives, SSDs, and high-resolution webcams.
Are PCIe USB cards easy to install?
Yes, most PCIe USB cards are easy to install. They slot into an available PCIe slot on your motherboard. Many are plug-and-play, especially on modern operating systems like Windows 10 and 11, which can automatically detect and install necessary drivers.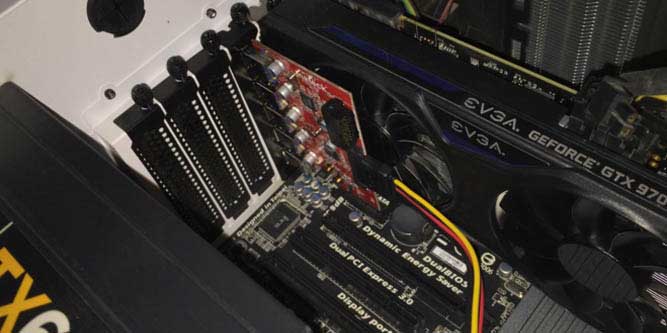 Do PCIe USB cards work with all computers?
They work with desktop computers that have an available PCIe slot. Compatibility with operating systems can vary, so it's important to check that the card supports your OS version. Also, consider the physical space inside your computer case, as some cards might be larger or require additional power connections.
Can PCIe USB cards charge devices?
Some PCIe USB cards come with dedicated charging ports that can power or charge connected devices. The power output can vary, with some offering standard USB power and others providing more robust charging capabilities, like 30W for USB-C ports. Always check the card's specifications for charging capabilities.
Do I need to worry about data transfer speeds?
Data transfer speed is an important factor if you're transferring large files or using high-speed devices. Cards supporting USB 3.2 Gen 2 can offer speeds up to 10Gbps, which is suitable for most high-speed data needs. However, the actual speed also depends on the connected device and the type of USB cable used.
Meet Derek, "TechGuru," a 34-year-old technology enthusiast with a deep passion for tech innovations. With extensive experience, he specializes in gaming hardware and software, and has expertise in gadgets, custom PCs, and audio.
Besides writing about tech and reviewing new products, Derek enjoys traveling, hiking, and photography. Committed to keeping up with the latest industry trends, he aims to guide readers in making informed tech decisions.