Whether you're a constant traveler or someone who just enjoys the simplicity of portability, a USB-powered portable monitor can make a huge difference in your overall productivity. By expanding your laptop or portable computer's on-screen real estate, you'll have more work space to get the things with less clutter and more free-will. You know what they say – two screens sure are better than one!
We're going to be going over a few of our favorite, best-rated, and highest recommended portable monitors for the 2016 year. Each one is powered by USB 3.0, so there's no need for an external power source. Because of this, both power and connectivity is achieved with a single, small cable that boasts well for the ultimate portability.
ASUS MB169B+ 15.6″ Screen Portable LED Monitor
Equipped with a 15.6 inch full high definition display, the ASUS MB169B+ is known as the World's slimmest and most lightweight USB-powered portable monitor that's available. With its sleek and metallic finish, it's apparent that Asus put a lot of time and effort into creating a portable monitor that's built to impress. As a step up from the original MB168B (see our third suggestion), the MB169B+ has an IPS panel with a better viewing angle of 160°(H)/160°(V) for a more-crisp picture from more positions.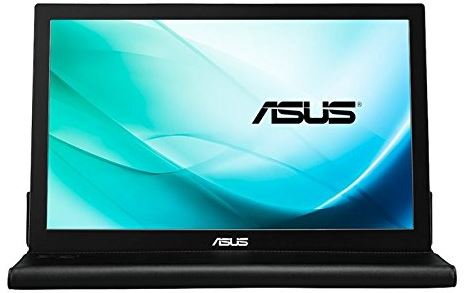 Fully Adjustable
Whether you'd like to use the monitor in the landscape or portrait position, it'll automatically adjust to whichever way you set it up. It'll sense the orientation on its own, and immediately turn the screen so its always in the upright, easy-to-read position. However, keep in mind that the auto rotate feature only works when the EzLink Utility is installed and activated on your computer.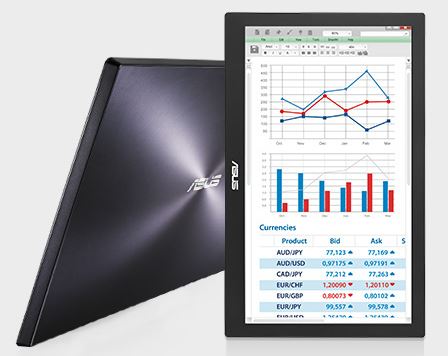 EzLink Technology
Rather than putting all of the additional work of another screen on your laptop or ultrabook hardware, the ASUS MB MB169B+ utilizes the latest EzLink Technology, giving the monitor it's very own set of internal, dedicated hardware. Because of this, you can connect up to five USB-powered Asus monitors without the need for additional hardware resources.

Incredibly Portable
Weighing it at around 800 grams or 1.76 pounds, it's known as the slimmest and most lightweight USB-powered monitor in existence. Also, it measures about 8.5 millimeters thick – about the width of your average pencil. Additionally, it comes included with a free carrying case that works well for taking it with you from place to place, wherever you end up. The case even doubles as an adjustable stand that props it up into a position that makes it stable and easy to view.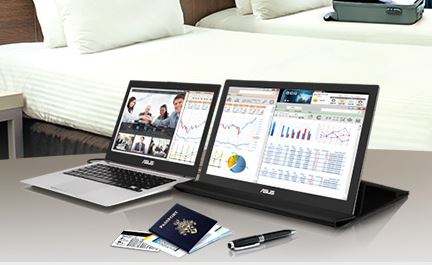 Real High Definition Between Multiple Platforms
With a resolution of 1920 x 1080 pixels, it lets you enjoy full high definition with an ample amount of brightness. Designed for Windows 7 or newer and Mac OSX, it even works on Ubuntu (Linux) if you download and install the DisplayLink driver. Best of all, the ASUS MB MB169B+ is backed by their very own Rapid Replacement 3 year warranty with free two-way shipping – giving you peace of mind about your investment for years to come.
AOC E1659FWUX-PRO 15.6″ Portable LED Monitor
Known as one of the first USB-powered full high definition monitors of its kind, the E1659FWUX-PRO from AOC offers a 15.6″ viewable image size with a widescreen aspect ratio of 16:9 for excellent quality, no matter how you put it to use. Completely powered by USB 3.0, you're given the best brightness in its class at 300 cd/m2. With 262k colors and an 11ms response time, you're given full 1920 x 1080 resolution for enjoying movies, creating documents, or drastically increasing productivity.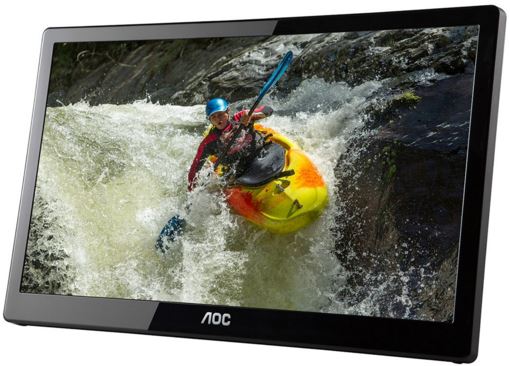 Sleek, Portable Design
Measuring 9.16 inches by 14.64 inches and just 1.4 inches in thickness, it's not quite as small and portable as the previously mentioned ASUS MB MB169B+, but still boasts a healthy amount of portability in its sleek design. Weighing it at just 2.34 lbs and packaged with a free travel case, AOC makes it easy to carry it around with you, whether you're headed to the office for a day, or out of town for weeks at a time.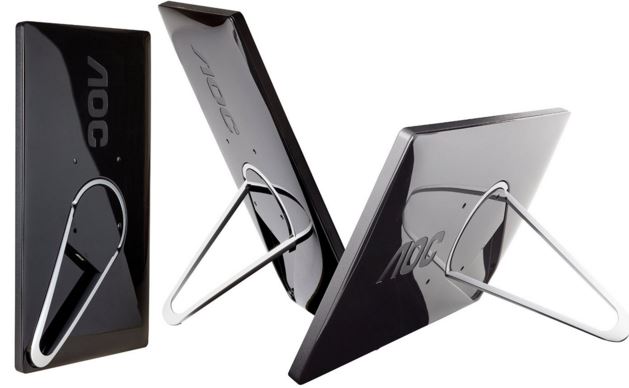 Landscape or Portrait
With its foldable and flexible stand on the back, the E1659FWUX-PRO from AOC can be used in two different orientations – landscape or portrait mode. Either way, it'll automatically adjust without the need to manually select which orientation you're going to use it in. Portrait mode is ideal for movie-watching, gaming, or general entertainment, whereas the landscape mode excels well with messaging, emailing, productivity, or general work.

VESA Wall Mount
Located on the back is a 75 x 75 millimeter VESA mount that gives you the option to physically mount it to a monitor stand, arm, or bracket. Although some individuals will never need this feature, it's ready to be setup with a typical VESA mounting mechanism if you plan on keeping the monitor in the same position for days at a time.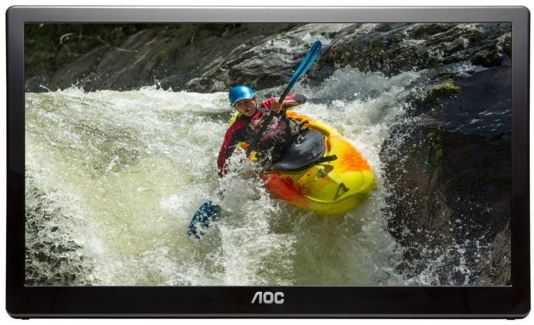 DisplayLink Technology
If you really want to maximize your productivity while you travel, it might be a wise idea to invest in more than one portable monitor. If so, be sure to utilize the integrated DisplayLink Technology that gives you the power to connect multiple monitors to a single computer. Compatible with both Mac and PC, DisplayLink takes the strain off of your laptop's hardware and doesn't bring any complications to the situation. Read our full review of the E1659FWUX-PRO from AOC.
ASUS MB168B 15.6″ Screen Portable LED Monitor
Although very similar to our first suggestion, the ASUS MB169B 15.6″ Screen Portable LED Monitor comes in at a more affordable price tag with nearly the same specifications as the MB169B+. The main difference is the panel type and the maximum resolution. While the MB169B+ has an IPS panel, the MB168B has a WLED/ TN panel type with a quicker response time of 11ms. However, the viewing angle isn't quite as good at 140°(H)/120°(V).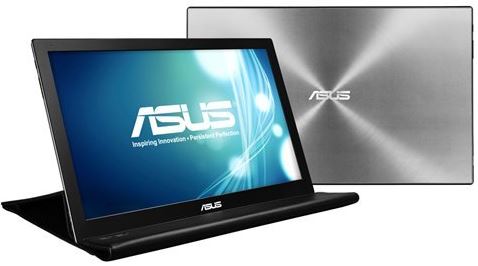 Resolution and Image Quality
With a maximum screen resolution of 1366 × 768, there's plenty of screen space for all sorts of uses – movie watching, editing, typing, gaming, or just casual browsing. Pair this with the 0.252mm dot pitch and the 262,144 (18-bit) colors and you'll notice an improvement right off the bat. Although the viewing angle isn't quite as good as the MB169B+, we found that the brightness is a bit better, making for a more vibrant viewing experience with richer color contrasts.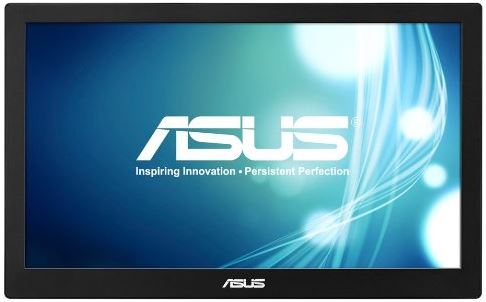 Ultra-Slim Design
By taking a single look at any of Asus's portable, USB-powered monitors, you'll notice that they're all designed for sleek, on the go use. Weighing in at just 800 grams of 1.76 lbs, the MB168B is a great choice for those who need a boost of productivity while keeping a small, easy to use form-factor for use away from your home or office workplace. At just 8 millimeters thick, it's built with a durable metallic finish that pairs well with it's tough and portable design.

Auto-Lighting and Fully Adjustable
Whether you're in a dimly lit room or outside in the blaring hot and bright sunlight, the screen is designed to automatically adjust to the current lighting conditions. There's a built-in ambient light sensor that will intelligently detect the current environment and adjust the screen as needed for the best viewing possible. Best of all, it's designed to automatically adjust to the orientation that you have the screen set at – either portrait or landscape.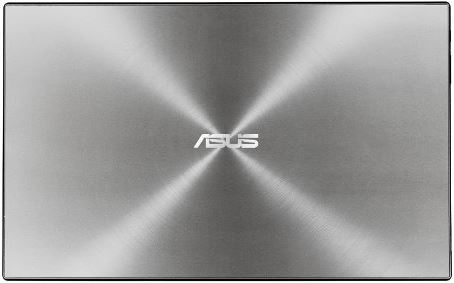 Ez Link Technology
Just like the two previously mentioned portable travel monitors, the MB168B can be paired with EzLink Technology so that your notebook, laptop, or ultrabook isn't bogged down by an additional screen. It'll put the work on the monitor itself, rather than demanding more resources from the computer you're using it with. This way, you can connect and configure up to five additional monitors on a single computer at once.

Impressive Warranty
One of the main reasons that we love Asus and most of the products they create is because they're a company that proudly stands behind their products with confidence. Just like the first Asus monitor we mentioned (the MB169B+), the MB168B is backed by an impressive 3 year warranty program known as Asus Rapid Replacement. They even include free two way shipping if you ever happen to run into any issues down the line.
Final Thoughts
Although a USB-powered monitor doesn't always necessarily need to be used while traveling, they sure do make your life a bit easier by drastically increasing the amount of work space you have. From our time researching, we've concluded three of the top-rated, best performing USB 3.0 powered monitors. Best of all, none of these require an external power source – just simply connect a USB cable and both power and functionality are delivered.
Out of these three, we'd ultimately recommend going with our first suggestion – the ASUS MB169B+. Its ultra lightweight design and IPS panel type make it shine among the rest as the best choice for 2016. Although the other two options are great as well, we feel that Asus displays are some of the best in their class. Plus, they're backed by one of the best warranties we've seen – a total of 3 years, giving you the ultimate peace of mind about your investment.
Can't afford the ASUS MB169B+ – go with the ASUS MB169B. We're sure it'll give you the best of both World's – 1366 × 768 resolution quality with a brighter screen and the same outstanding warranty. Although the E1659FWUX-PRO from AOC is another fine choice, it's not quite as sleek or lightweight – making both Asus models the best options for those who travel often.