What uses USB-A? What doesn't. It's on wall chargers, car chargers, phone chargers, laptops, desktops, and about ten thousand other places. But the USB format is always improving. The release of USB-C is a big deal, to put it lightly. But the end of a USB-C connection isn't quite as bulky as older USB-A adapters.
In the long term, people will definitely develop a preference for the smaller connection head of USB-C. It'll make it incredibly easy to connect our electronics to our smartphones and similar devices. But for years to come, people are going to have to adapt their USB-C stuff to work with USB-A.
Choosing a USB-C to USB-A Female Adapter
Luckily, finding a great USB-C to USB-A adapter isn't that tough. Provided you know a few things about USB cabling, and understand the expectations you have for your connection, it's hard to go wrong.
Knowing Format Basics
There are a variety of differences in the numerous variations of the USB format. The most important differences to observe are the physical dimensions of the plugs themselves. USB Type-C is a physically different plug from Type-A, which is a different plug from Micro USB, Mini USB, and so forth. Luckily, the most common type of adapter people will need is a USB-C to USB-A adapter. That's because the USB-A plug is the most standard and ubiquitous version of the format.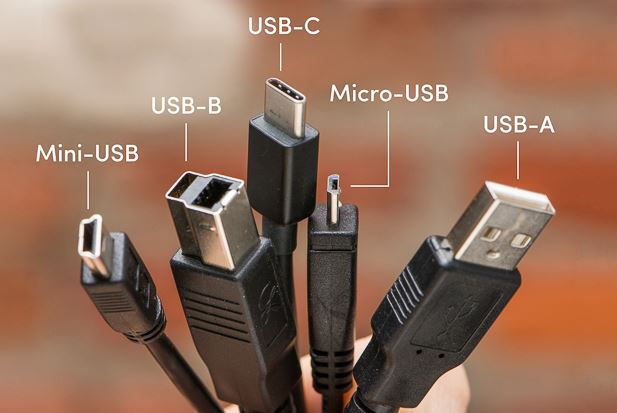 Apart from the physical differences within the plug, another set of important differences exist in within the USB standard itself. The ones to know about are USB 2.0, USB 3.0, and USB 3.1. Each version is backwards compatible with the last, so you don't have to worry about your content being unable to find acceptance. What you do have to concern yourself with is the bandwidth and feature limitations as you switch from one type of adapter to another.
For example, USB 3.1 provides a ridiculous amount of bandwidth, as much as 10 Gbps. It also provides more power than previous iterations of USB, as much as 100W of juice drawn through the cable. The Type-C connection can even carry HDMI and DisplayPort signals at the same time! But the bandwidth capabilities of the 2.0 and 3.0 formats are essentially halved. The 3.0 format provides 5 Gbps, and the 2.0 format carries only 35 MB/s.
Not sure if this matters? It all comes down to the type of equipment that you're trying to connect to. For example, if you're trying to adapt something that doesn't require a great deal of bandwidth for operation, then USB 2.0 will be fine. Things like keyboards and mice aren't going to tear through data bandwidth. On the other hand, if you're trying to move something like HD or UHD video signals, then the bandwidth of your USB-C to USB-A adapter will matter quite a bit. You'll want to get at least a USB 3.0 connection.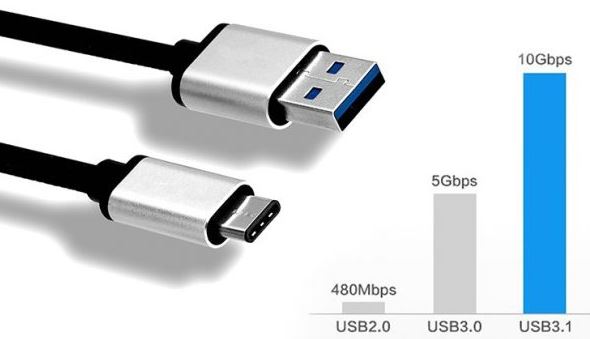 Length Limitations
A USB 2.0 cable can stretch up to 16-feet, while a USB 3.0/3.1 cable has a recommended maximum length of 9-feet. As you push past these distances, you'll experience problems that cumulate in a failure to make a connection. Breaking these limitations can be possible, with self-powered USB hubs, or active cables to boost the signal.
But unless you want to have to deal even more added hardware, try to keep your selection to within these distances. And take note, if you're using the 2.0 format, you can get into much lengthier setups because it means you don't need to move that much data to begin with.
Connection Quality
Anytime you're using an adapter, the quality of your signal can be in jeopardy. Slightly loose connectors can exist out-of-the-box, or develop over time as construction materials that wear down from use. Either one of these things can cause a litany of problems for you.
You may have experienced a USB thumb-drive that seems to disconnect and reconnect when you slightly wobble the drive. That's because as the firmness of these connections wear down from repeatedly being plugged in and unplugged. And similarly, your USB cabling may eventually only take a slight amount of force for connections to be interrupted.
This is less of a problem if you plan on using your USB-C to USB-A adapter in a somewhat stationary way, where you're not often putting it under physical strain. But for people involved in more portable operation, the quality of the adapter's build can eventually encroach on the signal itself.
Build Quality
Making firm and stable connections is necessary for reliable data transfer and smooth connectivity. As you remove and insert a USB cable over and over, wear-and-tear takes a toll on the cable. This is a particularly significant problem for USB cables because unlike some cables, USB plugs tend to see plenty of removal and insertion.
The material plating of the connectors is worth looking at closely. If you're using an adapter that provides extension cabling, then you'll want to look at the build quality of the wire. Likewise, as cables are bent and flexed, they're gradually worn down. It doesn't take a disaster to destroy a USB adapter, it only takes regular use and time. What you're looking for are thick cables that look like they belong on the backside of a computer monitor.
You'll also want to think about the physical size and profile of the USB-C plug itself. Depending on what you're plugging into, bulky connection heads around USB connections can make connecting to some devices impossible. Even where you can get the USB adapter to plug-in, you may find that the size of the USB connection ends up blocking other ports on your machine.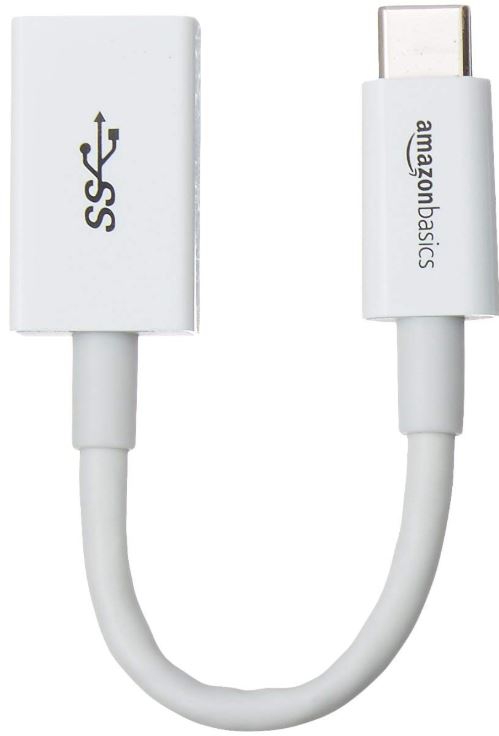 AmazonBasics USB Type-C to USB 3.1 Gen1 Female Adapter
The AmazonBasics USB Type-C to USB 3.1 connector is constructed in white or black, to better match the aesthetic of your devices. It's allows you to easily charge your Type-C devices or connecting up your favorite stuff with legacy cables. And the AmazonBasics brand isn't going to let you down with respect to quality, provided you know what you're getting into.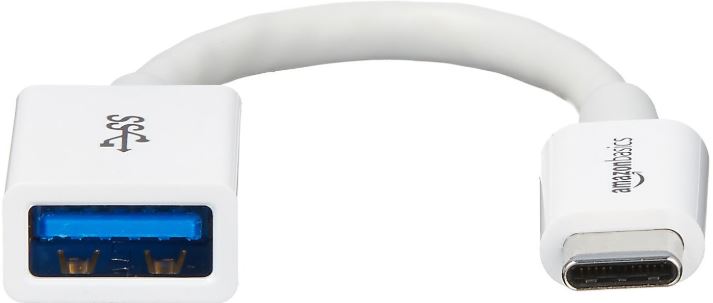 Build Quality & Specifications
The AmazonBasics USB Type-C to USB 3.1 cable measures 5.50-inches from end to end, with a 0.3" height for each connection head, and 0.35" diameter. The cabling uses as reversible design, meaning you can flip and reorient it at will to better find the appropriate connection. And the clearly labeled sides of each end of the adapter makes it so you don't have to wonder which side is up while making a connection.
They've constructed the cable with Aramid fiber, a special type of heat-resistant synthetic. It's the sort of thing you see holding together a bike tire, which certainly makes it tough enough to take on the kind of forces it will see during its lifespan.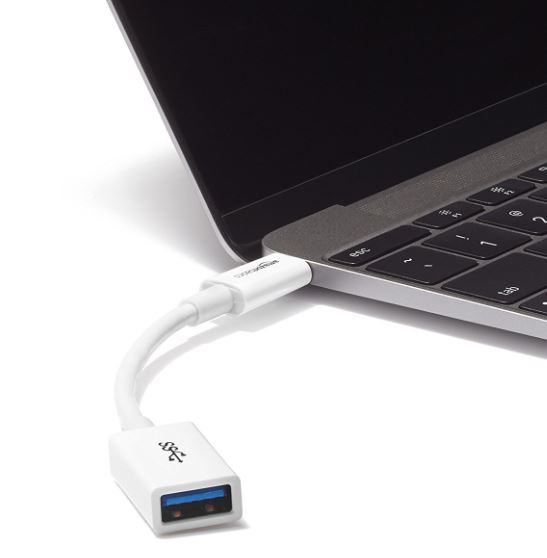 Other Considerations
As you'd expect, this female Type-A to male Type-C connection ensures easy connectivity while supporting data transfer up to 5 Gbps. Moving from USB 3.1 to Type-C keeps the advantages of these technologies intact, including the USB 3.0 power output of 5V/3A. This adapter is USB-IF certified, indicating it meets USB 3.1 standards. And this adapter includes a one-year warranty from AmazonBasics.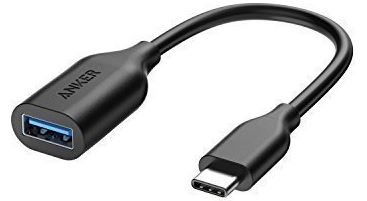 Anker USB-C to USB 3.1 Adapter
The Anker USB-C to USB 3.1 adapter converts female USB-A to male USB-C, offering the full range of 5Gbps speeds which USB 3.1 has been constructed to offer. This is one of the most portable adapters on the market, but it still adds about 4-inches of extendibility between the two devices which it helps to connect.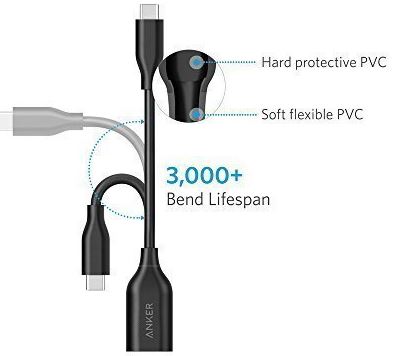 Build Quality & Specifications
The Anker USB-C to USB 3.1 adapter sits at 5.9 x 0.7 x 0.4-inches. The cable thickness seems to be a compromise. It's certainly thick enough to where you don't have to be concerned about your adapter failing within a few years, but it's not quite as indestructible-feeling as adapters like the AmazonBasics USB C to 3.1 Adapter.
Depending on your application, you may want to note the female USB-A end of the adapter is slightly larger than a standard USB-A plug, stretching to 0.7-inches. This bit of extra bulk on the adapter head makes it somewhat easier to hold, manage, and connect the cable. But the bulk is on the female connection plug rather than the male USB-C plug, so there's no reason for concern about blocking connections with the Anker USB-C adapter plugged in.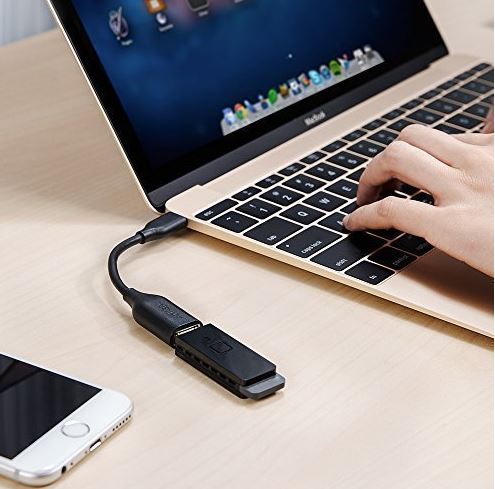 Other Considerations
Thunderbolt 3 can be used on many devices, but it will disconnect and reconnect periodically. Anker didn't advertise this adapter as working with Thunderbolt 3, so it's hard to hold this against them, and interesting that you can get about an hour of connectivity on most devices.
Apart from that, there's no need to install drivers or otherwise go out of your way. Anker's USB-C to USB 3.1 adapter has wide compatibility for Windows, Mac, and so forth. And Anker includes an 18-month warranty for their adapter.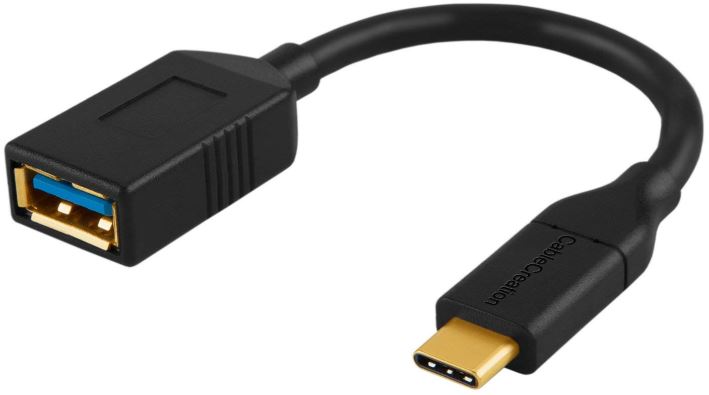 CableCreation USB-C to USB 3.0 Female Adapter
The CableCreation USB-C to USB 3.0 adapter moves female Type-A to male Type-C. That's great for cameras, flash drives, USB readers, keyboards, and so forth. It supports USB 3.1 as well, and allows you to connect to any USB-C tablet that supports OTF protocol. It may also be worth noting, CableCreation is a great choice for highly economical 3-pack adapters.
Build Quality & Specifications
The cable portion of this adapter stretches out to about 6-inches. The quality of the construction leaves little to be desired, the cabling provides well-protected wiring, behind two layers of enhanced shielding.
Notably, the ends of the USB-A female port are joined with a number of texturized bumps. They provide an extra firm grip for removing the adapter from other gear, and are often necessary due to the overall firmness of the connection this adapter makes. And each end of the cable, including the type-A female end, is plated with gold, to keep that firm connection lasting.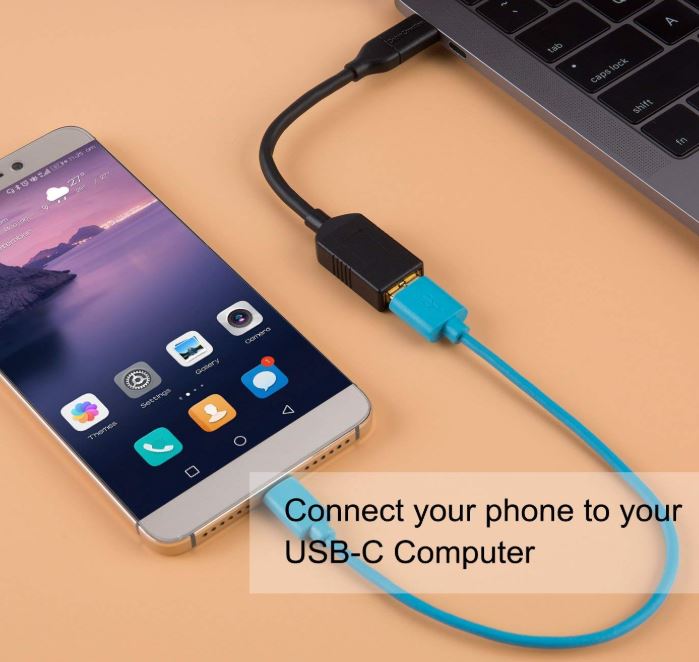 Other Considerations
Like with all USB 3.1 devices, you'll have all the bandwidth necessary for moving videos, photos, music, and similarly large files in only a few moments. The USB-C end of the cable is compatible with MacBook Pro, Surface Book 2, Google Chromebook, Galaxy S8, and a variety of other popular devices.
While most cable manufacturers will only a single year of warranty protection, CableCreation has a lifetime warranty for their adapter. And it's pretty easy to see why. The wire is thick to the point of redundancy, and gold-plated plugs are the gold standard of protection against corrosion.
Choosing Between 3 Quality USB Type-C to USB-A Female Adapters
The CableCreation USB-C to USB 3.0 Female Adapter is a great choice for someone using the OTG protocol on their mobile or tablet devices. It has wide compatibility, including a range of obscure devices. And it has a lifetime warranty and a sturdy construction to match. Almost anyone can choose this adapter with confidence.
Anker's USB-C to USB 3.1 adapter doesn't make use gold connection plating. While it technically doesn't provide Thunderbolt 3 support, it nevertheless does provide spotty Thunderbolt 3 support for on a number of devices. Anker provides wide support for smartphone and tablet platforms, making this adapter a good choice for someone trying to connect to their mobile devices.
The AmazonBasics USB Type-C to USB 3.1 Gen1 adapter is the right choice for rapid charging. Their 3A cabling will keep your devices powered rapidly, and the reversible design of the cable makes it easy to work with. It doesn't hurt that being available in both black and white, this adapter is easy to match-up your other electronics. Although this cable isn't quite as indestructible as CableCreation's cable, it will provide a quicker charge.
Meet Derek, "TechGuru," a 34-year-old technology enthusiast with a deep passion for tech innovations. With extensive experience, he specializes in gaming hardware and software, and has expertise in gadgets, custom PCs, and audio.
Besides writing about tech and reviewing new products, Derek enjoys traveling, hiking, and photography. Committed to keeping up with the latest industry trends, he aims to guide readers in making informed tech decisions.