These days, all major game systems ship with a headset for multiplayer communication. However, they're just an added bonus, not quality headsets. In fact, they're pretty chintzy, and offer poor sound and low mic quality. If you want to improve your console gaming experience, the easiest way is to buy a better headset. And if you're a PC gamer, you need to provide your own headset to begin with.
Today, we'll be reviewing two gaming headsets: the NUBWO U3, and the Combatwing Gaming Headset. We'll take a close look at both of their benefits and features, as well as what each of them could do better. We'll also look at sound quality, as well as the mics and the extra features.
Now, we should point out that these are both "starter" headsets. They're much better than the headsets that come with your game console. But at the end of the day, they're inexpensive. They're great if you're on a budget, or if you're buying for a young kid who's prone to breaking things. But if you want premium sound quality, you're going to want to spend a few extra bucks. In that case, read our review of the Corsair HS Series headsets. The HS50, HS60, and HS60 might cost you more, but they sound better and they're better-constructed. With that said, let's get on to today's options!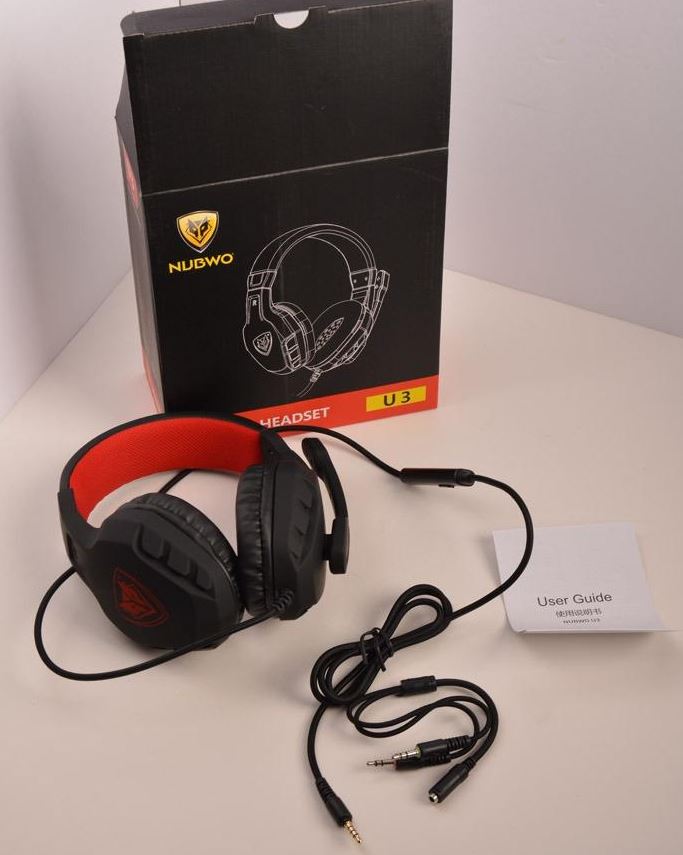 NUBWO U3
The NUBWO U3 is constructed from black ABS plastic, with a chunky profile that looks and feels solid. It weighs 14.4 ounces, which is heavier than most gaming headsets. However, anything under a pound won't be too heavy for comfort. It has a leather pad around the top of the headband, with a crosshatched cloth pad on the inside. The pad matches the material on the inside of the ear cups, and is available in red or black. The headband is adjustable, and can easily be extended to fit just about any head. It has a moderate amount of flex, but is relatively rigid compared to most headsets.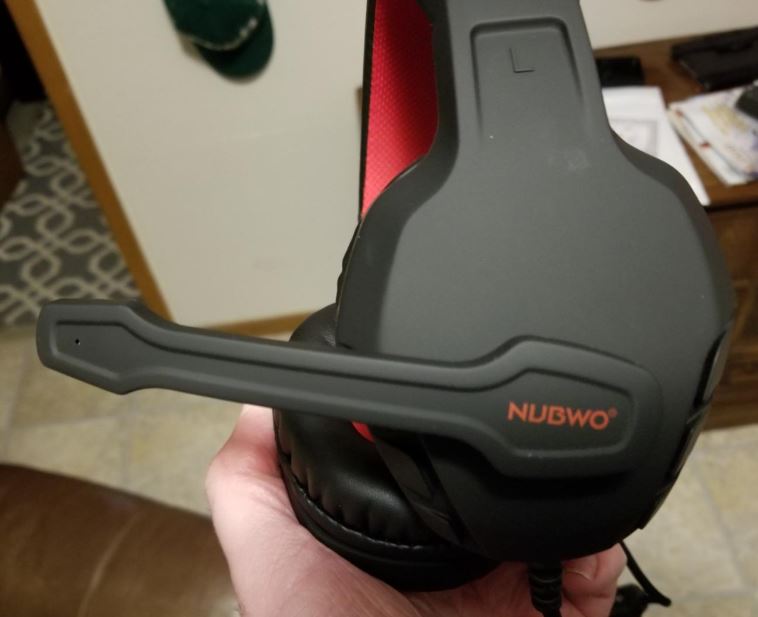 The ear cups are spade-shaped, narrower at the bottom than they are on the top. There are deep ridges on the front, which makes them easy to grip and readjust when you need to. The inside of the ear cups are padded with a faux leather that's sweat-resistant and fairly comfortable. That said, the padding is relatively sparse, so you won't get a ton of noise reduction. The ear cups also don't swivel or pivot, so your adjustment options are relatively limited. There's a fat, heavy boom mic extending from the left ear cup. It swivels to position it near your mouth, but it's not flexible or otherwise adjustable.
The NUBWO U3's cord is 5 feet long, which is sufficient for any type of console gaming. However, it might be too short if you're trying to plug into the back of a desktop PC. It has a 3.5mm tip, which works with the PlayStation 4, Nintendo Switch, and Xbox One. Keep in mind, though, that older Xbox One controllers require an adapter in order to plug in. To connect to your PC, you'll need a splitter that connects to both the headphone and mic ports. A splitter is included with the kit, so you'll be ready to plug in on day one. There's also a small fob on the cable, which has built-in volume and mute controls.
If you want a headset with a sturdier frame, consider the NUBWO N2. It has a metal frame and better speakers, and it still comes at a reasonable price point.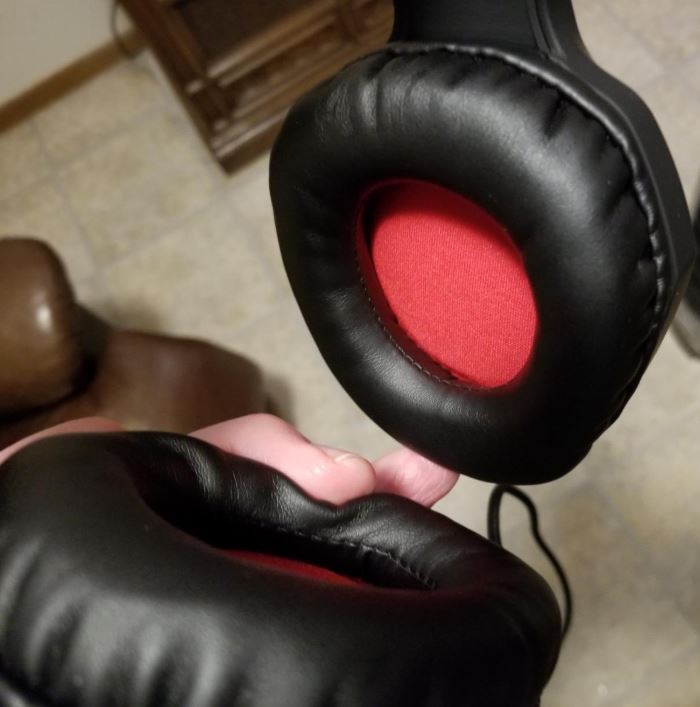 Sound Quality
The NUBWO U3 has 50mm stereo drivers, which gives it better sound quality than you'd expect for the price. It's clear that NUBWO puts most of your money into the drivers, and not into the frame. The sound is very tight, without any sloppiness, buzz, or muddiness. Highs are clear, without cutting through too much and making your ears ring. Mids are equally clear and won't get obscured by other frequencies. This is essential for any gaming headset, since the midrange is where vocals lie. You won't have any problems hearing or understanding your teammates.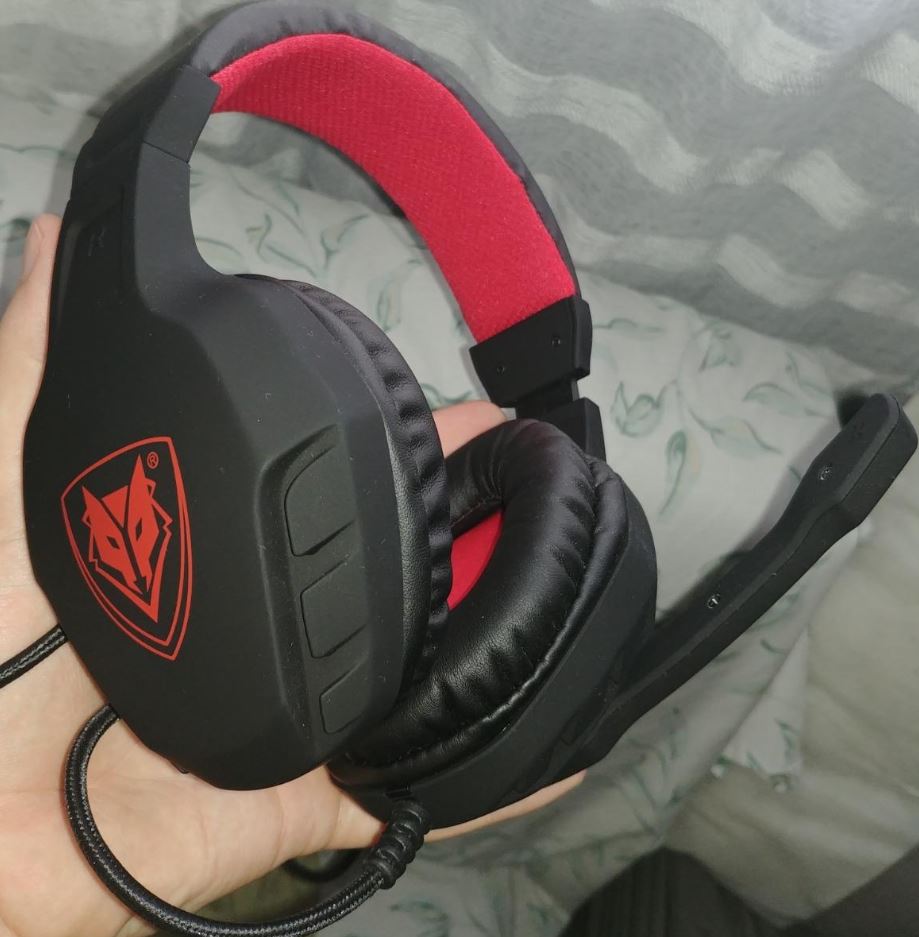 The bass response is also good. It's clear and punchy, and comes across without being muddy. This is particularly noticeable in first-person shooters, where explosions and gunfire are the norm. You'll know where the sound is coming from, although not as well as you would on surround sound headphones. Out of the box, you might not feel that the bass is loud enough. However, just tweak your EQ to pump up the bass, and the U3 will handle it just fine. There's no active noise cancelling (ANC) on the NUBWO U3. This isn't really a major problem at this price point. However, with the poor seal on the ear pads, you're definitely going to hear some background noise.
The mic is plenty clear, and you won't have any issues with hiss at normal volume levels. However, if you boost the gain by more than 10dB, you'll start to hear some hissing. Keep it at a normal level, and you won't have any issues. That said, it doesn't have any noise cancelling or echo reduction, which is to be expected at this price point. It's a directional mic, so you shouldn't have any problems. But depending on your setup, you might experience some echo.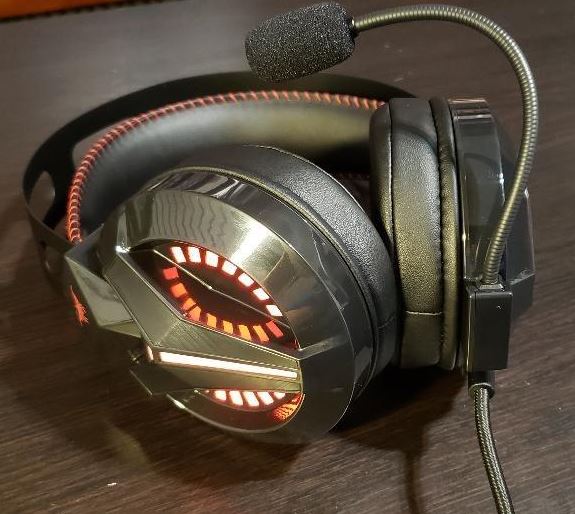 Combatwing Gaming Headset
The Combatwing Gaming Headset has a futuristic, high-tech appearance. The frame is constructed from anodized aluminum, with long holes in the headband to reduce weight. Even so, it still tips the scales at 15 ounces, which is pushing the limit for acceptable headset weight. Despite the metal frame, it's still comfortable. The headband is flexible, which allows it to fit most people's heads. It also has a leather band on the inside, which is separate from the aluminum frame. This band is well-padded, and will comfortably rest across the top of your head.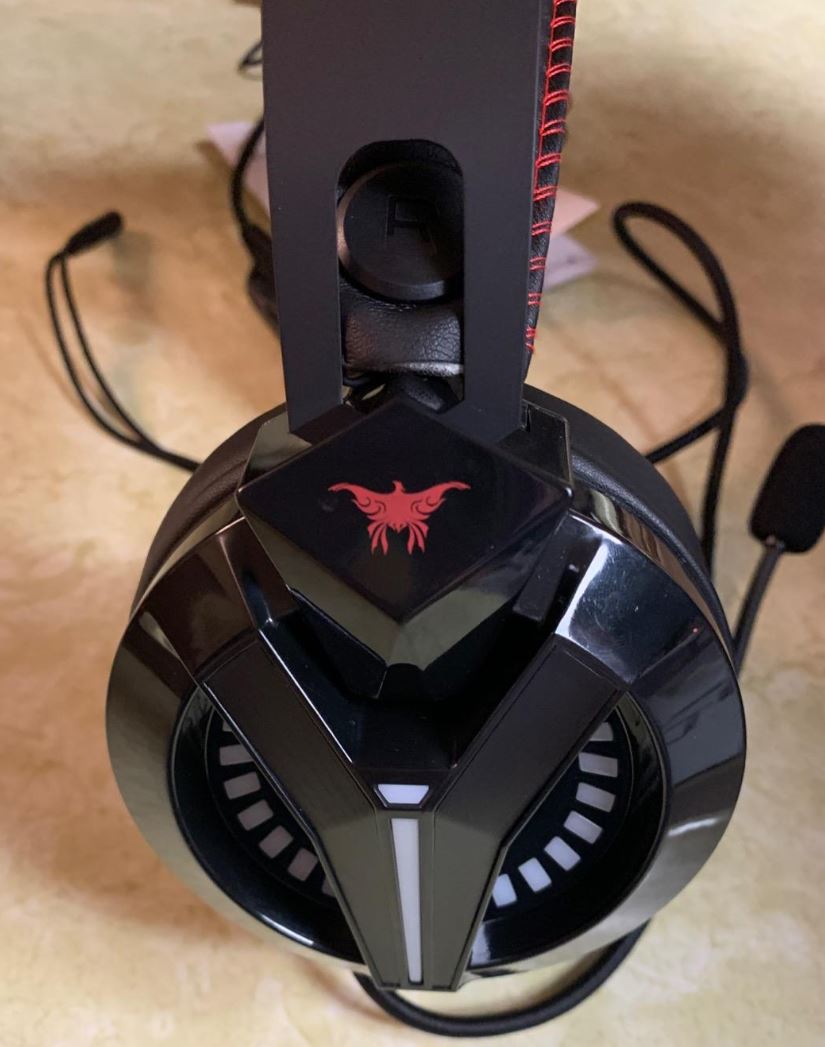 The ear cups are wide and round. They accommodate most people's ears, with plenty of padding. The padding is constructed from a breathable foam, with a sweat-resistant faux leather cover. They provide a reasonably good seal against the side of your face, which helps block outside noise. The backs of the ear cups feature V-shaped supports, with attractive red LED lighting. There's a red Combatwing logo on the top of each ear cup, which adds a bit of visual flair. On the side of the left ear cup, there's a gooseneck-style boom mic. This makes the mic exceedingly flexible, so it can be positioned anywhere you like. The mic itself is fairly large, and is covered with a black foam baffle.
The Combatwing has a 7-foot nylon cord, which is long enough to reach the back of most PCs. It has a 3.5mm cord, which will plug into any modern game system. As we mentioned before, keep in mind that you'll need an adapter for the Xbox One. There's also a USB adapter included in the kit, which allows for a better connection on your PC. Near the top of the cord, there's a small fob with volume and mic controls. It also has a switch for turning the LED lights on and off. The Combatwing comes with a 12-month warranty, as well as a 30-day money back guarantee. If you don't like it, you can simply return it within this time period for a full refund.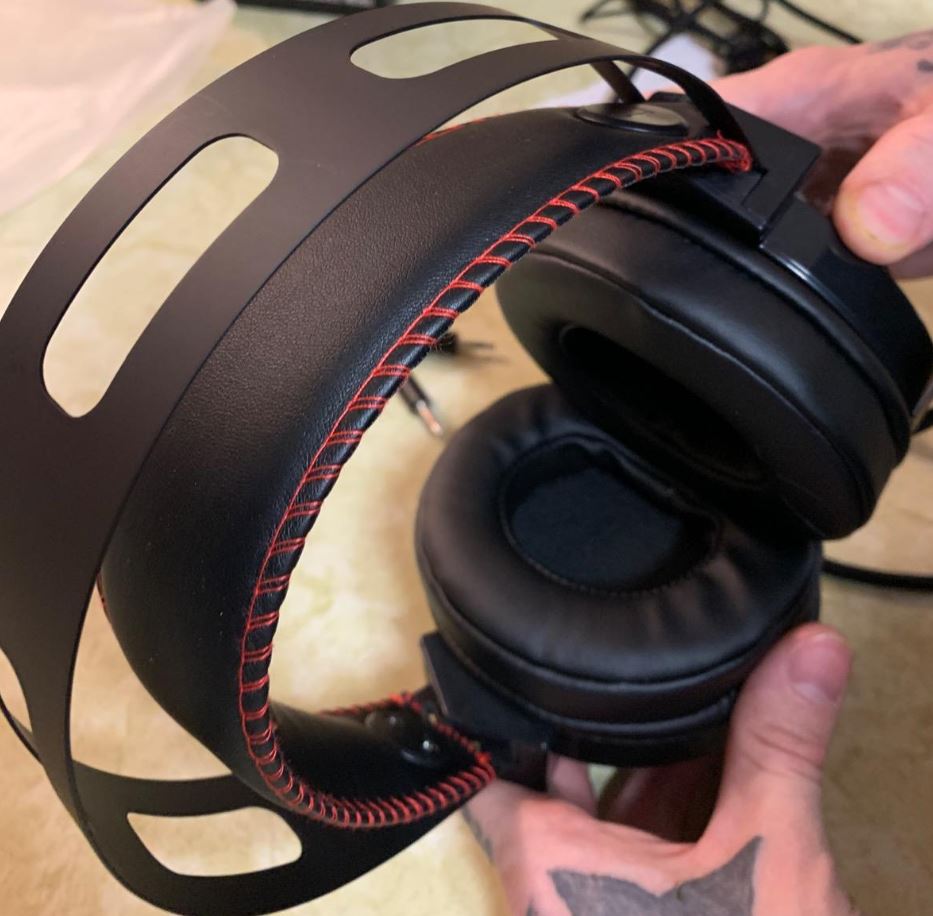 Sound Quality
Like the NUBWO U3, the Combatwing Gaming Headset features 50mm drivers. These drivers provide good sound quality, with plenty of separation between frequencies. The highs are crisp and clear, as are the mids. This ensures that voices come through with plenty of clarity. Your team chat will be easy to hear and understand. The bass is good enough for gaming, and provides good feedback for explosions. That said, at the end of the day, this is a gaming headset. It's not designed for music, and bass quality in music is going to suffer.
The Combatwing Gaming Headset plays regular stereo sound by default. This provides a good sense of space for most people. That said, it's not quite as clear as surround sound. If you connect to your PC with the USB cable, however, you'll get 7.1-channel simulated surround sound. This lets you know exactly where your opponents – and your teammates – are located. There's no active noise cancelling, but that's par for the course with a "starter" headset.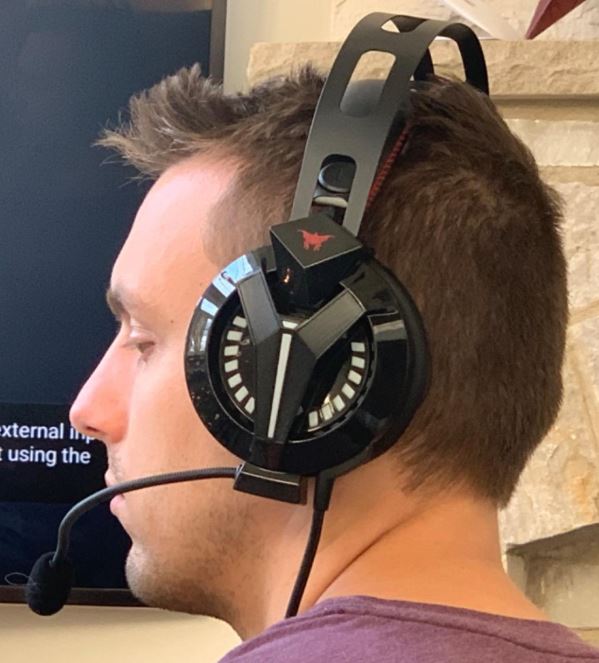 The microphone on the Combatwing is noise-cancelling, which helps filter out room buzz and background noise. That said, it's not directional. As a result, you might experience some echo from your game, depending on your setup.
One thing you won't get from either of these headsets is good situational awareness. Ideally, you'll be immersed in your game. A single-ear headset keeps you aware of your surroundings, which might be a benefit for some people. If you need that, check out the LucidSound LS1. It's an affordable headset with a single-ear design.
Final Verdict
So, which one of these headsets provides a better value? In our view, the Combatwing Gaming Headset is superior, although there are a few caveats. To begin with, the aluminum frame is a lot sturdier than the frame on the NUBWO U3. It's also more flexible, which makes it an easier fit for most people. The Combatwing also has better ear pads. They're plush and thick, and don't let in a lot of ambient noise. By contrast, the U3's padding leaves a lot to be desired. However, the U3's frame can be extended, which makes it a better choice if you have a big head.
When it comes to sound quality, the Combatwing and the U3 are comparable on game consoles. They both have 50mm drivers, and provide a good sense of space and separation for the price. That said, the Combatwing also gives you the option to connect to your PC via USB. This lets you experience 7.1-channel surround sound, which provides much better directionality. That said, the directional mic on the U3 is a bit better at preventing background noise from bleeding in. If you already experience a lot of room echo, this might make the U3 a better choice.