Electronics and water generally don't mix. And while a variety of modern smartphones provide some modest level of waterproofing, others provide little to none. Even if your phone is one of the few which are splash-proof, that doesn't mean it's it would survive a dip in the pool. Depth is another matter altogether.
Even if your phone has some water-resistance, you'd probably feel pretty uncomfortable if someone spilled water on it. And that's the right instinct to have because all it takes is a single drop in the wrong place. Even if your phone survives a splash, water that seeps under the bezel can become trapped, leaving discoloration and stains in its wake.
It's nice to have an extra layer of insurance to put your mind at rest, and a waterproof dry bag pouch is precisely that. But what's the difference between a dry bag pouch and a plastic bag you find on the street? The biggest differences come down to air-tight function, general durability, and the aesthetic of the accessory.
Choosing a Waterproof Dry Bag Pouch for Smartphones
Selecting a waterproof dry bag pouch is fairly simple. You'll want to look at the dimensions of the enclosure, the waterproof protection rating it provides, and whether or not the bag matches your devices. Beyond that, you'll only need to dive into deeper details if you've got highly aquatic activities in mind and you need more than minimal protection.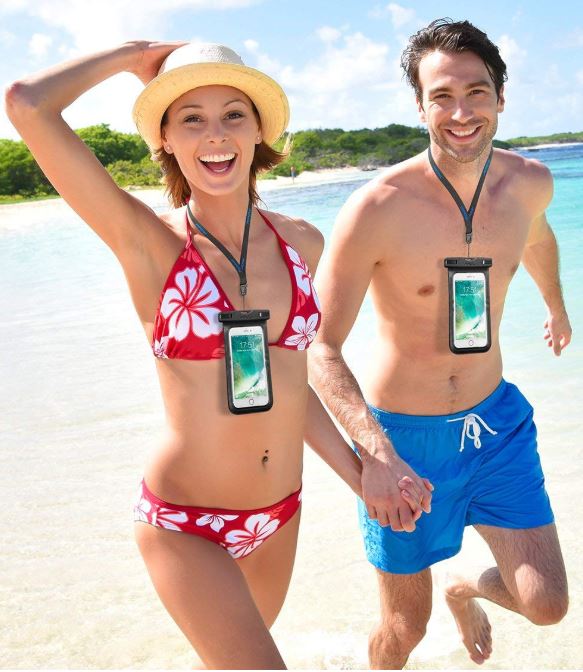 Overall Durability
Every additional foot beneath the water your phone sinks, the amount of pressure on it increases by an order of magnitude. And that pressure can force its way into incredibly tiny spaces that otherwise wouldn't have permeated water, and ultimately destroy your device.
Excellent waterproof dry bag pouches are typically constructed around 0.3mm thick. That's comparable to the thickness of a glass smartphone protector, and it's tougher than most people will ever need. With appropriate latching systems to bolster that initial level of protection, thickness around 0.3mm should result in 100-feet of depth protection.
Common Sense Testing
It's always a good idea to test the waterproof dry bag pouches you select. The last thing you want to do is wrap-up your phone to protect it from water, and then deliver it directly to danger. Before you use your smartphone inside a pouch, use this simple test. Place a paper towel, piece of paper, or similar soft tissue inside the bag.
Then submerge the bag for half-a-day, and see what happens to the dry tissue. Even if you buy a quality product from a respectable manufacturer, it's worth running this test. It will protect you from all variety of defects and shipping accidents.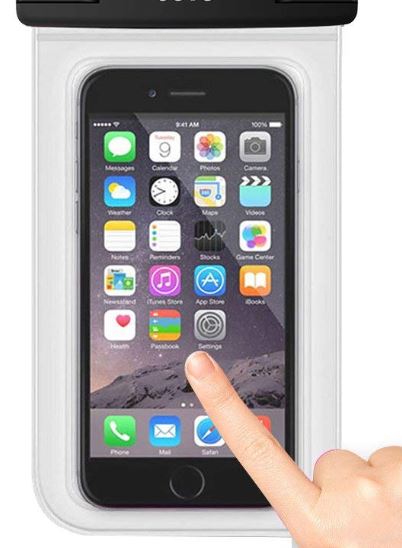 Aesthetic
Sometimes, waterproof dry bag pouches could be replaced by a disposable plastic bag. Admittedly, those bags are an imperfect solution because they're flimsy and have weak seals. But if you're only spending one day by the beach, and it's supposed to be sunny all day, then it might be advisable to use what you have laying around at home.
But when you're going to use a pouch more than once, that means you're going to look at it more than once. And you're going to be seen with it more than once. After all the effort people spend on choosing attractive smartphone cases, it's easy to understand why they wouldn't want to top it off by wrapping their phone in a sandwich bag.
Choosing aesthetic is a matter of taste. Most dry bag pouch manufacturers will provide at least a handful of different options to mix-and-match with your mobile devices and accessories. You'll want to look for color and pattern varieties, or business-style blank protectors, depending on your needs. That might mean blank or clear protectors, monotone protectors, or reflective protectors.
Staying Afloat
If you're only worried about sand or rain, then simpler dry bag pouches will be more than adequate. They'll protect a smartphone in your pack, even if the rain soaks through to the core. But what if you're fishing on a pier? Sailing out on a boat? Floating around in a pool? Anytime there's a big body of water around you and you've got your phone out, you probably feel tense from top to bottom.
You probably even grip slightly harder. It's understandable. For people who value their smartphone like a child, what's needed is the same water protection you give to a child, inflatable floating airbags. If you drop your phone in the water, fishing it out isn't any harder than skimming the surface of the water. And if the bag saves your phone one time, it immediately pays for itself 100 times over.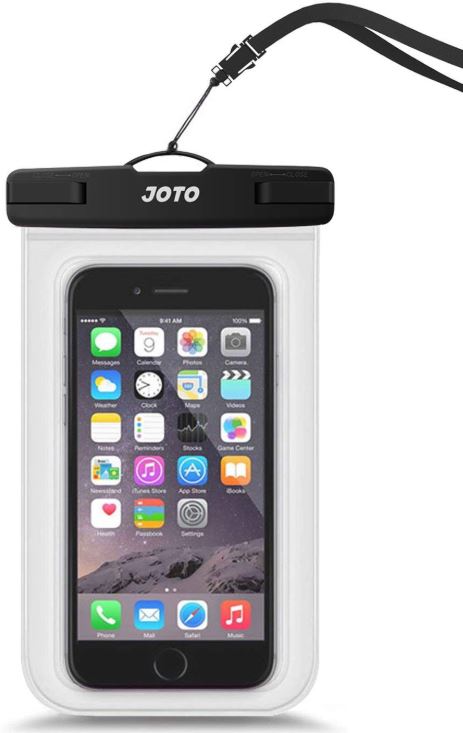 JOTO Cellphone Dry Bag Pouch
The JOTO Cellphone Dry Bag Pouch is a rather universal designed protector, offering compatibility for the iPhone X, Samsung Galaxy S9 Plus, Google Pixel, and essentially every other major mobile platform. It allows phones up to 6" in diagonal size to smoothly fit inside, though phones that push right up to that limit will have to remove their case to fit inside the JOTO.
Build & Design
For internal devices, credit cards, and similar documents, the JOTO Dry Bag Pouch has a 3.9 x 6.6-inch maximum size. The external measurements of the bag itself are 6.7 x 3.9 x 0.2-inches, while weighing about 1.5 ounces. The bag is composed of thick clear 0.3mm plastic, paired with a tight snap-seal for IPX8 waterproof protection. That protection holds up 100 feet in depth, and naturally carries over to defense against things like snow, dirt, and sand.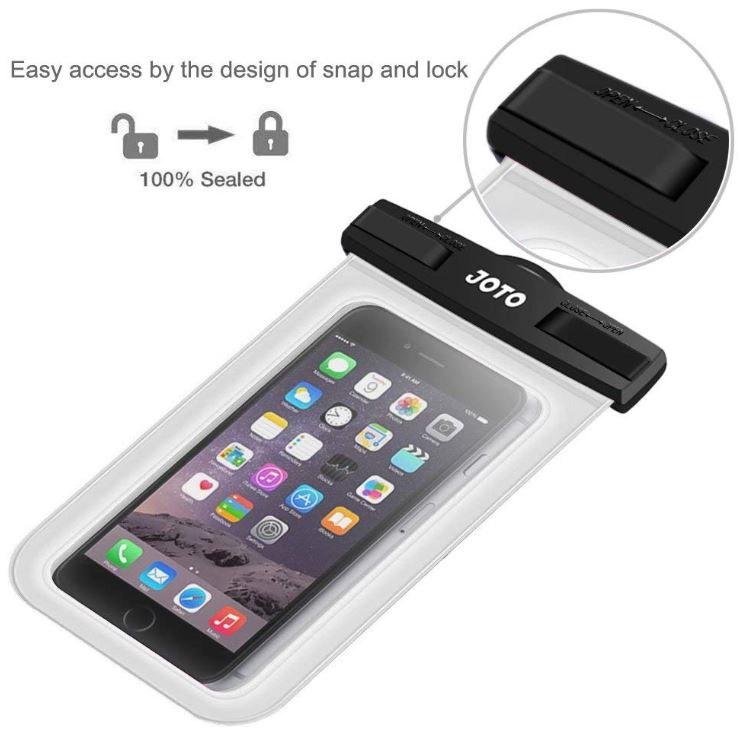 Other Considerations
Opening the JOTO Cellphone Dry Bag Pouch is somewhat similar than you might expect, and certainly a tad simpler than sealing a sandwich bag. The topside opens with a simple snap-lock. Once snapped closed, you know your stuff has been secured. And after its in place, the edges of the bag won't interfere with touch controls over your phone.
JOTO Cellphone Dry Bag is also available in 11 different colors. There's neutral clear, black, blue, green, gray, magenta, white, clear-pink, traditional camo, blue camo, and gray camo. If you're going canoeing, sailing, boating, diving, camping, or otherwise engaged in the outdoors, this bag is fairly well equipped. JOTO also includes a neck-strap for easy carrying, which is somewhat of a standard feature for dry bag pouches for smartphones.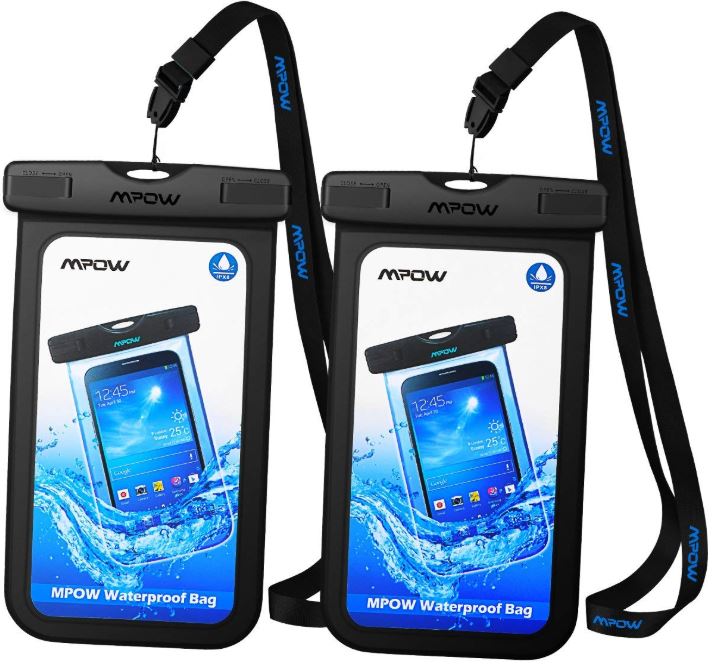 Mpow Universal Waterproof Case
The Mpow Universal Waterproof Case is yet another universal, well-rounded smartphone pouch dry bag. Its expansive protection supports wide compatibility for essentially every type of phone. From larger phones like the iPhone 8 Plus to the Galaxy S8, you'll find enough space to slide in credit cards, money, and other things you may want to protect from water. And outside of being useful for water, Mpow provides additional protection from snow, dust, dirt, and sand.
Build & Design
From a glance, the Mpow Universal Waterproof Case looks like any other. It measures roughly 7 x 4.5 x 0.8-inches, and weighs just above 2-ounces. Like with the JOTO dry bag pouch, using the Mpow case is quite simple to use. Just release the snap enclosure at the top of the case, and then place your phone inside. Seal the bag and snap it closed. And Mpow actually includes a pair of two phone protectors, both with a standard black design, so you can repeat this process on multiple devices.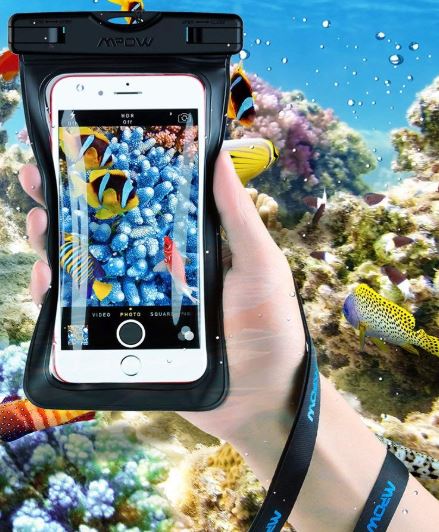 The thick construction of its plastic walls allows the Mpow Universal Waterproof case to be IPX8 certified, preparing it to be submerged or entered into extreme conditions. The transparent cover leaves both cameras unblocked and ready to be used. And the universal design of this case makes it a good place to store documents, credit cards, cash, and so forth.
Other Considerations
If you plan on taking underwater photos, you'll find that the pressure from the water makes operation with the touch screen somewhat troublesome. For solving that, you'll need to take photos through volume buttons. You can continue to operate touch screen functions with the bag on, but you're not able to fingerprint ID yourself.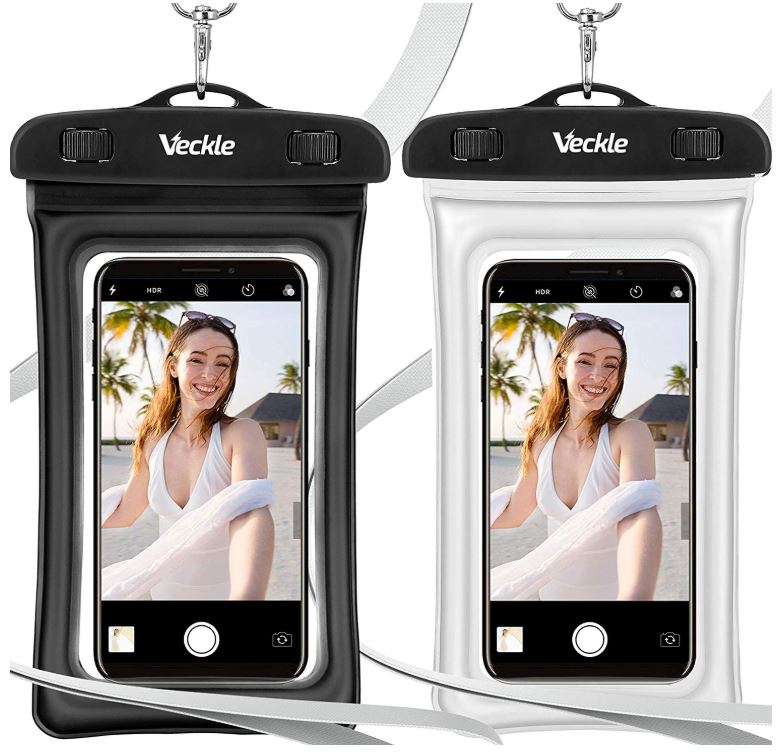 Veckle Clear TPU Universal Waterproof Cell Phone Case
Veckle's Clear TPU Universal Cell Phone case says it all in the name. It's another fairly universal source of protection for smartphones, as well as your similarly sized possessions. The topside of the case is composed of durable ABS plastic, keeping your phone well-protected from water.
But what makes Veckle's clear case stand out is how air is encased on the outer layer of the bag, like a balloon, allowing your phone to elegantly float on the surface if you happen to drop it in water.
Build & Design
These bags weigh about 2-ounces, with an extra-large 8.7 x 4.9 x 1-inch construction. Those somewhat larger dimensions are due to the inflatable bulk of the bag. Veckle's case is IPX8 certified against water for up to 100 feet, as well as resisting cold and heat up to 113°F. The top seals with two rollers as opposed to a snap-design, allowing you to gradually seal pressure.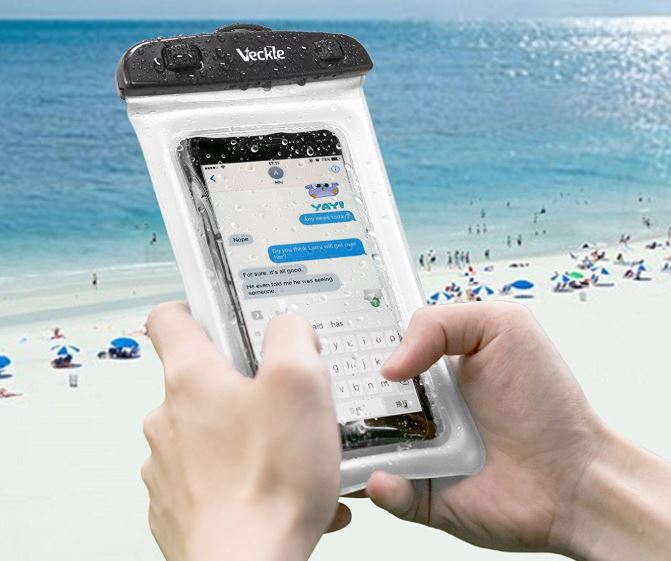 The transparent and environmentally friendly screen is roughly 0.3mm thick, which is about the same thickness as most glass phone protectors. That provides a nice layer of protection without having to wipe-out color transmission or make your phone hard to see. And the environmental friendliness belongs to the recycled and recyclable nature of the bag, as it's composed of highly recyclable materials.
Other Considerations
Additionally, the Veckle TPU Universal Waterproof Cell Phone Case includes two cases, which are available in black and white, pink, or pink and blue. It's widely compatible with the iPhone 8, Samsung Galaxy S9, Note 8, Nexus 5X, and so forth. As long as your smartphone is within the 6" diagonal supported, you'll have no time fitting it inside their universal waterproof case.
But if you do have one of the biggest phones on the market, and then a thick case to top it off, you may have to end up removing your case to fit inside. As with most waterproof dry bag pouches, this bag can also be adapted to protecting credit cards, cash, and other things you don't want to lose track of while visiting the beach. And fortunately, this kit also includes a neck strap to help you carry along these slightly larger dry bags.
Choosing Between 3 Waterproof Dry Bag Pouches for Smartphones
The JOTO Cellphone Dry Bag Pouch uses a snap-design that's simple to understand and use. It's available in a variety of stylistic colors, and it provides all the essential protection that you'd expect from a waterproof dry bag pouch. It's a particularly good choice for someone who wants to treat these pouches as another type of accessory for their phone due to its extensive style options.
The Mpow Universal Waterproof case is the safe, general consumer option. It's rather professional-looking, and as fully protective as any of its competitors. If you plan on taking your phone kayaking, boating, fishing, or otherwise in close proximity to the water, the Mpow protector is great for taking photos in and around water. It's also large enough to fit the biggest phones on the market.
Finally, the Veckle Clear TPU Universal Waterproof Case is special. It uses a floating dry bag design that will keep your phone from sinking into oblivion if it's dropped in the water. The floating design means the bag is somewhat bulkier than bags which don't have small balloons attached to them. But for rafting, boating, fishing swimming, or otherwise doing things near the water, it's your safest choice.
Meet Derek, "TechGuru," a 34-year-old technology enthusiast with a deep passion for tech innovations. With extensive experience, he specializes in gaming hardware and software, and has expertise in gadgets, custom PCs, and audio.
Besides writing about tech and reviewing new products, Derek enjoys traveling, hiking, and photography. Committed to keeping up with the latest industry trends, he aims to guide readers in making informed tech decisions.