If you're trying to test your WiFi security or develop your own app, a WiFi deauther can be a powerful tool. A deauther deauthorizes "deauthers" a device from a WiFi network remotely. This technique is well-known, and secure modern WiFi systems are protected against it. As a result, a deauther is a good tool for testing your system's security. It can also be useful for developing apps.
These days, deauthers are more often used for pranking your friends than for anything practical. But they can still be a useful tool in your toolkit. Not only that, but many modern deauthers also have additional applications that are still very much useful. If you haven't been shopping for one in a while, you might be surprised at what you're missing.
We're about to review four of the best WiFi deauthers on today's market. Each one has several benefits to bring to the table, and is worth going over in detail. Let's get right into it.
1. AURSINC WiFi Deauther Watch SE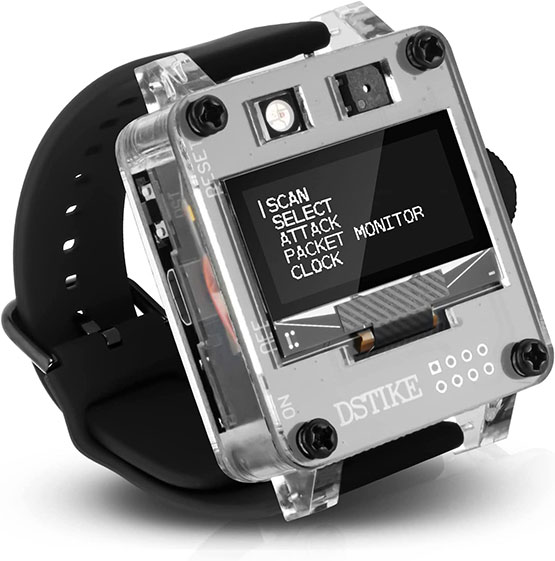 Key features:
Deauther, WiFi spoofer, and probe functions.
Single button for flashing firmware.
3-4 hour battery life.
The AURSINC WiFi Deauther Watch SE is sleek and stylish. It has a clear plastic case that allows you to see through the sides, along with solid top and bottom plates. The overall shape is square, although the corners are rounded so as not to create any sharp edges. The solid panels have a silver-grey tone, and create an attractive contrast to the black silicone strap. A metal buckle secures the strap reliably, so you won't lose the watch by mistake.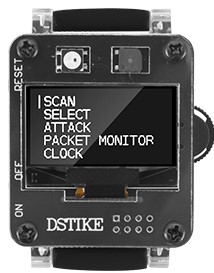 The main controls are located on the left side of the case. The reset button is towards the top, while the power button is just below it. Below the power button, on the middle of the case edge, is a Micro USB port. This port is used for charging the internal battery. On a full charge, the battery will last for around three to four hours. This is a rough estimate, though, and it largely depends on how you're using the watch.
Most of the front of the watch consists of an LCD display. When you're not using any of the WiFi functions, this display shows the current time in Arabic numerals. There's no date function or anything like that, but it keeps the time accurately. Bring up the menu, and you can access the various WiFi functions.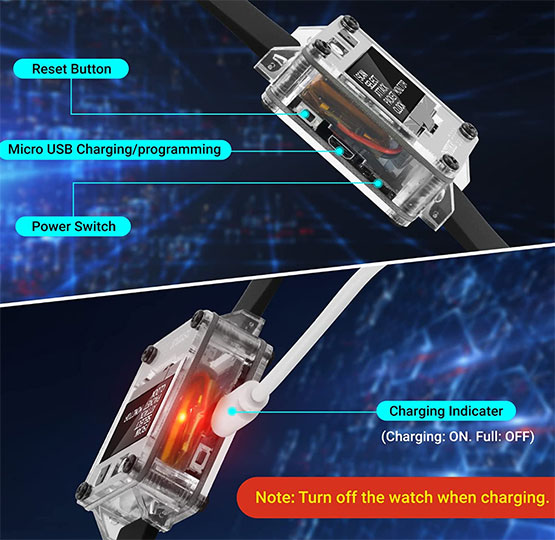 The basic deauther function is designed to kick other devices off of a WiFi network. Keep in mind that this will not be universally effective. It will only work on devices that have not implemented the 802.11w-2009 standard. Still, it can be an effective tool for checking your network's security. To use the tool, just connect to a WiFi network. You can then bring up a list of connected devices and choose which ones to kick off. This works best if you choose only one device. Choose more than one, and the interface can time out.
The Watch SE also works as a WiFi spoofer, and the process by which it does this is remarkably simple. You can set it up to send out "beacon packets" that announce the presence of an access point. Within the system, you can create as many phony WiFi networks as you want. Keep in mind that they won't be functional networks. But you can drive your friends crazy by getting them to try and connect.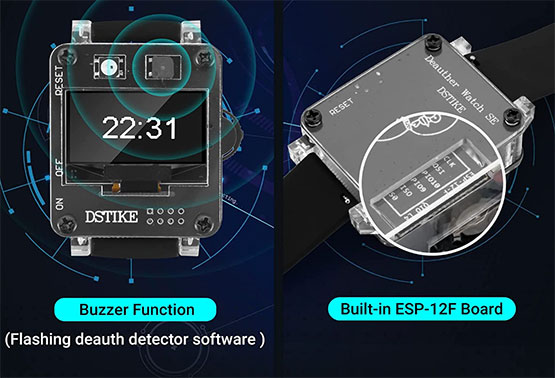 Another useful function is the Probe function. When your phone is not connected to WiFi, it constantly sends out Probe requests. These signals are marked with the names of WiFi networks you've connected to. In theory, they make it easier to get online quickly. But they can also be used to track your phone's location. When the watch goes into Probe mode, you can set it to scan for phony network names. This can be useful for testing some types of network hardware.
If that's not enough, there's a "Buzzer" button on the front right. Press this button while you're connected to the internet, and the firmware will automatically update. This is much easier than having to set up the firmware yourself.
2. AURSINC WiFi Deauther & Bad USB Watch V4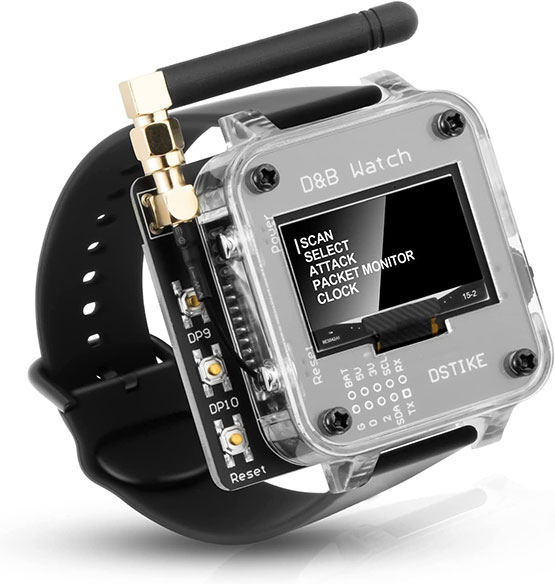 Key features:
Deauther, WiFi spoofer, probe, and Bad USB functions.
Antenna provides 3dB boost.
10-hour battery life.
The AURSINC WiFi Deauther & Bad USB Watch V4 looks a lot like the Watch SE at first glance. It has a similar clear plastic housing with a black screen and transparent sides. The square profile and rounded corners are nigh-identical. And the soft silicone strap provides secure, comfortable closure.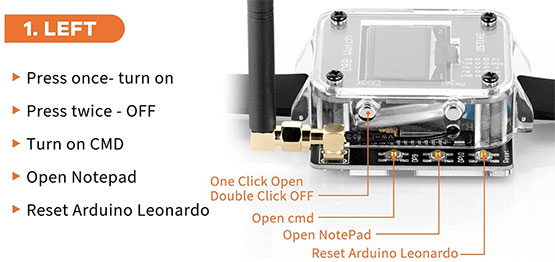 The controls are located on the left side of the housing. Directly on the side of the case are a pair of buttons that look and feel like ordinary watch pushers. Behind these is a row of three smaller gold-colored buttons. On the right side of the watch is a pair of Micro USB ports for charging. You can use either one, but not both at the same time. On a full charge, the battery will last for about 10 hours, depending on your usage patterns.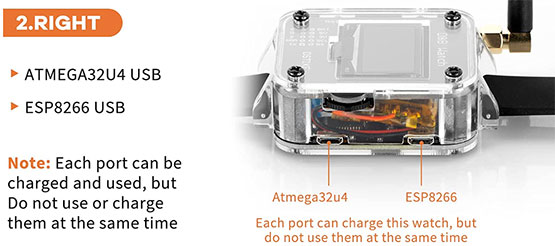 The clock mode shows simple Arabic numerals in a large white font. In the mean time, the menu allows you to activate a deauther, WiFi spoof, or probe. These work the same as the last watch we looked at, but there's a little antenna at the front. This antenna isn't just for decoration. It provides a signal gain of 3dB, which can significantly improve your range.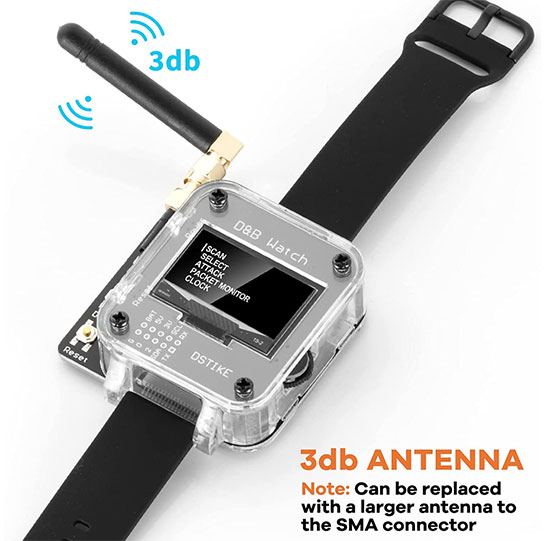 In addition to all that, you can plug the watch into your other devices and use it as a Bad USB. Bad USB is a nifty little app that can make your USB device appear to be something different. The watch can pretend to be a keyboard, mouse, phone, webcam, or even an authentication program. But why would you want to do that?
The answer is that Bad USB and similar code are often used to engage in malicious attacks. A USB device could pretend to be a mouse and keyboard, for example. When plugged in, it could immediately launch Microsoft Outlook and send out a series of spam emails. Obviously, this is a real risk for hardware and software developers. By using Bad USB yourself, you can make sure your own code isn't vulnerable. It can also be a fun way to prank your friends.
3. AURSINC WiFi Deauther DSTIKE Mini V3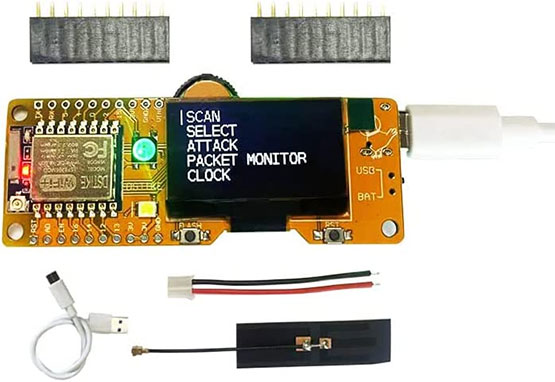 Key features:
Deauther, WiFi spoofer, and probe functions.
Can be used to develop your own software.
3-4 hour battery life.
The AURSINC WiFi Deauther DSTIKE Mini V3 is an entirely different animal. Instead of being a watch, it's a mostly-bare ESP8266 card. That's the internal chip that runs pretty much every deauther on the market. It's bright orange, with a small battery and LCD display soldered onto it. There's a set of buttons under the screen, and operation is pretty straightforward. You can use it as a basic deauther, as well as a WiFi spoof or a probe.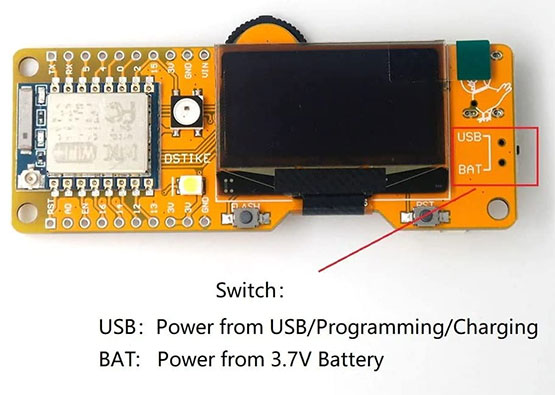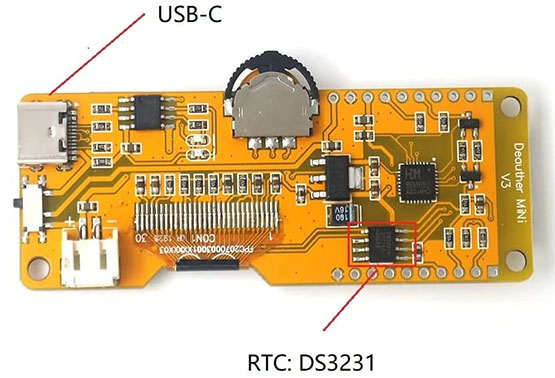 But what really makes this deauther special is how easy it is to extend its functionality. The company has posted code on GitHub that allows you to program your own functions. This means you can customize it to do all sorts of WiFi-related tasks. If you're trying to create your own custom deauther device, you're looking at a great starting point.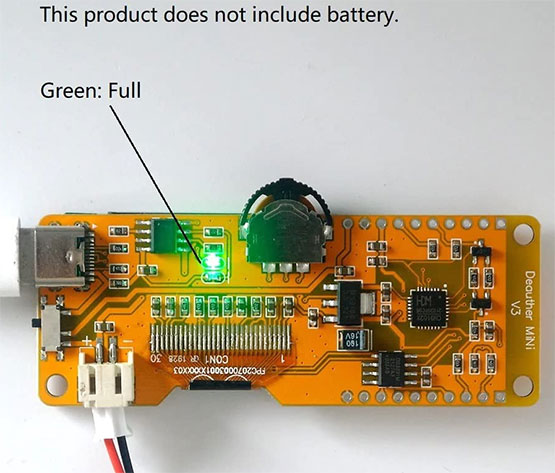 The on-board battery charges via USB Type-C, and will last for around three to four hours. However, there's also a toggle switch under the charging port. Flip the switch, and you can run via the incoming USB power instead, providing effectively limitless battery life. This also enables a data connection for the programming mode.
4. Walfront Deauther Watch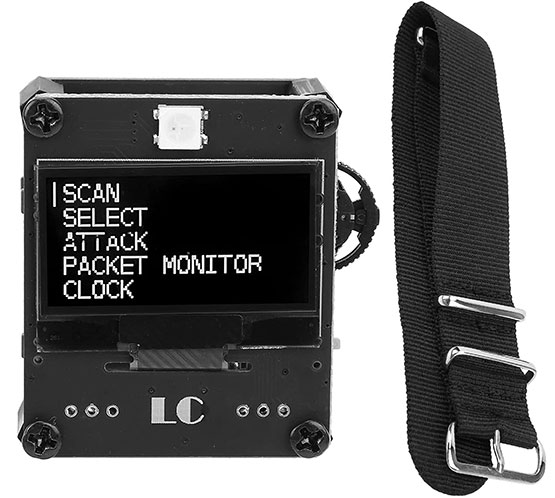 Key features:
Deauther, WiFi spoofer, and probe functions.
Programmable.
4-5 hour battery life.
The Walfront Deauther Watch is an all-black watch constructed primarily from black aluminum. It has square front and back plates, with open sides and nuts connecting the palates and the corners. The strap is made from a durable black nylon that's similar to the material on a camera strap. It has a shiny steel buckle, which holds it reliably in place when you're wearing it.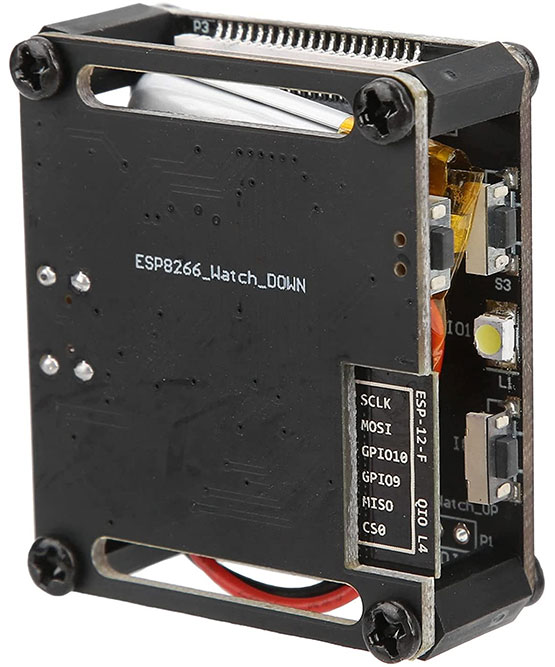 The watch display consists of large white Arabic numerals that are very easy to read. Or you can use the buttons on the left side of the unit to play with the various deauther functions. It's also programmable. You can use the Micro USB port on the right side to connect it to your computer and tinker with the code. The internal battery only holds 500mAh of power. But that's still enough to last for four to five hours, depending on what you're doing.
What is a WiFi Deauther For?
A WiFi deauther is a special tool that's designed to kick people off of a 2.4GHz WiFi network. It does this by identifying the MAC address of the router or access point. It then spoofs that MAC address and sends a de-authentication frame to the device you want to kick off. The device thinks the router or switch has kicked it off, and stops communicating with the network.
Dauthers can be used by hackers for a couple of techniques. First, it can be used to hack into a WiFi network. An attacker kicks a device off, then spoofs the router and wait for the device to attempt to reconnect. When it does, the attacker steals the WPA key. They can then gain unauthorized access to the network.
Conclusion – Which is the Best?
All four of these WiFi deauthers are well-designed. But which one is the optimal choice for your needs? Let's talk a little bit about what we've learned about each one, so you can decide for yourself.
We started out by looking at the AURSINC WiFi Deauther Watch SE. This is an effective little device that doubles as a high tech-looking wristwatch. It's capable of spoofing WiFi networks and sending out probe packets in addition to deauthing. We particularly appreciated the Buzzer button, which allows you to instantly update the firmware. Compared to most deauthers, this makes setup a piece of cake.
Next, we checked out the AURSINC WiFi Deauther & Bad USB Watch V4. This watch is similar in many respects to the Watch SE. That said, the antenna provides it with significantly improved range. Not only that, but the Bad USB function offers a lot of added value. You can check for vulnerabilities via USB, not just over WiFi.
After that, we evaluated the AURSINC WiFi Deauther DSTIKE Mini V3. This is the only one we looked at today that doesn't have a watch function. Instead, it's designed more for programmers, with an optional set of code for extending its functionality. You can also run it via USB Type-C power, so you're not 100% reliant on the battery.
Last but not least, we reviewed the Walfront Deauther Watch. This watch is similar to the AurSINC watches in many ways. But it's thicker and beefier, with a more industrial appearance to it. If that's not enough, it's programmable when you plug it into your computer via Micro USB. It even has respectable battery life, at up to five hours under the right conditions.