Maintaining the optimal temperature and humidity levels in various environments is crucial for our health and comfort. WiFi thermometers and hygrometers are wireless devices that offer real-time monitoring, alerts for critical changes, remote access, and data storage and analysis, helping users maintain optimal conditions.
For your consideration, we have evaluated and selected the top WiFi thermometers and hygrometers based on their accuracy, performance, ease of use, and additional features. The top picks include:
To learn more about what each of these brings to the table, check out our reviews below.
Best Overall: tempCube WiFi Temperature and Humidity Sensor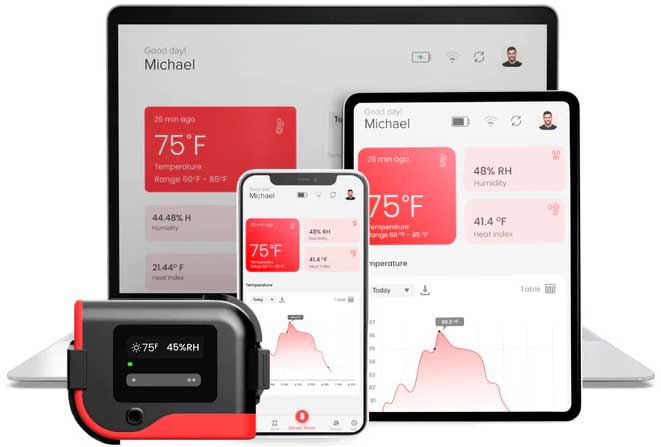 Key features:
Real-time temperature and humidity monitoring
LCD shows readings without requiring a smartphone
No monthly subscription required for alerts
Built-in rechargeable battery
In-depth data logging to analyze temp/humidity trends
Massive temperature range of -30°C to 60°C (-22°F to 140°F)
As our best overall option, tempCube offers a simple, reliable and well-designed solution for monitoring temperature and humidity. It connects to your home network or mobile device using 2.4GHz WiFi, where you have access to their intuitive app for real-time monitoring and analysis. We tested it in a wide variety of rooms and even outdoors. To our liking, we found all of the readings to report incredibly accurately with up to the second, live statistics.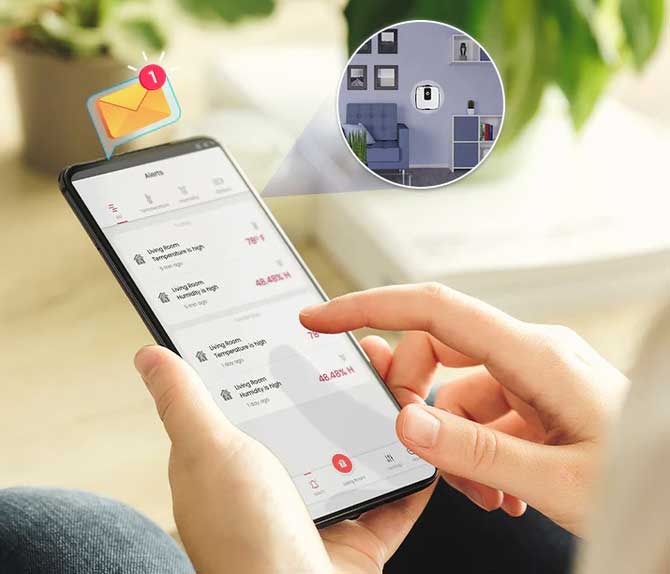 Setting up and pairing it to a WiFi connection was simple and painless. Once you download the app, it'll walk you through the process, step by step. Available on both iOS and Android devices, the tempCube app works perfectly, exactly as designed. Simply put, we found the interface refreshing, easy to navigate and in our time testing it, we didn't experience any crashing, glitches or problematic issues that take away from the experience.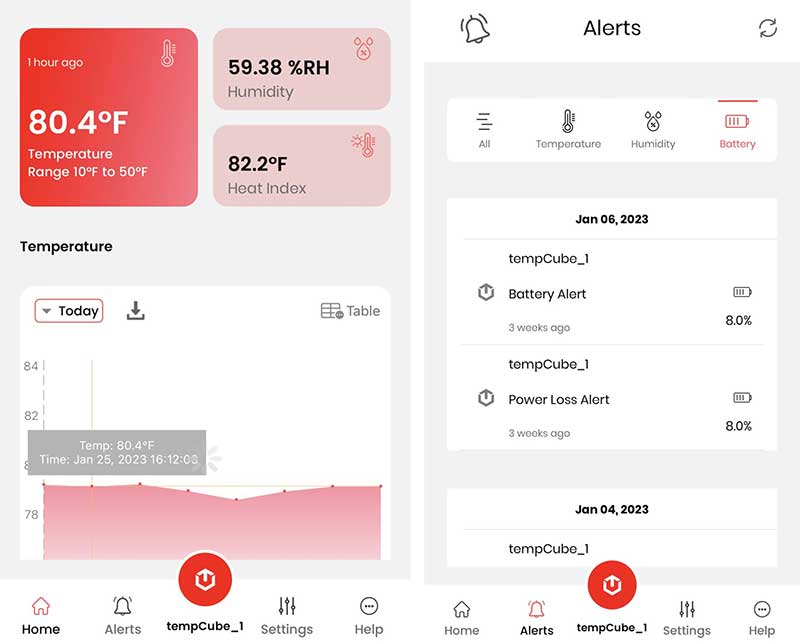 Users are able to fully customize their own interface with the ability to set specific temperature and humidity ranges. The moment that tempCube senses humidity or temperature beyond any set level, you can configure notifications that instantly notify you via email, text message or push notification. Ideal for on-the-go or in-home use, it's perfect for those who prefer a streamlined user experience without the bloat, monthly fees and excess junk that most WiFi thermometers and hygrometers typically have. Within the app, you have access to data history for up to a 90-day period. While this only allows for ~3 months of tracking history, it'll likely be suitable for most scenarios.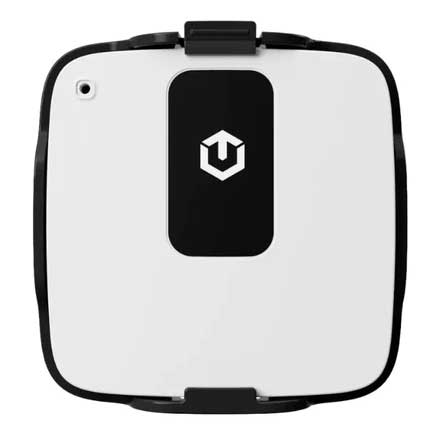 tempCube consists of two main units; the sensor and the base unit. Both are incredibly small and contain their own rechargeable battery that lasts for up to 90 days between charges. And once depleted, the units re-charge quickly via USB-C. Ultimately, this means you can place them virtually anywhere, regardless of a power source.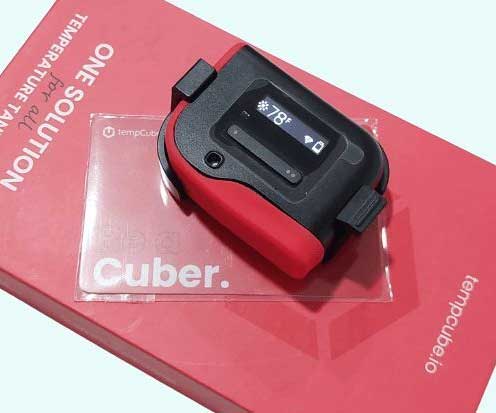 Overall, tempCube allows for the best of both worlds; simplicity and accuracy. In our time testing it, we found it to work exactly as advertised without any guesswork required. The small form-factor, impressive battery life and build quality are all very commendable. As is the smart app that provides WiFi connectivity for seamless integration. Whether you're monitoring a basement, spare bedroom, closet or bathroom, it's a fantastic option for those looking for the perfect blend of performance and accuracy.
What we liked:
No monthly fees – ever!
Takes less than 5 minutes to setup and configure
Wonderfully-designed smartphone app with a clean interface
Long battery life up to 90 days
Backed by a 12 month warranty period
What we didn't like:
Data logging maxes out at 90 days
More expensive than other options
Only compatible with 2.4GHz WiFi networks
Second Best: Govee H5179 WiFi Thermometer Hygrometer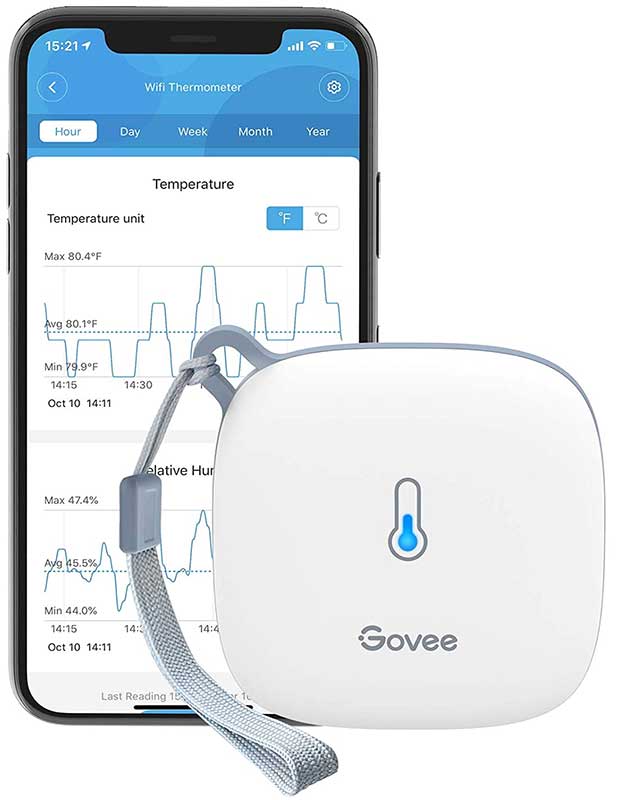 Key features:
Real-time monitoring from anywhere
Accurate temperature and humidity readings
Alert function for preset ranges
Free data storage and export capabilities
The Govee WiFi Thermometer Hygrometer H5179 is a highly accurate and reliable device for monitoring temperature and humidity. We tested it in various settings – from our office to our living room – and were impressed with its precise readings; the temperature accuracy was up to ±0.54℉/±0.3℃ and humidity was up to ±3%RH. The device refreshed every two seconds, giving us real-time monitoring of any changes.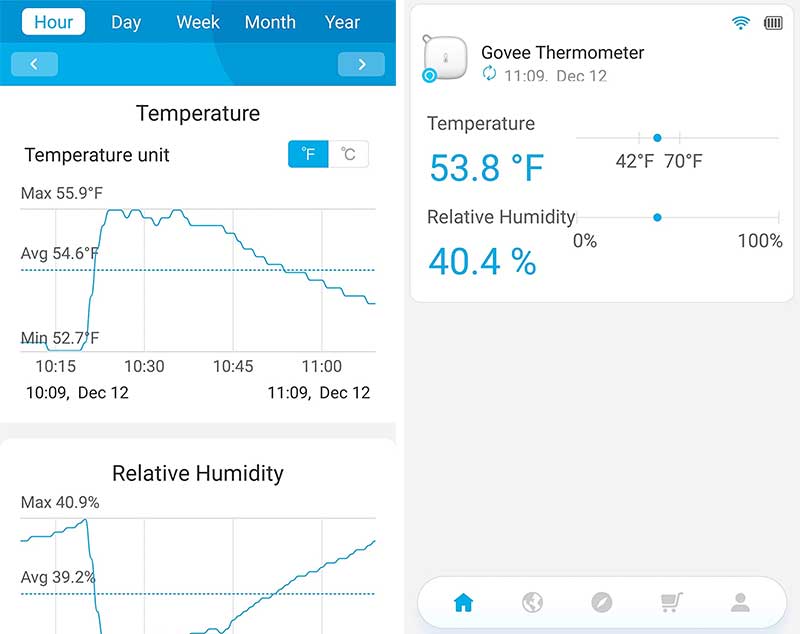 We found the unit easy to set up and connected it quickly with the Govee Home app via WiFi or Bluetooth. We could monitor temperature and humidity remotely through the app, as well as set alert functions for specific levels of temperature and humidity. The data storage and export capabilities were impressive; we had access to 20 days of online data storage view, plus the ability to export up to two years' worth of data for historical trends analysis.
It's a versatile device that's highly portable. We found it extremely easy to use and a great tool for anyone looking to monitor air in their living spaces. It's an affordable, reliable, and accurate device that will help you keep your home safe and comfortable.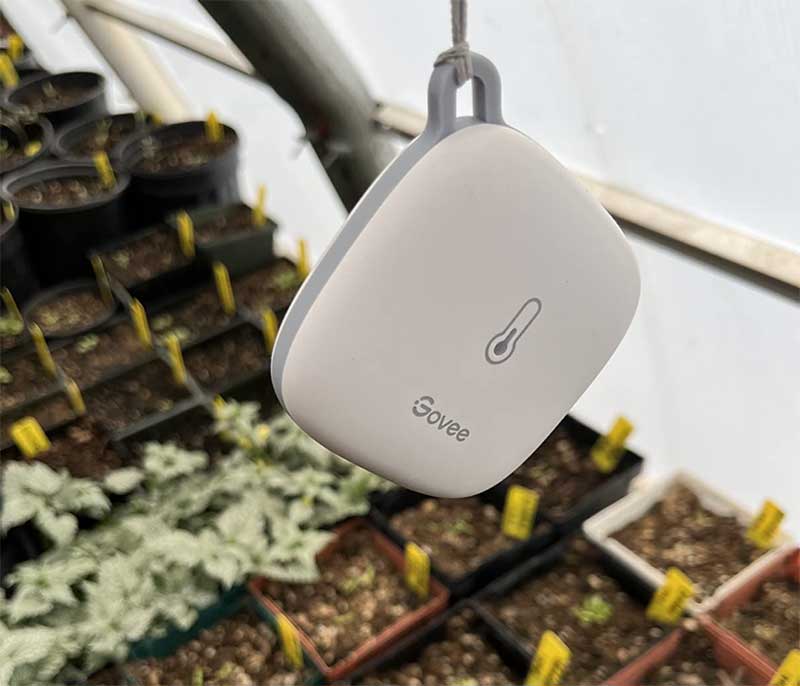 The H5179 is a great choice for monitoring temps and humidity in any living space. Its accuracy, real-time measurements, alert functions, data storage/export capabilities, and ease of use make it an ideal solution for ensuring your home is always healthy and comfortable. Highly recommended.
What we liked:
Easy to set up and use
Provides clear historical trends and graphs
Appropriate for monitoring various living spaces
Equipped with a Swiss-made sensor for precision
What we didn't like:
Limited compatibility with 5GHz WiFi networks
Alert function requires Bluetooth settings
Best Runner-Up: SensorPush HT1 Wireless Thermometer/Hygrometer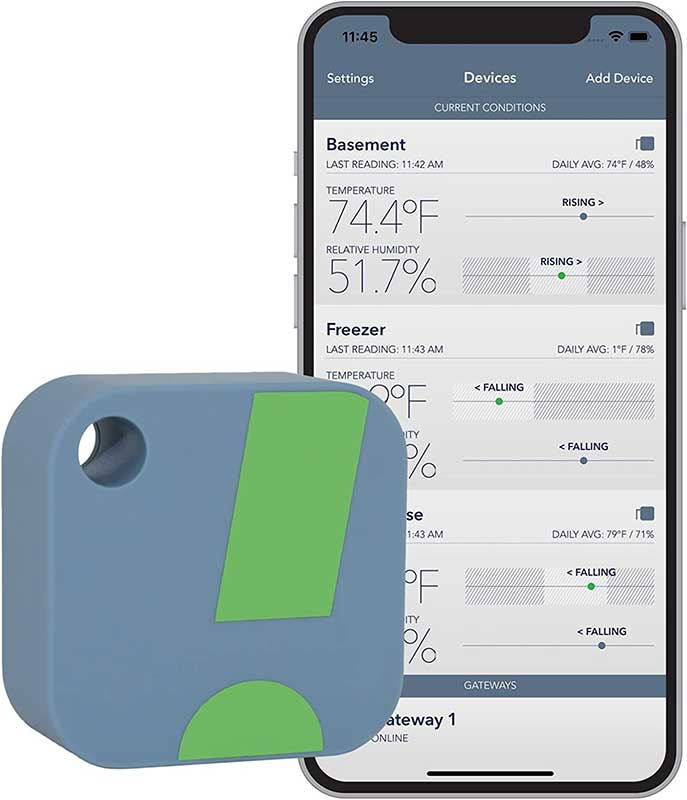 Key features:
Accurate premium sensing component
Versatile placement in various environments
Flexible connectivity via Bluetooth or WiFi Gateway
Easy setup with free app and data logging
The SensorPush HT1 is a dependable and precise thermometer and hygrometer, ideal for measuring environmental conditions in multiple settings. We evaluated its performance in various locations to get the best overview of its capabilities. Its compact size, coupled with an alluring design and handy mounting hole, make it simple to use even in the most strenuous of places. And on top of all that, it boasts a long-lasting battery life that stretches over two years.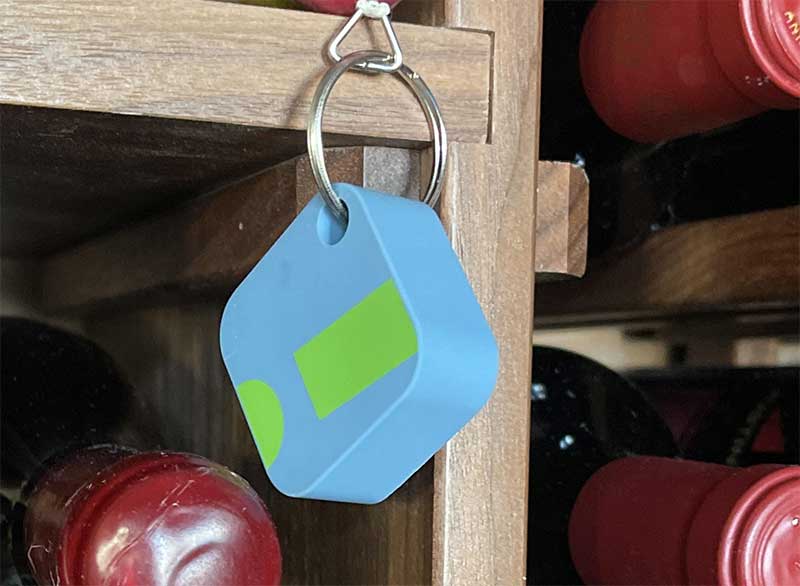 Take advantage of Bluetooth or the SensorPush G1 WiFi Gateway (available at an additional cost) to receive notifications when your conditions exceed preset min/max alarm settings. Ask Alexa for updates, view data on a computer with the web dashboard, and monitor areas such as refrigerators and reptile tanks from anywhere you might be – within a maximum range of 325 feet.
The SensorPush HT1 is easy to set up with the complimentary app for iOS or Android. It gives an overall view of a system of connected devices and includes data logging, graphing, and 20 days' worth of storage on the sensor itself – plus unlimited storage in the application. You can even export your stored data into CSV for convenience. That is handy if you need to monitor or measure conditions with pinpoint accuracy.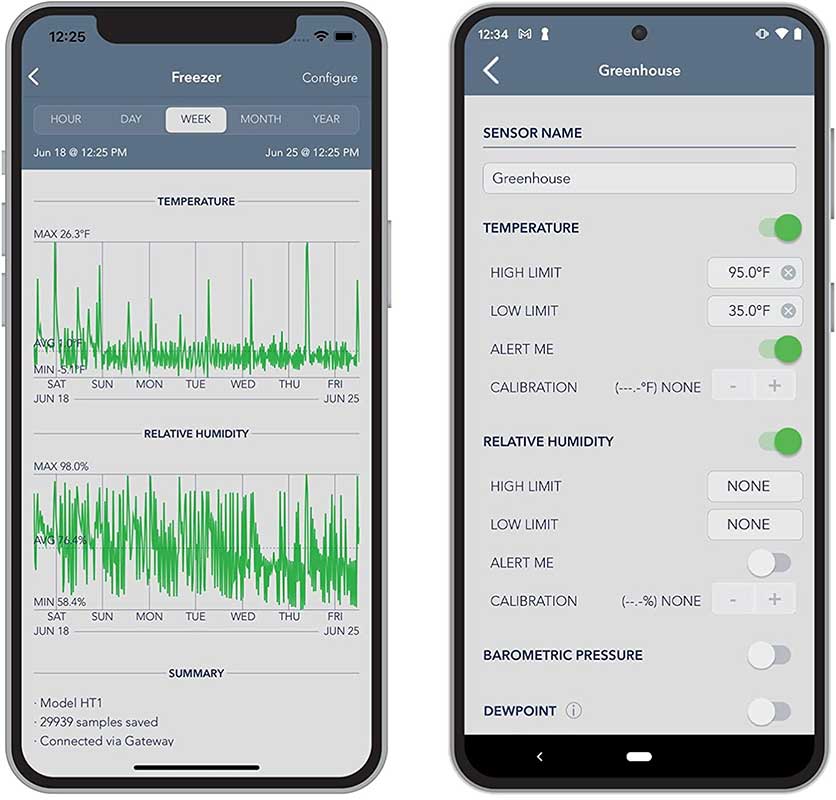 Thanks to these features and its reliable performance, the HT1 earns our runner-up spot for best thermometer and hygrometer. If you need a reliable thermometer-hygrometer that can meet both personal and professional needs, give this one a look. Its precision and flexibility make it perfect for monitoring all kinds of places and for various needs. The setup process is also fast and simple, plus you get real-time alerts. That way, your environment always remains monitored precisely.
What we liked:
Reliable monitoring of environmental conditions
Long battery life of over two years
Easy-to-use app with data logging and graphing
Convenient mounting hole for flexible placement
What we didn't like:
Limited range if obstructions are present
Requires separate purchase of WiFi Gateway for internet connectivity
Best Alternative: INKBIRD WiFi Thermometer Hygrometer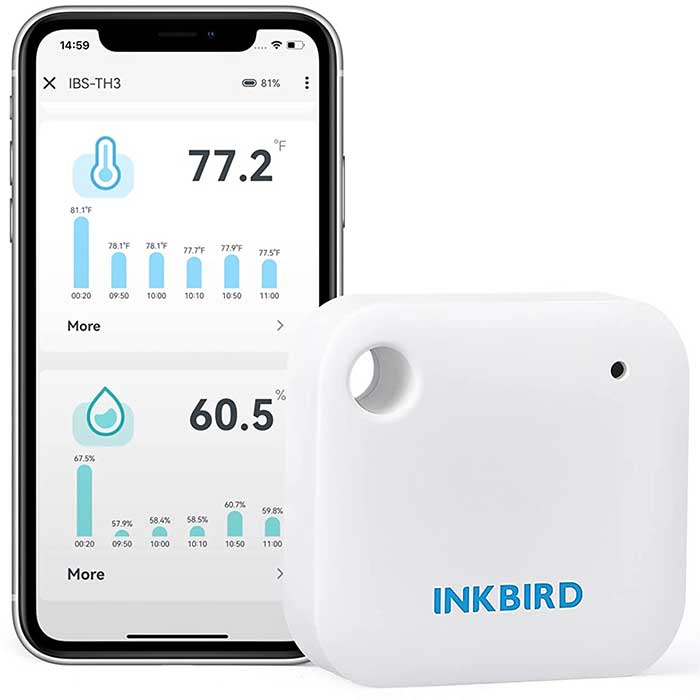 Key features:
Smart WiFi Control with Remote Monitoring
Built-in Temperature and Humidity Sensors
Smart Alert Function with Temperature Alarm Notification
Easy to Place with Lanyard Holes Design
The INKBIRD WiFi Thermometer Hygrometer is a great tool to regulate the climate of your home remotely. After testing this product, we found it straightforward to establish and connect with our 2.4GHz Wifi network effortlessly. With its accompanying app, you can now access temperature and humidity levels in real-time from anywhere using your phone – no need for more complicated hardware or additional software installations.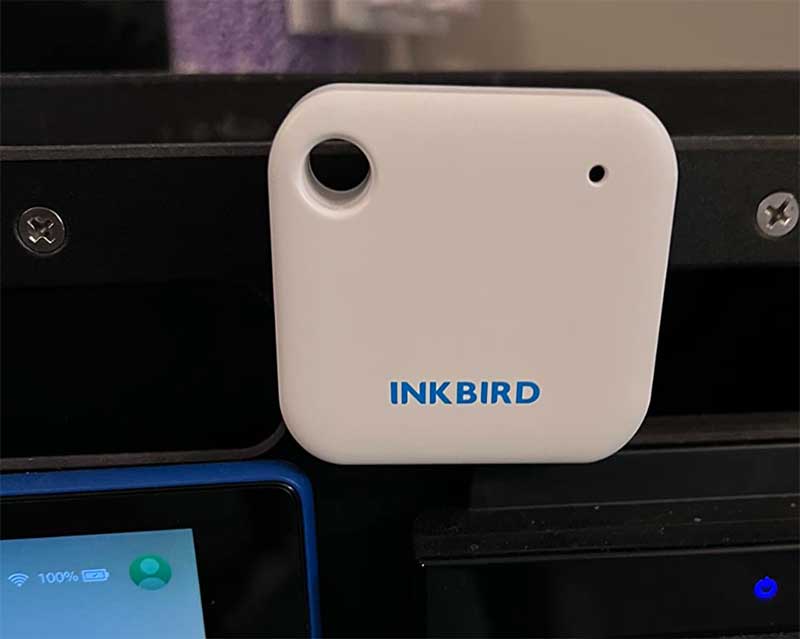 The internal temperature and humidity sensors from INKBIRD offer precise readings, with a temperature range of -20℃ to 60℃ (-4℉ to 140℉) and a humidity range of 0%RH to 99%RH. We noticed the precision for both categories was impressive; Temperature detection accuracy is ±0.3℃/±0.5℉ whereas Humidity detection is accurate at ±3% RH! Additionally, users can calibrate their measurements via the INKBIRD App so that results are always correct.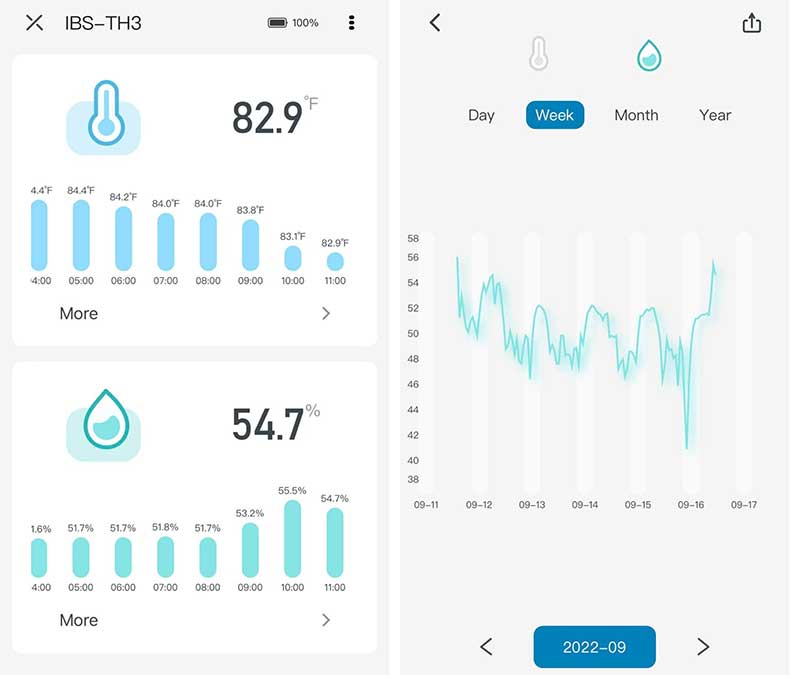 The INKBIRD App is a user-friendly platform featuring charts and data export capabilities. It also offers maximum accuracy calibration, accompanied by temperature alarm notifications. We can even customize recording time intervals as well as receive low battery warnings. Furthermore, the app stores up to one year of historical data acquisition, so you always have access to your past records.
The monitor is perfect for those limited-space locations such as potted plants, baby rooms, wine cellars, and reptile vivariums. Its lanyard hole design makes it small enough to fit into the palm of your hand. However, this device should not be used in wet environments like refrigerators and freezers due to its lack of waterproofing features.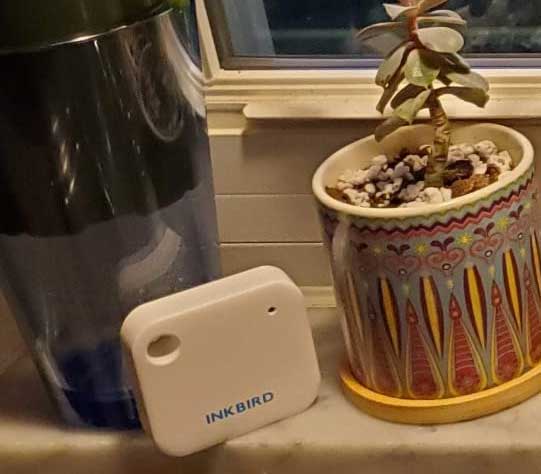 Ultimately, INKBIRD's monitor is a dependable and simple alternative to keeping tabs on interior temperature and humidity levels remotely. It is accurate, accompanied by a user-friendly app, and its mini design makes it perfect for any home or office.
What we liked:
Connects to Multiple Mobile Phones
Stores Up to 1 Year of Historical Data
Supports Accuracy Calibration
Fits in Small Spaces
What we didn't like:
Not Waterproof
Does Not Support Built-In Magnets
Best Budget: IBKINXX WiFi Thermometer Hygrometer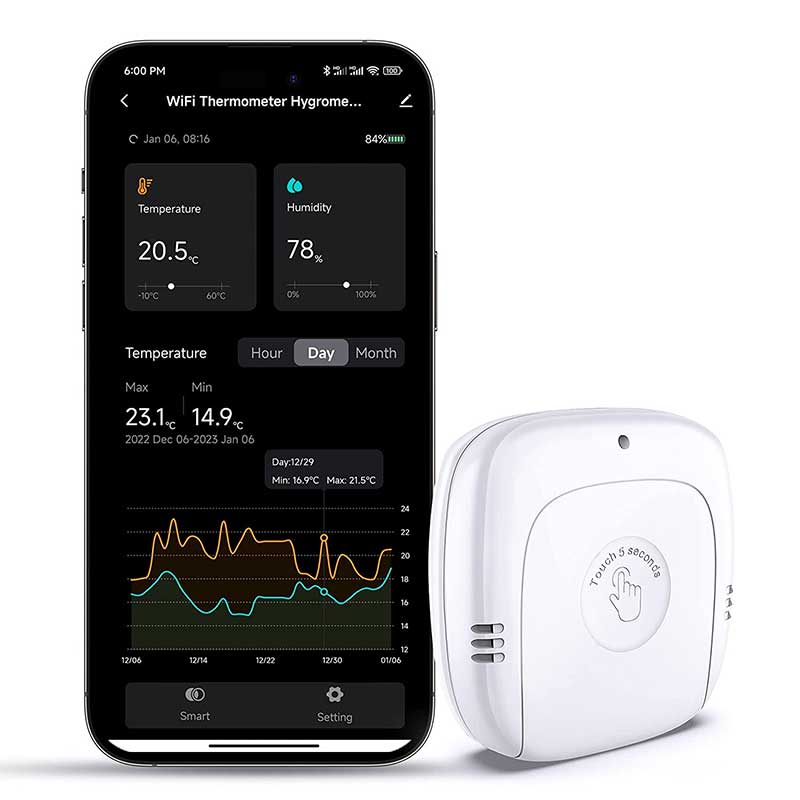 Key features:
Smart app control for real-time monitoring
High accuracy Swiss-made sensor
Timely notifications for preset temperature/humidity range
Data storage and export for up to one year
Whether it's your home or office, the IBKINXX WiFi Thermometer Hygrometer is simply a must-have for monitoring temperature and humidity levels with pinpoint accuracy (without a high price-point). Engineered to perfection with a Swiss-made sensor, this device offers both precision and speed, offering readings that are accurate within an error range of ±0.3℃/±0.5℉ for temperature and ±3% RH for humidity.
Smart app control gives you the ability to track real-time data right from your phone, providing instant notifications when the environment exceeds preset temperature and humidity levels. Plus, with bar graph or curve graph options available within a designated timeframe, it's easy to stay on top of conditions in any location.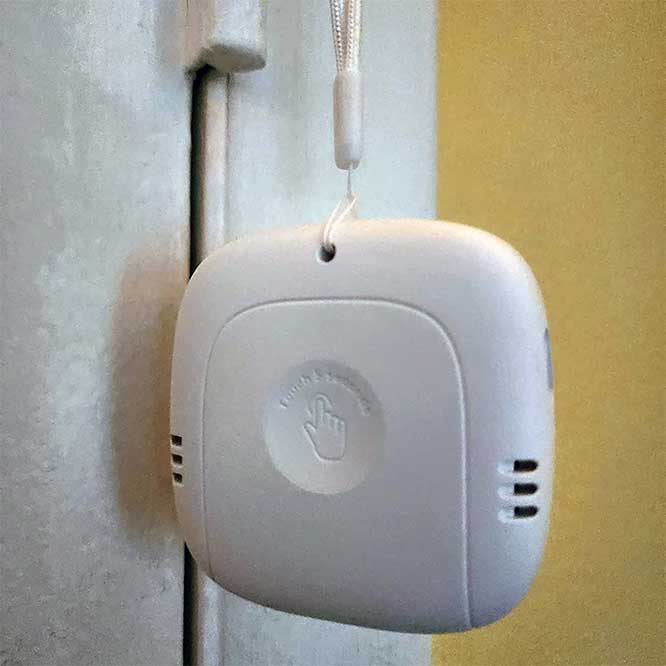 Easily mount this device to any wall or loop it with the lanyard provided, and rest assured that its manual calibration will ensure accurate readings. Additionally, it can support a limitless number of sensors while storing data for an entire year.
We tested the hygrometer and found that it exceeded our expectations with its accurate, dependable data and swift refresh rates. It was also a pleasure to use; we had no problem navigating through the app on our mobile devices so we could instantly check the temperature and relative humidity whenever necessary.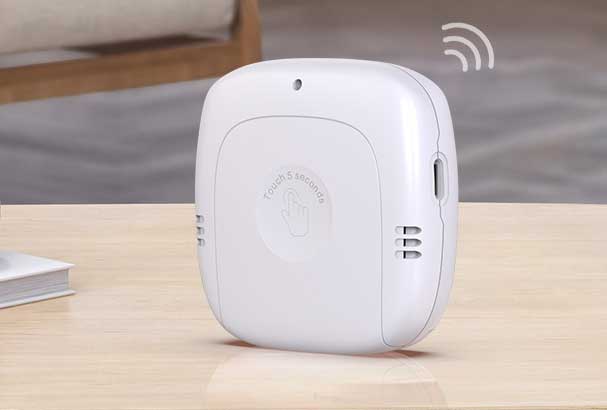 It's a good, affordable fit for anyone requiring a dependable, user-friendly device to keep an eye on temperature and humidity levels. This unit boasts precision accuracy, rapid refresh time, as well as timely alerts, making it an ideal tool for preserving desirable indoor conditions.
What we liked:
Unlimited sensors can be added
Easy-to-use app with graphical interface
1-year warranty and 24/7 customer support
Fast refresh time with accurate readings
What we didn't like:
5G WiFi is not supported
Manual calibration required for precise readings
Best Premium: MOCREO ST3 WiFi Room Thermometer Hygrometer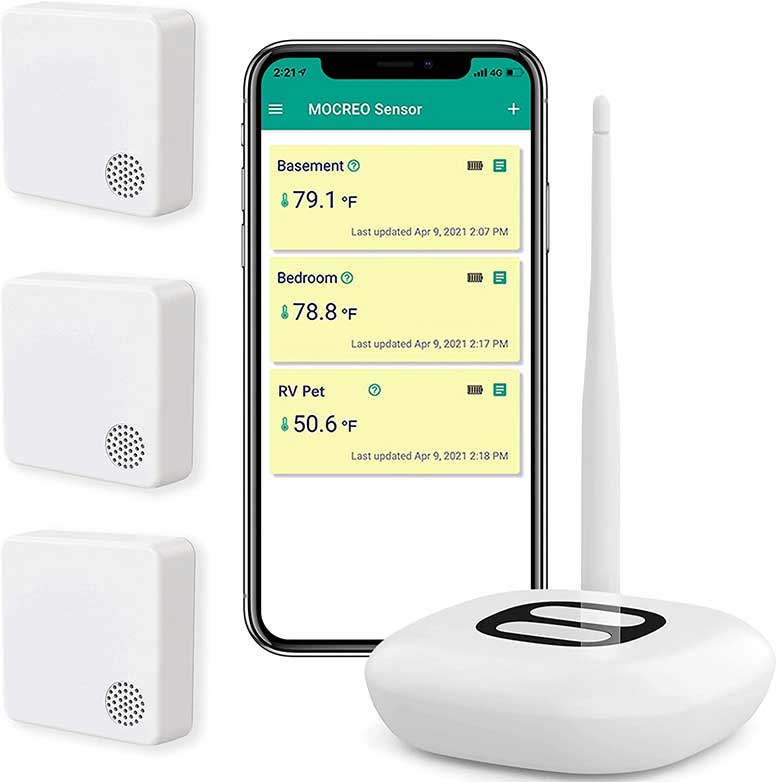 Key features:
Real-time temperature and humidity monitoring
High precision with industrial-grade sensor chip
Three types of alarms for peace of mind
Versatile applications with data storage and export
If you're looking for a reliable way to monitor temperature and humidity in your home or office, then the MOCREO ST3 WiFi Room Thermometer Hygrometer is an excellent option. Not only does it provide real-time monitoring of environmental changes, but its wireless design makes it perfect for use in places like vacation homes, warehouses, and RVs that require precise climate control.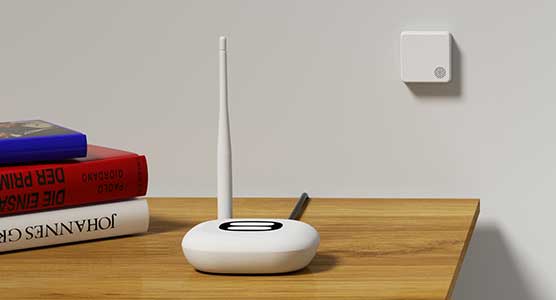 Offering incredible accuracy and precision, this premium hygrometer is designed with a state-of-the-art SHT30-DIS-B sensor chip from Switzerland. Its temperature range encompasses -4°F to 140°F, and its humidity range spans 0% to 100% RH. Additionally, the calibration function of this device ensures that you receive dependable readings, making it an ideal choice for both homes and industrial locations alike.
The ST3 wireless thermometer hygrometer provides you with incredible assurance, whether at home or away. There are three alarm types onboard to keep users notified. What's more, it has a visibility range of up to 230ft/70m (assuming no obstructions are present).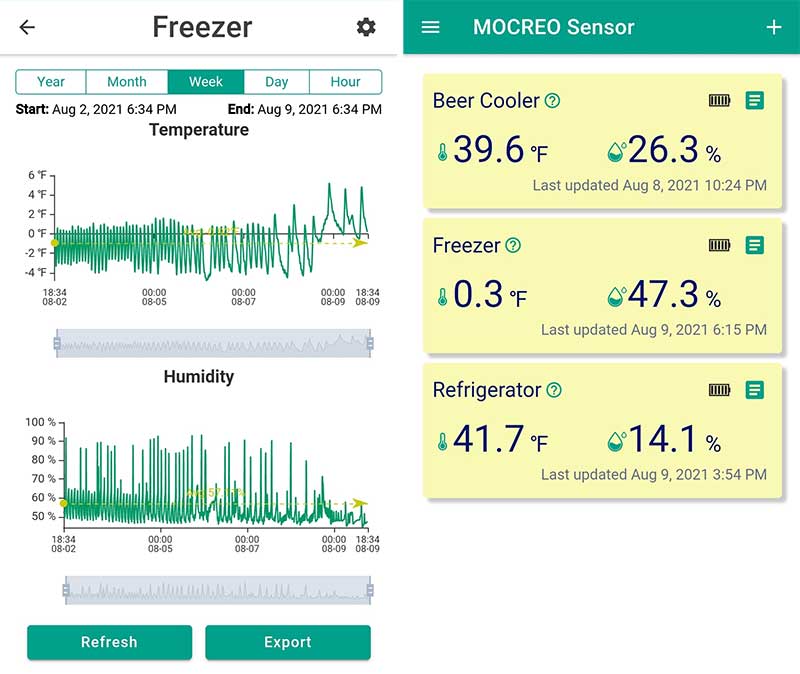 Although pricey, this unit is a must-have for anyone who needs to monitor temperature and humidity in different settings. Whether you need it for cigar humidors, wine cellars, attics, garages, greenhouses, reptile tanks, incubators, or nurseries – it offers reliable accuracy that makes monitoring easy. This incredibly versatile device will quickly become an integral part of your daily operations.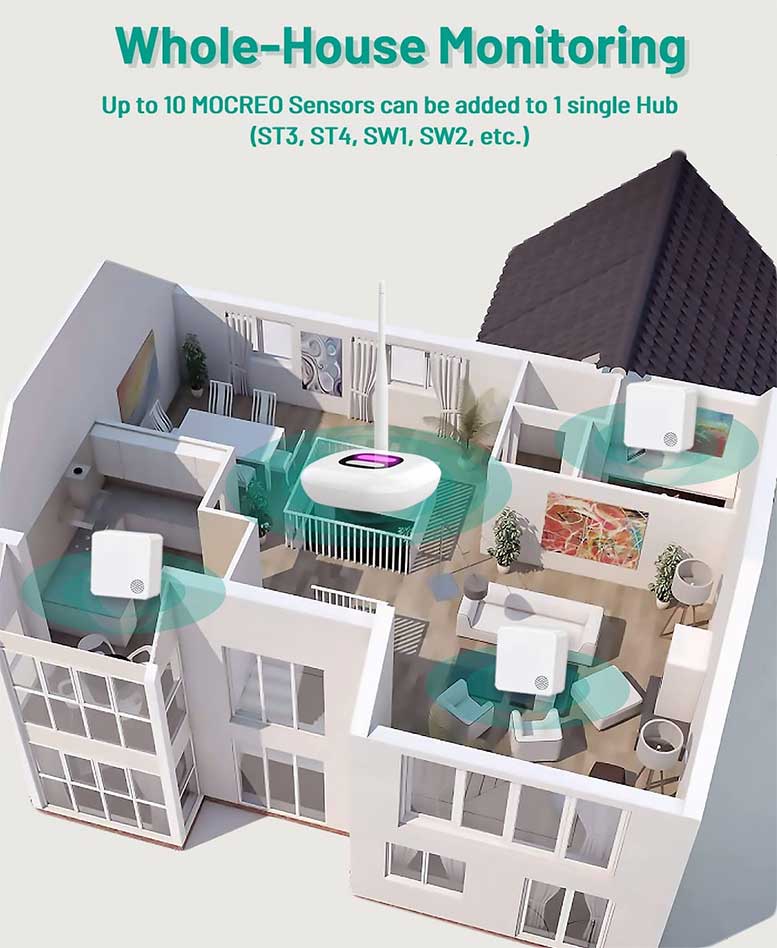 The device utilizes a low-power connection technology that allows for data to be stored and exported into CSV tables, offering detailed analysis and research. Its rechargeable battery ensures the device runs up to two years on one charge alone! Plus, you can track environmental changes over time using graphs with an alert when your battery falls below 15%. MOCREO's ST3 is an excellent investment for those who seek excellent precision and real-time monitoring.
What we liked:
Offers stable transmission with a visibility range of 230ft/70m
Long battery life up to 2 years
Versatile applications
Clear data visualization with graphs and trends
What we didn't like:
Weakens signal in commercial refrigerators and freezers
Relatively high price compared to other options
WiFi Thermometer & Hygrometer FAQs
What is a WiFi thermometer and hygrometer?
A WiFi thermometer and hygrometer is a wireless device that monitors and reports temperature and humidity levels through an internet connection.
How does a WiFi thermometer and hygrometer work?
The device is equipped with sensors that detect temperature and humidity levels and transmit the data to a hub or cloud server through a WiFi network. Users can then access the data through a mobile app or web interface.
What are the benefits of using a WiFi thermometer and hygrometer?
WiFi thermometers and hygrometers offer real-time monitoring, alerts for critical changes, remote access, and data storage and analysis, helping users maintain optimal conditions in various environments.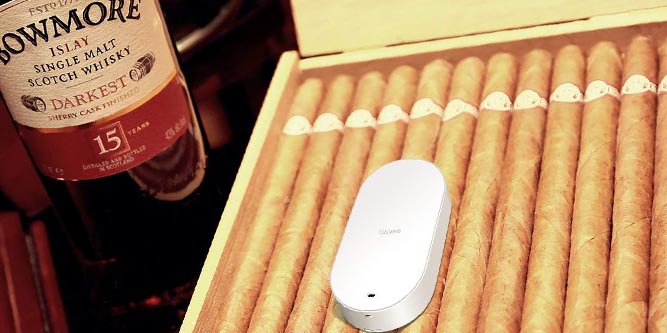 Final Verdict
After thorough evaluation, we selected the tempCube as the best overall option. The app interface is our favorite among the competition. With accurate, live humidity/temperature readings, real-time notifications and free data logging, it's a no-brainer for those who prioritize ease of use.
We then chose the Govee H5179 as the second best option. It offers accurate temperature and humidity readings, real-time monitoring, alert functions, and free data storage and export capabilities. The device is easy to use and portable, making it an ideal solution for monitoring air in any living space.
For the best runner-up, we chose the SensorPush HT1 for its flexible connectivity and data logging. The INKBIRD WiFi Thermometer Hygrometer is the best alternative, offering smart WiFi control with remote monitoring.
IBKINXX's unit is perfect for those seeking a budget-friendly offering, thanks to its accuracy and rich features. And finally, the MOCREO ST3 is our pick for the best premium. It's a reliable and precise device that makes an excellent investment for those who need real-time monitoring and accuracy.