As technology becomes increasingly user friendly, many consumers are opting to configure security systems themselves instead of relying on professionals. Manufacturers, in turn, have been creating security products that are increasingly simple and easy to use, but still provide the same level of protection.
While home security cameras have always been a hot commodity, driveway alarms are becoming increasingly common. In essence, these systems detect people and vehicles that enter your driveway.
There are many different types, but they all operate under the same basic principles. They generally include two main components; a receiver and a sensor. The plug-in receivers can be mounted in a convenient location, and come in a variety of forms. Some of these include motion sensors, beam sensors, probe sensors and hose sensors. Each comes with its own set of advantages and limitations, making it important for consumers to ensure they understand their own individual needs before committing to one type of alarm system.
Most beam, hose and probe sensors are best used for detecting movement across a specific point, such as vehicles over the edge of your driveway. The most common – and often most effective – type of sensor is the motion sensor. Motion sensors use infrared beams to detect movements of vehicles, people and animals over a wider range.
One common fallback of motion sensors is that they have a tendency to set off "false alarms". For example, an alarm might be triggered by a squirrel running past your front door, which can be frustrating if it occurs regularly. On the flip side, many systems come with flexible features and settings that allow you to avoid such false alarms. Magnetic systems are less prone to false alarms, since they rely on small magnetic shifts rather than movement. However, magnetic alarms systems are only useful for large vehicle and metal object detection. This renders them far less useful as a general home security system. In most cases, the average consumer will find motion sensor alarm systems much more effective.
There are a number of other factors that contribute to the effectiveness of wireless alarm systems. These include the build quality of the system, the availability of customizable features, and the ease with which the system can be set up. If you're looking at a driveway alarm that lacks any of these features, you're probably looking in the wrong place. With so many different types and models, it can often be a challenge to find the type that's right for you. We took a look at the three best wireless driveway alarm systems on the market. After careful testing, we broke down the features of each so you can find the one that best suits your needs.
Chamberlain Wireless Motion Alert Security System (CWA 2000)
This is a great all-around wireless alarm system with impressive features at a bargain price. It comes with one sensor, one base receiver, and includes mounting hardware and non-slip feet. For properties that require increased coverage, the system can be expanded to include up to 3 additional sensors per receiver.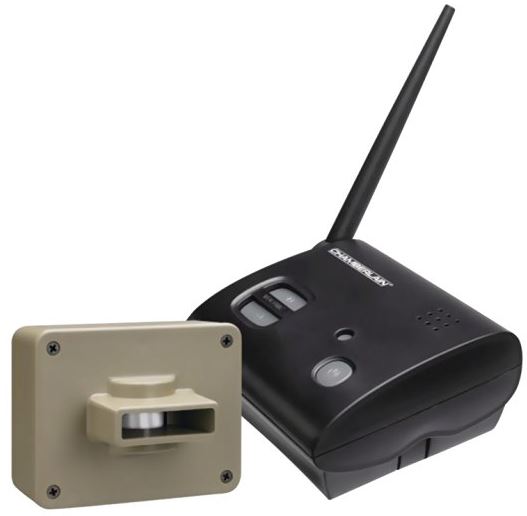 Setup
The Chamberlain Wireless Motion Alert Security System is fairly easy to set up. As long as you pay attention to the sensitivity ranges, you should easily be able to get everything working in a timely manner. It offers 1/2 mile range sensitivity from base to sensor. The first step is to place these sensors anywhere within this range. Once they're up and running, you can make adjustments to the sensitivity setting until you're not getting any false alarms. You can dedicate half an hour to do this all at once, of you can tweak the settings slowly over time until you're not getting any false alarms.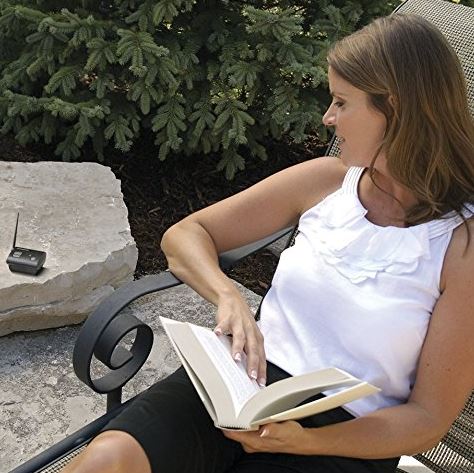 Either works fine, and is easy to do. At the upper range of the sensitivity settings, the sensors can detect the movement of even small animals, but you can lower the sensitivity to ignore objects of a smaller size. A lower sensitivity is best if larger objects (such as people) are your primary concern. However, if you also want to detect the movement of pests (such as rats), keeping it on the higher sensitivity setting will be more effective.
Features
The Chamberlain Motion Alert Security System is built with Passive Infrared (PIR) sensors that detect movement based on the temperature of moving objects relative to the outside temperature. Detection based on temperature does have one downside. The sensors have a hard time detecting vehicles, especially in cold conditions, because the vehicles often match the outside temperature. However, if you're more concerned about animals or people, this shouldn't be a problem.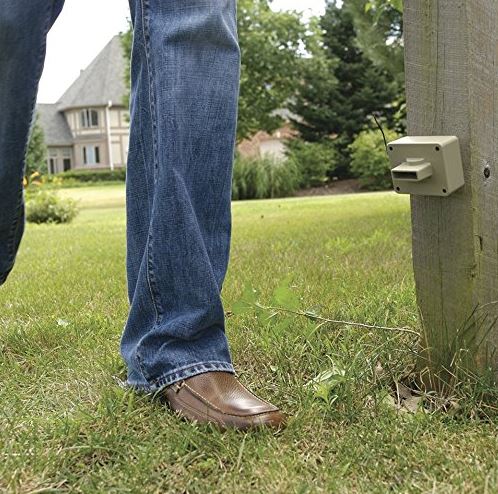 Each sensor can be set to have its own distinct sound and light indicators when triggered. That way, if you set up multiple sensors on your property, you know immediately the location of the object that triggered the alarm. The sensors can detect motion from up to 30 feet, with a 120 degree viewing angle. Sensors won't be triggered by wind, meaning less false alarms to worry about.
Build Quality
The Chamberlain sensor is fully weatherproof. It's durable enough to fully function even in extreme weather conditions like rain or snow. The receiver is made out of plastic, so it's not exactly bomb proof. But this won't be a problem as long the receiver is set up indoors and isn't moved around, which is usually the case. The non-slip feet also help in this case.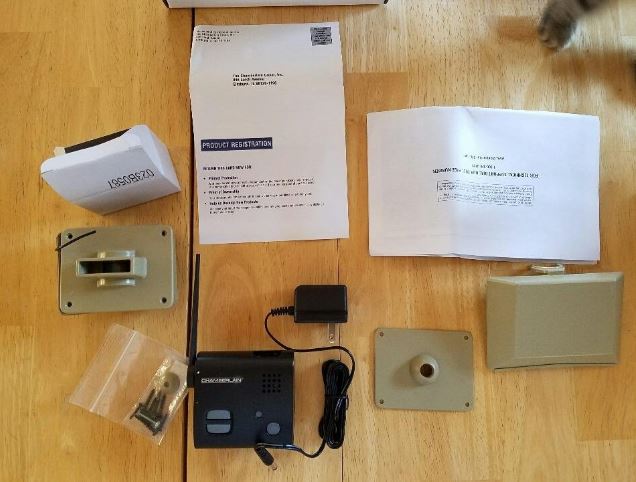 Value
The Chamberlain CWA 2000 has everything a basic wireless motion alarm should. It's easy to set up, comes with some useful customizable features, and is durable in varied weather conditions. Its temperature based sensors do have drawbacks, but for a low price, the Chamberlain is a solid alarm system that meets all the basic needs.
Guardline Wireless Driveway Alarm
This one is slightly more complex unit than the Chamberlain. It can be powered with either an AC adapter or AAA batteries (you'll need 4). It comes with one sensor and one receiver, however you can add up to 16 sensors, 4 per zone. When triggered, the alarm sets off chimes as well as lights, both of which are customizable.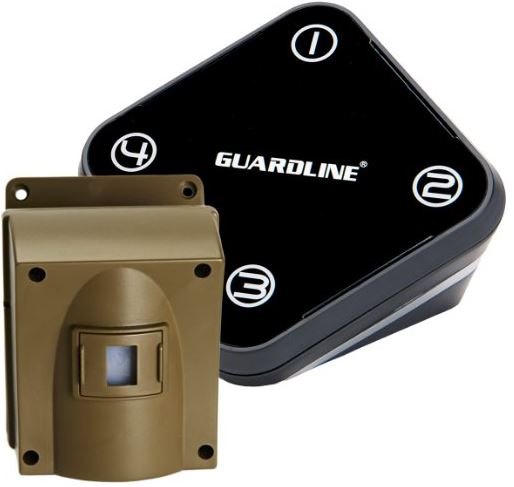 Setup
The Guardline Wireless Driveway Alarm comes with a comprehensive instruction manual, but it is relatively easy to set up. You can set up the sensor and receiver within a range of 500 feet. The compact receiver can be programmed to monitor 4 different zones, each of which can include up to 12 sensors. There are over 20 high decibel ringer volumes to chose from, so even if you take full advantage of the 12 sensor capability, you can still customize the alarm chimes to specific locations.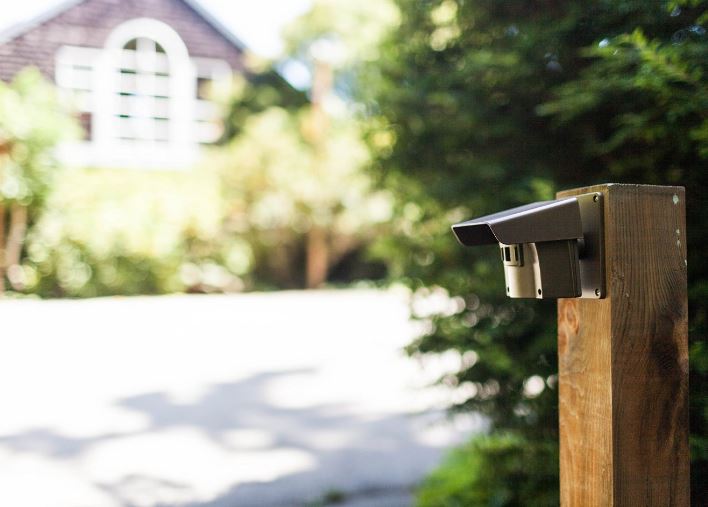 Functions
Guardline is not kidding when they describe their ringer volumes as "high decibel". The chimes are extremely loud, which is a great feature for large properties, but a but overkill for smaller spaces. There is an adjustable audio alert volume if you do find the alarms overly loud.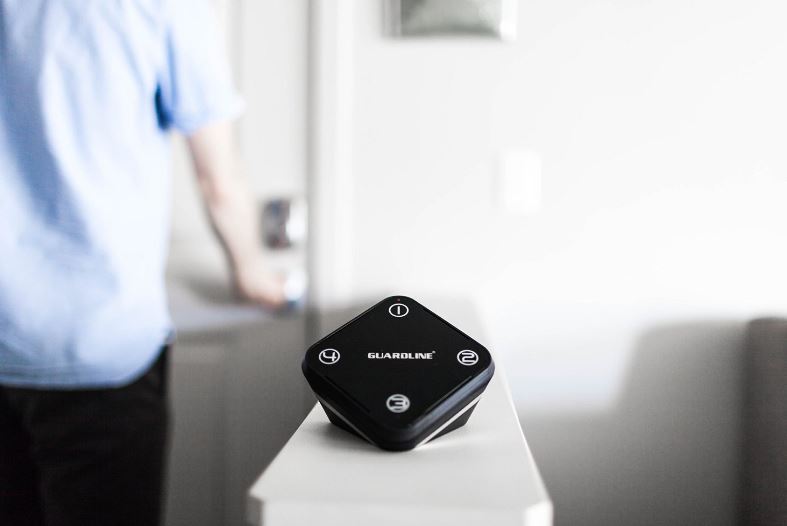 The adjustable sensitivity on the Guardline sensors are especially good for minimizing false alarms. You can change it to ignore quick moving objects, or you can opt for a photo sensor option rather than IR detection. You can also set up a "sleep timer" between alarms if you find they are being triggered too regularly. Even better, you can deactivate the alarms for up to 60 minute periods if you are leaving the premise or expecting company within a certain time period.
Build Quality
Since the Guardline Driveway Alarm allows for many sensors per receiver, it does tend to use up a bit more battery. However, the batteries should still last for up to a year with average traffic. The sensors are themselves are weatherproof. They contain a gasket within the mounting plate, and a water wicking piece of tape to keep water out and draw water towards it in the event water does get in.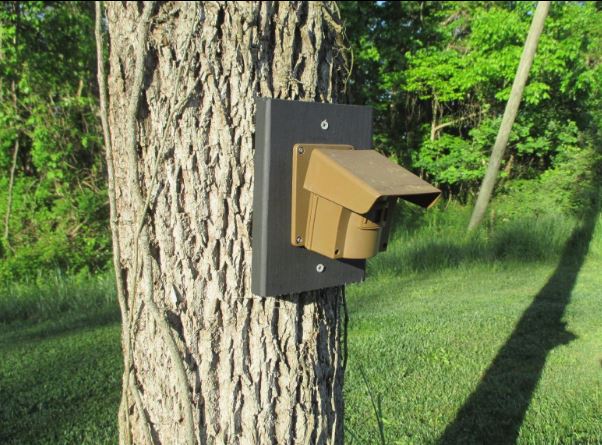 Value
The Guardline Wireless Driveway Alarm is pricier than the Chamberlain, but includes a lot of customizable features and expansion capabilities that compensate for its price tag. The great thing about the Guardline is that it comes with a 2 year warranty, which is a nice fallback considering it is less durable in extreme weather conditions.
Rodann Electronics Wireless Driveway Alarm System
This system is designed for users with large properties in need of expansive security coverage. It comes with one sensor and one receiver, and has a wireless transmission coverage of up to 1,000 feet. You can also add up to 4 additional sensors per receiver.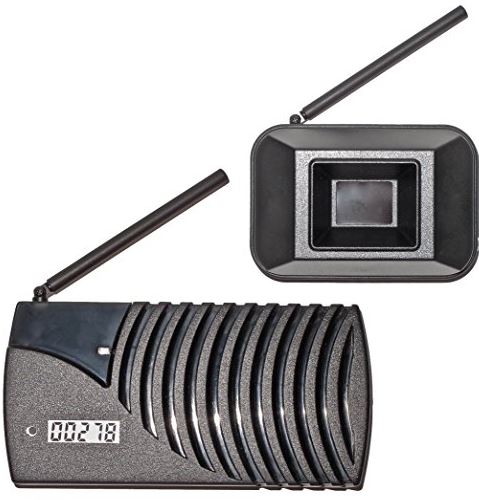 Setup
The Rodann Electronics Wireless Driveway Alarm System is easy to configure, and gives you the option of using a power supply instead of batteries for the receiver. This is especially helpful if you choose to add additional sensors for increased coverage, which will inevitably use more power. Each receiver comes with 4 different chime tones that you can set to individual sensors, and the sensors can be set up as far as 2,000 feet from the receiver. This is especially useful if you have a barn or garage that you want to monitor from the house.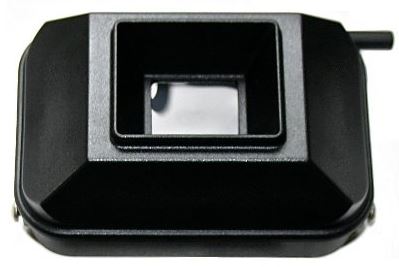 Functions
Like the Chamberlain, the Rodann alarm system uses PIR sensor technology. Rodann's PIR sensors are highly sensitive, but won't react to sunlight, car headlights, reflections, shadows or colors. What sets the Rodann system apart is that is has a 5 digit LCD traffic counter that can be reset at any time. This is another feature that makes it ideal for large properties that don't see extensive traffic, but where keeping track of the quantity of comers and goers is a useful security feature. The traffic counter is built right into the receiver, which makes it easy to keep track and reset as needed. The one downside to this unit is that the receiver is extremely basic. Other than the traffic counter and chime options, there isn't much in the way of customization and settings.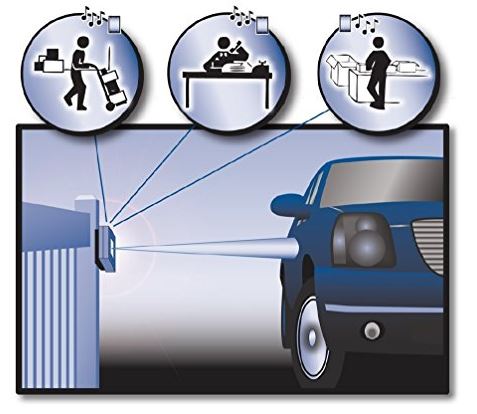 Build Quality
The Rodann Driveway Alarm System is fully weather-proof, and extremely compact which reduces its exposure to the elements. Since large properties can be especially prone to exposure in extreme weather, the system's durability is a crucial component. The receiver is a basic plastic unit. It's only slightly bigger than the sensor, which makes it durable and lightweight. But it's features are so basic that it's unlikely to see much wear and tear anyway.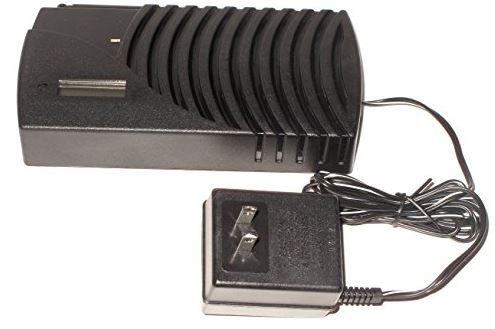 Value
The Rodann is within the same price bracket as the Guardline, but is optimized for a completely different setting. While it's not very sophisticated, it is the only system that can accommodate large properties. It is also one of the most durable units, thanks to its compact size and weatherproofing, and it comes with a 1 year warranty.
Which Wireless Driveway Alarm System is Right for Me?
At first look, it might seem like all of these systems are pretty similar. But it's the small details that can make a huge difference in practice. The one you choose depends primarily on how large of an area you need to cover.
For smaller residential or commercial properties, we recommend the Chamberlain Wireless Motion Alert Security System. This all-around option is great for people who want a basic alarm system at a good price. It's easy to use and has enough customizable features to help individuals with basic needs tailor it for their property.
For larger or more complex properties (such as houses with backyards, garages, etc), we recommend the Guardline Wireless Driveway Alarm. Its ability to accommodate dozens of sensors and zones at once make it ideal for people who want extensive security coverage of many different areas. It's in a slightly higher price bracket, but compensates for this with extensive customizable features that some users might find indispensable. Additionally, it may not be ideal for areas with extreme weather conditions, but well suited for milder areas.
For large commercial properties such as warehouses, or large private dwellings like farmlands, the Rodann Wireless Driveway Alarm is the only system that can accommodate an extensive range. It's also the only system that includes a traffic counter. This system is not ideal for people who want a more sophisticated system with customizable functions, and is probably overkill unless you own a property that can take full advantage of the 1,000 foot sensitivity range. However, for people who do require expansive security coverage, the Rodann is simple, durable, and functional.
Was this helpful? Please consider sharing: