With people spending more time at home, it's important to make sure your property is safe and secure at all times. The good news is that securing your property doesn't need to be costly or complicated. In fact, a growing number of people have started to use driveway alarm systems.
A driveway alarm system checks a lot of boxes including being a cost-effective, easy to install security system. Although whole home security systems are great, most of us don't want to deal with the hassle and high price points. Although a driveway alarm system may be basic, it's highly effective.
A driveway alarm can alert you of any activity that may take place in your driveway, sidewalk or outskirts of your property. They activate these alarms by either light, heat or movement.
Home security has exploded in popularity over the past few years. There are a lot of imitators and poor quality systems that are running away with many homeowners hard earned money. To help you find the best wireless driveway alarm system for your property, we've sifted through dozens of systems and compiled the top 4 options currently on the market.
Best Wireless Driveway Alarm Systems
We took in the following considerations when choosing the best wireless driveway alarm systems:
Build quality: Can these units withstand the outdoor elements.
Features: Do they include any features beyond basic functionality.
Price vs Value: Do they provide enough value to justify their price point.
Range: Do they have good range under a wide range of conditions.
Installation: How easy is it to install and get this system up and running.
Based on this criteria, personal testing and hundreds of user reviews, let's look at the systems that lead the pack.
Best Overall: eMACROS Solar Wireless Driveway Alarm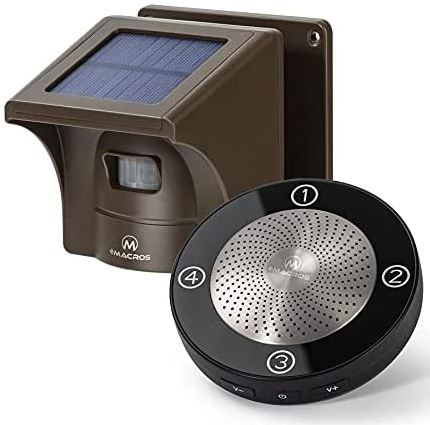 Key Features:
Half mile range.
Easy installation.
Solar powered.
Adjustable sensitivity.
The eMACROS solar wireless alarm tops our list as the best overall. eMACROS is a security device company that has been in operation for over 30 years. It earns the top spot because of its rock solid quality, dependability and rich feature set.
Our team was impressed by the rugged build quality. From heavy duty materials to waterproof components, this driveway alarm was built to withstand even the toughest of weather. The eMACROS is extremely easy to install with the included hardware. Most can be up and running in less than an hour.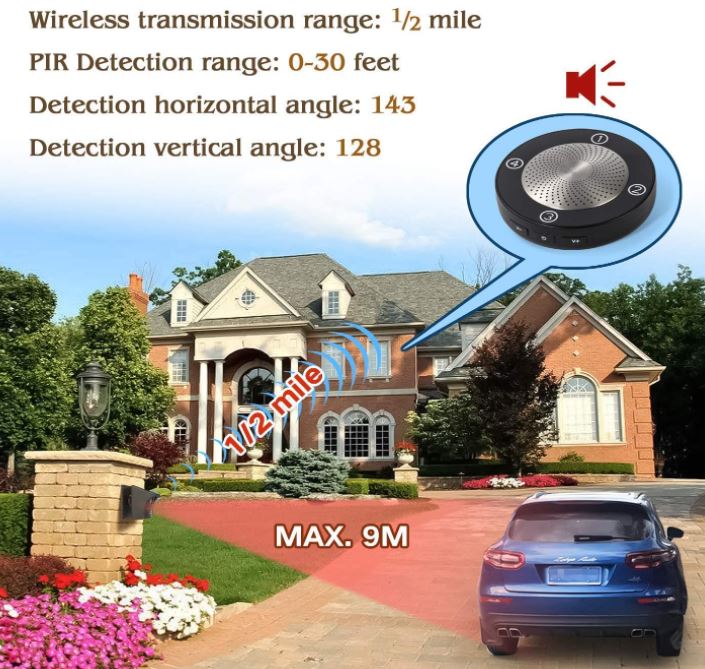 This package includes one A/C powered receiver and one sensor. This alarm has a highly effective range even when compared to more expensive models. A lot of reviewers report that the real-world range matches what the advertised half mile distance. If you have a property with a lot of trees or shrubbery, this may be a solid option.
There's no need to run a wire to the eMACROS alarm because it's powered by both battery and solar. The dual power source makes sure that your security system never experiences downtime. The receiver is very convenient and you can adjust the alert volume with just a few taps of a button.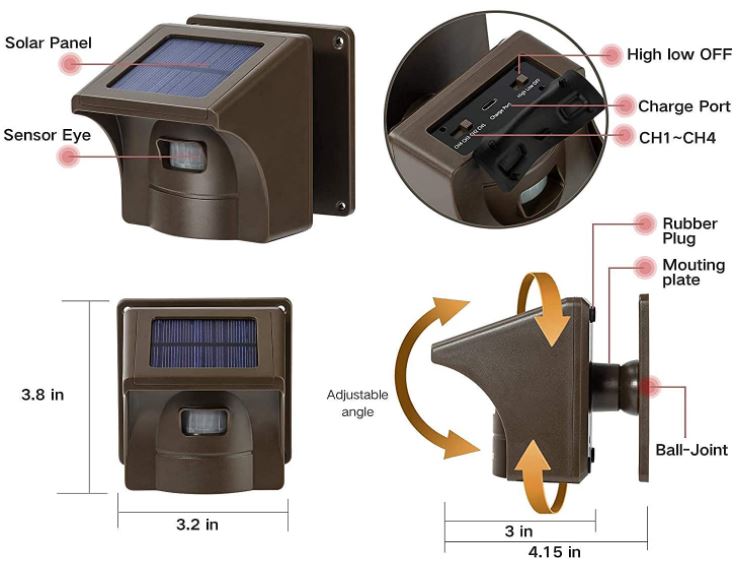 This driveway alarm is expandable to up to four additional sensors and can be integrated with other eMACROS home security equipment at any point. Since it's part of the eMACROS ecosystem, opting for this driveway alarm gives you limitless opportunities to incorporate a whole property security system down the road.
What We Like:
Rugged, weatherproof construction.
Can expand up to 4 additional sensors.
Volume adjustable receivers.
Solar and battery powered.
Half mile range even with obstructed views.
Sensor sensitivity adjustment.
Can be integrated into an eMACROS whole home security system.
What We Didn't Like:
Customer support can be hard to reach.
Desirable color options go out of stock often.
Best Runner-Up: Guardline Wireless Driveway Alarm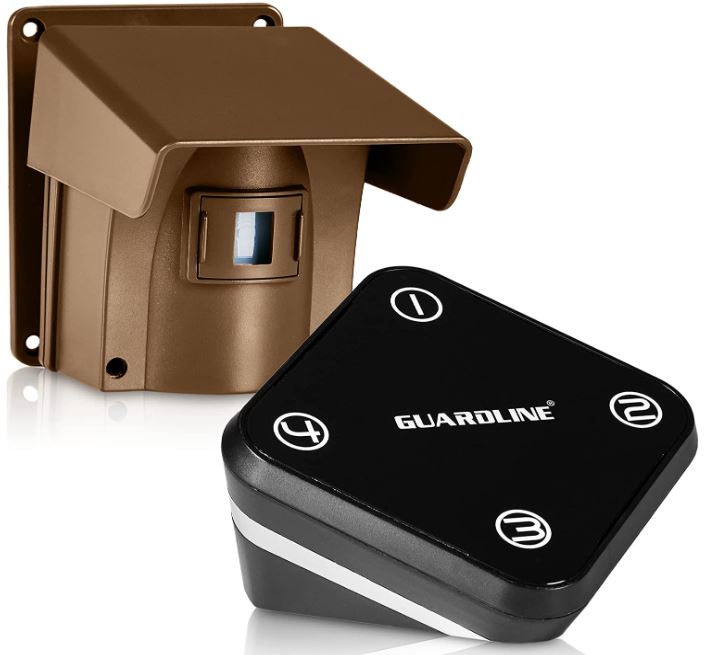 Key Features:
Modern, subtle design.
500ft – ¼ mile range.
Battery powered.
Expandable up to sixteen.
Weatherproof.
The first thing you notice about the Guardline wireless driveway alarm is its incredible aesthetic. From the minimal, industrial inspired form factor to its heritage copper paint, this alarm will enhance any property.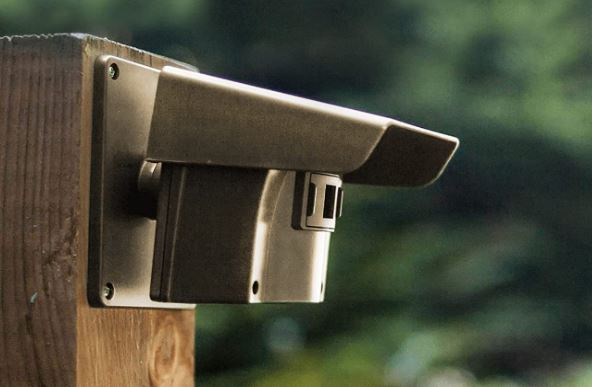 Right out of the box, the added weight is a testament to the build quality and craftsmanship. Guardline has built a solid reputation in the home security industry because of excellent manufacturing practices and extensive testing. The driveway alarm is weather coated and can withstand adverse weather from all directions.
The Guardline uses passive infrared heat technology which dramatically reduces false alarms caused by falling leaves and other debris. The result is one of the most consistent and reliable sensors available.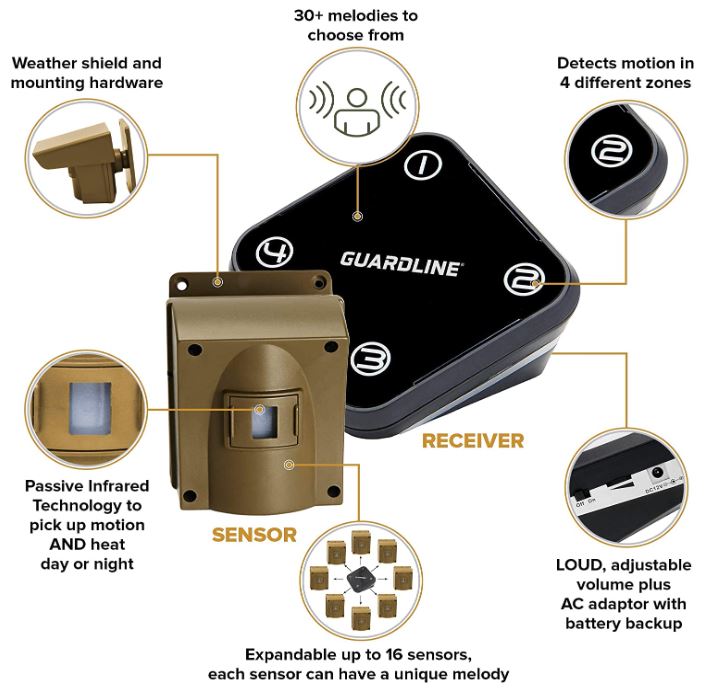 After taking the Guardline through the paces, we were impressed at how accurate their range estimates were. You may scoff at their quarter mile range but keep in mind that other manufacturers are notorious for padding their advertised range. Some brands were off by as much as a quarter mile. The Guardline stayed consistent even with obstructed views and wooded areas.
Most homeowners will install these units without difficulty. They run on batteries so there's no need for wiring anything. For those looking to expand their coverage, the Guardline wireless driveway alarm can be expanded to over sixteen sensors. With over thirty unique melodies that can be assigned to different sensor zones, you'll be able to identify where the motion is coming from without even having to look out the window.
What We Like:
Modern form factor and attractive colors.
Long battery life.
Expandable.
Reasonably prices.
Weatherproof.
Impressive range.
What We Didn't Like:
Customer support can be hard to reach.
Some report trouble with setup.
Best High-End: Dakota Alert DCPA-4k Plus Wireless Driveway Alarm System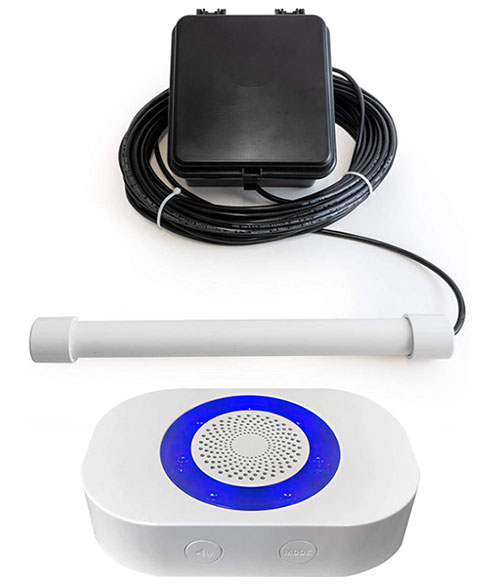 Key Features:
1 mile range.
Detects vehicles only.
Expandable up to sixteen sensors.
Long battery life.
A growing number of fans consider the Dakota Alert DCPA-4K to be in a class all on its own. It easily tops the list as the best high-end driveway alarm system because of its thoughtful, intuitive design and functionality.
We appreciate the manufacturer didn't just stuff this model with useless features. Instead, they addressed many of the pet peeves users have had with other brands and created an alarm that solved all of them. First, keep in mind that this is not a general purpose motion activated system. The Dakota senses metal only. It will quickly pick up on any approaching vehicle or metal-based object within ten to twelve feet of its location.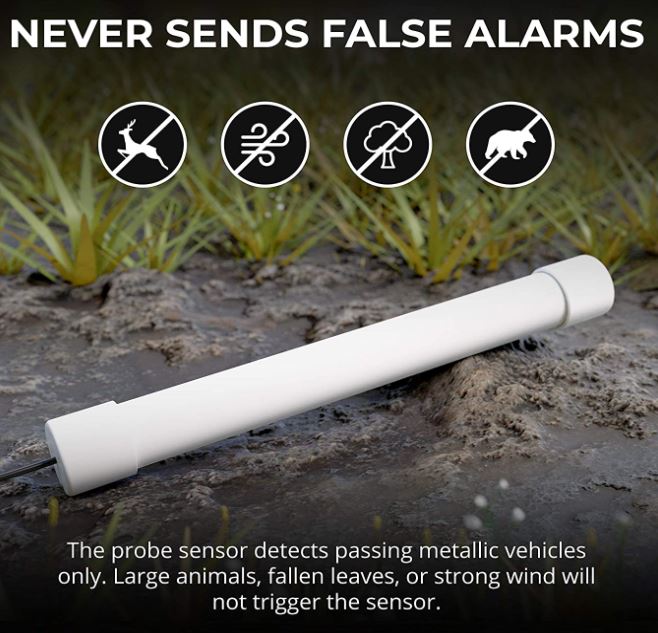 Since it's not infrared heat or motion sensitive, it won't pick up on things like deer, animals or other biological life forms. One beauty of this system is that it's meant to be discreet and unnoticed. The sensor probe can be partially buried, and it comes with a 50ft long direct burial cable.
Another high-end feature involves the range. The verified one mile range between sensor and receiver puts it in the top tier of driveway alarm sensors. Because it's expandable by up to sixteen sensors, the Dakota receiver includes sixteen tunes that you can assign to each sensor. Don't worry about changing out batteries too often. Reviewers report not having to change batteries for over a year.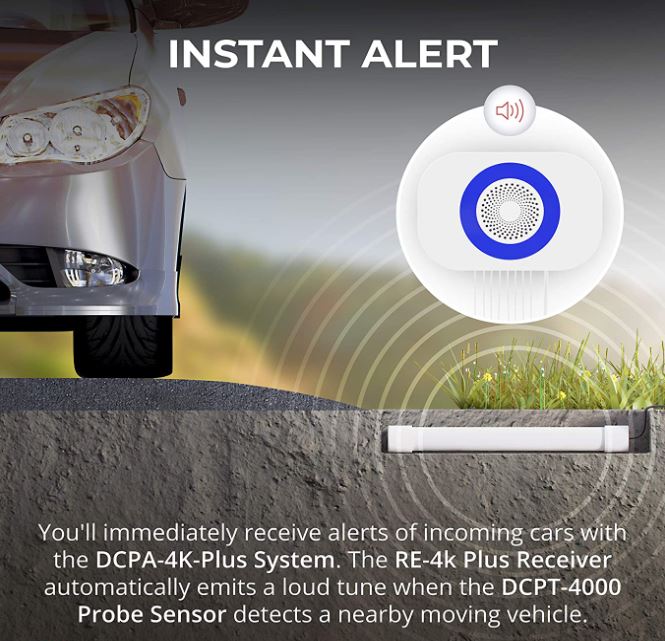 As amazing as this system is, we weren't able to give it the best overall spot on our roundup because it is so exorbitantly expensive. It's nearly three times the price of some of our other contenders. Despite the price, we feel that its unique feature set makes the Dakota Alert DCPA-4K a great value.
What We Like:
Highly accurate sensor.
Long battery life.
Programmable sounds.
One mile range.
Discreet placement.
Easy installation.
What We Didn't Like:
The price.
Exclusive to sensing cars, no additional infrared or motion sensor component
Best Budget: HTZSAFE Wireless Driveway Alarm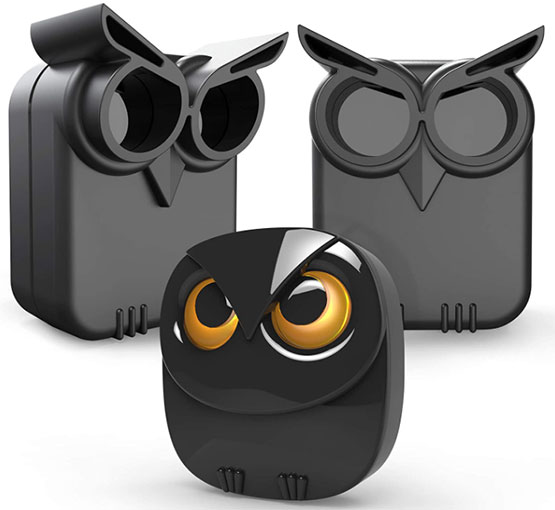 Key Features:
Powered by 3 AA batteries.
Half mile range.
Adjustable volume.
Expandable to thirty-two receivers.
Don't let the cute owl design fool you, the HTZSAFE driveway alarm is packed with rich features that are rare to see at this price point. We noticed a major drop in manufacturing quality for most budget friendly alarms. That isn't the case with the HTZSAFE. Besides the high quality materials, the alarm is also weatherproofed to withstand a wide range of adverse conditions.
The unit is powered by three AA batteries that are reported to last up to six months. The easy mount mechanism makes installation quick and convenient. While the product description states the HTZSAFE has a range of half a mile, users report the actual distance to be left especially on properties with a lot of trees.
The detection width of the sensors can be set to either fifty feet or twenty-five feet giving you more freedom when placing them. You're able to expand the HTZSAFE system to up to thirty-two sensors opening up the possibility for whole property coverage.
Although it's marketed as a driveway alarm, this series of sensors work in a variety of indoor and outdoor applications. Many reviewers mention installing them in places like ground-floor windows, outside sheds and even the mailbox to get notified when the mail carrier arrives.
While it's a great system especially for the price, it's not without its quirks. While they are minor, it's important to keep them in mind to avoid any frustration. For example, programming sounds and adjusting the sensitivity on these units are not as user friendly as more expensive models.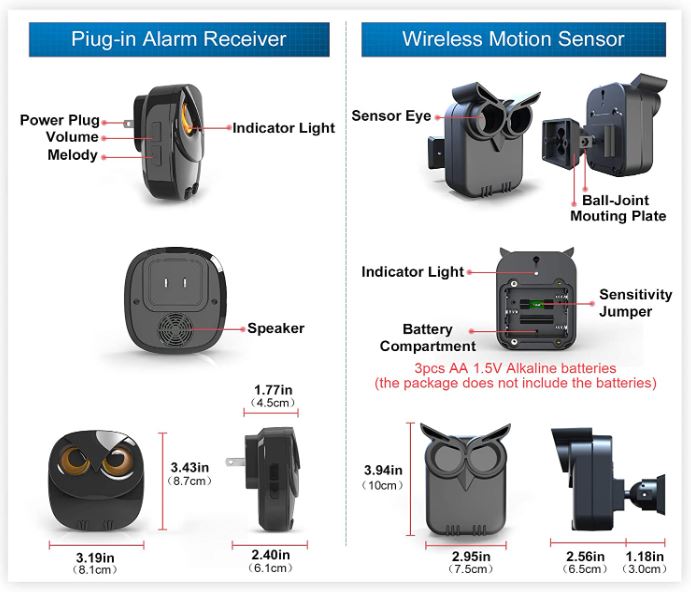 The likelihood of false alarms is higher because they have wider, less discerning sensors. Despite some of these quirks, the HTZSAFE driveway alarm has some of the most five-star ratings of any other system on the market.
What We Like:
Budget friendly price point.
Great range for the price.
Adjustable sensor range.
Expandable to thirty-two sensors.
Receiver has programmable sounds.
Battery operated.
Easy mount brackets.
What We Didn't Like:
Sensor triggers more false alarms.
Initial setup can be hard.
How to Choose the Best Wireless Driveway Alarm System
There are a lot of options for driveway alarm systems. As you can see from our roundup, there are great options regardless of price point. You don't need to break the checking account to get a solid alarm system. It's simply a matter of finding the right alarm that checks all of your boxes. Let's look at some things to consider when choosing the best system for your needs.
Sensor Range
You'll want to measure the length of your driveway and make sure that your sensors are installed where its range can pick up anything that pulls into the entrance of the driveway.
Transmission Range
Different from sensor range, this refers to the distance that is allowed between the sensor and your receiver (the unit that sounds the alert). It will be important to make sure that you install your sensors within the range of where your receiver is going to be. If your property or home is large, consider systems that have a transmission range in the one mile range.
Property Density
Brush, trees and other objects will play a major factor in your driveway alarm's range. Some sensors do better with dense areas than others. However, no matter how good they may be, there comes a point where you might need to consider clearing off the property to help it function prosperity.
Installation
Have a general idea of where you intend to install your sensors. This will help you be able to only search for sensors that meet your specific needs. Ease of installation is also important. Make sure that your alarm includes the hardware you need to install them.
Expandability
If you have a larger property or home, you may want a system that can grow with you. Look for units that can increase the number of sensors. If you live in an apartment or on small acreage, you might save money by opting for a less scalable system.