Choosing a motherboard isn't for the inexperienced. If you've only ever purchased a pre-built PC or laptop, analyzing the countless features, specifications, and abbreviations on numerous models from multiple manufacturers can feel like you're trying to understand a foreign language.
However, if you consider yourself a gamer, power user, or PC enthusiast, choosing parts to build your own PC becomes extremely rewarding. You can achieve just the right balance of price and performance, ensure you have a clear upgrade path, or even choose custom looks and colors.
Note: At no extra cost to you, we may earn a commission for purchases using our links. Learn more.
When the time comes to pick out parts, you must choose a motherboard platform first. Due to the highly specialized nature of computer parts, the motherboard you choose will determine which CPUs, RAM, and other parts will work compatibly with your computer.
Today we'll analyze a few of the best motherboards available for Intel's newest 8th generation of their Core series processors, released in October 2017. Codenamed Coffee Lake, the new processors promise to bring additional CPU cores and performance. Let's take a look at what the new platform has to offer.
Intel Z370 Chipset Overview and Warning
Every Coffee Lake motherboard available at launch uses Intel's Z370 chipset. Since all the motherboards share the same chipset, many core features between the boards remain identical.
Before we dive into any details, it's crucial we address one questionable decision Intel made. Coffee Lake CPUs are incompatible with previous 7th generation "Kaby Lake" hardware.
Unfortunately, Intel chose to give the new CPUs an identical 1151 pin socket and notch pattern, meaning you can physically fit the new CPUs into an old motherboard or vice versa. Choose your parts carefully or you run the risk of damaging one or both components in the event of a mismatch.
Feature-wise, the Z370 chipset brings little to the table that the previous generation Z270 didn't already have. Both support up to 24 additional PCI-Express lanes. Each supports two DDR4 memory channels with two DIMMs per channel, and a maximum of 6x SATA 6GB/s drives and 14 USB ports.
So has anything changed? First, the Z370 chipset supports USB 3.1 Gen 2 instead of older USB 3.0 or 3.1 Gen 1. While 3.0 and 3.1 seem numerically close, the new standard doubles the old speed for a blazing 10 Gbps transfer rate while also supporting the new reversible USB-C connector type.
The only other significant upgrade allows for PCIe RAID. While previous generations supported SATA RAID, many new high-speed SSDs rely on the PCIe lanes for increased data transfer rates. Adding PCIe RAID 0, 1, or 5 means you can achieve some dizzying data transfer performance without the need to purchase a separate RAID card.
As we prepare to look at each board, it's worth pointing out that there are many similarities due to using identical chipsets. For example, each has 4 RAM slots supporting a maximum of 64 GB. Also, each has 3x PCI-E slots that operate in either x16/x0/x0, x8/x8/x0, or x8/x8/x4 modes.
Rather than repeat the shared stats, let's see what the manufacturers have done to make their boards stand out.
Gigabyte Z370 AORUS Gaming 5
While the old green circuit PCBs of days past have long given way to aesthetically bold motherboards, Gigabyte raises the bar further with fully customizable RGB accent lighting in multiple zones. Aside from lighting, Gigabyte stacks the AORUS Gaming 5 with a host of features to enhance your experience.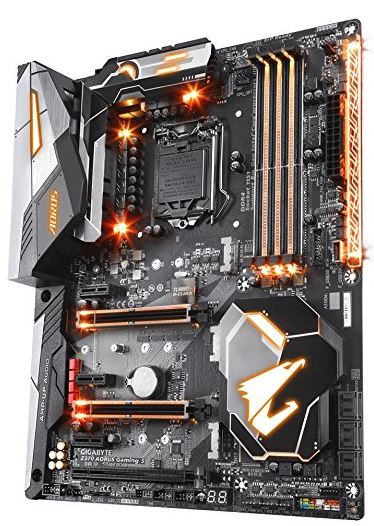 Cooling and Durability
Heat can be a big enemy of custom PCs. Knowing their users will have a variety of cooling solutions, Gigabyte added an unbelievable amount of granular control. The Gaming 5 includes 9 temperature sensors and 8 fan or water pump connectors. These Hybrid Fan Pin Headers do much more than spin a fan. They can automatically detect what type of cooling devices is connected and deliver up-to-the-second information on water temperature, flow rate, or fan speed.
Gigabyte's Smart Fan 5 Software gives you full control over each fan and pump with different trigger threshold and response curves. You can even choose to fully disable individual fans when temperatures remain low for whisper-quiet operation.
To enhance board durability with the size of modern components, Gigabyte added stainless steel shielding to the PCIe ports as well the memory slots. This additional reinforcement prevents the board from twisting or bending.

Enhanced Features
While the core board features have less variation, Gigabyte seeks to improve the user experience in ways that will matter to gamers.
The AORUS uses the ALC1220 audio codec with Smart Headphone Amp. This multi-channel HD audio codec improves the clarity of playback and recording with hardware decoding. The Smart Headphone Amp can automatically detect the impedance of your headphones preventing low volume on higher-end headphones and distortion on smaller units like earbuds.
While most USB peripheral devices draw very little power, newer accessories such as VR headsets can demand more. Traditional USB ports can experience voltage drops with longer cables. THE USB DAC-UP 2 technology allows you to ensure clean, steady power to all of your gear.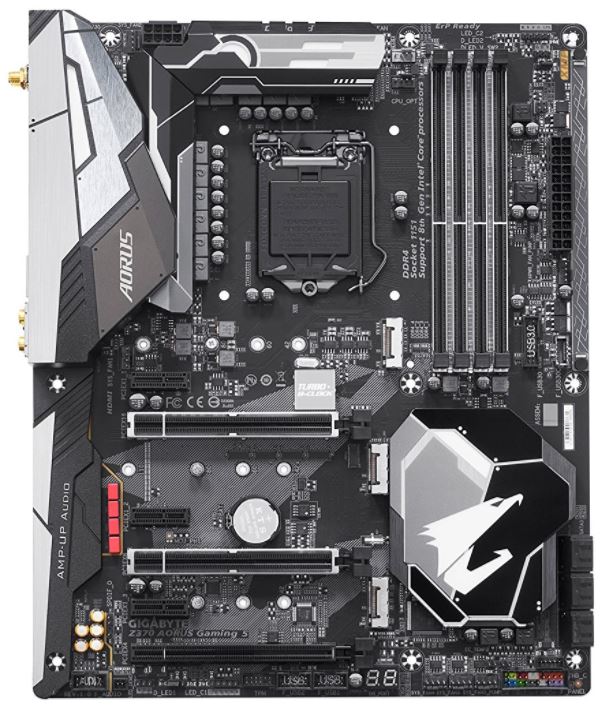 Additional Notes
With support for HDMI, Displayport, integrated AC Wi-FI, USB, and even a legacy PS2 port, it's hard to imagine anything the AORUS Gaming 5 is missing. With the addition of Triple NVMe M.2 PCIe SSD support and a huge list of over 1000 validated DDR4 DIMMS at up to 4133 MHz, this board offers performance through the roof.
Beyond the solid core performance of the board, Gigabyte's emphasis on precision cooling and lighting controls show that they know their audience well. If you want a board that looks as bold as it performs, the Gigabyte Z370 AORUS Gaming 5 will not disappoint.
MSI Z370 Gaming M5
MSI's Gaming M5 has a futuristic, military-grade look with black, gray and silver coloring. RGB accent lighting, while not as extensive as the AORUS, can be controlled and synchronized with compatible peripherals via the Mystic Light app. While not as full-featured as some competitors, MSI does provide upgrades in some potentially important areas.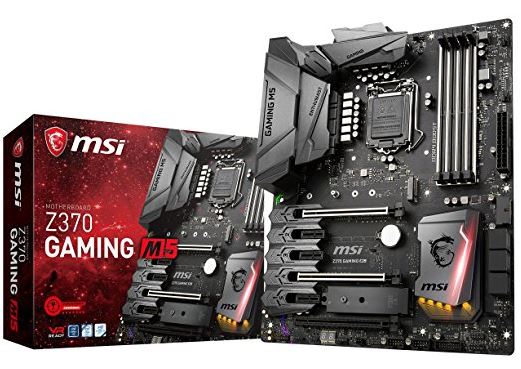 Cooling and Durability
The MSI Gaming M5 comes ready for air and water cooling. With a host of fan connectors and software management utility, you can set fan speed control levels to customize your cooling and noise levels. These standard 4-pin headers don't match the features of Gigabyte's AUROS Hybrid Fan Headers or their degree of fan and pump control, but it's still a welcome upgrade from a standard PC with few controls.
MSI also enhances this board with "Steel Armor" supporting the PCI-E and RAM slots and adds double grounding layered mounting holes to prevent static damage.

Enhanced Features
Quality sound can bring your gaming experience to another level. While many manufacturers are content to just stick with standard audio, MSI takes things a step further.
Utilizing Nahimic 2+ technology, you can experience improved audio performance including virtualized 7.1 surround sound even with standard 2-channel equipment. The custom listening profiles can enhance your music and provide increased clarity in-game. Aside from this innovative software, MSI also separates left and right audio channels onto separate PCB layers and uses gold connectors and premium Chemi-Con capacitors for optimal audio performance.
As with audio, MSI also chooses to upgrade the network connection. Killer Ethernet E2500 improves online gaming performance over standard Ethernet. By analyzing and prioritizing game traffic ahead of other types, you get a smooth, fast network connection where it matters most, in-game. Milliseconds can count in the heat of battle, whereas other people crowding your network with web traffic or social media won't ever notice the extremely minor delay.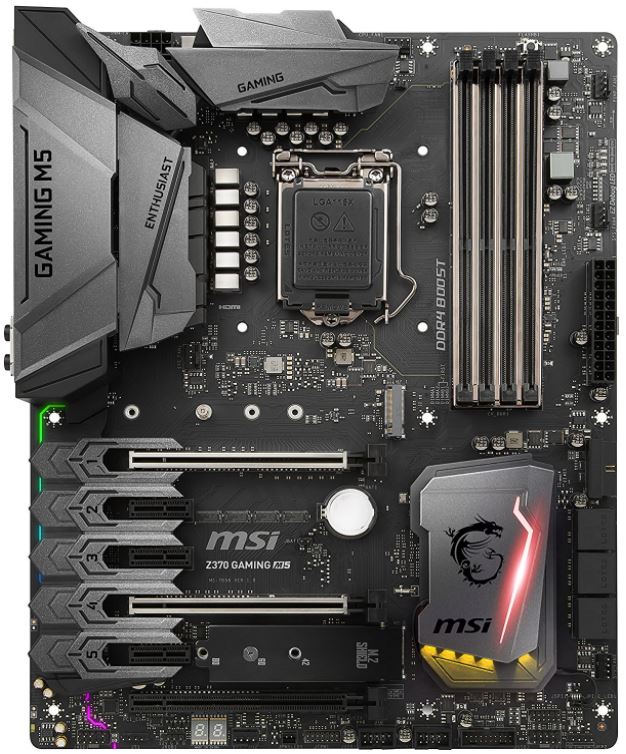 MSI's ensures the Gaming M5 is VR ready with "One Click to VR." By optimizing hardware performance and eliminating background software distraction, you can be ready for a fully immersive experience with a single click.
Additional Notes
MSI's easy-to-use BIOS and 1-second overclocking features definitely help less experienced tinkerers, but even veterans can appreciate the simple controls. Despite slightly fewer cooling customizations and only support for 2x M.2 drives, MSI compensates with enhanced audio and networking features. You'll have to decide which matter more to you.
ASUS ROG STRIX Z370-F Gaming
ASUS has long been a leader in motherboard manufacturing. While other companies have come and gone, ASUS remains one of the last few standing. The ROG STRIX Z370-F Gaming sticks with the black and gray color scheme with RGB lighting, but ASUS does have a few tricks that look to set the ROG apart.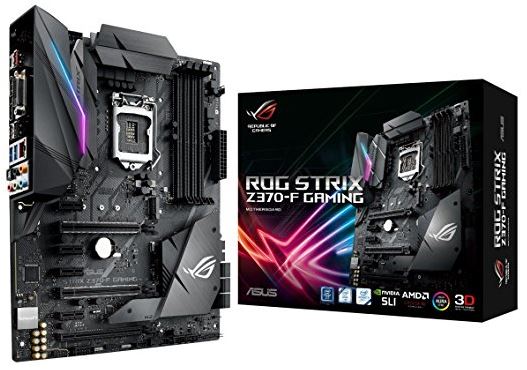 Cooling and Durability
By using the ASUS AI Suite 3 Utility, you can achieve maximum control over the workings of your PC. Using a TurboV Processing Unit, or TPU, this automated system-tuning utility allows you to tweak voltages, adjust overlclocking, monitor system information, and minimize noise even down to a per app level. You can choose to manually configure setting or take advantage of the one-click profiles for simplicity.
While the three temperature settings and customizable fan and pump controls should be more than adequate for most, the AORUS still holds the crown for most options.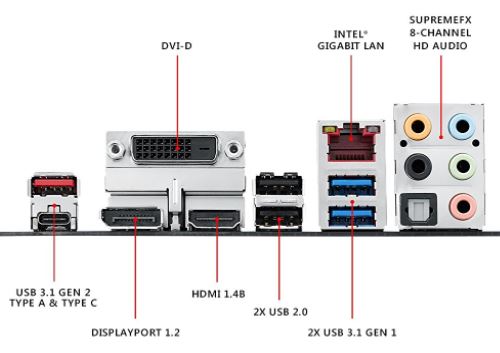 Enhanced Features
Far removed from the days when overclocking was considered dangerous and would void your warranty, ASUS and other manufacturers now go out of their way to enable superior overclocking features.
If you've built a gaming PC recently, you may have experienced the difficulty of actually getting RAM to function with all four slots populated. Most manufacturers have very short lists of compatible modules and they usually must be considerably slower than the theoretical maximum performance.
ASUS focused specifically on this problem with their OptiMem solution. This provides memory signal integrity by routing memory traces to the correct board layer and balancing trace lengths between slots to ensure time-aligned signaling. As a result, the STRIX Z370-F can support overclocking with improved stability, including memory speeds of DDR4-4000 and beyond even with all 4 slots populated.
Additionally, ASUS Pro Clock enhances the standard Intel base-clock and provides reduced boot time, lower jitter, and increased stability even with heavy overclocking.
Asus also upgrades audio performance with premium amps and top-quality capacitors and shielding.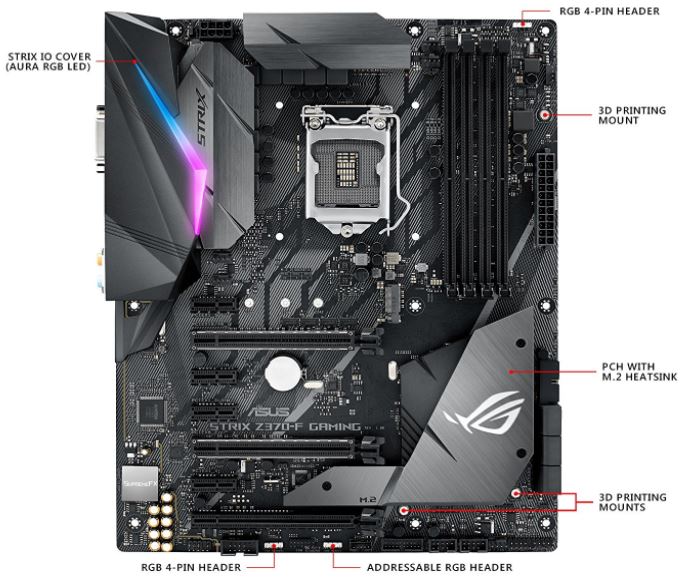 Additional Notes
ASUS includes some additional accessories in the box. An SLI bridge, extension cables, and a fan holder are nice to have but wouldn't sway us toward choosing one motherboard over another. If you are a fan of customization, ASUS offers 3D printable files to customize fan grilles, cable organizers, and more.
Which Z370 Motherboard Is The Best?
If you're having trouble choosing which board you prefer, you're in good company. The reality is, since each board uses the same Intel Z370 chipset, the "core" of each is identical. We had a challenging time evaluating them, as the factors we'd typically use to differentiate motherboards were all the same. With each supporting the same CPUs, the same amount and speed of RAM, the same graphics card configurations and more, it wasn't easy to distinguish one from another based on specifications.
Honestly, these boards are even more visually similar than anything we've encountered from three separate manufacturers. All featured a gray, black, and silver color scheme with controllable RGB LED accent lighting. Each had reinforced metal PCI-E and memory slots. All even had similar protective shielding over critical board areas.
Given this similarity, we needed to evaluate the build quality and non-core features to make our decisions.
While the MSI Gaming M5 didn't have any problems, it's strongest selling points were the Killer E2500 Ethernet card and the enhanced audio features. If network latency is critical to you, it may be worth the choice but otherwise nothing stood out.
The ASUS ROG STRIX Z370-F Gaming has a solid set of features and connectors, but what really shines is ASUS' commitment to overclocking. With custom-designed memory slots and timing chips for enhanced stability, if you're looking for extreme overclocking performance, we'd recommend this board.
For overall features, we'd have to choose the Gigabyte Z370 AORUS Gaming 5. Onboard 802.11ac WIFI is a big plus, and this is the only board in the batch to support 3x M.2 solid state drives. Between the 9 temperature sensors and innovative hybrid fan connectors, Gigabyte offers far more control and refinement over your fans or water pumps. We love the option of disabling fans entirely when temperatures drop low enough. Also, while all models included RGB lighting, Gigabyte had far more custom zones and options.
The beauty of building a custom PC is you can choose whichever features matter the most to you. Ultimately, with similar core features and connection options, all three boards would make an excellent platform for your next build.
Please consider sharing:
Note: At no extra cost to you, we may earn a commission for purchases using our links. Learn more.