Judging from the state of the electronics market, wires seem about as desirable as cassette tape and floppy disk drives. Any device you'd think would benefit from a Bluetooth connection already has one, and manufacturers have even added Bluetooth and smart features to a baby pacifier, a "smart fork," and a toilet.
While some of those wireless devices may be unquestionably bizarre, headphones seem a more natural fit for cord cutting. Rather than being tethered to a computer or smartphone, wireless headphones give a convenient, stylish option to listen to your audio on the go.
Although wireless headphones do make sense in general, we've observed a rush toward making countless headphone products that don't always make sense. Apple's AirPod wireless earbuds lit the fuse on an arms race of small wire-free in-ear headphones.
The WI-H700 joins the ranks of Sony's wireless listening options. Also known by their odd marketing name, "h.ear in 2 Wireless" isn't a typographical error but actually the official name Sony bestowed upon these headphones.
Like the somewhat strange name, the "h.ear in 2 Wireless" is a strange pair of headphones. A neckband drapes around your neck and each earbud has a wired connection to the neckband, which begs the questions, "Are these actually wireless?"
You can see the conflict over the definition in the marketing text from different manufacturers. Some say "wireless," others say "truly wireless," or "wire-free." While the WI-H700 obviously has wires between the neckband and earbuds, it does connect wirelessly to your devices.
Let's find out if this design strikes a good balance between different form factors or merely takes on the shortcomings of multiple styles.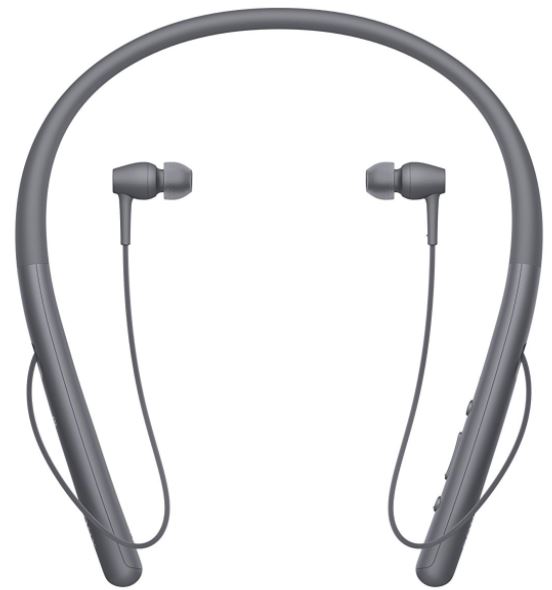 Design
As mentioned, the Sony WI-H700 "h.ear in 2 Wireless" comprises of a neckband that rests over your neck and shoulder area which connects via wire to the two earbuds. While we all have experience with wired headphones and have certainly seen a number of wireless options, the neckband design isn't something most users have experienced.
Sony seems to want to direct your attention away from the physical design of the unit by focusing on the color choices. In fact, the first element they highlight on the product page is the color.
The colors, Horizon Green, Twilight Red, Grayish Black, Pale Gold, and Moonlit Blue, seem stylish enough, however we feel it's an odd and perhaps telling sign that Sony shines such a bright spotlight on their colors instead of the design, specifications, and features. If they felt the product was excellent on its technical merits, we find it surprising they'd first tell you how great it would be to match your headphones to your favorite outfit.
Perhaps color-matching your headphones to your clothing ranks high on your list of desired features, but we're inclined to choose a neutral colored device with solid features and performance. It's hard to escape the feeling that Sony just wants to distract us from the more substantial questions about these headphones.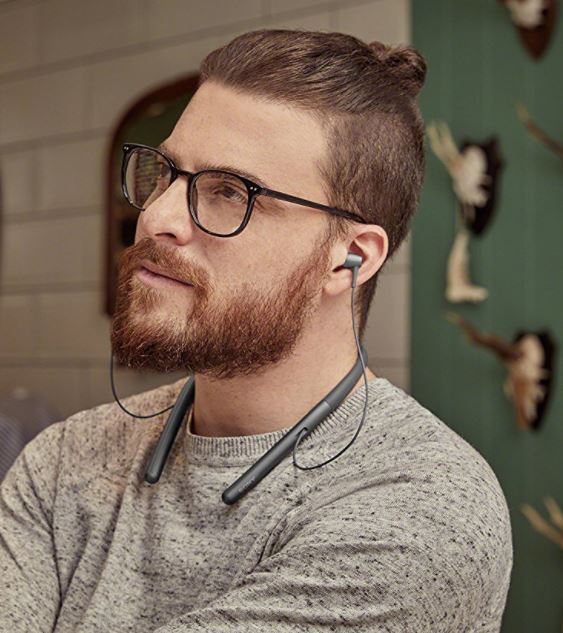 Usage
Despite our reservations about the design, in practice a neckband isn't quite as cumbersome as it may initially seem. The WI-H700 weighs in at a feather-light 1.41 ounces, and it's easy to forget you have it on after a short time wearing it.
Even if it isn't uncomfortable, the neckband design does limit the activities you can do while wearing it. These aren't the headphones we would choose for working out or jogging, since it feels too easy to bounce them off the back of your neck.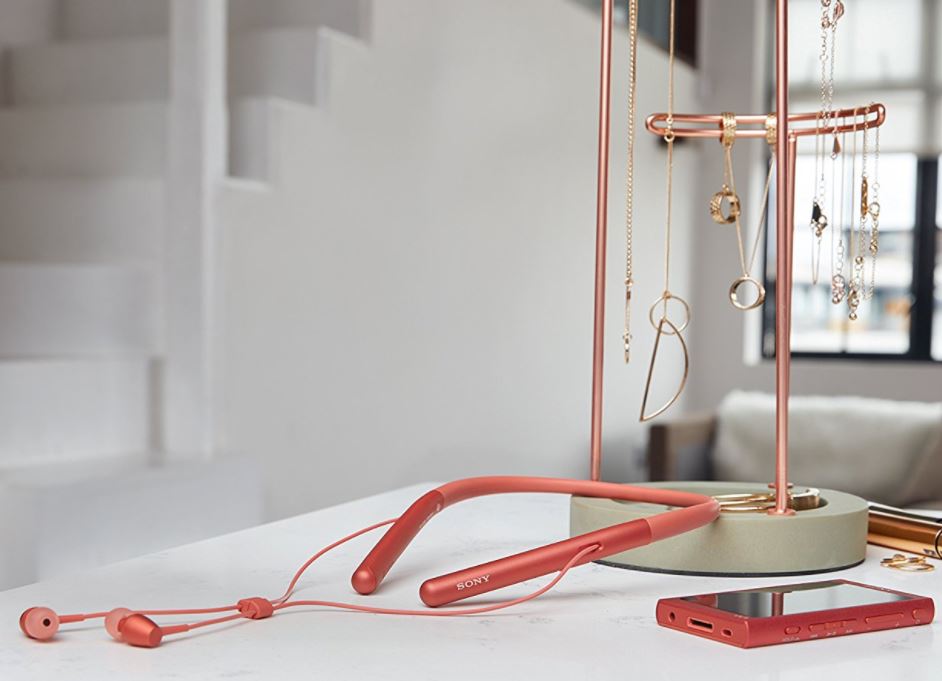 Also, while corded earbuds don't bother us tremendously much, having cords running from the earbuds to the neckband seems to defeat the purpose of wireless to an extent. While wearing them, we had to consider whether we'd prefer the corded earbuds connected to the wireless neckband plus the added inconvenience of keeping the battery charged, or simply a traditional pair of wired earbuds. If you don't have a good method of keeping your phone on you, like pockets or an armband, we could understand the need for wireless. However, if your phone isn't buried in a purse or bag it doesn't seem like much more of an inconvenience to just plug a standard set of earbuds in.
Speaking of battery life, the "h.ear in 2 Wireless" falls into a bit of an odd middle ground with estimated use time around 8 hours. Aside from the unlimited life of corded headphones, wireless battery life tends to vary by category. Large over-ear headphones have an expected runtime around 18 – 24 hours, give or take. Smaller truly wire-free earbuds will generally top out around 3 – 5 hours, however manufacturers boost this by 2 – 3 times with the addition of a portable charging carrying case. Though it couldn't enable continuous listening, assuming you'll take the earbuds off from time to time, you could get 12-15 hours out of some of these in-ear models.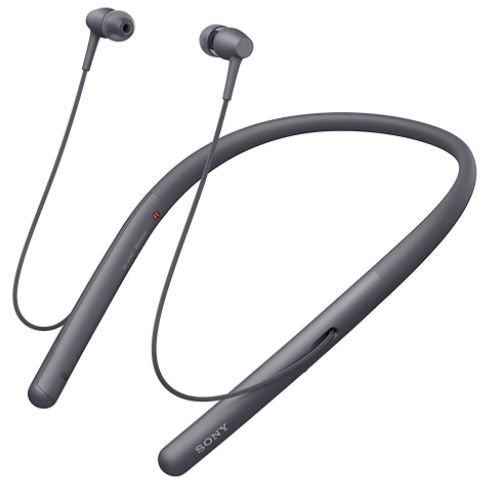 Specifications and Features
The Sony WI-H700 include custom designed 9-millimeter dome drivers with a frequency response from 5 to 40,000 Hertz.
Bluetooth version 4.1 is supported with a standard effective range of 30 feet, line of sight. Walls or other objects can impede the signal and reduce the range. Sony's "donated" their LDAC technology, once proprietary, to the Android O operating system to expand adoption. LDAC, essentially a Bluetooth codec, enables higher data streaming over Bluetooth to allow for improved audio quality.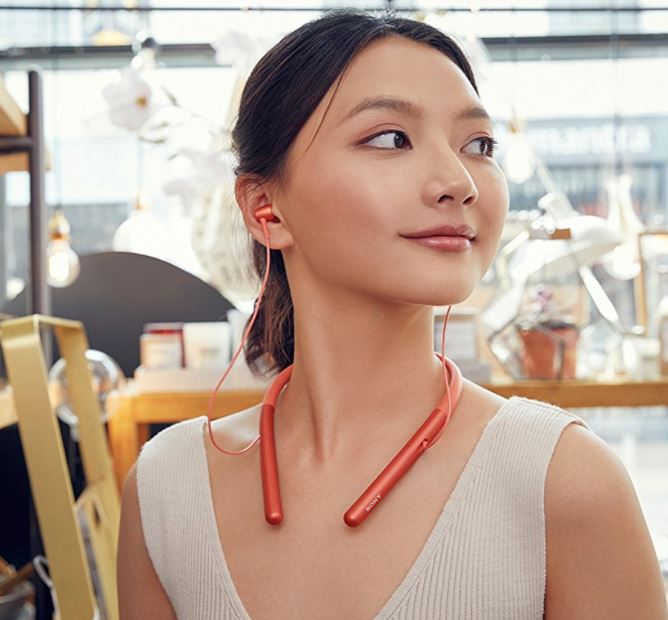 While it does improve upon standard Bluetooth audio, it can't achieve full High-Resolution audio. Sony's marketing could be seen as a bit misleading. They state, "High-Resolution Audio compatible," which most people would assume to include over Bluetooth. Only after reading the fine print does it reveal that High-Res audio requires attaching the physical audio cable.
Though the Bluetooth connectivity remains the primary selling feature, this included detachable headphone cable does enable non-Bluetooth operation, which could come in useful at times. Also included, four different earbud sizes allow you to customize the right fit for your ears.
Sony, knowing most users will connect to a smartphone, makes sure to provide a few useful calling features. First, the "h.ear in 2 Wireless" neckband vibrates to alert you to incoming calls. This prevents you from hearing an alarming loud ringtone directly in your ears. You can also adjust volume and answer calls from the buttons on the neckband.
The "Sony Headphones Connect" App, available on iOS and Android, allows you to adjust music levels and choose virtual surround sound presets like club, hall, arena, and outdoor.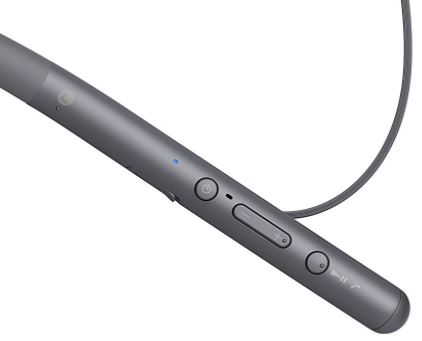 Audio Quality
While many users aren't incredibly picky when it comes to portable headphones, if we're going to listen to audio for hours, we'd like it to sound good. The WI-H700 sounds good, but not necessarily out of this world.
Sony has a few tricks up their sleeve to try to squeeze extra audio quality out of your existing music library. First, we mentioned the additional data bandwidth available due to Sony's LDAC Bluetooth technology. This is necessary to allow better quality audio since you're sending more information.
Next, Sony includes what they call "DSEE HX," or Digital Sound Enhancement Engine. Essentially, whenever analog audio is captured to a digital source, computers need to convert the natural curves of a sound wave into digital ones and zeros. This isn't a perfect conversion, but the more data we take, the closer we can come to replicating the true form of the sound. Unfortunately, more data isn't easy to store and transmit. Common streaming sites and MP3 files have to compress audio for practical purposes, but it can have a noticeable impact on the quality of the audio source.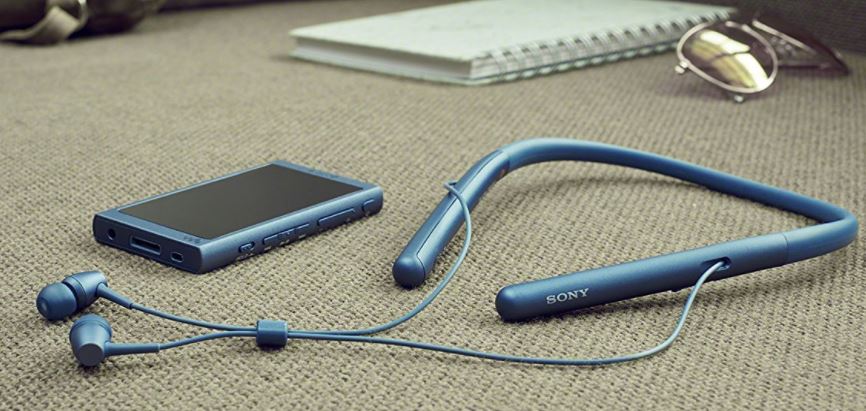 Harshness, muddiness, or missing richness and nuance may go unnoticed by many, but for the audio purists out there, it can verge on unlistenable. Sony's DSEE technology attempts to restore some of the richness and depth to compressed digital audio sources.
As mentioned previously, Sony's marketing message could stand to be a bit clearer on the matter. The H700 does not support Hi-Resolution audio unless you use the supplied cable. Additionally, DSEE can't actually "Restore the detail in your music," as Sony claims. Instead it simply seeks to replicate a richness of sound lost to compression.
To our ears, while enabling DSEE did seem to add some depth to our sample tracks, it didn't do much more than tweaking EQ settings would have. Sony should be a bit more forthcoming. Once detail gets compressed out of a track, no amount of wizardry will make it return.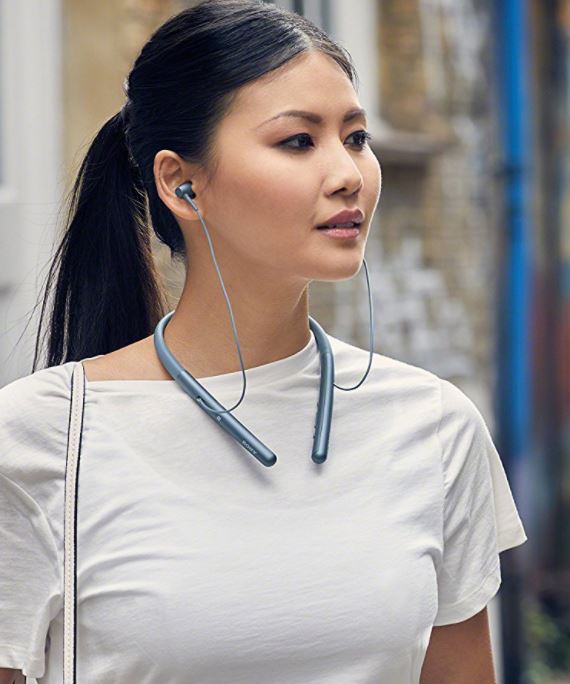 Conclusion
Though nothing about the Sony WI-H700 seemed bad, they didn't stand out to us as a must-have pair of headphones. The most offensive thing about them is the terrible marketing name. Whoever was in charge of naming these the "h.ear in 2 Wireless" should seriously reconsider their career in product management.
Ultimately, the WI-H700 seems to try too hard to solve too many problems, and the final result doesn't excel in any particular area. Even among the Sony "h.ear" product line, other models stand out about the H700. The 1000X is more expensive but has active noise cancelling. The C400 doesn't include all the audio enhancements of the H700 but has a greatly improved 20-hour battery life and smaller price tag.
Sony's suite of audio enhancements may appear to improve quality to some, but audio purists are likely to be disappointed. As an analogy, imagine cutting a hole in the middle of the Mona Lisa and then having an artist attempt to fill in the missing areas. While the result may look better than a painting with a hole in the middle, any art enthusiast will understand that the attempt to restore doesn't come anywhere near the quality or value of the original.
The fact that Sony seems to emphasize color selection over features also doesn't demonstrate a lot of faith in the quality and value of the product. If you have the opportunity, try to find a way to test these first before making a purchase. If you need wireless headphones, don't mind the neckband, and like the sound of the audio enhancements, the Sony WI-H700 "h.ear in 2 Wireless" could be the right choice for you.