Until a couple of years ago, cordless vacuum cleaners had suction that was pretty unimpressive. But over the past couple of years, lithium-ion batteries have gotten much better, and much cheaper. Meanwhile, engineers have been getting a little more innovative in finding new ways to create effective vacuums.
Which is a big part of the reason why it's getting easier to find some fairly formidable cordless cleaners. But dodging the weaker ones on the market is still a big issue, especially when you're not shelling out for a top-shelf cleaner. Depending on the types of messes that you're trying to clean up, getting the right cleaner can actually be a bit challenging.
BlitzWolf BW-AR182 2-in-1 Cordless Handheld Vacuum Cleaner
The BlitzWolf BW-AR182 is part of a lengthy series of similar cordless cleaners. Compared to previous iterations of the same device, the AR182 represents some pretty solid gains. This series of cleaners isn't aimed at helping professional cleaners work through an entire workday of vacuuming. Rather, the throughput potential and feature set are more suitable for people who are doing some casual vacuuming around the home, office, or a smaller retail space.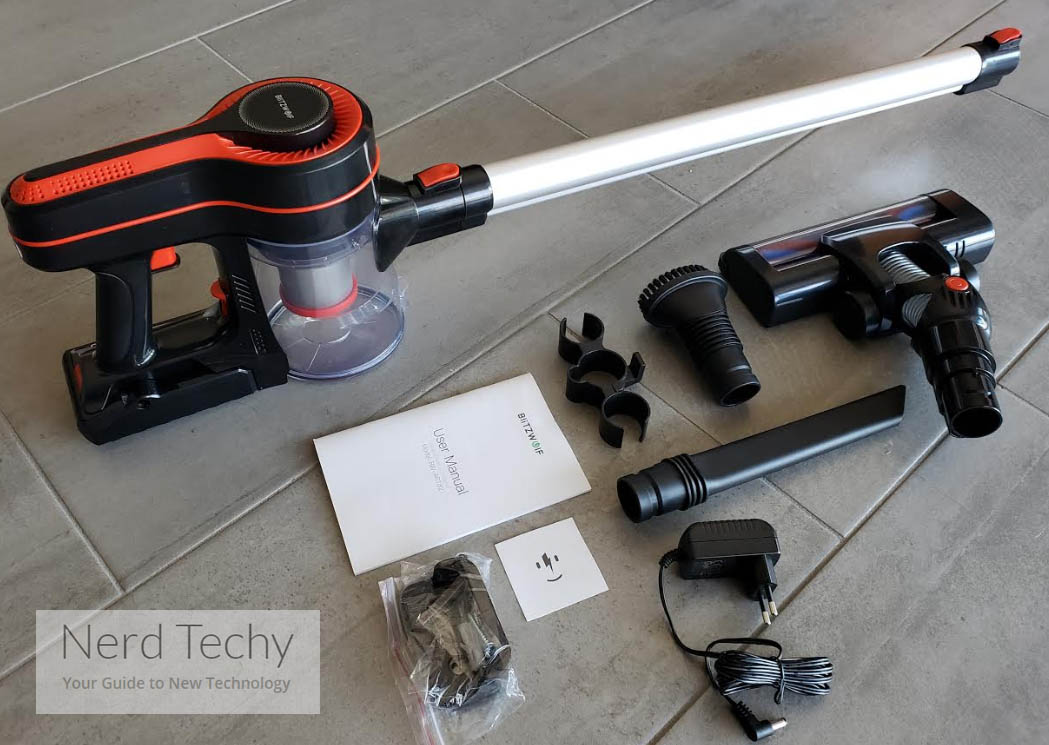 Like you would hope from this sort of portable cleaner, the BW-AR182 was made to be as intuitive as possible. It was also made to be able to take on several different types of flooring, including hardwood flooring. Though this vacuum isn't quite as adaptable as another cleaner we reviewed recently, the Tineco A11 Hero, the AR182 does provide a number of comparably powerful features.
Use coupon code: 12blitzw for 10% off the BlitzWolf BW-AR182 at BangGood.com
Which really makes the BW-AR182 a middle point between a top-shelf product like the A11 and an entry-level cleaner that doesn't provide all the opportunities it should. Though that middle position will make the BW-AR182 attractive for a number of different people, it also means there are at least two groups of people who would be better off choosing another cleaner.
Design & Layout
The bad news is that when you open up the box, the BW-AR182 is partially dissembled. The good news is that assembling it doesn't take long, and it's actually quite easy to do properly. Just install the dust bucket, slide one metal tube into place, attach the brush, place the battery, and you're done.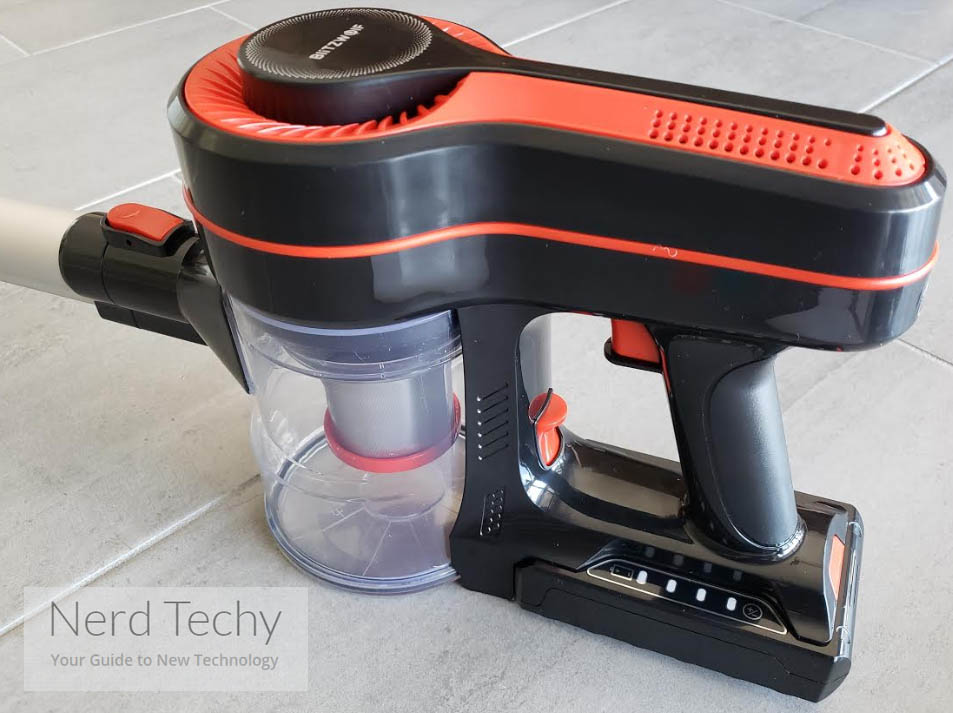 You basically just snap the parts together. Once you've managed to put it together, you should have a pretty good feel for how the machine works in the future. So the fact it comes disassembled is actually a pretty good way of getting acquainted with all the various parts and how they work together.
In terms of material construction, this vacuum is primarily made from ABS plastic. It's quite thick and fairly durable, but this material was mostly chosen in the interests of weight. The chassis weighs virtually nothing, it's really only the motor that causes the BW-AR182 to feel hefty in your hands. And that weight is well distributed so it doesn't become a strain on the wrist as you clean.
In the interests of reaching tight spaces, it's worth noting that the cleaning head is fairly wide, measuring around 13 x 4.5 x 8.8 inches. The base of the cleaner is also a bit wide, measuring roughly 10 x 9 inches. Though getting around this broad design is pretty easy when you start to use some of the included attachments.
If you want to extend your cleaning a bit beyond arms reach, you can also attach an extension rod, which has a 2" diameter and measures 25.5" in length. Instead of being made from ABS, the extension rod was primarily made from metal in order to better withstand the kinds of intense pressures this machine can put out on its higher settings. For the same reason, you'll find a number of small metal contacts help the plastic pieces snap together firmly, and stay together while in use.
When you're done cleaning up, the whole thing is wall mountable with an included mounting bracket. This also includes the ability to snap on the various accessories that come with the BW-AR182. There are a few problems with the mount, but we'll get into that a bit later.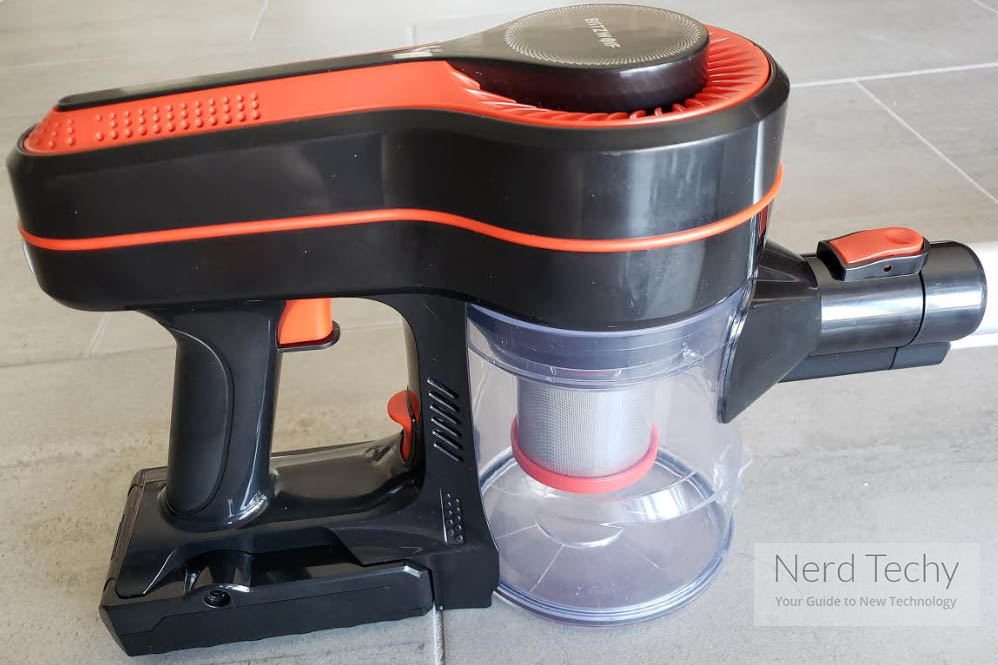 Adaptable Cleaning Ability
The BlitzWolf BW-AR182 was made with a two-in-one design for cleaning several types of different floors, and it includes a variety of multi-functional brush heads. That includes a flat suction nozzle, rolling brush head for hard floors, and a round suction head for sofas and fabric. The head where these nozzles are attached can be rotated 130 degrees, allowing it to easily twist into tight spaces.
Moving between the two operation speeds is pretty simple. The backside of the unit has a switch which lets you toggle between them as needed. It would've been nice if there had been more of an interval between the highest mode and the lowest mode, perhaps a dial you could gradually turn and raise the suction. But this basic switch design has the appeal of simplicity working for it.
Ease of Use
And it's really worth emphasizing how much using the AR182 is easy. It's possible to effectively clean with or without the aluminum extension tube. Whether you're working on hardwood flooring, shag carpet, or something a little thinner, it's easy to adapt. Depending on what you need to do, you can swap between the rotating brush, a brush upholstery tool, or crevice tool.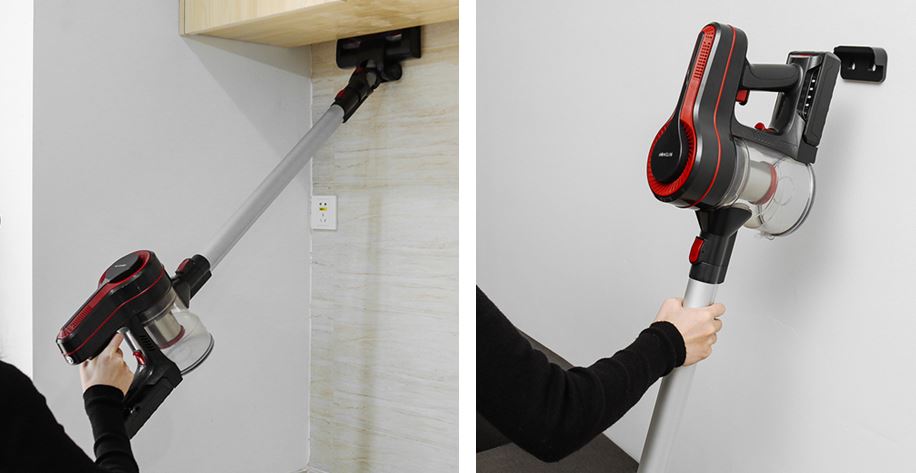 The primary floor brush is quite interesting because of the slightly unique physical design of the engine inside of this vacuum. One consequence of the design is that the rotating brushes are especially effective at dislodging hairs and dust inside of a carpet, and then sucking them up into the machine. Once you've done some vacuuming, the translucent dustbin allows you to see exactly how much junk and debris you've picked up.
Pretty neat, and it gives you a sense of satisfaction having seen all that you've achieved. Likewise, the filter is also pretty handy. A lot of older style vacuums make use of filters that are hardly more than a wad of cotton. But this filter is a full-fledged HEPA air filter, making it far more effective. It can be accessed by removing a dust cap, which was made removable so you could intermittently wash and dry it. It seems that pretty much everything was made with longevity in mind.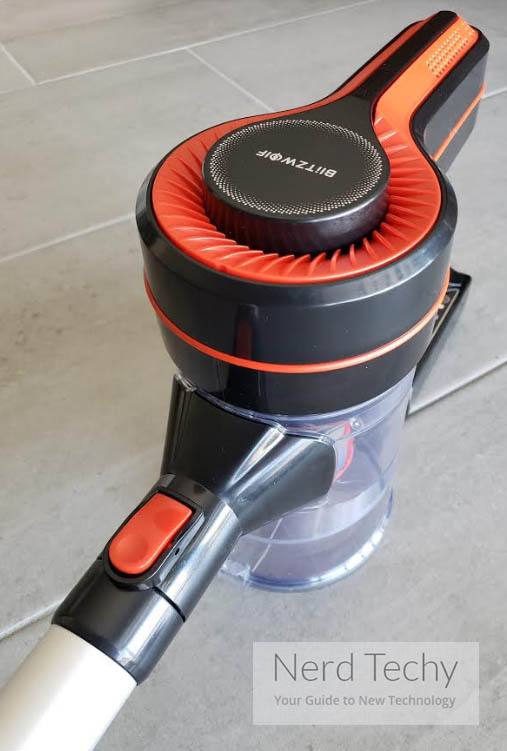 Sounds & Speeds
Vacuums can be noisy, even when they claim otherwise. How loud does the BlitzWolf BW-AR182 sound? Well, it really depends on how it's being operated. The slower mode is basically just a moderate whirring sound. Quite quiet for a vacuum, you could even talk while it was on without having to raise your voice. For someone who's looking for the kind of cleaner you could run while another person is sleeping in a nearby room, the slower mode will fill that purpose.
However, at some point in time you might need to swap over to the higher speed for more suction. Once you've swapped over to high speed, this machine basically sounds like a corded vacuum. Noise peaks around 70dB, which is nothing short of loud. That's reflective of the suction power running around 130W. And you'll have to start speaking up, or even shouting if you'd like to speak over it. But for the most part, it shouldn't be necessary to run the higher mode for most types of messes.
Battery Power & Speed
The BlitzWolf BW-AR182 is powered with the aid of a pretty handy lithium-ion battery. The 2200mAh capacity operates at 22V. That power drives a motor was made from a gun-style trigger mechanism allowing it to snap on and off again with rapid precision. And these things working together are what allow this cleaner to put out the sort of suction power you really need to be effective on a smaller scale cleaning project.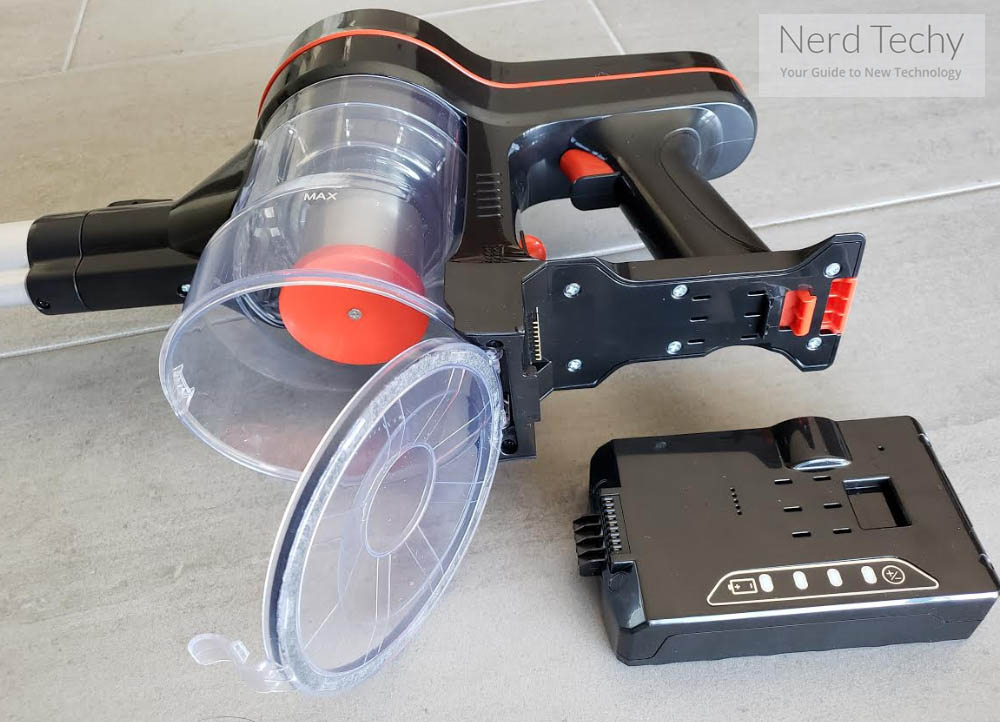 Unfortunately, that power is also the reason why this battery takes about five hours for you to fully recharge. That sort of downtime can be a drag. but it does take a while before you need to recharge things. Because this vacuumed is supposed to provide 35 minutes of suction power while using the lower speed suction. And it's supposed to provide 20 minutes of power while you're using the vacuum at the highest suction levels.
Maintaining 20 minutes at higher levels is actually quite impressive. Even cleaners like the A11 don't maintain that kind of battery capacity, though to be fair, the A11 does have more overall suction power. More importantly, this cleaner does quite well when it comes to keeping the battery charged over days and weeks. Its standby time essentially requires no micromanagement from your part. Though if you decide to leave your home for six months, it would be helpful to discharge the battery before doing so.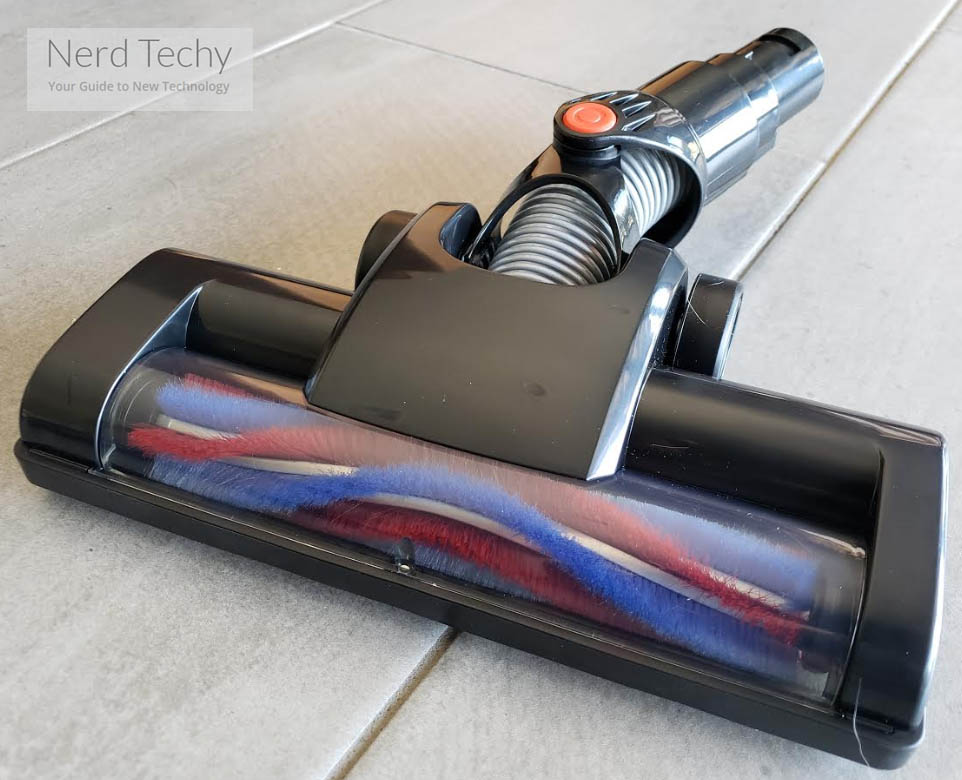 How will you know when it's time for a recharge? Four indicator lights are positioned along the front of the device; they'll keep you informed as you work. They'll also help with diagnostics. Run into a jammed brush head? A purple LED will come online to let you know the problem is there.
In terms of longevity, the included battery can deliver 500 cycles of recharging. For most people, that's going to mean something like three to five years of regular cleaning before you'll want to think about replacing the battery. Fortunately, this cleaner does allow you to swap the battery when the time comes. And their battery is a generic part, so replacement should never be too difficult.
Other Considerations
There is at least one problem. The AR182 comes with a pretty flimsy mounting rack. It's supposed to allow you to clip-on the included upholstery tools, but the rack is made from pretty weak plastic. It's prone to breaking easily, so you may end up having to find a different place to store the accessory tools.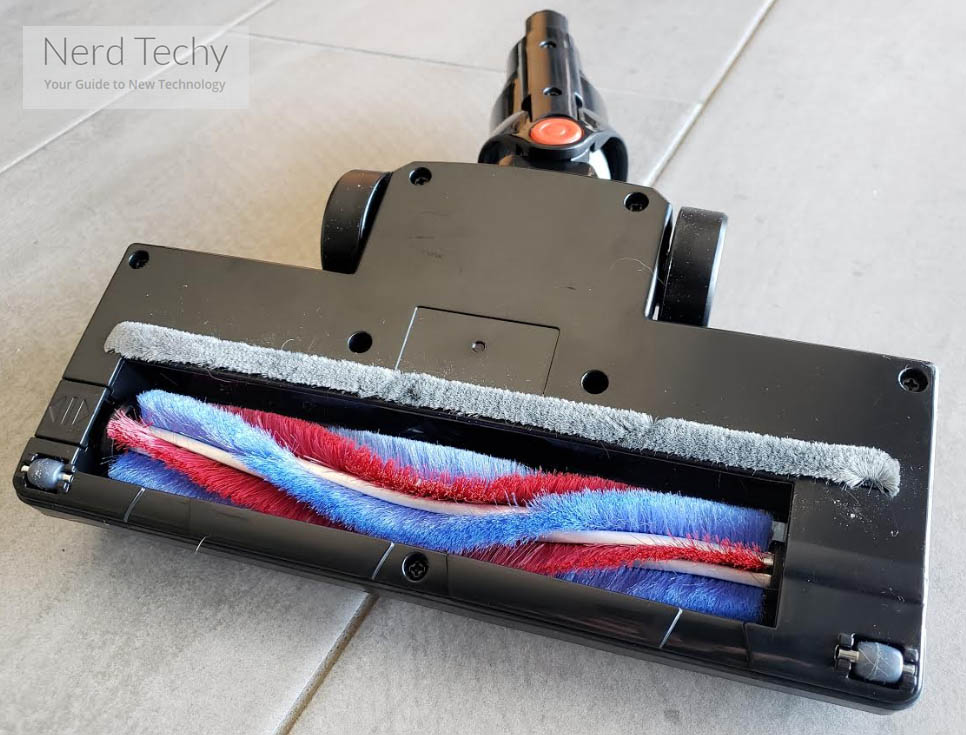 Who Should Choose the BlitzWolf BW-AR182 Vacuum Cleaner?
The BlitzWolf BW-AR182 isn't going to be right for higher throughput scenarios. If you're someone who's cleaning professionally, you might find that the battery power just isn't going to cut it. But for most people cleaning around a home environment, or cleaning around a small office, the BW-AR182 will probably be quite suitable.
Use coupon code: 12blitzw for 10% off the BlitzWolf BW-AR182 at BangGood.com
Who vacuums for more than 30 minutes, anyway? Provided that you're not turned away by the battery capacity, this vacuum is definitely a good example of a cleaner that can deliver on a strong price to performance ratio.