Driving a larger vehicle can be tricky, which is why you typically need special licenses to operate them. Even for experienced drivers, maneuvering your vehicle around tight corners, and even parking, can be a real challenge. All it takes is one small mistake, one slip-up, and things can get messy quick.
But like with so many things in life, having the right technology can help you out. Backup camera systems can be a fantastic roadside safety aid. Whether you're an amateur driver when it comes to large vehicles, or you're an absolute expert, they can help make you drive more safely. And it's certainly better than having a buddy standing behind your vehicle, shouting instructions at you.
Haloview MC7611 Wired Backup Camera System
In some ways, the Haloview MC7611 comes pretty close to being a dash camera. But instead of being aimed at helping you get a better view of the road ahead, this camera is aimed at letting you get a better view of what's around your vehicle. Whether you're an experienced driver or not, you probably don't have x-ray vision.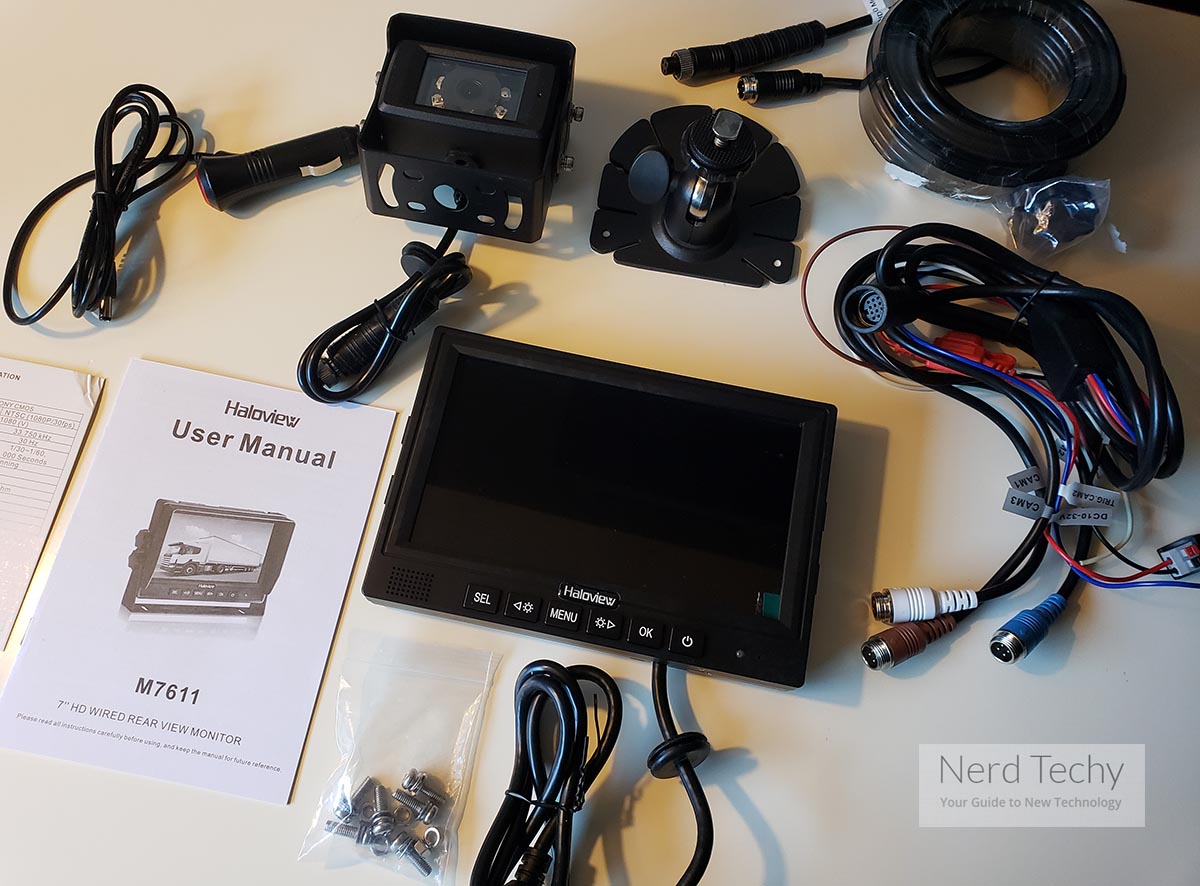 You can't see through objects. But with the MC7611, you can manage to see around them. In addition to being used as a highly effective rear view sight system, it can be used for active or passive security around your vehicle. And with as many as three separate camera inputs, it's possible to use the MC7611 to create a pretty cohesive picture of every area around you.
Of course, this isn't exactly an all in one style kit. Though you've got three total camera inputs, the MC7611 only includes a single camera. The included camera is reasonably good, and was actually made specifically for helping navigate large and lengthy vehicles. As a result, it's pretty close to ideal for something like a travel trailer, since this device was made with trucks, trailers, campers, and RVs in mind.
Design & Layout
There are basically two components to this kit, the view screen and the included camera module.
The camera base measures roughly 2.5 x 1.5 inches. Once you've got it in place, its adjustable mounting plate allows you to adjust the angle of your shots upwards or downwards as necessary. It's pretty convenient, and very easy to make adjustments.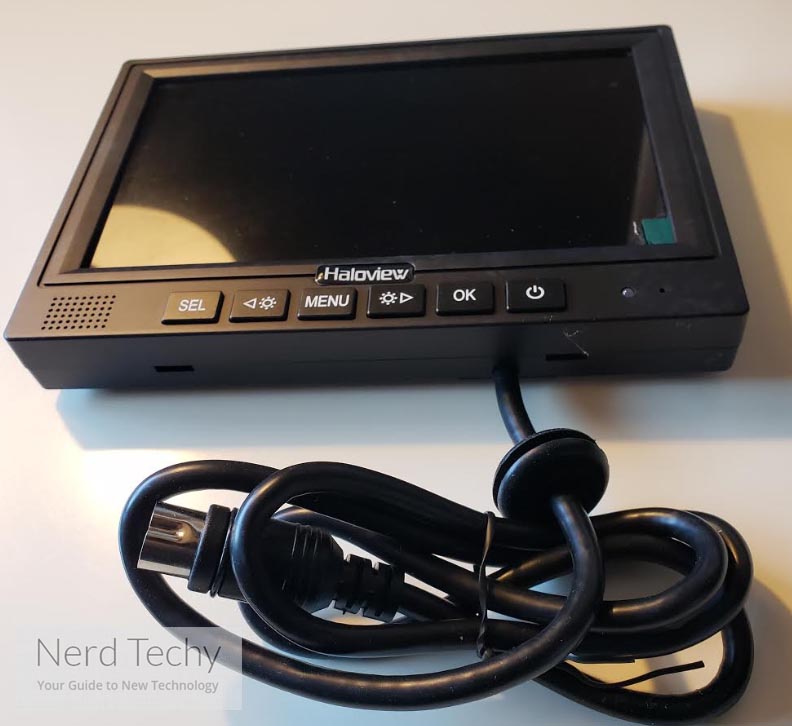 The MC7611 draws power with the support of a 12V or 24V vehicle battery. Pretty much any vehicle you want to connect with is going to work well here. And connecting to a power source really isn't any more difficult than you might anticipate, but it does mean a couple of added steps compared to devices that have their own independent power source.
The camera isn't nearly as important as the display, though. The display is s a reasonably large 7" screen, which provides a full color view from whatever cameras that you're connecting with. At the base of the display, you'll find a total of six analogue buttons you can use to interact and control the MC7611. Unfortunately, this isn't a proper touchscreen display, so you're relegated to using these six buttons for controls.
Fortunately, the analogue interface is pretty intuitive. The far-right button works as a power button. The "OK" button will help you input commands. The MENU button will, unsurprisingly, launch open the menu for you. And the arrow keys will let you navigate through various menu options. All pretty intuitive stuff, you probably won't have to break open the user manual.
It's also worth noting that the Haloview MC7611 was made with an IP69K waterproof rating. If you're not well acquainted with the waterproof rating system, that indicates you're protected against powerful high-temperature water jets. You could roll your rig through the most heavy-duty carwash in the world, and you wouldn't have to worry about this equipment becoming damaged. Pretty much the only way you could destroy this equipment with water would be prolonged submersion. So as long as you're staying out of flood zones, you shouldn't be too concerned with moisture.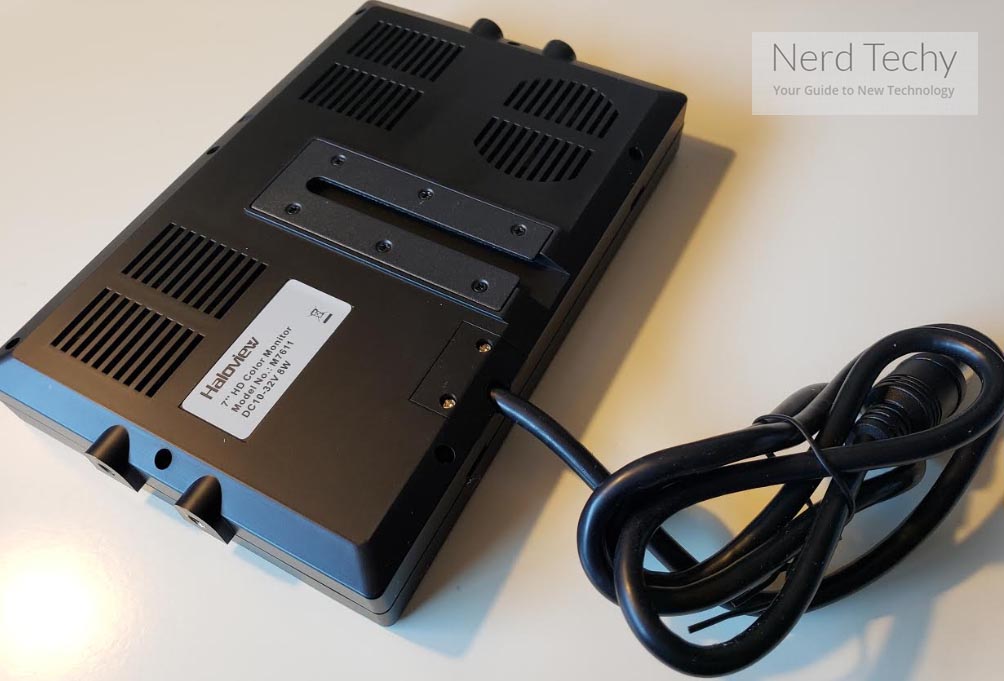 Video Quality
As mentioned earlier, the included camera is wonderfully adjustable. You can raise or lower the angle of the lens in only a couple of seconds. You can also lock the lens into position once you've got it exactly where you want, so it won't be shaky during recording on the road. In addition to being fairly adjustable, you'll find the camera itself shoots in a wide 130-degree angle.
Though not quite a panoramic view, you've still got a wide view of basically anything that might be approaching your vehicle. With respect to resolution, the MC7611 is capable of broadcasting content in a variety of formats and framerates. Most notably, that includes 1080p content broadcast at 25fps or 30fps, and 720p in either 25fps or 30fps. But if you're looking at the hairy details, it's worth pointing out that the Haloview MC7611 also supports PAL, D1, NTSC, and D1.
How well does the display perform? Well, surprisingly good really. It can be configured to automatically switch between the right, left, or backup camera. And the LCD screen is actually a reasonably impressive IPS panel, which allows you to view the screen even when you're looking from a sharp angle.
Suppose you're trying to back up your vehicle. The TFT LCD monitor can be configured to project lines on the display to let you know how much room is left, and where you should be aiming your trailer. If you're looking for less help, you can try and navigate things yourself. Because again, with only a couple of taps, the view screen can be adjusted between a variety of different cameras and viewing angles.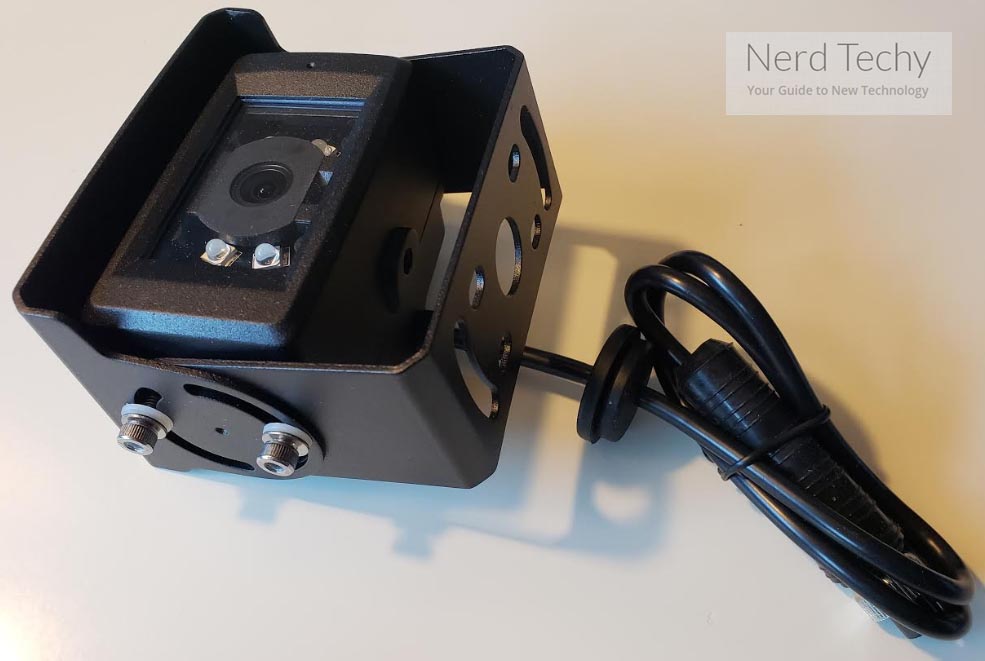 Additional Features
Interestingly, the Haloview MC7611 isn't really packed with extra features. This device seems to be more about helping people solve the problem of backing up a large vehicle, which is why the included feature set might seem a little thin when compared to certain dash cameras.
But you will find a few things. For instance, you'll find there's an automatic scanning function that will move through the cameras which are connected to the MC7611, so you can observe multiple angles without having to micromanage the camera. If you need to keep your hands on the wheel while moving your vehicle, that can be very handy. In any case, it's possible for the connected cameras to be carefully configured to be used for parking or backup as necessary.
Night Vision Performance
You probably drive when it's dark outside. That being the case, you need a camera that's capable of seeing in the dark. Without that, you'd need to add some lights to your rig, and that could start to get complicated and tedious pretty quickly.
But impressively enough, the Haloview MC7611's camera comes equipped with a Sony STARVIS sensor. Some people may not have had high hopes for the performance of this fairly modest 1080p cam, but this sensor is fantastic at reducing image noise in the darkness while monitoring your vehicle. It's also great for night vision because it helps maintain the clarity of your image without totally destroying all sense of color or contrast in the process.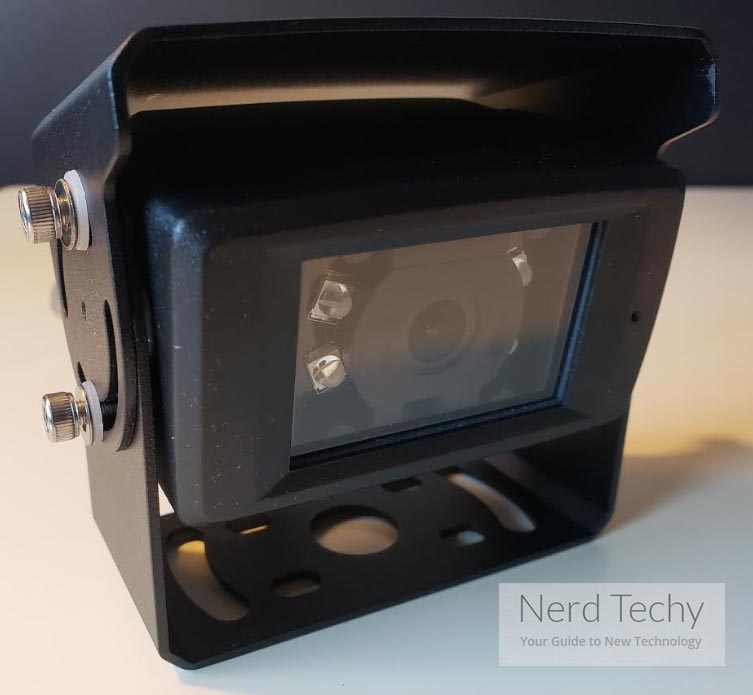 Audio Playback
Like any good backup system should be able to provide, the Haloview MC7611 delivers some fairly strong audio playback support. The onboard speaker probably isn't going to make you feel like you're sitting inside a home theatre, but its good enough to help you listen to whatever is going on outside. Suppose you do have a buddy standing near the end of your vehicle, and they're shouting instructions. The microphone can help ensure you actually hear what they've got to say.
However, from a hardware perspective, the built in microphone they've used for the MC7611 isn't anything too special. It's a fairly ordinary electret microphone. But to its credit, it's designed to expect road noise and vibration and will work to counteract its effects. So it sounds pretty good even if you've got the engine of your vehicle kicking up lots of noise.
Other Considerations
Some vehicles are bigger than others. For someone who's steering a particularly lengthy trailer, you're going to need a particularly lengthy cable to connect the view screen to the camera. Luckily, Haloview offers three different lengths of wire for that task. You're able to use a 5m, 10m, or 20m wire. Unfortunately, these wires are sold separately.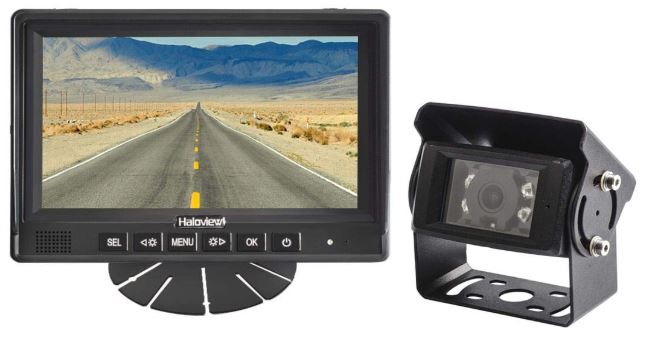 Who Should Choose the Haloview MC7611 Wired Backup Camera System?
Once you've carefully looked over everything it can offer, it's hard to argue that the Haloview MC7611 doesn't bring much to the table. The 7" view screen is gorgeous, and it lets you view content at a reasonably high framerate. If you're worried about seeing the motion of fast-moving objects, as you should be when trying to back up your vehicle, then you really want to take advantage of a 30fps camera like the one included.
It's important to recognize that if you were looking for a simpler type of backup system, then you could find it. The MC7611 has you paying a little bit extra for reliability, expandability, and a generally high-quality display. Sure, it's not a touchscreen. But it does provide you with a beautiful and accurate picture of the road around you, even if you're viewing the screen from an awkward angle.
It's also important to recognize that the MC7611 isn't right for every type of vehicle. If you were using a large truck and you wanted to be able to disconnect the unit from your battery on a regular basis, you might want a different wireless system with a more convenient means of powering things. Or perhaps a wireless backup camera system that contained its own separate battery.
But for what it is, the MC7611 does perform beautifully as a sort of all-in one backup system. For people who have the right expectations, the MC7611 is probably worth picking up.
Meet Derek, "TechGuru," a 34-year-old technology enthusiast with a deep passion for tech innovations. With extensive experience, he specializes in gaming hardware and software, and has expertise in gadgets, custom PCs, and audio.
Besides writing about tech and reviewing new products, Derek enjoys traveling, hiking, and photography. Committed to keeping up with the latest industry trends, he aims to guide readers in making informed tech decisions.