Logistically speaking, most people would prefer not to be locked into one product ecosystem. But that can be one of the bigger problems with creating a multi-room sound system. Because that's how most manufacturers make their gear, and it's no secret.
Sometimes, it's not so bad to get locked into one ecosystem. If you happen to be the world's biggest fan of Sony, and you don't mind heavily investing upfront, then ecosystem problems aren't problems. But for everyone else, what you need to get around these kind of issues is a wireless music node.
Bluesound Node 2i Wireless Multi-Room Hi-Res Music Streaming Player
Maybe you have a pair of speakers already. Maybe you've got a CD player, a turntable, or a stack of CDs. And maybe you've used an Internet radio or streaming service. But all of these things are separate. Connecting all your sound equipment through one hub isn't exactly a novel idea, but doing it wirelessly, in high definition, and in constant commutation with the cloud is another matter entirely.
The Bluesound Node 2i Wireless Streaming Player is a means of tying all these disparate sources of media together. It combines the power of online streaming services with the music you have in your own personal library. But it doesn't stop there.

The Node 2i connects to any existing audio system, stereo amplifier, AV receiver, and so on. And that allows you to stream content from a CD player, turntable, or from the Internet, and play that content anywhere you've got equipment connected to the Node 2i. With almost unlimited potential at your fingertips, it's actually difficult to find things not to like about the Node 2i.
Build & Design
The Bluesound Node 2i measures 8.7 x 1.8 x 5.7-inches, weighing just 2.45 lbs. It's lengthy rectangular design is quite distinct. Almost nothing else comes close to resembling it exactly, which gives it a subdued, striking outward appearance. While you're not using the Node 2i, it idles with a low 6-watt power consumption. Just enough to be ready for your next command.
Turning to its topside, the physical interface involves simplified top-panel buttons. There are only five buttons in all: two buttons for rewind and skip, two buttons to raise and lower volume, and one button to play/pause. This level of simplicity ensures that with a little experience, you can just-about use the Node 2i without looking at it.

Streaming Support
You're in the middle of watching an interview. You could use a drink, so you get up to grab one. As you move from one room to the next, you continue to follow along with the interview, without having to hit pause. You grab your drink and head back without missing a beat.
That's essentially the dream Bluesound is trying to construct from their Node 2i Wireless Multi-Room Hi-Res Music Streaming Player. They want you to be able to have unlimited, all-room access to podcasts, music, movies, and similar media.
To get that done, the Bluesound Node 2i provides essentially all of the big names in the world of free radio, including services like iHeartRadio. It provides support for paid cloud services, Napster or Spotify. That already covers almost every song to ever exist, but the Node 2i isn't done yet. Constructed with AirPlay 2, Bluesound delivers further platform integration into the Apple ecosystem.
From streaming services like Spotify, to Internet radio stations like Slacker Radio, to music stores like Amazon Music, you can connect to any music online. That includes virtually every song ever recorded, as well as whatever you've got on your own PC. The Node 2i really comes quite closing to creating endless possibilities.
Audio Quality
Audio equipment can create quality bottlenecks within your listening experience. The bottleneck might be your headphones or speakers. It might be the physical wires you're using, the digital-to-analog converter (DAC), the amplifier in your equipment, or the compression of the sound files themselves. The list goes on and on.

Supporting a native sampling rate is between 32-192kHz, and delivering 16-bit to 24-bit depth to sound, the 2i can satisfy the needs of most audiophiles. The well-shielded internal construction helps keeps the distortion-to-noise ratio down below 0.005%. The Bluesound Node 2i provides support for standard file formats like MP3, AAC, WMA, OGG. It also supports high resolution formats like FLAC, AIFF, and MQA.
It's details like that which ensure the Bluesound Node 2i is it's going to be the bottleneck in your build. Paired with an ARM CORTEX A9 processor, the Node 2i is no slouch when placed under load. You generally don't need that much raw processing power to manage audio signals, even as you start to involve complex multi-speaker setups. But it's nice to have that relatively strong 1 GHz processor handy when you embark on creating a more elaborate audio setup within your home, especially if you're looking to deliver lossless playback.
Another thing to keep in mind is that you don't have to settle for out-of-the-box sound. It's pretty easy to be proactive about fine-tuning the audio quality to help refine the sound to match your personal tastes. You don't even have to rely on the touch buttons, the user interface is digitally extended by the BlueOS app, which is free on both Android and iOS.
Ease of Use
Because using the control app is half of the experience of controlling the Node 2i, it's clear they've put considerable work into its development. That's helped to make their app fairly useful, giving you full control over your sound system, speaker to speaker, note to note. Within its menus, you'll notice the app prioritizes the controls that matter most.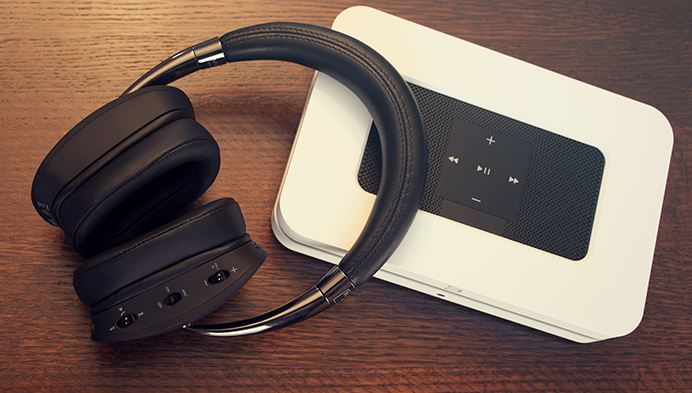 The app is actually a digital reflection of the simplicity of the Node 2i and its topside buttons. Just about the most complicated part of the whole process is downloading the BlueOS app, which can be found for free on essentially any major app store. Once you've got it, you can start to configure your equipment. There's no need to create an account or otherwise dawdle with additional setup.
As you browse from album to album, you may notice JPG album art is supported for viewing your library. It's small touches of polish, like this, which really add to the overall presentation and experience of using the Node. Although you may not notice it at the time, you've got to click and explore considerably less often to get where you want to go within this app.
Connectivity
With respect to inputs, you'll find support for USB-A for memory sticks and peripherals, as well as a USB-B mini port for product servicing. For output, you can choose between Analog RCA, coaxial RCA, TOSLINK digital optical, 3.5mm stereo headphone jack, subwoofer RCA, and 12-bolt trigger out. Basically every format you can imagine is represented, allowing you to turn analogue content to digital streaming pretty simply.
The Node 2i gets its wireless connection delivered with best-in-class dual band Wi-Fi, delivering high performance even if you're listening in a crowded wireless airspace. It connects with an 802.11ac, dual-band connection. The previously mentioned Bluetooth 4.2 aptX is what supports the two-way transmit and receive messaging with your audio gear.
You can connect to a CD player, a turntable, or otherwise incorporate your physical music collection. With everything deeply interconnected, you're equipped to stream from whatever source you choose, playing whatever you choose throughout your home. That's basically a bottomless array of digital and analogue options for input and output.

Other Considerations
Granted, it's nearly impossible to predict the future of technology, and nobody can tell what kind of ports and standards we might have in ten years. But the Node 2i Wireless Multi-Room Hi-Res Music Streaming Player seems to cover the essential bases. From analogue to digital connections, it's hard to imagine the Node 2i being any less impressive than it is in ten years' time.
The Node 2i supports both Windows and Apple operating systems. It's got integration with Amazon Alexa, allowing you to control your sound system anywhere Alexa can hear you. With respect to voice support, the only real detriment is lack of native support for IFTTT.
Like most Bluesound equipment, the chassis is available in matte black or matte white. The white is somewhat more striking, while the muted black looks more like ordinary stereo equipment, which really isn't intended to be visible within a room.
The Node 2i Streaming Player includes a pair of DC power cords. One for Europe, one for North America. It also includes a short Ethernet cable, stereo RCA to RCA cable, and a 3.5mm TOSLINK optical adapter. Bluesound also offers a 1-year warranty on the Node 2i Wireless Multi-Room Hi-Res Music Streaming Player.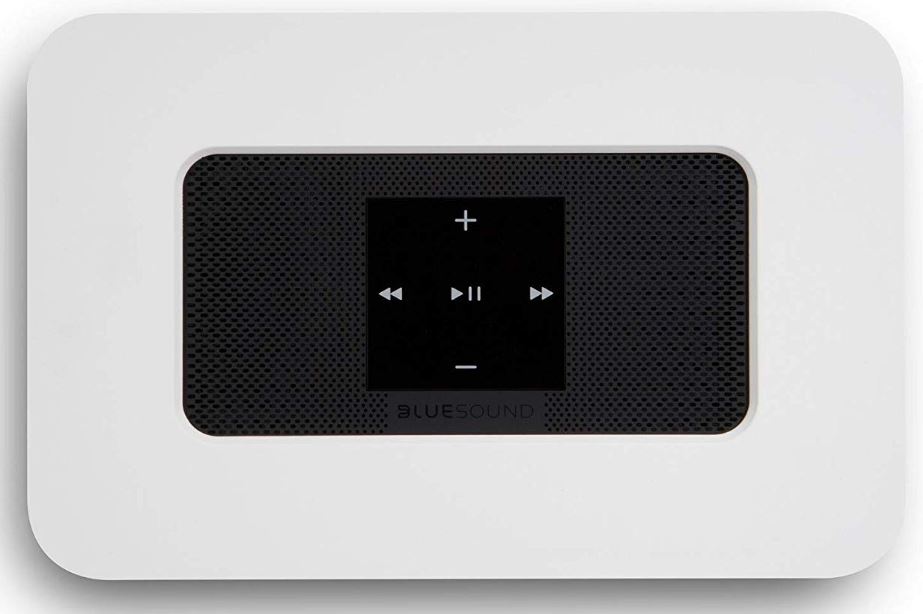 Who Should Choose Bluesound Node 2i Hi-Res Music Streaming Player?
The Bluesound Node 2i Hi-Res Music Streaming Player lives up to its name. It brings together higher resolution content lets you stream it anywhere in your home. It's a center-point from which you can connect and control a world of sound. Place a few speakers, connect together your existing stuff, and you'll have an immersive sound network throughout your home within a couple of minutes.
It seamlessly connects with other Bluesound speakers, and it's effortlessly controlled with the impressive BlueOS app. And that makes for almost limitless opportunities for interesting sound setups as you move from one room to the next. With respect to hardware, more than a few audiophiles will be impressed by this equipment for what it is.
You can't please everyone all the time, but the Bluesound Node 2i gets close. Sound quality aside, its wide analogue and digital support that really makes the Node 2i Streaming Player such an exceptional piece of technology. It's that wide support which makes it such a great choice for just about anyone interested in having network-wide sound control within their home.