Playing without audio is pretty hard. Because it's like everyone has an extra sense that you don't. And playing with weak audio is only slightly better. Whether you're playing an FPS competitively, or you're playing an exploration game casually, being able to hear what's around you can be immeasurably important.
It helps you determine the precise position of your enemies in space. It helps when your teammates with low-quality microphones are trying to let you know where targets are located. With two minutes left in a round, you don't want to have to question and double-guess what someone may have just said.
Thrustmaster Y-ASSAULT CPX RB6 Siege Edition
I think most players will agree, Rainbow Six Siege is the type of game that deserves to have headphones dedicated to it. Like with many tactical shooters, communication is integral to success in Rainbow Six Siege. But with RS6, the importance of communication is taken a step further. Unlike games like CS: GO, RS6 encourages you to continue communicating with your teammates even after you've been eliminated.
In short, effective communication is a considerable portion of the skill of play. While a headset can't teach you to say the right things, a well-designed headset can ensure the everything that's said gets heard. And winning aside, for most people, communication is just as important for having fun.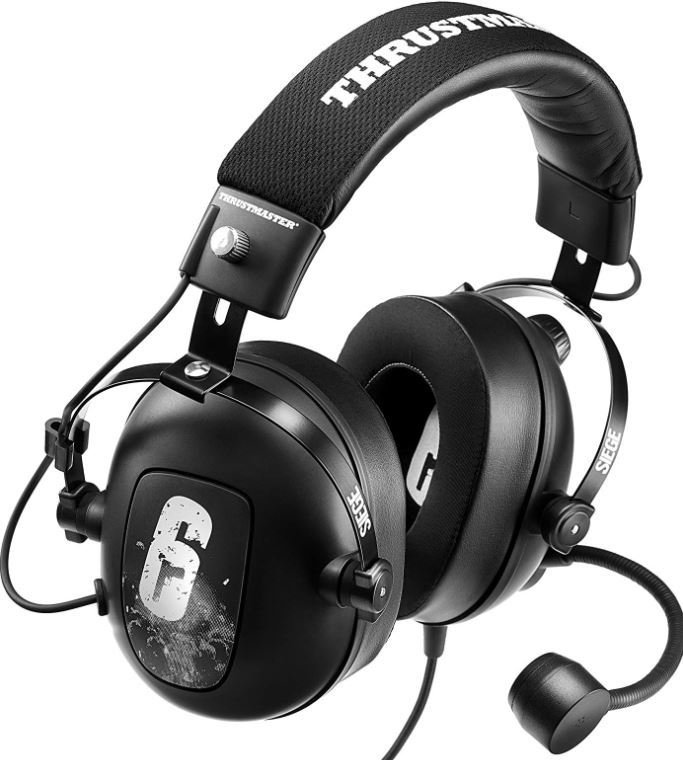 Special RB6 Construction
Aesthetically speaking, fans of Rainbow Six Siege will definitely appreciate the Y-ASSAULT CPX RB6 Siege Edition. But this isn't merely an ordinary gaming headset that's been sprayed-down with a new look. It's been designed specifically to deliver audio aimed at FPS titles like Rainbow Six Siege. How does it get that done?
From a physical standpoint, the Thrustmaster Y-Assault CPX aren't too different from any other of the Thrustmaster gaming headsets. They measure roughly 8.7 x 9.7 x 3.7-inches, a full-sized over-ear design. The closed ear-cups vaguely resemble something one of the RB6 operators might wear. And they weigh just over one pound, the result of metallic construction.
Internally, the Y-Assault CPX RB6 Siege Edition make use of large 50mm drivers, about 20% larger than a standard 40mm over-ear driver. And that's precisely where you want them to be. Dynamic drivers really reach their full potential around 50mm. That's why inside large portable speakers, you typically find the midrange represented by 50mm drivers.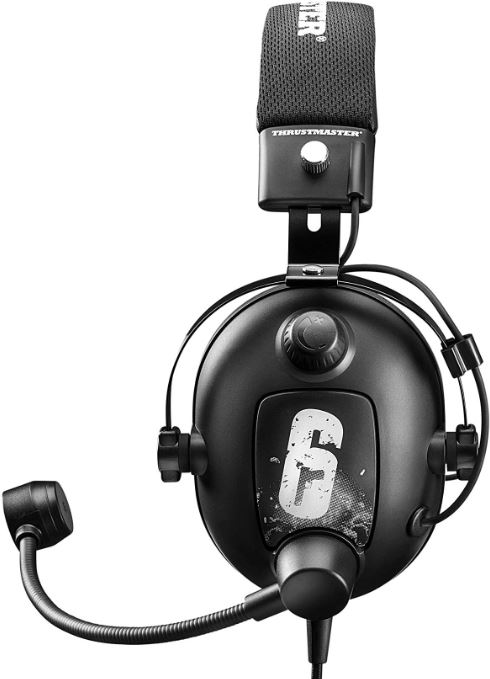 Gaming-Based Design
Gaming headsets should have an extra emphasis on control. Maybe you're playing full screen. Maybe you want to make a sound adjustment, but don't want to have to minimize your game and start clicking around through menus. Maybe you've just switched games, and now the microphone and volume settings are all wrong.
In-line controls solve the problem, and on-ear controls make it easier. On the Thrustmaster Y-ASSAULT CPX RB6 Edition, the microphone controls have been relegated to the in-line cable, and include a mute button. The volume controls have been placed at the peak of the left ear cup.
Gaming Audio Design
The Y-ASSAULT CPX RB6 Siege Edition are headphones constructed for sound performance and audio fidelity. They're made to let you know when someone is creeping on the floorboards above you, helping you to pinpoint sound in 3D space. Whether it's the sound of shattering glass, or you're listening for the direction of incoming fire, it's clarity that counts.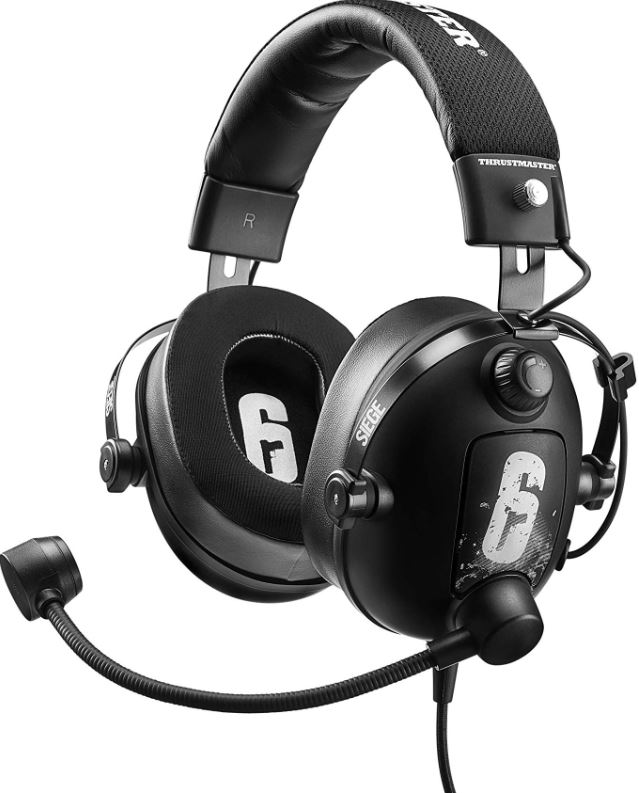 And this soundstage has been built for clarity. Some people describe a soundstage like this as feeling balanced and clean, while others feel it's sterile. With exceptionally low distortion of less than 1%, they deliver analytic sound that's characterized by smooth response. For games, that works great. But a balanced and clean soundstage isn't what everyone is looking for to enjoy music.
When you're recording in a studio, having a sterile soundstage can help you fine-tune adjustments in the recording. But when you're listening for fun, experientially, many people enjoy heightened performance from their audio. Whether it's a little extra bass, or some more "oomph" from the treble, these types of things are ultimately a matter of taste.
Audio Quality
Among people who can hear, everyone has a slightly different to hear different tones. It varies not only by the region of the planet you were born, but also by age, and several other factors. That said, most people will find the Y-ASSAULT CPX are perfectly adequate for playing music. It would be absurd otherwise, given how much music there is within games. But it's a gaming headset first and foremost, which has called for a clean soundstage.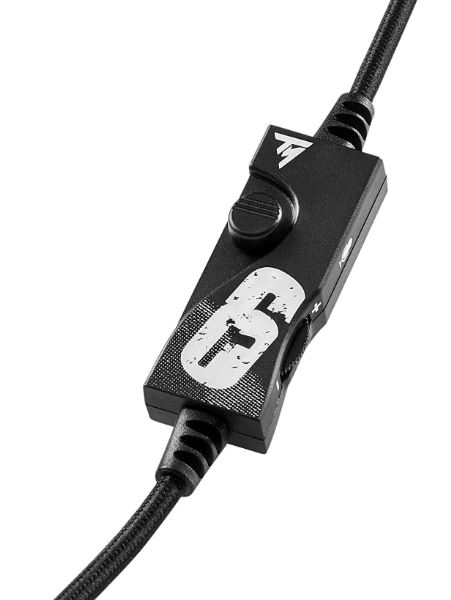 The large 50mm drivers, paired with the extra-thick ear cushions, actually give a bit of an edge to bass performance. To create deep bass tones, you need high volumes of air. When you're able to expand the tiny air space between your headphones and ear canal, that little difference can be felt in a big way. Whether you're playing for a laugh or playing competitively, immersion in a game like RB6 is much easier with powerful bass.
Gaming Comfort
The extra thickness of the pads doesn't hurt with respect to comfort, either. In fact, Thrustmaster Y-ASSAULT CPX have several things working to make them more comfortable. For starters, they're ridiculously adjustable. Each ear cup swivels freely, and the headband smoothly slides up-and-down in the manner typical of over-ear headphones like the Y-ASSAULT CPX. Just about the only thing you can't do is fold them in half.
Like most gaming headphones these days, the Y-ASSAULT CPX RB6 Siege Edition have been constructed with memory foam. But with a little hands-on experience, it's easy to tell that there are big differences in the quality of memory foam from one manufacturer to the next. Even the cheap stuff is pretty pleasant, but you can definitely tell the greater foams from the lesser.
Key to the Thrustmaster Y-ASSAULT's success is an additional measure for comfort, gel layered within the foam, to help with heat dissipation and noise isolation. Against skin it feels extra-responsive, plush, and generally comfortable. The thickness of the foam seems to contribute to greater bass response every bit as much as extra air volume. And this conglomerate of memory foam and gel has been wrapped in a smooth faux leather.
Heat and Weight
In recent years, some gaming headsets have gone as far as to include onboard cooling controls. The Thrustmaster Y-ASSAULT CPX doesn't go that far. Under different circumstances, the faux leather could've created a problem with heat, especially given there's slightly more air trapped within each ear. But the gel within the memory foam does an excellent job of helping keep heat dissipation on-lock.
The longer you're playing, the more you'll feel comfort come into play. Even a single competitive round of Rainbow Six Siege can last the better part of an hour. Between rounds, you may already need a short break. That's a good thing because with respect to comfort, the Y-ASSAULT CPX are a tad heavy.
Like many gaming headsets, the CPX RB6 Edition has been designed quite close to 1lbs of total weight. One pound isn't all that much, until you've had it on your head for eight hours. Little breaks, and taking them off when you're not using them, can help get around this kind of issue. But it's something to be aware anytime you get a headset with metallic construction.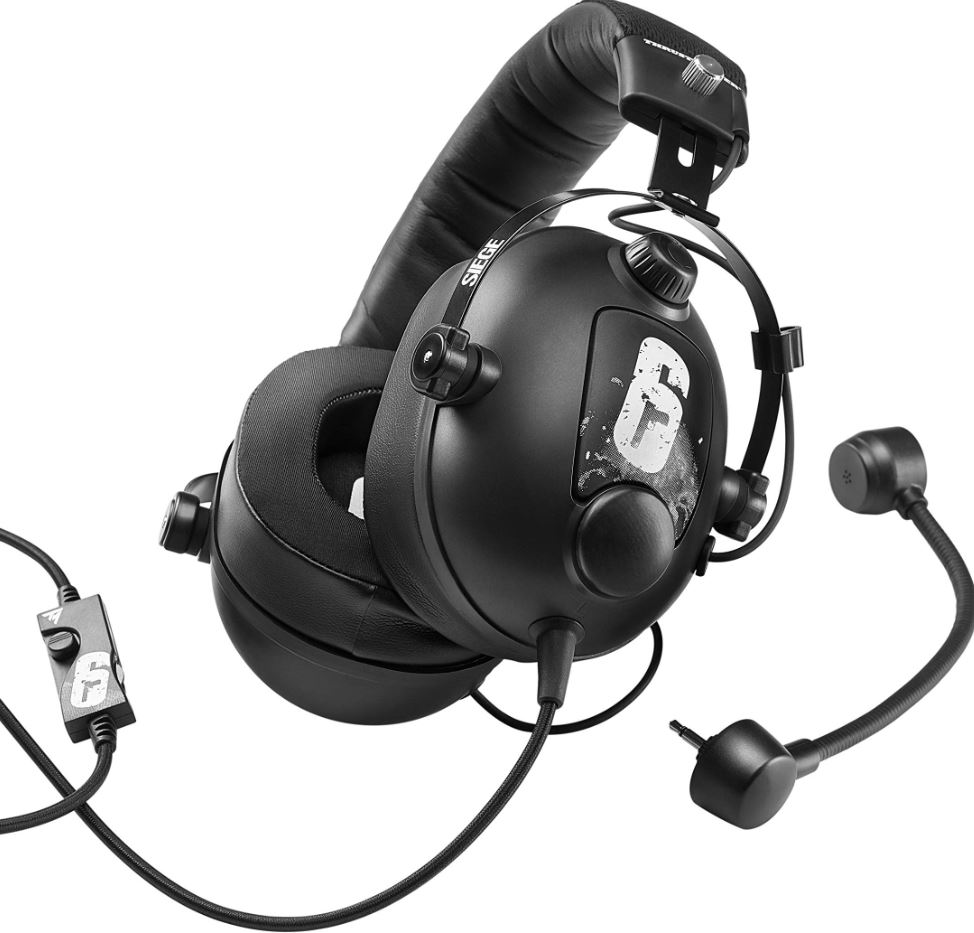 Gaming Microphone
If you've played more than a few hours, you've already seen it happen. Someone gives out all the information needed to eliminate the enemy, but it didn't get heard properly. You let someone know precisely where the enemy is hiding, and where they're moving. But in the heat of the moment, you either have instantaneous clarity or you don't.
Suppose you're playing RB6. Unless you're feeling hungry, you probably don't want to be eliminated and have to spend the next two minutes watching your teammates. Whether you're in the round trying to win, or you're eliminated and trying to relay intelligence to teammates, effective communication is half of the skill of a game like Rainbow Six Siege.
Fortunately, the microphone has been built for that. Another big mistake made by many gaming headsets is they deliver clarity at the cost of quality. It may be vanity, but most people want their microphone to sound nice in addition to sounding clear. The Thrustmaster Y-ASSAULT CPX microphone manages to do just that.
It helps maintain the character of person's voice, so you don't just hear what they said, but how they said it. If you're a social player, that kind of thing can immeasurably add to the experience of playing with others. Whether it's your friends, or someone crap-talking in the lobby.
Other Considerations
The Y-ASSAULT are compatible with PlayStation 4, Xbox One, PC, and essentially anything else you can plug them into. The included RB6-themed decorative plates are a nice addition, with those outward ear plates capable of being swapped to separate operator-themed plates. Additionally, this headset includes a 9-foot extension cable. The cable terminates in a two-way splitter.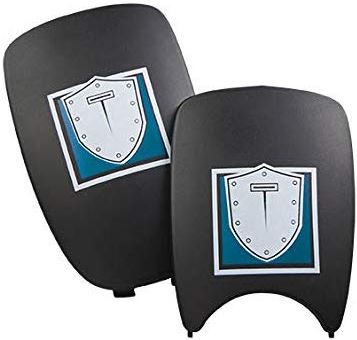 Who Should Choose Thrustmaster Y-ASSAULT CPX RB6 Siege Edition?
Whether you're just having fun with friends, or you're trying to rank up in competitive play, clear communication is critical. The Y-ASSAULT CPX RB6 Siege Edition is a pretty good choice for someone who loves RB6. But you don't have to love RB6 to enjoy the Y-ASSAULT.
Like any good gaming headset, Thrustmaster provided this headset with all the essentials to play a wide variety of games. If you drop them to your shoulders when you're not actually listening, then headphones like this are worth their weight in performance. But this is probably not the headset for someone who intends to wear their equipment literally 8-hours every day.
Everybody wants to win. Almost everybody knows it's far harder to do that without effective communication. The Thrustmaster Y-ASSSAULT isn't going to make you aim better. But it might help you hear a call-out in time to act. It's a microphone like this that might be what saves your operator's life the next time you're playing. If nothing else, it can help you avoid the frustration of being misunderstood.