Sooner or later, anyone who takes lots of photos will capture something great. Once you have, it's only natural to want to share your photo with other people. And outside of a darkroom, there's basically two ways to print your own photos.
The first way is with an inkjet printer. You'll have to sit next to an immobile printer, and unless you've already got photo paper, you're going to find yourself cutting prints by hand. But size does have its own benefits. Inkjet print performance can far exceed anything that engineers can compact into the size of a wallet.
The second way is with a portable photo printer. Intended to be about as portable as the devices with which they connect, portable photo printers are excellent for on-the-go use. Although their capacity for bringing color to life isn't quite the same as printing equipment that's literally 100-times larger and heavier, pocket photo printers constructed properly can exceed the quality of old polaroid shots.
Lifeprint Ultra Slim 2×3 Photo and Video Printer
By now, you can find at least a hundred different portable photo printers on the market, of all shapes and sizes. The Lifeprint Ultra Slim 2×3 Photo and Video Printer is one of the smallest. Both with respect to its slim dimensions, and in relation to its overall weight. That especially compact design helps enhance the already portable nature of these devices.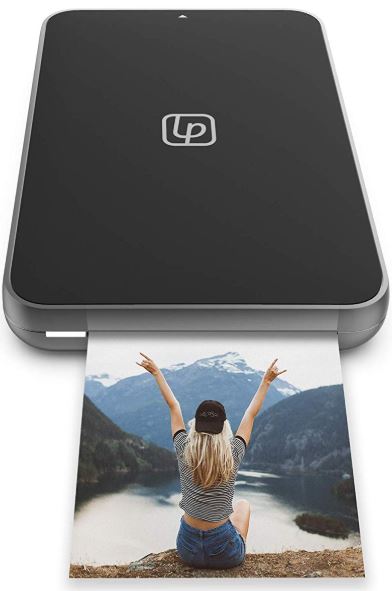 Beyond its small size, the Lifeprint Ultra Slim 2×3 Printer is actually quite versatile. Like the last few generations of similar printers, the Lifeprint Ultra Slim 2×3 Printer will create prints from both photo and video capture. And with the help of the Lifeprint app, it's possible to bring those images to life with a little editing before you dedicate yourself to a print.
Build & Design
Living up to its name, the Ultra Slim measures 4.7 x 0.8 x 3.2-inches. In addition to weighing scarcely more than six ounces, it's actually considerably smaller and lighter than most smartphones. That makes it easy to slip into a pocket, toss into a bag, or otherwise take it with you. It's just as easy to store away between uses.
Although it hasn't been designed to take abuse, the Lifeprint Ultra Slim 2×3 Printer is somewhat rugged. Thanks in-part to its lightweight build, it seems quite likely to survive a short fall. Whether it slips from your hand, it gets bumped off the table, the sturdy construction is ready to survive a few bumps and bruises.
But that's only in reference to survival. If you drop the Lifeprint Ultra Slim 2×3 into a gravel road, or place it in your pocket with a keyring and go for a jog, then you're going to end up with some light scratching on the chassis. It's nowhere nearly as vulnerable as a phone and its glass display, but should be treated with about as much caution if you want to maintain the pristine looking exterior.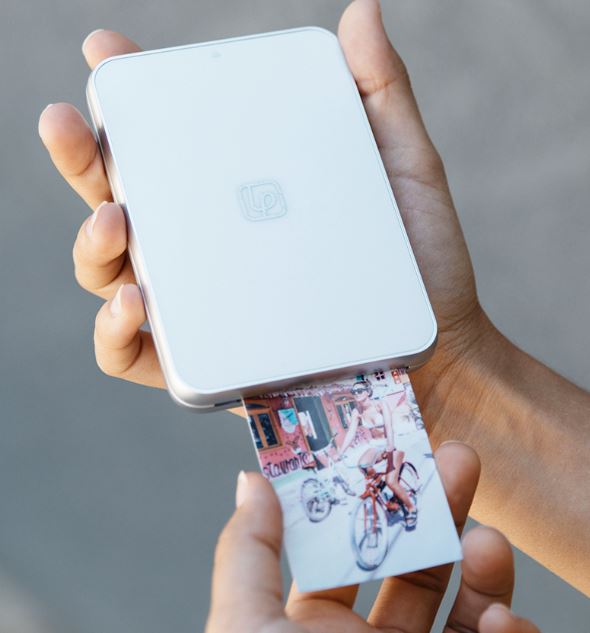 Special Features
Beyond printing your own stuff, sometimes you might want to print someone else's content. How do you find other things to print? In addition to being a small printer, the Lifeprint Ultra Slim is a gateway to its own social network. You can add friends who also use Lifeprint devices, or make new friends by interacting with the content other users have shared. It's basically like a private version of Instagram.
The Lifeprint Ultra Slim offers support for mainstream social media sites as well, able to connect to Facebook, Instagram, Apple Life Photos, and so forth. Because there's a pretty dominant social network aspect to the Lifeprint Ultra Slim 2×3 Photo and Video Printer, it's worth taking a minute to note some things about privacy and security.
To use the network, you do need to sign up for an account. Any image you upload will be stored in the cloud. It only takes a few minutes to sign up. You don't necessarily have to get involved in the Lifeprint social network, or even use the social network integration with other sites. But it's fair to say about a third of the Lifeprint Ultra Slim design is dedicated to smooth support for social networking.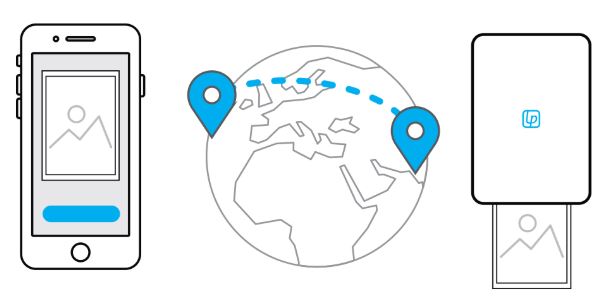 Photo Film Quality
Like with any similar device, the quality of the prints you get is largely the result of the film you use. For the Ultra Slim 2×3 Photo and Video Printer, you need to use 2×3 Lifeprint paper. The Lifeprint photo paper is constructed with a tear-away sticky backing, helping share your work without having to haul around tape.
Technically speaking, this film paper is not film at all. It's a special Zink liquid crystal paper. The print is composed of multiple layers, each consisting of the major colors. Using varied intensity of heat, these layers are separated, creating the colors within the print. The results are best compared to old polaroid photos, except with incremental improvements with respect to color contrast.
The Zink liquid crystal paper works out to about 50¢ per sheet, depending on the volume of paper you purchase. Compared to other types of instant photo film paper, that price is low-average. A better comparison might be prints from an inkjet printer. One solid page of color printing costs about 60¢, and the paper isn't cut-to-size, or sticky on the back. In other words, the Lifeprint photo prints are reasonably priced.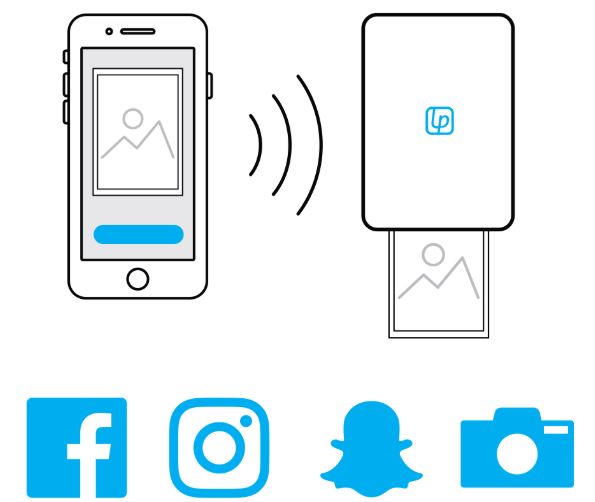 Versus Alternatives
As with so many things in life, expectations do matter. There's a certain vibrancy you can get from a desktop printer which has been made specifically for photos. Made specially for the task, bigger equipment can help your images pop in ways that smaller portable photo printers cannot. Perhaps in the future our pocket-sized printers will be just as powerful as giant industrial equipment. But for the time being, if you expect print-shop quality prints, you need bigger, badder print machines.
Battery Power
Recharging the Lifeprint is as simple as connecting the included USB cable. Once you've got a full charge, you get about 25-prints out of the battery before you've got to recharge. And charging from an empty battery takes about two hours. But these types of figures vary depending on a number of variables. Especially how long you go between prints, and how many prints you do in one pass.
Doing several photos in a row produces better battery outcomes than doing one shot every other day. In the latter case, you'll need to recharge more often. But in general, you'll be able to replace the film twice before you recharge once. And that's about as much as anyone could ask from a printer like this.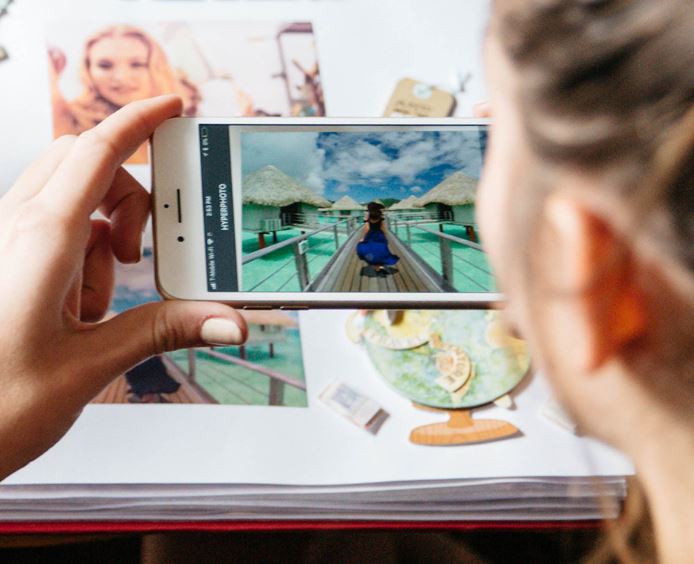 Connectivity and Ease of Use
It's Bluetooth that makes everything possible, including the wide support for Android and iPhone devices. A one-click Bluetooth connection means you're always only two or three taps away from making your next print into reality.
Few people care about Bluetooth connection distances for their photo printer. You're just about always going to be within a few feet of whatever mobile device that you're printing from. Nevertheless, the Lifeprint Ultra Slim 2×3 Photo and Video Printer does have a fairly respectably 40-foot range, and it doesn't seem to slow down print speeds even towards the end of its radius.
An instant connection is easy to appreciate with respect to app support. Once you're connected to their app, you can help make your shots come to life with augmented reality features, photo collage editing, and a number of other stylistic filters. Just select an image, or embed an image from a video with the app. Apply whatever additional editing you might want to use, tap print, and you're done about 20-seconds later.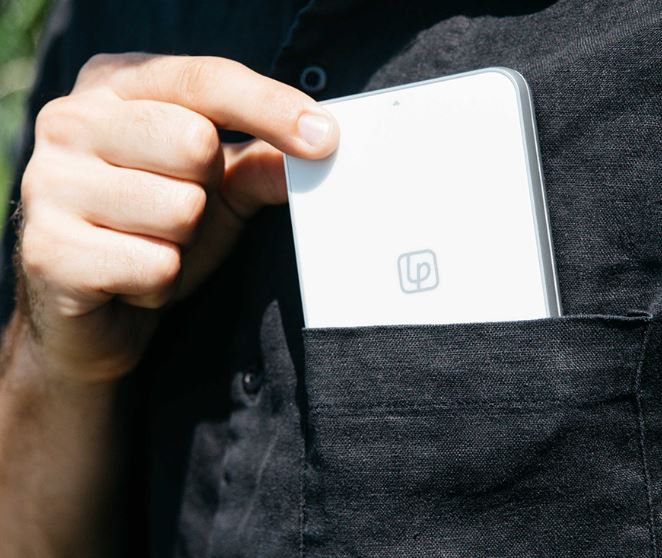 Other Considerations
The Lifeprint Ultra Slim 2×3 Photo and Video Printer is available in quite a few different colors. When you're carrying something from place to place, there's a good chance you might care what it looks like. The Ultra Slim in available in baby blue, violet purple, brick red, black, and white.
Print speeds are another thing most people really don't care about, as long as they're not comically long. The Lifeprint Ultra performs about as well as its larger 3x 4.5 cousins, capable of churning out multiple photos per minute. And Zink liquid crystal paper is pretty resilient stuff. Prints are supposed to last for decades, and they hold up under harsh conditions, like going through an x-ray machine.
The Lifeprint Ultra Slim 2×3 Photo and Video Printer includes a starter pack of 10 sheets. It includes the USB charging cable you'll need to recharge the Ultra Slim. And it includes a laminated instruction booklet, which actually gives you a general sense of the rest of the product, clearly intended to last.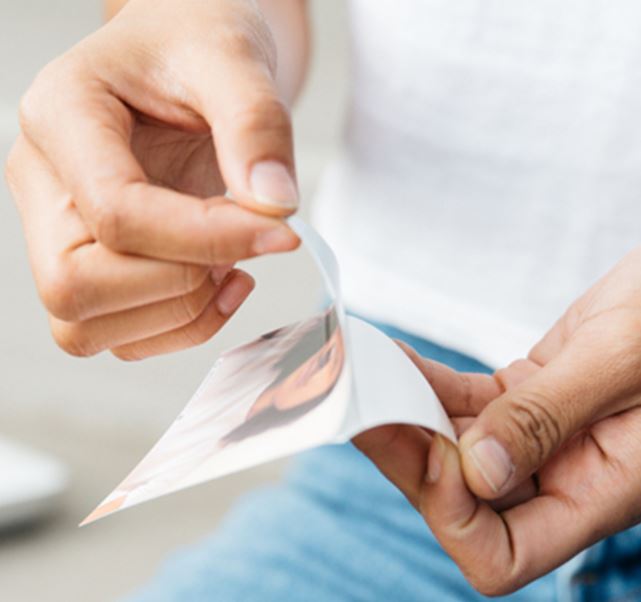 Who Should Choose the Lifeprint Ultra Slim 2×3 Photo and Video Printer?
Perhaps this printer is not a great choice for someone who isn't interested in social networking. A good portion of its charm relates to having its own network, and being able to connect with content on your existing social networks. By contrast, it's clearly a good choice for someone who loves social media, for someone looking to meet new people online, or another way to network with friends.
Wherever your digital content is, it's easy to access and print. But the online aspect of this printer isn't nearly as important as its prints. The Lifeprint Ultra Slim does quite an admirable job of helping you share your best shots, both online and in-print. And the Lifeprint app is a fun twist on photo sharing. With a little creative energy, it can help you polish your shots before you print to film.
Zink paper isn't quite the same quality as professional prints. But if you don't hold it to the highest imaginable industrial standards, you'll find the Lifeprint Ultra Slim is really impressive in its own way. It's fun to use. Its photos definitely look great relative to other instant-film. And that alone makes it a pretty cool gadget for any amateur photographer or social media aficionado.