We're excited to announce that BLUETTI has officially launched their most advanced portable power station to date. Known as the AC60, it exceeds nearly every standard power station by offering a built-in 600W inverter and a 403Wh LiFePO4 battery. Ultimately, this gives it a much longer lifespan while offering improved safety and faster charging capabilities.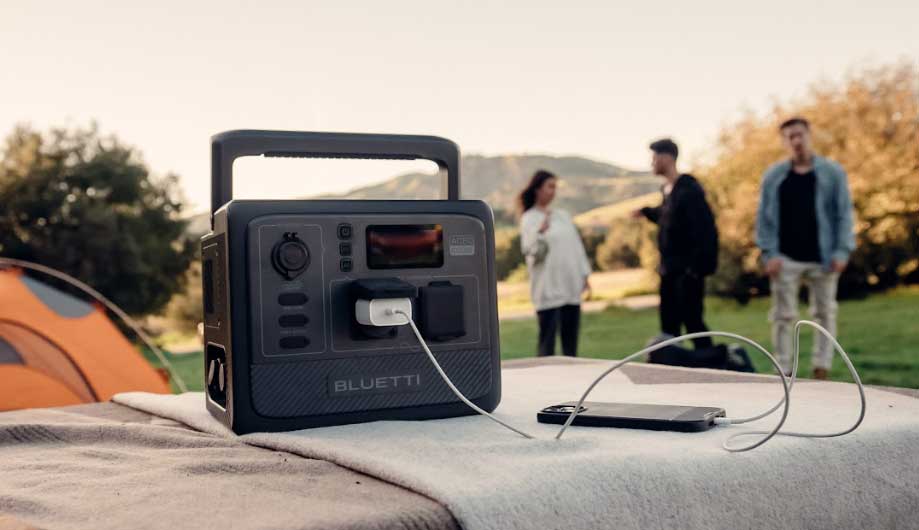 Most notably, the AC60 is IP65 rated, meaning that it's fully water and dust resistant with its tightly sealed construction. All of the circuits are completely isolated from each fan vent so moisture and debris cannot get inside. What's more, each outlet is equipped with its own waterproof rubber grommet. The result is solid construction that can easily withstand splashing water and/or dust from every angle. That said, it's the perfect choice for those who want to use it outdoors without any worries.
Best of all, the AC60 is ideal for on-the-go use. Tipping the scale at 18.9 lbs. with dimensions of 11.3″ x 8.5″ x 9.7″, it's quite compact and easy to move around without issue. There's even an integrated folding handle; perfect for camping, RV life or occasional weekend excursions.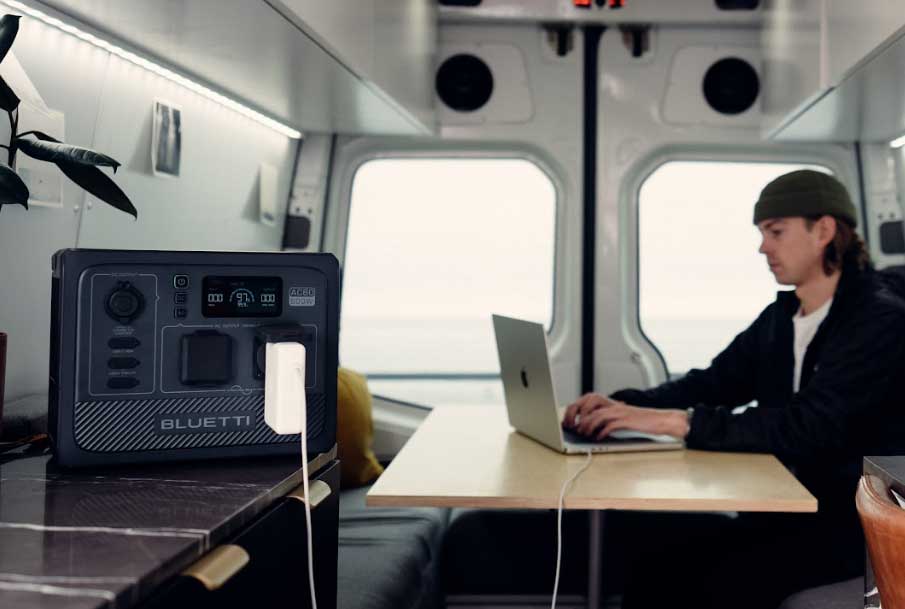 Unlike other power stations in its class, the AC60 boasts three charging modes. These include silent mode (160W), standard mode (225W) and turbo mode (600W). Most will want to take advantage of turbo mode, giving the AC60 the capability to charge to 100% capacity in just 1.2 hours. If you're someone who plans on utilizing solar panels, support for PV (solar) input caps out at 200W. And with support for any solar panel, you don't necessarily need to use BLUETTI's panels. However, we recommend checking out the PV120, PV200 or PV200S for solar charging without any guesswork. If solar isn't an option, you can opt to charge it via 12V in your car or from a lead acid battery source.
BLUETTI B80 Extended Battery
As a perfect companion for the AC60, BLUETTI also released the B80 extended battery. With a capacity of 806Wh, it boasts the same IP65 rating and LiFePO4 cells that the AC60 has. With a charge/discharge rating of 3,000 cycles, the lifespan offers years of continuous use without any qualms. Best of all, it's backed by the same six-year warranty period as the AC60. With the B80, users have the freedom to expand the total capacity to 2,015Wh. In fact, it can even serve as an expanded power bank for BLUETTI's other solar generators such as the EB3A, EB70, EB70S and AC180 through an aviation to DC7909 cable.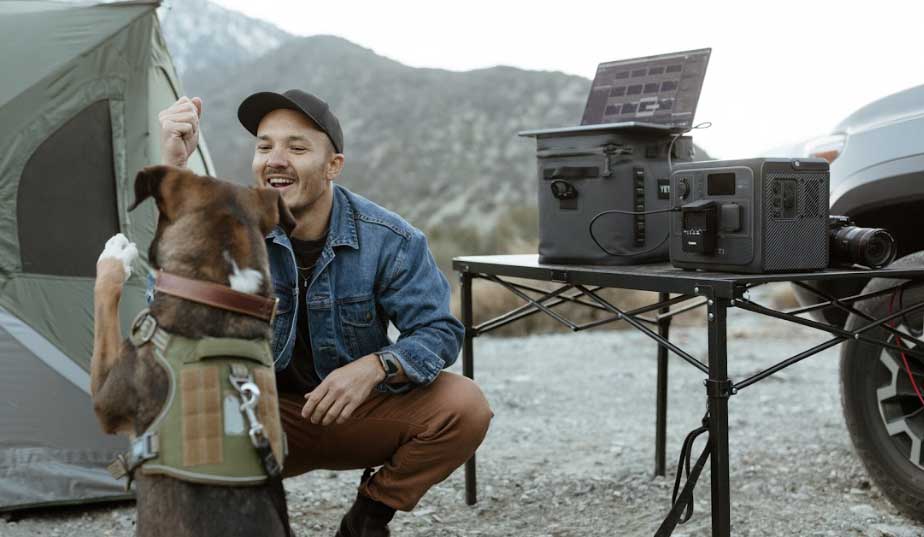 If you don't hook up the B80 to a separate unit, it can even act as an independent DC power source. It offers three DC ports with its own USB-A, USB-C and cigarette lighter output. Being that it's 806Wh, the B80 has enough capacity to charge a smartphone up to 43 times, a laptop 10 times, or power a light for more than 60 hours. It can even re-charge independently or while hooked up to the AC60. That said, the B80 supports charging from AC or with 200W solar using the included PV charge cable. If needed, a T200 adapter is also available.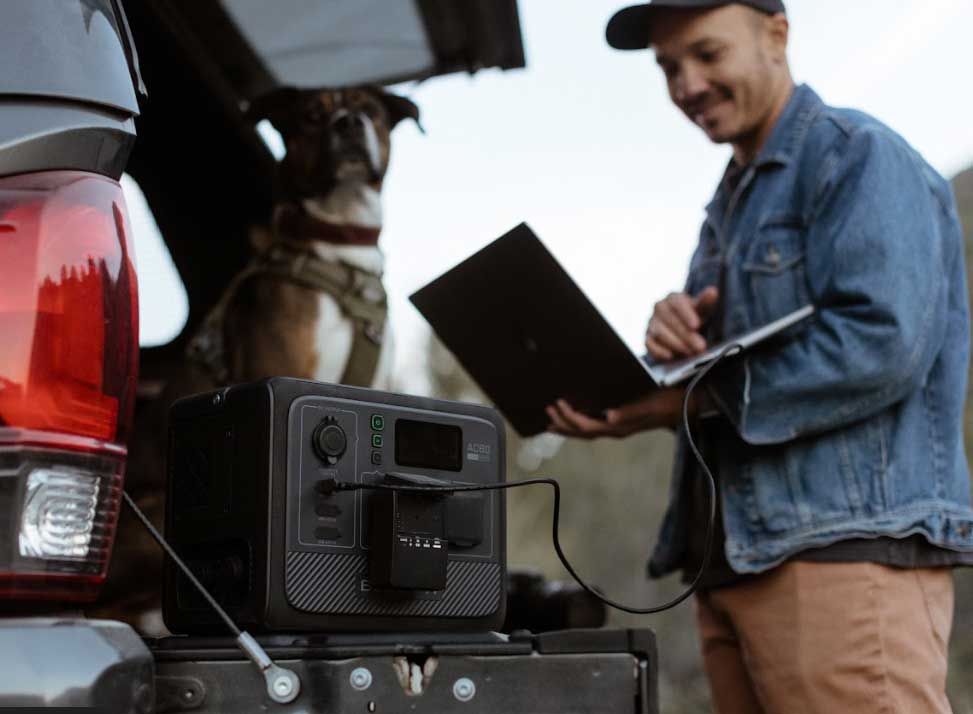 All in all, BLUETTI's release of the AC60 and B80 indicate a huge breakthrough in portable energy. With a large power capacity, long run time and IP65 water/dust resistance rating, the AC60 is a game changer for those who love spending time adventuring outdoors. In addition, the B80 offers the perfect companionship for any of BLUETTI's existing power stations who need a bit more capacity.
About BLUETTI
BLUETTI is a brand that we've come to love here at NerdTechy. From their inception as a company, they've always made it their goal to provide green energy storage solutions that are eco-friendly. With a presence in over 70 countries around the world, they're well-known for providing reliable, cost-effective energy storage solutions for any needs; big or small. For more information, be sure to visit their website at https://www.bluettipower.com or visit them on any of the following social media channels:
Meet Derek, "TechGuru," a 34-year-old technology enthusiast with a deep passion for tech innovations. With extensive experience, he specializes in gaming hardware and software, and has expertise in gadgets, custom PCs, and audio.
Besides writing about tech and reviewing new products, Derek enjoys traveling, hiking, and photography. Committed to keeping up with the latest industry trends, he aims to guide readers in making informed tech decisions.