If you're building a PC for the first time or upgrading your current PC, you'll want to make sure to think about what kind of case you're going to use. With so many different options available it can be hard to decide. If you want something that can hold your favorite hardware but is incredibly compact, then a smaller ATX Case is perfect!
Factors to Consider when Choosing a Small ATX Case:
Aesthetics and materials: Nothing ruins a good PC build like a case made out of cheap materials that also looks terrible. Every option in this article is made from quality materials while also being suitable for various style preferences.
Cooling capabilities: Custom PCs may require various methods of cooling to keep the components from overheating. Typically, gamers will use air-cooled or liquid-cooled setups to fight the heat. Making sure these cases offer good cooling options was very important.
Cable management: With the smaller size of a compact ATX case you'll have less room to hide cables. Having different areas and providing features to help keep everything organized is essential.
Internal component compatibility: Making sure that you aren't completely limited in what can go in the case is critical. Today, some components (especially graphics cards) are getting bulky, so we looked for cases that accounted for that.
Best Overall: Corsair 4000D Airflow Mid-Tower ATX PC Case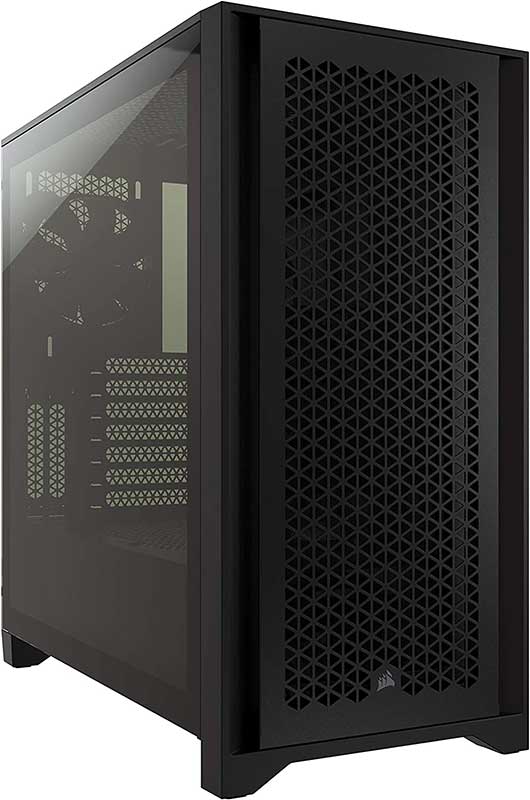 Key Features:
Vertical GPU mounting capability
Included a cable management system
Holds up to five fans
17.83 x 9.06 x 18.35 inches
17.31 pounds
The Corsair 4000D is a great-looking case. Available in both black and white, you can get one that matches your setup perfectly. It features a fully tempered glass side panel to help elevate its quality. It's also constructed with a steel frame and front panel to ensure durability and a high-end design. The part of it that sticks out the most is the front panel, as it has a triangular geometric design that looks really cool.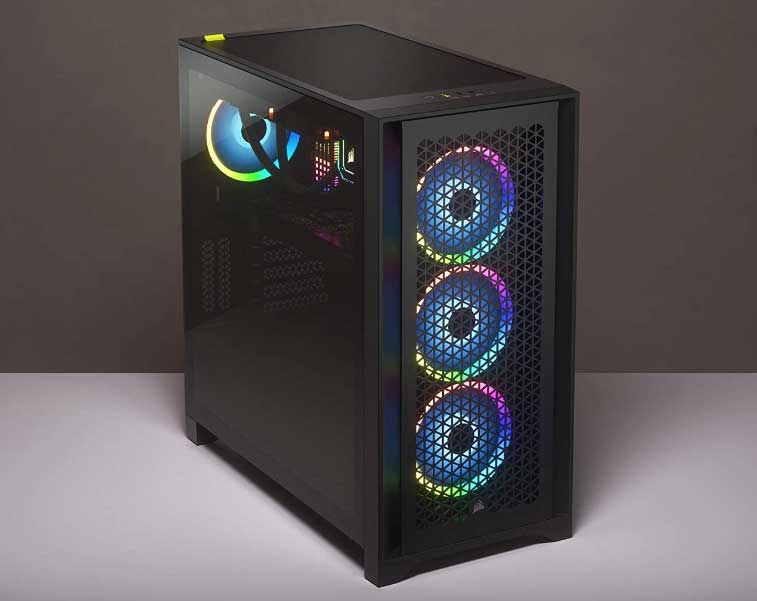 Airflow is in the name (literally) so this case is obviously made to keep your components cool. It's designed using anti-vortex vanes to help direct and concentrate airflow. If you plan to strictly fan cool, the front can house two 120mm or 140mm fans. The top can house two 120mm or 140mm fans, and the back can hold one 120mm fan. Thankfully, two 120mm AirGuide fans are included and pre-installed. If liquid cooling with radiators is more your style, the 4000D can house one 280mm or 260mm radiator on the front. It can also hold one 240mm or 280mm on the top.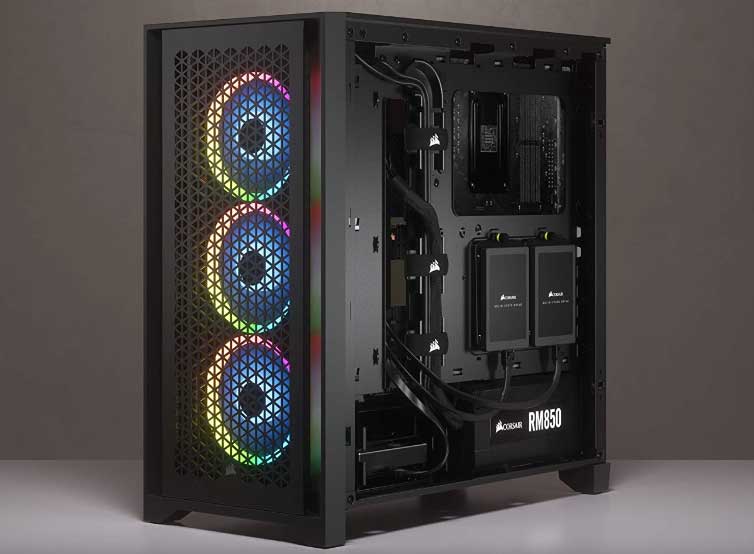 For those who like keeping things tidy, the 4000D comes equipped with Corsair's RapidRoute cable management system. All major cables can be routed through a single main channel to keep your cords neatly organized. The back panel has 25mm of space behind the motherboard, and velcro ties are included within the cable channel. Simply put, cable management is a breeze with this case.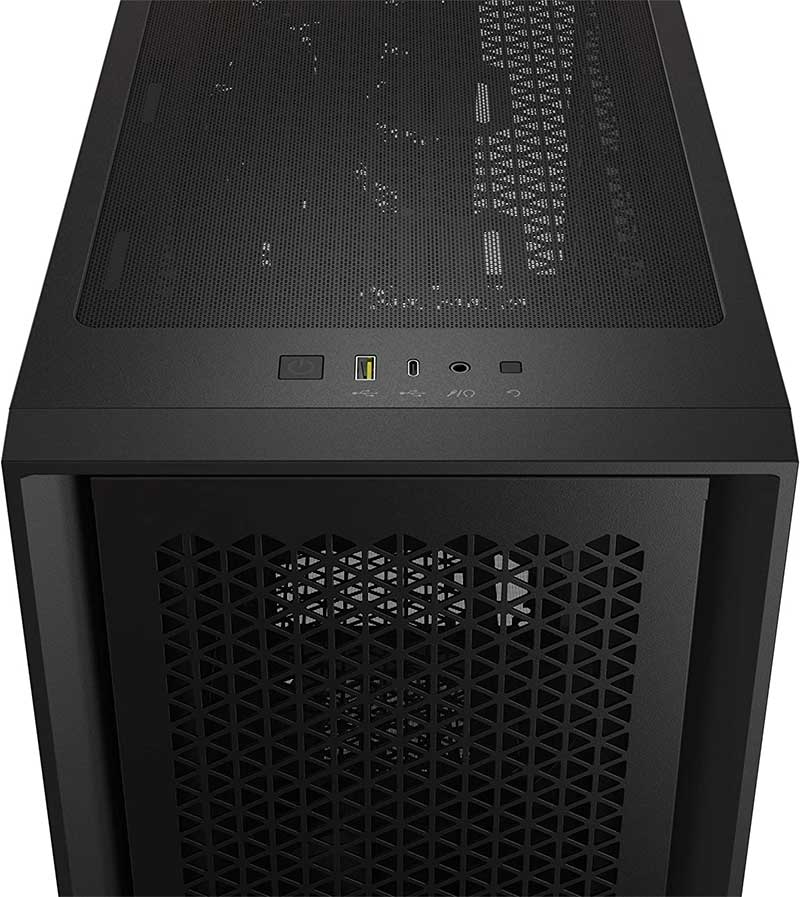 While compact, you can still fit your favorite hardware within it. The Corsair 4000D is compatible with Mini-ITX, micro-ATX, ATX, and E-ATX motherboards. Along with your fans or radiators, you'll have plenty of room for your graphics card. It's capable of mounting the GPU horizontally to the motherboard, as well as on an included vertical mount (the cable is sold separately, however). You can mount two 2.5-inch SSDs behind the motherboard, and two 3.5-inch HDDs in trays next to the power supply housing. All in all, this is a stylish, well-made case that has a lot going for it.
Pros:
Built for airflow and proper cooling.
Fits four different motherboard sizes.
Great cable management system.
Beautiful aesthetics; available in black or white.
Cons:
The base model has no included RGB.
Best RGB: LIAN LI LANCOOL 215 E-ATX PC Case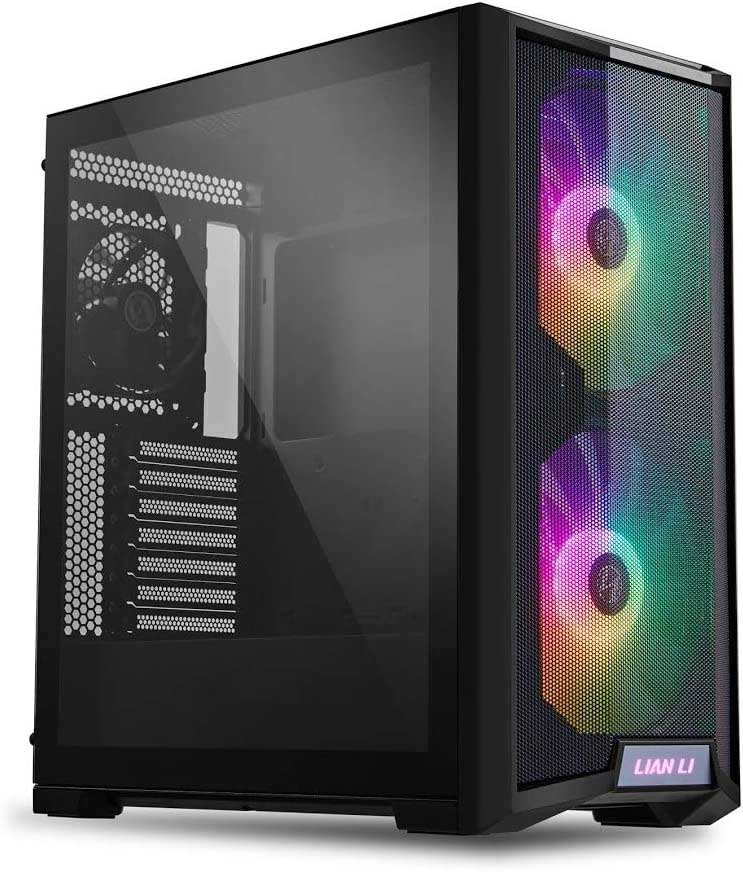 Key Features:
Two RGB fans and an RGB logo included
Dust protection on front, top, and bottom panels
18.19 x 8.46 x 18.98 inches
2.2 pounds
The LANCOOL 215 is a great-looking case, especially if you're a fan of RGB. It comes with two RGB fans on the front panel, as well as an RGB logo on the bottom. The front panel isn't a special design, just a normal mesh but it looks quite nice. One side panel is made completely of tempered glass, and the remaining frame is made out of steel. It's available in both black and white so it should fit your setup regardless of your specific style.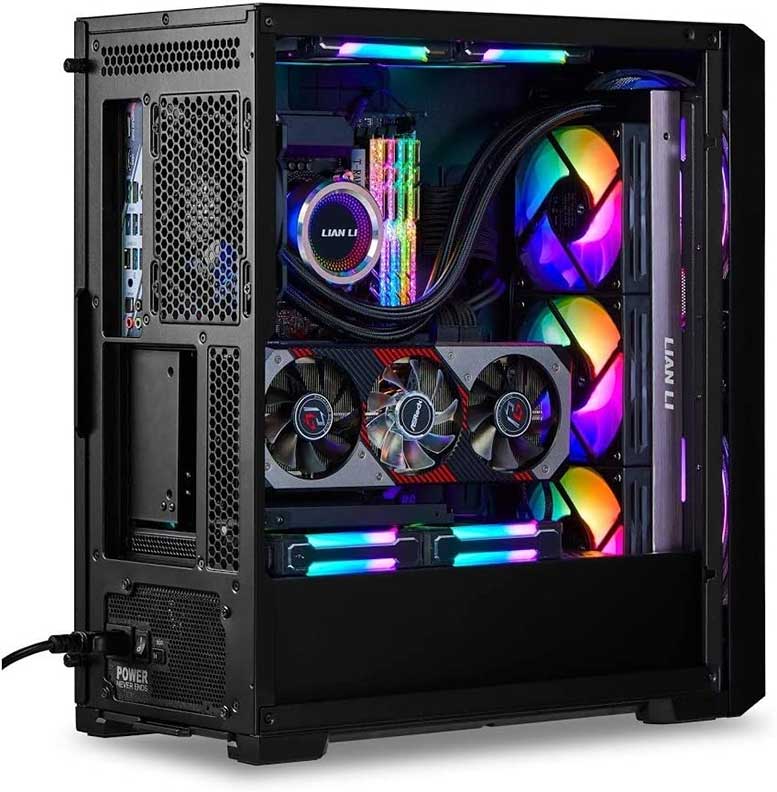 It's built to allow for ample airflow with mesh panels and honeycomb vents, so hot air can easily move and properly dissipate. On the front panel, it can house three 120mm fans, two 140mm fans, one 280mm radiator, or one 360mm radiator. The top can house two 120mm fans, two 140mm fans, one 240mm radiator, or one 280mm radiator. The back comes equipped with one 120mm fan. Finally, there's space on top of the power supply shroud for two 120mm fans. The amount of fans paired with the unique airflow design makes this a great option for those who prioritize proper cooling.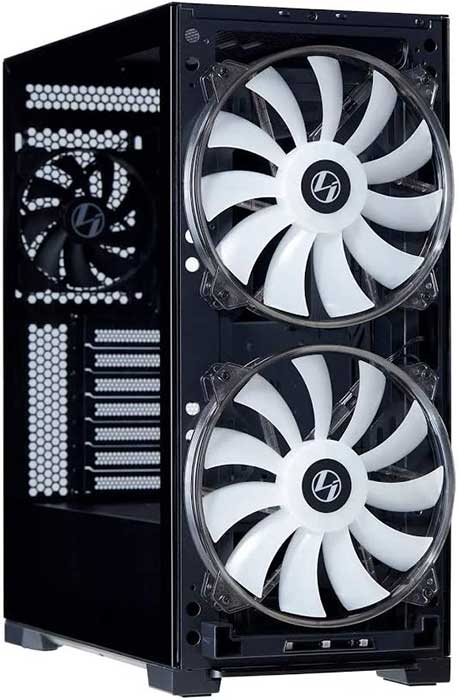 Cable management inside the LANCOOL 215 is great. There's slightly less room (22mm) behind the motherboard for cables than the 4000D. However, it does come with multiple rubber grommets to route cables through. Additionally, it comes pre-equipped with velcro straps to tie cables together. Another great cable management feature is the included pre-installed fan hub. This can power up to six fans and one extra ERGB device.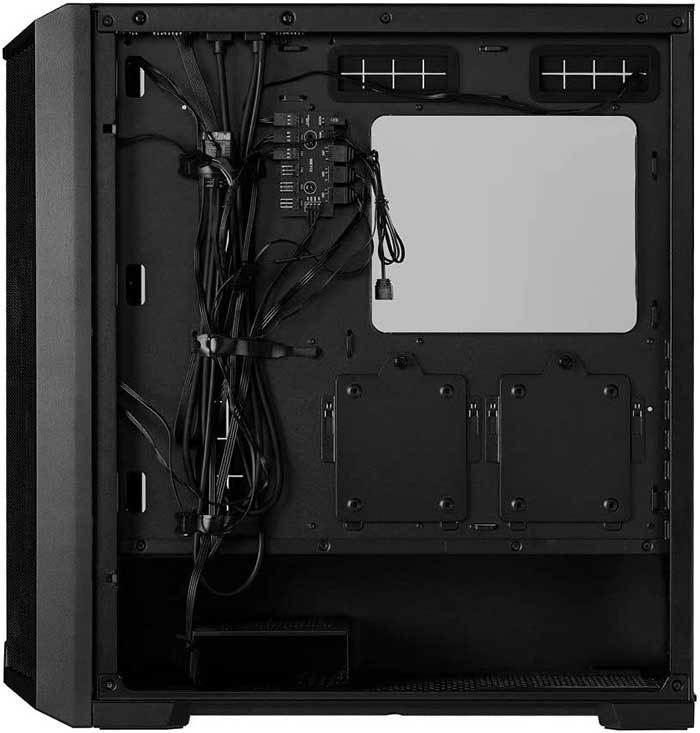 Internally, the LANCOOL 215 can handle four different sizes of motherboards (Mini-ITX, Micro-ATX, ATX, and E-ATX under 280mm in width). Compatible with up to 8 fans and a full-sized graphics card, you won't have to compromise on hardware. Similar to the 4000D, you can mount your GPU vertically. When it comes to storage options, behind the motherboard is space for two 2.5-inch SSDs. There's also room for either one 2.5-inch SSD and one 3.5-inch HDD or two 3.5-inch HDDs next to the PSU.
Pros:
Included RGB fans
Included pre-installed fan hub
Cable management is made simple
Cons:
Best Design: NZXT H510i Compact ATX Mid-Tower PC Gaming Case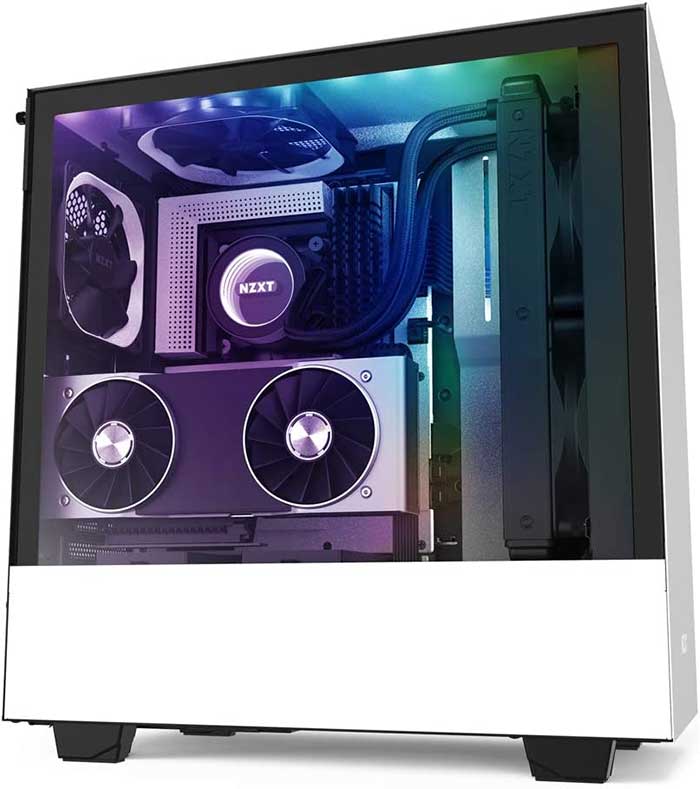 Key Features:
Integrated RGB lighting
Partial tempered glass side panel
8.2 x 18.1 x 16.9 inches
18 pounds
NZXT makes products that are sophisticated and modern looking, and the H510i is no exception. It's available in white, black, and black with red, and all three come pre-equipped with RGB lighting. It's made from high-end SGCC steel and has a tempered glass side panel that looks amazing. This panel differs from other tempered glass options, as it doesn't fill up the entire side of the case. The front panel is a solid color with no holes or mesh showing. Overall this is a very clean-looking option.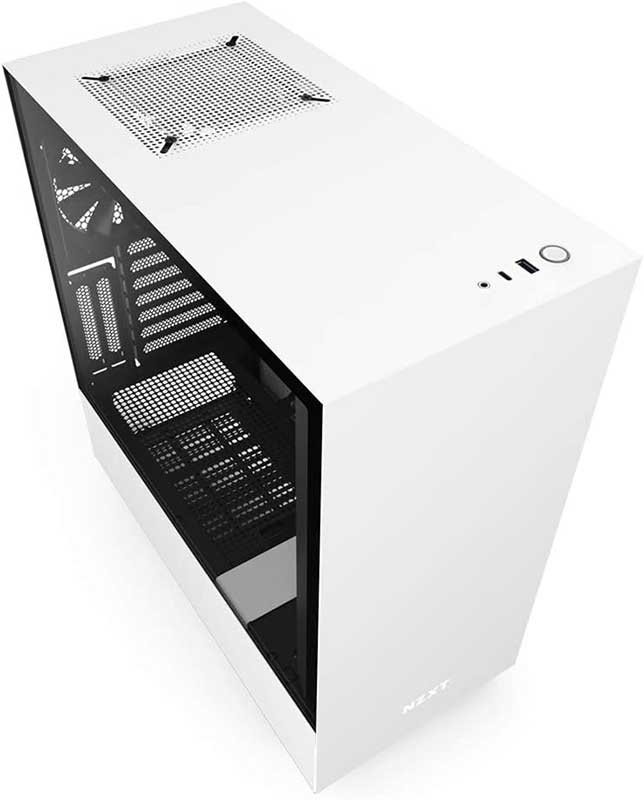 While the H510i does lack a front panel with mesh, airflow is still possible. It supports the use of radiators, with the front capable of housing one 240mm or 280mm. The back can house one 120mm in a pull configuration. Fan support is slightly lower than other options in this article. That said, the front can hold two 120mm or 140mm fans. In addition, the top can hold one 120mm or 140mm fan, and the back can hold one 120mm fan. A total of two 120mm Aer F Case Version fans are included for the top and back.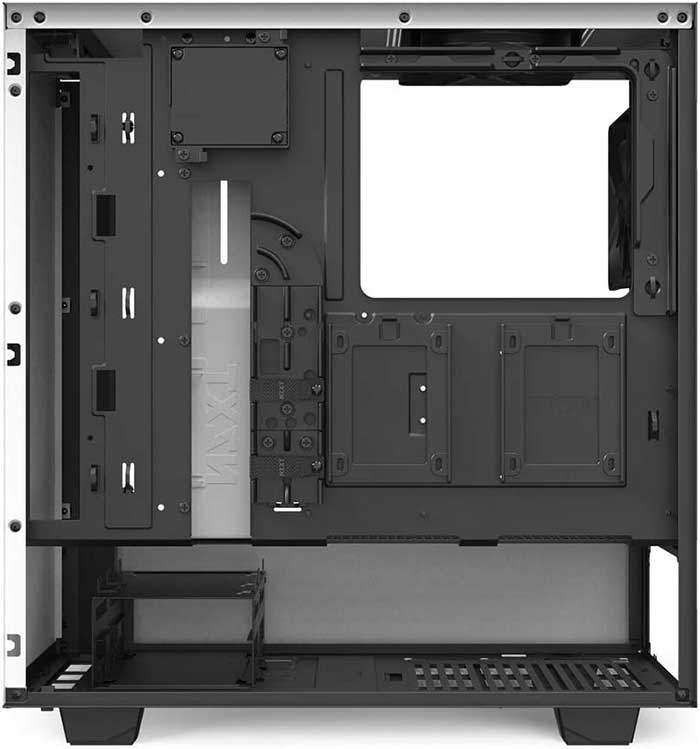 NZXT has its own patent-protected cable management system included in the H510i. This system comes with pre-installed channels and pre-installed straps to route your cables effectively and keep them securely in place. Whether you're an experienced PC builder or brand new to it, cable management won't be a problem with this intuitive system.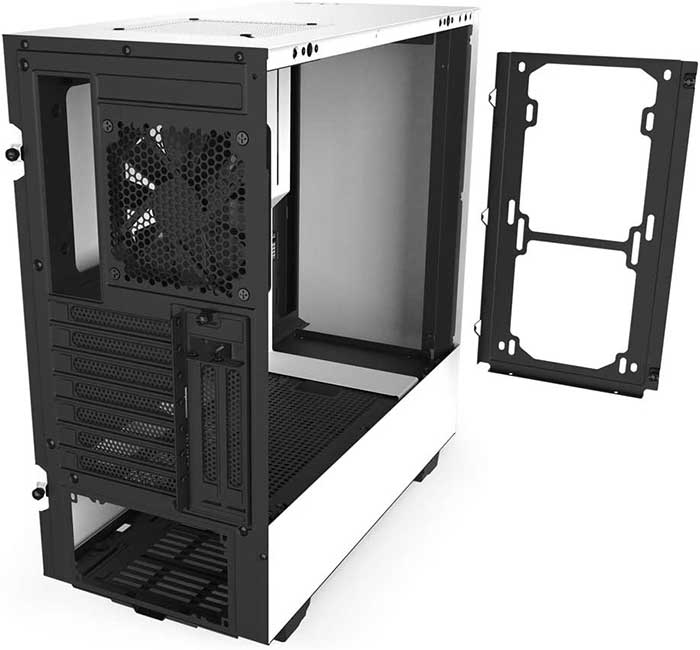 Unlike the previous two options on our list, the H510i is not compatible with E-ATX. However, Mini ITX, Micro ATX, and ATX are all fine. Graphics cards can be mounted horizontally or vertically as long as they are under 15 inches. For the storage of 2.5" SSDs it can hold 2+1, and for 3.5" HDDs it can hold 2+1 as well. All in all, this is a beautiful case with plenty to love.
Pros:
Patented cable management system
Modern design
Included RGB lighting
Cons:
No front fans included
Not compatible with E-ATX motherboards
Best Alternative: Fractal Design Meshify 2 Compact ATX Mid Tower PC Case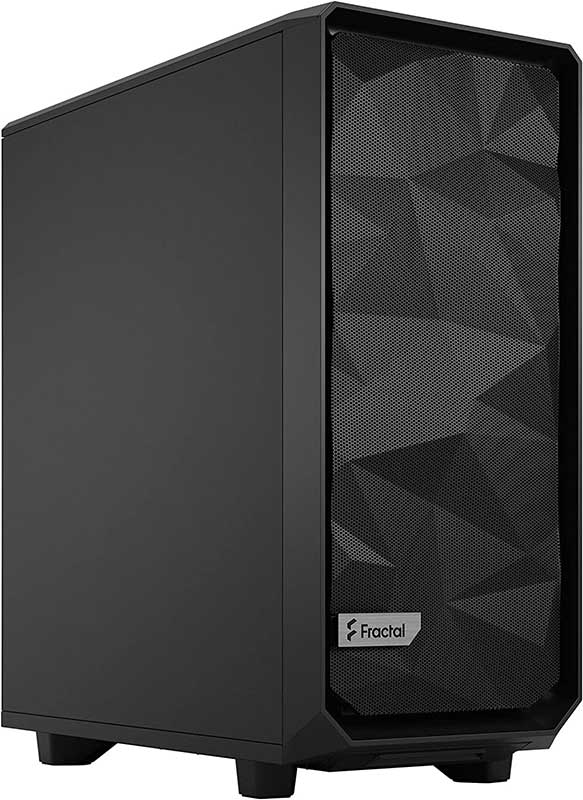 Key Features:
Angular mesh front for better airflow
Holds up to seven fans with 3 included
16.69 x 8.27 x 18.7 inches
16.98 pounds
The base model of the Meshify 2 from Fractal Design is a plain black case with a frame made of steel. There isn't an included tempered glass side panel with the standard model. However, as an upgrade, you can get a tempered glass side panel and either gray or white coloring. If you're looking for an option that will look classy and not draw a lot of attention, this is our suggestion.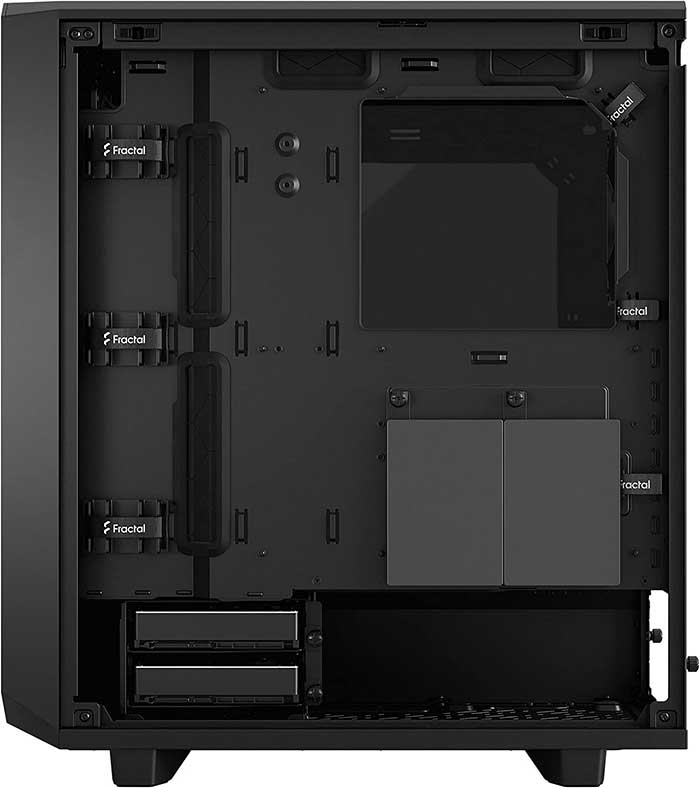 The front panel has an angular design along with a mesh intake to maximize airflow. This intake also has a removable dust cover to further increase the airflow. It can support seven 120mm fans on the front, top, and sides, or four 140mm fans instead. For radiators, it can hold up to 240mm options on the top and up to 360mm on the front. Depending on what size graphics card you have, you'll have to change the radiator size accordingly.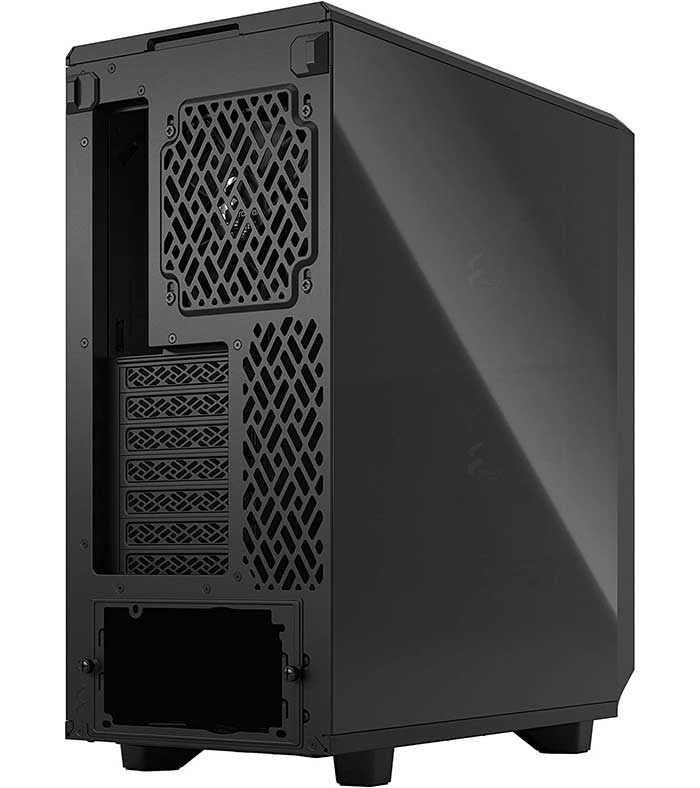 Cable management is supported on the Meshify 2. Multiple rubber grommets lead from the motherboard to the back of the case. Once cables are behind the motherboard, there are three cable alignment clips and six velcro straps available to keep everything organized. There's also a full PSU shroud to help hide cables from the front. This keeps everything clean and tidy.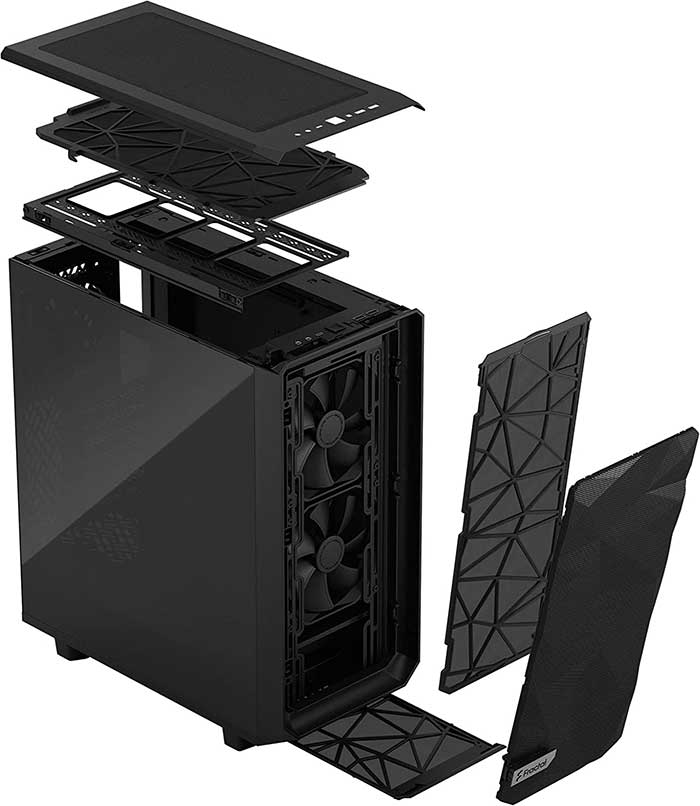 The Meshify 2 from Fractal Design is designed to feel and function just like larger cases, and it does a really good job at that. For motherboards, it supports Mini-ITX, Micro-ATX, and ATX just like the H510i. It's designed to hold graphics cards horizontally, maxing out at 13.4 inches with a front radiator or 15 inches without one. It can also hold up to four 2.5-inch SSDs or a mix of two 3.5-inch HDDs and two 2.5-inch SSDs straight out of the box.
Pros:
Clean minimalist design.
Two USB 3.1 ports and one USB C port on the front I/O panel.
Interior layout is very open.
Cons:
The base model doesn't come with a tempered glass side panel.
Best Budget: Cooler Master MasterBox Q500L Micro-ATX Case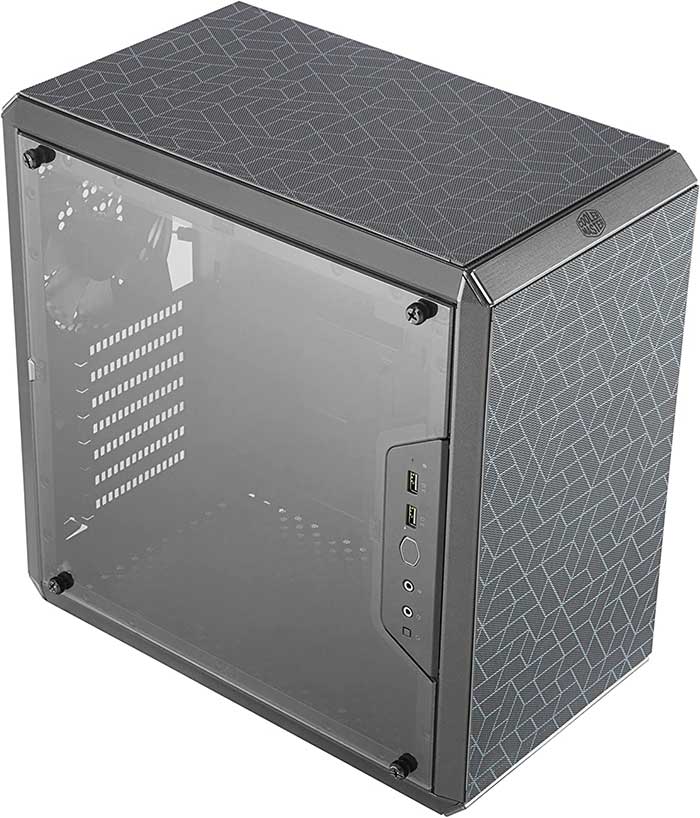 Key Features:
Modular side I/O panel
Vertical PSU placement
15.2 x 9.1 x 15 inches
8.4 pounds
This is the most unique-looking option on our list. The MasterBox Q500L is currently only available in grey but should still fit in most setups quite nicely. It features a matching magnetic top and front dust filer with a beautiful geometric design. Adding to the uniqueness is the I/O panel attached to the acrylic side panel rather than the top, like our other options. The rest of the frame is made of a high quality metal. It can be moved into multiple positions and configurations depending on how you want it to sit within your setup.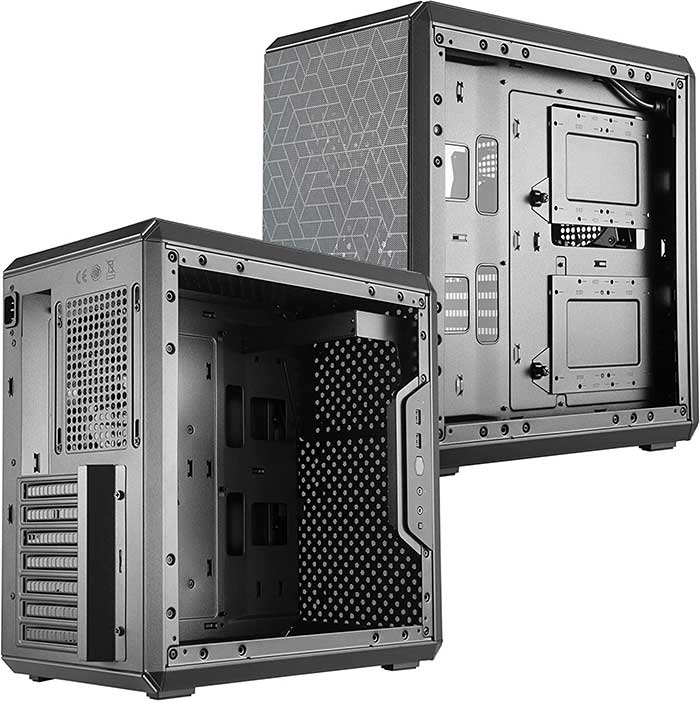 The frame of the Q500L is fully perforated to create maximum airflow and heat dissipation. Magnetic dust covers on the front and top make it simple to keep pesky dust and debris out of your hardware. It can hold up to five 120mm fans or three 120mm and two 140mm fans in various configurations. For radiators, it can hold one up to 240mm and one additional unit up to 120mm.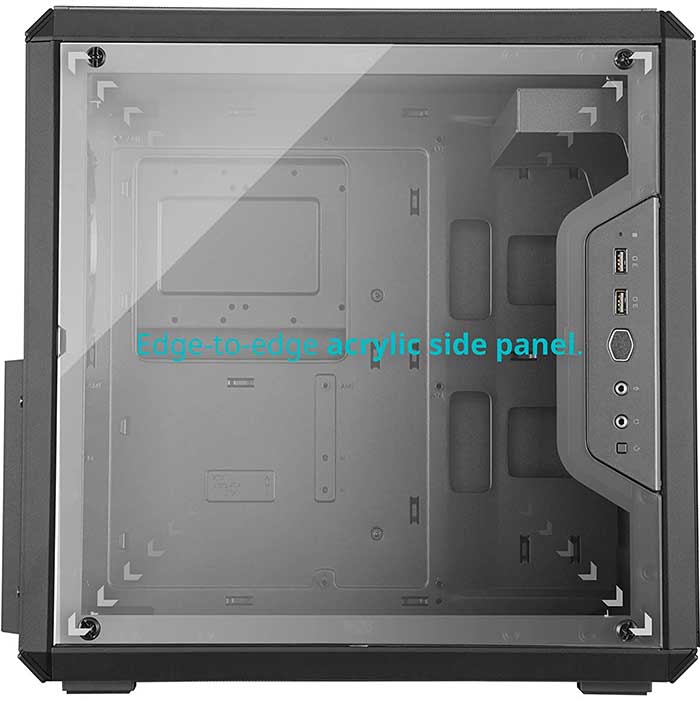 Behind the motherboard is 27mm to 30mm of space for cable management. The entire perimeter of the back is designed to hold your cables, with multiple places to route them there from the front. However, there's a lack of dedicated space with cable ties on the main panel behind the motherboard if you need to route them there.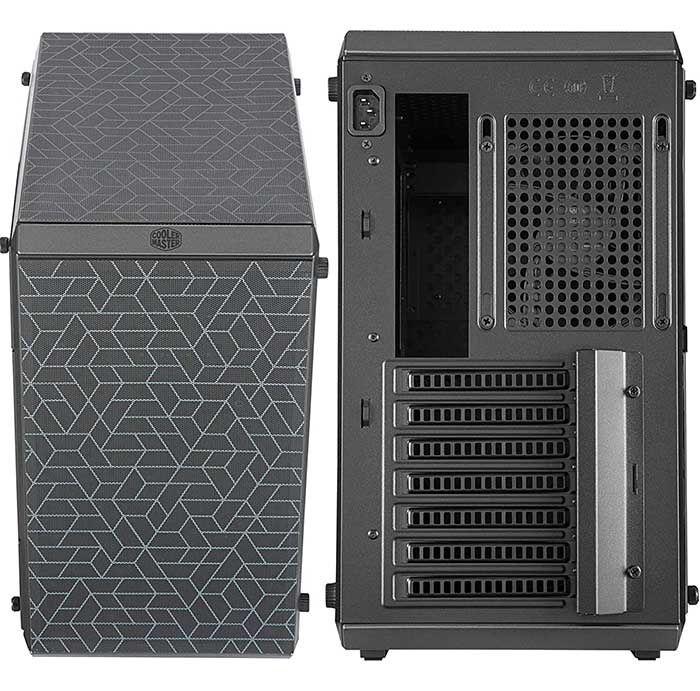 The MasterBox Q500L is compatible with Mini-ITX, Micro-ATX, and ATX motherboards. In addition, you'll want to make sure your CPU cooler can fit as the size is limited to 6.29 inches or less. It has a unique PSU bracket that can be mounted vertically to help free up space for other components. Graphics cards up to 14.17 inches long are compatible.
That said, if your power supply is longer than 6.3 inches you'll be limited to 10.6 inches. For storage, it can support either four 2.5-inch SSDs, two 3.5-inch HDDs, or a mix of one 3.5-inch HDD and two 2.5-inch SSDs. It's a bit more difficult to make sure all your components can fit compared to other options available. Overall, it's still possible to get the build you want as long as you plan ahead.
Pros:
Modular side panel with I/O panel
Multiple configurations to build in
Our cheapest option on the list
Cons:
Only currently available in grey
The side panel is acrylic, not tempered glass