People shooting video can't always be wired to the floor. Unless you're shooting a sitcom from the comfort of an air conditioned set, odds are you need more portability from your recording. Whether you're sending shots to the director in real-time or you're doing final capture, it simply has to work.
And that's why serious videographers and film projects made wide use of SDI transmitters. They're perfect for getting wires out of your way, and wirelessly sending flawless video signals from the transmitter to the receiver.
Choosing a Wireless SDI Transmitter and Receiver
There are about half a dozen ways you might decide to transmit video signals from one place to another. Some of the most obvious choices are portable microwave broadcasters, unlicensed Wi-Fi broadcasters, bonded cellular casters, and 60GHz and 70Ghz transmission kits.
Deciding the right SDI transmitter and receiver for your specific use is a critical step in finding the right technology appropriate to your budget and application. But for most people, it will be unlicensed Wi-Fi broadcasters or 60GHz kits which offer the most. In terms of both portability, ease of use, and value. You can avoid the need to use a license, like microwave-based transmitters, and you don't end up enduring a bunch of recurring costs, like film technologies of the recent past.
The good news is that there are plenty of those kinds of SDI transmitters out there. And many of them use the bleeding edge technology necessary to make their shots seamless, whether you're shooting in a Wi-Fi ridden café in downtown New York, or a dusty park in Istanbul.
With SDI transmitters and receivers, the essential technology involved is essentially the same thing going on in home theatres. But SDI transmitters need an extra degree of portability and adjustability to accommodate on-the-fly changes, and they need a level of uncompromising video quality that won't be depleted by one iota during transmission. And for real-time shooting, SDI transmitters should be able to cross-stream with HDMI, enabling you to send your signal to a monitor without latency delays.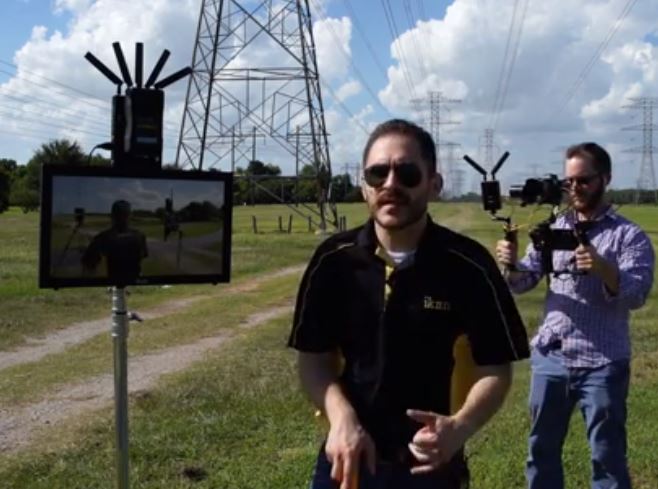 Wi-Fi Networks at Home
The 2.4GHz Wi-Fi band is space designated by the FCC as unlicensed airspace. What that means is basically anyone and everyone can broadcast on that band without having to seek a special permit from the government. Unfortunately, the 2.4GHz band has become packed with traffic, which makes using an SDI transmitter in some areas impossible. You don't even have to enter highly populated areas to see this phenomenon in action, even a few overlapping signals can quickly reduce performance for everyone.
A good SDI transmitter should be able to get you on the 5GHz band. That band sees far less usage than the 2.4Ghz band, which translates into less interference. The 5Ghz band also physically has more space available to carry data, which is what allows it to take on bandwidth throughput beyond what 2.4Ghz is capable of. Furthermore, the 5Ghz band also offers far more non-overlapping channels, up to 24 individual options between 5.15 GHz and 5.825 GHz.
However, one advantage of the 2.4Ghz band is it has great propagation through walls, especially compared to 5Ghz. This exhaustive list of pros and cons, and situational abilities, is why a great SDI transmitter and receiver needs to support both 2.4Ghz and the 5Ghz band. Whether you need one or the other for your next shot isn't the question. The question is whether or not you'll ever shoot around other Wi-Fi networks, or whether you'll ever be shooting around walls and similar obstacles. Odds are, anyone who needs to be wireless will be doing both.
Wi-Fi Networks Abroad
If you're shooting internationally, you need even more special abilities. For example, you need the ability to adjust your wireless signal to match international standards. For shooting in a populated area with loads of Wi-Fi traffic, that adjustability is essential to maintaining video quality while complying with local law.
Finally, You'll want to think about how the transmitter is powered, to know how much time you can get from a single battery. Depending on where and when you're doing shoots, you may not be able to quickly or easily replace the esoteric battery pack contained inside your average SDI transmitter and receiver. A more ubiquitous design when it comes to power can is often highly underestimated.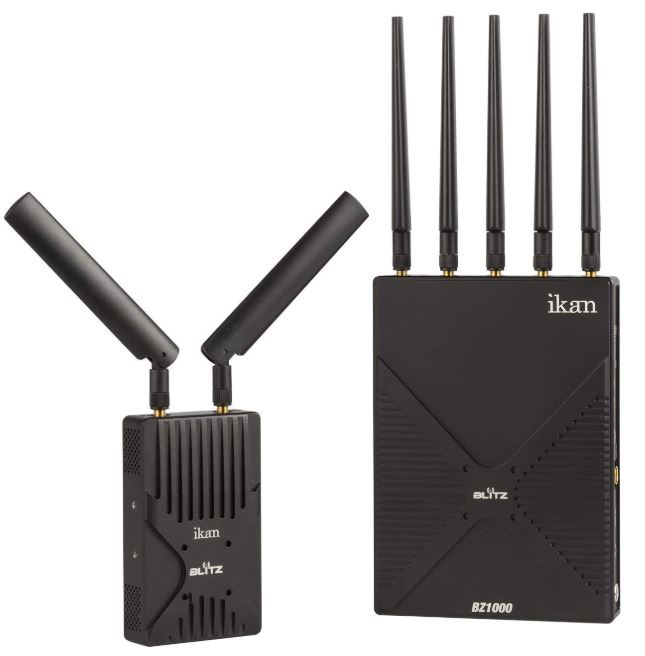 Ikan BZ1000 PRO
The BZ1000-PRO is the latest of the Ikan Blitz transmitters. In spite of its ability to carry uncompressed data with ease, the Blitz is quite lightweight and portable. For Steadicam operators, or people working with similar wireless follow systems, the BZ1000-PRO seems poised to become the new golden standard.
In short, it's great for being able to move around freely without having to worry about losing your signal, or having the signal quality drop down to unacceptable levels due to the non-compressed nature of the transmission.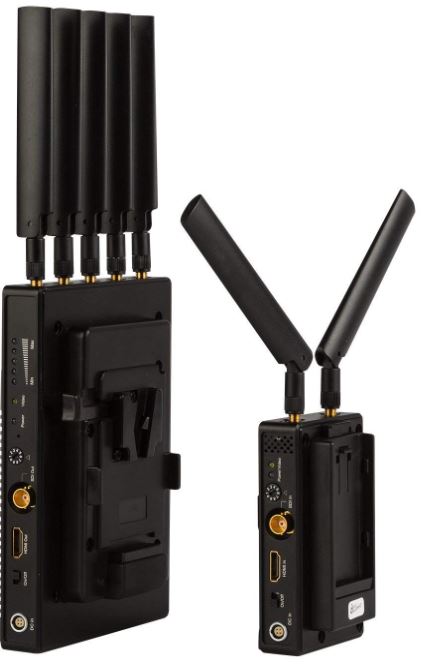 Build & Design
In terms of connectivity, the BZ1000 PRO can support a massive 1,000 feet of connectivity, provided only that the transmitter and receiver share line of sight. As that line of sight is compromised, you'll see the effective range deplete accordingly.
The BZ1000 PRO operates with Sony L series batteries, which are fairly easy to find and replace. The PRO also supports both the common 3G-SDI port, as well as a basic HDMI 1.3 port. Both options can provide the same seamless 1080p content. And it comes through without undue latency because Blitz units can cross convert signals from SDI to HDMI, or the other way around.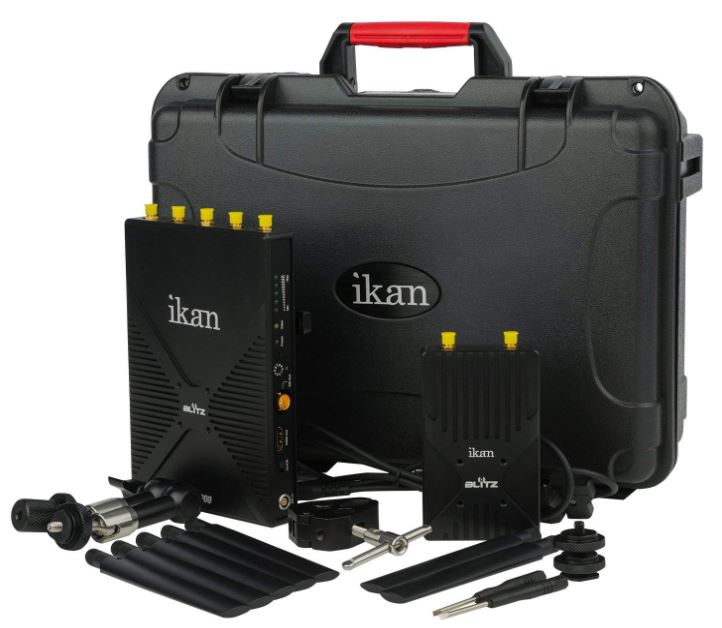 Production Capacity
The maximum supported resolution for the BZ1000 PRO is 1080p with 60 frames per second. That ought to exceed adequacy for virtually all professional production needs. The BZ1000 PRO is absolutely wonderful at providing uncompressed video, but it's true ease of use is actually hiding away in the unique Ikan mounting system.
It involves a variety of mounting joints smartly positioned around BZ1000 PRO, so operators have a greater range of options for how and where they can setup their gear. For personal preference, and for adaptability during shooting, that mounting system alone can make the BZ1000 drastically more useful than a number of comparable SDI transmitter and receivers.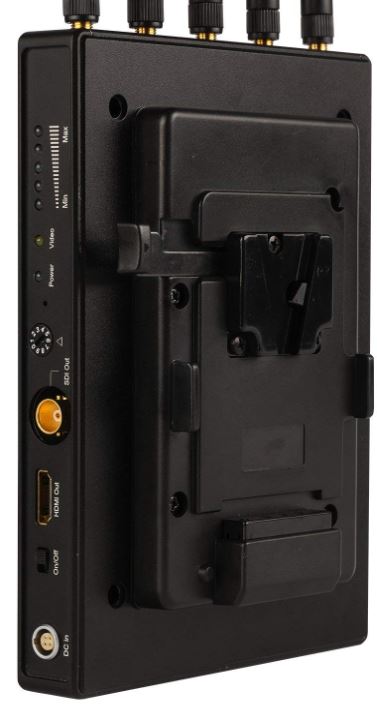 Other Considerations
The Ikan includes a hard-shell carrying case, half a dozen antennas, and basic mounting gear. This is basically everything you need to get started, as long as you don't have any needs for obscure types of antennas.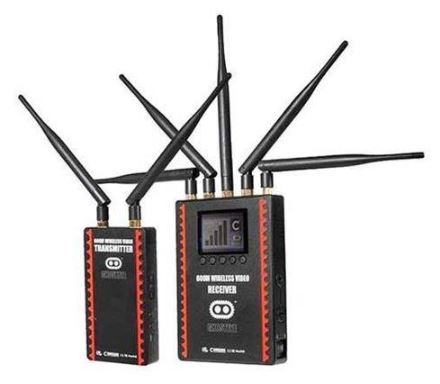 Cinegears Ghost Eye 600M
Cinegears is all about wireless transmission. It's their entire brand. And within the Cinegears Ghost Eye 600M, you'll find an ideal SDI transmitter for essentially all forms of gimbal and Steadicam work. Anywhere you need to send a video signal without taking a wire in tow, the Ghost Eye 600M can follow. At least for about 600 meters.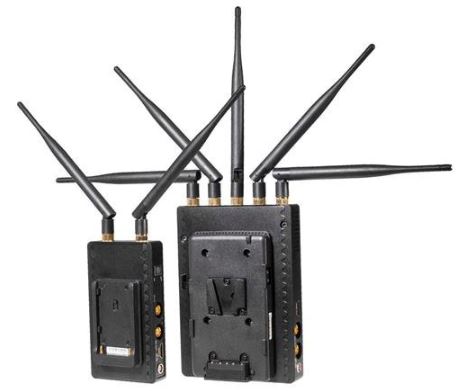 Build & Design
The Ghost Eye 600M has a relatively mundane external experience, it looks precisely like the high quality equipment it is. The transmitter is scarcely 6-inches tall, with the receiver being about 15% larger. However, each end of the kit tends to have considerably greater height clearance than 6″ due to the lengthy antennas attached to the end. Internally, you'll find HDMI and SDI Cross conversion is available, along with essentially all the critical data streaming features you could ever need for lossless video production.
Production Capacity
The Ghost Eye 600M offers 1080p video transmission up for 60 frames per second, with 10-bit color. And those high standards are kept over considerable distances. Like its name suggests, the Ghost Eye 600M has an effective radius of 600 meters. Seemingly without effort, uncompressed video is transmitted with under 1ms of latency.
The maximum bandwidth of the Ghost Eye 600M is approximately 300 MB/s, which is more than enough to capture every frame with accuracy for 1080p content. One more valuable thing to note is how the Ghost Eye 600M shares cross compatibility amongst all Ghost Eye models, including their smaller 150-meter receivers.
That makes it easy to integrate new Ghost Eye equipment into your shoot, or pair up existing equipment with ease. In fact, the 600M supports an unlimited number of Ghost-Eye receivers, you don't have to worry about running into any limitations beyond cost.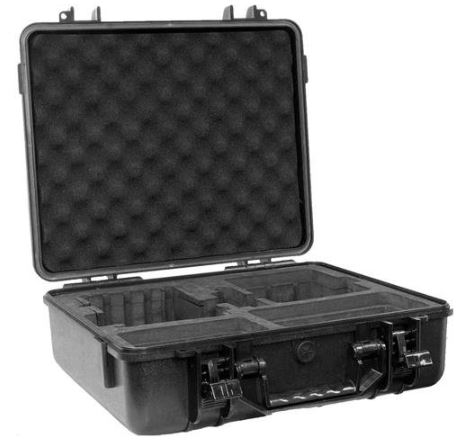 Other Considerations
The Ghost Eye 600M includes a V-mount plate, the necessary charging cables, seven high capacity antennas, two mushroom antennas, and a hard-shell waterproof case with protective foam lining. The mushroom antennas have been circularly polarized, making them great for expanding the distance and angle of a shot. The Ghost Eye 600m also includes a three-year warranty from Cinegears.
For people with a more formidable production budget, one more thing to note is how individual pieces of Cinegears equipment can be picked up from the manufacturer on an a la carte basis. So if your receiver is damaged or lost, you can replace it without having to buy the entire kit again. In many cases you may even be able to rent the spare part from Cinegears.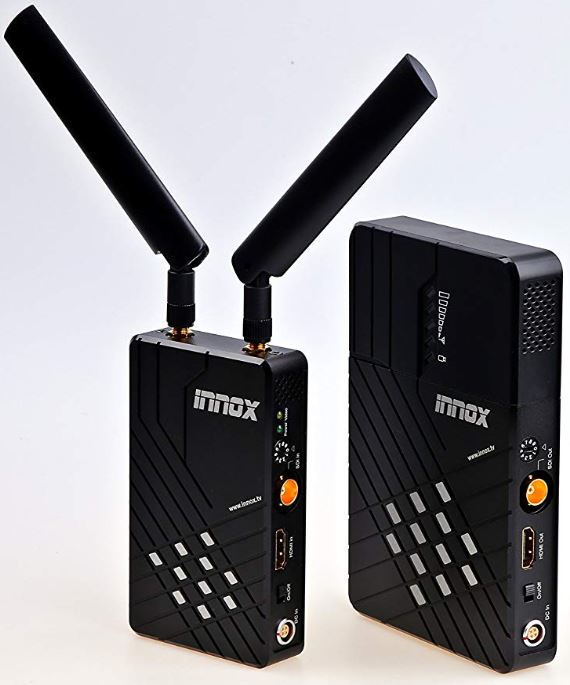 Innox 4 Media Pro
The Innox 4 Media Pro is a 5 GHZ SDI/HDMI Wireless transmission system. Like you need for professional production, the Innox 4 Media Pro supports uncompressed audio and video. And like you need from a great wireless setup, it supports a reasonably extensive 120-meter or 393-foot range. While the Media Pro isn't going to win an industry award for strongest SDI transmitter, it's more than adequate for people working within a smaller transmission radius.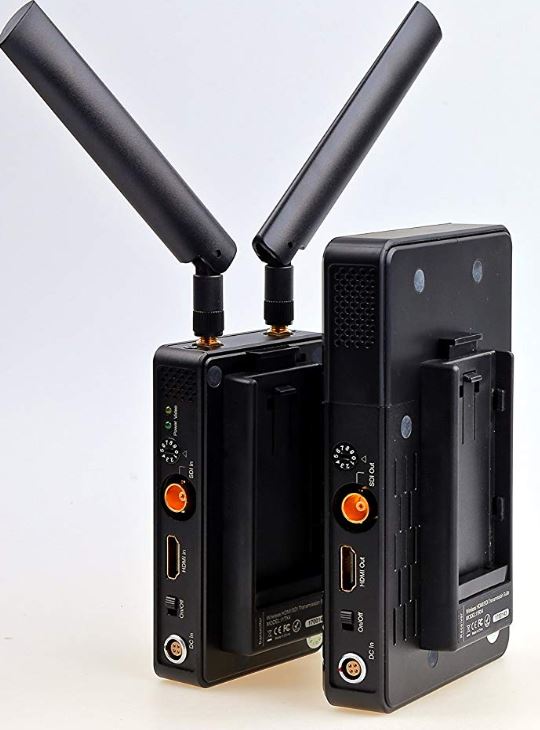 Build & Design
Pick up the Innox 4 Media Pro for a moment. On the side of the transmitter, you'll find two stick antennas, and 5 internals antennas on the receiver. Those are useful because they help you configure the ISM band, and precisely accommodate the global differences in wireless broadcasting. Whether you're shooting in the developing world or the developed world, that kind of versatility can be essential.
Along the sid of the transmitter and receiver, you'll find the HDMI and SD/HD/3G SDI ports, both for input and output, have been cleanly placed and clearly labeled. Their labeling includes precise color coding for a rapid setup in various lighting conditions. And behind the basic rational design, the AES-128 encryption air interface keeps your video stream from being interrupted by nearby signals.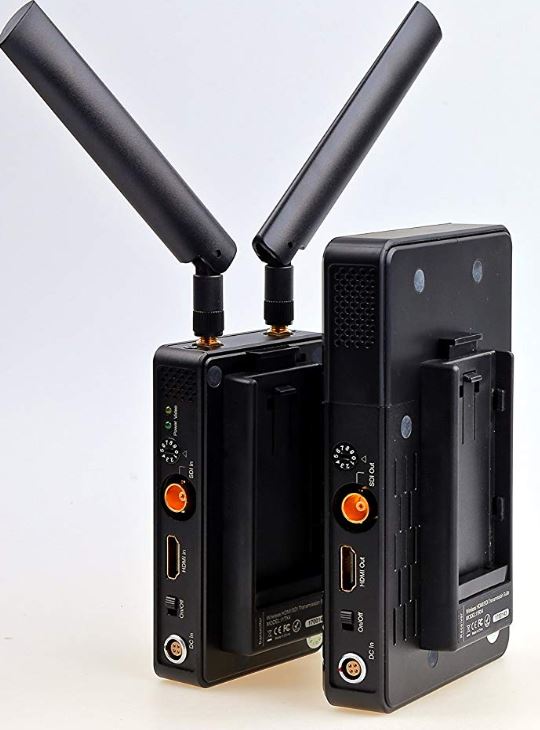 Production Capacity and Other Considerations
The Innox 4 Media Pro heavily favors use of the less-populated 5 GHz-5.9GHz ISM frequency. It supports a maximum 10 frequency of channel settings you can toggle through using the analog knob. Whether you're trying to coexist with other Wi-Fi networks, or with other equipment in your shoot, these controls make it easy.
One more strong point in favor of the Media Pro is its ability to accept a wide range of DC power, allowing it to adapt to most types of camera batteries. If you're ever doing shoots in uncertain conditions, and don't necessarily have access to your preferred brand of batteries, that added adaptability can mean the world.
Finally, the Innox 4 Media Pro includes a metal case to help protect from heat. It doesn't currently have FCC approval, but Innox has been working on approval for a while, so it's only a matter of time.
Choosing Between 3 Professional SDI Transmitter/Receivers
The Ikan BZ1000 PRO provides an incredible 1,000 feet of connectivity, and all the essential HDMI SDI ports and cross conversion to make the BZ1000 PRO easy to use. It's the winning choice for anyone who needs an extensive range of connectivity above all else. If you're dealing with huge transmission distances, like you might for shooting a nature documentary, it's a great pick.
The Cinegears Ghost Eye 600M has the most portability amongst any of these highly portable kits. With up to 600 meters of steady uncompressed 1080p data streaming, it's hard to find something Ghost Eye SDI transmitters can't do. Better still, Ghost Eye products also share strong compatibility between other members of the series. If you think you ever may be involved in larger scale projects, it should be easy to see the value in being able to easily scale-up your current equipment. For amateurs and professionals alike, the 600M is worth a look.
And last but not least, the Innox 4 Media Pro. The Pro uses a more modest 400-foot connection range, but otherwise has essentially all of the same high-end features you'll find on a high-end Cinegears setup. It offers versatile adaptability, especially in regard to how you power the device. And while it's not quite the most powerful SDI transmitter on the market, it's a great choice for anyone who can make the 400-foot range work.
Was this helpful? Please consider sharing: