The countdown to Black Friday 2023 is on, and BLUETTI, a pioneer in the mobile energy sector, is gearing up for the year's most exciting sales event. They're offering remarkable savings of up to $2400 starting November 17.
This event will showcase a range of products from compact energy solutions to modular battery units. BLUETTI's Black Friday Deal offers promise to electrify your lifestyle.
Also, get ready for the debut of the brand-new AC200L power generator, available at an exclusive introductory price.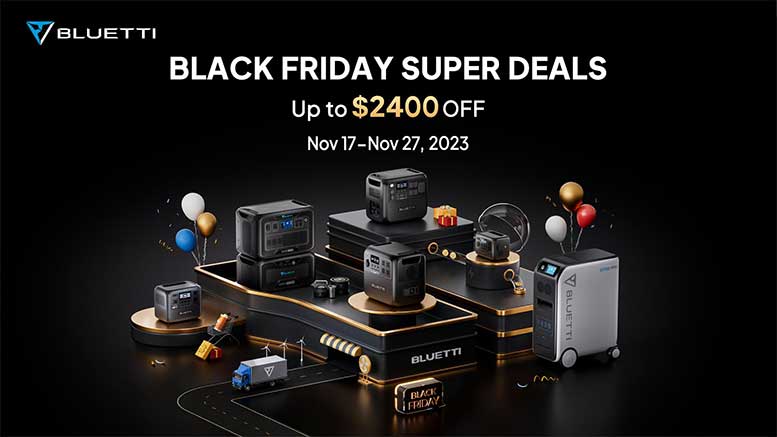 Now is the perfect opportunity for those in search of outstanding bargains on portable power stations. Seize the chance to make significant savings. But hurry – these BLUETTI Black Friday deals are here for a limited time only.
Off-Grid Living with Back Up Power
Black Friday deal price $2799 with a free 120V home integration kit (reg. $619)
The AC300 system transitions seamlessly in just 20 milliseconds, guaranteeing uninterrupted power. Its modular design allows for an adjustable capacity, starting at 3,072Wh and expanding up to a massive 12,288Wh with the addition of two to four B300 packs.
Equipped with a robust 3,000W output and 16 diverse outlets, this system can power critical household devices including fridges, heating systems, air conditioning units, among others.
Connect it to solar panels for a rapid 2,400W recharge, ensuring a consistent flow of solar power during prolonged electricity disruptions.
Black Friday deal price $4799 with a free PV380W solar panel (reg. $799)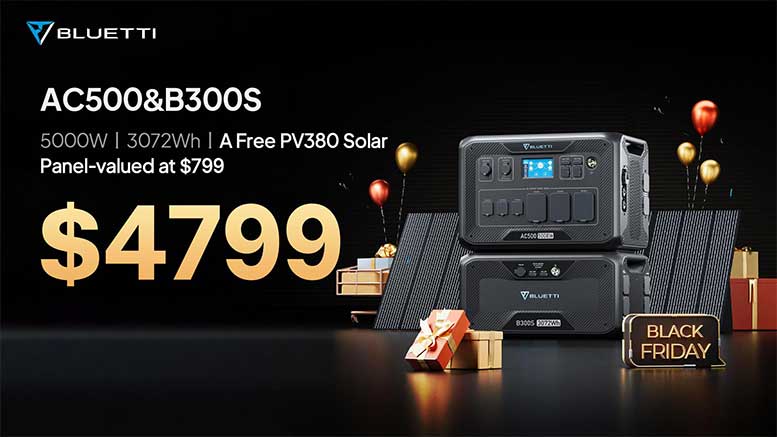 The AC500 system, boasting a formidable 5,000W capacity, is capable of powering almost every appliance in your home, ranging from sophisticated home entertainment systems to your daily-use coffee machine.
It remains efficient even in extreme cold, as low as -20°C, thanks to its integrated self-heating function. A standard combination of a 3,072Wh AC500 and a B300S battery can keep an 800W fridge running for 3 hours or sustain an electric blanket for 21 hours.
With its capacity extendable up to 18,432Wh, a quick-reacting UPS, and the ability to harness up to 3,000W from solar inputs, this system stands as an ideal solution for off-grid energy needs, whether at home or in a secluded cabin.
Power Indoors and Out
At a launch price of $1499
NerdTechy readers can get an extra $100 off the debut price, using the code: ND100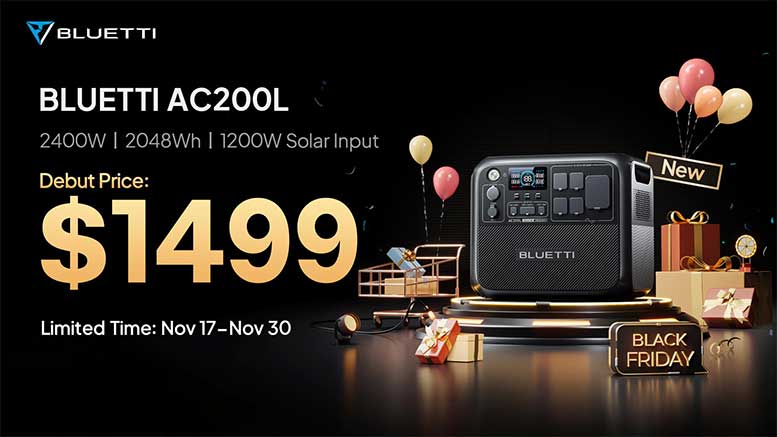 The latest addition to the lineup, the stylish AC200L, packs an impressive 2,400W of power, which can be boosted to 3,600W in its Powerlifting mode to meet higher energy demands. This device's 2,048Wh battery can be fully charged in just two hours using a 1,200W solar panel setup.
When connected to an electrical outlet with its 2,400W Turbo Charge mode, the AC200L charges even more rapidly in just 90 minutes, eliminating the need for a cumbersome adapter.
With Bluetooth or WiFi capabilities, the AC200L can be monitored and controlled in real-time through the BLUETTI App, which includes options like activating ECO mode to extend battery life and other features.
BLUETTI also adds UPS functionality and a reassuring 5-year warranty, ensuring reliability during power disruptions and more.
From November 17 to November 30, the AC200L power station is available at a special early-bird price of only $1,499.
Combine the AC200L with a 3,072Wh B300 expansion battery for a combined capacity of 5,120Wh, available at an exceptional value of $2,999, providing greater power for a lower cost.
Was $1599 Now $1299 Save $300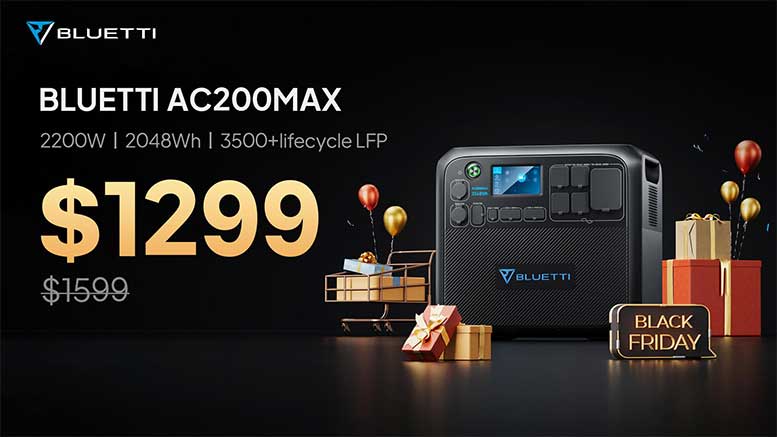 The premier AC200MAX model features a substantial 2,048Wh battery and a robust 2,200W output, making it an ideal choice for RV trips, van living, luxury camping, and remote lifestyles.
On its front panel, it offers 16 adaptable outlets, capable of energizing all your outdoor necessities, from coffee machines and water pumps to refrigerators. Impressively, it can also sustain a 40W CPAP machine for upwards of 80 hours. Thanks to its effective 900W solar charging capability, power supply is consistent as long as there's sunlight.
Enhance its capacity by connecting it with a B230 or B300 expansion battery, and you can amplify its power storage up to a staggering 8,192Wh.
AC180 Was $999, Now $649, Save $350
AC180P+PV200 Was $1548, Now $1298, Save $250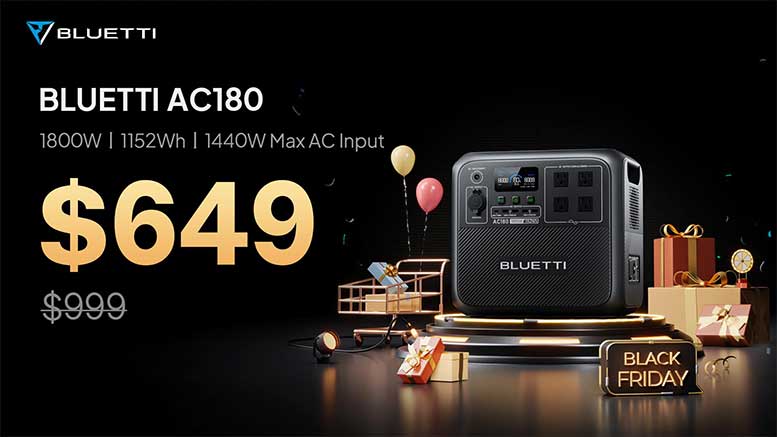 Tipping the scales at approximately 37 lbs, the AC180 and its standalone variant, the AC180P, are more streamlined power generators designed for off-the-grid use. Each is capable of delivering 1,800W of power, which can be increased to 2,700W in power lifting mode, suitable for powering high-demand appliances like dryers and electric kettles.
Their quick-response UPS functionality also renders them dependable for backup during unexpected power outages. These units present an eco-friendlier and quieter alternative to conventional gasoline generators. There's a slight difference in their capacities, with the AC180 having 1,152Wh and the AC180P boasting 1,440Wh.
In terms of remote operation, the AC180 is compatible only with BLUETTI App control through Bluetooth, whereas the AC180P also offers connectivity through WiFi.
Pack Light, Explore Further
Was $599 Now $499 Save $100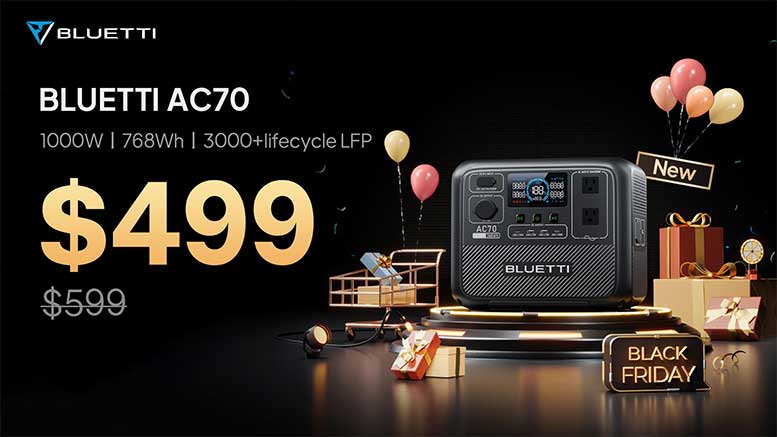 At a mere 10.2kg, the AC70 is crafted for explorers like yourself. Building upon the foundation set by the EB70S, this model has been enhanced to provide a substantial 1,000W of constant power output, accommodating a broad spectrum of devices from coolers to mixers.
Its Powerlifting mode is capable of generating a robust 2,000W, suitable for operating hairdryers and compact power tools. The unit's 768Wh LFP battery is notable for its longevity, offering more than 3,000 life cycles. With a full battery, it can recharge a 15Wh camera up to 45 times, run a 40W CPAP machine for 12 hours, or keep a 120W portable refrigerator operational for 4.7 hours.
The AC70 also boasts rapid charging capabilities, including an 850W AC input that reaches 80% in a mere 45 minutes, and a 500W solar input that fully charges it in just 2 hours. This makes the AC70 an adaptable and reliable energy source for brief excursions or as an emergency power reserve.
Was $548 Now $399 Save $149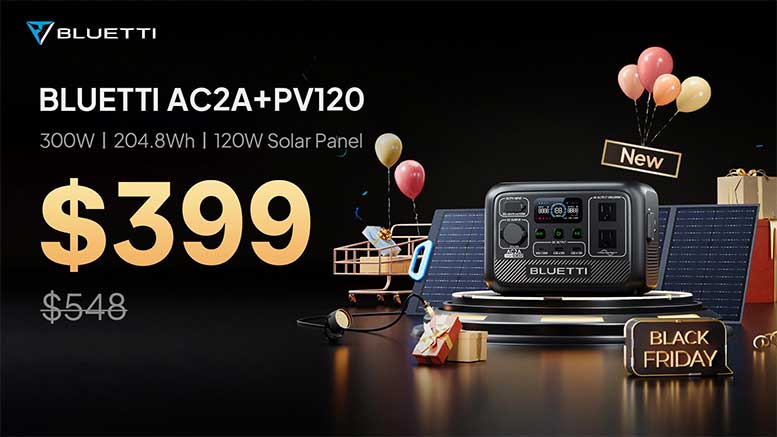 The AC2A stands out as the go-to choice for those prioritizing portability. Weighing a mere 3.6kg, this compact device is incredibly easy to transport. Its small, toolbox-like dimensions belie its power: it provides 300W of AC power and can handle a 600W surge, thanks to its 204Wh battery.
Equipped with six ports, including a 100W USB-C port for rapid laptop charging, it can simultaneously energize multiple devices. Additionally, its 270W fast wall charge feature can replenish the battery from zero to full in just about 1.4 hours.
Crafted with robust LFP battery cells, the AC2A is designed to sustain over 3,000 life cycles before dropping to 80% of its initial capacity. This makes it an excellent companion for outdoor activities like camping and hiking, especially since it's compatible with a 200W solar panel for charging.
B230 Expansion Battery
Was $1099 Now $999 Save $100
Enhance your BLUETTI power stations with the B230 expansion battery, boasting a substantial 2,048Wh capacity. This unit comes with an independent power switch, a USB port, a high-powered 100W USB-C port, and a 12V/10A output, allowing it to function autonomously to energize laptops, automotive refrigerators, and various other gadgets.
It can be recharged using the T500 Adapter or via solar panels, supporting a maximum input of 500 watts, adding versatility and extended power options to your setup.
B300 Expansion Battery
Was $1999 Now $1699 Save $300
The B300, designed to pair seamlessly with the AC300, provides a remarkable 3,072Wh of energy storage. It facilitates up to 700W of dual charging capability, allowing for a mix of 500W AC and 200W solar charging or exclusively through dual solar inputs.
Similar to the B230, this unit is constructed with robust LiFePO4 cells, ensuring longevity with more than 3,500 life cycles before it diminishes to 80% efficiency. The B300 stands out as a significant standalone power bank, offering reliable and extended energy support.
In addition to the substantial discounts, the BLUETTI Black Friday event is packed with enticing extras. Customers who spend above certain amounts will receive exclusive BLUETTI Lifestyle gifts. For orders made from Nov. 17 to Nov. 27, shoppers can earn quintuple BLUETTI Bucks.
There's also the chance to spin the lucky wheel, plus an extra 5% off for customers who refer friends. These annual deals are not to be missed! Set a reminder for Nov. 17 and seize the opportunity to score major savings on Black Friday power station offers.
About BLUETTI
Since its establishment, BLUETTI has steadfastly championed the cause of environmental sustainability and the advancement of clean energy alternatives. They're dedicated to delivering renewable energy storage options for a plethora of applications, spanning both indoor and outdoor environments.
Their mission extends beyond enhancing the quality of life in our living spaces. It's a profound contribution towards forging a sustainable and viable future for our world. This unwavering dedication to green energy has propelled BLUETTI's presence across a vast expanse of over 100 countries, earning the confidence and loyalty of millions of customers on a global scale.
Meet Derek, "TechGuru," a 34-year-old technology enthusiast with a deep passion for tech innovations. With extensive experience, he specializes in gaming hardware and software, and has expertise in gadgets, custom PCs, and audio.
Besides writing about tech and reviewing new products, Derek enjoys traveling, hiking, and photography. Committed to keeping up with the latest industry trends, he aims to guide readers in making informed tech decisions.