Are you seeking the most efficient way to enhance the wireless capabilities of your laptop? Look no further.
Half Mini PCIe WiFi and Bluetooth cards are the unsung heroes in the realm of portable connectivity. These miniature cards slot into your laptop, endowing them with essential WiFi and Bluetooth functionalities.
Half Mini cards, fitting snugly into the Mini PCIe slot of your laptop, are the go-to solution for enhancing wireless performance without taking up much space.
Here's a quick look at our top picks:
| Feature | REKONG MPE-AX3000H | NETELY AX200HMW | Intel 7260.HMW |
| --- | --- | --- | --- |
| Max Speed Rating | 3000 Mbps | 3000 Mbps | Not advertised |
| Benchmark Speeds | 1293 Mbps down, 1067 Mpbs up | 1056 Mbps down, 923 Mbps down | 866 Mbps down, 775 Mbps up |
| Wi-Fi Standard | 802.11 b/g/n/ac/ax | 802.11 a/b/g/n/ac/ax/be | 802.11 b/a/g/n/ac |
| Bluetooth Version | Bluetooth 5.2 | Bluetooth 5.0 | Bluetooth 4.0 |
| Compatibility | Windows 10/11 64bit | Windows 10/11 64-bit, Linux kernel 5.1+ | Windows 8.1+, Linux Mint 21.2 |
| Special Features | WPA3 security | Works with Linux | Intel Smart Connect |
1. REKONG MPE-AX3000H Half Mini PCIe Card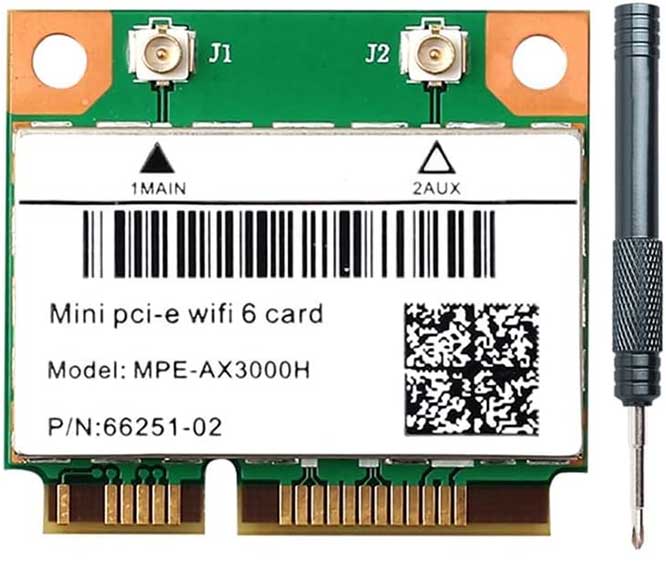 Key Takeaways:
Ideal for those who want the best speeds.
Benchmark: 1293Mbps down, 1067Mpbs up.
Exceptional performance with Wi-Fi 6 capabilities.
Dual Band support; seamless 2.4GHz/5GHz switching.
Enhanced security with new WPA3 standard support.
Easy installation, instantly recognized by Windows.
Bluetooth 5.2 for stable device connections.
The REKONG MPE-AX3000H Half Mini PCIe Card is a great option. From the get-go, we noticed its exceptional performance, clearly making it the best overall option in our tests.
Imagine streaming your favorite HD movie while your sibling plays an online game in the next room – both without a hitch. This card made such scenarios a reality in our tests, thanks to its Wi-Fi 6 capabilities and an advertised maximum 3000Mbps transmission rate. Per our benchmark tests, we achieved a 1293Mbps down and 1067Mbps transfer rate. This performed the fastest out of all three options we tested.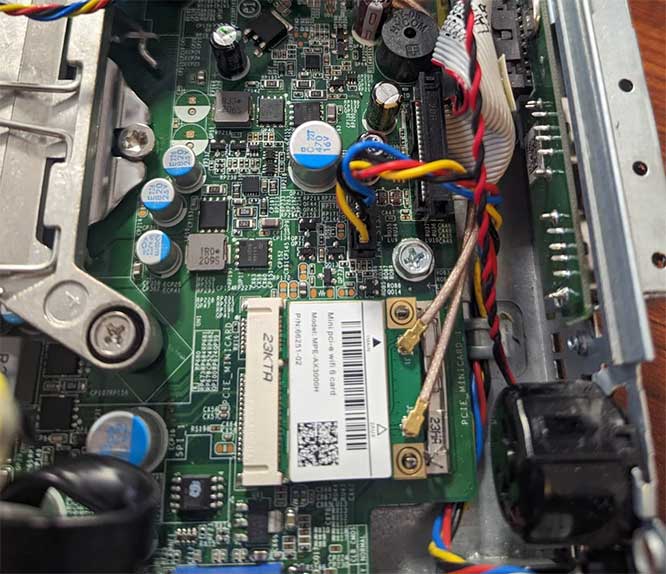 The MPE-AX3000H stands out with its Dual Band support, effortlessly switching between 2.4GHz and 5GHz bands. This flexibility was a game changer, especially in a house full of devices vying for bandwidth. It's also backward compatible, so we had no trouble connecting to older routers.
But what really caught our attention was its support for the new WPA3 security standard. In an age where online security is paramount, this feature gave us peace of mind. We also appreciated how it supports Windows 10 and 11 – no compatibility issues there!
The latest Bluetooth version 5.2 is another big plus. Pairing with our Bluetooth devices was a breeze, and the connection was more stable than we've experienced with other cards. Whether it was headphones or a speaker, the REKONG MPE-AX3000H kept them connected without any drops.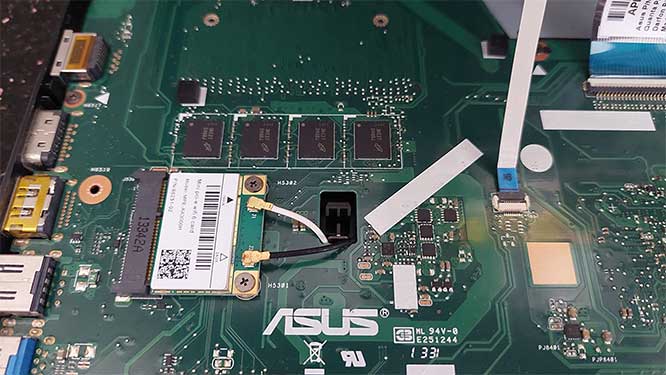 Installation? A walk in the park. It fit perfectly into our mini PCIe slot, and Windows recognized it instantly. No fumbling with drivers; a quick download from Intel's website was all it took.
Overall, the REKONG MPE-AX3000H is a stellar choice for anyone looking to upgrade their laptop's wireless capabilities. It offers top-tier performance, cutting-edge security, and unmatched compatibility, all without breaking the bank.
2. NETELY AX200HMW Mini PCIe Card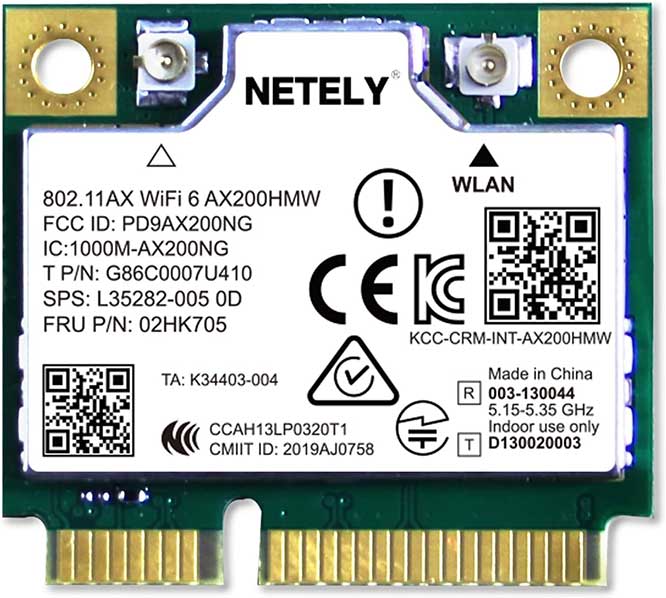 Key Takeaways:
Ideal for those who need Linux compatibility.
Benchmark: 1056Mbps down, 923Mbps down.
Superior compatibility with Windows and Linux.
Supports heavy gaming and 4K streaming.
Bluetooth 5.0 connectivity.
Easy installation, plug-and-play experience.
The NETELY AX200HMW Mini PCIe Card impressively steps up the wireless game, much like the REKONG MPE-AX3000H, but with its unique strengths. Its 3000Mbps peak speed made us sit up and take notice, similar to the high-speed experience we had with the REKONG. But per our tests, we benchmarked 1056Mbps down and 923Mbps down. This is great in our opinion.
When it comes to compatibility, the NETELY AX200HMW shines. It seamlessly replaced an older Intel adapter in a Dell desktop, a process as straightforward as installing the REKONG, but with added Linux support. This added versatility gives it an edge over the REKONG, which is more Windows-focused.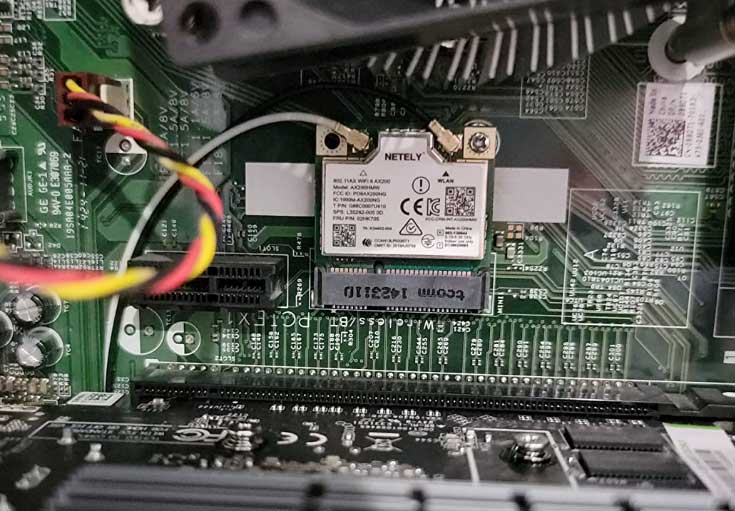 For gamers and streamers, this card is a treat. It effortlessly managed heavy gaming and 4K streaming, paralleling the high performance we observed with the REKONG. However, the NETELY's dual-band support, providing both 2.4GHz and 5GHz options, was a significant factor in ensuring a lag-free experience. This is a feature that aligns with the REKONG's capabilities.
Bluetooth 5.0 integration is another shared feature with the REKONG, offering stable and quick connections to various devices. While it isn't version 5.2, it's still acceptable. This was particularly noticeable in our test with an older Linux-run Inspiron, where the NETELY was recognized immediately – a plug-and-play experience.
In comparison, the NETELY AX200HMW stands out as a robust and versatile upgrade, especially for users with Linux systems. It delivers high-speed, reliable connectivity, akin to the REKONG, but offers broader compatibility, making it a strong contender for those looking to enhance their device's wireless performance.
3. Intel 7260.HMW Half Mini PCIe Card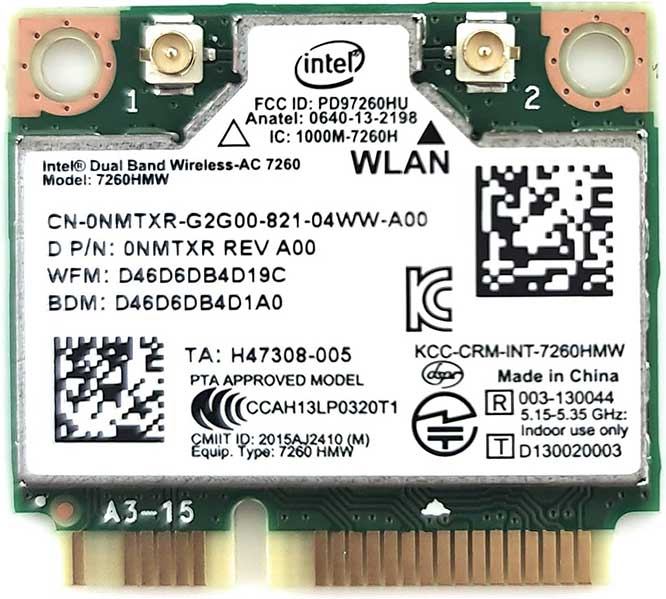 Key Takeaways:
Ideal for upgrading older laptops' wireless capabilities.
Benchmark: 866Mbps down, 775Mbps up.
Excellent compatibility with Linux and Windows systems.
Supports 802.11 b/a/g/n/ac Wi-Fi.
Bluetooth 4.0 is a bit outdated.
The Intel 7260.HMW Half Mini PCIe Card really steps up the Wi-Fi game. While it may not reach the blazing speeds of the REKONG and NETELY, its performance is still noteworthy. We tested it and consistently hit speeds of 866Mbps down and 775Mbps up – decent enough for a name-brand option.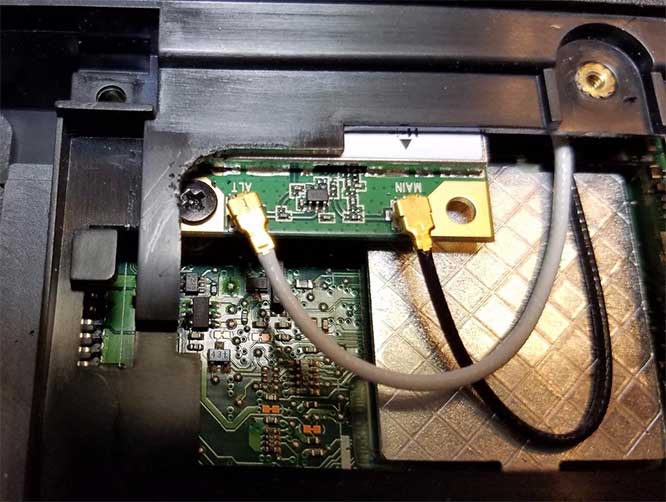 This card shines in its compatibility with different systems. We replaced an older Intel Centrino card in a Toshiba laptop, and the difference was night and day. It was particularly adept at handling Linux Mint, which is a big plus for Linux users, a feature similar to NETELY but a step ahead of the REKONG that is more Windows-centric.
When it comes to Bluetooth connectivity, the Intel 7260.HMW performs reliably. We connected an Arc mouse seamlessly, much like we did with the other two cards. However, its Bluetooth 4.0 technology, while effective, doesn't quite match the speed and stability of the Bluetooth 5.0 and 5.2 found in the REKONG and NETELY.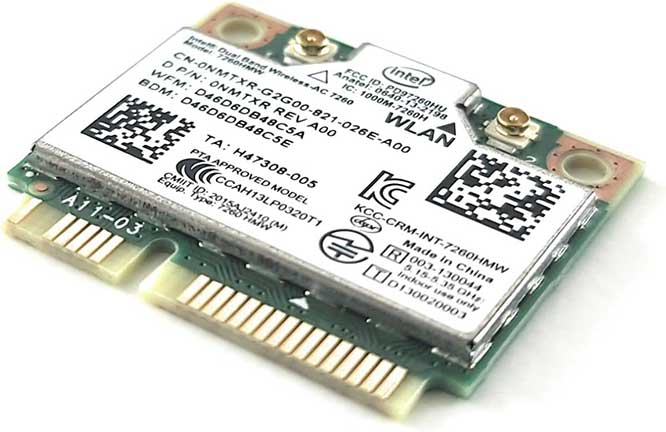 One of the card's strengths is its suitability for upgrading older laptops. We saw a significant performance boost in an Asus laptop, extending its life. Installation was a breeze across various brands, including HP and Dell, mirroring the easy setup of the NETELY and REKONG.
All in all, the Intel 7260.HMW is a solid choice for those looking to upgrade the Wi-Fi capabilities of older laptops, especially if you're a Linux user. It offers improved Wi-Fi signal strength and the convenience of 5GHz Wi-Fi capability, although it falls slightly short in Bluetooth performance compared to its competitors. It's a reliable, long-lasting solution for enhanced connectivity.
Meet Derek, "TechGuru," a 34-year-old technology enthusiast with a deep passion for tech innovations. With extensive experience, he specializes in gaming hardware and software, and has expertise in gadgets, custom PCs, and audio.
Besides writing about tech and reviewing new products, Derek enjoys traveling, hiking, and photography. Committed to keeping up with the latest industry trends, he aims to guide readers in making informed tech decisions.