Looking to enhance your computer's storage and performance capabilities? Look no further than M.2 PCIe adapters.
These compact, powerful components are designed to connect M.2 SSDs to your computer's PCIe slots.
This connection significantly boosts data transfer speeds and overall system efficiency, making it an ideal upgrade for gamers, creative professionals, and anyone in need of faster data processing.
Key Takeaways:
1. SABRENT NVMe M.2 SSD to PCIe Card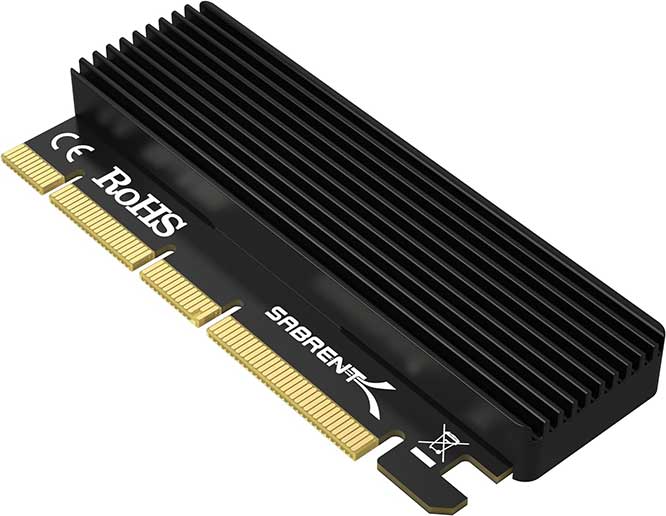 Key Takeaways:
Designed specifically for NVMe M.2 SSDs.
Not compatible with SATA M.2 or B-Key SSDs.
Fits PCIe x16/x8/x4 slots; needs 4 lanes.
Impressive speeds: around 1480MB/sec read/write.
Setup requires attention to screws, thermal pads.
The SABRENT NVMe M.2 SSD to PCIe Card is a popular option. We were curious to see how it would perform. Right off the bat, we noticed its sleek design with a large aluminum heat sink, a feature that promises to keep things cool under pressure. We tested it in a scenario where speed and stability are key: a video editing project on our custom PC.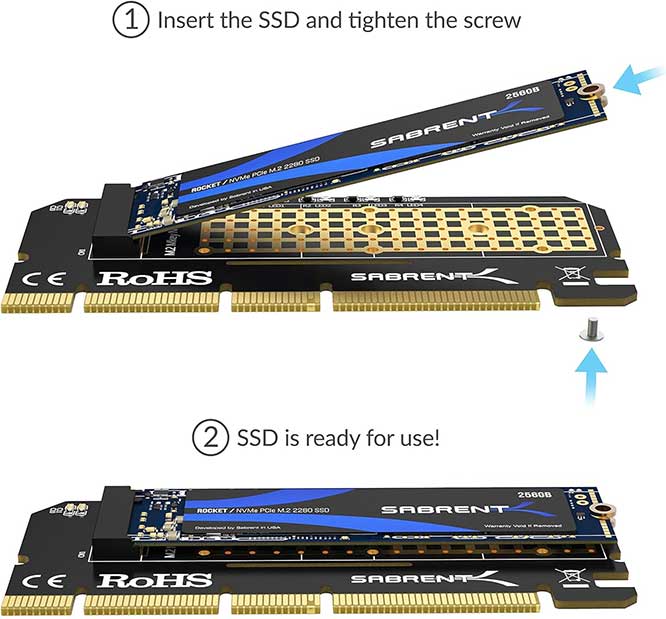 First things first, this card is not a one-size-fits-all. It's specifically designed for NVMe M.2 SSDs, so don't try using it with a SATA M.2 SSD. We used an M.2 M-Key SSD for our test, fitting perfectly as the card isn't compatible with B-Key SSDs. The card slid into a PCIe x16 slot on our test machine, but it can also fit into x8 or x4 slots. Remember, it requires a full 4 lane PCIe slot to work its magic.
Now, let's talk performance. We were editing a high-resolution video, a task that demands quick data transfer. The SABRENT card delivered impressively, with speeds around 1480MB/sec for reads and 1450MB/sec for writes. What's cooler? You can use it as a boot drive if you're running OS X 10.14.6 Mojave, thanks to its updated firmware support.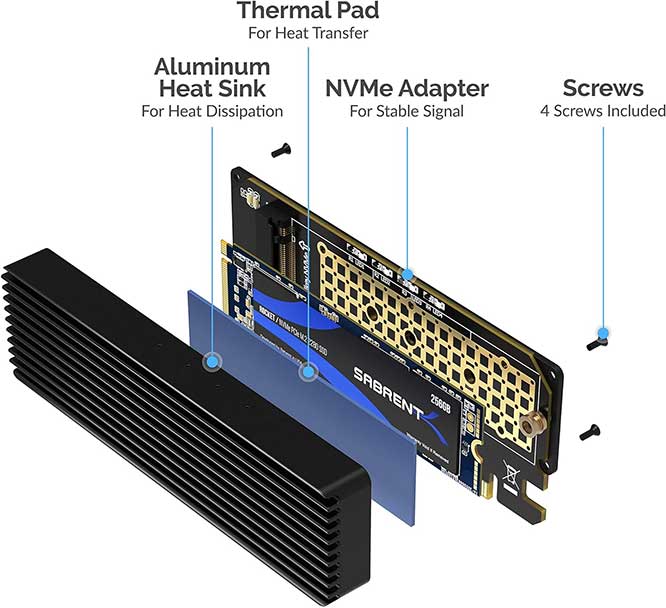 But it's not all smooth sailing. We faced a bit of a puzzle with the thermal adhesion pads. It wasn't clear which one to use for our SSD. The card requires five screws for setup, which is a bit more than usual, but it wasn't a dealbreaker. One thing to note: the heat transfer pads might not be the right thickness for some SSDs, so keep that in mind.
From our experience, the LED lights indicating drive activity were a nice touch, letting us know it's working as it should. We've also noticed from other users that while some had issues with the screws and fitting the device, most found it easy to assemble and were happy with the speeds and temperatures.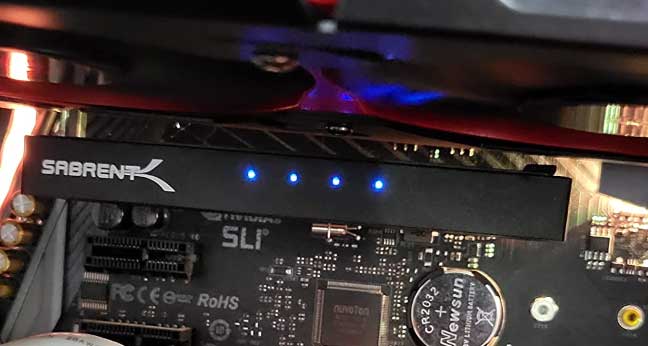 All in all, the SABRENT NVMe M.2 SSD to PCIe Card is a solid choice if you're looking to upgrade your computer's storage capabilities. Its specific compatibility means it won't work for everyone, but for those it does suit, it offers reliable, high-speed performance.
2. Bejavr M.2 PCIe NVMe Adapter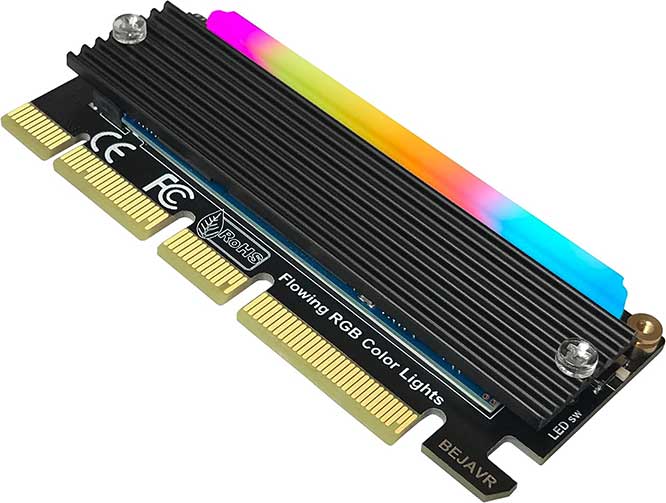 Key Takeaways:
Specifically for M.2 NVMe SSDs, not SATA.
Compatible with PCIe x16/x8/x4 slots.
Supports all OS including Windows, Linux, Mac.
Features RGB lights with manual on/off.
Efficient aluminum heatsink for cooling.
When the Bejavr M.2 PCIe NVMe Adapter landed on our test bench, its unique blend of technical prowess and aesthetic flair immediately caught our eye. We put it through its paces in a setup designed to push its limits: a gaming rig running the latest AAA titles.
This adapter is not your run-of-the-mill expansion card. It's tailored for M.2 NVMe SSDs, specifically sizes 2280, 2260, 2242, and 2230. Remember, it's not friendly with SATA M.2 SSDs, so don't mix those up.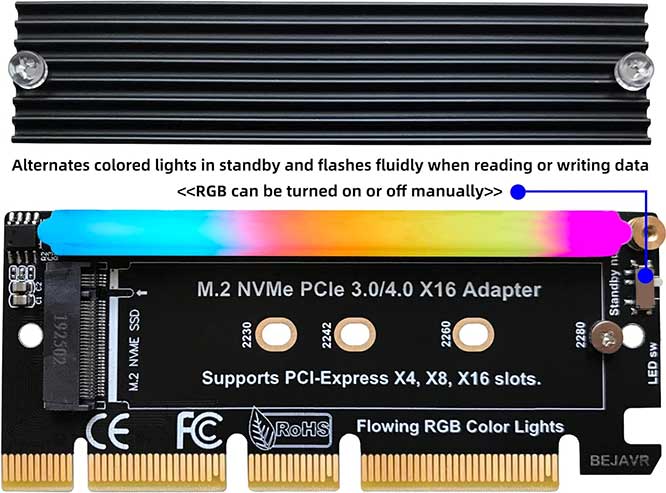 We slotted it into a PCIe x16 slot on our gaming motherboard, but it's versatile enough for x8 and x4 slots as well. The good news? It's compatible with virtually any operating system, from Windows to various Linux distributions.
Performance-wise, it supports a wide range of PCIe versions, up to PCIe 5.0, ensuring maximum speed for any compatible motherboard. During our gaming sessions, load times were noticeably shorter, and the system felt snappier overall.
A standout feature, quite literally, is the RGB light bar. It adds a touch of personality to the rig, with colors that alternate in standby and flash during read/write operations. And for those who prefer a more subdued look, the lights can be manually turned off.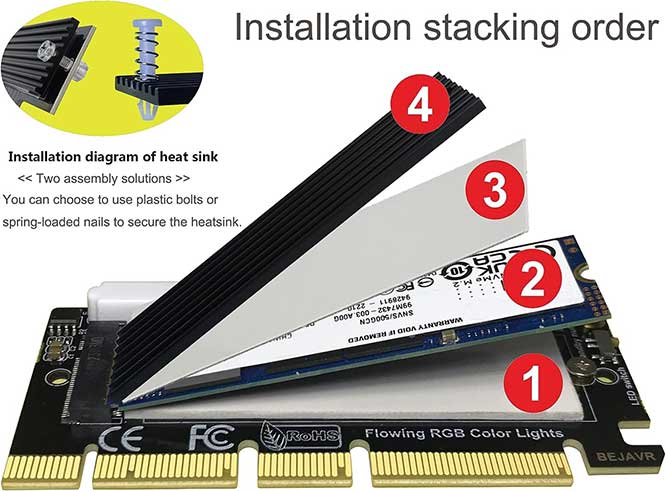 Installation was straightforward, thanks to the comprehensive package contents. We had a screwdriver, spare bolt, two different thicknesses of heat conducting silica gel pads, an aluminum heat sink, spring-loaded nails, and plastic bolts for mounting. The heat sink was particularly impressive, effectively dissipating heat during our intense gaming sessions.
In summary, the Bejavr M.2 PCIe NVMe Adapter combines functionality and style effectively. It's a solid choice for anyone looking to upgrade their system with an NVMe SSD, especially if aesthetics are a priority.
3. StarTech.com M2 PCIe SSD Adapter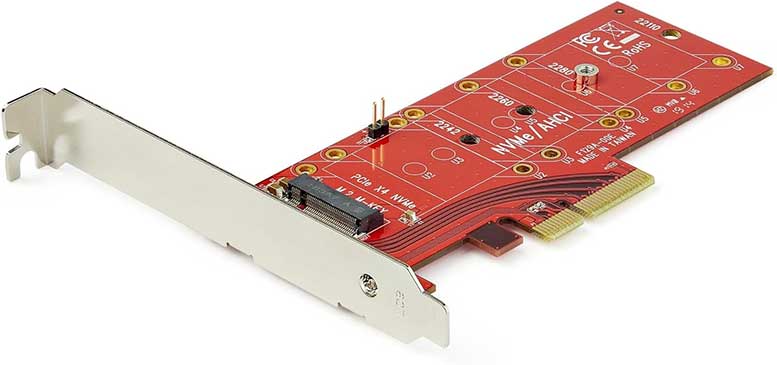 Key Takeaways:
Supports various sized PCIe M.2 SSDs.
Backward compatible with PCIe 2.0 and 1.0.
Simple setup with native OS support.
Includes full-profile and low-profile brackets.
2-year warranty with multi-lingual support.
The StarTech.com M2 PCIe SSD Adapter was a pleasant surprise when we decided to test it on an older system in need of a storage upgrade. Like others, it isn't just for the latest tech; it's backward compatible with PCIe 2.0 and 1.0 motherboards.
We chose to use it with a variety of PCIe M.2 SSDs, including both NVMe and AHCI types, in sizes ranging from 2242 to the larger 22110. Its versatility shone through, accommodating each SSD without a hitch.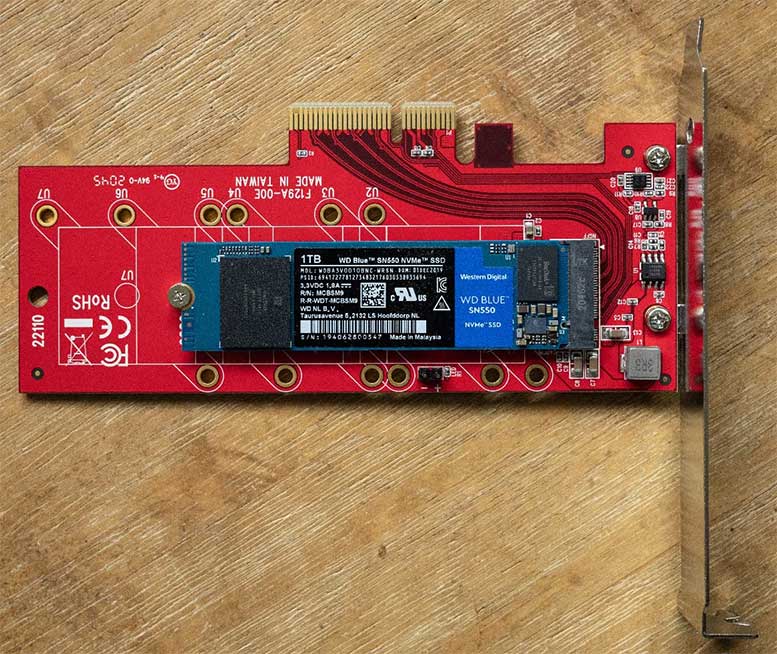 The setup process was refreshingly simple, with native OS support making it almost plug-and-play. StarTech even provides full-profile and low-profile brackets, making it a breeze to install in different computer setups, from bulky desktops to slimmer models.
However, it's worth noting that we encountered some limitations. The adapter isn't compatible with the 2019 Mac Pro, and some users have reported issues with jumper settings and drive compatibility.
Thankfully, our experience was smoother, and we appreciated the option to download the latest drivers directly from StarTech's website.
Our main goal was to see how it performed as a storage device on an older system. The results were impressive.
We experienced fast data transfer speeds for both reading and writing operations, breathing new life into an aging setup. It's also been recommended for TrueNAS builds, an application where reliable and fast data storage is crucial.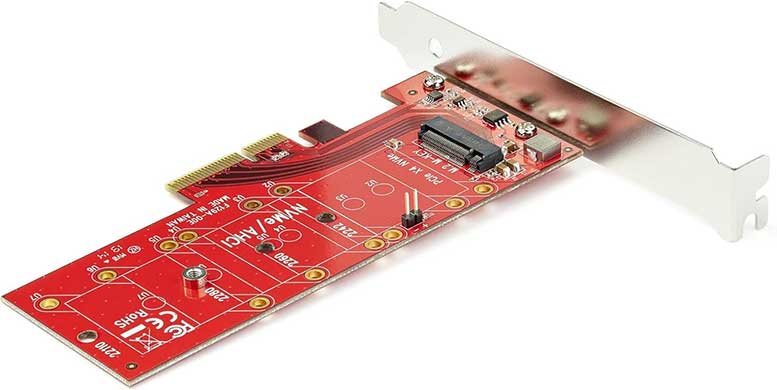 The build quality of the adapter added to our confidence in its performance. It's well-made and durable, qualities that are backed by a 2-year warranty. There's also a promise of multi-lingual assistance from StarTech's North America-based team.
Overall, the StarTech.com M2 PCIe SSD Adapter is a solid choice for those looking to upgrade older systems or build high-performance setups without sacrificing a SATA port.
4. GLOTRENDS M.2 PCIe NVMe Adapter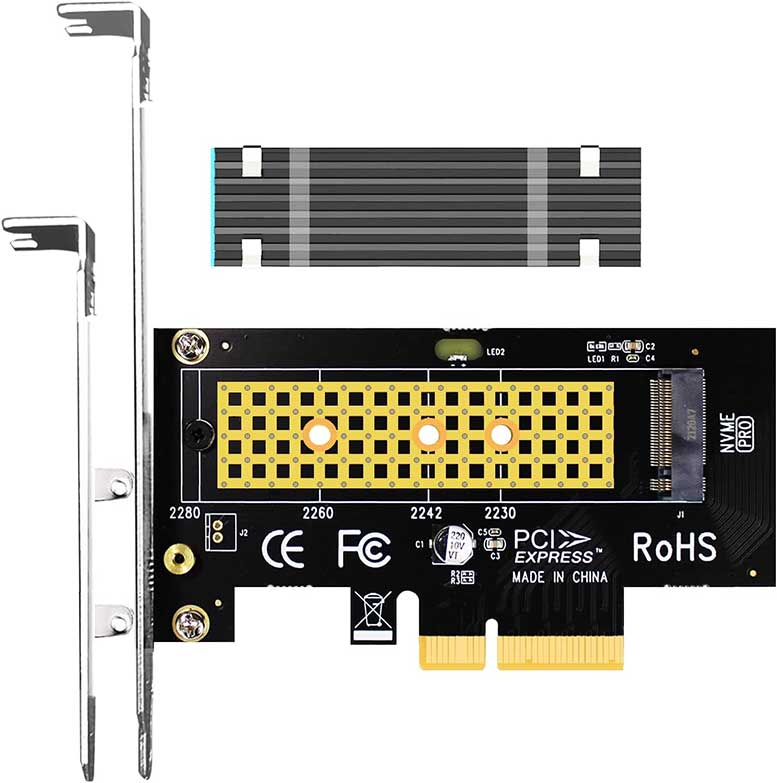 Key Takeaways:
Supports NVMe and AHCI M.2 PCIe SSDs.
No capacity limit; up to 4T SSD support.
Large aluminum heatsink for effective cooling.
Full speed requires PCIe 4.0 CPU, motherboard.
Compatible with Windows, Linux, Mac OS systems.
The GLOTRENDS M.2 PCIe NVMe Adapter is a budget-friendly option. We were excited to see how it would perform in a real-world scenario. Our test included upgrading a mid-range PC, aimed at enhancing its data processing speed.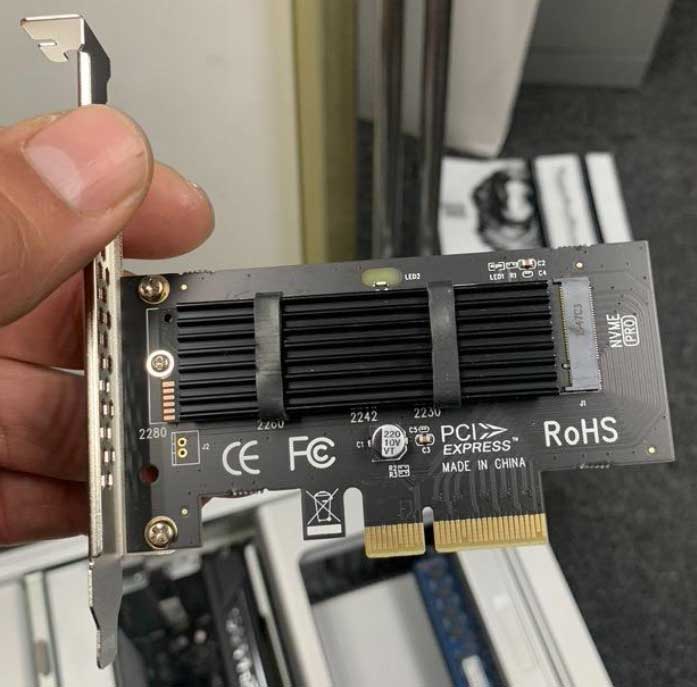 First off, the adapter's support for both NVMe and AHCI M.2 PCIe SSDs is a big plus. It means more flexibility in choosing the right SSD for your needs. We used a 2TB M.2 PCIe SSD for our test, and the adapter handled it without any capacity issues. Its support for sizes 2230, 2242, 2260, and 2280 ensures that it fits most M.2 SSDs available in the market.
The large aluminum M.2 heatsink on the adapter caught our attention. It's only 0.12 inches thick but does an excellent job of keeping the SSD cool. During our test, we noticed stable performance even under heavy data load, which we attribute to the efficient heat dissipation.
However, to get the most out of this adapter, your CPU and motherboard need to support PCIe 4.0. We tested it on an Intel 11th Gen CPU, which supports PCIe 4.0, and the speed was impressive. But remember, if your system isn't as current, you might not experience the full speed benefits.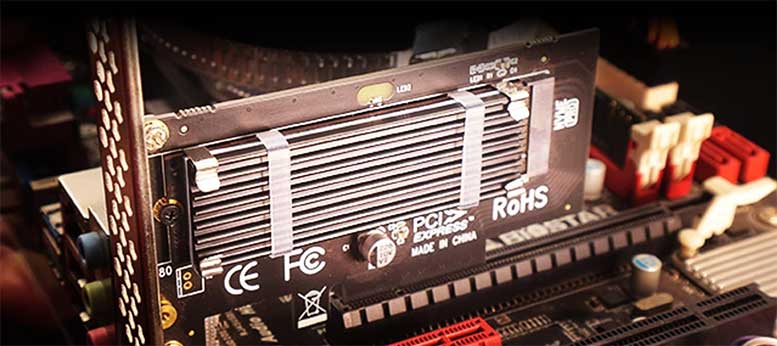 Installation was pretty straightforward. The adapter is compatible with a range of operating systems, including Windows 11/10/8, Linux, and Mac OS. However, we found that Windows 7 may not support OS booting from an M.2 PCIe SSD, so keep that in mind if you have an older system.
User feedback generally echoes our experience. Customers appreciate the adapter's performance and speed. They also find it easy to install, even on older systems. The included accessories like extra screws, an adaptor, and a screwdriver add to the convenience. However, some suggest that the installation process and instructions could be clearer.
To sum it up, the GLOTRENDS is a cheap and reliable choice for those looking to upgrade their system with a high-capacity M.2 PCIe SSD. Its compatibility, ease of installation, and efficient cooling make it a worthy addition to most PC setups. Just make sure your hardware meets the requirements for the best experience.
M.2 PCIe Adapters FAQs
What is an M.2 PCIe Adapter?
An M.2 PCIe Adapter is a device that allows you to connect an M.2 form factor Solid State Drive (SSD) to a computer using a PCIe slot. It's used to enhance data transfer speeds and overall system performance.
Are M.2 PCIe Adapters compatible with all motherboards?
M.2 PCIe Adapters typically require a motherboard with at least one available PCIe slot. However, the adapter's full functionality depends on the motherboard's PCIe version and the number of lanes (x1, x4, x8, x16) it supports. Compatibility with specific SSDs, like NVMe or SATA, also varies, so it's important to check your motherboard's specifications before purchasing an adapter.
Do these adapters affect the speed of the SSD?
M.2 PCIe Adapters can significantly improve the speed of an SSD by providing a faster interface than typical SATA connections. The actual speed gain depends on the adapter's PCIe version, the number of lanes it uses, and the SSD's capabilities. However, the adapter should at least match or exceed the speed capabilities of the SSD for optimal performance.
Do I need additional drivers for these adapters?
In most cases, M.2 PCIe Adapters don't require additional drivers, as they are usually supported natively by modern operating systems. However, specific use cases or older operating systems might necessitate driver installation. It's always a good idea to check the adapter's manual and your operating system's compatibility before installation.
Meet Derek, "TechGuru," a 34-year-old technology enthusiast with a deep passion for tech innovations. With extensive experience, he specializes in gaming hardware and software, and has expertise in gadgets, custom PCs, and audio.
Besides writing about tech and reviewing new products, Derek enjoys traveling, hiking, and photography. Committed to keeping up with the latest industry trends, he aims to guide readers in making informed tech decisions.