It's already July and Canada has already seen about 10.6 million acres burned from wildfires. The smoke has been pouring into areas of the United States, so it's really obvious to many. Many people affected by dangerous smoke and fires have taken this as a wake-up call.
In the last decade, the United States has also seen a noticeable incline of wildfires, averaging 22,946 wildfires per year. In 2021 alone, California had 9,260 wildfires, making it the leading State in the entire country. Below are the full statistics. Source: National Interagency Fire Center
Top 10 States for Wildfires (number of wildfires)
California: 9,260 wildfires
Texas: 5,576 wildfires
North Carolina: 5,151 wildfires
Montana: 2,573 wildfires
Florida: 2,262 wildfires
Oregon: 2,202 wildfires
Georgia: 2,139 wildfires
Minnesota: 2,065 wildfires
Washington: 1,863 wildfires
Arizona: 1,773 wildfires
Top 10 States for Wildfires (by acres burned)
California: 2,233,666 acres
Oregon: 828,777 acres
Montana: 747,678 acres
Washington: 674,222 acres
Arizona: 524,428 acres
Idaho: 439,600 acres
Alaska: 253,357 acres
Texas: 168,258 acres
Kansas: 163,982 acres
New Mexico: 123,792 acres
Unfortunately, nearly 45 million homes are adjacent to or intermingled with wildfires. This puts approximately 72,000 communities at risk, throughout the country. Needless to say, properly preparing for wildfires should be considered critical. Not only for your own safety, but for your family, loved ones and personal property.
Steps to Prepare for a Wildfire
Stay Informed
Most importantly, you want to understand your location and the risks involved with where you live. Be aware of local weather conditions and frequently check the fire and smoke map for your specific geo-location. Listening or following local news channels, local social media groups and/or pages connected to emergency management agencies. These are the quickest and best ways to get emergency information as fast as possible. Lastly, get familiar with an escape plan and the emergency route you want to use to exit the area.
Create and Emergency Kit
In the moment of a real emergency, there is very little time to prepare. That said, it's crucial to prepare yourself and each family member with their own emergency kit. Essential items should be included such as food, water, medicine, first aid kits, flashlight and spare batteries. You may also consider emergency radios and any critical personal documents that you want to save. Personal protection items like an N95 mask (for smoke) and a pair of goggles may go a long way! Always know where your kit is located and have it ready to grab in an instant.
We would highly recommend investing in a portable power station like BLUETTI's EB series (EB3A, EB55, EB70S) if you want a reliable solution to charge essential electronics. The size is just right. These power stations are relatively compact, lightweight and easy to carry. In addition, they provide plenty of power with a wide array of outlets. Ultimately, having one on-hand will ensure that you and your loved ones will stay powered-up during any unexpected events. For long-term emergencies, you may even want to consider one of BLUETTI's larger devices or portable solar panels. The AC200 series is perfect for this (AC200P, AC200MAX) if you need more capacity for power. Notably, pairing it with a PV120S or PV200 solar panel is a great way to live off grid.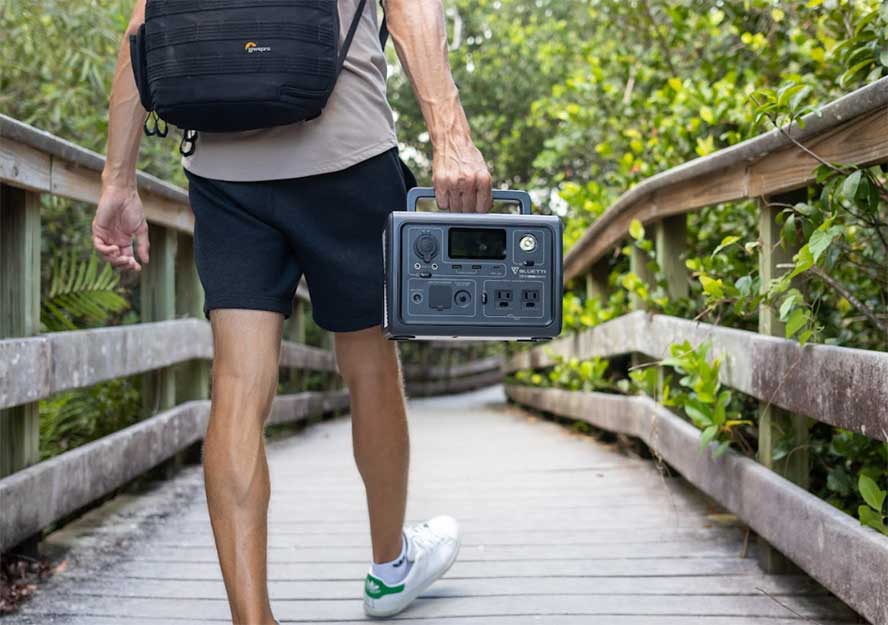 Get Ready for an Emergency with a Plan
It goes without saying; wildfires are unpredictable. They can start seemingly out of nowhere and spread quickly with little or no warning. It's important to plan a detailed evacuation plan for your home and family. This has been shown to save lives in critical situations. Hopefully, you can illustrate multiple evacuation routes, depending on your precise location. Having a dedicated meeting place outside the danger area is a wonderful idea where you and your family can reunite if need be. Don't forget to bring your pets, too.
Protect Your Home
Many may not know, but drifting embers can fly up to a mile away and ignite areas without warning. Needless to say, protecting your home should be of utmost importance. Take action to remove combustible materials such as wood, yard waste and tall weeds or grasses. You may even want to consider changing parts of your home to flame-resistant materials such as metal. Also, be sure to clean chimneys and fireplaces regularly, so there's no risk of accumulation of combustible debris. Making sure your address sign is clearly visible is also good practice so that emergency responders can decipher which property is which. If at all possible, configure an outside water source that you or firefighters can use to pump water from.
Configure a Backup Power Source
Even if you don't live on acreage in the country, city-dwellers and suburbia is often affected by power shutoffs and blackouts due to wildfires. Power outages may last for days, even weeks without avail. Utilizing a whole-home power backup system is a wise idea. BLUETTI's AC300+B300, AC500+B300S and EP900+B500 can provide a flexible option for a wide range of homes and lifestyles. With incredibly high output capabilities, these modular solutuions can power and/or charge virtually any appliance or device. For example, the AC300 is capable of delivering up to 3,000W of AC power. And it can be paired with up to 12,288Wh of additional capacity with B300 add-on batteries. Not to mention, an AC300+B300 combo can operate a 800W full-size refrigerator for about 3 hours or a CPAP machine for 65+ hours. To replenish their power stations, simply use BLUETTI's PV350 or PV420 solar panels.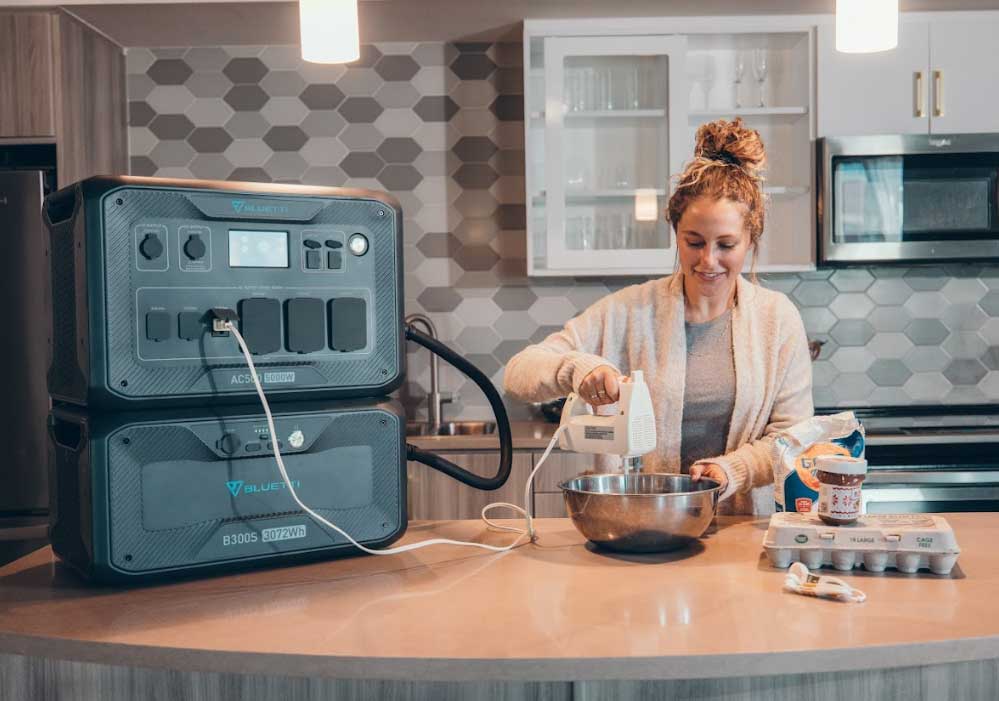 What to Do During a Wildfire
In the event of a wildfire, follow the directions and/or evacuation orders of your local authorities. At this time, grab your go-bags and essential gear (including your BLUETTI power station). Most importantly, do not try to return to your home until it is regarded safe to do so.
If you find yourself in the middle of a firestorm and/or unable to evacuate, stay calm and close all of the doors and windows in your home. Find a safe place, down low and away from exterior walls and windows. If need be, cover your nose and mouth with a wet cloth and N95 face mask to avoid inhaling smoke. Remain calm, listen to the local radio and try to stay in contact with outside contacts to wait for rescue.
What to Do After a Wildfire
After you've waited patiently for the wildfire to either pass or be contained, wait for official authorities to make any announcements. Once outside, check for possible hot spots or direct hazards that may become apparent. Downed power lines, damaged buildings or burnt trees all pose a risk.
Get in touch with your insurance company and report the situation and any damages. Do this as soon as possible so they are aware of what has just happened. Document any damage using a camera with still photos and video. These will help provide support for any claims that you may need to make.
While waiting for the grid-power to be restored, utilize one of BLUETTI's different power stations. Devices such as the AC200 or EB series are great options for these situations.
It goes without saying; wildfires can be downright horrible. However, you can take action to prevent damage and promote safety when needed most. Equip yourself with the proper tools and elevate your confidence when these unfortunate scenarios occur.
About BLUETTI
Since their inception over ten years ago, BLUETTI has showed a commitment to sustainability and green energy storage for both indoor and outdoor living. They aim to provide wonderful experiences for homes while simultaneously contributing to a sustainable future for mother Earth. To date, BLUETTI has a massive reach with customers in over 100 countries, gaining the trust of millions of users throughout the world.