While headphones have always shown a wide range of prices, styles, and features, one thing has remained constant for decades: the 3.5mm headphone jack. Of course, high-end and specialty headphones may have different interfaces, but as a consumer, you could rest assured that any new headphone purchase would work perfectly with your PC, smartphone, or portable music device.
That is, of course, until Apple recently decided to "Think Different".
The launch of the iPhone 7 revealed the controversial decision that Apple would remove the tried-and-true 3.5mm headphone jack from their flagship device. This meant iPhone users were now forced to either purchase new headphones compatible with the "Lightning Port," a special adapter to use existing headphones, or a new option – wireless earbuds.
The introduction of the Apple AirPods left many scratching their heads. Instead of using functional, reliable, corded earbuds at any price point, Apple now wanted users to pay significant amounts of money for wireless, battery-operated earbuds that seemed likely to fall, break, or get easily lost. While wireless, Bluetooth headphones certainly pre-dated Apple's cord-cutting, this decision thrust them into the spotlight and meant a large amount of users, previously fine with their existing corded headphones, would now need to at least consider a wireless option. Despite the controversy, one thing is certain. When Apple makes a move, the rest of the industry follows, and manufacturers have released a steady stream of products looking to capture a piece of this newly expanded market.
Released in November 2017, the Bose SoundSport Free Wireless Headphones represent Bose's first completely wireless in-ear offering. Boasting a host of innovative technologies and two styles, Bose looks to stand out above the crowd of similar products.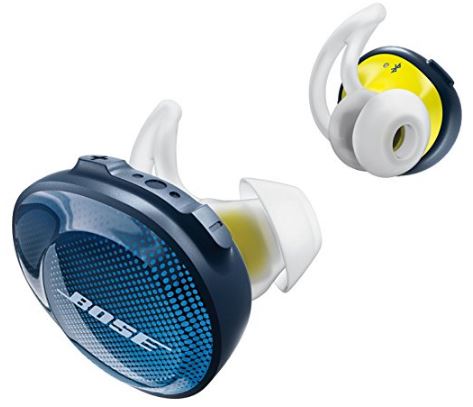 Design
Physically, the SoundSport Free wireless headphones are an in-ear device, however a significant portion of the headphones do protrude out of the ear. While not the largest and bulkiest option on the market, they certainly don't appear as sleek and understated as Apple's Airpods. While we presume this form-factor allows for improved sound quality, battery life, or both, it's something to consider if you prefer an unobtrusive, all-day headphone.
Also, at 0.5 oz per earbud, they also weigh considerably more than some competitors' offerings. Apple AirPods are 0.14 oz each, while Sony's WF-1000x are 0.24 oz each. This increased weight shouldn't be a problem during a workout session, assuming a secure fit, but may prove more noticeable and distracting to some people during extended usage.
Bose elected to avoid any sort of external ear loop for stability and focused instead on engineering the headphones for a secure, in-ear fit. This makes for a significantly more stylish look than a bulky Bluetooth headset.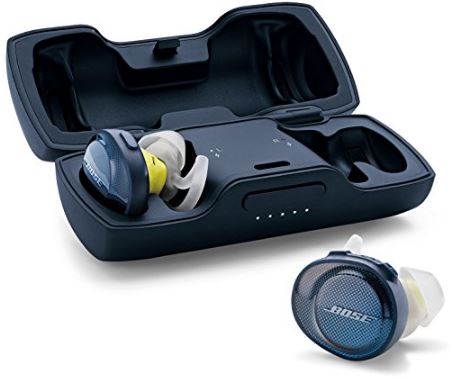 The SoundSport Free comes in two color options: Classic black and a sporty midnight blue with bright yellow (citron) accents. While both colors appear attractive, it doesn't leave a lot of options if you like your accessories in your favorite color. Bose isn't known for a very flashy aesthetic, so we don't expect to see a full rainbow of color offerings.
Audio Performance
Technical details about Bose products can prove hard to find. While most consumers rarely dive deeply into specifications, it can help when comparing different products. While Bose includes many marketing taglines on the product page, specifications like dynamic range or frequency response are nowhere to be found.
As a result, we can only interpret what Bose has to say: "The volume-optimized EQ and Bose digital signal processing make music sound full and balanced at any volume." These seem like good features, but marketing jargon doesn't mean much without real-world testing and comparison.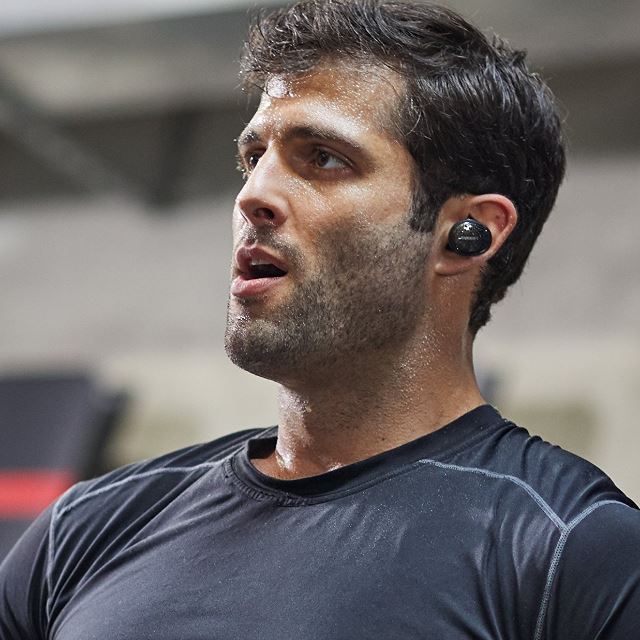 Of course, sound quality depends on far more than basic specifications. Bose has a reputation for creating a sound profile that they believe consumers want to hear. This has resulted in a number of innovative designs well received by consumers.
Despite a popular reputation with the general public, Bose sound is not considered to be technically accurate by audiophiles or audio professionals. These audio purists seek a "flat" sound, which provides an even frequency response across all ranges, lows, mids, and highs. This allows listeners to hear the audio as truly intended by the creator. Many audio companies will develop a signature sound profile, and a common saying within the industry is, "No highs, no lows…must be Bose!"
That said, most consumers aren't demanding audio purity from their headphones. Anyone moving up from a cheap set of headphones should find themselves very pleased with an upgraded set. The true sound quality of the Bose SoundSport Free wireless headphones remains to be seen once production samples become available.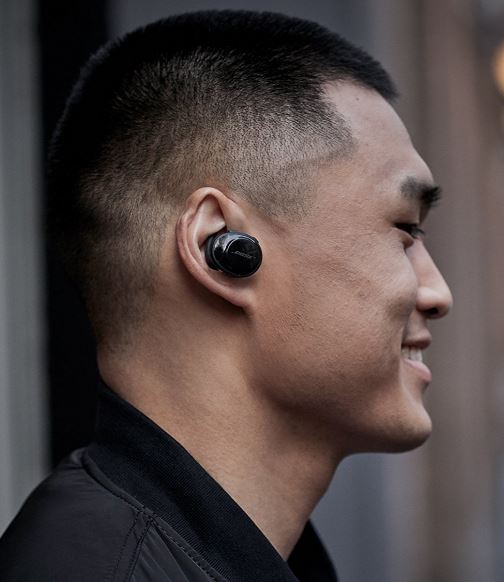 Functionality
When reviewing headphones designed for use on the go or during strenuous activity, functionality matters as much as sound quality, if not more. You wouldn't choose the SoundSport Free to analyze the intricacies of your vinyl collection or mix tracks in your studio. Bose knows the target audience, and their product page shows a slideshow of athletic men and women running in the rain, rock climbing, and lifting weights in the gym. Clearly, Bose positions this product for an active lifestyle.
Most people will immediately wonder, "Will these actually stay in my ears during a workout?" To address this, Bose highlights the design of the nozzle and what they call the "StayHear+ Sport tips." The box includes small, medium, and large StayHear+ Sport tips for a variety of ear sizes. Finding a secure yet comfortable fit is critical to the usability of any earbuds, and this holds especially true for a wireless pair. The irritation of constantly re-positioning a slipping earbud gets magnified by the concern of a cordless earbud falling and getting damaged or lost.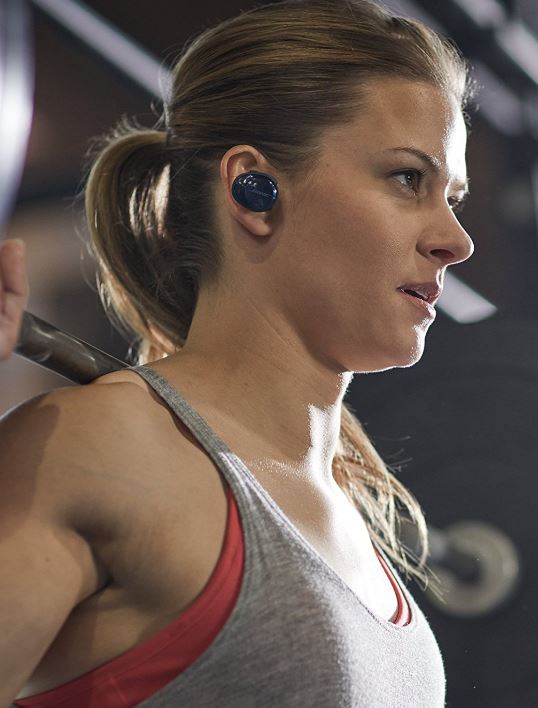 Fortunately, with multiple tip sizes and a nozzle engineered for secure, even contact, the SoundSport Free's should fit well in a variety of ear sizes. Bose goes so far as to say, "They won't fall out, but they will stay comfortable." This does depend highly on your individual ear anatomy, but clearly the Bose designers placed a great deal of importance on this factor.
In addition to their main function as headphones, the SoundSport Wireless Fee also includes a microphone to enable hands-free calling. Bose added a multi-function button for convenient access to play, pause, skip tracks, and answer and end calls. With an emphasis on active lifestyles, this welcome feature enables you to control your phone during a workout even if it's tucked away securely. The Bluetooth connection works in a range of about 30 feet assuming no walls or other interference, so it's very convenient to have phone controls in-ear even if your device is across the room.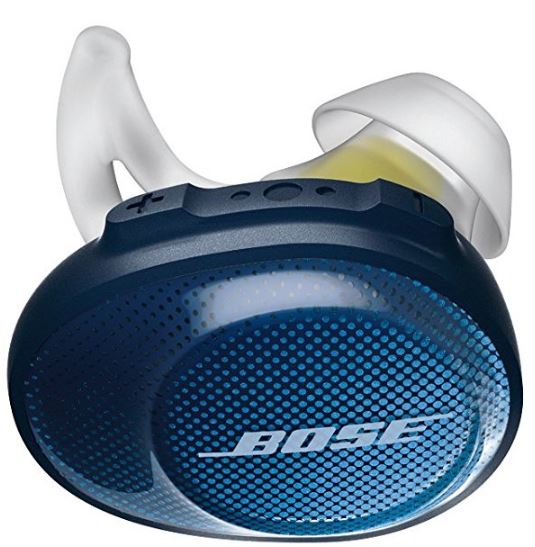 Durability
While physical durability measures like drop tests remain unknown, Bose does address a major concern with sport-focused headphones: moisture. Whether due to sweat or weather, electronics and moisture make for a bad combination. The SoundSport Free's carry an IPX4 water resistant rating which indicates protection from splashing water in any direction. Bose describes this by stating, "These are earbuds that aren't afraid of sweat or rain."
We have two primary concerns with this marketing angle. While understandable that Bose wants to emphasize their water resistance, the phrase "water resistant" can cause understandable confusion for most consumers. There are eight different levels of IPX ratings, and no reasonable person could expect anyone to remember whether their IPX rating means a product is safe from "vertically dripping water"(IPX2), "spraying water from an angle up to 60 degrees" (IPX3), or "water projected by a nozzle" (IPX5).
Additionally concerning, Bose includes a warning deep within the pages of the owner's manual: "IPX4 is not a permanent condition, and resistance might decrease as a result of normal wear." ("Bose SoundSport Free Owner's Guide," page 10).
It's concerning to bury such an important disclaimer that could result in actual product damage. While the IPX4 rating should cover most use-cases for the headphones, we feel Bose should more prominently state that the headphones can't be submerged and be more forthcoming that water resistance could reduce over time.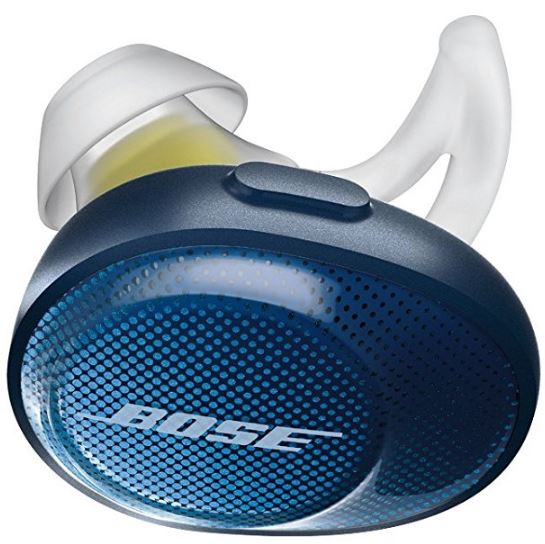 Battery Life and Charging
Borrowing a page from the Apple AirPods, the SoundSport Free wireless headphones charge via USB by docking in a custom charging case. The case also contains an internal battery that provides the headphones with up to two complete additional charges without the need to plug in to a power source. This may be a useful feature, but it highlights the fact that while battery life is acceptable, it's certainly not great.
A complete charge will allow five hours of playback. Even factoring in the additional two charges via the case, you can only get 15 hours of total playback without plugging in. Of course, this also assumes Bose's estimates hold true. We always consider it a given that all battery ratings require absolutely ideal conditions with minimal power draw.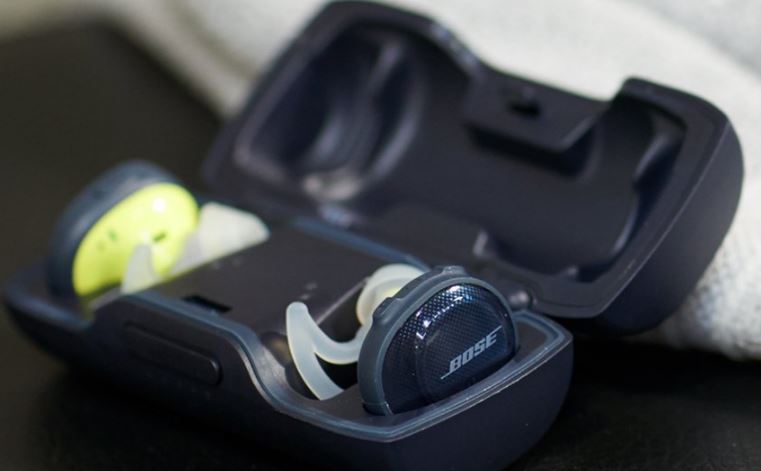 Though 15 hours of playback may seem good on the surface, a full charge requires two full hours. You could get through an average day of mixed use by taking the headphones off periodically, but you would need to remain aware of battery life constantly.
This essentially means that while the SoundSport Free wireless headphones may work well for shorter use scenarios, it's hard to imagine them as our primary headphones or hands-free headset. Anyone who listens to music for extended time at work, school, or travel would almost certainly need a second pair of headphones with either a cord or longer battery life.
Final Words
Ultimately, there's a lot to like about the Bose SoundSport Free Wireless Headphones. The water resistance and customizable fit make them an excellent choice if you're looking for wireless earbuds with premium sound quality for your workout.
The bigger question may be, "Are many people looking for wireless earbuds with premium sound quality for their workouts?"
Apple's elimination of the traditional analog 3.5mm headphone jack brought wireless headphones, and specifically earbuds, from the realm of a very niche product to something that many millions of mainstream consumers now had to at least consider purchasing. Even if a majority still chose less expensive options like Lightning port headphones or a Lightning port to 3.5mm adapter, this move still undoubtedly expanded the market far beyond previous numbers.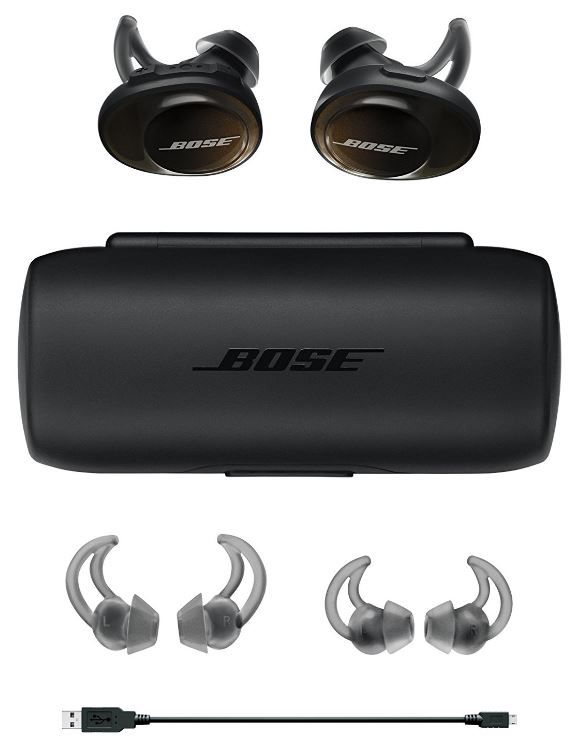 Time will tell whether this market segment increases in popularity. Are consumers willing to manage another gadget that requires battery monitoring and charging? Are people willing to keep a set of wireless headphones for working out and another set of corded headphones for longer listening and travel?
We believe that while the market is unlikely to shift away from wired headphones entirely, Apple's decision to ditch the analog port likely indicates that wireless headphones and earbuds are now mainstream. Hopefully as time goes on, battery technology will improve to the point that you won't have to worry about getting through a full day on a single charge.
Until then, the Bose SoundSport Free wireless headphones are an excellent option for functional, durable, and stylish wireless earbuds with high-quality sound.