Every kind of Bluetooth headphones have seen a drastic price reduction over the past few years. What was once a luxurious feature, is now pretty much standard as most pairs offer wireless connectivity. Both in-ear and over-ear headphones have made advancements in the way they connect, with Bluetooth offering the simplest and most efficient way to communicate.
Because of this, we've seen a massive influx of new release models from a huge range of manufacturers. We're not familiar with all of them, but there's a decent amount of budget-friendly brands that have had their take at affordable Bluetooth headphones. Not exactly "name-brand", many of these manufacturers come straight from China – so it's easy to be intimidated. Can they really live up to the said-features, or are they cheap knock-offs that should never be considered?
One such example is the Tsumbay TS-BH05. Said to boast active noise cancelling, high fidelity audio and wireless connectivity for up to 30 hours, we had the opportunity to check them out for ourselves. We were lucky enough to receive a pair for free, so we'll take a hands-on approach and perform an in-depth review. Although we didn't pay anything for them, we'll look at them in an unbiased point of view to determine whether or not they're worth the $60 retail price-point.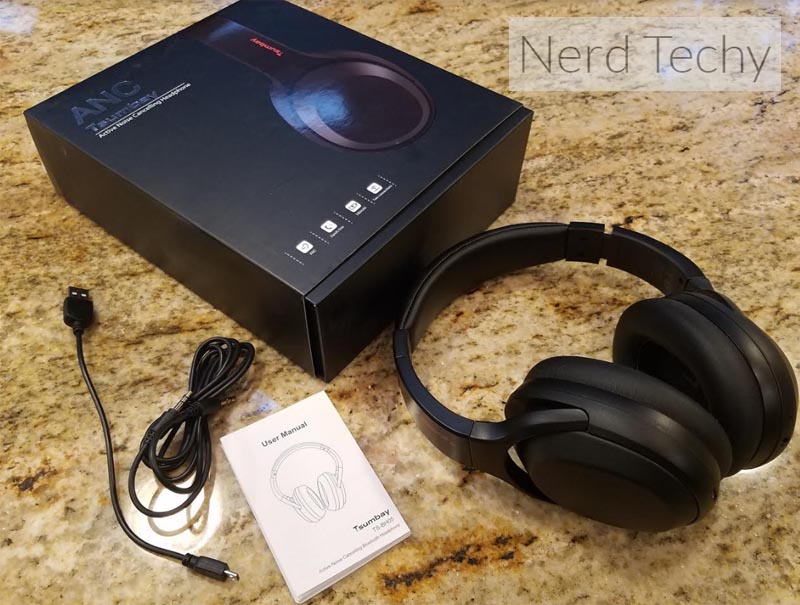 First Look
Tsumbay – it's probably a brand name you've never heard before. But likely, so is just about every brand under $100 on Amazon. Don't let this immediately turn you away, we've always had quite a bit of luck finding decent, inexpensive headphones from unheard-of manufacturers.
From first glance, the Tsumbay TS-BH05's have a standard over-ear design with a lightweight structure. Holding them for the first time, you'll immediately notice their 7.8 ounce weight. Coming in at less than a half pound, they almost seem "too light" in our opinion. Giving off a cheap and "plasticky" feel, we must say – we weren't impressed. Most listeners may like to feel a minimal design, but the lightweight feel is somewhat lackluster. They appear oversized, but they don't feel the part. In fact, we'd rather them have a heavier design as it would've given them a more high-end feel.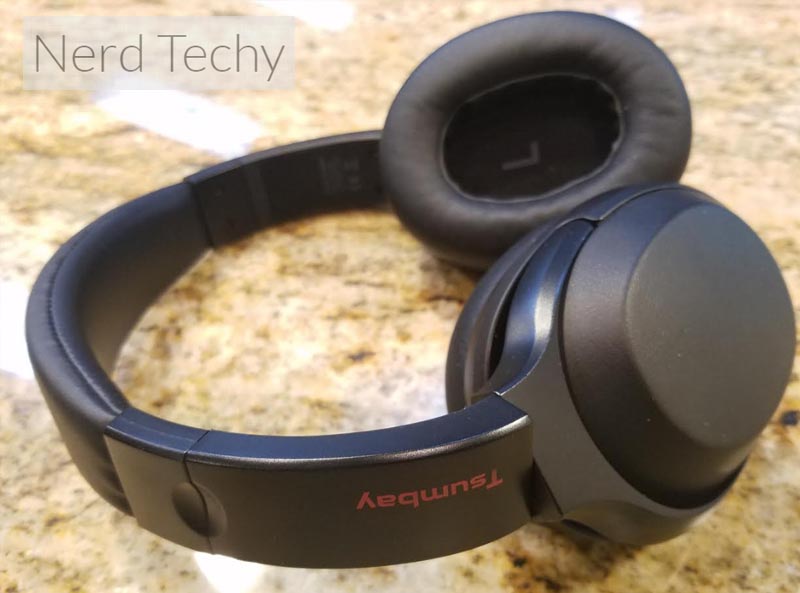 Fit and Comfort
Moving on, you'll notice that there's plenty of adjustability to be had. Each earcup has the ability to turn outward and pivot facing away from your head. Ideal for utilizing when they're around your neck and not over your ears, this pivoting ability keeps them comfier in many instances. There seems to be plenty of padding around each earcup. Not too much and not too little, keeping the comfort optimum and creating a natural seal to keep your tunes contained.
In addition, the headband adjusts telescopically, just like most over-ear designs, and lets you freely adjust them on the fly. The headband also provides an ample amount of padding and carries a smooth yet durable finish.
Taking a closer look, you'll notice the functionality and external buttons are all easily laid out. On the base of the left earcup, you have the micro USB charging port along with a small LED charge indicator. On the right earcup is the integrated microphone, 3.5mm auxiliary port, power button, power indicator, noise cancellation button and the volume/previous track buttons. It's nice to have everything laid out in a simple manner like this, with all of the functionality right at your fingertips.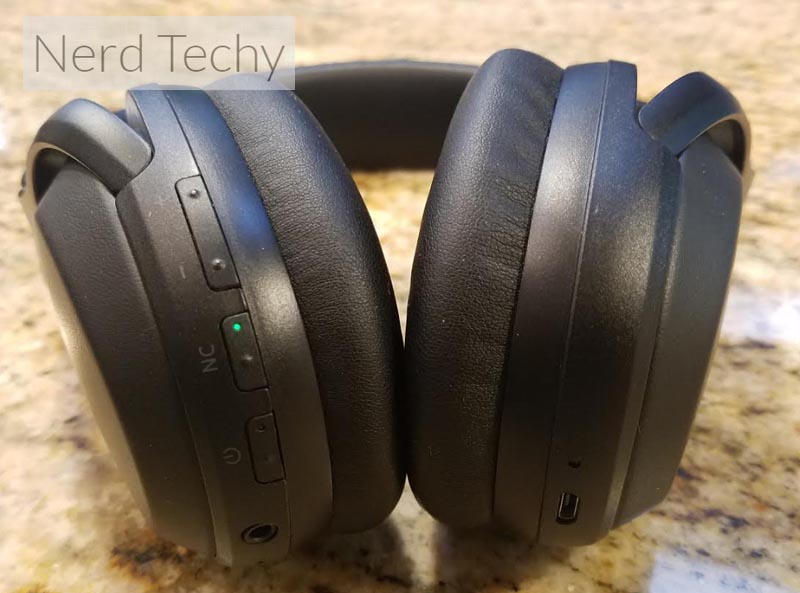 Pairing
Although the 3.5mm auxiliary port and included auxiliary cable let you connect manually, most individuals want to take full advantage of their wireless capabilities. To do this, you'll need to activate Bluetooth on your smartphone or tablet. After you've done that, power-on the headphones by long-pressing the on/off button. At that time, they'll immediately look for a device to pair with. From here, look on the screen of your smartphone or tablet at the list of available nearby Bluetooth connections. You should see "TS-BH05" listed. Simply click it once and give it a few seconds to establish a connection. When a pair is successful, you'll hear "Bluetooth Connected".
The pairing process is very easy to perform. The best thing is that you only need to do this once per device. Your smartphone or tablet should automatically remember the headphones, so every time you turn them on, they'll pair themselves without your assistance.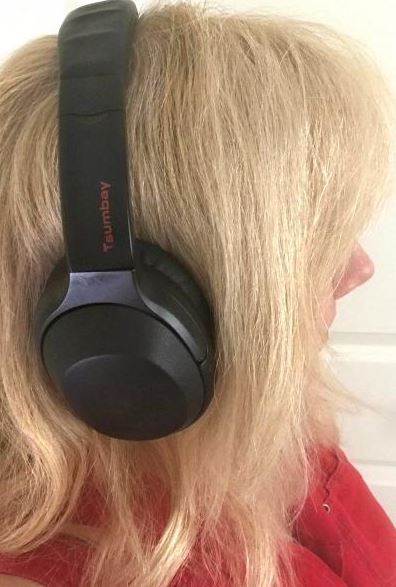 Sound Quality
Although the Tsumbay TS-BH05's have a cheaper feeling to them than we'd prefer, we were pretty impressed with their listening capabilities. With 40mm speaker drivers and sensitivity at 105±3dB, they excelled well when we put them to the test. Throughout our first 3 hours of listening, we tried to play a fairly wide-range of genres and styles of music. The mids and highs seemed quite accurate and the low effects of the bass always seemed pleasurable. There were only a few songs that we noticed an overpowering of the bass, but this is more of an acquired taste that some listeners truly enjoy.
When we cranked up the volume, we found there to be no distortion or constant "fuzziness" that got in the way. Impressed with this, we wouldn't recommend listening to them this loud, but it's definitely possible. Keeping the volume balanced right in the middle, we found the most pleasurable experience this way. There was always a healthy balance of lyrics to instruments and neither seemed to overshadow the other. Although the levels of treble and bass aren't manually adjustable, Tsumbay truly did a great job by balancing both so well.
We'd place the sound quality well out of the norm for a pair of headphones that cost around $60. Budget-friendly never seems to sound this good. We'd expect sound clarity and quality like this in pairs that cost twice as much. Overall, very refreshing to know that you get high-end sound without the high-end price-point.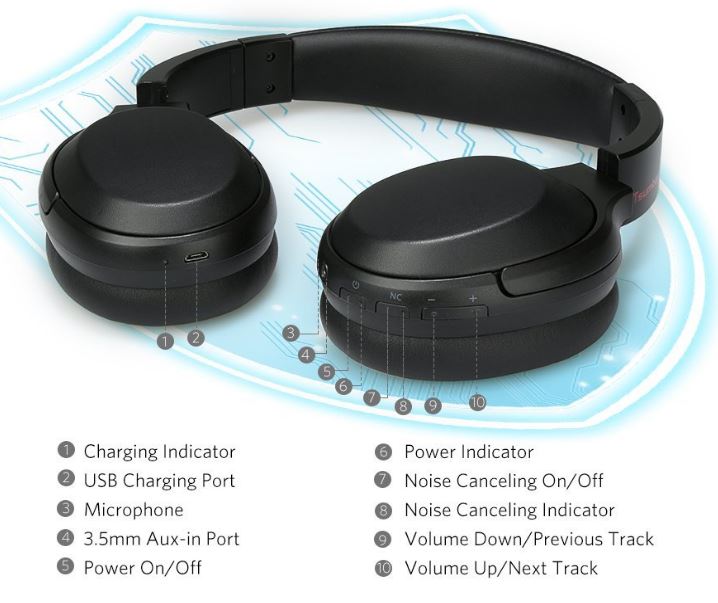 Noise Cancellation
One of the most sought after and well anticipated features of the Tsumbay TS-BH05's is the noise cancellation. Equipped with a combination of both passive and active noise cancellation, they truly do magnificent at keeping unwanted noises out of your listening session. With the headband applying enough pressure to keep the earcups cleanly sealed around your ears, they passively restrict background noise. In addition to this, they've added "ANC" or active noise cancelling into the sound-profile. What this does is electronically keep out grey-noise by reducing the noise by 23 to 25 decibels. It's a specialized sound-cancelling technology that utilizes the integrated microphone to smartly know which sounds are ambient and which are being produced by the headphones themselves. Taking them both into account, we feel the ANC feature is something you'll want to have turned on whenever you want the deepest and most surreal sounding experience.
Battery Life
Located on the left earcup, you'll notice a small micro USB charging port. This is there for the internal lithium-ion battery that will need to be charged if you desire to use them wirelessly when you're on the go. To do this, simply connect the supplied micro USB cable into this port, and plug it into any USB outlet on your computer or in your house. Although they come with a decent charge, you'll want to leave them charged-up for at least another 2-3 hours before really putting them to the test.
Built into the headphones themselves, the 300 mAh battery has enough capacity to last quite a while. However, this all depends on how exactly you use them. If you're listening without noise cancellation turned on, they can achieve around 28-30 hours of continuous playback. Turning on the ANC will drastically cut this to about 12-15 hours. Since there's much more going on when ANC is enabled, it's as to be expected.
We found the actual battery life to be pretty accurate in comparisson to what Tsumbay advertises. We've been testing them out for several days (nearly a week), and after every 15 hours we topped off the charge. Keep in mind, we utilized ANC every time we put them to use, so you can achieve much longer if you don't have this feature enabled.
If battery life is too much to worry about, you always have the option of using the headphones in auxiliary mode. By simply connecting the included aux cable to the auxiliary port, you can listen to them wired. No need to pair, no need to charge, just plug them in and go. While this likely isn't the most popular method of listening, it surely works well.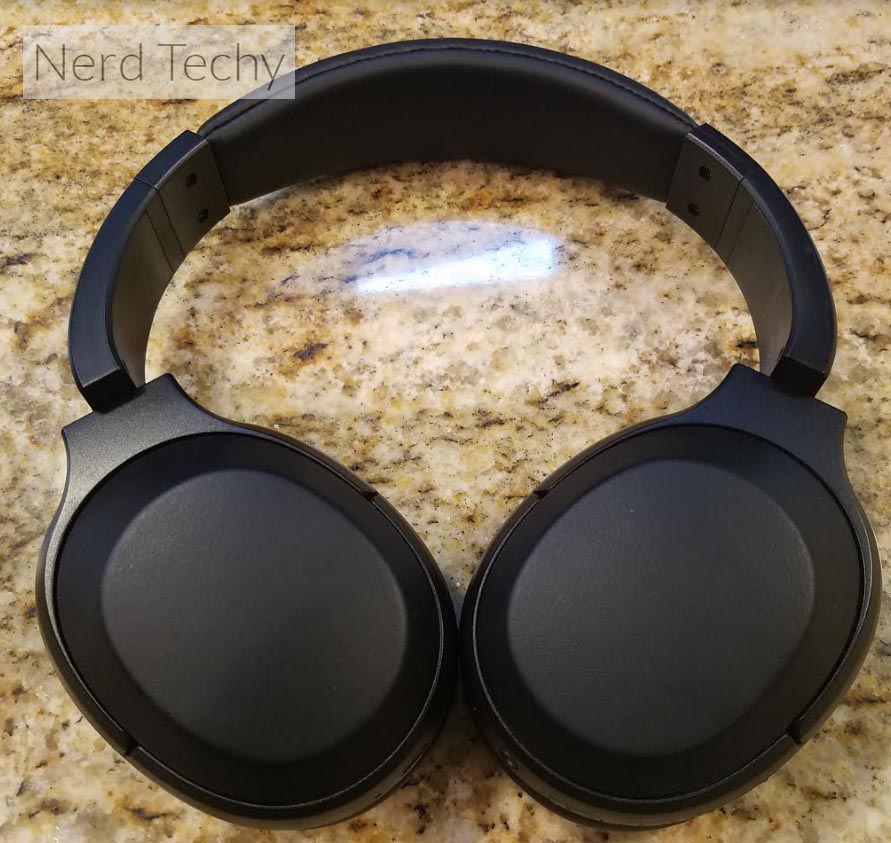 Wireless Range
With any set of headphones that are wireless, the range is an important consideration. What we've seen in most models is that they're limited by the Bluetooth profile they're equipped with. This holds true with the Tsumbay TS-BH05 headphones as they utilize Bluetooth 4.0. Bluetooth 4.0 maximizes at around 10 meters (line of sight), so this is approximately how far of range you can expect them to achieve. Roughly 30 feet, it's more realistic to say between 20 to 30 feet (max) since most scenarios will have obstructions.
We tested the wireless range and found this to hold true. In a room where there was furniture and a wall in-between, we experienced 18 feet of range before problems occured. Outdoors, in a field of grass, the range increased to 30 feet. This just goes to prove that a line-of-sight view between the headphones and paired device is always favorable (but not required).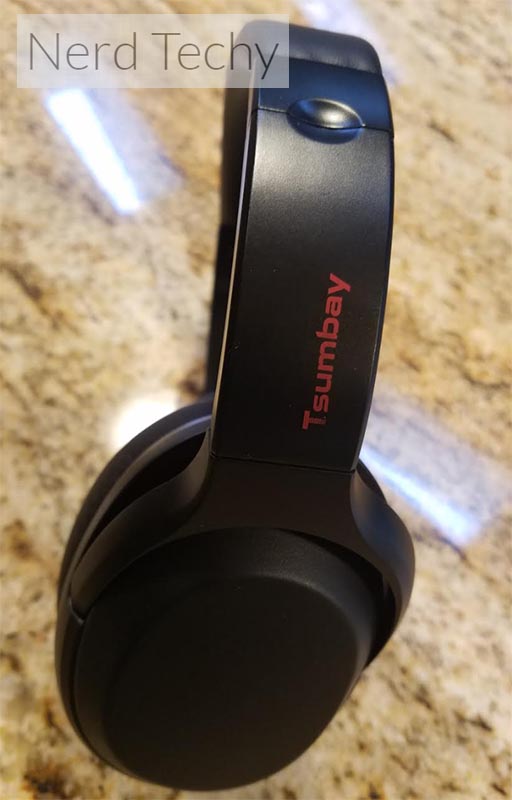 Final Words
Although the Tsumbay TS-BH05 Noise Cancelling Headphones aren't very well-known, we had a very enjoyable time putting them to the test. Their sound quality is superb for the price – especially when you utilize the active noise cancellation feature. In combination with the naturally snug fit they provide, it's a great way to zone-in on your music and zone-out of surrounding distractions. Yes, the bass may be a bit too strong for most people, but we can proudly say that we experienced zero distortion the entire week we thoroughly tested them.
Sure, they may feel a bit lightweight, inexpensive and plasticky to some, but this can be viewed in two ways. This makes them excellent for bringing them along, as they're more-oriented for portable use. However, this may give you a bad first-impression and immediately think that they're not up to par. After using them, we didn't feel like the lightweight structure posed any real issues. More of just a personal preference kind of thing.
Although we didn't receive a "carrying case" as the Amazon description states, it wouldn't be difficult to carry these along in any bookcase or backpack. Best of all, Tsumbay seems to stand behind their product quite well. By offering an 18 month warranty period and a 40 day money back guarantee, most consumers should feel totally OK about making this budget-friendly purchase a reality. Sure, they're not going to be as nice as a pair of name-brand Beoplay H9's, but you can rest assured knowing that they'll provide beautiful tones, deep sound and excellent comfort – all at a great value!
Meet Derek, "TechGuru," a 34-year-old technology enthusiast with a deep passion for tech innovations. With extensive experience, he specializes in gaming hardware and software, and has expertise in gadgets, custom PCs, and audio.
Besides writing about tech and reviewing new products, Derek enjoys traveling, hiking, and photography. Committed to keeping up with the latest industry trends, he aims to guide readers in making informed tech decisions.