Bowers and Wilkins is one of the most respected members of the high end audio market. Their affinity for quality and style has made them a household brand for any serious audiophile. Their newest addition to the popular P series of headphones is the exceptional P9. If you've had the pleasure of hearing the P7's, you probably didn't think it could get any better. However, the P9 Premium Headphones are undoubtedly one of the best on the market today as they were uniquely built to celebrate Bowers & Wilkins 50th Anniversary.
With the P9, B&W are once again setting the standards in the audio manufacturing industry. Not only does the P9's design scream style, class and luxury, but they deliver results where headphones need to the most – sound quality.
B&W brought some changes to the table that leave even the P7 in its shadow. Even more impressive, these improvements have been made without any sacrifices in the headphones favored qualities. The Bowers & Wilkins P9 Premium Headphones are everything their name promises and more. While too many headphones on the market will leave you wanting, the P9s will thrust you into audio paradise. If you appreciate premium quality and see no room for flaw in the sound quality department, we've found your match.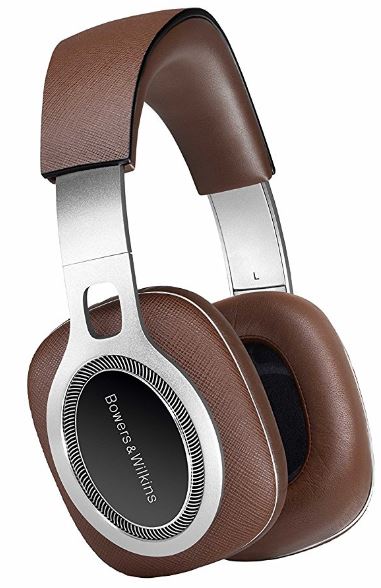 Design
We know that looks aren't everything, but even if these headphones didn't produce any sound we'd still want them on our head. The P9s are crafted with luxurious, high quality Italian Saffiano leather that demands to be awed. The brown leather is supple, with such pristine quality that its looks and durability are without question.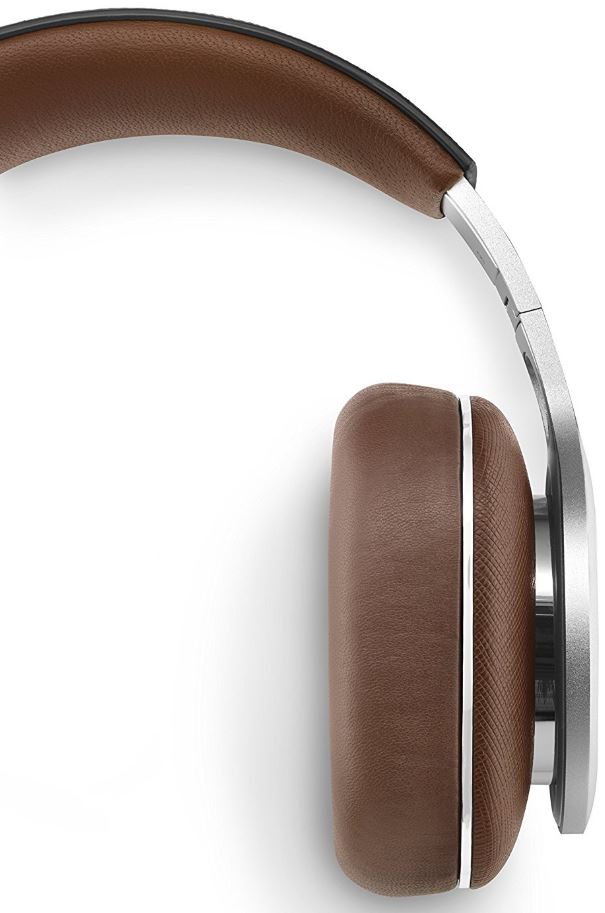 The organic appearance of the leather is contrasted by the foldable aluminum arms that accent the luxurious brown Italian leather in perfect symbiosis. The aluminum arms are cleverly engineered to be folded for easy storage.
These are the kind of headphones you envision yourself picking up off a cherry-wood coffee table in your finest robe. As the sunrise peaks through the blinds, a sip of your espresso stimulates your senses while you relax into the auditory depths of Miles Davis. From their looks alone, they simply beg to be put to the test, if only to demonstrate how little room there is for disappointment. Even the headphone travel case comes with a matching Italian Saffiano leather covering, so as not to disservice the expertly crafted headphones when they are stored away. However, if you wisely welcome a pair of B&W P9s into your life, we doubt they'll spending much time away from your ears.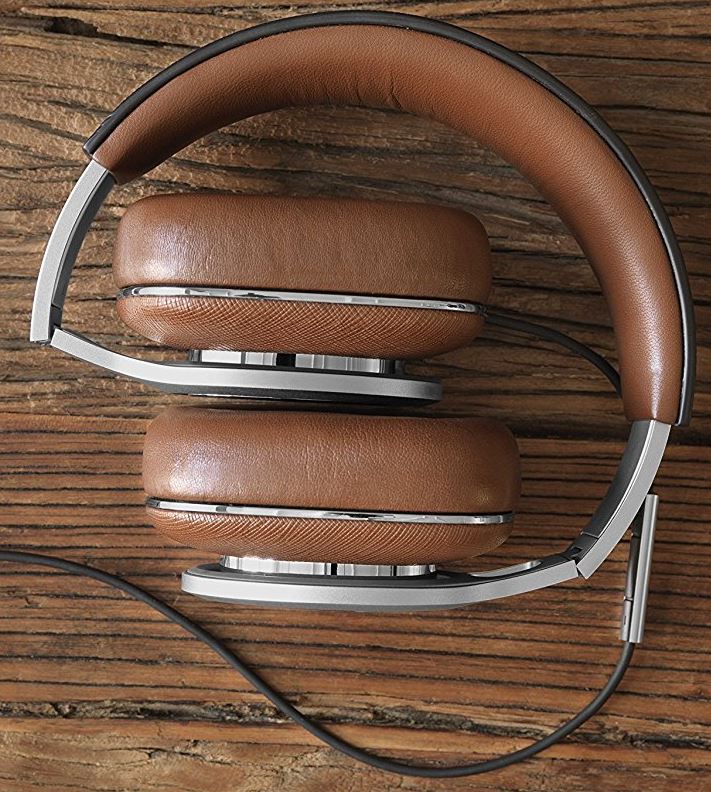 Build Quality
Despite their meticulous, graceful style, the B&W P9s remain rigidly built. The Italian Saffiano leather is not only luxurious, but extremely durable. Anyone who owns real leather (be it wallets, shoes, or another set of headphones), can testify to its intransigent durability and long lasting nature. It's such a disappointment when good quality headphones start to scuff up, detracting from their overall quality. In this regard, the P9s will not disappoint. You'll be showcasing the beautiful leather for as long as the headphones last. And as their other build quality features demonstrate, that will be a long time. Every component of the P9 was built with quality in mind.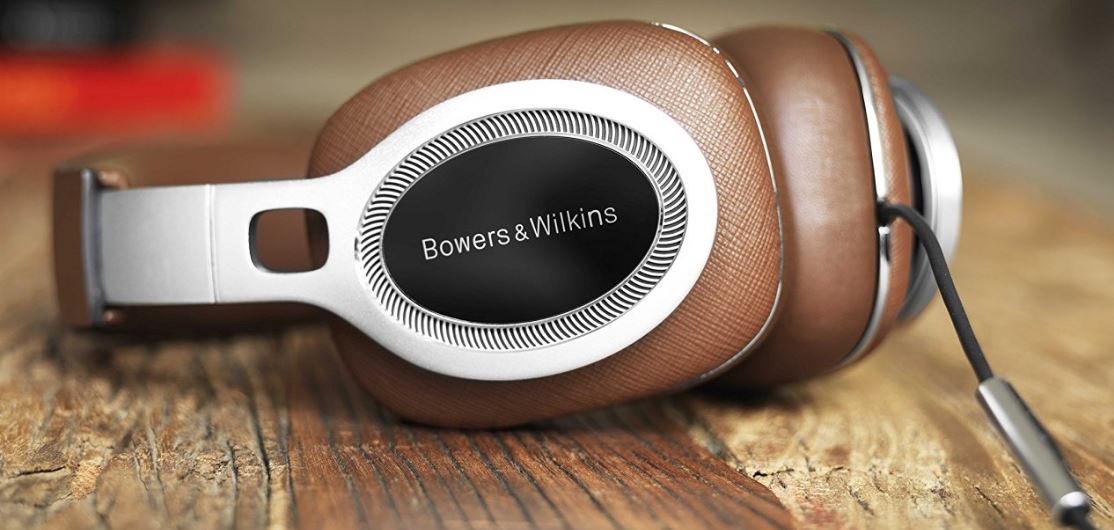 The aluminum arms provide increased durability, so your headphones won't snap or scratch like generic plastics will. They also contribute to increased headband strength, reflecting once again Bowers & Wilkins's refusal to compromise quality for anything.
Right down to the cable, the B&W P9 Premium Headphones have it right. A common area of damage on headphones is either one or a combination of the headphone jack, the cable, or the headphones' audio input. This is especially true in models with non-detachable cables. With the P9s, the cables are detachable, which means less wear and tear on each of those components and a greater overall lifespan.
Comfort
Comfort is the unsung hero of premium quality headphones. All too often, comfort is of little consideration when buyers are looking for the perfect headphones, and it's a mistake you do not want to make. No matter how great the sound quality may be, an uncomfortable set of headphones can completely ruin your experience, especially with long term wear. This particularly irritating discomfort leads you to use your possibly expensive headphones less and less.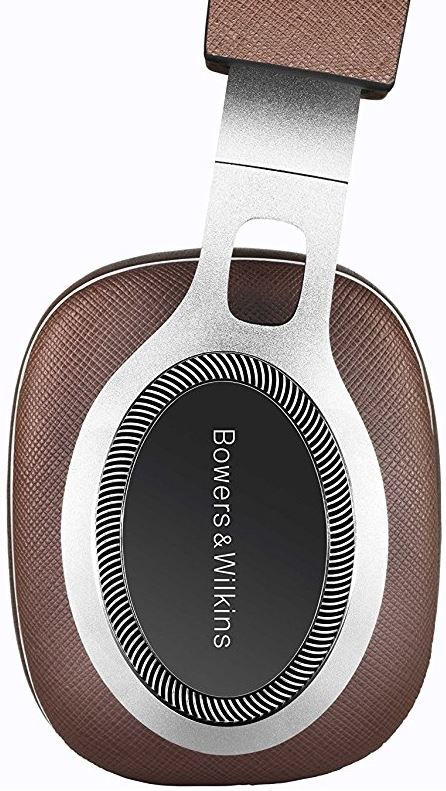 The B&W P9 Premium Headphones will do you no such injustice. The earpads sit around your ears, enveloping them for greater comfort and audio experience. They're made with memory foam cushions for optimal comfort, and enclosed in the top quality Italian Saffiano leather that makes the P9s not only durable, but extremely comfortable as well.
Better yet, the memory foam is uniquely vented and multi-layered, emphasizing every benefit a memory foam earpad has to offer. The spectacularly comfortable memory foam and high quality leather combination is also used on the headband, so your premium comfort experience is not limited to one component of the headphones.
Despite its dazzlingly luxurious qualities, the P9s are very lightweight. You won't find yourself yearning for a break from wearing them. With such a high level of comfort, the P9s allow you to focus on the only thing you should be focused on, which is their ethereal sound quality.
Sound Quality
It should come as no surprise that the Bowers & Wilkins P9s sound quality is practically bar none. You've never heard your music properly until you've heard it through them. The soundscape is meticulously balanced, as we've come to expect from a premium brand like Bowers & Wilkins. The treble is absolutely crystal clear, the mid-range splendidly insightful and the bottom end deep and solid as though it were produced by the very core of the earth itself.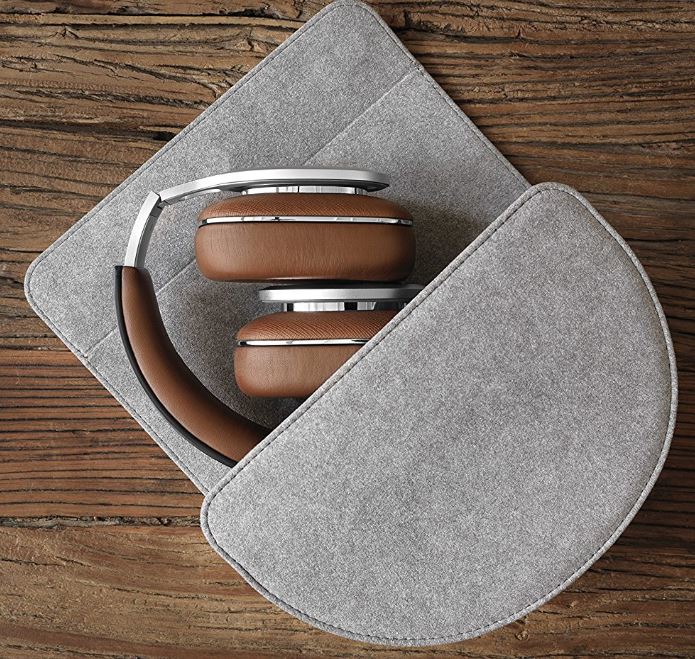 The P9s will transport you to the heart of your music, exposing sounds and sound combinations other audio equipment will have simply missed. Everything down to the design of the headphones bolsters the sound quality to the final degree.
Where the P9s stand out from B&W's other P-series models is in the new proprietary piston diaphragm speaker drivers. They give listeners a unique coloration-free audio experience that set the P9s apart. Listeners' audio experience will be exponentially more spatial as well, thanks to the angled drivers that will immerse you in your audio experience like never before.
Even the P9s cables play their part in setting the stage for their bar-setting sound quality. The cables are made from high grade, low resistance copper which allows a clear, undistorted signal path for optimal audio transfer.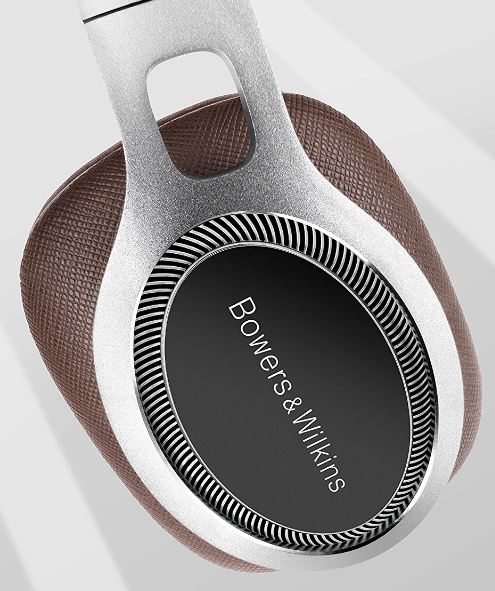 Have you ever noticed you speakers or headphones buzz when your cell phone is nearby? This is due to radio frequency interference, and it's a pain. The cables are magnetically polarized, which removes any such radio frequency interference.
In simple terms, they offer a listening experience that is incomparable among premium brands and frankly impossible to find in mid-range brands.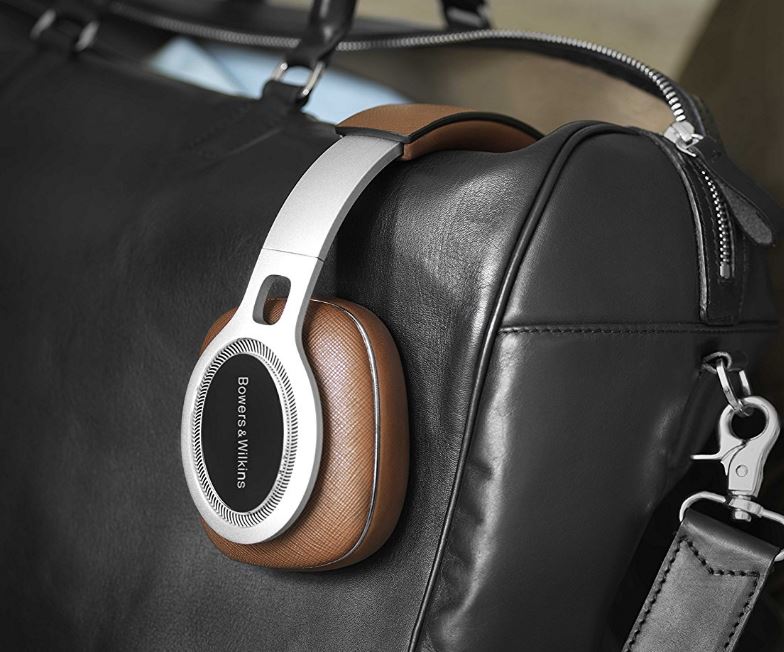 Value
The Bowers & Wilkins P9 Premium Headphones are more than just the sum of their parts. A high price tag is expected with premium quality, Hi-Fi products like the ones Bowers & Wilkins deliver, and the P9s are no exception. At their current price point, the P9s might be the most expensive headphone we've reviewed.
However, they're priced this way for a good reason. Headphones are like a nice meal. You get what you pay for. While the price might deter some, it's important to reflect on where that price takes you compared to other headphones.
The P9s are bar setting headphones in all the important categories. Their design is stylish and luxurious without compromising anything in the way of comfort or quality. They have an outstandingly balanced soundscape, proprietary piston diaphragm speaker drivers, and offer a spatial audio experience with a clear signal path and a radio frequency free sound.
Furthermore, the quality and care taken in designing the P9s reflects their ability to last. Everything they offer in style, comfort and sound, they'll deliver better and for much longer than most mid-range brands. Given their quality, the fact that these headphones are so long term starts to make their price tag pretty appealing. Plus, all this becomes indisputable when you consider the 2 year warranty offered when you purchase from an authorized dealer.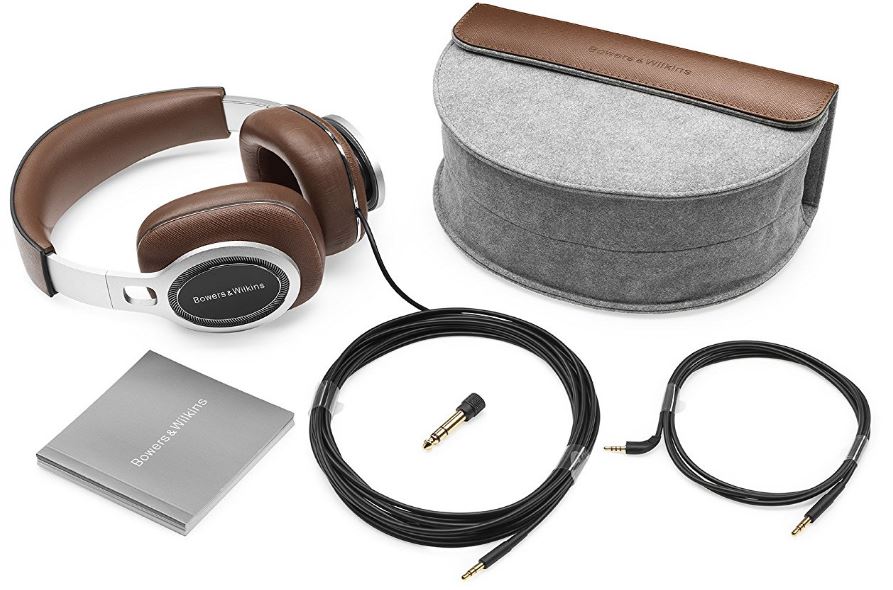 Verdict
From a brand that boasts numerous award winning Hi-Fi products, the Bowers & Wilkins P9 Premium Headphones will surely be another award winner. They're practically without competition, demonstrating high scores in every category you can think to scrutinize them. Additionally, they're impeccably designed, luxuriously stylish, high quality, and auditory as close to perfection as you can get. If you consider yourself someone who appreciates a high quality audio experience that you can transport, it's hard to find a competitor that can stand up to them.
Considering their practically flawless review and 2-year warranty, it's almost impossible to speak down on their value despite the large price tag. If you're not interested in sacrificing quality in any respect, the P9s will impress and excite you. They are without a doubt some of the best headphones currently on the market. Words can only do them so much justice.