Brigii M1
Pros
Good suction power.
Highly versatile and portable design.
Capable of blowing air.
Comes with several attachments.
Excellent build quality for the price.
Cons
Small dust bin.
Fairly loud for such a small device.
Battery life could be better.
As technology has allowed, everyday items like vacuums have gotten increasingly smaller. And with that comes greater versatility, ease of use, and storage options. The Brigii M1 Mini Vacuum is an example of a great mini vacuum that offers all these benefits and more.
In this review, we'll explore the power, battery life, attachments, and other features offered by this unique vacuum cleaner. Read on to learn about why this might be the ideal vacuum for tackling small messes in tight spaces.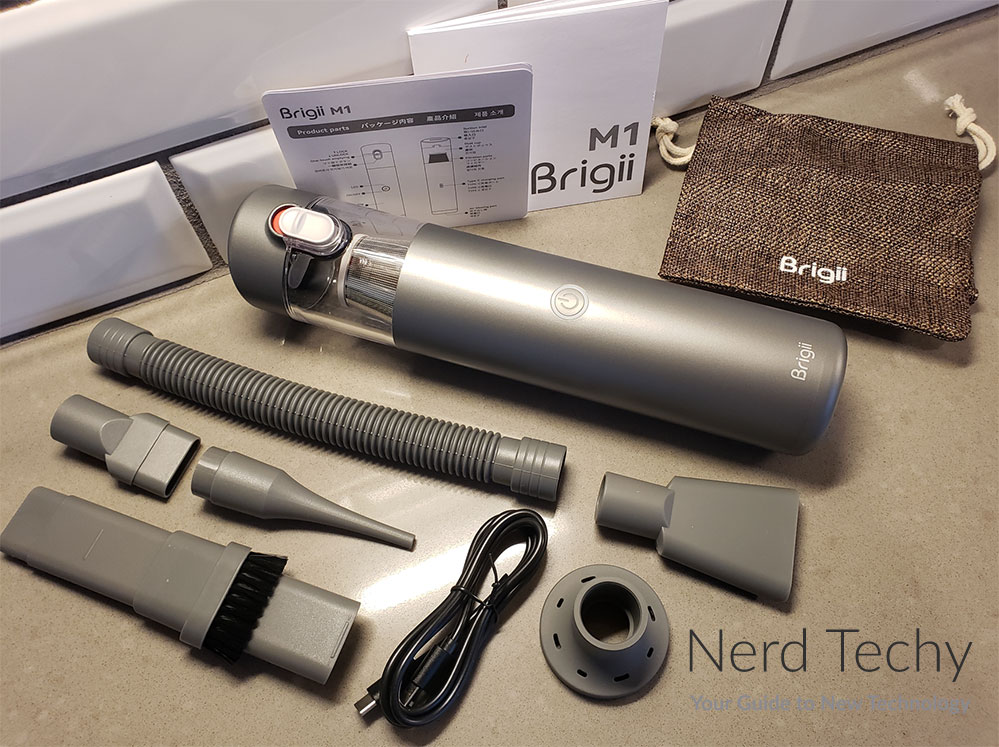 Build Quality and Design
The Brigii M1 resembles a small air pump, both in size and form factor. Given its capabilities, we found this to strike a good balance between function and convenience. It's a little awkward to hold at first—and it looks like it's top-heavy. But once you use it for a few, it quickly becomes second nature.
The vacuum itself is very lightweight, weighing just a fuzz over 1 pound. As you can imagine, this makes it easier to carry around and move from one area to another without any difficulty. It also comes with a handy little bag that holds the vacuum and all of its accessories in place. It's not anything fancy by any stretch, but it's sufficient enough for what it needs to be.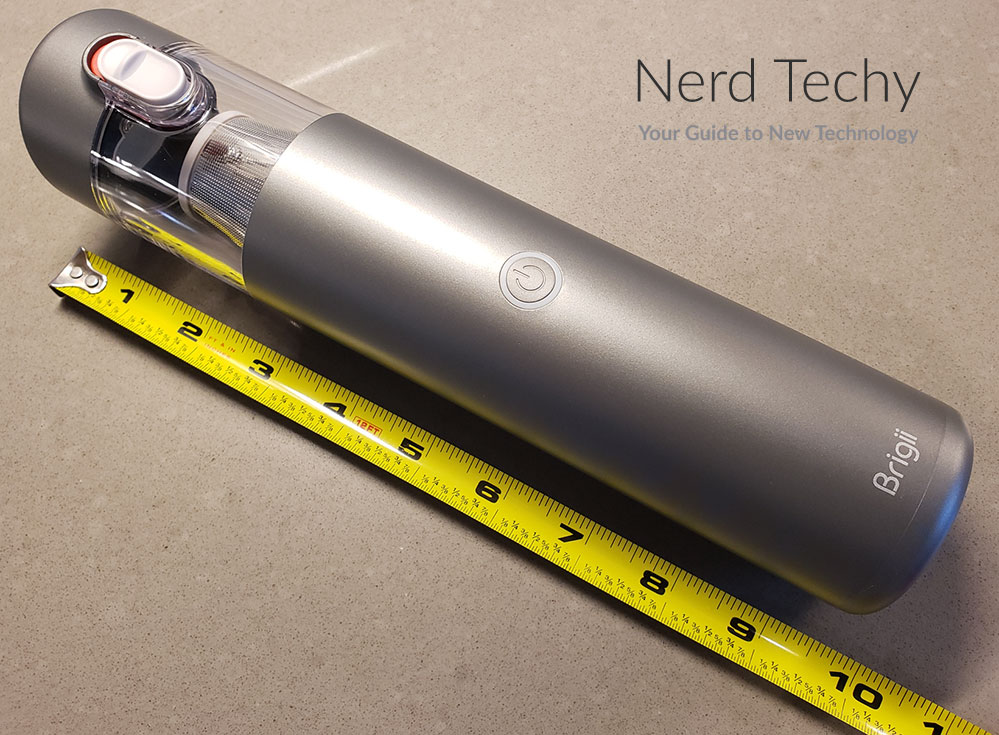 The M1 itself measures 10.2 inches without any attachments on it. Most of what makes this unit operate is neatly compacted inside the plastic housing. As such, it doesn't leave much room for dust and debris capacity. Indeed, there's a paltry 0.8 liters reserved for whatever you suck up with the M1.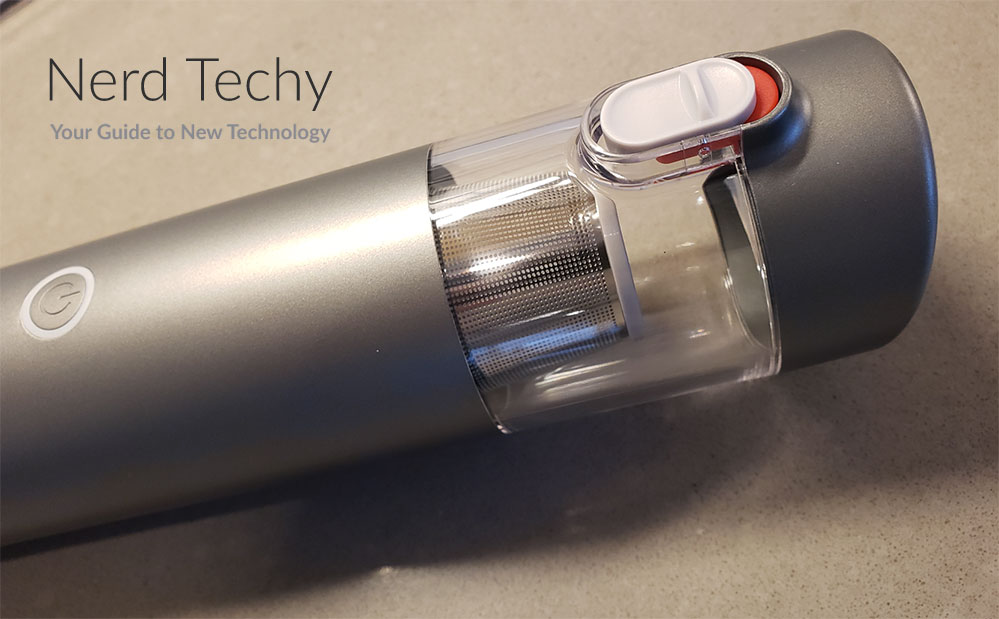 This isn't really a problem, however, since the M1 isn't meant for large messes. Rather, it's designed to be used in short bursts and then emptied out quickly. We will discuss how it fares on that front momentarily, so be sure to stick around to hear our thoughts on the M1's performance.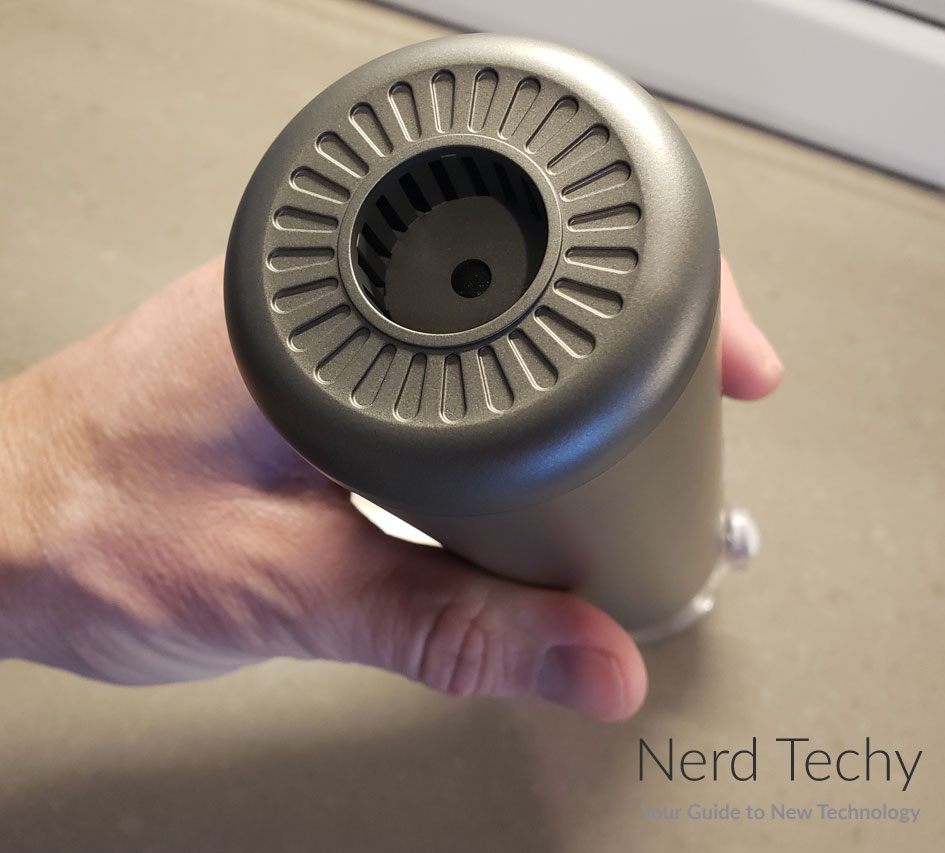 Aesthetically, this isn't a bad-looking unit. It matches up with most modern electronic gadgetry and won't be out of place in your car or on your desk, which are the two places we can see the M1 getting the most use.
Brigii didn't go crazy and build the M1 out of titanium or anything like that, but the 3-in-1 vacuum feels sturdy enough and like it'll last if it's taken care of. Given its price point, we're overall pleased with the construction and design of the M1. But how does it actually perform? That's what we will be taking a closer look at in the next section.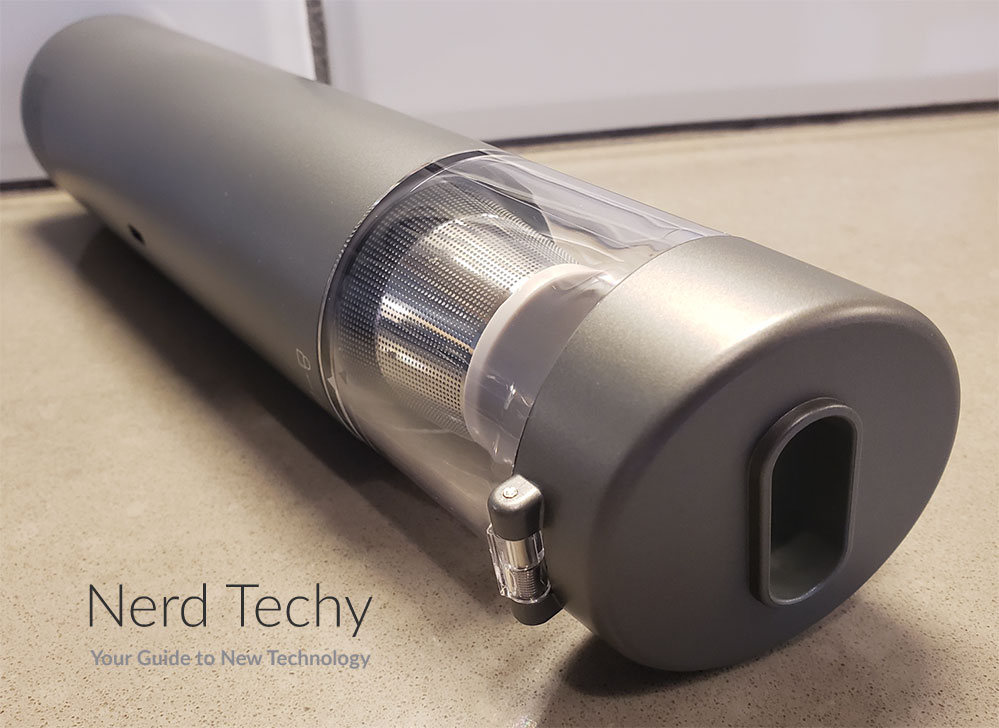 Performance
The M1 promises to deliver up to 6500pa of suction power, which is more than enough for small messes like crumbs, pet hair, and other lightweight debris. In order to achieve this level of suction in such a small, handheld unit, Brigii apparently had to go with a pretty powerful motor.
We'll not mince words – this thing is a bit loud. In fact, we've used cordless uprights that were quieter than the M1. It produces 75dB of noise when operating at full blast, which is quite a bit more than the average cordless vacuum cleaner on the market today.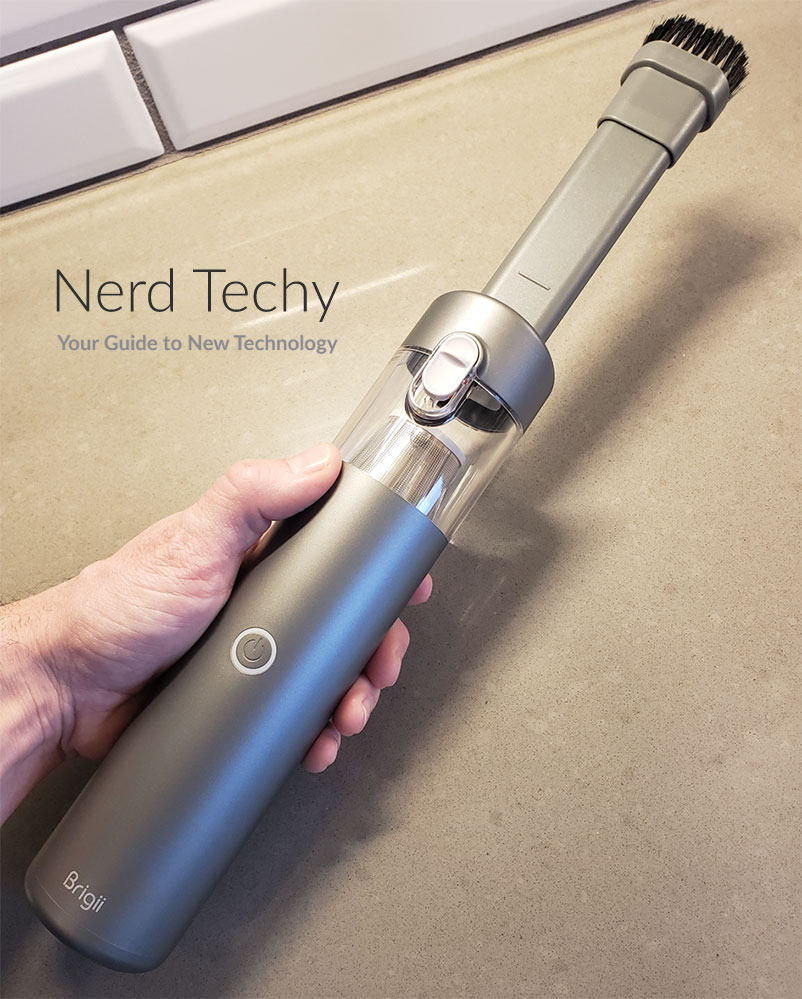 The good news is that, despite its noise levels, the M1 performs beyond expectations. We were able to pick up dust and dirt on both hardwood and carpeted surfaces with relative ease. The M1 also fared quite well in our tests when it came to picking up pet hair.
The only issue, though, is that it can only pick up a very limited amount of hair before you have to dump it out. So if you're using it to clean your car, you'll likely need a waste bin nearby for the frequent depositing of debris. Granted, it's not that big of a deal, but it's worth bringing up.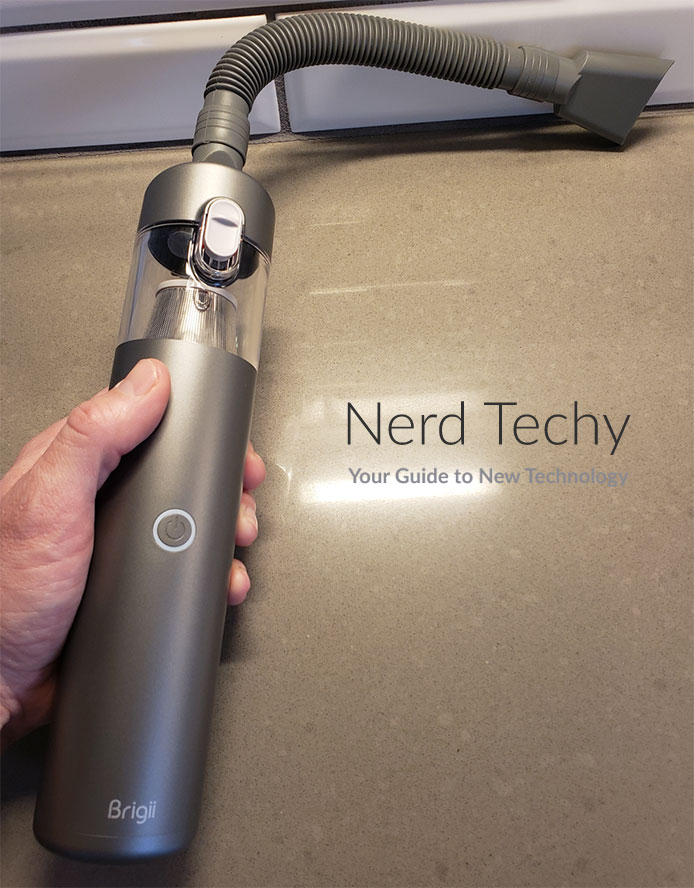 We were able to collect a sizeable amount of cat hair and dander without much trouble, which was great to see. We noticed that the M1 seemed a bit less efficient when vacuuming longer carpets or rugs, but that's really only because it doesn't have the same type of brushroll or nozzle that a lot of other vacuums have.
Another area where the M1 shines is cleaning crevices or along baseboards and the like. We will go over its attachments below, but there are enough of them included that you can expect to be able to find something suitable for the job at hand.
And because it's so compact, versatile, and wireless, you really can vacuum just about anywhere with ease. It's great for those hard-to-reach places like between stairs or behind the sofa. And it works wonders in vehicles, such as between and under seats.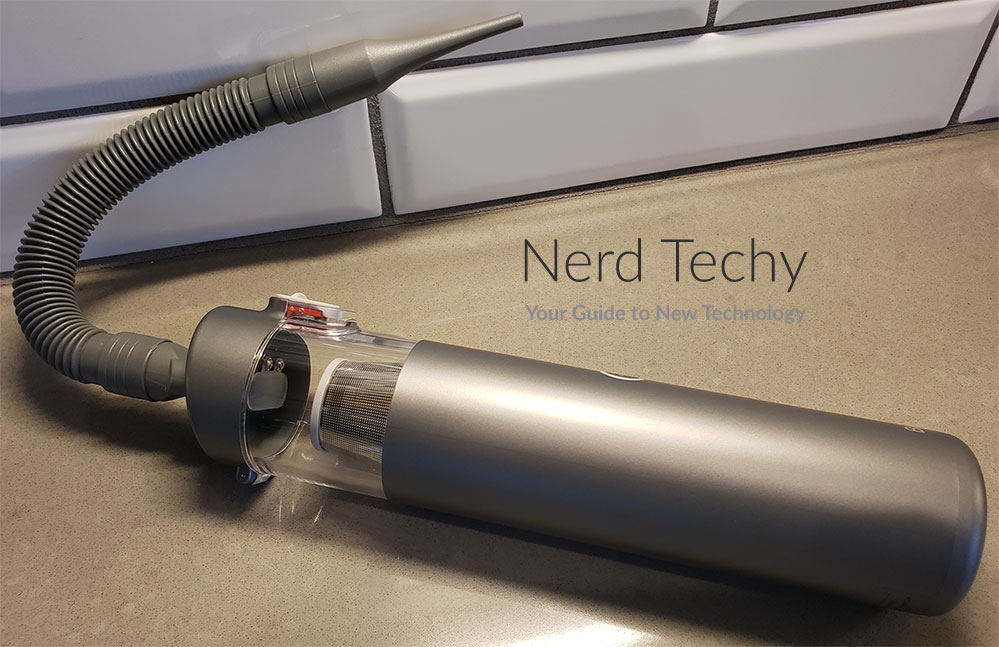 Attachments/Accessories
The M1 comes with three main attachments. There's a brush nozzle for picking up debris like pet hair, a crevice tool for getting into tight spots, and an extension wand to help you reach higher areas. We like the extension wand, as it's flexible and bends in any direction. This allows you to access spots that would otherwise require you to contort your body in uncomfortable positions to reach.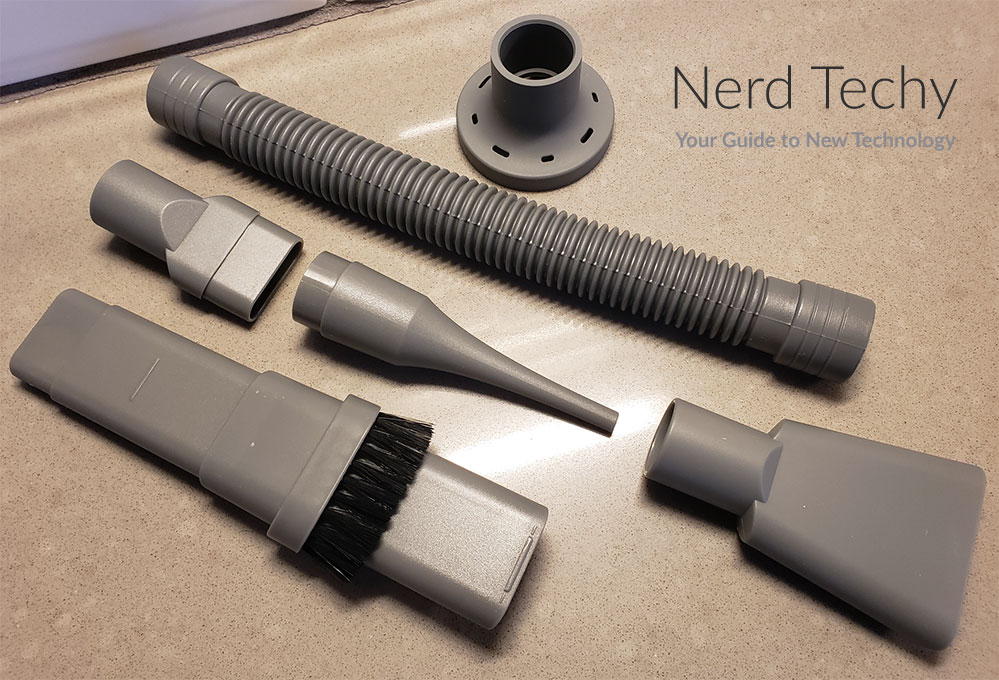 Each attachment serves a purpose, and nothing feels like an afterthought or filler. Like the M1 unit itself, the attachments are well-made, and they get the job done. And because this is a multipurpose vacuum, you can do more than just sweep up debris.
The M1 is also capable of blowing out air, giving you the perfect reason to stop buying canned air to clean out your electronics. So if you want to blow the dust out of your keyboard or give your laptop a once-over, the M1 can make it happen.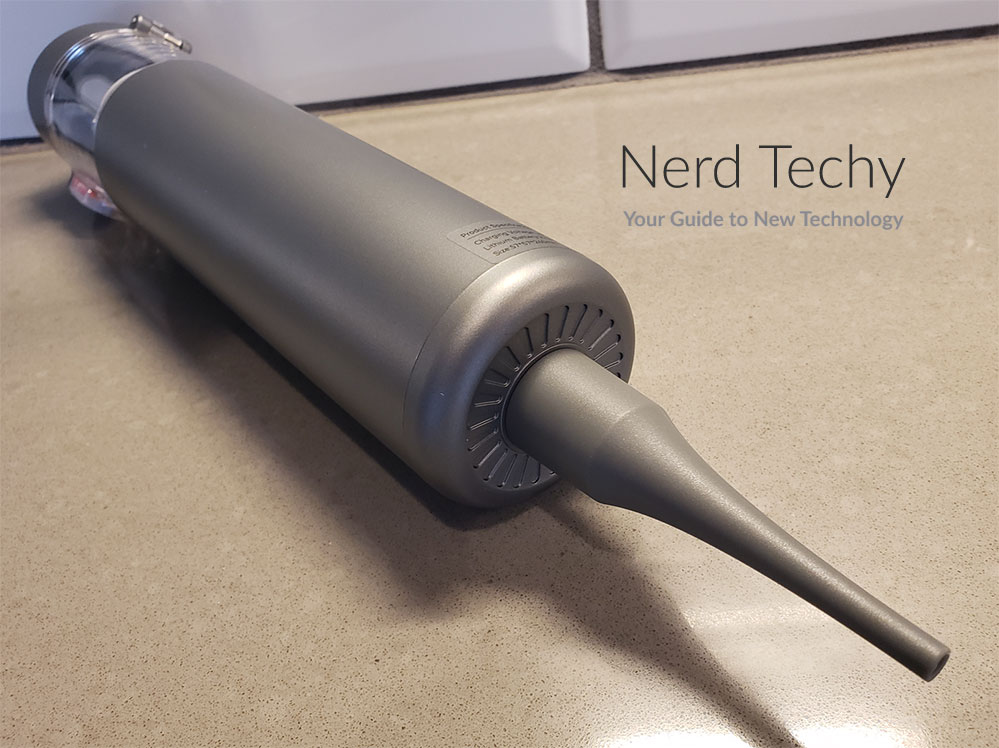 We could easily spend $30 a month on canned air if we really wanted to, and that stuff isn't getting any cheaper, either. Knowing the M1 can effectively replace that expense is a real plus in our book.
Another nice feature is its ability to inflate items like air mattresses and pool floats. This comes in handy when you need to quickly blow up something for a picnic or an impromptu get-together. And yes, there's a special attachment included just for that purpose. The same attachment also works well at getting in-between keyboard keys or other tight spots.
Power and Battery Life
The Brigii M1 performs surprisingly well for its size. It offers a decent combination of suction power and battery life, so it can easily tackle most light cleaning tasks like crumbs, dust, pet hair, and other bits that accumulate over time. The battery life is especially impressive, lasting up to 20 minutes on a full charge.
We found that 20 minutes is more than enough to complete a variety of cleaning duties. You'll definitely want to get in the habit of charging the unit after you're finished using it, though. That way, you don't end up with a dead battery when you need it the most.
And speaking of charging, this vacuum charges quickly – just two hours, to be exact. Just note that when charging in the car, you will need at least a 12-volt power outlet. We appreciate seeing that this unit uses USB-C, as it's easily the most convenient charging option available (aside from wireless, of course).
Brigii includes everything you need to charge the unit, so don't worry about having to scrounge up a spare cable. You will, however, need a charging block or capable USB-A port. That's to be expected anymore, and most of us have numerous charging blocks lying around.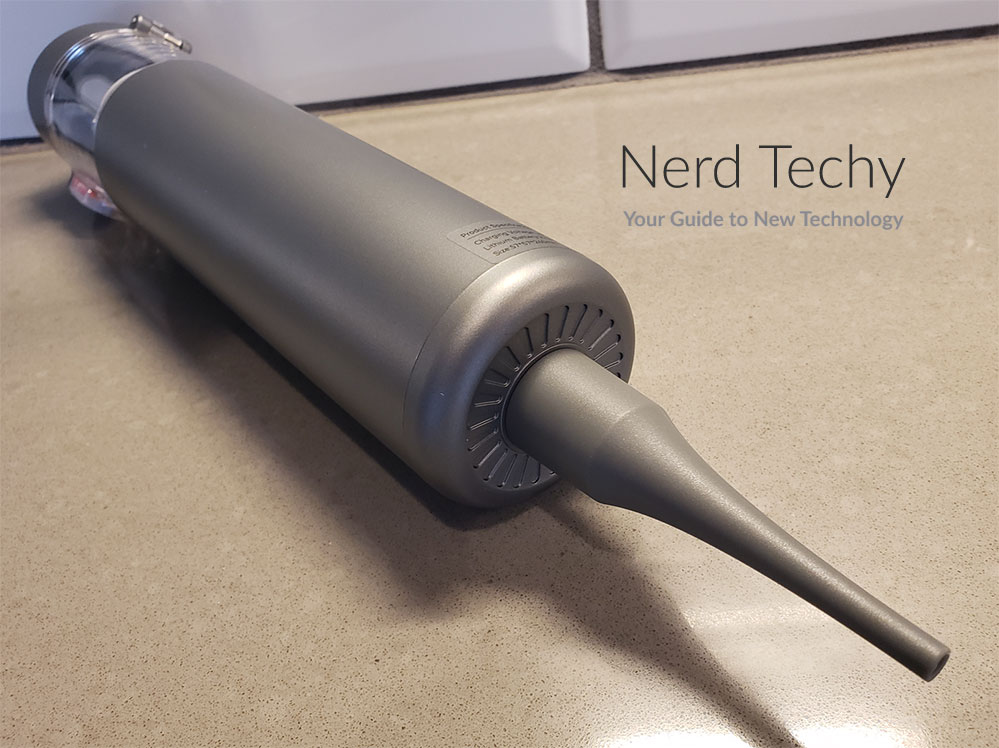 User Operation
You don't need advanced technical knowledge to figure out how to use the Brigii M1. Only a couple of buttons are present, and each one serves its own purpose. One is a manual plastic button that serves to release the waste compartment, and the other is for powering on and off the vacuum.
The power button is a touch-sensitive one, and it's illuminated by a small LED. The waste compartment is opened by pressing the manual plastic button located on the back of the unit. This will open up the waste compartment, where all debris collected is deposited.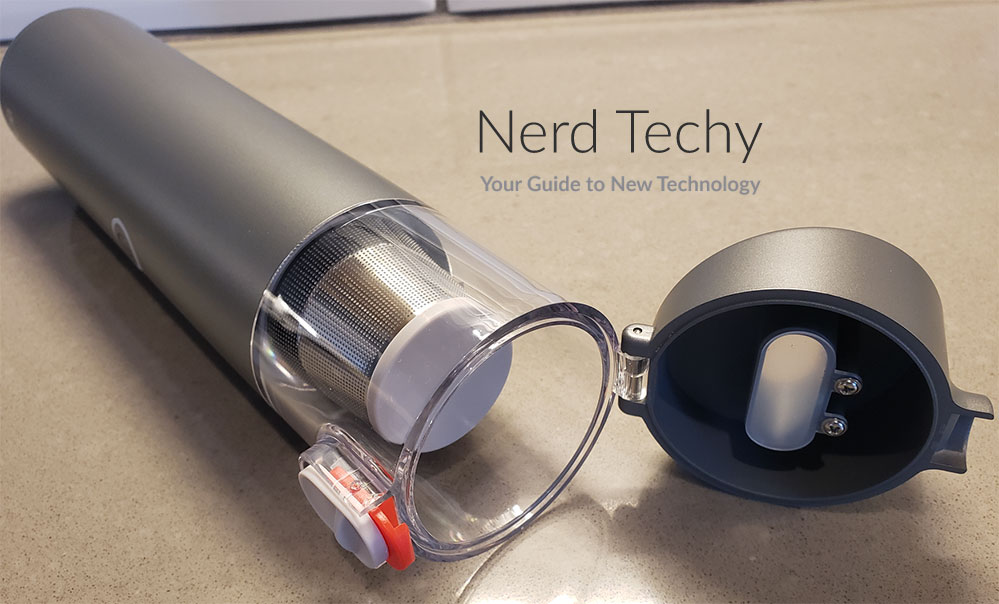 It can be emptied directly into a trash bag or bin after you flip open the top lid. Doing so couldn't be easier, and it helps keep your vacuum efficient and clean at all times.
As a side note, you'll want to avoid using the vacuum while it's plugged in. Brigii also advises unplugging the charging cable before starting to clean. Both of these precautions are in place to prevent any potential issues with the electronics that make up the unit.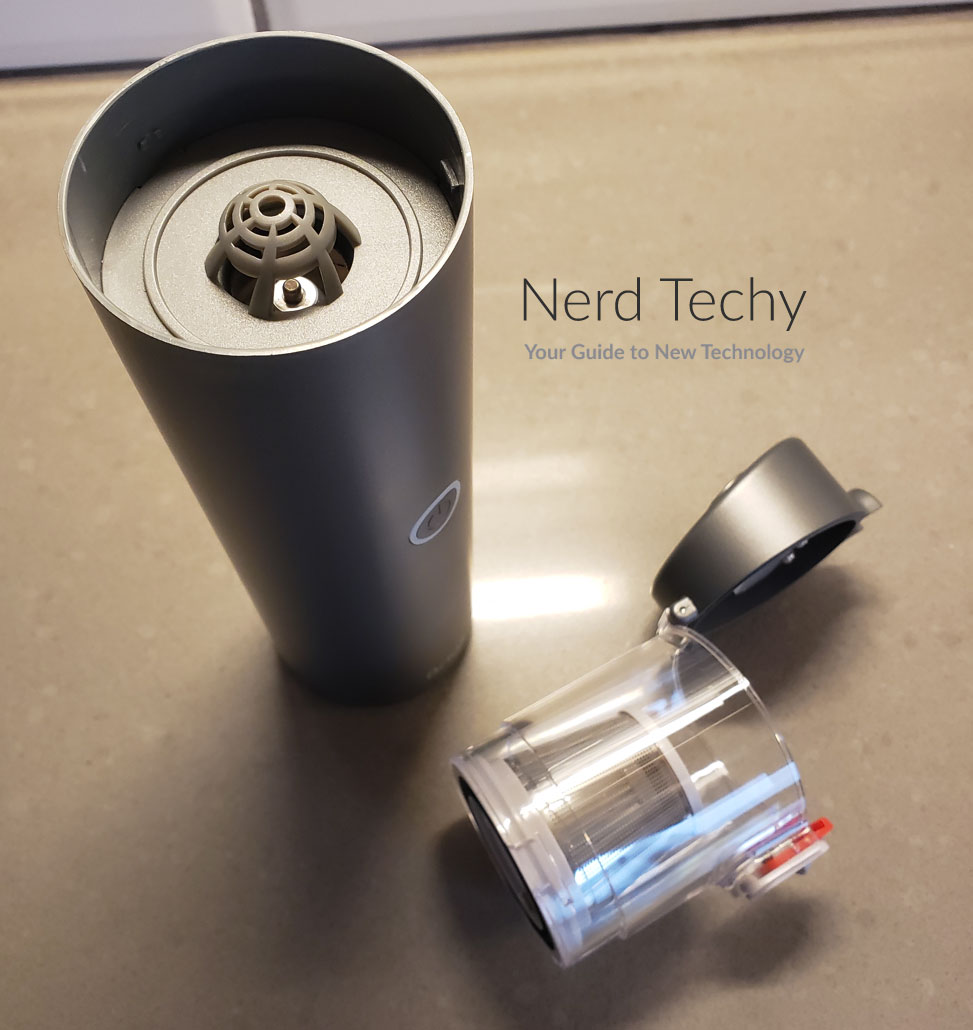 Additional Features
Included in the M1 is a HEPA filter, which is removable and washable. This helps to further reduce dust particles from the air, so if you have allergies or sensitivities to airborne particles, this will help keep them at bay. We like that Brigii included this feature on their vacuum, as it adds an extra layer of protection for you and your family without breaking the bank.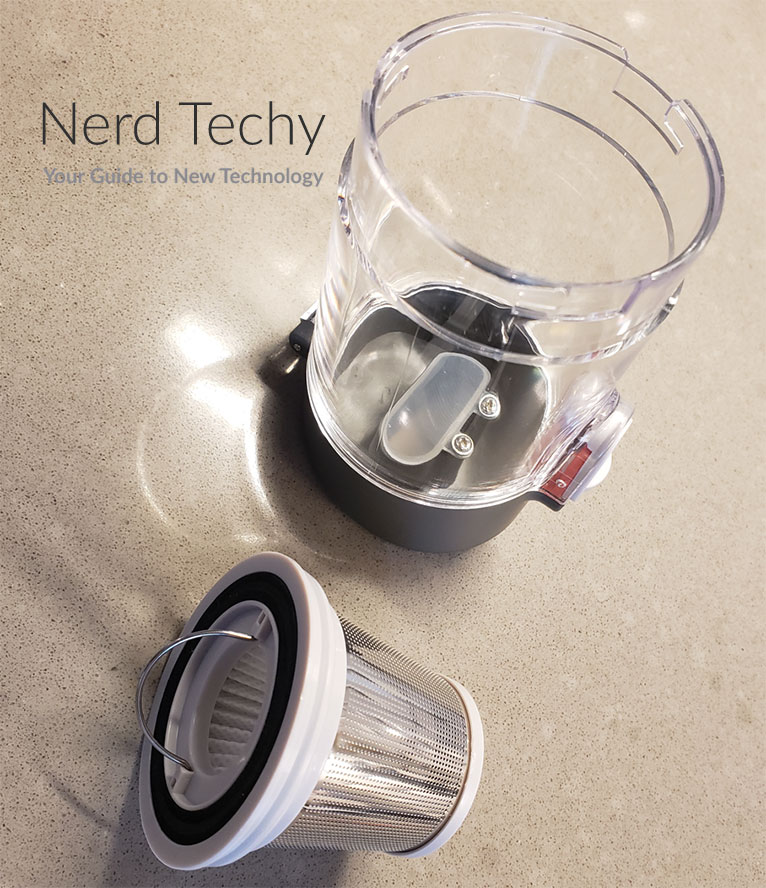 The battery that the M1 uses is a lithium-ion one, which is a great choice for small and portable vacuums. This type of battery gives the unit more power and lasts longer than some other types, so it's nice that Brigii included one here.
Who's It For?
The Brigii M1 3-in-1 Handheld Vacuum is an excellent option for those who need a lightweight and portable vacuum that can tackle small messes quickly. As such, there are several people and instances in which we can see it working well.
Vehicles
As stated, the M1 is great for cleaning up any messes that may accumulate in your vehicle. Whether it's dirt and mud from outdoor activities or crumbs dropped by kids, this vacuum can make quick work of them. Plus, the battery will easily last for a full cleaning session without needing to be recharged.
And because of its size, it fits comfortably in cup holders, so it's always within reach if you need to do a quick cleanup. We feel like this is one of the best uses for the vacuum, so if you're in the market for a car cleaner, you may want to give the M1 some consideration.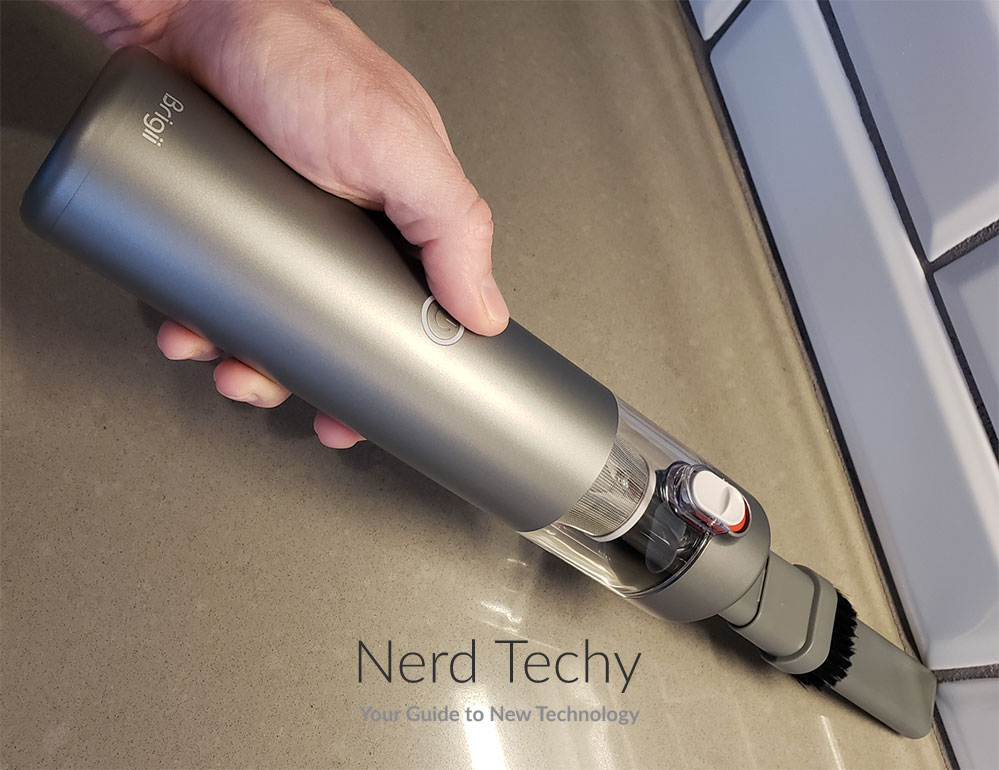 Pet Owners
Nobody can deny how much hair furry friends shed on our carpets, furniture, and clothes. But with the M1, you can quickly restore order. Thanks to its powerful suction and its various attachments, you can easily remove pet hair from furniture, bedding, carpets, and more.
If you're used to taking a lint roller to yourself and various surfaces to remove pet hair, then you'll love having it around. This vacuum will make quick work of such messes while allowing you to save money on lint rollers, so that's definitely a selling point that we can see appealing to a lot of consumers.
Apartments
If you're living in a smaller space and need something that can keep up with the mess, the M1 is a smart buy. It's just the right size for apartment dwellers who need something to clean up messes quickly.
You can store the thing just about anywhere, too, which is sure to appeal to people who live in single rooms and don't have much space to spare.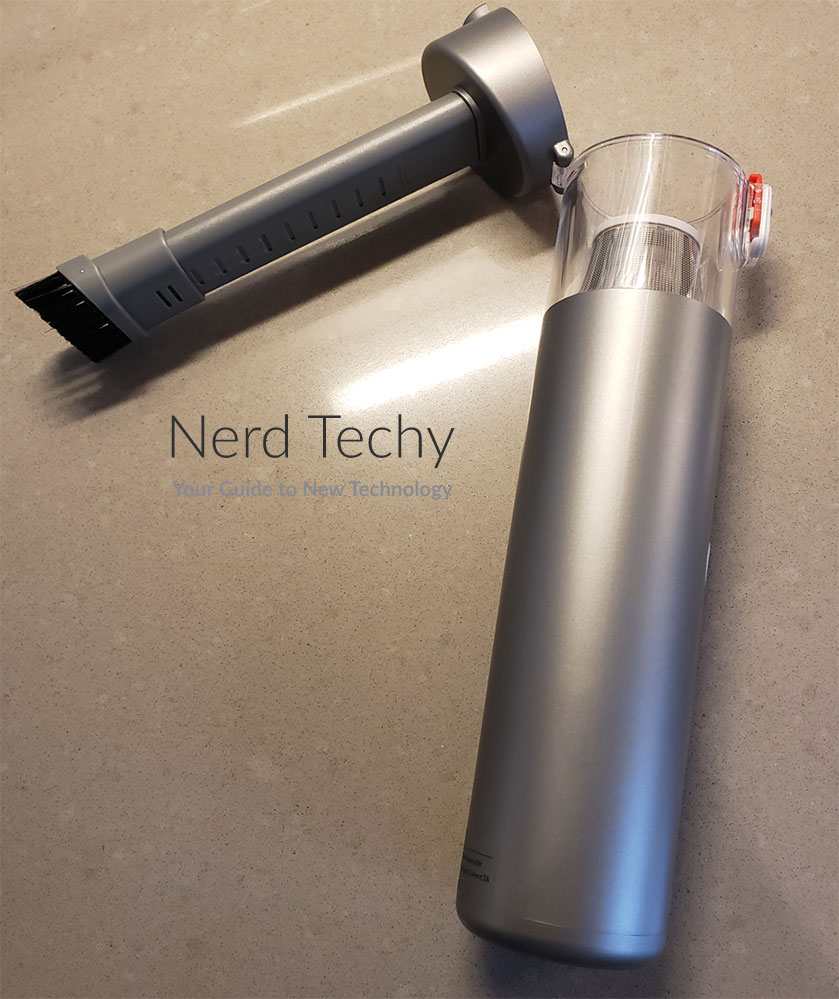 Office Spaces
While the M1 may not be as powerful as larger vacuums, it's still ideal for small office spaces. This is especially true if there are no larger vacuums available. All the same, it's powerful enough to easily clean up small messes that tend to accumulate in offices, such as crumbs and dust.
This is a good one to keep in your desk drawer, too, as it's small enough to fit in most drawers and will save you time when you need to clean up quickly.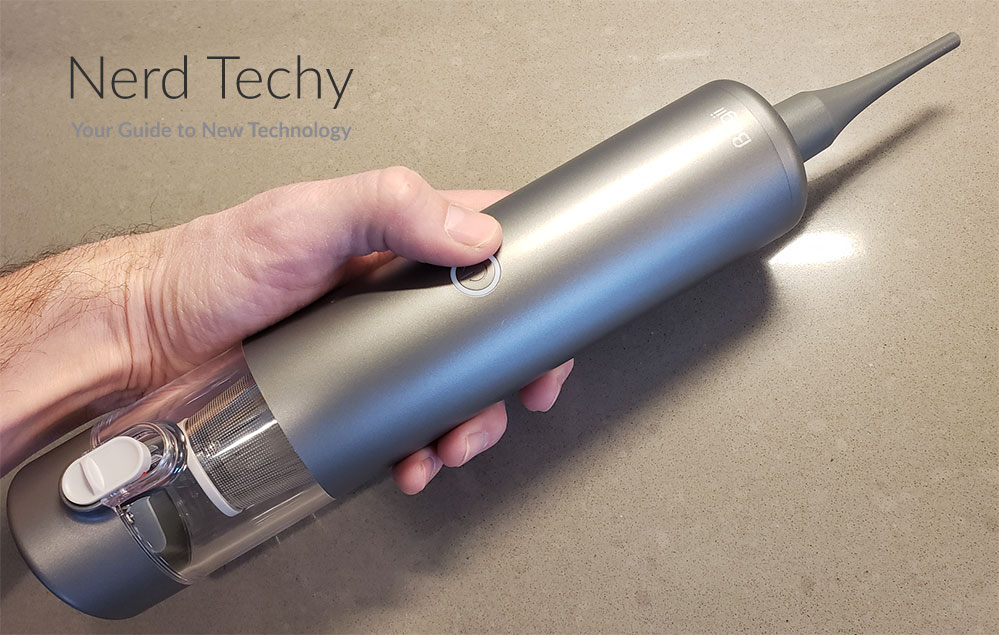 Final Verdict
The Brigii M1 3-in-1 Handheld Vacuum proved to be a solid contender in the world of small, portable vacuums. Thanks to its powerful suction, HEPA filter, and useful attachments, it's got a lot going for it.
Its noise output might be a bit jarring to some, but other than that, this machine does a solid job of sucking up messes. It's highly portable, relatively powerful and versatile – everything you'd expect from a solid handheld vacuum. Best of all, it's affordable and surely won't break the bank.