MORENTO HY4866
Pros
Powerful operation and wide coverage.
Integrated real-time air quality monitor.
Effective filtration system provides ultra-clean air.
Excellent build quality and design.
Sleek user interface.
Cons
No remote or smartphone app.
Power cord plugs in on the side rather than the back.
Filters can be costly in the long term.
Now here's an air purifier that bucks the trend to deliver a unique unit that works double-time to make sure your air is free of pollutants. The MORENTO (model HY4866) Air Purifier is a state-of-the-art unit with an attractive matte white finish, designed with a high-efficiency HEPA air filter and double side air intake that lets you enjoy fresh, clean air indoors.
We think MORENTO's advanced unit will go down as one of the all-time greats, and we've got the review to tell you all about it. If you're currently weighing your options for a new air purifier, you're definitely going to want to stick around for this one.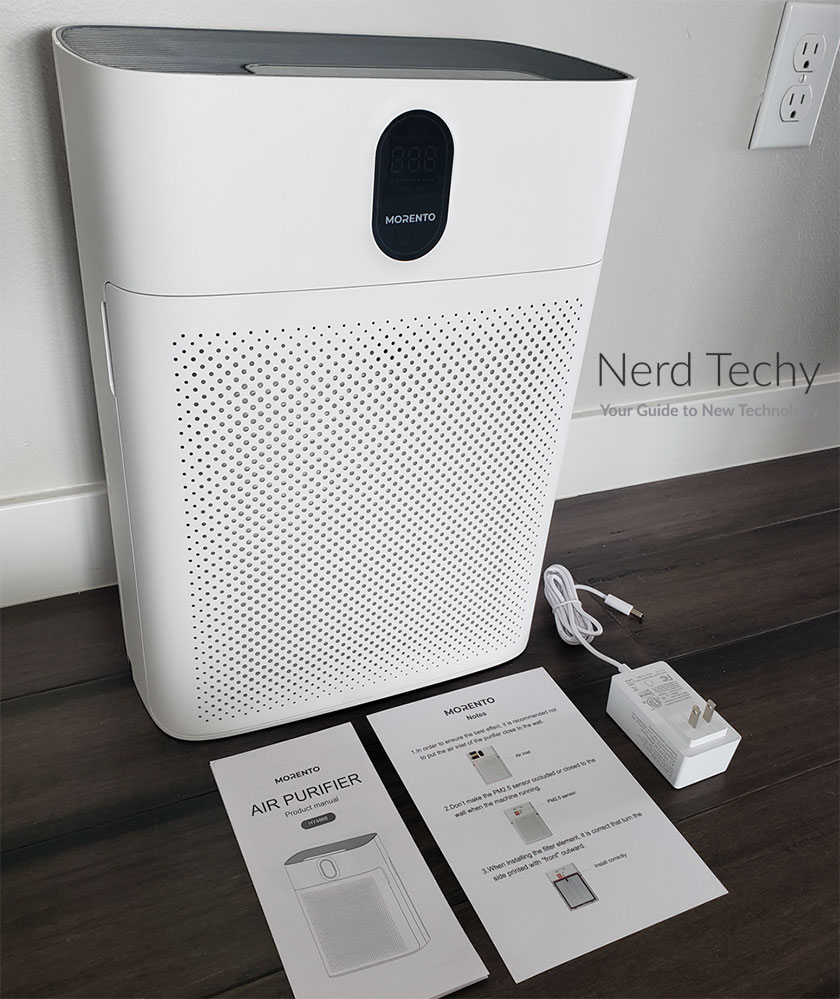 Design
Let's get the basics out of the way first. The MORENTO (HY4866) Air Purifier measures 13.18 inches deep by 7.63 inches wide and 17.51 inches high, with a total weight of 7.1 pounds. It's controlled via touch controls, which makes it as user-friendly as can be – no complicated buttons or menus to navigate.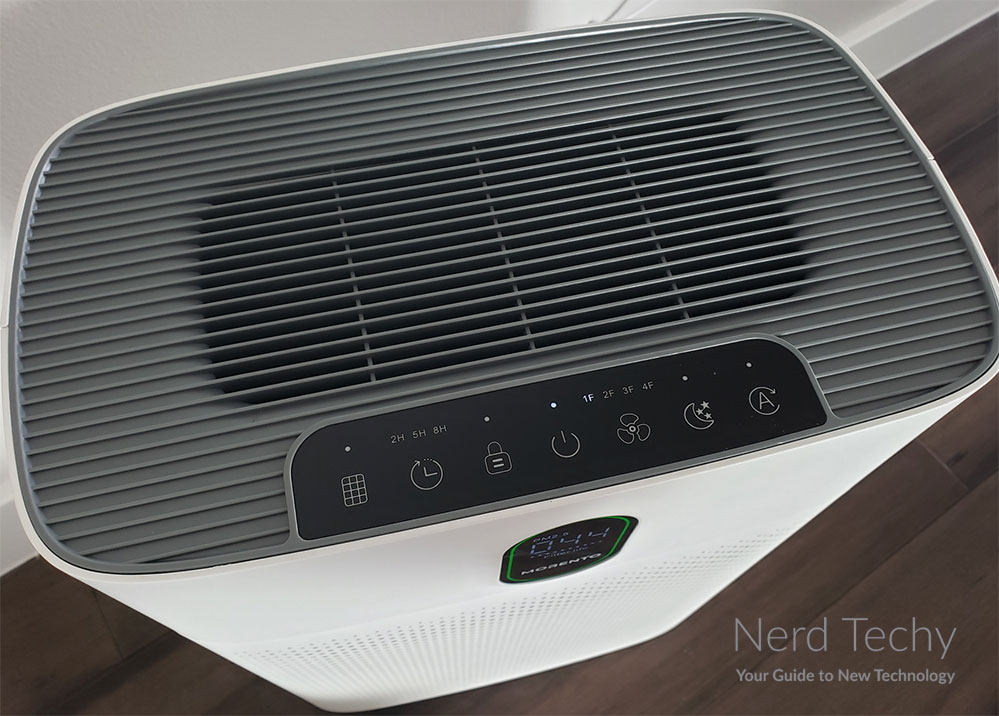 The overall design of the unit is sleek and modern, with a matte white finish that lends a certain air of sophistication to any room you put it in. In fact, the HY4866 so closely resembles a computer tower or router that you might even mistake it for one!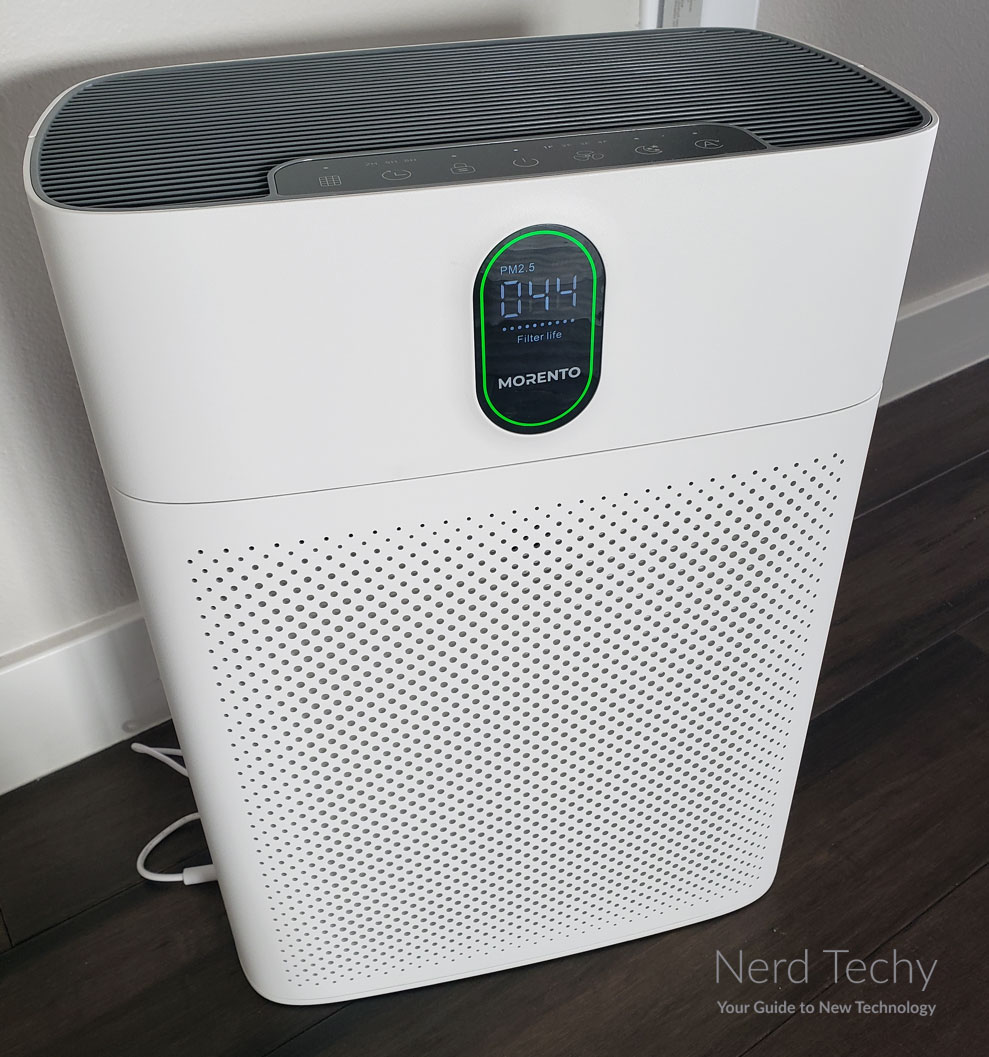 Seriously, this is one attractive-looking device, and it's sure to fit in anyone's space – especially if you're a techy person like us who has lots of electronics and gadgets about your home.
We love the direction MORENTO went with this air purifier, as it doesn't look exactly like anything we've seen. Sure, there are other tower air purifiers on the market. But MORENTO's version possesses a charm and character that truly sets it apart from the rest.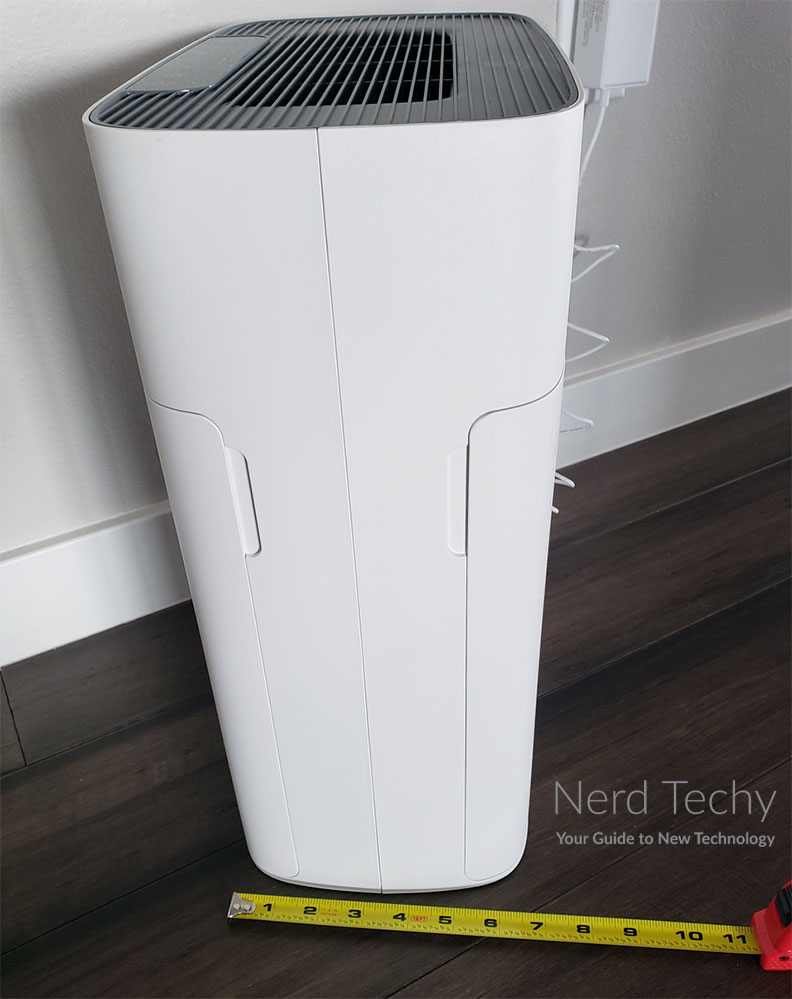 It's not overly bulky, and yet it has the proverbial horsepower to knock out nasty pollutants such as dust, pollen, smoke, pet dander, and other allergens. But enough talk about its looks; let's get down to brass tacks and see whether the HY4866 can really hold its own in the air purifier game.
Features and Performance
There's a lot going on inside the mini tower, and it's what's responsible for keeping your air clean. So let's go over each feature and highlight why it's present.
Air Intake
This is an important one, as MORENTO went with a double-air system that serves to deliver faster purification. This means that you'll get twice the amount of clean air per hour compared to single-air designs.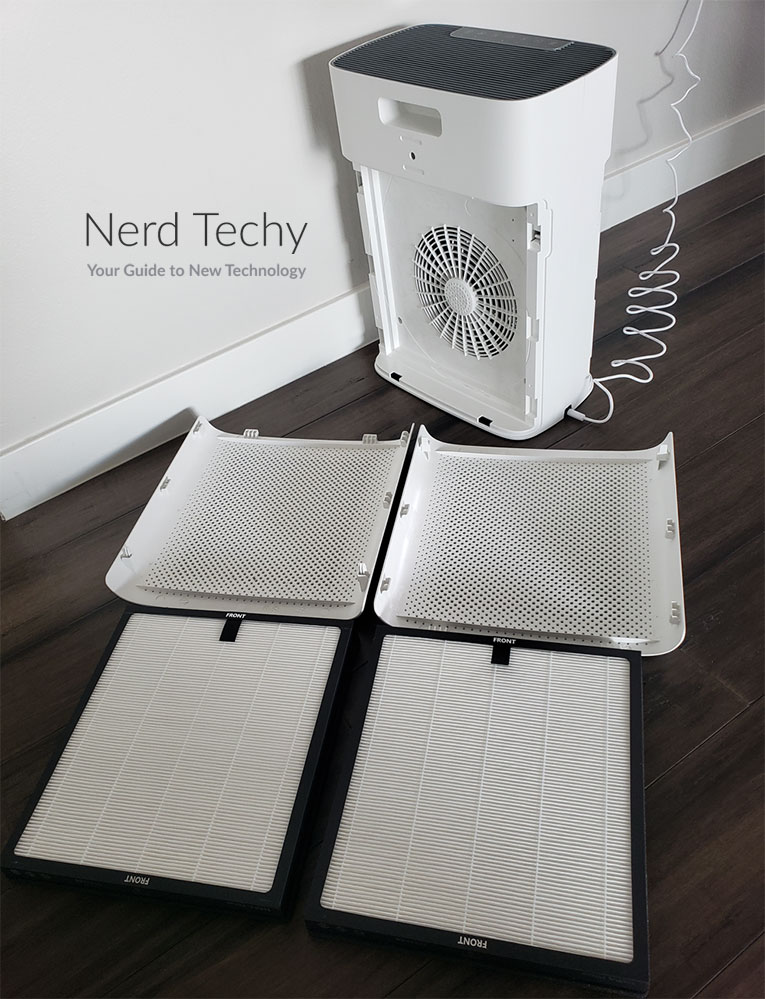 During our testing, it was clear that the double-air system was working as advertised. And a big part of its performance is thanks to the filter MORENTO used.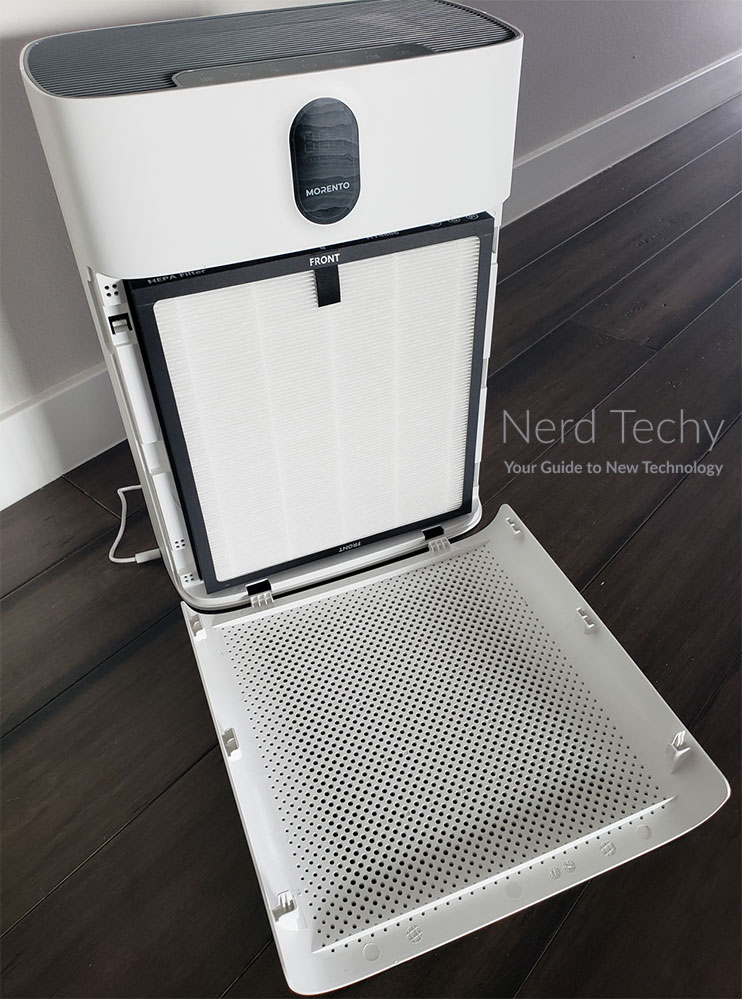 H13 HEPA Filter
The high-efficiency filter does a number on pollutants thanks to its ultra-fine mesh. Whether it's dust, smoke, or pet dander, the filter is designed to capture most contaminants and reduce their presence in your air.
Our testing shows that the effect was indeed noticeable; we could breathe easier after running the unit for about an hour. If you or a loved one suffers from allergies, this is especially important.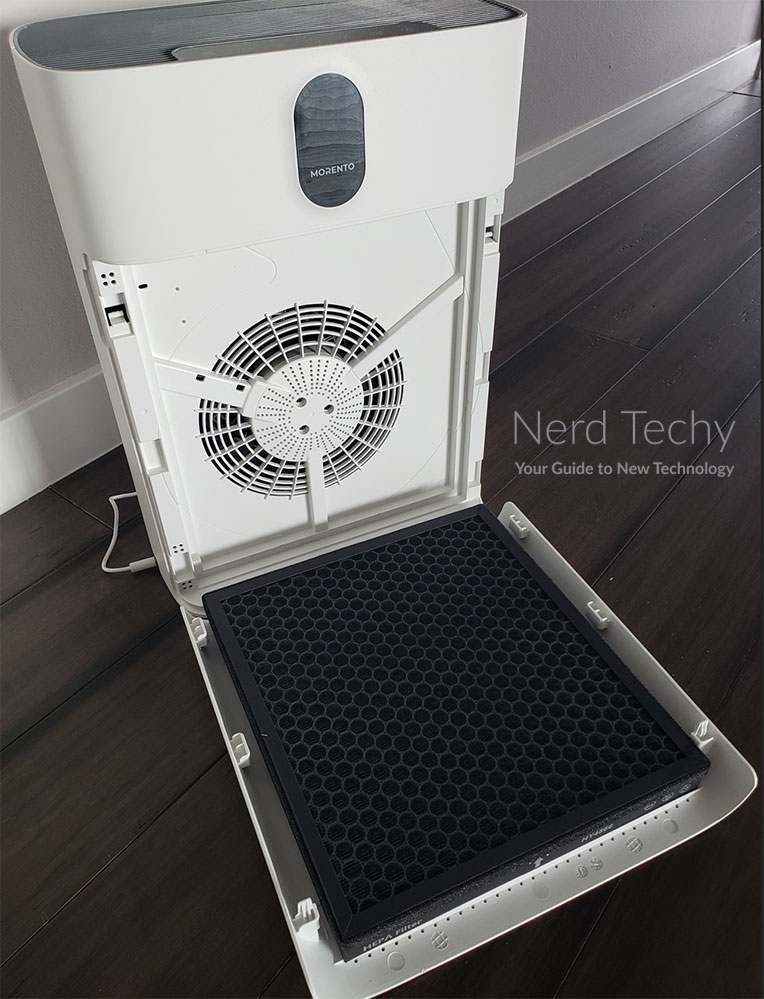 CADR
The clean air delivery rate (or CADR) of the HY4866 is quite impressive at 300 cubic meters per hour. This means that it can adequately take care of rooms up to 1,076 square feet, which is more than enough for most households.
The difference in air quality is direct and ever-present, with pollutants seemingly disappearing from the room. It's really quite amazing how quickly the air changes after turning on the HY4866.
Overall, our testing of MORENTO's air purifier yielded overwhelmingly positive results. It's a powerful unit that can handle large rooms with ease, has a sleek design, and looks great in any space. But there's still more to this unit to discuss.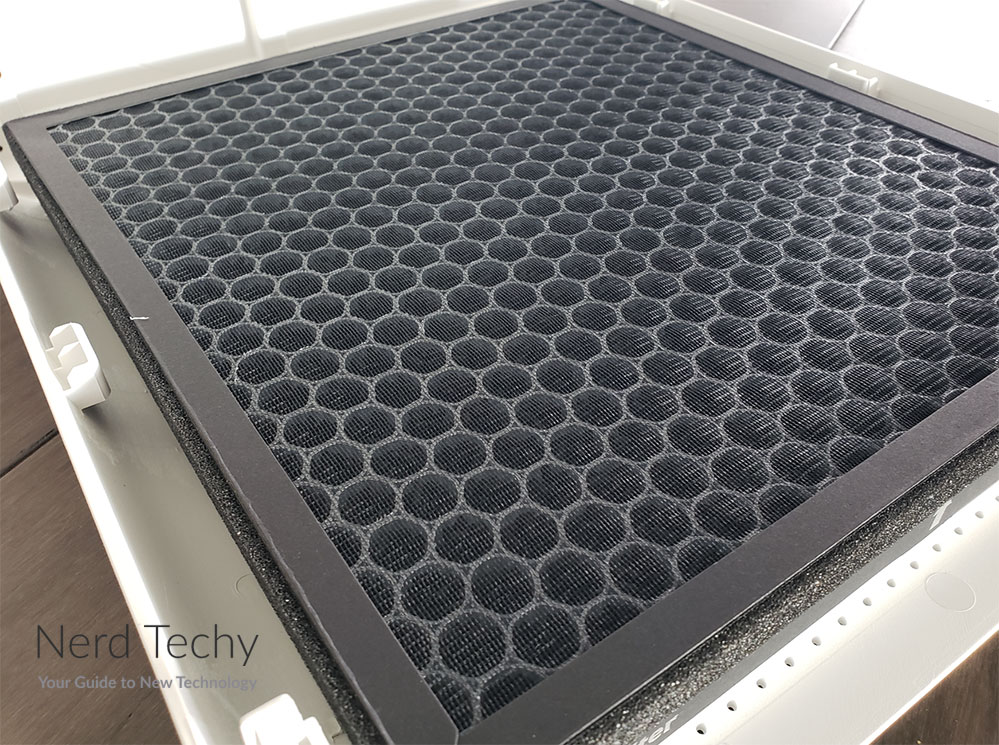 Filtration
Many air purifiers on the market use a single-stage filtration system, but the HY4866 takes it up a notch with three stages. This means that aside from removing larger particles like dust and pollen, it can also capture smaller ones like bacteria, smoke residue, and allergens.
We were very impressed by how well the unit worked; the air inside our 300 sq. ft. office seemed noticeably fresher after running the HY4866 for just 15-20 minutes. And it bears repeating—if you suffer from allergies, this is definitely something to consider.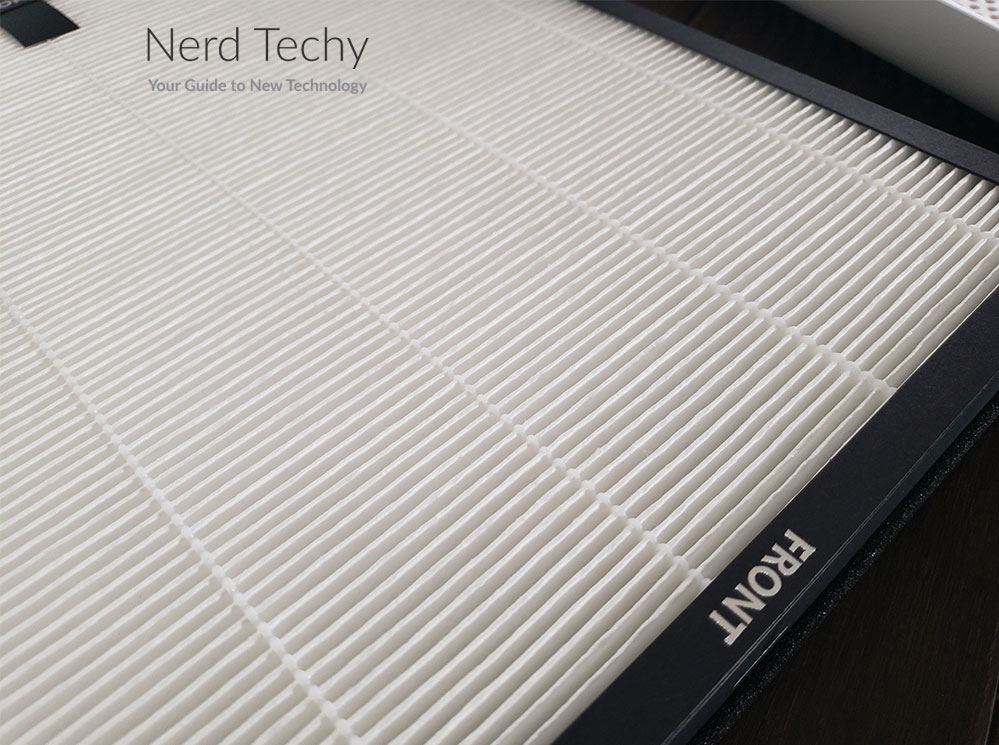 The HY4866 is so effective, in fact, that it can eliminate up to 99.97% of particles as small as 0.3 microns. That's impressive and well above what a lot of other purifiers can do.
Quiet Operation
Let's be honest; no one wants a noisy device running in the background. And this is where the MORENTO really shines, as it operates at a whisper-quiet level.
We were pleasantly surprised by how quiet it was; our conversations weren't hampered in any way, and we could still hear TV shows and music playing even when the unit was on.
It's worth staying on this factor for a moment, as we've had plenty of experience with appliances and other devices drowning out the TV while they're running. But not MORENTO's HY4866.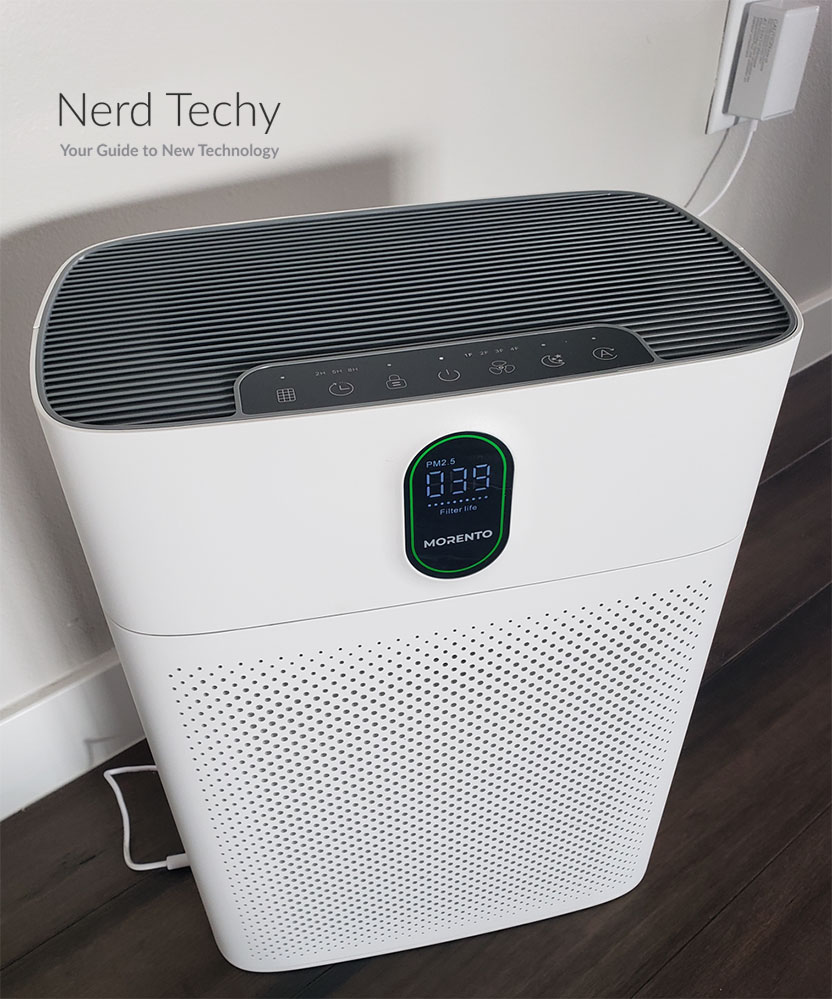 It hums along at a nice level, and you can adjust the fan speed if necessary. But really, it's not too loud at any stage – not even on its highest setting. This is a must-have for the home office or any other environment where silence and concentration are paramount.
Finally, there's nothing worse than having to remember to replace filters every month or so. MORENTO has made sure to make the filter replacement process uber-convenient, as you only need to do it every six months or so – saving you time and money in the long run.
Also included with your purchase are two original filters plus the required power cable for easy maintenance. It's everything you need for a hassle-free experience. And once you need to change a filter, replacements are readily available.
Air Sensor
When you talk about an air purifier, it has to be able to detect and alert you when the air quality isn't ideal. And in our experience, only the very best boast such a feature. The HY4866 does just that. It comes with an infrared PM2.5 sensor that monitors the surrounding air in real time and sends data back to the display screen.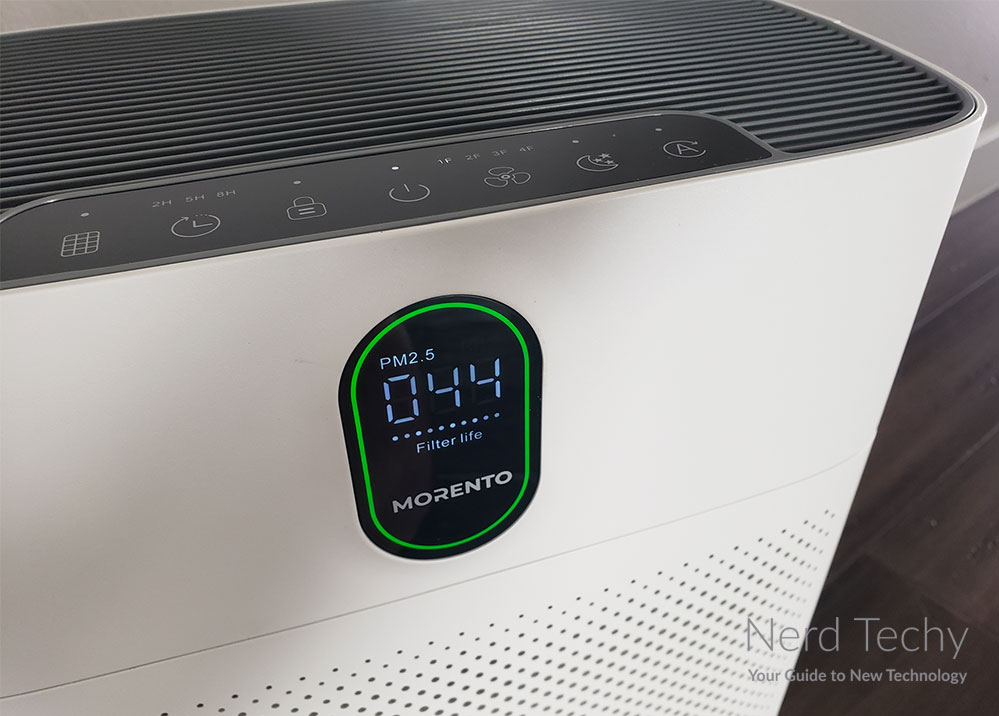 If the air quality dips below a certain point, the display screen will change color to yellow or red, and the fan speed will increase accordingly. This way, you can be sure that your home is always safe and healthy.
It's a wonderful addition and a welcome one, at that. This way, you're always kept in the know about the air in your home, making sure that it's always at its best.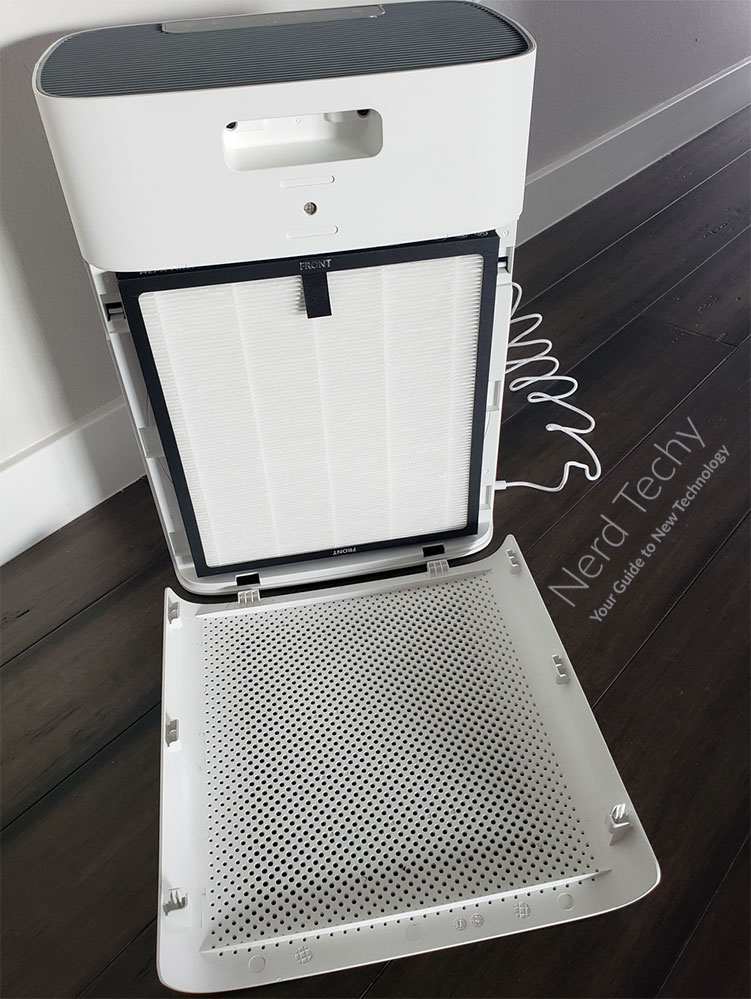 Superior Sleep Quality
We loved the HY4866's built-in sleep mode, and we're confident that you will, too. Thanks to this fantastic feature, you can ensure a good night's sleep for you and your family.
The fan speed on the HY4866 operates at low noise and low power, which will guarantee that it won't disturb your sleeping cycle. All of its lights and indicators turn off, too, so there's no risk of any bright lights keeping you up.
We were very impressed with how quiet and effective the HY4866's sleep mode was—it really does provide an undisturbed sleeping environment.
Moreover, it offers a clean and fresh air supply, which is always great for those who suffer from allergies or asthma. It's a winning combination in our book, and one that's certain to serve you and your loved ones well.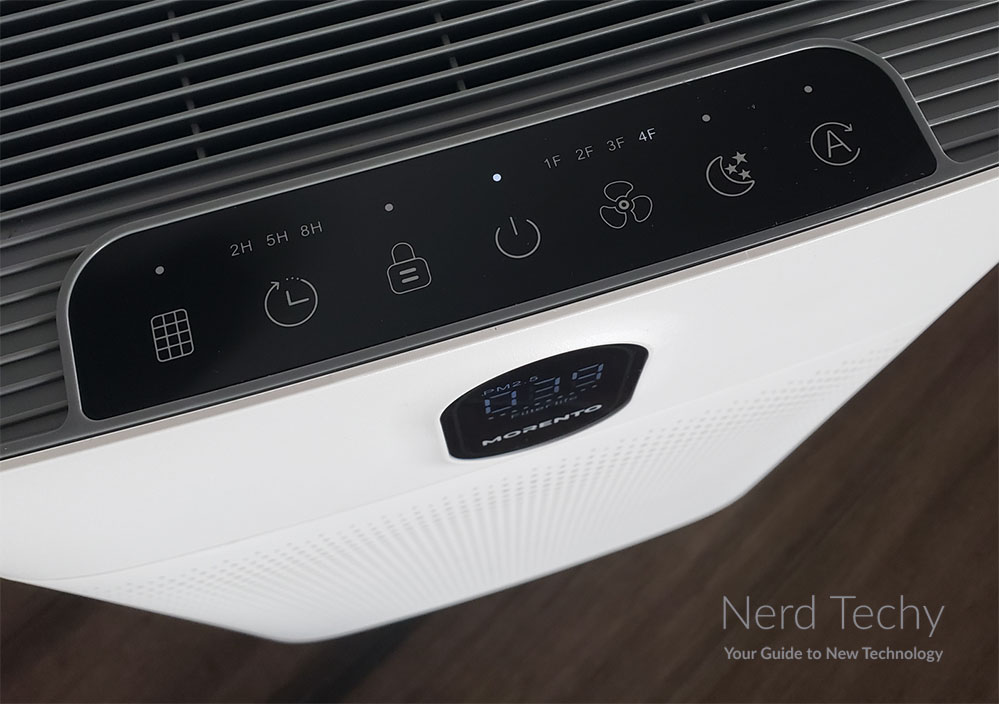 Timers Galore
The MORENTO HY4866 has 3 timer functions – 2 hours, 5 hours, and 8 hours. This is great for those who want to set the device to a specific time when they go out or to bed.
The timer can be easily adjusted via the control panel; it only takes a few seconds to customize your preferred settings. And if you don't know what fan speed to choose, there's always the automatic mode to fall back on.
It's a great way to ensure that your air purifier never runs out of juice. You can set it and forget it, safe in the knowledge that everything is taken care of. Plus, you'll save energy in the process!
Fan Speeds
In addition to the timers, the MORENTO HY4866 also includes 4 adjustable fan speeds. You can switch between them based on air quality and preferred settings.
From 1F to 4F, it's all about finding the right balance of speed and noise level—something that couldn't be easier with this unit. You can find the most suitable speed for your needs and enjoy a quietly purifying experience.
It's incredibly convenient, and you won't need to waste time or energy worrying about making adjustments. Simply select the fan speed from 1F to 4F, sit back, and relax as MORENTO does the rest.
User Interface and Operation
Now for the fun stuff. Complementing the tech-forward design, MORENTO's HY4866 air purifier has a simple, straightforward user interface. The display screen shows information about the current air quality and fan speed level, making it easy to keep tabs on your device's status at any given time.
On top of the unit is a touch strip that's adorned with just seven buttons. They're not really buttons in the traditional sense—more like pressure-sensitive symbols. The buttons can be used to adjust the fan speed, set a timer, activate sleep mode, and more. It's easy to use and incredibly intuitive; you'll get the hang of it in no time.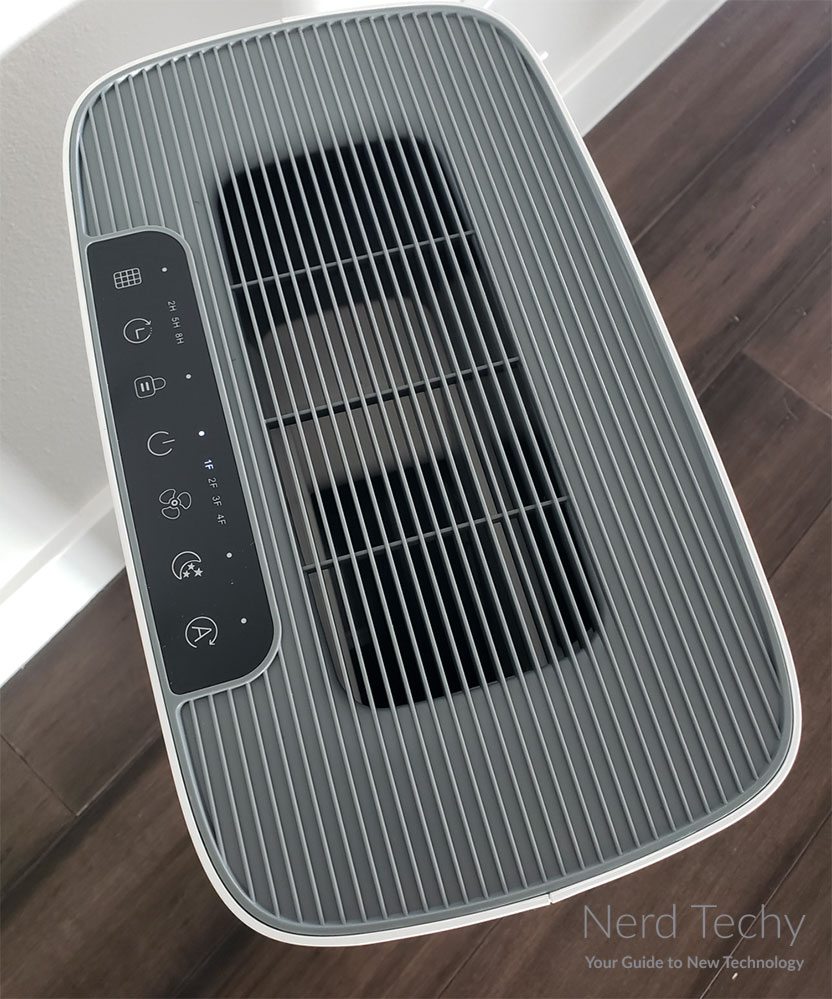 When it comes to operation, MORENTO's HY4866 air purifier is incredibly efficient and reliable. It takes just a few minutes to start up and begin cleansing your indoor environment, and it will keep going for days on end without any need for maintenance or adjustments.
The touch panel features bright, backlit symbols that make it clear what each of the buttons does, and overall operation is smooth and trouble-free. It's easy to see why MORENTO air purifiers have been a popular choice for households, and the HY4866 drives that fact home in style.
Sadly, this unit lacks a remote control of any sort. It would have been pretty handy to at least have a smart app to work in concert with the air purifier. But alas, it's not to be. And that's really the only thing we have to say against the MORENTO HY4866.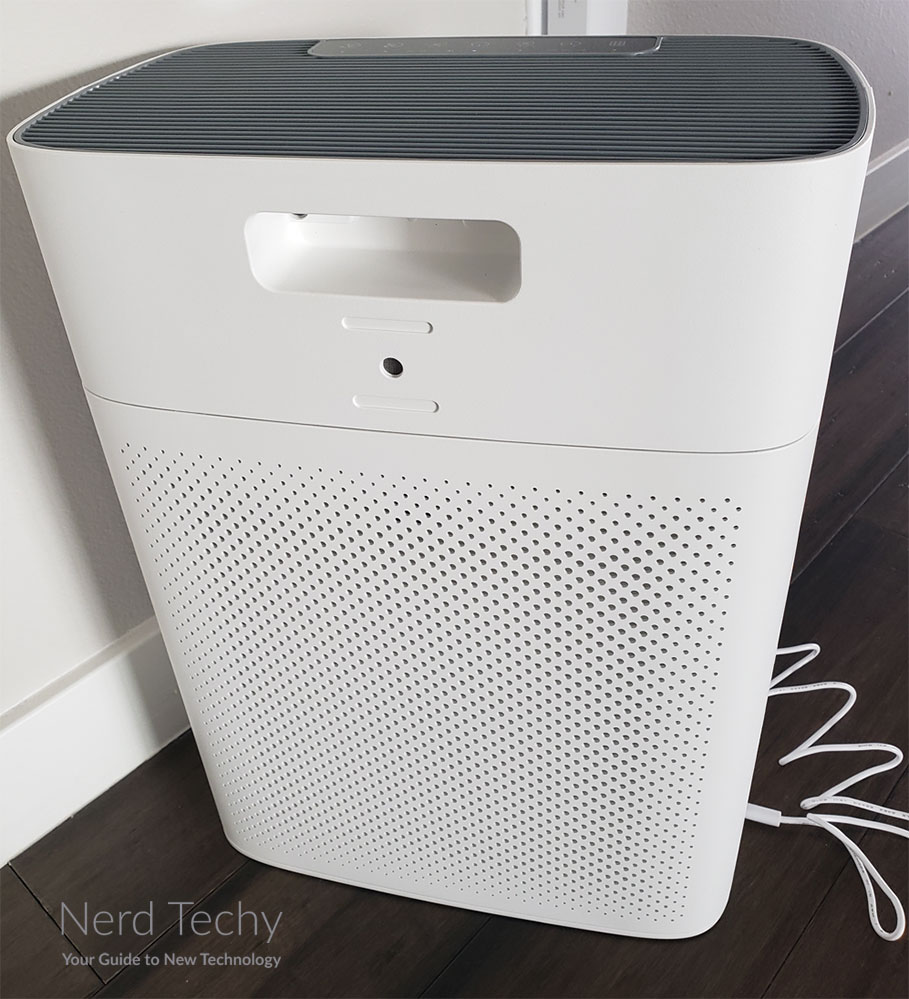 Having to get up every time you want to make an adjustment is a minor inconvenience compared to the sheer power and efficiency of this air purifier. We'd be hard-pressed to find anything that can match it in terms of bang for your buck. Honestly, we have no qualms recommending it as one of the best air purifiers available on the market today under $100.
What's more, the set-it-and-forget-it functionality of the HY4866 means you're not really going to have to get up constantly to adjust it, so the lack of remote control is really not as big a deal as it might sound. In light of that, it's an excellent choice for those who want a powerful, reliable unit that can provide clean air to their homes without any fuss.
It's great value for money, and it comes with plenty of features that make it stand out from the competition. So if you're looking for a top-notch air purifier, the MORENTO HY4866 should definitely be on your shortlist.
On another note, one more qualm some may have is the area where the power cord plugs in. Since there's a filter on both the back and front, the cord plugs into the side. There's not much wrong with this, other than the fact that it makes the cord more difficult to hide. Not a big deal but worth mentioning.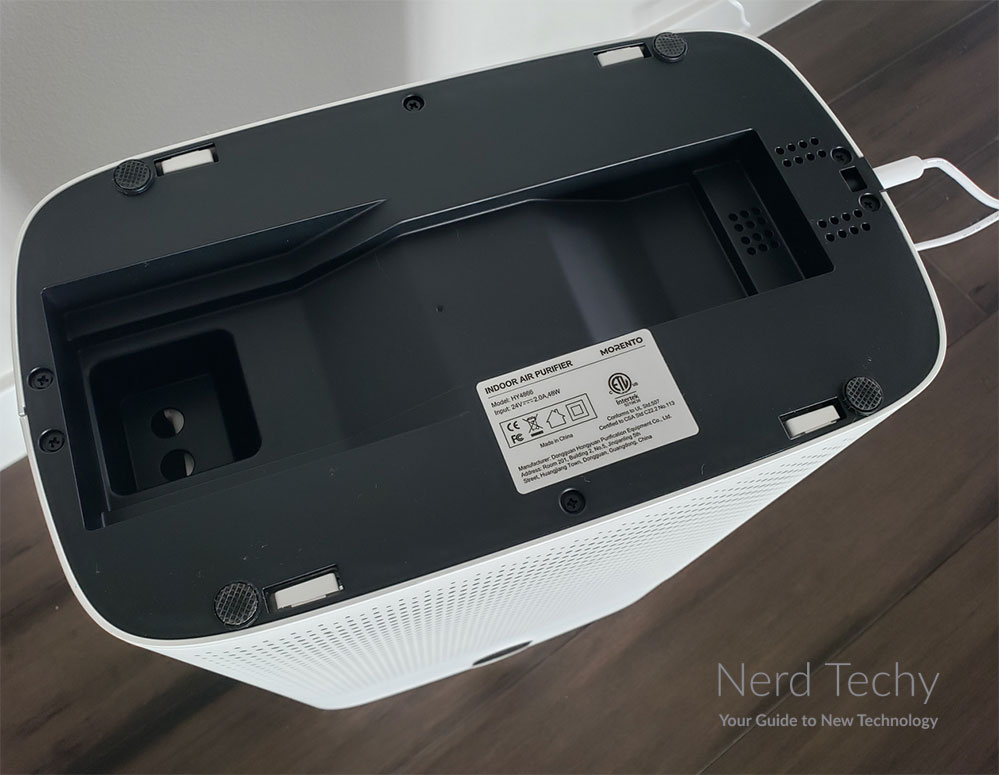 Final Verdict
The MORENTO HY4866 air purifier is a smart investment for anyone looking to improve their indoor air quality with ease. It's reasonably priced and easy to maintain, has plenty of power behind it, and is surprisingly quiet while in operation.
Plus, its three-stage filtration system can capture particles of up to 0.3 microns in size, so you know your air is as clean as it can be. Anyone who wants clean air in a sleek and stylish unit. The HY4866 gets the nod from us, and we're sure it will be a great addition to your home.
What more could you ask for? We give MORENTO's HY4866 our seal of approval. This is one that's definitely worth considering.