RunFree Lite
Pros
Decent audio quality between 40% and 80% volume.
Offers excellent situational awareness.
Very lightweight and comfortable fit.
Excellent battery life with quick charge times.
Water resistant against sweat and splashing water.
Cons
Poor audio quality at low and maxed out volume.
Feels a bit cheap and plasticky.
Bass is underwhelming.
Wireless earbuds are all the rage these days. Rather than using a pair of over-ear headphones, these in-ear counterparts are incredibly popular. It seems there's a make/model for almost any situation. But there's one problem – earbuds plug your ears and make it hard to hear what's going on around you.
Sure, you can simply use one bud at a time, but this is far from ideal. The pair you own may also have a transparency mode, but this kind of technology doesn't always work as well as it should.
For those who want total situational awareness, we recommend opting for a pair of air conduction headphones. Rather than inserting them into your ear canal, they're worn closely to it. This way, sound travels through the air and your ears are never physically obstructed. The result is a soundstage that's open to the real world but still acceptable for daily listening.
As a popular manufacturer of Bluetooth-enabled earbuds, SoundPEATS is no stranger to innovation. That said, their latest release is something a bit different than what they've released in the past. Introducing the RunFree Lite – a sports-focused set of air conduction headphones that seem to have a lot going for them.
As their newest release, we were lucky enough to get our hands on our own pair. Over the past two weeks we've put the RunFree Lite through a thorough trial-run to see if they live up to the hype or simply fall short.
Today we're going to share our findings with you. In the end, we'll ultimately determine if they provide a listening experience that's worthy of a pass or fail. Let's get right into it.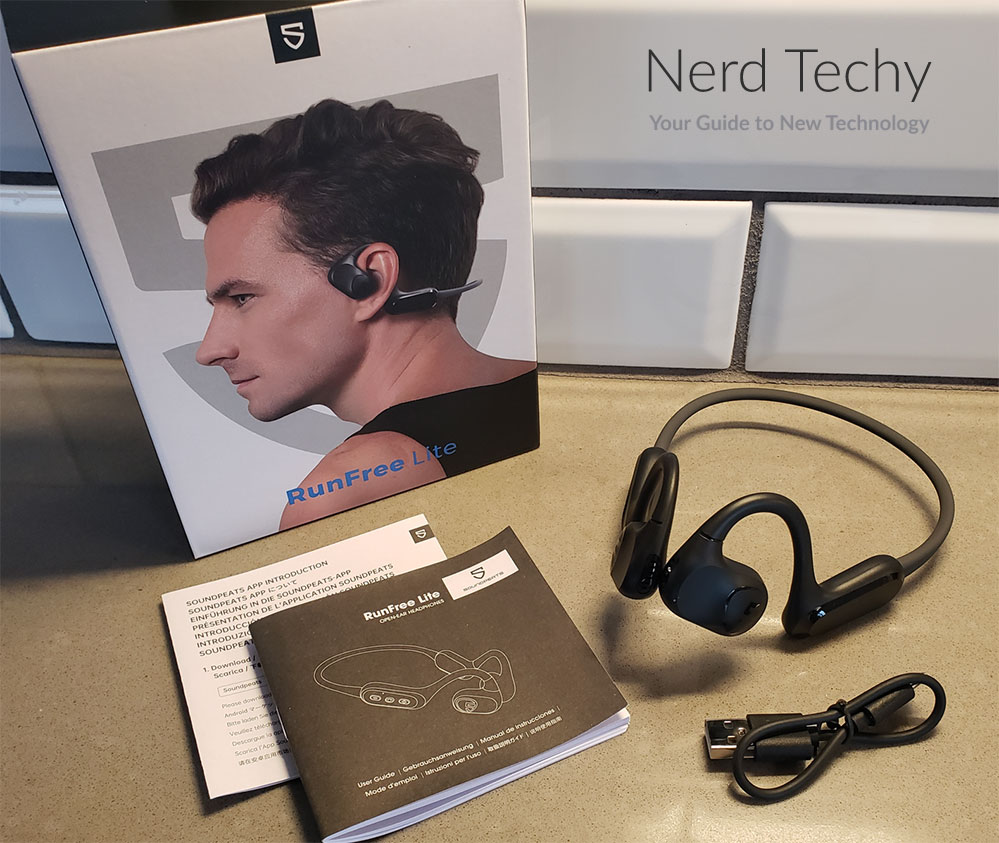 First Look
The SoundPEATS RunFree Lite boast a lightweight, open-ear, simplistic approach that's both minimal and sleek in appearance. Weighing in at 27 grams (1 ounce), they're extremely lightweight and seemingly well-made.
However, some may consider them 'cheap feeling' since they're so light. Comprised mostly of a matte black plastic with a few some gloss accents throughout, they're comprised of two main earpieces and a flexible, gray rubber neckband that moves relatively freely.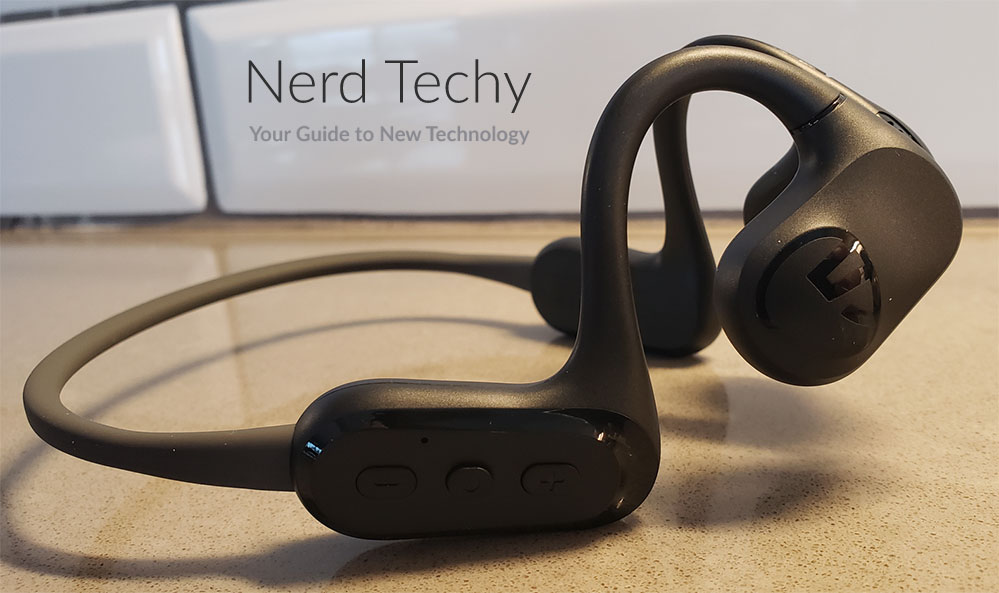 Each earpiece is to be worn near the ear canals but rather than inserting them, each rests openly on the tragus of each ear – this is the little piece of cartilage that's directly outside your ear canals. Sound is then transmitted through the air, never physically obstructing your ear canals in the process. The result is a soundstage that's open to the surrounding world. Simply put, the design prioritizes situational awareness to boost an element of safety and comfort for open world scenarios.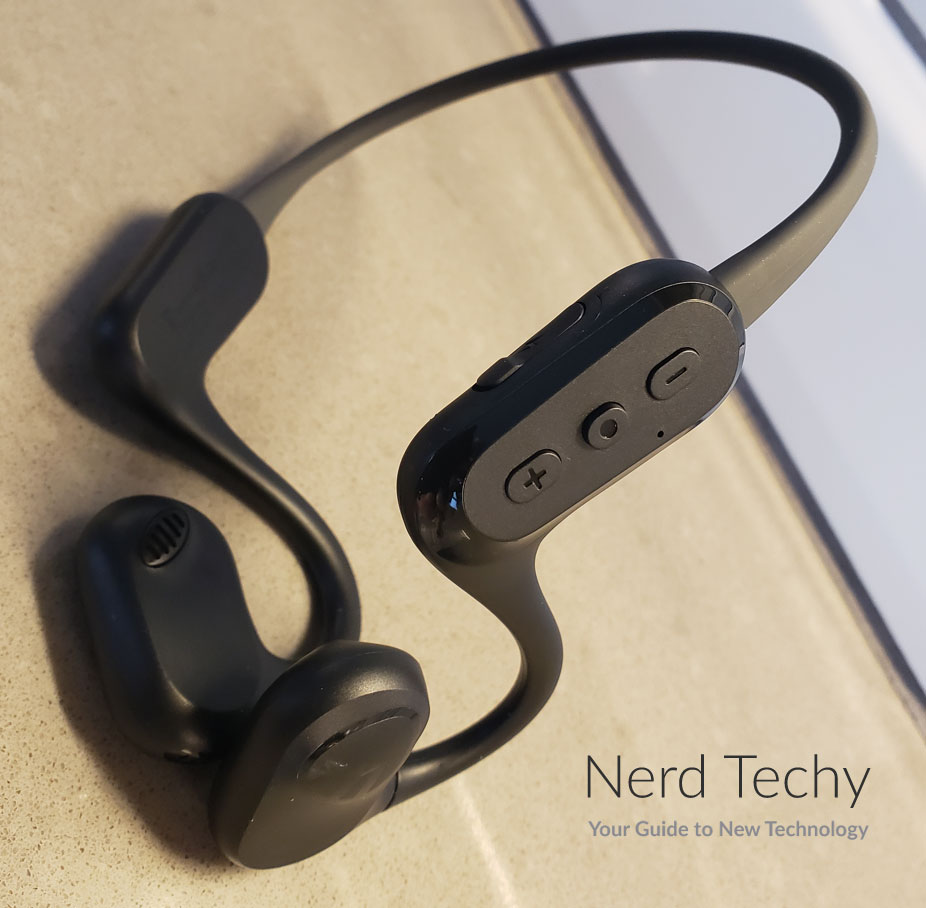 Both sides of the RunFree Lite look nearly identical, with the buttons and USB-C charging port located on the right earpiece. Here, there are three buttons for adjusting your music on the fly. There's a + and – button with a muti-functional button between the two. Adjusting the volume, skipping tracks and taking phone calls are easy to control with these. And they're far better than touch-controls that we've seen in the past. We love having physical buttons rather than a touch-sensitive area that tends to accidently get pressed.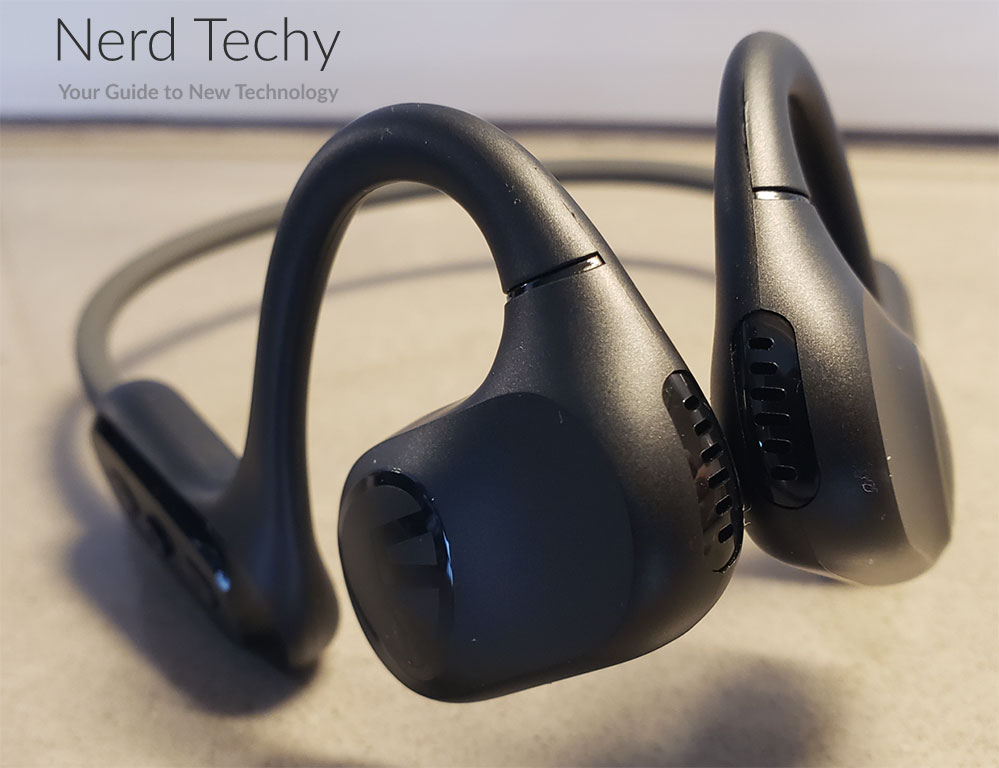 Each earpiece is equipped with two speakers; one towards the front and one inside that's positioned right outside of your earholes. This combination keeps the sound flowing while providing awareness to your surroundings.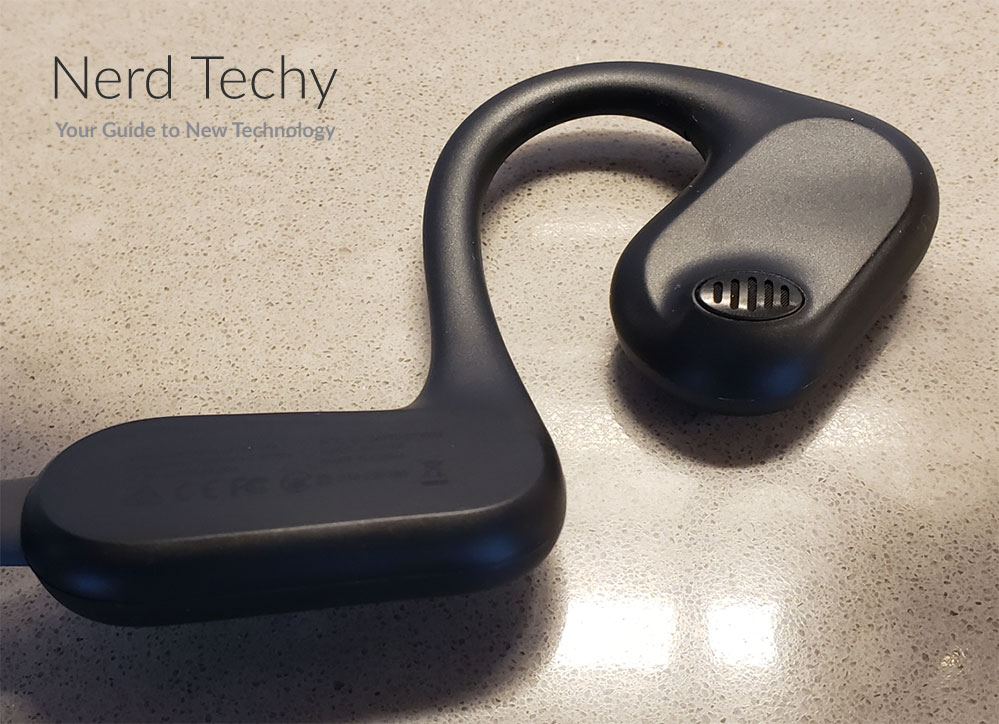 Fit and Comfort
The SoundPEATS RunFree Lite were designed and developed specifically for workouts and sports in mind. Due to their lightweight and slim physique, they don't add much mass to your head and actually fit quite nicely. Nothing is adjustable – there's no ability or need to swap out eartips or adjust the band. These come in a one-size fits all form factor that makes them easy to swap between users.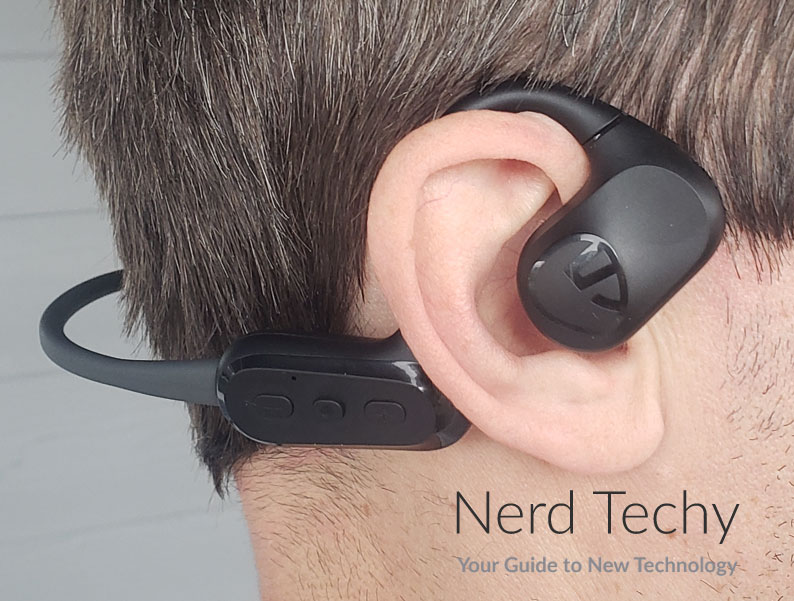 Placing them on our ears for the first time took a little bit of practice. You'll need to weave your ears through the band/earpiece to wear them correctly. Once placed on your head, they tend to sit still and do not move around, even with vigorous movement such as running and jumping. Depending on the size of your ears and shape of your head, putting them on may be easier for some than others. Regardless, we feel they provide an excellent fit, especially for workouts and sports.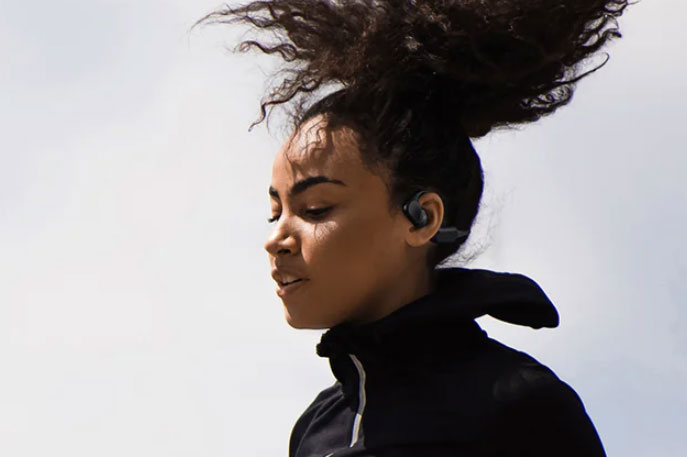 We ran 3 miles with them on multiple occasions. With each workout, not once did we experience any excessive wiggle or free-play in regards to the fit or movement of them on our ears. We even played a few games of basketball while wearing them. Not once were they knocked loose, nor did they freely move about.
The fit isn't tight, either. In fact, we feel the RunFree Lite fit well with both large and small sized ears/heads. Even if you have an extremely large head like one of our testers, there should be no complaints regarding them coming loose on their own over time. In fact, even those with extremely small heads could use them. We had an 11 year old boy try them on and the results were the same; no excessive movement and an ideal fit in all regards.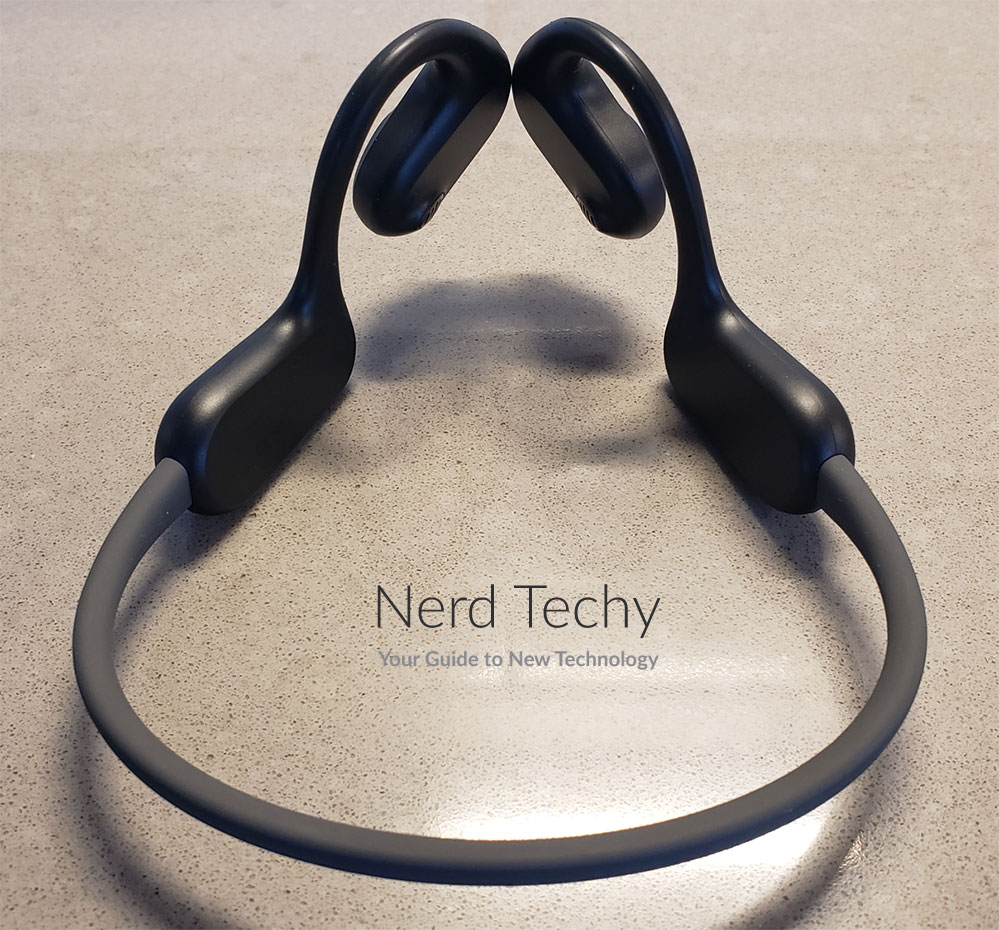 Wireless Connectivity
Utilizing the latest Bluetooth version 5.3, the SoundPEATS RunFree Lite provide a fast, stable wireless connection. Wireless range is dependent on a wide range of factors and it's usually a consideration when selecting a new pair of earbuds or headphones. That said, we found the wireless range to max out at around 40 feet, line of sight.
Simply put, the headphones can communicate with your paired phone or tablet without lag or choppiness until this distance. Once you add a few walls or obstructions in the mix, wireless range may suffer down to 20 feet or so. Regardless, we feel this is still acceptable and quite standard in todays' day and age.
One feature that many people may want to take advantage of is the multi-point connectivity. With it, you can pair two devices simultaneously to the RunFree Lite. This way, you can effortlessly swap between two audio sources in a scenario where you answer an incoming call while watching a movie or playing a game at the same time. We tried it out on multiple occasions and found that the multi-point connectivity worked very well. Although sometimes it may be a bit confusing until you get the hang of it.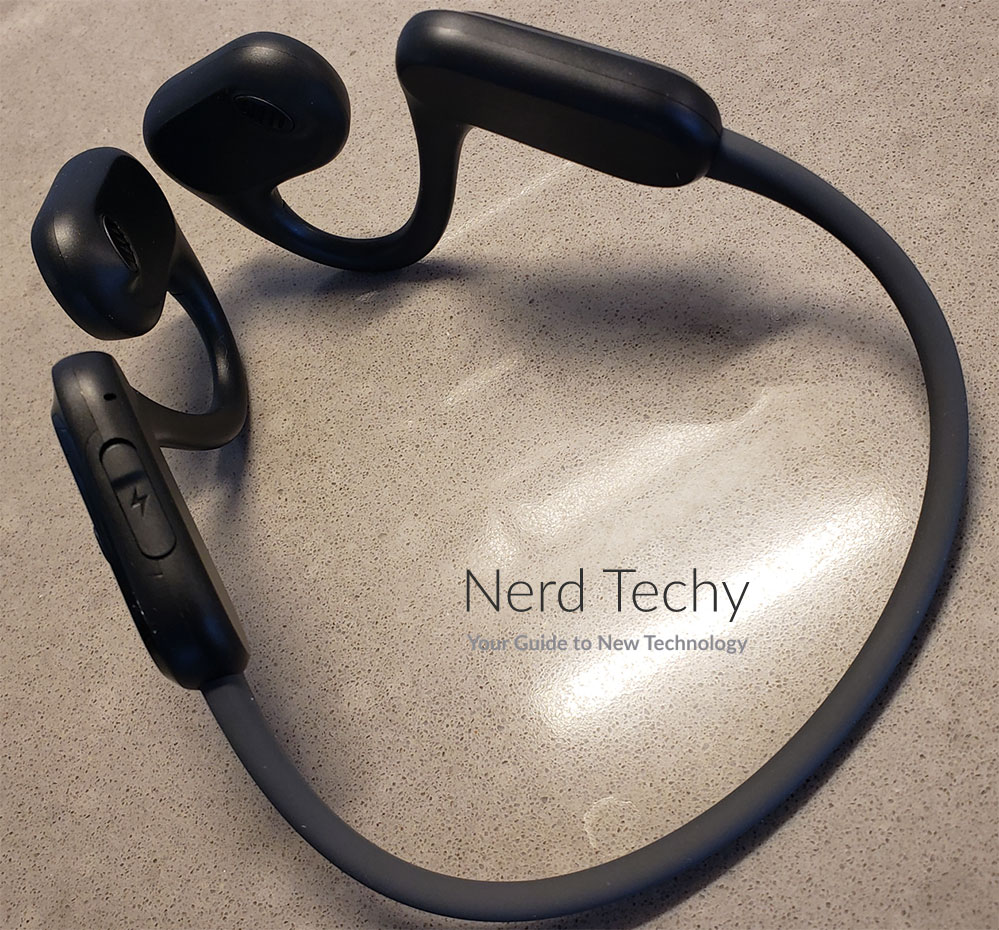 Sound Quality and Listening Experience
As one of the most, if not, the most important factor, the sound quality and overall listening experience of the SoundPEATS RunFree Lite was favorable. With any air conduction headphones, you'll need to know what you're sacrificing. Since they don't completely isolate the soundstage, they're not going to compare well to a pair of in-ear buds or over-ear headphones with ANC activated.
Conversely, the RunFree Lite provide acceptable audio quality, but it isn't truly fantastic. Especially at low volumes, you're going to be sacrificing sound quality in favor of better situational awareness. With the volume turned down below 40%, you can hear people speaking near you with distinguishable clarity. However, once you begin cranking the music up to a higher volume, you're trading sound quality for less awareness. That said, music and sound are improved at higher volumes. However, you're not going to be able to pick-up on nearby conversations.
If you prefer to keep situational awareness as a priority, you'll want to make sure you adjust the volume accordingly. At higher volumes, even background noise is muddied up and drowned-out. Perfect for better sound quality but not if you'd like to stay on top of your surroundings.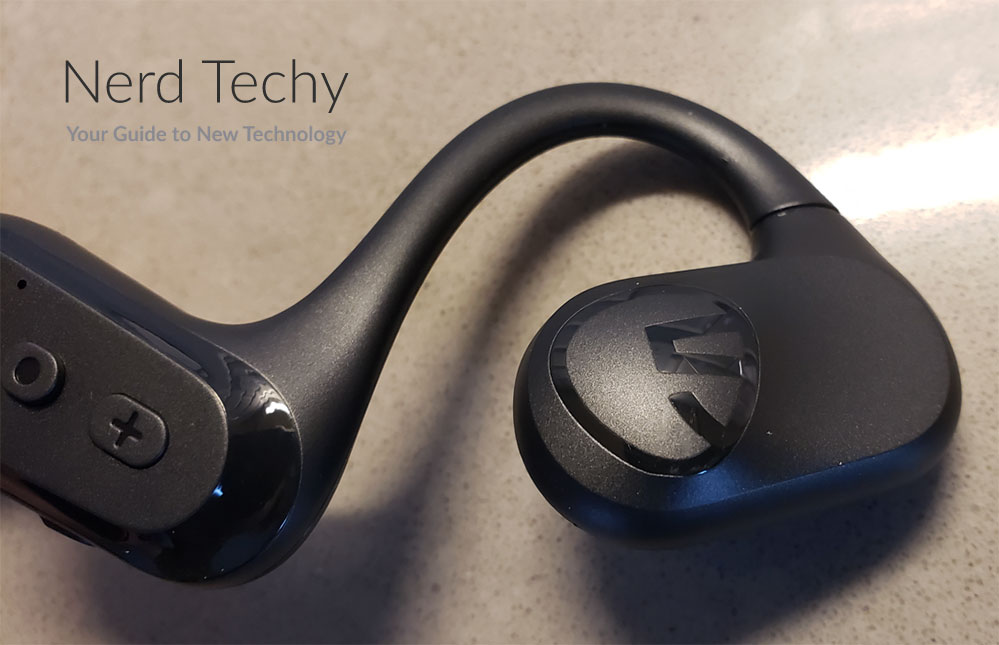 In terms of sound quality, the highs and mids are surprisingly nice. However, noticeable bass is only apparent above 40% volume. Although they're equipped with 16.2mm drivers, the bass is still a bit lacking. To be honest, this is pretty much expected since these are where most air conduction headphones tend to struggle. However, don't let us try to convince you that there's no bass at all; it's just that it's a bit weak. Even with bass-heavy trip-hop and EDM, you can feel the bass but it's not quite as vivid as you may like.
Vocals tend to come across clear and concise, with easy to distinguish lyrics and wonderful mids/highs that sound especially nice at mid-range volumes. Lyric-intensive songs from mainstream artists like Taylor Swift and Miley Cyrus tend to shine above songs that are bass heavy or very instrumental.
In terms of distortion or unfavorable sound effects, these were only apparent at the maximum volume level. In reality, most people won't utilize max volume since 50-80% volume seem to provide the most ideal soundstage, in our opinion.
Call quality is another factor that we briefly took a look at. Admittedly, we don't use headphones or earbuds for phone calls all that often, but it's nice to see that there's a built-in mic for this. We tested it with three separate phone calls and had no complaints with any aspect of the overall call quality.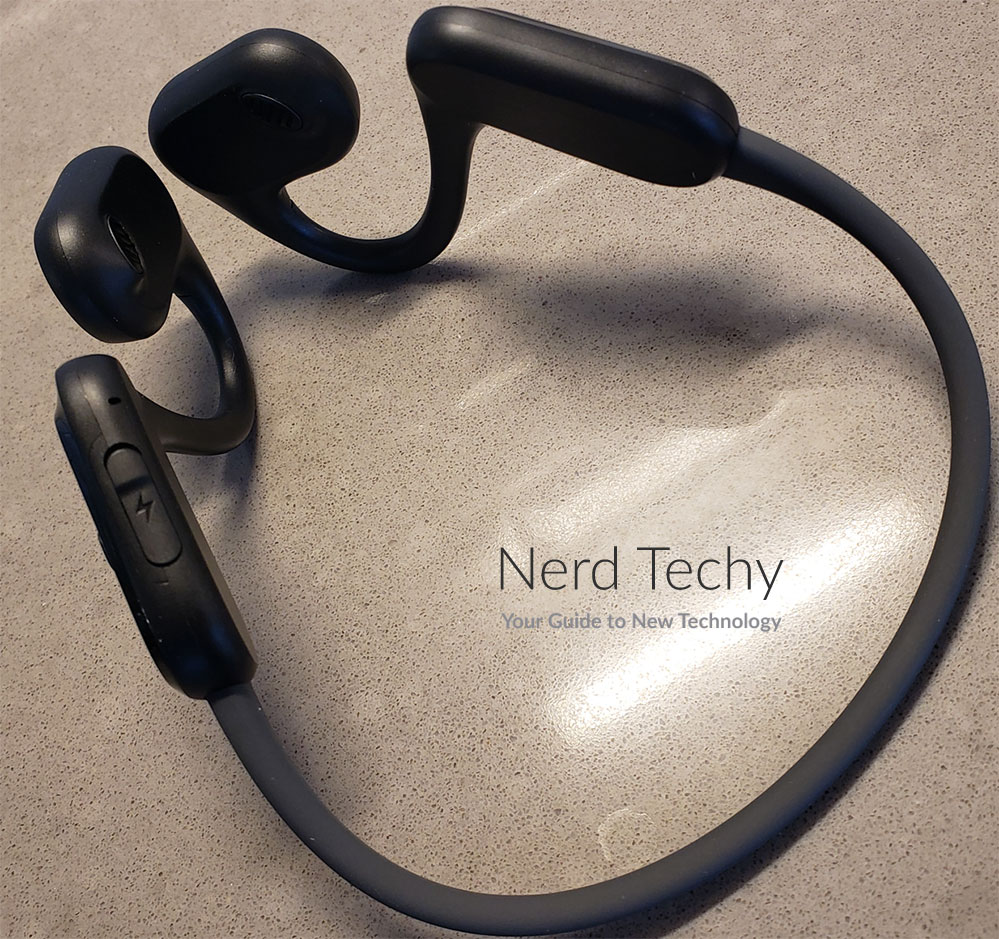 Battery Life and Charging
Internally, the SoundPEATS RunFree Lite are equipped with a 130mAh rechargeable lithium-ion battery. While this may not sound like a high capacity, it's enough to provide a surprisingly long battery life between charges. SoundPEATS claims up to 17 hours of total playtime per charge, but this is up for debate.
In our experience, we found the RunFree Lite to last anywhere from 12 to 15 hours in multiple situations. Certain factors play a part on the actual battery life you'll experience. Things such as ambient temperature, listening volume and even music-type can all have an effect on the overall longevity that the battery provides. While this is still close to their advertised duration, we couldn't replicate the claim of 17 hours no matter what we tried.
That said, 12 to 15 hours of battery life is still impressive and quite acceptable if you ask us. We found the most annoying aspect being the audible "battery low" warning that they gave off every 30 seconds once they were about to die. We know the battery level is low – stop bugging us about it! If there was a way to turn off this annoying "feature" we certainly would.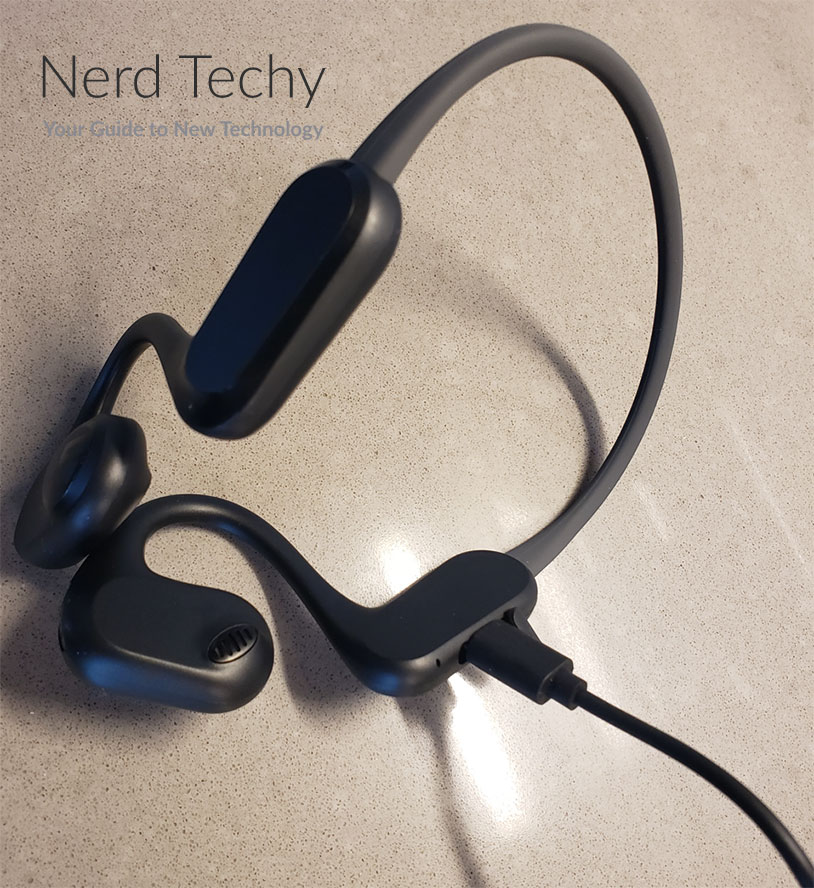 Regardless, we're glad that SoundPEATS included USB-C as the connection to charge them up. Although the charging cable they provide is obscenely short, any USB-C cable can be used to top-off the internal battery when needed. We're just glad that they didn't utilize Micro-USB – if you're a manufacturer in 2023 that's still relying on Micro-USB, you have no place in making headphones for people.
All jokes aside, re-charging the RunFree Lite is very fast. Within an an hour and forty five minutes, the headphones go from completely empty to a full, 100% charge. For a short charge time like this, we're thankful they can last as long as they do. Simply put, re-charging them is a breeze and can easily be done when you're not listening to them.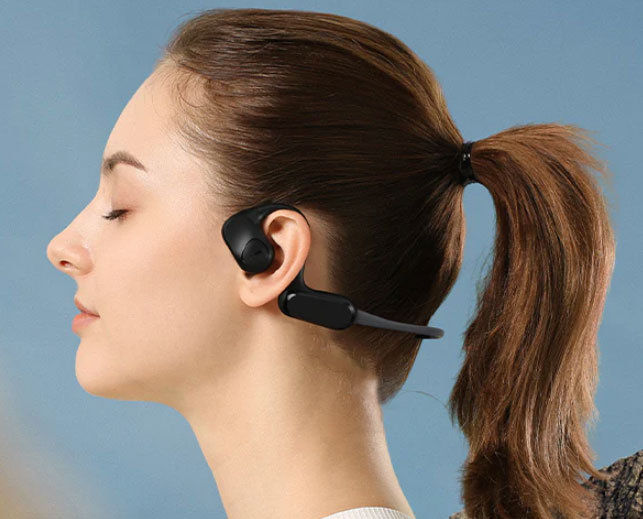 Durability
While the RunFree Lite feel a bit cheap at first glance, they're actually IPX4 water resistant. In layman's terms, this means that they're able to withstand splashing water in any direction. This includes sweat and moisture that can accumulate over time during a long, exhausting workout. Whether you're lifting weights or running a long distance jog, you can rest easy knowing that they're capable of withstanding any sort of intrusive moisture.
Keep in mind, however, that this doesn't mean they are fully waterproof. You won't want to submerge them in any sort of water or liquid. Drop them in a swimming pool or muddy puddle and they might not hold up. But if you're using them as intended for working out or sports-focused activities, they should hold up just fine over the course of time.
On another note, be sure to always keep the USB-C charging port plug installed at all times. This little rubber nub keeps out moisture, but if it's left open, the IPX4 rating is not going to be effective.
Conclusion
As you can see, the SoundPEATS RunFree Lite as a capable pair of air conduction headphones that have a lot going for them. They're extremely lightweight, minimalist and seemingly well made. Although they may feel a bit cheap due to their lightweight form-factor, they offer an excellent blend of comfort and usability.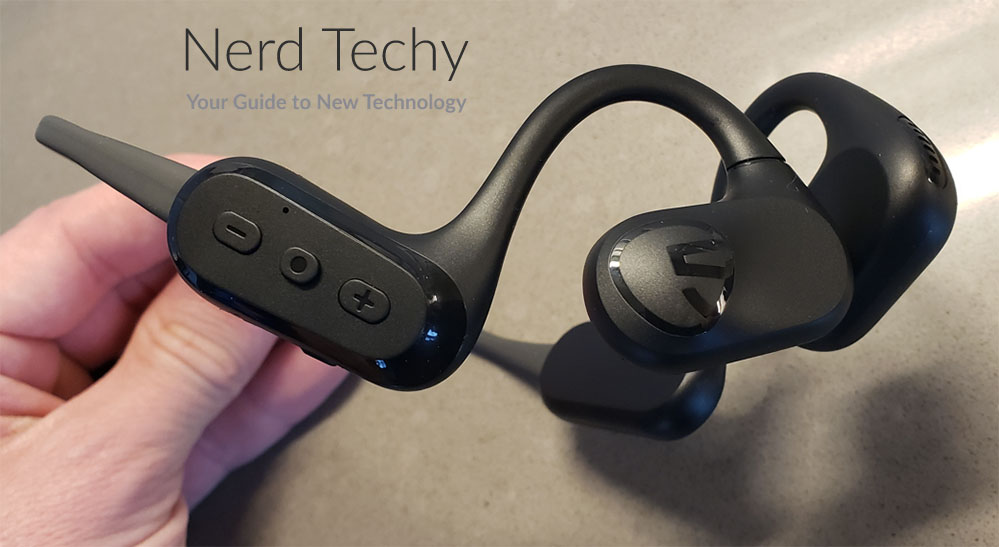 While they may not provide a perfect soundstage, they certainly do if you're main goal is to keep situational awareness as a priority. Sure, the bass is a bit displeasing, but most music sounds acceptable in most regards. Just keep in mind that these won't provide the same listening experience as in-ear buds or over-ear headphones.
Whether you're an avid gym-aholic or a mail carrier, the RunFree Lite are a great option for those who need a reliable yet affordable pair of air conduction headphones that work wonderfully. With an impressive battery life, decent wireless range and a comfortable fit, they're a nice mix of it all.
If you need immersive audio but are wanting to sacrifice the open-ear design, we recommend checking out SoundPEATS other recent release, the Capsule3 Pro. They're built with pristine audio quality in-mind and even have a transparency mode that give you awareness to your surroundings; just not quite as much awareness as the RunFree Lite give you.