ILIFE W90
Suction & Cleaning
8.0/10
Pros
Well-made, durable construction.
Good suction and cleaning power.
Lightweight and versatile.
Good battery life and easy charging.
Reasonably priced.
Cons
Does not apply heat.
No attachments.
Could be quieter.
Vacuums are everywhere you look these days. What was once a luxury item is now commonplace in homes of all sizes and shapes. The ILIFE W90 is an excellent addition to the crowded market, offering a robust motor, wet/dry suction and some nice features that help it stand out from the competition.
Here at NerdTechy, we're always down to give our two cents on a product – especially one as interesting and convenient as the ILIFE W90. While it's no Dyson, there's a lot here to like, and we were overall quite pleased with our time testing out the W90.
If you're skeptical about vacuum technology, that's totally understandable. The internet is filled with cheap vacuums that fail to perform on any meaningful level. And if you've been burned by one those cheap units in the past, it's probably going to take a lot to get your attention.
Can ILIFE's W90 do the trick? Or will it join the ranks of the many average-at-best vacuums that clutter up storage closets? Let's find out.
First Impressions
Right off the bat, we were taken aback by how good the W90 looks and feels. It has a modern design with clean lines and enough weight to it that you know it won't be difficult to move around your floors as you use it.
The setup was a cinch, too, with everything easily snapping into place or pre-installed right from the box. We were equally impressed by how powerful the suction is, thanks to its 150-watt motor. And while it's not quite as strong as some of the flagship models on the market today, it still gets the job done – and quickly.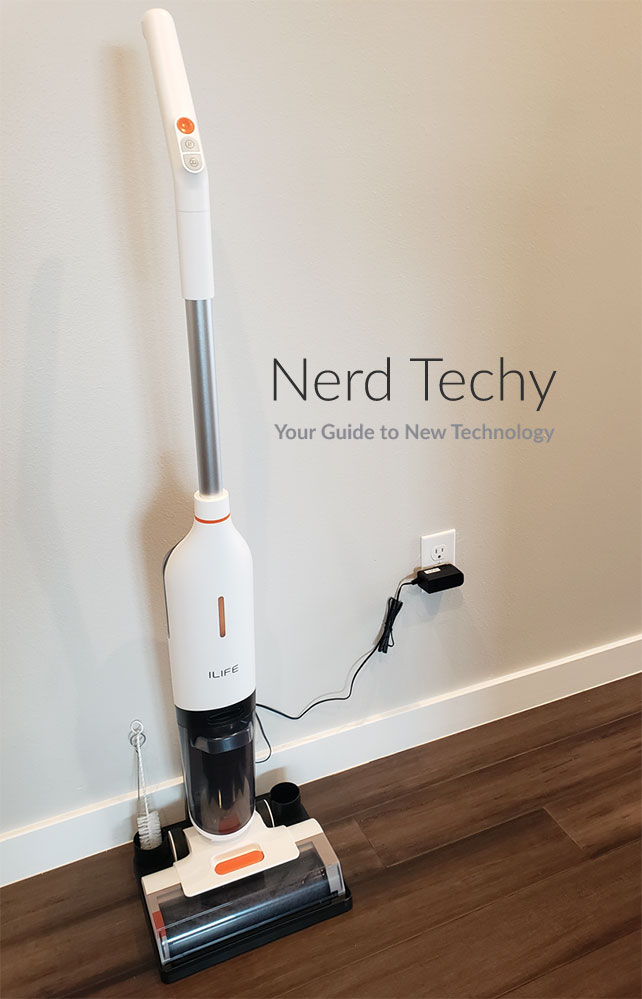 We will of course go much more in-depth in our testing section below, but if first blush is anything to go by, we're pleased with what we're seeing thus far.
Design and Build Quality
As stated, ILIFE has done a great job with the design of the W90. It looks sharp and modern, although it doesn't quite have the same level of craftsmanship as some higher-end models on the market today – and that's OK.
Real talk for a moment; not everyone has the capital to drop half a grand on a shiny new Dyson or Shark. So for those of us who are looking for something that does a good job without breaking the bank, the W90 is an excellent option.
We love the fact that ILIFE clearly borrowed some of its design cues from the leading brands in the space. So even though it may not have quite the same level of quality, it's able to capture some of those same high-end aesthetics.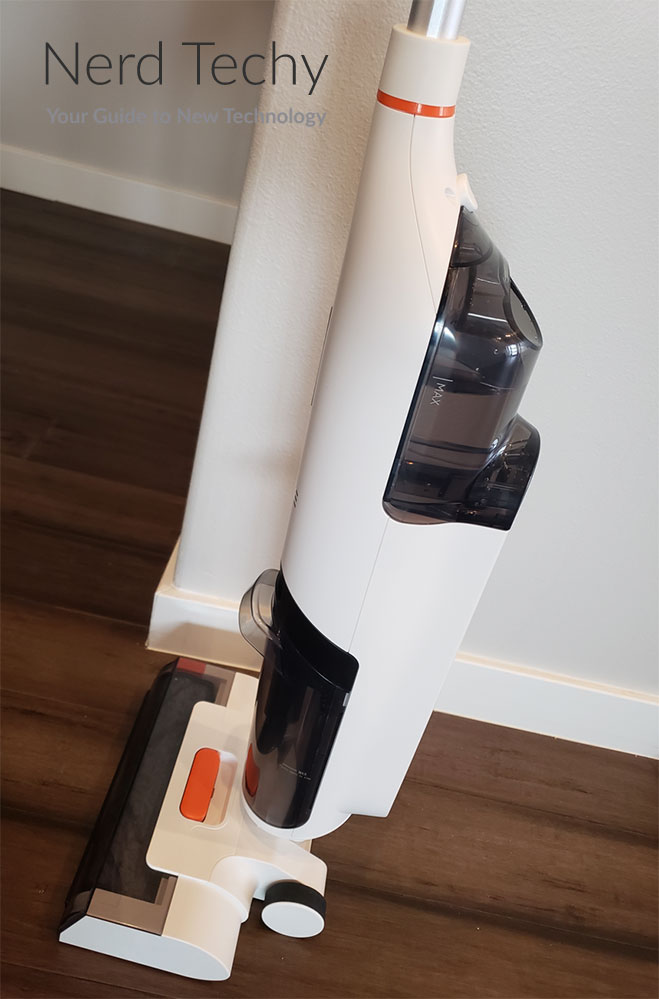 Overall, this is a sharp-looking unit that looks like it belongs alongside all the rest of your modern tech. Of course, looks don't mean much if the vacuum is a non-performer. So on that note, just how does the it perform? Read on to find out.
Performance
For the most part, we were quite pleased with the performance of this vacuum. As mentioned, it has a 150-watt motor that provides a good amount of suction – enough to get the job done without feeling like you're wrestling an elephant in the process.
The W90 also has a brushless motor that helps reduce noise levels and ultimately creates a more pleasant cleaning experience. Not only is this quieter, but it will also help to extend the life of the unit.
With both a "standard" and "high" mode, it doesn't have any trouble sucking up debris of all kinds. Hair, fine dust and even larger, loose particles were sufficiently swept up when utilizing either mode. Although we must say, high mode is our preferred selection. It's not much louder but seems to deliver better suction for both wet and dry hard floors.
Battery
And as far as its range goes, you can expect up to 30 minutes of run time on one charge with standard mode – which is right in line with most other vacuums in its class. Granted, 30 minutes might not sound like a lot of juice on paper. But think about it – when's the last time you vacuumed for half an hour straight?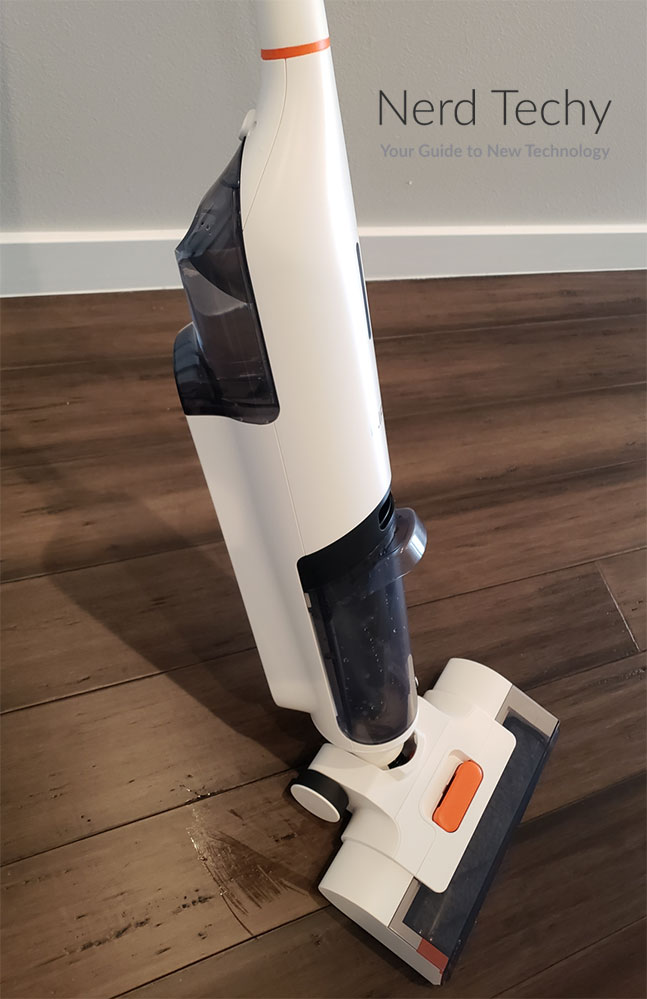 With "high" mode, the battery duration is cut in half at around 15 minutes. If we're being honest, most of us with a small to medium sized house or apartment can get the job done in 10 or 15 minutes flat. And in that regard, the W90 performs admirably – if you move quick on high mode, you can theoretically vacuum more than 2,100 square feet on a single charge. That's going to be more than enough for most people.
Making this both plausible and possible is the lightweight construction, which gives you just enough weight to feel steady and controlled without that annoying pull on your arm.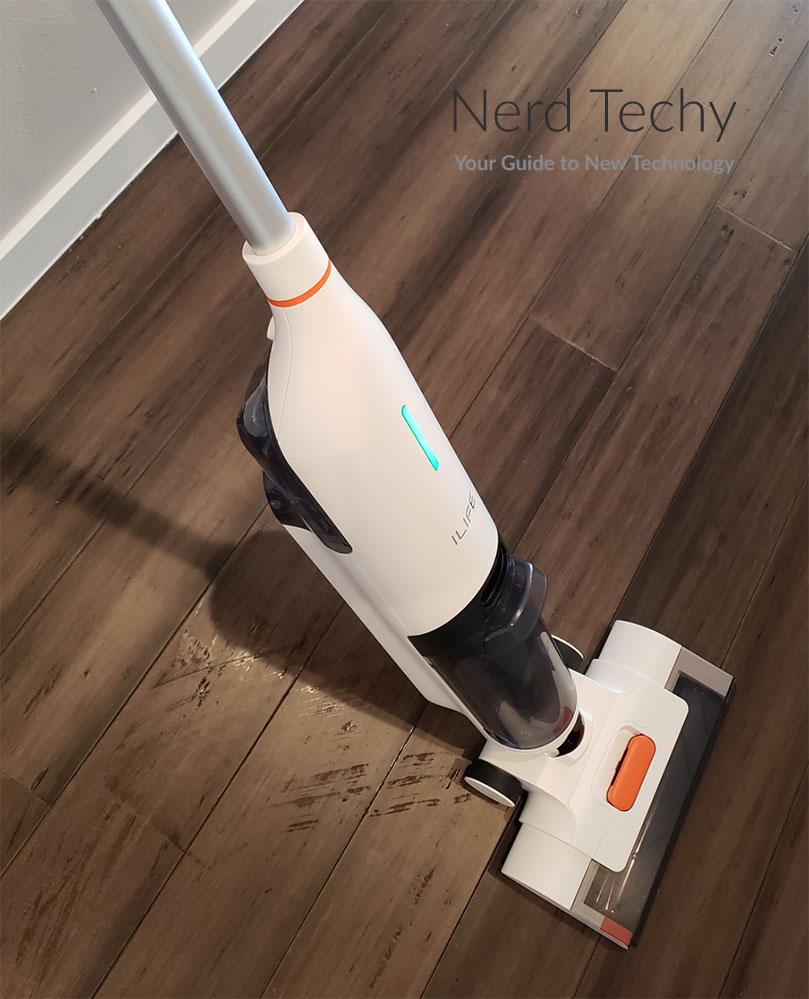 Best of all, the front of the vacuum is accompanied by a single glowing LED. With a green, yellow and red color, it clearly indicates remaining battery life in a manner that's easy to visualize. Green means full, yellow is around half and red means you'll want to charge it soon.
Weight and Versatility
The W90 weighs in at just a fuzz under 10 pounds, making it one of the lighter vacuums in its class. In fact, it's almost two pounds lighter than its closest competitor, which is a nice touch for those who are looking for an easy-to-maneuver unit.
What's more, its feathery construction makes it an absolute joy to use on stairs. And speaking of which, ILIFE deserves praise for its outside-the-box thinking here. As you're probably well aware, most vacuums have a lot of plastic molding and the like surrounding the intake port (the main part of vacuums where everything gets sucked up).
That might be fine from an aesthetic standpoint, but it doesn't do much for vacuuming in tight spaces. ILIFE's intake port is essentially a square. It's flat on both sides and devoid of any frills, which makes it ideal for those hard-to-reach corners that often get overlooked.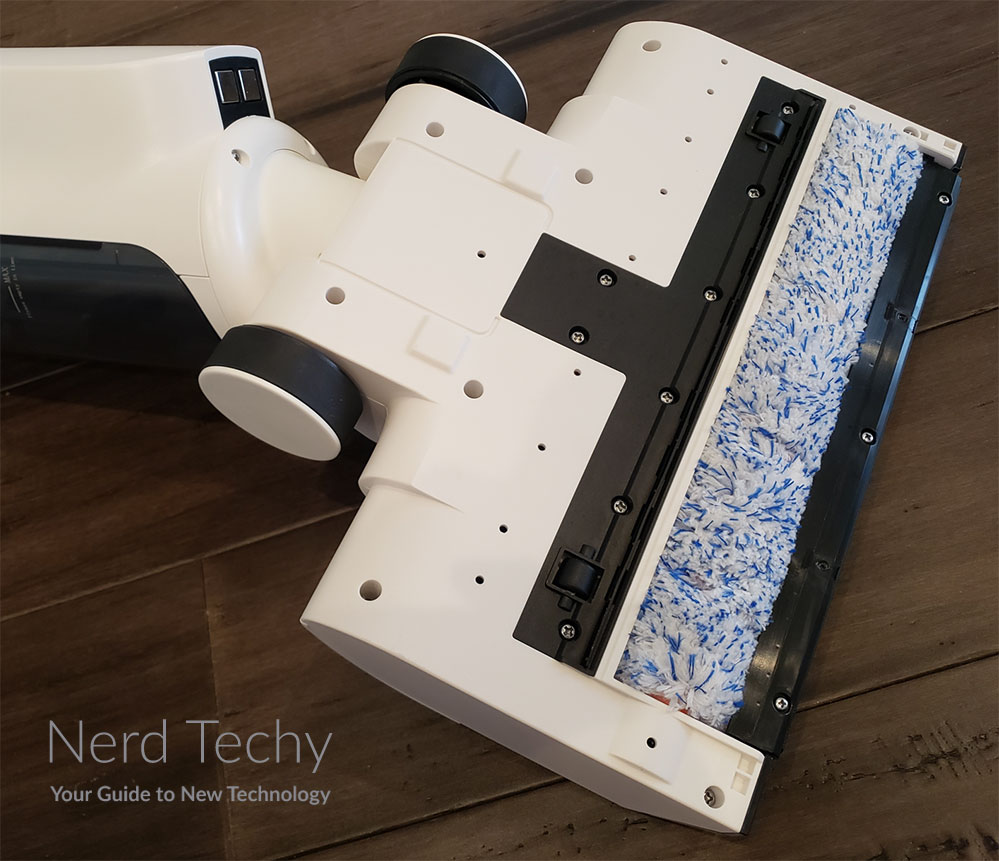 As such, areas like stairs are an absolute breeze to conquer with it. The same is true when vacuuming along baseboards and other tight spaces.
To be clear, however, the W90 is only meant for hard surfaces. It's not going to work for rugs or carpet; only use it on tile, wood, vinyl, linoleum or other solid surfaces.
If your interest is piqued, keep in mind that we've only discussed one performance factor of the W90. Remember, it's a wet vac, too! And we're happy to report that its wet function is just as impressive as its dry function.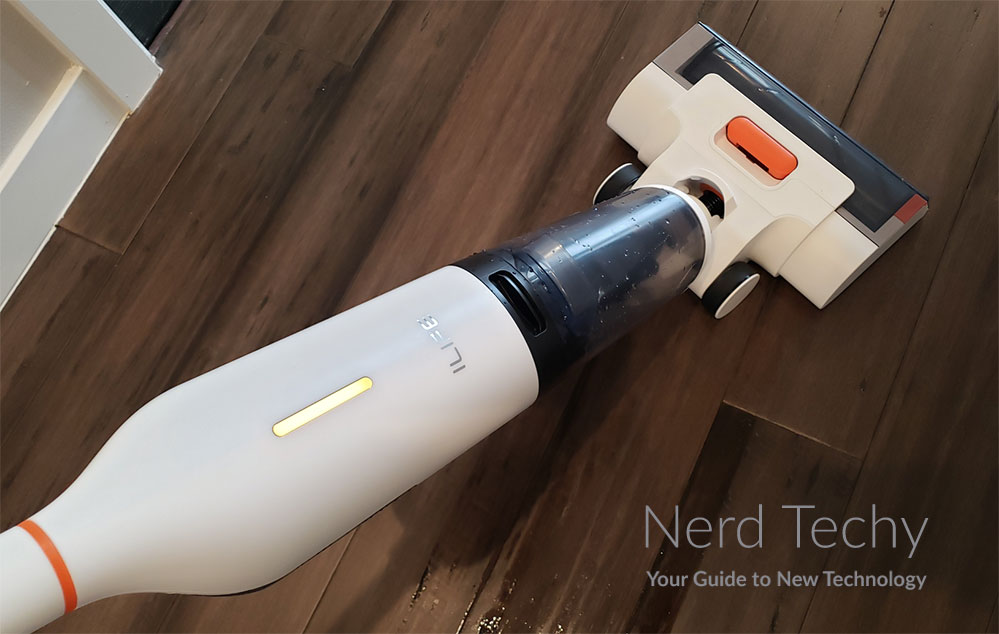 Wet Performance
During our time with the W90, we found that it was able to suck up liquids and messes with ease. Press the trigger on the handle and the vacuum will spray a clean water solution in its path. Unlike some of its competitors, this one didn't have any issues when it came to clogging or anything else of that nature – it just worked as advertised.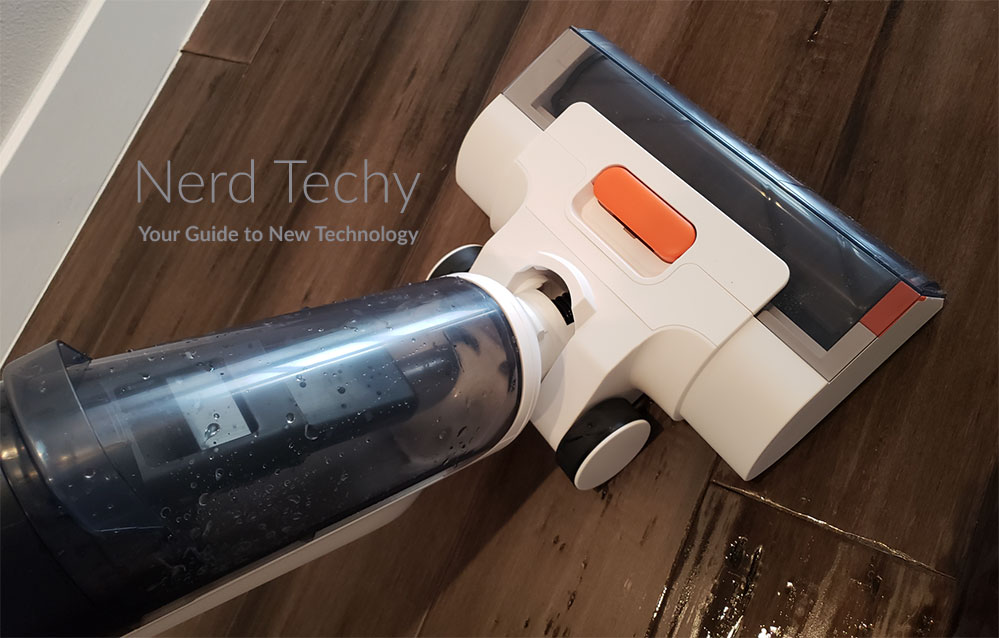 Admittedly, we didn't try to get it clogged up, but we threw enough at it that we promptly determined the W90 was more than up to the challenge.
Sure, it may not have quite the same level of power as some of its pricier siblings, but that doesn't mean you should write it off. On the contrary, this is a rather capable unit, and one is sure to surprise even the most discerning of customers.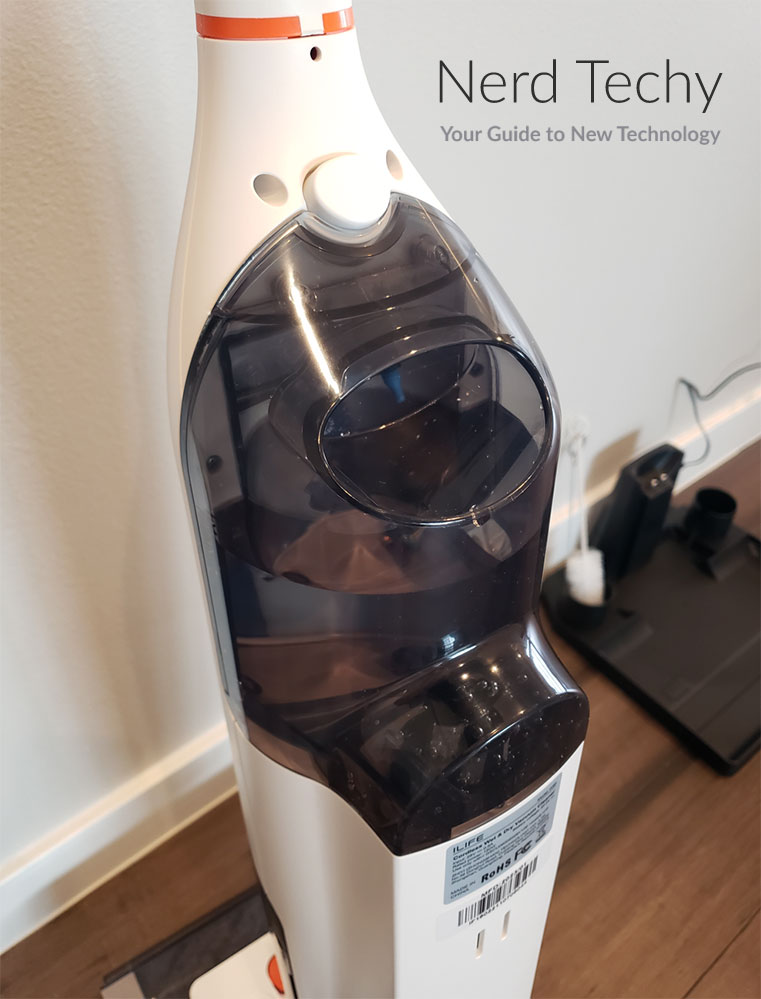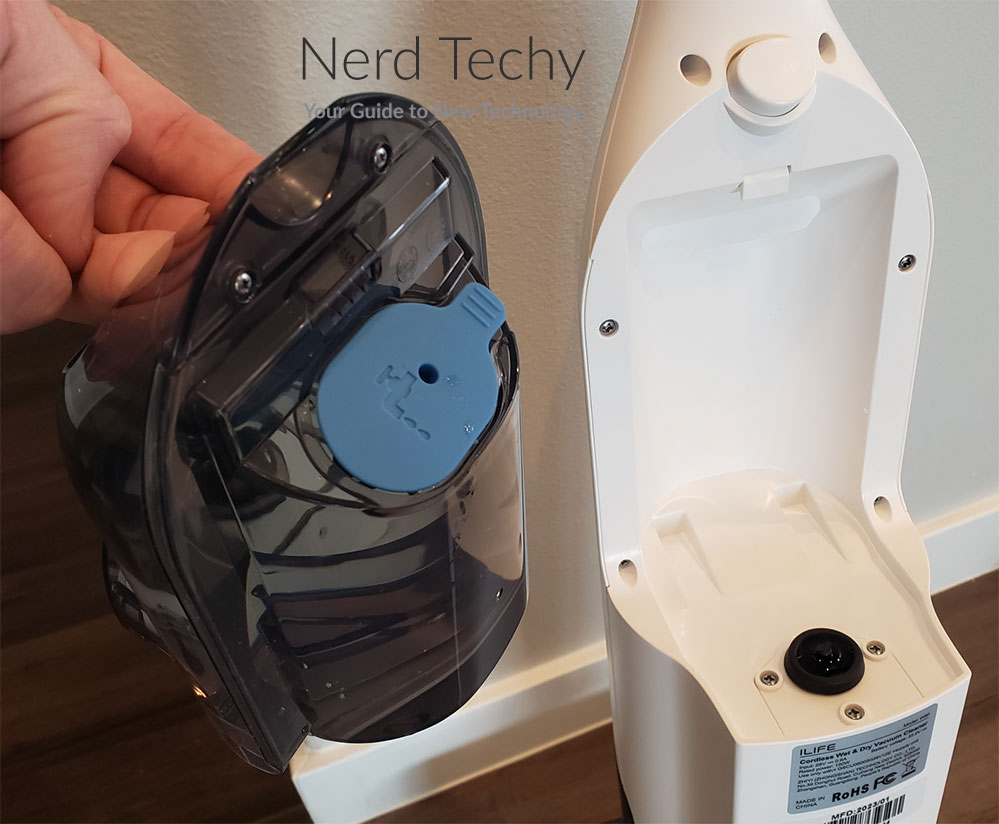 Making everyone's lives easier is a 700mL water tank and a 500mL sewage tank. The former is used to wet surfaces, and the latter, obviously, is for the dirty stuff.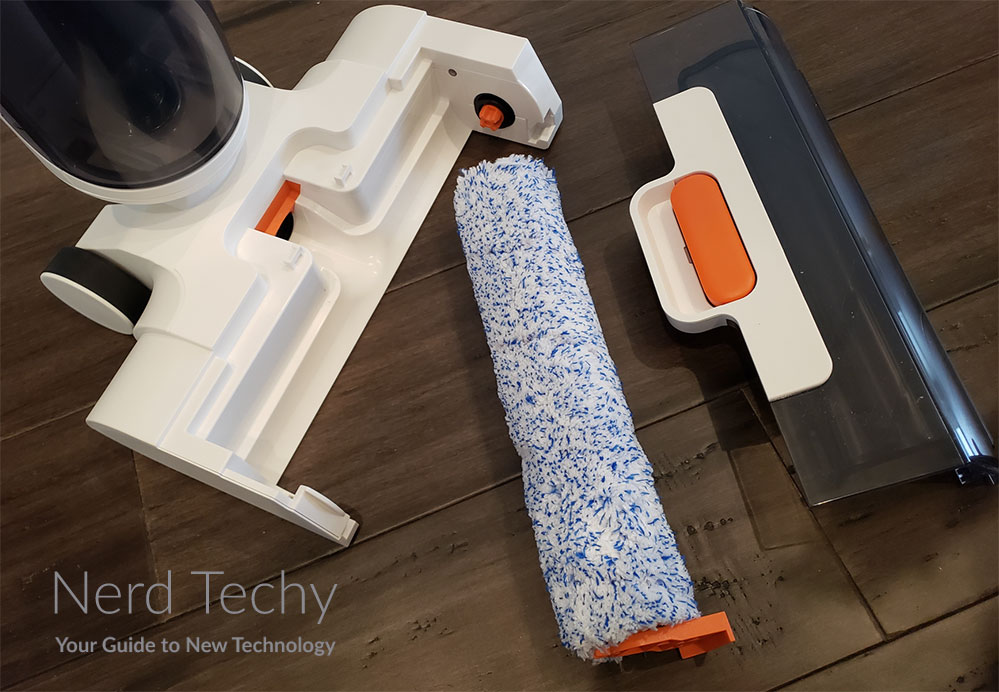 This means you won't have to worry about emptying a ton of water out every time you use it – which is always nice. Plus, since the tanks are detachable, cleaning them up after each use is as easy as can be.
For the actual cleaning part, the W90 is equipped with a spray button that can precisely control the water flow, making sure that you don't waste any of it. In other words, no matter what kind of mess you have to deal with. Whether it's the kitchen floor, tiles in your bathroom, or even carpeted surfaces – the W90 tends to work well.
The spray function isn't laser-focused, but it doesn't really need to be. It offers sufficient coverage and is more than enough for clearing out most dirt, debris, and hair.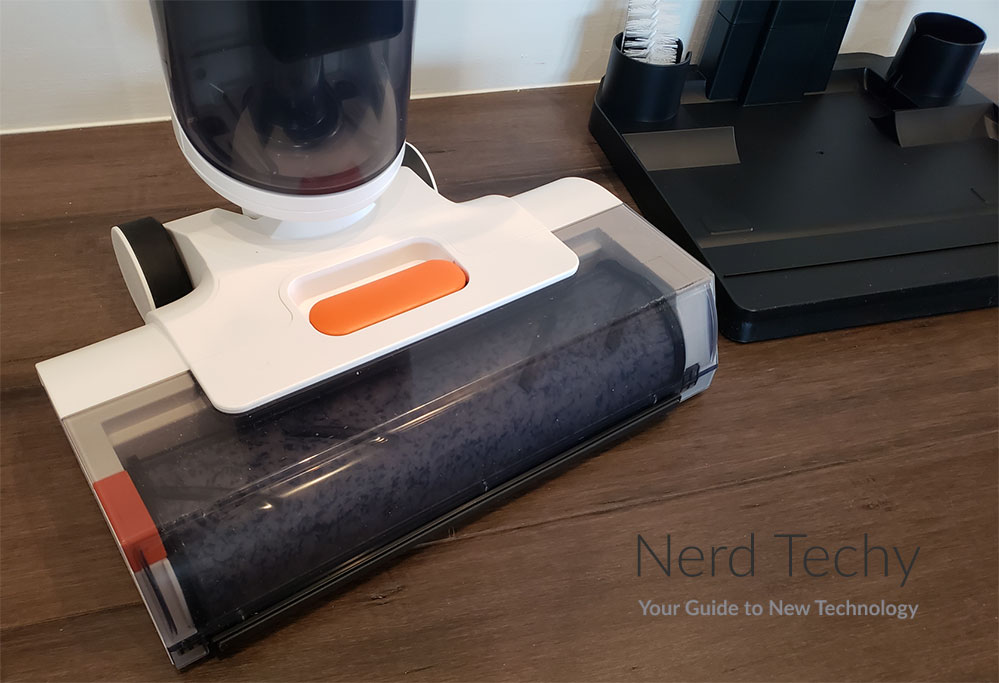 It also comes with a brushless motor, which ensures it's quieter than other similar models. Not only that, but the soft roller floor brush is designed to not damage your floors or any of your furniture. With this combo in place, you can rest assured that your home will be left clean, without any damage.
User Experience, Bells, and Whistles
Apart from its great cleaning performance, the W90 also comes with a convenient battery indicator and a low battery warning system. Both allow you to keep track of the charge level during usage and avoid it suddenly turning off when in use. There's even a voice reminder to keep you in the know! ILIFE is spoiling us, and we couldn't be happier.
We really do appreciate this feature, as it's not always present on cordless vacuums. The guesswork is gone on that front, so you can vacuum to your heart's content without having to worry about a sudden shut-off in the middle of your efforts.
How's It Sound?
We touched on the noise level briefly, so let's discuss that in further depth. The W90 is indeed a quiet vacuum, keeping sound levels to an acceptable 72 dB – which isn't too loud for most people.
True, it's not comfortably quiet, but we've certainly used vacuums that are much louder. ILIFE seems to have struck just the right balance, given this unit's price point and target audience.
As for charging, there's a 3-in-1 dock included. This can be used to house the W90 when it's not in use and also serve as a charging station. On top of that, this dock works to charge, self-clean, and store it. So it's a pretty handy accessory to have around.
Speaking of, the self-cleaning feature is pretty cool. By resting the vacuum on the dock and pressing the "self-clean" button on the handle, it performs a quick yet relatively effective self-clean in just over one minute.
Specifically, it takes a bit of water from the clean water tank and vigorously runs it through the brush and sucks it into the dirty tank. Simultaneously, it rapidly spins the brush to wick away dirt, debris and moisture in an effective manner.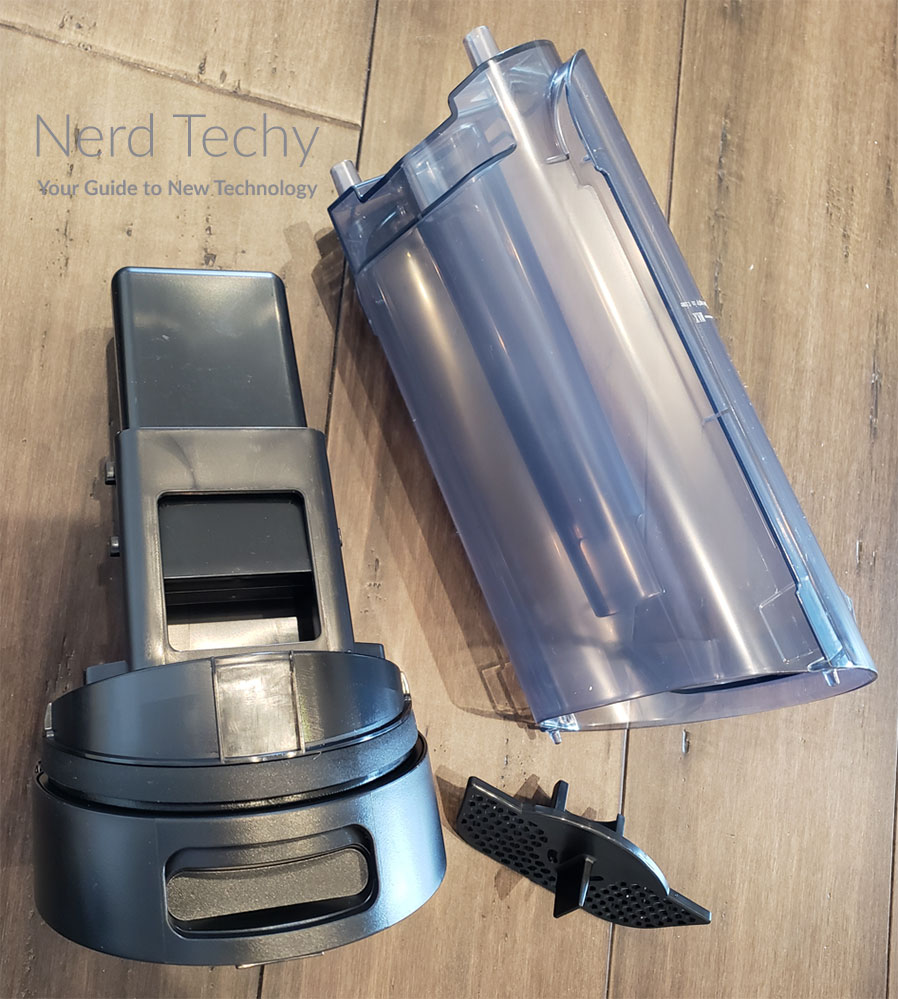 While the self-cleaning feature does not apply any heat, it's more of a quick-clean. After each clean cycle, it's still recommended that you manually remove the brush cover, roller brush and dirty tank and rinse/dry each piece separately. This will keep mold and mildew at-bay so there's never a disgusting smell left behind.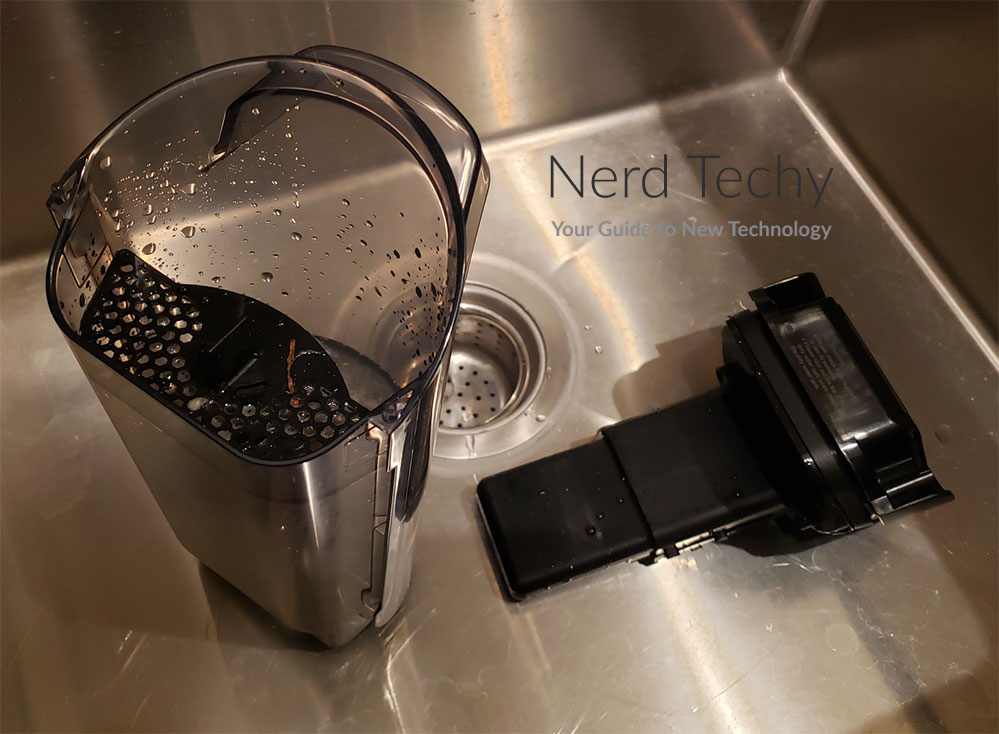 The W90 uses a HEPA filter for trapping dust and other particles, which ensures that your house doesn't become a breeding ground for allergens. This is a huge plus for anyone who suffers from allergies and/or asthma, as it helps reduce the number of dust particles in the air. And if you have pets in your home, it will make sure that their dander is taken care of, as well.
What it's Lacking
OK, now for the bad news. The W90 doesn't apply any heat while cleaning. The clean water it uses is only as warm as the water you put in it. This may not be a big deal for most, but it's worth pointing out. Admittedly, it still seems to do a good job at lifting dirt off of hard floors without much issue. Before using, we recommend filling it with the hottest water your tap can produce.
Another thing – it doesn't come with any attachments. This means that performing tasks like detailing your upholstery or vacuuming out your car are off the table.
This is strictly a floor-cleaning tool, so make sure you keep that in mind before making your purchase. To be fair, you don't typically see attachments with units in this class. So is it really fair to knock it for that?
Who is the W90 for?
Given the incredible versatility and good performance, we'd recommend the W90 to anyone who needs a lightweight, cordless wet vacuum that can handle hard floors. Furthermore, given its focus on allergy sufferers, it's ideal for those with asthma or sensitive respiratory systems.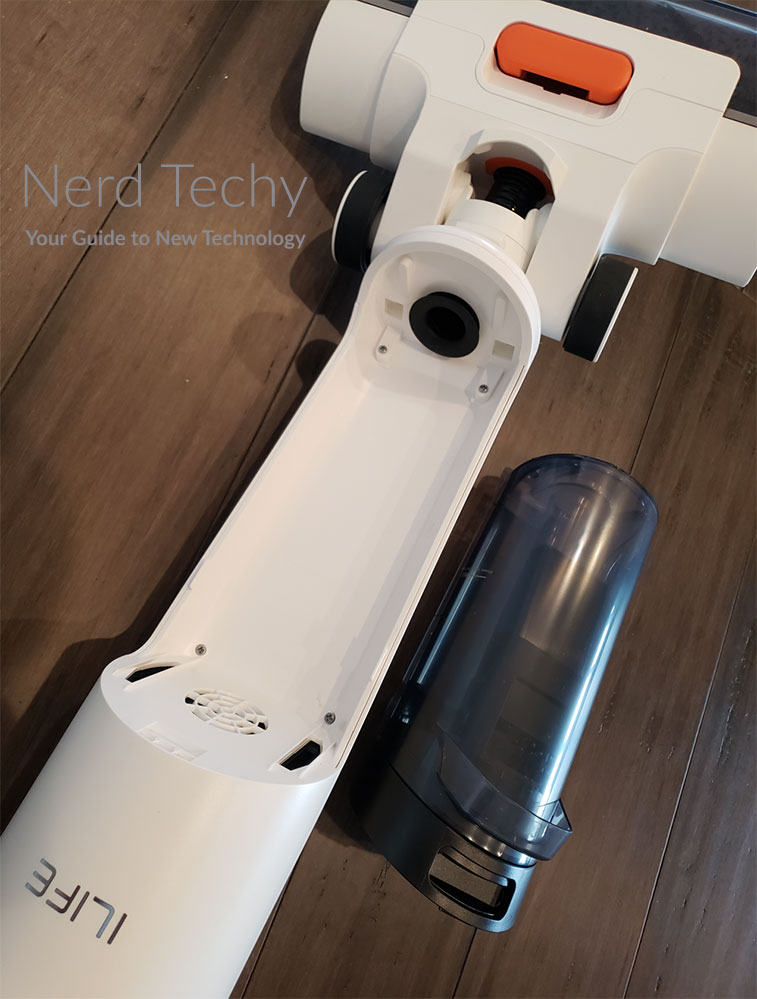 It's also an excellent choice for pet owners since the HEPA filtration system is designed to capture pet hair and dander efficiently. Best of all, it doesn't seem to clog with pet hair since there are few places for it to accumulate, other than the dirty tank.
If you're an apartment dweller or live in a college dorm, the W90 is right up your alley. It's not overly priced, and its dock makes storage and charging much easier in cramped living spaces.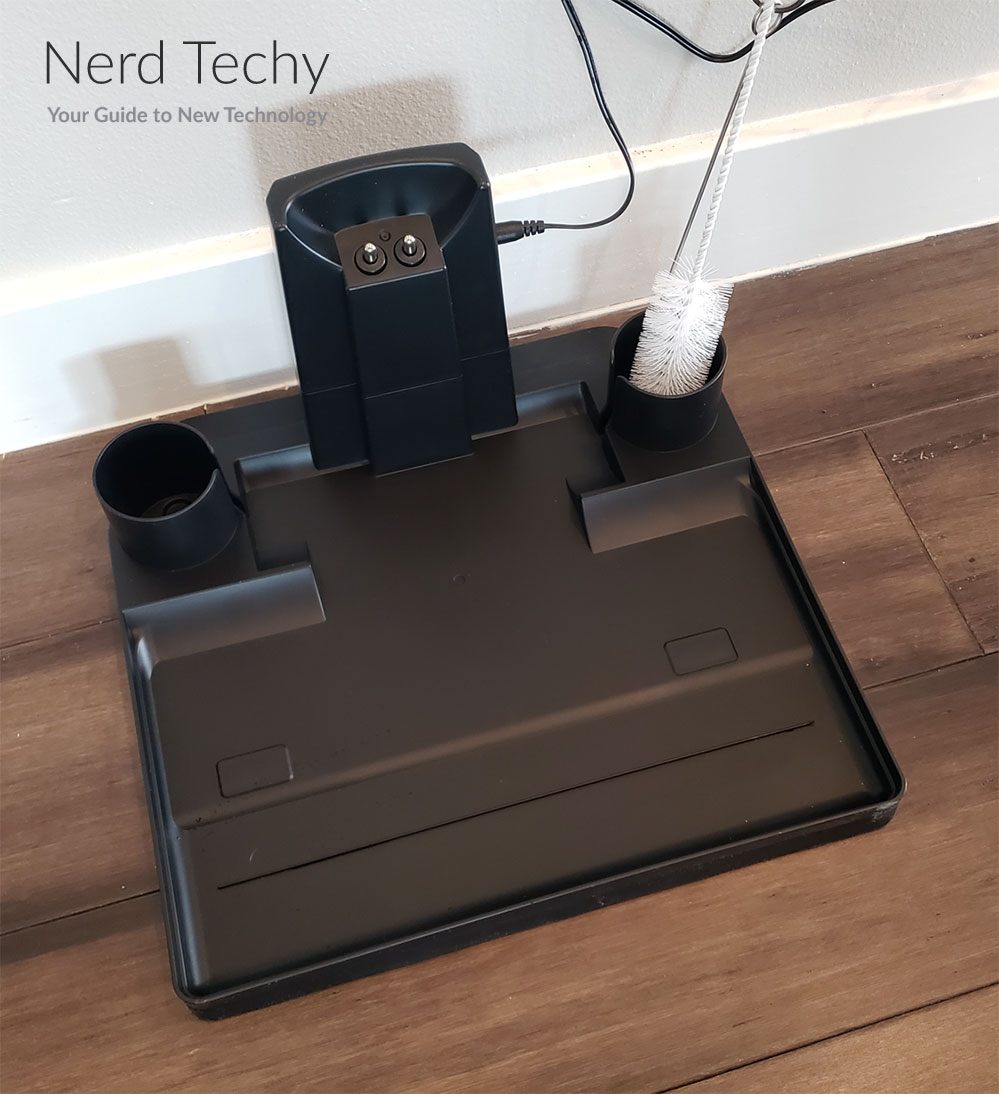 If you have parents or grandparents who are tired of lugging around their vintage mop, this is a great replacement. It's easy to use and requires minimal maintenance, with its self-cleaning dock doing most of the heavy lifting.
The ILIFE W90 is an amazing option if you're looking for something lightweight and powerful. Its robust battery life allows you plenty of time to cover your entire home on one charge. And once you factor in all the neat perks, bells, and whistles, you're looking at a comprehensive cleaning machine that gets the job done in style and finesse.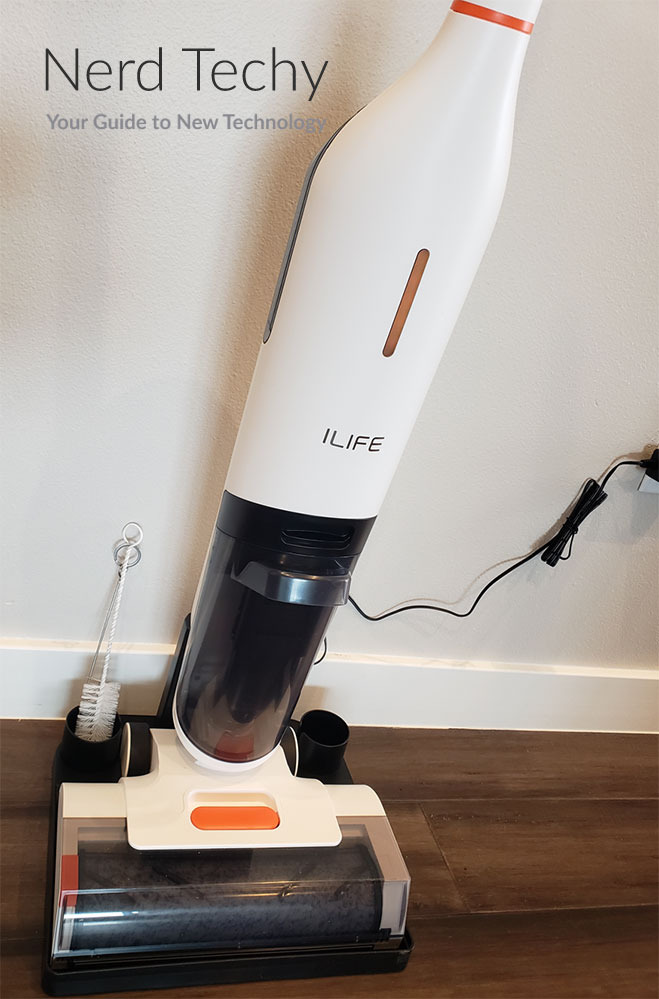 Final Verdict
All things considered, the ILIFE W90 is a great entry-level cordless hard floor vacuum cleaner. It has enough muscle to get most of the job done, and features great performance that will always be up for the task. While it's not meant for carpet or rugs, it excels at tile, stone, wood and other hard surfaces that don't usually come clean with dry-vacuuming alone.
It's also easy to use and maintain, which makes it great for everyday cleaning tasks. The only downside is the lack of applied heat, but considering its competitive price point and overall performance, that isn't too much of a deal-breaker.
So if you're looking for a dependable wet/dry vacuum to help keep your home spick and span, the W90 is definitely worth considering. All in all, a great choice for those on a budget who still need reliable cleaning power.