Beelink Mini S12
Pros
Extremely compact design.
Powerful performance for its price.
Excellent connectivity.
Runs very quietly.
Good heat management.
Cons
Not ideal for high-end gaming.
Upgrades are limited.
Only one DIMM slot.
The Beelink Mini S12 is a mini PC that packs a serious punch. It's a good companion for gamers, streamers, and digital content creators who need a powerful machine to get their work done fast. With its compact size and impressive specs, it's no wonder why this little guy has become so popular among tech enthusiasts.
We spent some quality time with the Beelink Mini S12 and are ready to share the good, bad, and the ugly. Is this is perfect mini PC for all your needs, or should you keep looking in your search for the ultimate mini PC? Let's find out.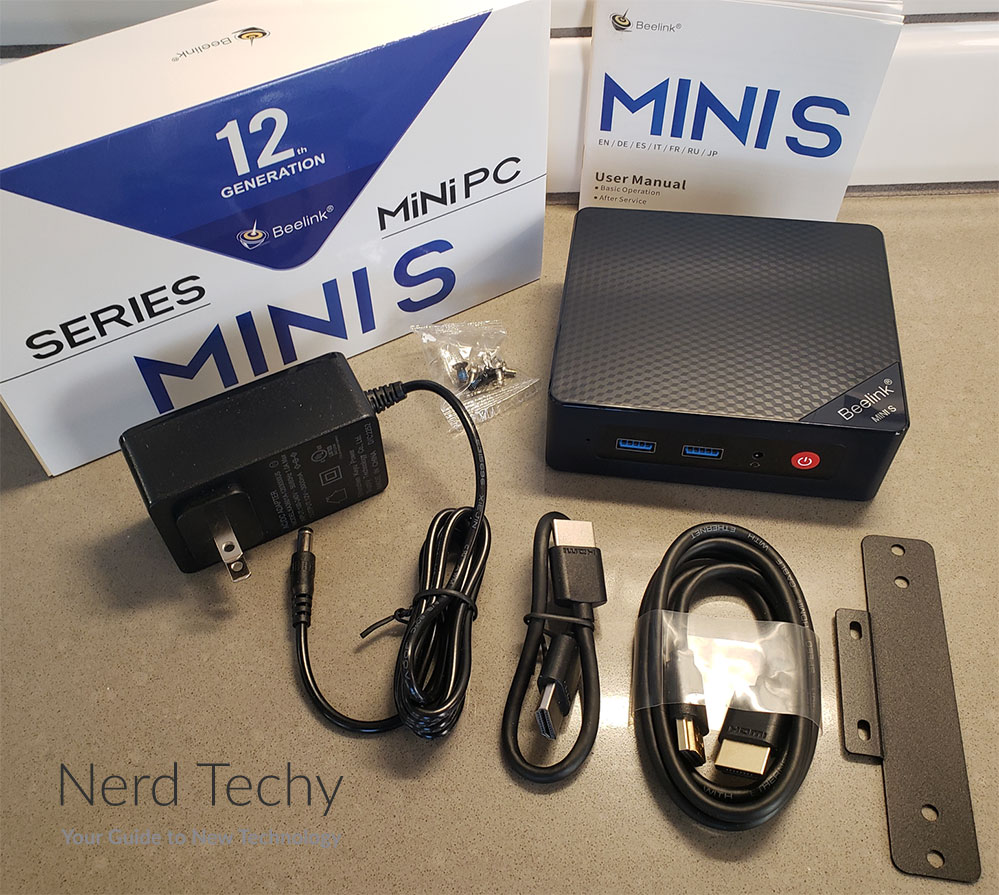 First Impressions
The Beelink Mini S12 is a mini PC designed for users who need a powerful yet compact computer for a variety of tasks, including office work, multimedia playback, and light gaming. It features a compact design, powerful performance, good connectivity and quiet operation.
When the Mini S12 arrived, we were pleasantly surprised by its small form factor and robust construction. The simple yet protective packaging enclosed a comprehensive set of accessories – 2 HDMI cords, an instruction manual, 12V 3A (36W) power supply, as well as a VESA bracket for mounting.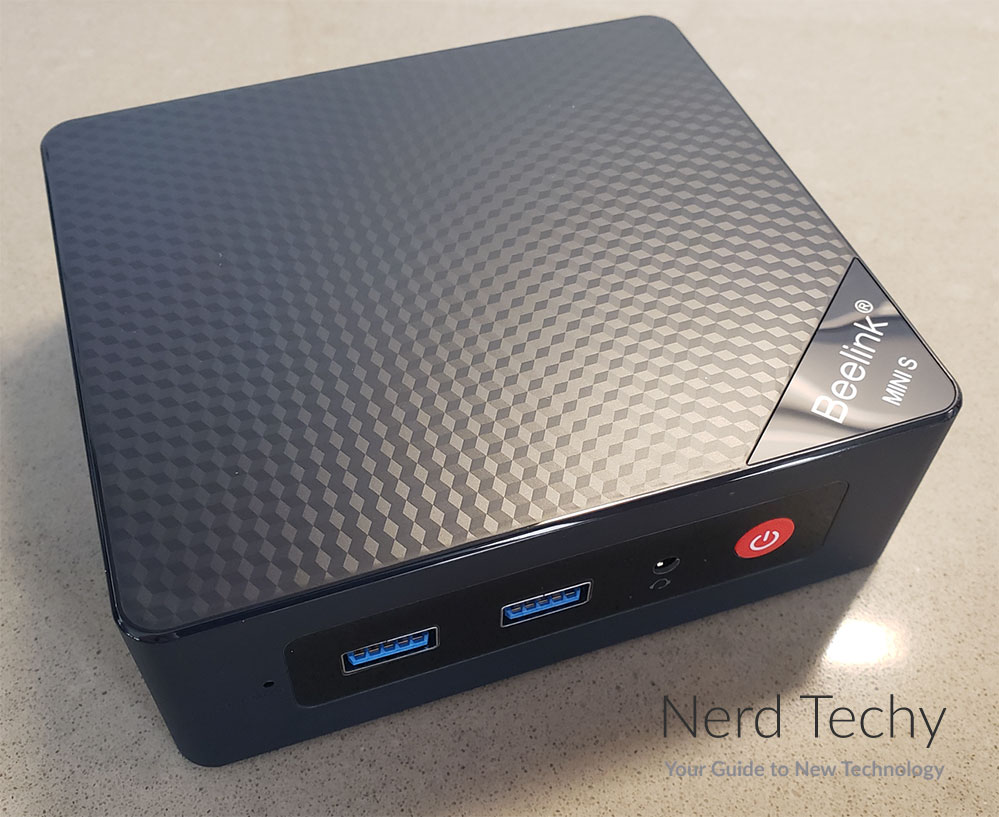 It features a design inspired by the classic Intel NUC, with a faux-textured top area. The front of the Mini S12 has a power button, a status LED, an audio in/out jack, an internal BIOS reset button, and two USB 3.2 Type-A ports (10Gbps). On the back there are two USB 3.2 Type-A ports, two HDMI 2.1 ports, a Gigabit Ethernet port, a Kensington lock and a round DC port for power supply.
Upon a thorough examination of the Mini S12, we discovered that it comes equipped with an Intel AC 3165 adapter that includes two internal antennas. Additionally, it's fitted with a 256GB M.2 NVMe 2280 disk for storage. It also offers users the potential to upgrade memory via one DDR4 SODIMM RAM slot, with a maximum speed of 2666 MHz. But really, the only option you have is to swap out the 8GB for a 16GB. Since there's only one DIMM slot, it kind of limits you.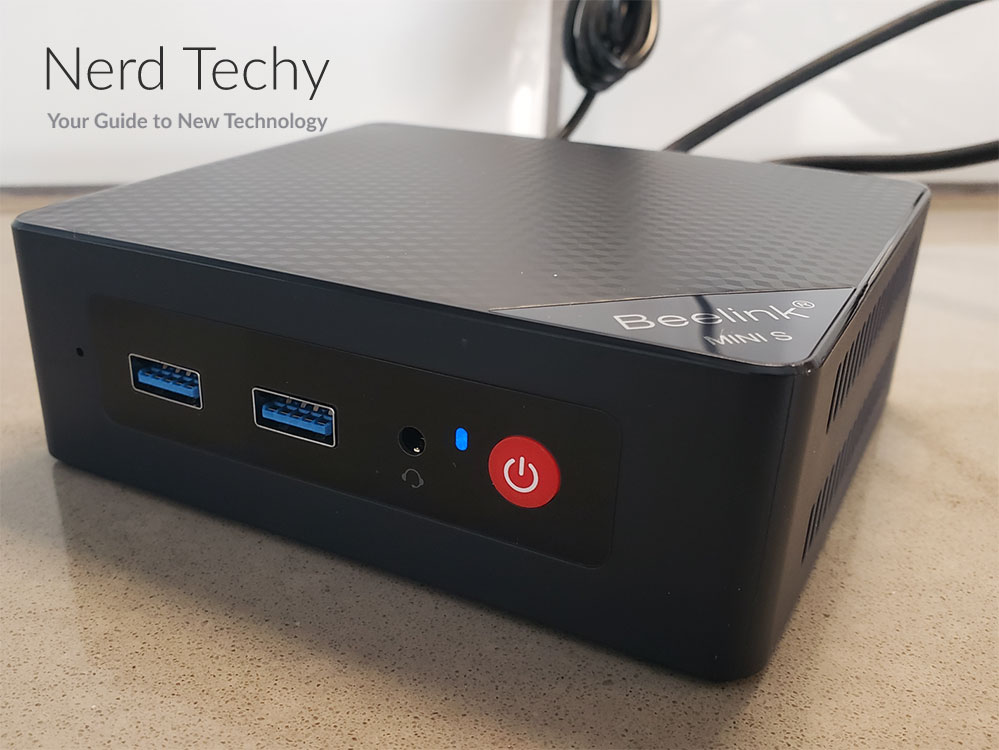 With only a press of a front-facing power button, we were pleasantly surprised with how quickly the Mini S12 was booted up and ready to use. The included hardware works efficiently in basic desktop tasks without any lag or slowdowns, making it possible for us to open multiple programs simultaneously without stutter. In addition, its performance is ideal for office applications such as multimedia and design apps where there's medium load.
Our first impressions of the Beelink Mini S12 were positive. The compact design and sturdy build quality, coupled with the efficient hardware and good connectivity, make it a reliable option for those who need a compact and efficient machine for basic tasks.
Design and Build Quality
The Mini S12 has a sleek and compact design, which is inspired by the classic Intel NUC design. The top has a roughened faux-texture, which gives it a modern yet stylish look. It comes packaged in a basic cardboard box, which provides adequate protection during shipment. In the box, you'll find the Mini PC along with a user manual, 2x HDMI cables, a VESA bracket, and a charger.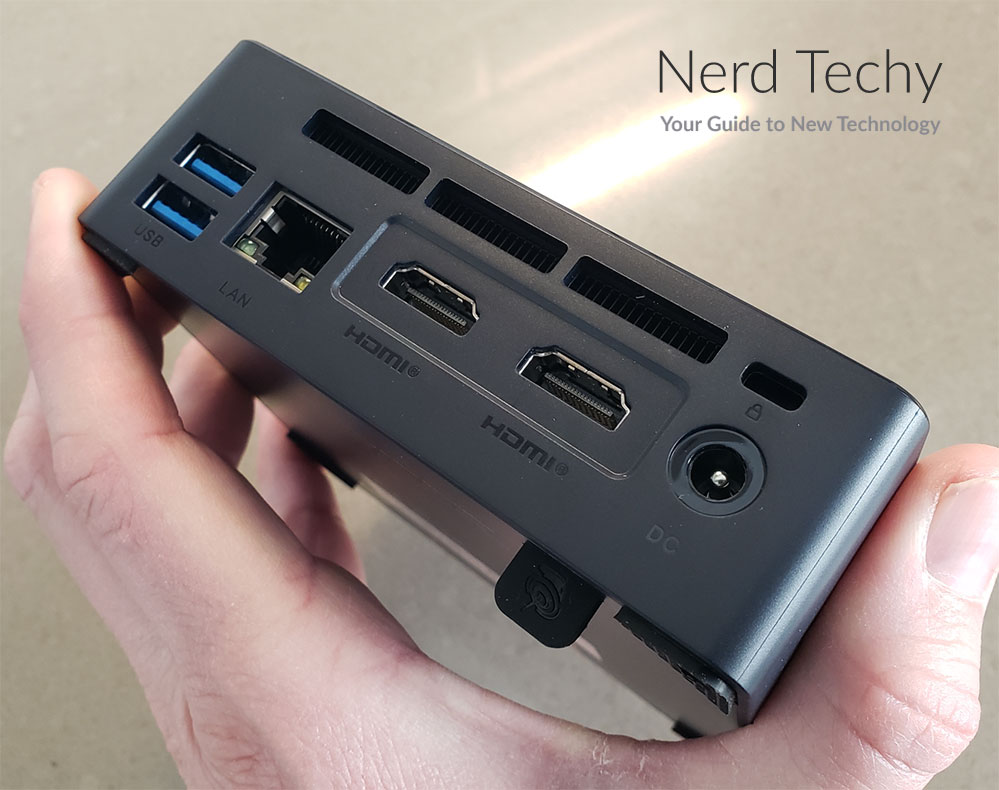 On the front, there's a power button, a status LED, a reset button, an audio in/out jack, and two USB 3.2 Type-A ports (10Gbps). The rear features two USB A 3.2 ports, Gigabit Ethernet, two HDMI 2.1 ports, a Kensington lock, and a barrel plug for power.
Inside the Mini S12, you will find a a Wi-Fi adapter (two antennas), a 256GB M.2 NVMe 2280 disk, and one SODIMM DDR4 slot with 8GB Crucial-brand DDR4 pre-installed. If this isn't enough for you, the RAM can be upgraded to a maximum of 16GB, while the storage can be expanded using a 2.5″ SATA hard drive in addition to the pre-installed NVMe drive.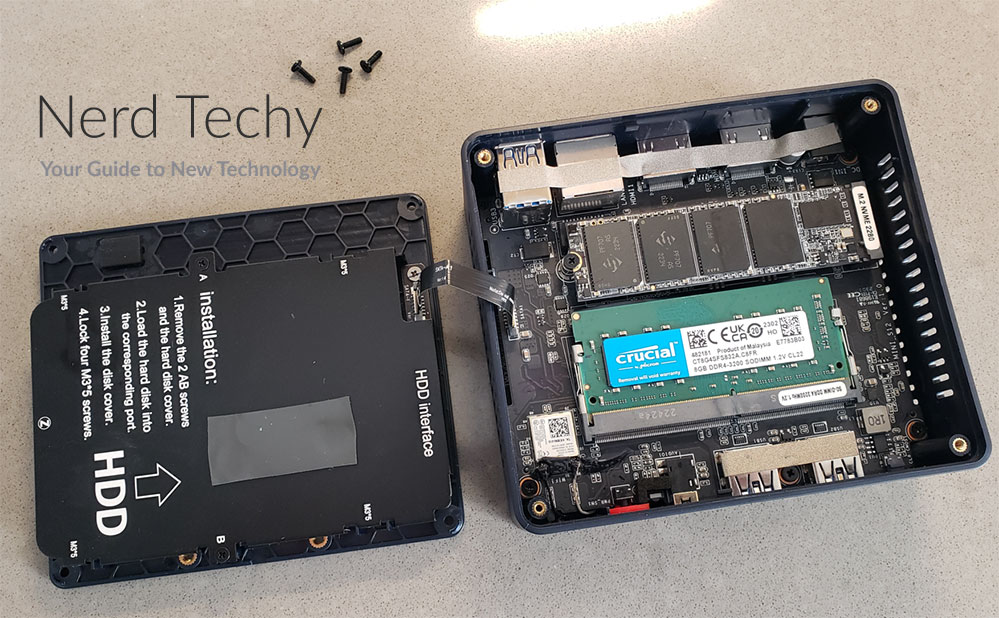 Performance and User Experience
The Beelink Mini S12 provides astounding performance for its size and price, with an Intel N95 (Alder Lake-N) processor made in 10nm (Intel 7). This incredible 4-core/4 thread CPU can reach speeds of up to a remarkable 3.2 GHz. For graphics, you have a basic Intel UHD Graphics GPU, which clocks at 750 MHz and comes equipped with 16 Execution Units (the N100 boasts 24 EUs!). It's not the prime choice for gaming, but all-around use will be smooth for most video related tasks.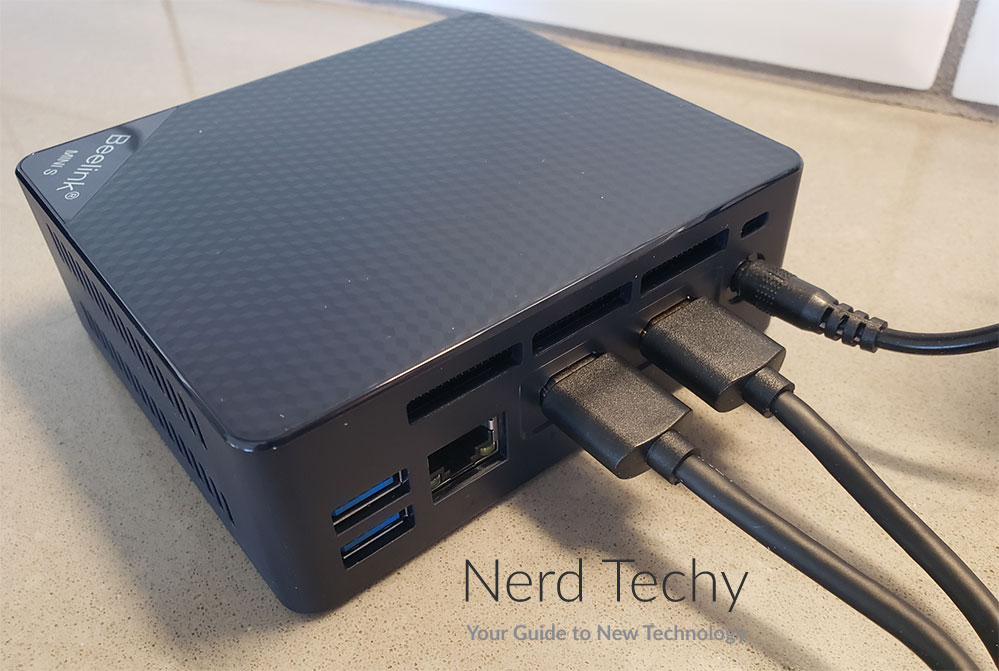 If you're familiar with multitasking, the Mini S12 is certainly up to it. It proved to deliver a commendable performance in all types of tasks, from photo editing to gaming and streaming. And with 4K resolution support, you can enjoy your favorite movies and shows in all their high-definition glory.
The Mini S12 comes fully equipped with Windows 11 Pro 64-bit. Its reliable drivers make updating easy using the Windows Update system. Plus, the internal wireless adapter tends to offer superior network connectivity. Also equipped is an ultra-fast Realtek Gigabit Ethernet port. As we've tested it here at our lab, the PC produces impressive speed results in terms of network connectivity.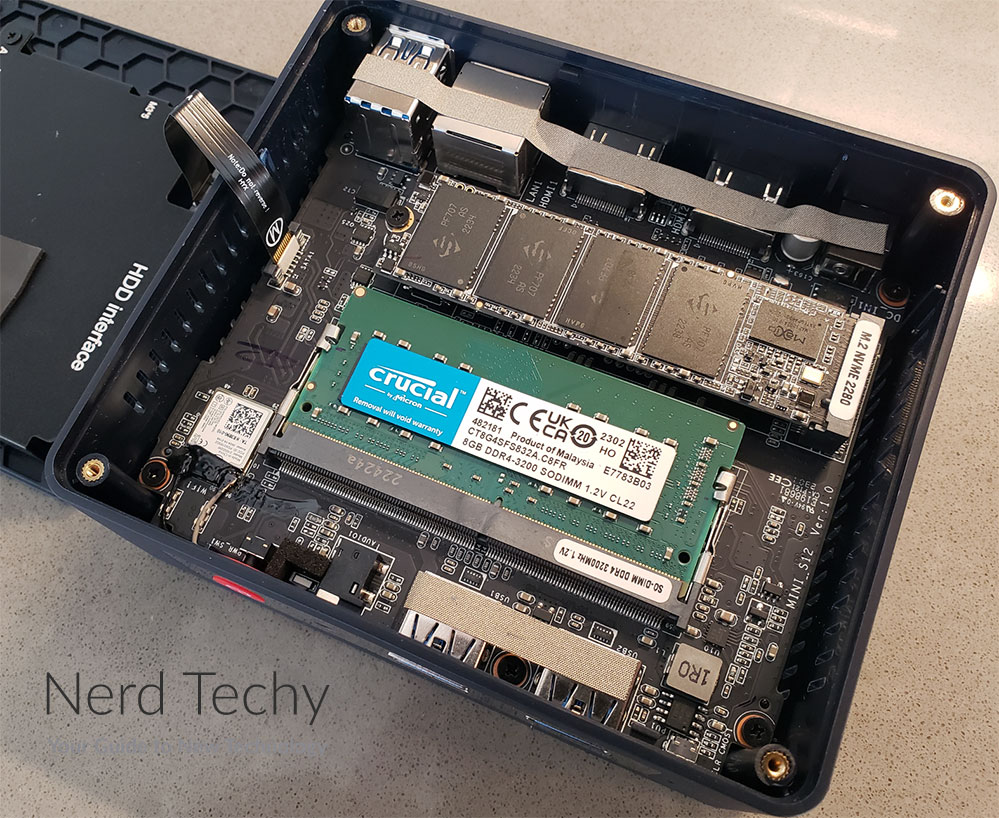 The Mini S12 boasts a 256GB M.2 NVMe 3x 2280 SSD, with storage speeds that maintain optimal performance. Additionally, it contains a single stick of 8GB DDR4 2666 MHz RAM that seems to offer a nice balance of speed and power for most general usage.
The adjustable RPM fan guarantees a controlled temperature with nearly inaudible sound. Despite its quietness, some noise can still be heard during high-intensive operation, yet never surpasses an exceeding amount. Furthermore, our testing period with the processor proved to be incredibly efficient – no issues or true bottlenecks were discovered.
Overall, the Beelink Mini S12 offers good performance and user experience for its size. Its efficient hardware, good connectivity, and quiet operation make it a reliable option for those who need a compact and efficient machine for basic tasks. However, its limited graphics performance, upgradability options, and lack of AV1 codec support may be a deal-breaker for some users.
Thermal and Power Consumption
Beelink's Mini S12 is designed to keep temperatures controlled with its variable RPM fan, which remains almost entirely silent when in use. The efficient 10nm processor allows the system to run without any issues or hiccups while offering excellent thermal performance – all without creating too much noise.
Regarding power consumption, the Mini S12 consumes 0.9W when turned off, 8W when idle, 12W during basic use and up to 18W during maximum performance. This isn't much – which is a good thing for those who desire minimal power usage in the long term.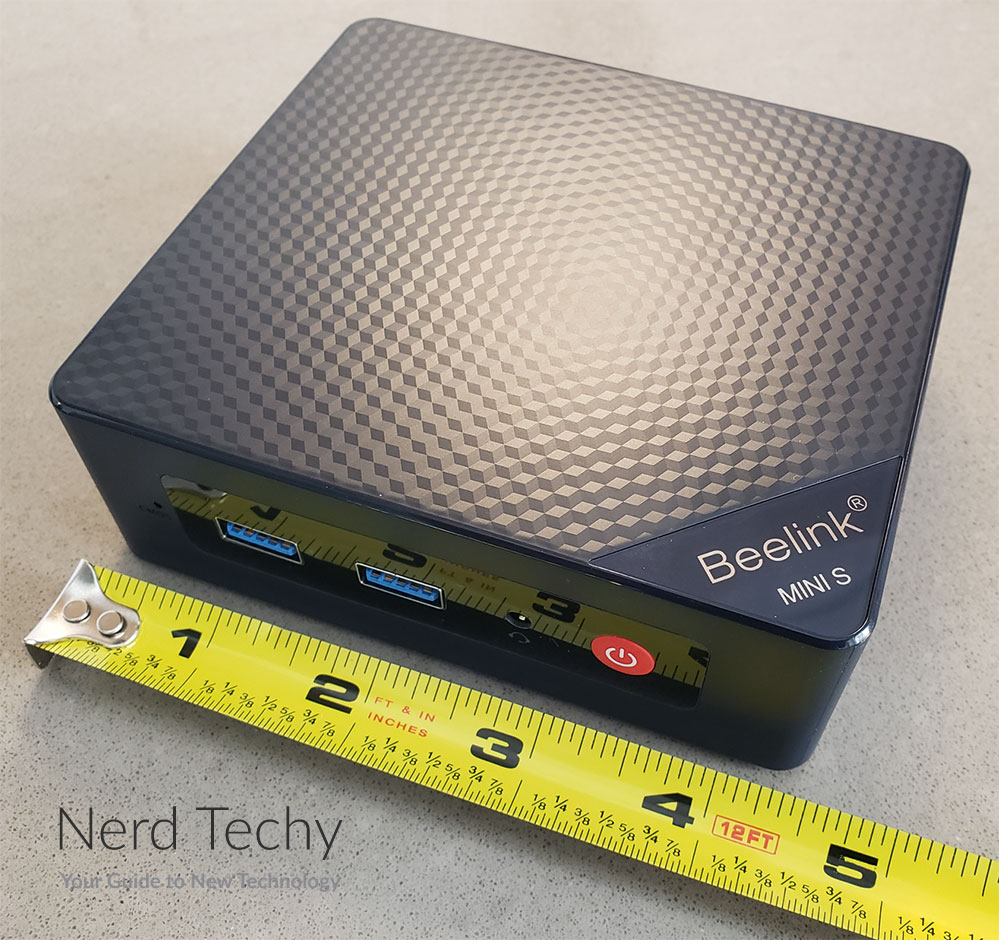 Video and Audio Tests
The Mini S12's Intel UHD Graphics card includes a VPU with dedicated hardware decoding for VP9 and HVEC codecs. However, it sadly does not offer the AV1 video encoding standard. Moreover, this processor offers support for 10-bit color as well as HDR support (native). This makes it an ideal system for things like KODI or IPTV, with PLEX being another great option.
To guarantee the best performance, we tested the Mini S12 with a variety of popular streaming services such as HBO Max, YouTube, Netflix and Disney+. We also examined how it functions when using native apps and browsers that are most compatible with every platform.
We determined that the Mini S12 held up well with each of these, as smooth streaming and quick loading times are all part of its impressive specs. While watching movies or shows in 4K, we could see that the picture quality was sharp and vivid. With the Mini S12's dual-band WiFi and Bluetooth 4.0 connectivity, it was easy to connect all our devices without any hiccups. We also tested its voice control capabilities with Google Assistant, and it passed with flying colors.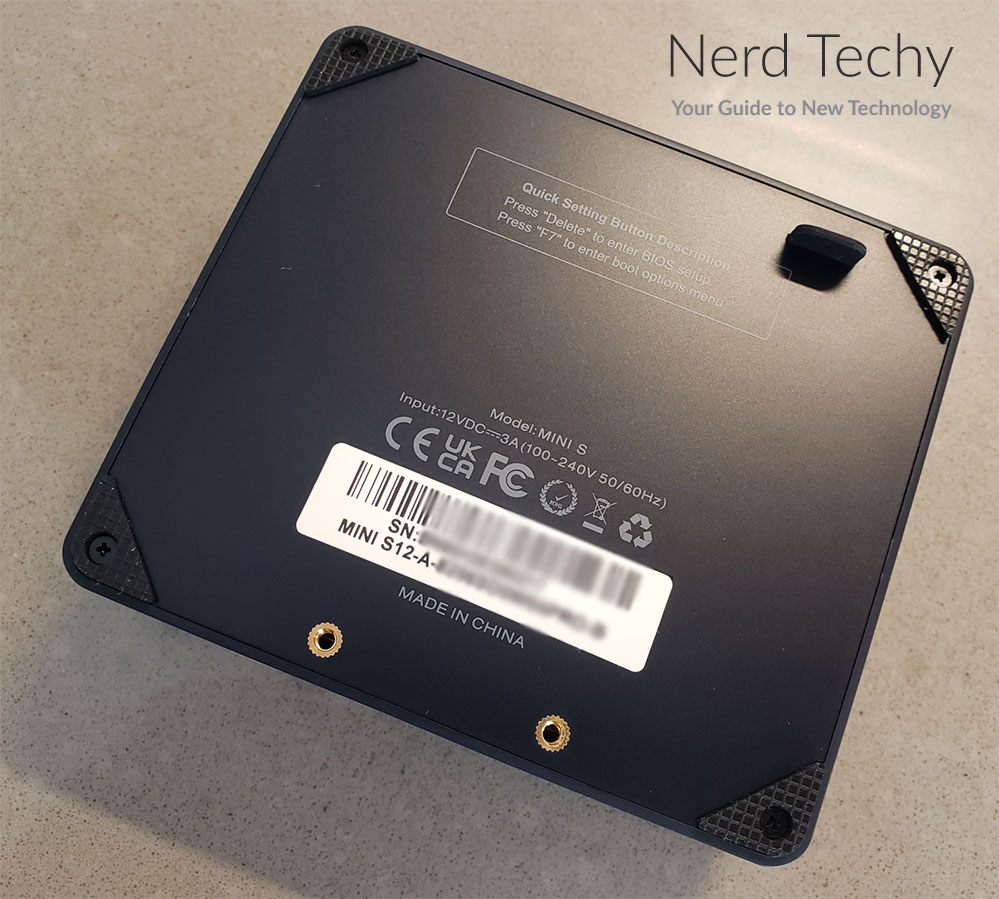 Gaming Experience
The Beelink Mini S12 is not a gaming powerhouse, but it can handle light gaming and older titles with ease. We tested the Mini S12 on several popular games, and it performed well on games like League of Legends and Diablo Immortal.
The Intel UHD Graphics GPU with 16EU is powerful enough to support high-resolution gaming, depending on the 3D load. We experienced quick and smooth gameplay while playing League of Legends without any lag or stuttering. However, it may not be able to handle intensive AAA games that demand a lot of 3D elements.
However, more demanding games like Fortnite were not very playable, even with the graphics settings in performance mode. We experienced significant frame rate drops and lag during gameplay. The limited graphics performance makes it unsuitable for more demanding games. Users who are interested in gaming should consider other options.
We also tested the Mini S12 on various emulators and found that it can handle simple Wii, PS2 or similar games without fuss. However, it cannot handle more demanding 3D emulators.
It's worth noting that it isn't designed for extreme gaming, and its performance should be considered in light of this. It's still a great option for light gaming and older titles, but those who require more power may need to look elsewhere. Honestly, it likely won't let you down if you're only looking for casual gaming.
And in fact, we love how such a small device can make gaming so much more accessible. You can easily take it with you for an on-the-go gaming session. That's the hallmark of the Mini S12 – convenience and accessibility. That alone makes it worth considering, even if your main focus is serious gaming. As long as you understand its limitations before buying, you shouldn't be disappointed by its performance.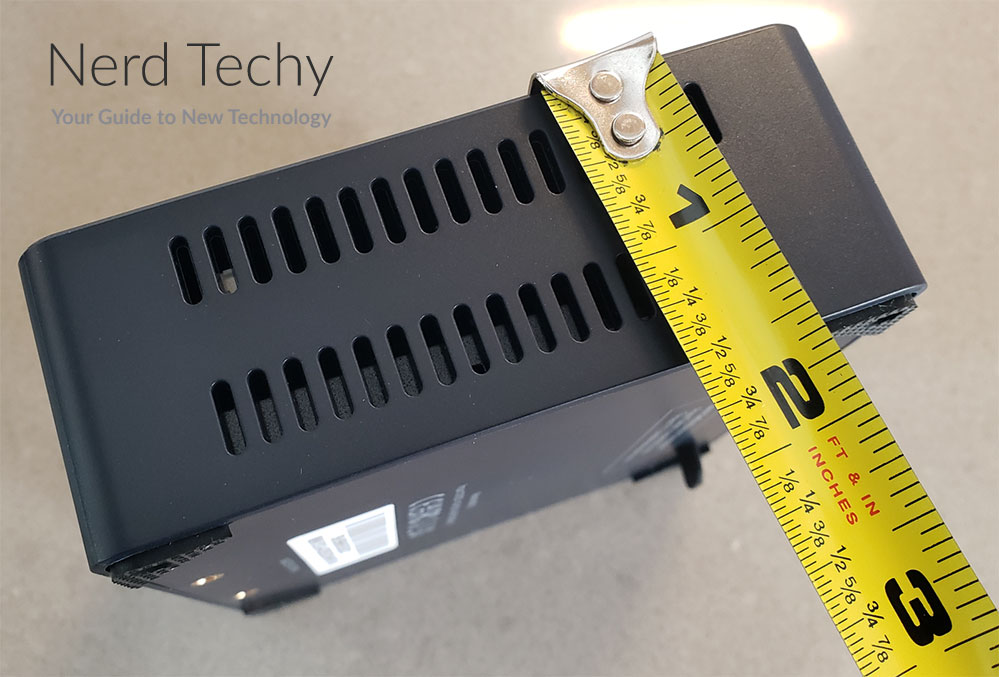 Final Thoughts
The Beelink Mini S12 is ideal for those looking for a capable streaming or standard tasks PC without breaking the bank. It's perfect for streaming things like Netflix, YouTube, and HBO Max in 4K Ultra HD with HDR support. Moreover, it has excellent voice control capabilities that make it easy to control with Google Assistant.
It's also a great choice for those who are looking for an affordable mini PC with reliable performance and an attractive design. Its compact size makes it easy to transport or set up in any home entertainment setup.
We think this will be a good fit for anyone who wants a semi-powerful system without breaking the bank. While it clearly has its limits, the Mini S12 still offers great performance and features at an affordable price. It boasts decent enough specs and features that make it a great addition for virtually any setup.